Free resources about the Madagascar Antananarivo Mission:
---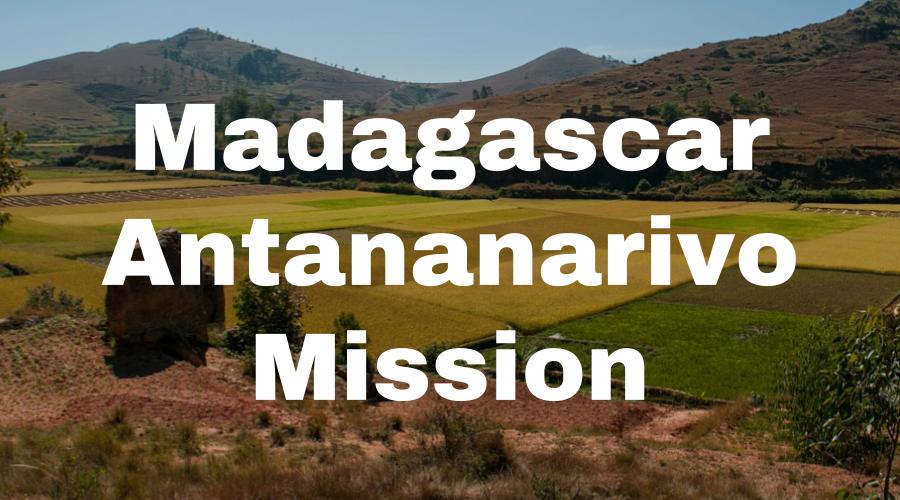 ---
Antananarivo Mission Address
Here's a recent address for the Antananarivo Mission. We try to keep this info up to date, but it's a good idea to check the address with several sources, including your mission packet or the mission office.
Madagascar Antananarivo Mission
BP 5094
101 Antananarivo
Madagascar
Phone Number: 261-20-22-491-95
Mission President: President Raymon D. Foote
Antananarivo Mission Map
Here's a link to the mission map for the Antananarivo Mission (LDS). To access the official, up-to-date LDS.org map for the Antananarivo Mission:
Log into your LDS account here.
Click here.
Videos with Antananarivo RMs
Here are in-depth YouTube video interviews with returned missionaries from the Madagascar Antananarivo Mission.  We interview hundreds of returned missionaries each year, so check back regularly to see new RM interviews.
Videos about Madagascar
Here are LDS-friendly educational videos about Madagascar. We scoured YouTube to find the best quality videos about Madagascar, that are free from inappropriate music, immodesty and profanity.
Antananarivo Missionary Blogs
Here's a list of LDS missionary blogs for the Antananarivo Mission. This list includes the missionary's name, URL and when their blog was updated.
*Send your missionary a gift (mission-specific shirts, ties, Christmas stockings/ornaments, pillowcases, etc.)
Antananarivo Mission Groups
Here are Antananarivo Mission Groups- for LDS missionary moms, returned missionaries, mission presidents and other alumni of the Antananarivo Mission.
Madagascar, Antananarivo Mission Group (558 members)
Madagascar Mission 2012-2015 Group (45 members)
Africa Madagascar Mission Moms (LDS) Group (31 members)
Antananarivo Mission T-Shirts
Here are T-shirts for the Madagascar Antananarivo Mission!
Shirt designs include Madagascar Antananarivo Mission logo/emblem shirts and Called to Serve shirts. The shirts make great gifts for pre-missionaries, returned missionaries and missionaries currently serving. LDS Mission shirts come in all sizes: Small, Medium, Large, Extra Large, up to 4XL.  The mission designs are printed on white shirts and are shipped to you.
*Simply click on a shirt design to view the details and submit an order. The designs on mission t-shirts may also be printed on other LDS mission gifts, including: Madagascar Antananarivo missionary aprons, Christmas stockings, ties, pillow cases, teddy bears and Christmas ornaments.
*Click here to browse Antananarivo Mission gifts
---
---
Antananarivo Mission Presidents
Here's a list of current and past Mission Presidents of the Antananarivo Mission.
2015-2018, Raymon D. Foote
2012-2015, David R. Adams
2009-2012, Sean Edmund Russell Donnelly
2006-2009, Ricardo V. Gaya
2003-2006, David Kent Harmon
2000-2003, John Richard Hill (Listen to an interview with the Hills)
1998-2000, R. Chris Fee
Madagascar LDS Statistics (2015)
Church Membership: 10,322
Missions: 1
Temples: 0
Congregations: 38
Family History Centers: 1
Helpful Articles about Madagascar
Antananarivo Missionary Survey
Here are survey responses from Madagascar Antananarivo RMs, to give you a snapshot into what it's like to live in the mission.
*Click here to take a survey to help pre-missionaries going to your mission.
When did you serve?
2001-2003 (Collin)
Aug 2013-July 2015 (Tomas)
1998-2000 (Chris)
November 2003-May 2005 (Randi)
October 2013-November 2015 (Michael)
2005-2007 (David)
2011-2013 (Bradford)
1999-2001 (Ben)
2004-2006 (Tyler)
2002-2004 (Catherine)
2012-2014 (Morgan)
1998-2000 (Leon)
1998-2000 (Joseph)
What areas did you serve in?
Antananarivo, Mahajanga, Tanabao (Fort Dolphin). (Morgan)
What were some favorite foods?
Didn't "love" Malagasy food, but I grew to appreciate when Ravitoto was good. I also grew to appreciate pork fat and home-made sausages, sardine sandwiches but not rano-pango. I tried cow-heart, which wasn't bad, and that fried bread they have, which is good. I enjoyed making nutella and banana sandwiches and french fries. I don't recommend eating food from the street vendors, unless its fruit with a peel, eggs you can cook, or veggies you can cook. I did have that cow-heart from a street vendor though and didn't have a bad experience. (Collin)
Voanjombory, sambosa, lelanomby sy laiso, mangoes, and of course vary mena. (Tomas)
I love rice. That made Madagascar just perfect for me. (Chris)
Henikisoa sy voanjibory (pork and beans), frites (French fries), poulet coco (coconut chicken). (Randi)
RICE. Pork, sausage, and peas. (Michael)
Jus du natural, especially coconut. Pork, green beans. Steak au poivre vert! (David)
Rice, chicken, beans, pork. (Bradford)
Poulet carry, rougail saucisse, vari sy lok, etc. (Ben)
Tsaramaso sy henikisoa (on rice), Voanjobory (on rice), Sambosy Katsaka sy cocoa. (Tyler)
Voanjobory. (Catherine)
Rice, beans, chicken, pork, beef. (Morgan)
Ravtutu the big chunks are not meat, eat while it's hot. Ranupangu (hot drink, aquired taste, marmite effect). (Leon)
Vary and loka-be… . Seriously baguettes and laughing cow cheese and a Caprice or Bon Bon Anglaise to drink. But also vary and nearly any loka. 😉 (Joseph)
What was a funny experience?
There are workers who are often pushing heavy handcarts up hills. Their calves and thighs are as big as watermelons. Once we decided to push from behind and the guy seemed very surprised. But he didn't seem to mind the assist. (Collin)
We got the zookeepers to let out the lemurs for a bit and we got them to climb on us and lick honey off of our faces. (Tomas)
I tripped and fell in the sewer! It's not as much funny as super gross 🙂 (Randi)
Walking home at night during a gigantic rainstorm and the water was up to our knees. Elder Dransfield, my companion, was new to the area and thought he knew where the path was but ended up stepping off the path and falling completely under water! (David)
Eating spiders. (Bradford)
Too many to name. Falling into rice paddies in Mada; quiet prayers in Mada (so quiet you have to peek to know when to say amen); and I could go on and on… (Ben)
Getting stuck in the mud in a valley and we couldn't get our feet out. We almost wet our pants! (Catherine)
Having companions fall into rice patties. (Morgan)
Watching a family's young daughter jump up from behind the sofa with a clear plastic bag on her head pretending to be a spaceman. (Leon)
Almost every day, we could find something to laugh about. To be friendly, people would ask, "What's news?" The single funniest experience was seeing the Santa Clauses at Christmas time who would set up little booths by the roadside. They would wear these scary Halloween masks of Santa Clauses face (I think because Santa is white and their skin is dark, and they were going for realism). It was a brave kid who could get their picture taken with freaky white Santa. (Joseph)
What was a crazy experience?
Dogs. Carry an umbrella. (Collin)
I got threats from Lutheran pastors because they suspected we were "doing something besides preaching" and we had to go home before sundown each day. Almost got kidnapped once. (Tomas)
Two elders were crossing the street and decided to cross OVER a Zebu instead of around it. The Zebu was spooked and rose up with the missionary on top of it. (Chris)
Trying to walk down the street without getting hit by a car. (Randi)
We drove up a waterfall in a truck when water started cascading down the road from the rain. I also caught a pickpocket one time. I even got my money back. (Michael)
Witnessing a famadiana and seeing all the old corpses dug up so people could dance around with their ancestors. Also, the circumcisions on 2 year olds with no anesthetic. (David)
These drunk people thought we stole their phone so they attacked our house and stole one of our bikes. We called the cops and they showed up with AK-47's. They got our bike back, all is well. (Bradford)
Someone called for us, and we realize that it is some guy running after us. We notice too late that he has a knife. We offer him some candy, but he insisted on money, so we took off running for about 10 yards. Since he didn't follow us, we stopped running. It's more of a humorous story in my mind. (Ben)
Storms can move in and strengthen rather quickly in Madagascar; it is easy to be out and about and quickly find yourself outside and in the middle of nowhere during a powerful storm. Keep this in mind…stay on top of the weather, especially during summer. There is crime everywhere and Madagascar is no exception. Pickpockets may target foreigners for several reasons, and missionaries stand out. Be aware and protect yourself. (Tyler)
A taxi driver was drunk and I started getting mad at him because he was veering all over the road and almost hit a few cars and people. I kept telling him to be careful and he got so angry with me for talking back and started threatening us. We told him we just wanted to get out of the car, but he refused. We weren't sure what he was going to do. We were afraid for our lives with how infuriated he was. We started talking so apologetic and tried to stay calm. After a few minutes he calmed down and let us out. God's hand was in that. He was so angry and then suddenly just calmed down. We knew we were being looked after. (Catherine)
I never had any problems in Madagascar. (Morgan)
Hitch hiking back to the house in the evening as we didn't live in our area at the time. In between was just rice fields, and a sine road. (Leon)
My training companion and I were walking down a little dirt alley, and had to stop a violent rape on the way to our appointment. Another night, we were stopped by a few men – one man armed with an AK 47. I said I was a fan of those kind of rifles, and asked if I could see it. He sort of shrugged his shoulders and handed it over to me to look at. I cleared the firing chamber and dropped out the magazine and handed his gun back to him and reminded him to be careful how he carried it. They walked off and left us alone. Another time, we were walking up the street, and I felt a tug at my back pocket – a lady was trying to pick my pocket. She seemed really embarrassed to have been caught. I sort of laughed in disbelief that I had nearly been pick-pocketed. She apologized and ran away pretty quickly. Another time, I had taken another elder on splits with me. We were trying to save money by getting out of the taxi early and walking the last mile and a half back to our apartment. I stepped up onto the sidewalk, and turned back to make sure my split was getting out of the car. I turned back around just as I was taking my next step right into a large open trench. As I fell, I could see the water below, and I tried to raise my side bag as high as I could – it felt like slow motion. I landed horizontal in the water, and was completely submerged with my arm vertical – holding up my side bag. It didn't help. Everything was completely drenched. The only thing I could control was not letting any get in my mouth. When I stood up – still holding my bag up as high as I could to protect my scriptures and other things, I could see people running over to me. I felt pretty embarrassed, and thought that for sure they would laugh at my misfortune. I quickly realized the gravity of my situation when I saw the look of horror on their faces. I had fallen into what was essentially a sewer trench. A teenage boy helped me back up to the street, and urgently beckoned me over to the nearby washing area where women were doing their laundry – yes, even after dark. He yelled some stuff in Malagasy to them. All of the women gathered around me and began washing me with brushes and bars of soap. They stripped my shirt and garment top off me and scrubbed them. I literally just stood there with my arms out to my sides, and these women scrubbed me for what seemed like half an hour. When they were done, they gave me back my clothes. It was moments away from our curfew (which was 8 PM due to civil unrest in the area). We urgently sought out a taxi that would allow me to ride in my wet clothes. Finally, one let us in at triple the price – and we didn't barter. We just paid it. When I got home, I stood in the gated porch area at the front of our apartment, and opened up my bag. My hymn book was ruined; my pamphlets were drenched; my discussion/lesson booklets were drenched; my Bible (which had a zipper case) was soiled but salvageable; and my Book of Mormon… was completely dry and clean in its zipper case. I counted it as a miracle because my Book of Mormon had been in with everything else, but came through cleaner than any other contents of my bag. My Book of Mormon was extra precious because I had marked it up and tagged all of the pages really carefully with the missionary/lesson verses – it would have been a disaster to have lost all of that care and effort. My companion was there and got me a towel, and I stripped down at the door and took two full-length showers while he tried to clean off my stuff, and hung all of my soiled and wet books and clothes on the clothesline. The next day, as we walked by that same trench, and I pointed it out to my companion, we saw a dead, bloated dog floating in the water and a man urinating in it. Some people pointed at me, and a couple of people laughed. It didn't bother me though. It began to sink in how richly I had been blessed by Heavenly Father to have someone to save me from that awful trench, to have people to help me become clean, and the privilege of having a nice place to call home where I had access to the tools I needed to further sanitize myself and to prepare for the next day – a blessing that most of those locals didn't have. On my first Preparation Day, we went to a park to play Frisbee golf with the other missionaries. Another missionary and I saw some cages at the top of the hill that were supposed to have lemurs in them. So, we ventured up the hill, and saw some really amazing ring-tailed lemurs. Their cute little black fingers wrapped around the wires on the cage. I don't think I had ever seen an animal with little hands like that before. Then we looked back down the hill to the other end where some more cages were. We agreed that we should go look at those cages too. On the cages at the bottom of the hill were some warning signs that appeared to say "Do not feed", but I couldn't read Malagasy yet. These lemurs weren't ring-tailed lemurs – in fact, I didn't know what kind they were at all. Their fur was messy, and their behavior was more anxious. The other Elder wanted to take a picture of the lemur reaching through the cage to hold onto my finger. So I extended my finger within about eight inches of the cage. The little lemur grabbed eagerly at my finger. The other elder missed the shot because he was messing with his flash. "Do it again," he requested. I reached my finger out the same distance as before. Right as the flash was going off, the lemur – with lightning fast reflexes – had pulled my finger in within about four inches of the cage, and lunged it's head out of the cage the remaining distance – and bit into my finger with its razor-sharp teeth. It sliced it to the bone. My finger instantly started squirting blood in pulses. I just stared at it – half trying to gauge the damage to my finger, and half intrigued by the blood squirting out. I came to my senses after a couple of seconds, and applied pressure to it. We walked briskly back up the hill where there was a clinic – leaving a legendary trail of blood on the sidewalk that missionaries would claim that they were able to show their companions for the entire year to come. To make a long story short, they wouldn't stitch it up because they didn't want to trap in the germs. Instead, they dressed it, gave me a rabies shot, and sent me on my way. I had a follow-up shot later. I still have the scar to show off to the youth. All of the above things happened within the first two weeks of my arriving into the field. I had no complaints. My mission was an adventure with the best and hardest times. I should mention that also during that first month, we secured six dates for baptism, and all of them went through before I was transferred. And even though my training companion (Elder Winstanley) was the most trunky missionary in the field, I'd argue that he was also the best missionary in the field, and the best possible trainer I could have had. He dealt with his trunkiness by completely immersing himself in the work. We prayed nearly unceasingly, and we fasted often for our investigators and to have the Spirit with us. We set ambitious goals, worked hard, and bore testimony everywhere we went. He set the pace and my expectations for the rest of my mission. (Joseph)
What was a spiritual experience?
Once, when teaching a father and daughter, we decided to each pray, one at a time, to ask God if the Book of Mormon was true. The Holy Ghost was strong then. (Collin)
Watching an Aaronic priesthood holder who had been inactive for years come back to activity, baptize the rest of his family (in the ocean) and get ready to go to the temple. (Tomas)
There was a flood of spiritual experiences because of the dedication of missionaries. (Chris)
We had a baptism for a family of  seven (awesome!) and the night before, we asked the mom if she was excited and she said, "yes. Now we will be one family in Heaven." Loved it. So beautiful. (Randi)
We had some investigators just drop smoking, chewing and drinking after they fasted. There's a lot of really prepared people in Madagascar. (Michael)
A woman who couldn't read had received a Book of Mormon years earlier but never was able to read it. When we found her, she told us she could see and feel a power or light coming from the book and really wanted to read it. She and her husband were baptized and became very active with their three little boys. (David)
First area, fast Sunday, we're teaching this lady and I was just rehearsing because I didn't know the language that well. I look up and she's crying from what's being taught and it made me realize how powerful the spirit can be. (Bradford)
Lots of wonderful experiences seeing people change their lives (stopping smoking and drinking) and growing closer to the Lord. (Ben)
 Madagascar Antananarivo is the furthest mission from Salt Lake City. (Tyler)
I was training a girl who was visa waiting to go to Reunion. We were both from the U.S.A. but she was leaving to Reunion to serve French-speaking and I was Malagasy-speaking in Madagascar. Usually when we went to teach, she would speak in French and I in Malagasy. As we would teach, I would teach something and then I would translate to her what I was teaching so she knew where to continue from. One appointment we were teaching a lesson about Joseph Smith. For some reason this appointment, we both seemed to be on the same page. I would speak and without having to tell her where to continue, she would just continue where I left off. We could feel the Gift of Tongues present in that appointment. We didn't need translation from one subject to another. We knew what one another was speaking about. We could feel the Spirit so strong in that itty bitty shack we were teaching in. (Catherine)
Seeing people come into the waters of baptism. (Morgan)
I gave a couple a blessing, in which I mentioned them having children. Unknown to me they were having difficulties. (Leon)
Some of them dealt with prayers, people receiving confirmation from the Holy Ghost that motivated them to become members of the church, and some were sacred experiences that helped me to know that my Heavenly Father loves me. Once, while fasting with my companion Elder Stayner, we both had the same dream of the same person at the same house – a place and a person that we had never before visited. We prayed and left the apartment hurriedly to get there. As we walked, we confirmed to each other that we were going the way that we had seen in the dream. When we got to the door, we both described the lady who would answer our knock. We knocked, and our impression was confirmed. There she stood in the doorway. She invited us in, and we taught her and a visitor a first discussion. She seemed uninterested, and did not accept the invitation to hear the second discussion. We left feeling really disappointed. We tried going back to check in, and to see how she was doing, but nobody answered the door again. I don't know that I'll ever find out why we were commanded by God to visit her – but we practiced obedience, and were there to do as Heavenly Father instructed. I had many many spiritual experiences on my mission, and I'm glad I had a journal and wrote many of them down. One other spiritual experience I had was on the road to an investigator's house in the evening a couple of weeks after Christmas. Elder Stayner and I encountered a man walking in the opposite direction. We stopped and introduced ourselves – with the end goal of inviting the man to church or of giving him a Book of Mormon. My companion did most of the introductions, and invited the man to hear a message about Jesus Christ. The man was polite, but as soon as he realized that we were the Mormons, he told us how his church had cast devils out of Mormons in Jesus' name, and that they worked miracles in Jesus' name, and then proceeded to tell us that we were following the wrong Jesus, and that we were living a false religion. As he talked to us nearly in gibberish, we continued to hear him out. The man said, "I have the spirit of God with me, and I don't feel that same spirit with you. You have a different spirit." He continued on. My companion tried to build on common beliefs, and explained to him that we do use the same Bible, and that we believe in Jesus. I quickly prayed in my mind, asking Heavenly Father why He had put this man in our path, and what we could possibly do to help him. I struggled with my French for a moment – trying to translate in my mind, and then suddenly, I felt a pillar of light (no other way to describe it) descend on me and my whole being was filled with the Spirit. My mouth opened, and the words began to pour out of my mouth. I don't remember everything I said – just that without error, I boldly testified that "I believe in God as my eternal Heavenly Father, and in His only begotten Son, Jesus Christ – who is my Redeemer and Savior." I told him that I love Christ, and that's why  I hold this name tag over my heart with His name written on it as I go out and spread His Gospel and do His work. I testified that I was there to let him know that the church and the power of God had been reestablished on the Earth, and that it was by this same power that I was testifying to him. I said more to him, and as soon as the Spirit was done filling my mouth with the words that I should speak, I stopped. Then there was silence. My companion stood there looking at me in amazement. The man began to tremble, and muttered we don't have the same spirit… . I said, "Yes, I know. We are testifying with the Holy Ghost, and with authority from God." After standing there for a couple of minutes silently, we all said goodbye and he went on his way. As soon as he was gone, I remember my companion looking at me with his jaw dropped, and then he said, "That was amazing! Your French was perfect, and the Spirit was so strong when you testified." I couldn't take credit for it – just acknowledge that I was just as surprised as he was. As we walked down the lamp-lit street, I shared with him what that experience was like for me. Even when the work was tough, when we followed the Spirit without knowing why, we had confirmation given to us that we were on the Lord's errand. (Joseph)
What are some interesting facts about the Antananarivo Mission?
The people are proud. Be ultra kind and they will reciprocate. (Collin)
Only about 1000 missionaries (elders, sisters, senior couples, presidents, etc) have served there from the mission's start until 2015. Arguably the best mission in the world. Malagasy is essentially only spoken by missionaries, peace Corp, and natives of Madagascar. (Tomas)
We were there for the creation of the mission (July 1998), the dedication of the first Church-owned building on Madagascar (the mission home/office/chapel, the arrival of the first Book of Mormon in Malagasy, the decision by Elder Richard G. Scott to transition to teaching in Malagasy instead of French in Madagascar, and Elder Scott's dedication of the island for missionary work. (Chris)
It's the 4th largest island in the world. They really do have a lot of huge disgusting cockroaches. And you'll probably see a ton of geckos and chameleons in your yard. (Randi)
It's almost all Elders and we are the furthest mission from church headquarters. (Michael)
It's the furthest mission from church headquarters. (David)
(At the time) it was the 3rd highest baptizing mission in the world. Malagasy is only spoken in Madagascar. They have 18 dialects and 18 different tribes. (Bradford)
It is the furthest mission from Salt Lake. Missionaries are currently in three different island countries (counting La Reunion, which is a French département outre mer). (Ben)
Lemurs! The only place you will find them. (Catherine)
90% of the animals are native only to Madagascar. There are 18 tribes in Madagascar so almost every missionary learns a few dialects of the language. (Morgan)
While I served there, in Mada, it became its own mission, from the Johannesburg. (Leon)
I was the first missionary called to the new mission. When I was called, there wasn't a mission president that had been announced yet, and there was no clothing list for me. I had to contact the South Africa Durban mission president for a clothing list, and was eventually answered by President R. Chris Fee (the first mission president of the newly divided mission). Later some others had their calls reassigned from the South Africa Durban mission to the Madagascar Antananarivo mission. When I got there, I think there were 46 missionaries total (including our batch of six), some of which were on other islands. We had three small branches in Antananarivo. The Book of Mormon hadn't been translated into Malagasy yet; however, we did have some excerpts in Malagasy that included the bulk of the verses needed for the missionary lessons. During the July 1998-2000 time frame, three branches became five overflowing branches which became a stake, the first Book of Mormon was published in Malagasy, and missionaries began to be trained officially in the Malagasy language. (Joseph)
What was the weather like?
Cool and dry and then hot and wet. (Collin)
Colder and drier from Mayish to October, rainy and hot from November to March, cyclones from March to May. Hot and humid on the coasts reaching about 100 degrees in the rainy season. Never snows, but occasional frost in the dry season in more arid parts. (Tomas)
Mild with somewhat warm summers in the highlands of Madagascar. Hot in Reunion and Mauritius. (Chris)
HOT. Humid. And in the rainy season, super wet and flooded. (Randi)
It rains a TON. It's also incredibly hot and humid in the summer but in the winter it gets pretty chilly inland. (Michael)
Sunny or extremely rainy. (David)
Hot and humid on the coast. A little cooler inland. Lots of rain, everywhere. (Bradford)
On the smaller islands, it is hot all year round and wet during monsoon season. On Mada, especially inland, there are defined seasons. (Ben)
In Antananarivo, there are really two seasons: wet and dry. Wet season occurs during the summer and dry during the winter (remember, Madagascar is in the southern hemisphere so the winter, for example, happens during the summer months in the United States). It rains most days in the summer, during the afternoon/evening, and gets fairly hot (mid to high 80s). During the winter, it does not rain much and can get fairly cool, especially in the evenings (40s – 50s) but never snows. In coastal regions, the summers are a little warmer and wetter, and the winters are warmer. (Tyler)
Hot! But when it rained it poured. You were sure to get soaked up to your calves if it started to rain. (Catherine)
Weather in the capital is hot but not unbearable. In all the coastal cites that missionaries work (4), it is extremely hot. If the weather is not hot, odds are it's raining super hard or there is a tsunami. (Morgan)
You've not seen rain like this before. Monsoon season is the best, no need for a jacket it's too warm, an umbrella will do. (Leon)
It was either mild or hot. In the rainy season, you get surprise rain that will flood the streets and cascade down stairways like waterfalls. It's pretty amazing! (Joseph)
Any things you really like about the area/people?
They will always help you if you need it. (Collin)
You can walk up to almost anybody and ask for help and they will help you as best they can, even if you're a total vazaha stranger to them. (Tomas)
The marvelous missionaries, the dedication of the local members. (Chris)
I love Madagascar. The people are so happy and grateful. I loved seeing their lives change with the Gospel. I also loved the food and shopping at the outdoor markets on Preparation Day. (Randi)
I love the humility of the people, I also love the 1820s feel you occasionally get when a ox driven cart rolls by. (They have cars and nice houses too, don't worry.) (Michael)
Very gentle and humble people on a beautiful island. Although very impoverished, they are also unspoiled by many modern technologies. (David)
People were accepting of Jesus Christ. You could see how humble there situation was. (Bradford)
Wonderful people. Beautiful country. (Ben)
Malagasy people are (for the most part) very friendly, especially once you get to know them a bit. They have a fun sense of humor and are very humble people. (Tyler)
They are so humble. They live in the most humble circumstances, but they are so grateful. Most have nothing. We would go outside to throw out our garbage and the kids would come running to fight over who got our trash. Our trash was really their treasure. (Catherine)
Malagasies (the people in Madagascar) are amazing. Once you have gained their trust there is nothing they would not do. They are a curious people that are very social. (Morgan)
The locals are friendly and are impressed when talked to in Malagasy, as opposed to French. (Leon)
I loved the people, the culture, the food, and the church there. It still felt new, and we had the responsibility of monitoring the doctrine of meetings, making sure that only priesthood holders in the correct office were administering the sacrament, that the organizational structure was being observed, and that people knew how to teach and administer the ordinances of the gospel. (Joseph)
Any packing/clothing advice?
Don't bring heavy leather shoes. Bring comfy shoes and a lot of them. (Collin)
No suit, no fancy ties, don't get too attached to your shoes, really, really good raincoat, lots of socks. (Tomas)
I know I needed plenty of DEET, as I attract mosquitoes and I get a bad reaction to the bites. (Chris)
Buy a poncho. You WILL need it. And good walking shoes. Wear lightweight breathable clothing. Especially if you serve on La Reunion or Mauritius. It is very hot and humid. (Randi)
Bring things that will do well in a wet environment. Bring foot powder. You can buy most toiletries there except American stick deodorant. I would suggest bringing enough deodorant for 2 years unless you don't care. They do have some. (Michael)
Get very comfortable shoes, you will walk a ton! Your athletic shoes need to be good ones that will last 2 years as well because decent replacements can't be found there. (David)
A GOOD rain coat, that can fit in your backpack. You only need one long sleeve shirt. (Bradford)
On Mada, you do a lot of walking. You'll want sturdy waterproof shoes. I had one pair of more sturdy shoes that lasted a year. Then, I used my dressier pair for the last half of my mission. Same goes for pants. Most of my pants only lasted a year. I had new ones made my second year. (Ben)
Pack light.  Pack simple. Take multiple pairs of sturdy, comfortable shoes. Take lots of socks. Bring a full first aid kit. Don't bring an umbrella, one can be purchased in Madagascar. (Tyler)
Sandals. Short-sleeved shirts. Light-weight everything. Not a huge backpack to lug around, but something smaller. (Catherine)
Bring good shoes and have the discipline to clean and polish them a few times a week. Bring a good rain jacket that can be stuffed into a bag easily. BRING STRONG ZIP LOCK GALLON BAGS! Those will keep your scriptures from water damage. Don't bring ties that you care about. They will get wrecked. (Morgan)
Quality, comfortable foot wear. Doc Martins are the choice of many. The sole wore so thin on mine, I could poke a hole through them. I was weeks away from finishing so I kept on going. Light weight trousers, short sleeve shirts. Once adjusted, you'll need a jumper (sweater). (Leon)
Pack extra shoes. They will wear out! Also, let your parents know what kinds of treats are available there (when you get there) so they don't waste $15 sending a box of cheerios or $10 sending a case of r
Ramen.  You can buy those things cheaper there. Root beer flavoring, liquorish, and pop tarts… also high-end clothing like a good raincoat and gold-toe socks are things you can't get there. (Joseph)
What blessings did you receive from serving a mission?
I believe that God helped me find my soul mate as a result of my service. It's a long story. (Collin)
I have such a firmer testimony of so many aspects of the gospel and I more fully understand my purpose as a disciple of Christ trying to become like Heavenly Father. It's knowledge that will guide me for the rest of my life. (Tomas)
There were too many blessings to mention. I grew personally, saw the workings of the Lord, and gained numerous friends. (Chris)
I learned that the Gospel can change hearts. This blessing helped my testimony grow. I also gained a testimony of the power of prayer. My testimony is stronger because of my mission. (Randi)
I'm more disciplined, task and goal oriented. I have a firm knowledge of the power of the Atonement and Gospel living. (Michael)
Too many to count. A solid testimony of the Book of Mormon. An appreciation for one of the most unique people and cultures in this world. (David)
A sister in law, nephew, niece. A stronger feeling of the spirit. A family in each area. (Bradford)
It remains one of the transformative experiences of my life. I worked hard and loved the people. (Ben)
It may sound like a cliche, but the blessings are too many to count. In a nutshell: I gained a strong testimony of the Gospel and of missionary work, gained a love of the people I served and served with, and learned skills that continue to bless me today. (Tyler)
One of the biggest things I feel has continued to bless me is the respect I get from others when they hear that not only did I serve a mission, but in Madagascar, speaking Malagasy. That will always be with me and always be something I can feel so proud of. (Catherine)
I learned to organize my life, set goals, work with others, gained a better understanding of the Gospel and lifelong friendships. (Morgan)
Although I went with a heart of gratitude and the intention of trying to pay back Heavenly Father, I ended up being so blessed over the course of my mission, that I just fell further indebted to Heavenly Father and Jesus Christ. I got to see and participate in miracles, give blessings, help others to become clean, and to be the bearer of blessings and greater tools and power to help enable people to become even more dedicated and Spirit-filled followers of Christ. I made many friends that I still keep in contact with. And my mission set the bar for my understanding and beliefs, for my desire to choose the right, and for my work/service ethic and approach to living my life. (Joseph)
What are some skills you gained?
I got better at understanding people, motivations and organization. I gained some wisdom. (Collin)
Whistling loudly, bike maintenance, bilingual, how to buy food and materials for myself, how to drive stick, how to appreciate all that I have in my life more compared to those who have almost nothing, how to live without water or power, how to help very new branches in the church, how to talk to strangers, how to pray, how to teach. (Tomas)
I gained additional knowledge of the scriptures and how to help others resolve personal problems. (Chris)
Organization skills, study skills, social skills. Conflict management. Having a companion all the time teaches you how to cooperate and compromise with someone might not normally get along with. (Randi)
 Planning out your day, making goals, acting under pressure, living with stress, etc. (Michael)
Malagasy language. Public speaking. Soccer. (David)
How to be confident and how to talk to random people. How to be nice and humble. How to read and study the scriptures. How to sort rice. (Bradford)
French speaking. (Ben)
Teamwork – Leadership – Time Management – Critical Thinking – Interpersonal Skills – Cooking – Cleaning – How to handle rejection – How to learn new material/skills effectively – Importance of local and universal etiquette – Improvisation. (Tyler)
I have been blessed to be able to speak to others much easier now. (Catherine)
Planning, leadership and linguistic skills, just to name a few. (Morgan)
I learned how to truly fast – not just starve – and get the most out of it. I learned French and enough Malagasy to invite people to church, to teach them how to pray, and to barter for taxis and products at the market. I learned how to cook some interesting things, more effective methods for scripture study, how to see people in the way that they want to be seen (and how to help them to have the power to be the people they want to become). (Joseph)
What do you wish you knew/did at the beginning of your mission?
Work harder at the language prior to your mission, if possible. (Collin)
Worked harder at loving the people. (Tomas)
I wish I had understood more completely how the Lord can take a worthless lump of clay like me and actually do something wonderful. (Chris)
I wish I had studied the language a bit before I left. (Randi)
I wish I had been more diligent about language study, as diligent as I was I could be better at Malagasy now. (Michael)
Always fill your schedule. Busier the better. (Bradford)
How fast it goes. Still, it is a marathon, not a sprint. (Ben)
At the beginning of my mission, I wish I understood just how quickly time would pass. During the MTC and the first few months of my mission, I felt that two years would never pass. Once I quit thinking about time spent away from home and immersed myself in working, I grew to be a more effective missionary and time started to fly by. On a related note, I wish I knew how to focus on the task at hand during the beginning of my mission. My mind would often wander ("That food looks gross", "I wonder what's going on at home", "My feet hurt", "I'm awful at the language so I'll just let my companion talk", etc.) instead of focusing. Knowing how to tune out minor distractions before your mission will put you light years ahead of other missionaries. (Tyler)
I wish I used The Book of Mormon more, followed more closely the fundamentals of teaching – Revelation through The Book of Mormon. I wish I taught people not lessons, Doctrine of Christ…etc. Also, I wish I had understood my purpose better. (Morgan)
Not to be embarrassed / shy in using what the language I knew even if it's not very good. Eventually I had dreams in french. The quicker you use it the better you become. (Leon)
I wish I had had a greater awareness of spiritual things (spiritual eyes) and of deeper principles of the gospel. It was something I didn't pick up or learn from my parents. I may have come off to others as someone who knew more than I did because I was living in harmony with the gospel, but I had a rude awakening about halfway through my mission that I hadn't been adequately prepared for. It caused me a lot of hardships and fears as I tried to learn, grow and develop my character. I left my mission feeling like a failure, full of anxiety, and that I could never catch up to where I needed to be in my own spiritual development. That pervasive spirit haunted me many years into my marriage. I don't know that a missionary-prep class would have helped, but a good, caring and extra-diligent mentor could have made all of the difference in the world before I went out. (Joseph)
Any advice/testimony for pre-missionaries going to Madagascar?
Don't despair when it's hard. But if you do despair, keep working in despair and believe that it will work out. I had some tough times, depression, discouragement, doubts. But through work and scripture study and prayer, it turned out awesome. (Collin)
Read "the 4th missionary" talk, don't worry about the language until the Mission Training Center. (Tomas)
Work hard, but don't stress yourself out. When you're sick, take a break. Don't be a hero and proselyte when you have the flu. Take a deep breath. The mission can be so so hard, but keep praying. It's so worth it. (Randi)
Give it your all. Baptize people who will be an asset to the church. Always go the extra mile. Have hope and faith and you'll find the people who are prepared. They're out there. I've met them, and teaching them and witnessing their conversion is what a missionary dreams of. (Michael)
Study up on the history and culture of Madagascar. The more you can talk to people about that, the more respect you'll gain and they'll be more receptive to your teachings. Learn about the tribes and their differences. (David)
A mission isn't always serious. Laugh, have a good time. Serve people. (Bradford)
Be humble. Approach each humble Malagasy as someone with something to teach you; each Réunionnais how to live life to the fullest; etc. (Ben)
Don't compare yourself to other missionaries; be/do your personal best. You'll feel inadequate and be tempted to go home, especially early in your mission. This is normal. Commit to yourself that going home is not an option and that you'll continue to focus on work. (Tyler)
My first month or two was one of the hardest things I had to go through. Everything is new and different and it is all so hard. You are in a new place with new people and don't understand what anyone is saying. I wanted to go home. I thought that was how my mission would be the whole time. But it gets better! Stick with it, it gets so much better and is so worth it in the end. (Catherine)
It is the greatest place on earth and I'm your teacher at the MTC, so we will have plenty of time to chat. (Morgan)
Put the Lord first and acting on one's faith is scary and difficult, but it is possible. (Leon)
Charity is the pure love of Christ. This is helping others, with no intentional benefit to yourself – it's a sacrifice that you offer up to Christ by helping your fellow man draw nearer to Him. Any other effort or any other kind of love is not Christ-like love. Love is service and the spirit that you feel from it. Tolerance is a tool offered to people who are trying to become perfect, but who are not yet there. We are commanded to bear one another's burdens in order to help people to try to improve their lives and to draw closer to Christ. Tolerance is what permits imperfect people to live among the saints of God. Tolerance is not a heavenly virtue when it actively helps the cause of wickedness. Don't tolerate or condone evil either actively or passively – don't ever say that evil is OK. Only repentance (to triumph over evil) is OK. While being tolerant, it's also important to set a good example. Your tolerance is worthless if you aren't also setting a good example to those in need of improvement in that area. Your words and your testimony only have true power when you're obedient and keeping the commandments. Read your scriptures diligently as you work, fast, and pray. If you read them, and ponder them in your heart in order to gain a full understanding of them, then when you're fasting and praying, the Spirit can talk to you in more than just feelings. And when you share the Gospel – His words – and the words of the prophets will be what come out of your mouth. I can't stress enough how important the Book of Mormon, the Doctrine and Covenants, and the other scriptures are to your work and spiritual development. Read your scriptures. Read, Pray, Fast, and be obedient to the letter of the law and to the spirit of the law. Be humble and willing to learn – even from companions who rub you the wrong way. Be patient and long-suffering – never losing your temper. Love everybody as Christ loves them. (Joseph)
What was a funny language mistake?
Mandoalika. If you pronounce it right, it means "to kneel." Like Joseph Smith knelt and prayed. But if you pronounce it wrong, it means to throw up…a dog. Mando = "man doo" meaning throw up Alika = "Ah-leek-a" meaning a dog. Mandoalika = "man dwall eeka." Meaning to kneel. Emphasis on the "dwall." (Collin)
What he meant to say Tena mahatanjaka isika. (We are very strong). What he actually said Tena mitanjaka isika. (We are very naked). (Tomas)
Mitanjaka – naked Matanjaka – strong. My companion kept saying naked every time he wanted to say strong. The people were laughing so hard by the end. (Bradford)
There are so many in French: La mort (death) rather than l'amour (love), etc. I once called a guy "réunionnaise" (the feminine form for a person from Reunion). I didn't realize until I was driving away and looked into my mirror and saw his furious expression. Whoops! (Ben)
One time early in my mission, I meant to say "nandohalika sy nivavaka i'Joseph Smith" ("Joseph Smith knelt and prayed) but instead said "nandoa alika sy nivavaka i'Joseph Smith" which means "Joseph Smith threw up a dog and prayed". Make sure the stress is on the correct syllable! There is a huge difference between nawn-doo-ALL-ee-ka and nan-do-al-LEE-ka. (Tyler)
I was quoting the First Vision and when it says Joseph Smith knelt down, I said that a dog threw up instead. I should have said nandoalika and instead I said nando alika. (Catherine)
Too many to count and most are not that appropriate. (Morgan)
I wanted to say you should love everyone. What I actually said was make love with everyone. My heart was in the right place. (Leon)
Be careful – "P Day" sounds a lot like "pédé" (which means a male homosexual). "Pecher" (peshay) means to fish, but also to sin. "Merdi" is not a day of the week. I learned that in the MTC, and got in some trouble over it from my instructor until they judged that it was a sincere mistake. (Joseph)