Free resources about the Kentucky Louisville Mission:
---
---
Kentucky Louisville Mission Address
Here's a recent address for the Kentucky Louisville Mission. We try to keep this information up to date, but it's a good idea to check the address with several sources, including your mission packet or the mission office.
Kentucky Louisville Mission
1325 Eastern Parkway
Louisville, Kentucky 40204
Phone Number: 1-502-451-3010
Mission President: President R. Larry Brough
Kentucky Louisville Mission Map
Here's a link to the mission map for the Kentucky Louisville Mission (LDS). To access the official LDS.org map for the Louisville Mission:
Log into your LDS account here.
Click here.
Videos with Kentucky Louisville RMs
Here are in-depth YouTube video interviews with returned missionaries from the Kentucky Louisville Mission.  We interview hundreds of returned missionaries each year, so check back regularly to see new RM interviews.
LDS-Friendly Videos about Kentucky
Here are LDS-friendly educational videos about Kentucky. We scoured YouTube to find the best quality videos about Kentucky, that are free from inappropriate music, immodesty and profanity.
Kentucky Louisville Missionary Blogs
Here's a list of LDS missionary blogs for the Kentucky Louisville Mission. This list includes the missionary's name, URL and when their blog was updated.
*Send your missionary a gift (mission-specific shirts, ties, Christmas stockings/ornaments, pillowcases, etc.)
Kentucky Louisville Mission Groups
Here are Louisville Mission Groups- for LDS missionary moms, returned missionaries, mission presidents and other alumni of the mission.
Kentucky Louisville Mission T-Shirts
Here are T-shirts for the Kentucky Louisville Mission!
Shirt designs include Kentucky Louisville Mission logo/emblem shirts and Called to Serve shirts. The shirts make great gifts for pre-missionaries, returned missionaries and missionaries currently serving. LDS Mission shirts come in all sizes: Small, Medium, Large, Extra Large, up to 4XL.  The mission designs are printed on white shirts and are shipped to you.
*Simply click on a shirt design to view the details and submit an order. The designs on mission t-shirts may also be printed on other LDS mission gifts, including: Kentucky Louisville missionary aprons, Christmas stockings, ties, pillow cases, teddy bears and Christmas ornaments.
*Click here to browse Louisville Mission gifts
---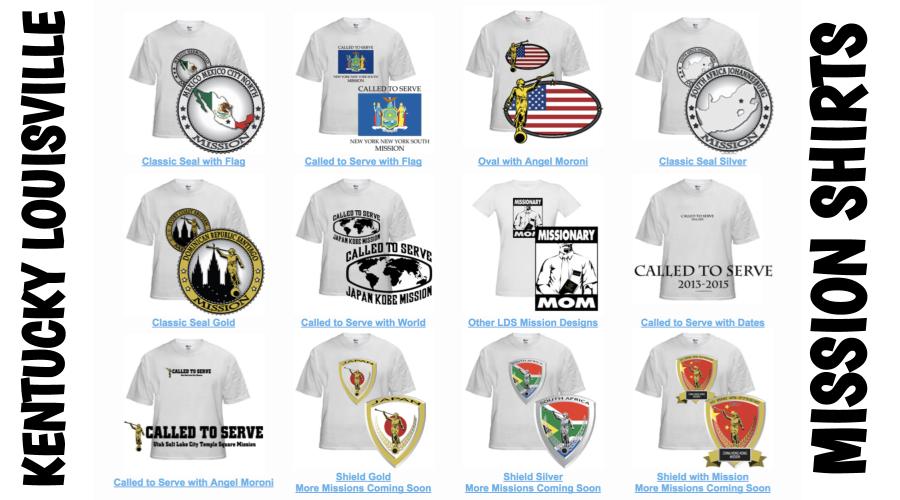 ---
Kentucky Louisville Mission Presidents
Here's a list of current and past Mission Presidents of the Kentucky Louisville LDS Mission.
2017-2020, Daniel R. Hughes
2014-2017, R. Larry Brough
2011-2014, W. Richards Woodbury
2008-2011, Steven Glende
2005-2008, Dennis C. Brimhall
2002-2005, Bernard Packard
1999-2002, Michael C. Cannon
1996-1999, Joel A. Flake Sr.
1993-1996, Douglas B. Nielson
1990-1993, Larry V. Lunt
1987-1990, Dale L. Gardner
1984-1987, Allen C. Ostegar
1981-1984, Ronald K. Lindsay
1978-1981, Calvin E. Smoot
1975-1978, Reed A. Benson
1972-1975, George Durrant
1970-1972, William H. Day
1966-1969, Raymond Eldredge
1963-1966, Alvin C. Chace
1960-1963, Frank H. Brown
1955-1950, M. Ross Richards
Kentucky LDS Statistics (2015)
Church Membership: 34,210
Missions: 1
Temples: 1
Congregations: 78
Family History Centers: 23
Helpful Articles about Kentucky
Kentucky Louisville Missionary Survey
Here are survey responses from Kentucky Louisville RMs, to give you a snapshot into what it's like to live in the mission.
When did you serve?
June 2012- January 2014 (Chelsea)
2012-2014 (Zac)
2010-2012 (Braiden)
2008-2010 (Andrew)
1994-1996 (Giegh)
2015 (Taylor)
1984-1985 (Jeffrey)
1983-1984 (Jon)
1984-1985 (Dianne)
1985-1987 (Debbie)
October 2002- November 2004 (Dustin)
What areas did you serve in?
Clarksville, Indiana – Louisville and Lexington, Kentucky. (Zac)
Evansville, Indiana; Robinson, Illinois; Rolling Hills, and Lexington. (Braiden)
Lexington, Georgetown, Hamilton, Paintsville, and Evansville. (Giegh)
Owensboro, Hazard and Cincinnati. (Jeffrey)
Charleston, Louisville, Wenchester, Loveland. (Jon)
Tell City, Louisville, Jeffersonville, Martin. (Dianne)
Harrisburg, IL, Clarksville, IN. (Debbie)
What were some favorite foods?
Sister Donnie Young's Brownies, Paris Ward Jams and Jellies, and Biscuits and Gravy. (Chelsea)
Indi's fried chicken, La Rosita tacos, and homemade sopes. (Zac)
Blackened Catfish, Baked Beans, Fried Chicken, and Bar-b-que. (Braiden)
Derby Pie and Kentucky hot brown. (Andrew)
Fried chicken, biscuits and gravy. (Giegh)
Navaho Tacos (Taylor)
Brisket @ Moonlight Cafe. Fried chicken, (Jeffrey)
Fried chicken. (Jon)
Pizza. (Dianne)
What was a funny experience?
Sometimes I wouldn't catch differences in accents. We asked one woman if so-and-so's fiancé was there and she replied, "That's May." I contined to ask if "May" was there and when she'd be home. My companions (I was in a tri-companionship) caught on to my slip and let me roll with it. "Me" and "May" can easily get mixed up in The South! (Chelsea)
In Lexington there was a man who would walk around without a shirt and would ramble on to himself. Whenever he saw us he would yell, "Mormons!". First time I spoke to him I went up and after he yelled, "Mormons!" I said, "yeah, we're Mormons, we're missionaries", before I could say something else he yelled, "Book of Mormon" and then walked away. The next time I saw him this happened exactly as it had before, after he yelled, "Book of Mormon!" I told him "you've heard of the Book of Mormon? Here, take a look. He just looked down, refused to look at it and yelled, "Donny and Marie!" (Osmonds), and then walked away. Finally, the third time I saw him we rode our bikes up behind him and when we got his attention, before he could say anything, I said "Hi, we're Mormon missionaries and we would like to share something with you from the Book of Mormon – you might have heard of Donnie and Marie Osmond, they are two of some of the more famous people who are also Mormon". He was speechless, for once. He just looked at both of us and walked away. We realized he wasn't really open to our message and whenever he saw us after he wouldn't yell to us random Mormon phrases. (Zac)
Always had an interesting time tracking and finding at least one person who went to the baptism seminary who wanted to pray for you. (Braiden)
My companion and I were in the central Louisville tracting, he he was new and only after a couple houses we saw three chickens in the middle of the street and my companion said, "We are in the south now". (Andrew)
During exercise we went running and I miss-stepped so I fell flat on my face and it looked like I got mugged for a week. (Taylor)
Slipping on ice on 10 speed bicycle wearing suits. (Jeffrey)
Laughing with my companion about how the locals used the phrase "the word" for the bible. I challenged my companion to do a door approach using this term and he did a great job at it (very funny) and it was a good thing they did not let us in because I started laughing so hard that I could not talk. (Jon)
Dominoes made a great pizza. They had never heard of pineapple on pizza. They were willing to put pineapple on it if we would take the can of pineapple to them. For some reason I was always the one to select the can of pineapple to take. Invariably I would get a can of crushed pineapple instead of chunks. And the elders in the district would complain. Loudly. (Dianne)
What was a crazy/dangerous experience?
I was driving and didn't know where I was. There were a lot of train tracks with little visibility. I crossed a track with a train coming that was a little too close. (Chelsea)
During a lesson a woman barged into the man's apartment we were teaching, she was very frazzled and her clothes were a bit disheveled. She started speaking quickly to our investigator when a man (found out later it was her son, of all people) burst in through the day and grabbed her arm and literally yanked her off her feet out into the stairwell. We just sat dumbfounded and our investigator just sighed, saying, "Cubans…" (Zac)
I had several people pull guns on us, and one who held a knife to my companions throat. (Braiden)
Shotgun and tracting in the country. Enough said. (Andrew)
Holler hopping and getting shot at. Hamilton Ohio. (Giegh)
Dangerous experience? Didn't really have one luckily. (Taylor)
Walking in such a strong wind storm that included sticks and other items hitting us in the face, it made me think of D/C 122:7. (Jon)
What was a spiritual experience?
When isn't a spiritual experience? I remember my companion calling a man to repentance and testifying of the truth of the Atonement. It was incredibly powerful! (Chelsea)
One that really stuck with me was being guided, 110% by the Spirit's whispers, to find a longtime inactive member in the middle of the city, being prompted to wait for someone to let us into his apartment building and then, when his father appeared and let us into the building/room, we found the member and we gave him the most powerful blessing I have been apart of. We returned the next day to give him a haircut and he came to church that Sunday! (Zac)
There is nothing like the experience of baptizing one of God's chosen. (Braiden)
There is a park in Louisville that is on a large hill with trees all around. For personal study my companion and I decided we should have a sacred Grove studying experience and within a eye sight of each other. That study season was a boost and a motivator and the feelings that were felt last to this day. (Andrew)
Baptizing a couple in Georgetown, Ohio. (Giegh)
Watching an investigator watch a baptism of a child. (Taylor)
Blessing a seriously injured teenager at the emergency room in Hazard. (Jeffrey)
Seeing the countenance of an investigator change when she felt the power of the Holy Ghost after attending a fast and testimony meeting – it was so amazing to see that she knew the gospel was true. She and her daughter got baptized and I think they are both still active today. (Jon)
What are some interesting facts about the Louisville mission?
It covers two time zones! Louisville is featured on "Cops". There are remote little houses called "hollers". It has very back-wood, remote places. (Chelsea)
It is the most beautiful place I have been to. Lexington, KY has ice storms where the trees will be frozen in place blowing sideways with icicles falling off the branches, it's pretty cool. Amazing tacos. The bigger cities are really fun! (Zac)
There are three different states within the mission boundaries. College basketball is a religion. (Braiden)
The people are the most kind people I have ever meet. They can be hard to understand depending on were you are but they will give you everything they have. (Andrew)
They love Basketball more than anywhere I have been. (Jeffrey)
I was called on a 18 month mission, but just 2 months before it was time to go home, they changed it to 2 years and I got to choose if I wanted to stay or go home. (Jon)
It's in the bible belt. Most people are Christian and proud of it. And didn't consider us Christian. (Dianne)
Mine was very unique. I became very ill after a few months and was hospitalized. Was told I wouldn't live more than two hours, but I did survive. I spent 20 days in the hospital and then was flown home in a wheelchair escorted by my mother. After 6 months of being home, I went back to the mission and served 4 months. You can return to the mission after an illness. (Debbie)
What was the weather like?
Crazy!!! One week we had 60 degree temperatures, an ice storm, a tornado watch and a boil-water advisory. All in one week. (Chelsea)
All four seasons. Lots of humidity during summer makes it very hot and the worst winter weather I had was around 5 degrees. (Zac)
Super hot and humid in the summer. Extremely rainy the rest of the year. (Braiden)
Humid Wind chill (winter). (Andrew)
Cold winters, crazy humid hot summers. (Giegh)
Hot and muggy 😀 (Taylor)
Humid. (Jeffrey)
The weather always changes in Kentucky, I saw and felt it all, but the humidity the worst. (Jon)
Humid and cold. Hot and humid. Nice warm springs and nice falls that extend past Thanksgiving. (Dianne)
Any things you really like about the area/people?
Most people believe in Jesus Christ and the Bible. (Chelsea)
I served the Spanish-speaking community in Kentucky, they are spiritual, kindhearted, hard-working, optimistic, happy in the midst of overwhelming odds and fun to be around. I loved all of my areas, mainly in larger cities, sometimes in a car, sometimes on a bike. Kentucky is very diverse and the people are, too. (Zac)
They can be some of the most honest and sincere people you will ever meet. (Braiden)
The buildings (Taylor)
The people were amazing! (Jeffrey)
They were some of the best people I have ever had the privilege of being with – very humble and kind and loving. (Jon)
They were very loving and friendly. And so unpretentious. (Dianne)
Any packing/clothing advice?
Lots of sticky notes. You'll want to leave them on doors of people that don't answer/aren't home. They are better than some of the pass-along cards (too small, won't stay, not easily seen). (Chelsea)
For elders get shirt-stays, they help keep your shirts tucked in. A nice, waterproof winter jacket will be a lifesaver. Bring both casual and practical clothes for preparation-day. (Zac)
Make sure to have your winter clothes with you when you arrive. Weather can change quickly. (Braiden)
Layers for winter time. (Andrew)
Roll everything! It helps to be able to put more stuff into two suitcases including pillows and bedding. (Taylor)
Pack for all types of weather. (Jeffrey)
Plan on high humidity. (Jon)
What blessings did you receive from serving a mission?
My husband! He lived in my third area. I wouldn't have met him without my mission. (Chelsea)
Two years worth of experience making and breaking habits, learning a new language, thousands of memories to look back on to help build my testimony and prove I can do hard things. Knowledge about the Gospel and a stronger testimony. (Zac)
This is hard to say, but I know I wouldn't be the where I am today without it. (Braiden)
Everything good in my life I can trace back to serving a mission. (Giegh)
A job experience I would never have thought about doing. (Taylor)
A testimony of the gospel and that Christ died for us all. (Jeffrey)
It was the greatest time in my life to develop a strong faith and dependence of my Heavenly Father and Savior, Jesus Christ and I have not been the same ever since. It became the foundation of a life time of service in the Kingdom of God on earth. (Jon)
What are some skills you gained?
Easily talking about the Gospel with people. You know what investigators need. A more thorough understanding of scriptures and stories within. (Chelsea)
Learned to teach, work with people better, speak Spanish, and be humble. (Zac)
Cooking, cleaning, working and living with others, trusting the Spirit, and living the gospel. (Braiden)
Courage, social skills, and reading people quickly. (Giegh)
In general, living on my own. (Taylor)
Courage and learning to love anyone. Scripture knowledge. (Jeffrey)
Learning how to receive revelation. (Jon)
What do you wish you knew/did at the beginning of your mission?
Don't worry so much. It's going to be hard. Choose to enjoy every minute of your mission. (Chelsea)
That every one of your companions can/will teach you something and have something valuable to offer. (Zac)
I wish I knew the story of the Restoration better. I knew it, but not good enough. Memorize it. (Braiden)
Doing more service for all in area. (Giegh)
How short it would have been. (Taylor)
More about the Bible. (Jeffrey)
I wish I was more humble sooner, then I would have been able to learn more. (Jon)
Successes are few and far between. Pace yourself with this in mind. (Dianne)
Any advice/testimony for pre-missionaries going to Louisville?
It's the best mission ever! You're going to love it. Learn about other Christian faiths. (Chelsea)
Learn to be obedient now, being obedient on a mission is one thing, but when you return to the real world you will be faced with thousands of enticing opportunities/temptations that necessarily reflect what you had to do on your mission. (Zac)
Know the scripture mastery. (Braiden)
Read and know all scriptures. Doing good is never bad. (Giegh)
Don't worry about anything and just do what you believe and know is right. If you worry, that is a door opened for satan to mess with you. (Taylor)
Read the New and Old Testament. (Jeffrey)
Learn the New Testament and how to move the conversation from the New Testament to the Book Of Mormon, because the Book of Mormon is the greatest conversion tool. (Jon)
Follow the rules. Follow the Spirit. Learn the Bible. Most people there will know the Bible better than you. (Dianne)
What was a funny language mistake?
There were a lot of dirty jokes that certain members taught me that had double-meanings I didn't understand, one night at a ward party they had me walk over to a table full of elderly women and share my newly-learned jokes. The looks of disgust on their faces was enough for me to learn to not always trust what others said. (Zac)
Too many to list. Eastern Kentucky language can be weird. (Giegh)
How to pronounce Louisville. (Jeffrey)
I could not understand some of the people who spoke with a thick southern accent so I had to ask them to repeat what they were saying often. (Jon)
We took our car to the mechanic and he asked my companion if she wanted him to check the oi. She said "Please" So he asked her again, she said "Please again" He asked louder. Finally she said Yes! And we learned that "Please" meant "What". (Dianne)