Free resources about the Japan Sapporo Mission:
*Other Mission Pages: Japan LDS Missions.
---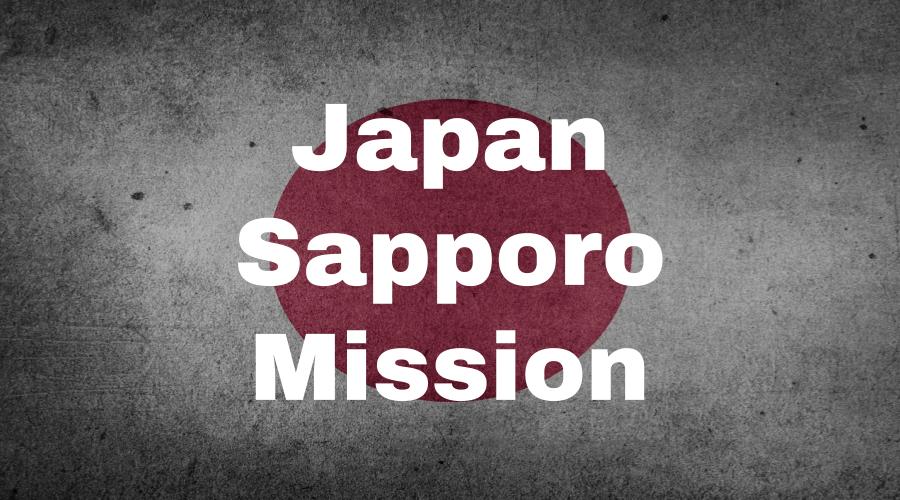 ---
Japan Sapporo Mission Address
Here's a recent address for the Japan Sapporo Mission. We try to keep this info up to date, but it's a good idea to check the mission address with several sources, including your mission packet or the mission office.
Japan Sapporo
1-6-2 Ooyachi-nishi
Atsubetsu-ku,
Sapporo-shi, Hokkaido
004-0042
Phone Number: 81-11-890-8140
Mission President: President Hirofumi Nakatsuka
Japan Sapporo Mission Map
Here's a link to the mission map for the Japan Sapporo Mission (LDS). To access the official, up-to-date LDS.org map for the Sapporo Mission:
Log into your LDS account here.
Click here.
Videos with Sapporo RMs
Here are in-depth YouTube video interviews with returned missionaries from the Japan Sapporo Mission.  We interview hundreds of returned missionaries each year, so check back regularly to see new RM interviews.
LDS-Friendly Videos about Japan
Here are LDS-friendly educational videos about Japan. We scoured YouTube to find the best quality videos about Japan, that are free from inappropriate music, immodesty and profanity.
Sapporo Missionary Blogs
Here's a list of LDS missionary blogs for the Sapporo Mission. This list includes the missionary's name, URL and when their blog was updated.
*Send your missionary a gift (mission-specific shirts, ties, Christmas stockings/ornaments, pillowcases, etc.)
Japan Sapporo Mission Groups
Here are Sapporo Mission Groups- for LDS missionary moms, returned missionaries, mission presidents and other alumni of the Sapporo Mission.
Japan Sapporo Mission T-Shirts
Here are T-shirts for the Japan Sapporo Mission!
Shirt designs include Japan Sapporo Mission logo/emblem shirts and Called to Serve shirts. The shirts make great gifts for pre-missionaries, returned missionaries and missionaries currently serving. LDS Mission shirts come in all sizes: Small, Medium, Large, Extra Large, up to 4XL.  The mission designs are printed on white shirts and are shipped to you.
*Simply click on a shirt design to view the details and submit an order. The designs on mission t-shirts may also be printed on other LDS mission gifts, including: Japan Sapporo missionary aprons, Christmas stockings, ties, pillow cases, teddy bears and Christmas ornaments.
*Click here to browse Sapporo Mission gifts
---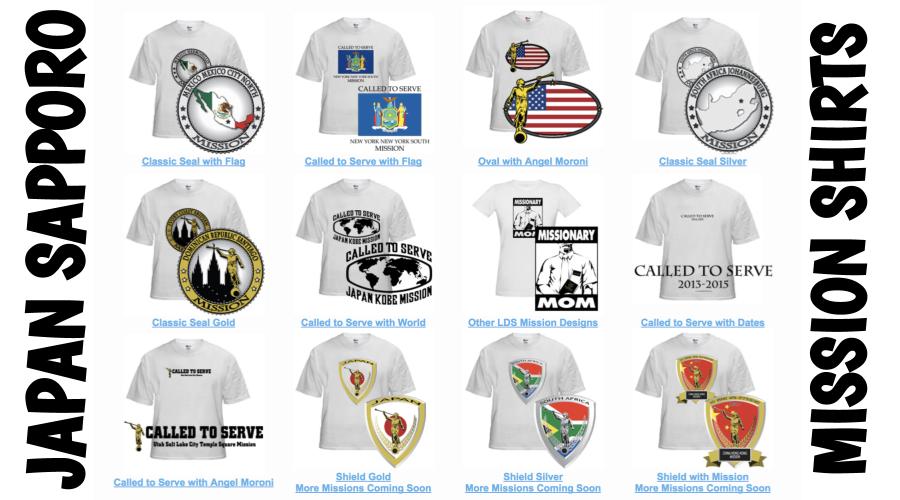 ---
Japan Sapporo Mission Presidents
Here's a list of current and past Mission Presidents of the Sapporo LDS Mission.
2017-2020, Russell L. McClure
2014-2017, Hirofumi Nakatsuka
2011-2014, Eric C. Evans
2008-2011, Lee Alford Daniels (Listen to an interview with President Daniels)
2005-2008, Yoshikazu Yokoyama
2002-2005, Richard K Hansen
1999-2002, Michael R. Larkins
1996-1999, Gordon Ray Hoki
1996-1996, M. Tom Shimizu
1994-1996, Paul H Beckstrand.
1991-1994, Ned L. Christensen
1988-1991, Masaru Tsuchida
1985-1988, Rulon D.  Munns
1982-1985, David H. Hoki
1979-1982, Tohru Hotta
1976-1979, Shozo  Suzuki
1973-1976, Kotaro Koizumi
1970-1973, Russell N. Horiuchi
Japan LDS Statistics (2016)
Church Membership: 128,216
Missions: 7
Temples: 2
Congregations: 266
Family History Centers: 63
Helpful Articles about Japan
Japan Sapporo Missionary Survey
Here are survey responses from Japan Sapporo RMs, to give you a snapshot into what it's like to live in the mission.
When did you serve?
2014-2016 (Loren)
2013-2016 (Baden)
2013-2015 (Adam)
July 2013 – February 2015 (Caitlin)
2011-2013 (Tanner)
2001-2003 (Kawai)
1980-1982 (Phil)
1996-1998 (Greg)
1993-1995 (Scott)
1983-1984 (Patrick)
1989-1991 (Eric)
2013-2015 (Stephen)
2013-2015 (Grey)
September 2010-October 2012 (Ted)
1980-1981 (Phil)
1979-1981 (Andy)
1985-1987 (Jim)
1974-1976 (R)
1972-1973 (Paul)
2001-2003 (Chris)
1991-1993 (Jeremy)
1986-1988 (Michael)
Which areas did you serve in?
Obihiro, Shinkotoni, Asahikawa, Atsubetsu. (Loren)
Sapporo. (Baden)
Higashi, Kitami, Obihiro, Eniwa-Chitose, Honbu, Shinoro. (Adam)
Ebetsu, Suehiro, Kitami, Kushiro. (Caitlin)
Iwamizawa, Ebetsu, Sapporo-Honbu, Hakodate, Sapporo-Higashi. (Tanner)
Shinoro, Asahikawa, Hakkodate, Higashi, Ebetsu, and Obihiro. It was the Japan Hokkaido Mission then. (Kawai)
Sapporo, Muroran, Asahikawa, Hakodate, Kushiro. (Phil)
Teine, Makomanai, Hakodate, and Higashi. (Scott)
Ebetsu, Asahikawa, Eniwa-Chitose, Shibetsu, Hakodate, Kotoni/Honbu, Shinoro. (Stephen)
Asahigawa, Otaru, Tomakomai, Sapporo, Shibetsu, and Muroran. (Andy)
Kushiro, Asahikawa, Shibetsu, Tomakomai, Atsubetsu, Obihiro, Shinkotoni. (Chris)
Suehiro, Iwamizawa, Ebetsu, Takikawa, Abashiri. (Jeremy)
What were some favorite foods?
Sushi! (Loren)
Katsudon, Curry, Udon, Soba, Mabodofu, Oyakodon, Yakisoba, Ramen, Butadon. (Baden)
Sushi, katsudon, Nepal curry, soup curry. (Adam)
Okonomiyaki, Anpan Curry, Nabe, Koroke. (Caitlin)
Sushi, Yakitori, Yakisoba, Mabudofu, Tenpura, Okonomiyaki. (Tanner)
Anything. (Kawai)
Curry, Sukiyaki, Genghis Khan. (Phil)
Gyudon. (Greg)
Ramen, Katsudon, Gyudon, Curry, Gyoza, Sukiyaki. (Scott)
Katsudon, Inarizushi, Ramen, Curry. (Patrick)
Okonomiyaki. Tonkatsu. Oyakodon. Katsudon. Sushi. Ramen. Curry Rice. Mabodofu. (Stephen)
Nato, Melon Pan, Oyakodon, Omrice, Sushi, O-Nigiri. (Grey)
Japanese curry, Indian curry, Gyoza (potstickers), ramen… There's really way too many to list. (Ted)
Curry, Genghis Khan, sukiyaki. (Phil)
Inari sushi, ghengis khan (meat dish cooked on a hibachi), sukiyaki. (Andy)
Katsu curry from Mori's in Shinkotoni. Katsu don. Good gyozas are worth paying for, but the cheap frozen ones get your belly full as well. (Jim)
Sushi, udon, yaki soba, gyoza, nikuman, curry rice. (R)
Curry. Gyoza. Sushi. (Paul)
Tonkotsu Ramen!!! Curry Okonomiyaki (Chris)
(Spelling) Genghis (jengisu), Chicken Curry, Tacoyaki, Ishiyakimo on a cold winter night. (Jeremy)
Curry, Gyoza, Etc. (Michael)
What was a funny experience?
Always saying something wrong in Japanese and Japanese people looking at you weird. (Loren)
I couldn't figure out how to use the soap dispensers in public bathrooms for the first three weeks in the field. At one point I was so desperate to wash my hands that I opened the soap container and dipped my hands in it. When I tell the story, Japanese people think it's really funny that I couldn't figure it out but then are appalled when they hear I dipped my hands into the container itself. (Baden)
When people fall in the snow. (Adam)
Middle of the summer. My companion and I were dressed for summer and had a 30 minute bike ride ahead of us to get to our district training meeting. On our way back from district training meeting we saw the clouds rolling in. About ten minutes into the ride home it started pouring. We stopped by our apartment, grabbed some rain suits and dropped off some of our unneeded materials and set off for the day. ALL of our appointments fell through, so we were out in the rain all day. Drenched from head to toe we decided to make the most of it and started singing and stomping on the puddles since no one would let us in because we were wet. (Caitlin)
Riding my bike down a snowy hill, when my fresh from Hawaii companion went sailing past me, on his side, with cars also flying by, and when I finally reached at the bottom of the hill, he looked up at me, and laughing his guts out said "Can we do that again?" (Phil)
Riding bikes in a blizzard on frozen ground. (Greg)
Sapporo has a winter festival every year and the missionaries often go. On one preparation day we went and someone was offering warm drinks. My companion and I took one not knowing it was warm Sake alcohol. It was quite a shock in the throat and we laughed for days afterwards. (Scott)
Four elders serving in Muroran, two in Higashi and two in Nishi. The Higashi Elder was leaving in a week so we all decided to go in for haircuts. He wanted his buzzed for the trip home. I had merely had a trim. He was blonde. I was blonde. Six weeks later when we all returned for haircuts, she asked me, "same as last time?" I confirmed. I got buzzed. She had thought I was him. (Patrick)
Karaoke nights with the eikaiwa students. Learning to bring my own toilet paper to public restrooms. (Eric)
When my companion and I kept slipping on the ice. One time my companion and I were knocking on people's doors, and I was still a new missionary. When I was telling the person about our message, I meant to say we're sharing a message about God, but accidentally said we're sharing a message about how to become God. While it is technically true, it was funny to think about what they must have been thinking. (Stephen)
I was with my companion at an investigator's house and she had about 20 cats. One of the cats decided to join in the lesson and walked into the room. All of the sudden, the cat made eye contact with me and started to moon walk out of the room. My companion and I looked at each other and started laughing. (Grey)
Where do I begin? Many funny experiences come from language mistakes either made by you or a companion. But I would have to say that one funny experience was when my first junior companion wanted to ride his bike in the freshly fallen snow. I told him, "No," because it wouldn't work with fresh snow. He didn't want to believe me, so we went anyway. He fell down three times before getting up and saying, "Elder, I think we should go on foot tonight…" (Ted)
I rode my bike down a large hill, in January, on a major thoroughfare, with my new companion, fresh from Hawaii. As I'm cruising down the hill, all of a sudden, my companion flies by me, as he had fallen off his bike in the two feet of snow, and cars were flying by, as well. I get to the bottom of the hill, just praying I didn't get the greenbean killed, and when I looked down at him, he looked up at me laughing his heart out and said, "Can we do that again?" (Phil)
Getting caught in a typhoon, riding a bike so that you are leaning 45 degrees into the wind sideways. (Andy)
My first experience with those little senbei crackers led to some major time in the benjo that night. (Jim)
During a very snowy winter in Otaru, I was standing on the top of a huge pile of snow as I was speaking with the wife of the house. Suddenly, I fell through it and dropped about eight feet. I was in the middle of a huge snow pile and could not get out. My companion and the neighbors had to dig and pull me out. Everybody involved could not stop laughing. (R)
The turkey transfer of Thanksgiving 1973. (Paul)
Watching cops react to biker gangs by throwing eggs at them instead of attempting arrest. (Chris)
Fixing one of the sister missionaries brakes on her bike during Eikaiwa when she had complained about not being able to stop her bike anymore, then watching it nearly come out from under her as she applied the brakes a little too hard. (Jeremy)
What was a crazy experience?
Riding my bike in the pouring rain!!! No one can see you properly. (Loren)
I was cycling back to the apartment from a neighboring town at 8:30pm. It was really dark and there were no street lights because it was a countryside highway. I forgot to bring a bike light and was riding top speed without being able to see the path in front of me, trying to stick close enough to my companion to see by his light. It was actually probably the most fear I've ever felt over an extended period of time. We were going so fast. At one point he stopped and we were trying really hard to make good time so it was really tempting to go straight past him like I would in the daylight but I decided last second to stop as well. I braked hard and came to a stop just in front and to the right of him. He turned his handlebars so the light moved and straight in front of me was a great big ditch leading down to a rocky gully. I went white and just, tried to not imagine what would have happened if I hadn't decided to stop. Then we went a little slower until we got back to main roads. (Baden)
Blizzards! Sometimes you can barely see in front of your face, so you seek shelter somewhere and continue to work as best you can. (Adam)
We were performing in our mission musical fireside. We were in the neighboring area (like an hour-long trip). We were traveling together, the four Elders and then my companion, Sister Smith and I, back to our area. I had been in the area the longest, but was only on my third transfer as a missionary, so my judgement wasn't super respected yet (especially since I didn't know Japanese). I mentioned that we should probably get going so we didn't miss our bus. An Elder insisted we were fine because there was a train coming. He was wrong. We walked, in the snow. It took us two+ hours to get home and we got home way past curfew. It was scary, but at least we stuck together. (Caitlin)
Getting hit by a car. (Kawai)
Doing early morning raids of Mister Donuts. (Phil)
One winter night riding home on snow packed roads I crashed my bike on ice and came within seconds of being ran over by the car behind me who also couldn't stop on the road. We had earthquakes fairly often but in one area we shook for several minutes during a very large earthquake and all our dishes fell and broke. (Scott)
In Muroran, Matsuri downtown; Elders and I were 'working' a table with leaflets. I was drawing caricatures and we were introducing ourselves to the town. A member hung out with us, who was simple in the head. The yakuza approached and wanted to talk, and he quickly caught on that our member was mildly retarded, started teasing him, and our guy, who had a short fuse, started in on him. We got caught between the yakuza and our guy, as fisticuffs ensued, knocking over an aquarium and causing quite a stir. It fizzled and we apologized. (Patrick)
Flipping over the handle bars while biking in the snow. (Eric)
I was hit by a car while biking two times on my mission, but both times was protected and only received small scrapes on my hands, and no major injuries. (Stephen)
I was on splits back in one of my old areas. We were riding our bikes out to visit a member and I hit a pothole while going fast down a hill. I was flipped and thrown from my bike and skidded across the ground. I rolled as I slid, and when I was facing up, I saw the bike tumbling through the air after me. I somehow reached out, caught the bike and threw it to the side. I got up with only minimal injury to my hand, and we went to a convenience store to clean up. (Grey)
One crazy experience was when we took someone from the young men with us. We knocked on the door of a man who severely hated Mormons. Once he figured out we were Mormons, he started screaming at us. About a week or two later, I was on an exchange with someone when we ran into the guy on the street. I asked how he was and acted like he was a long lost friend. Again, he started screaming at us. (Ted)
Eating day old Mister Donuts donuts. (Phil)
Being chased by a crazy guy with a samurai sword through the streets of Otaru. (Andy)
We actually knocked on a "real" yakuza Guy's door, half pinky and all. (Jim)
One January evening in Wakkanai, there was a horrendous blizzard, and it was starting to get darker and darker. My companion and I got lost, and started roaming around trying to find the bus stop. We realized we were completely lost and the snow was already up to our waists. Not being able to see a thing in any direction, it was like being inside of a ping pong ball. Everywhere we looked, it was white. We saw nothing but white! We both started to panic a bit when suddenly in the distance we saw the lights of a bus moving. We ran in the deep snow as quickly as we could to get to the bus before it left the area. Happily, we made it! But that was about 30 minutes of panic for both of us. Yikes! (R)
Walking the muddy back roads of Hokkaido with no sidewalks. (Paul)
Flying down a street on a bike and slamming my front brake, causing me to catapult about 15 feet through the air. Luckily, no major injury. Also slipping on ice and almost getting hit by cars. Basically anything from riding bikes. (Chris)
Me on a bike.. 94 bike wrecks in 2 years.. Umbrellas do not belong hanging on the front handlebars of the bike. (Jeremy)
What was a spiritual experience?
Everyday was spiritual! One was of course seeing a beautiful baptism. (Loren)
I had 19 companions and never fought with a single one of them but it was hard to really love them when we were never together very long. Whenever I really reached that point where I would cry over my companion in my prayers were some of my cherished experiences on my mission. (Baden)
We were housing (tracting) and we met a woman who did not believe in God. However, when we explained our situation as volunteer representatives for our church, she thought that if someone was that devoted to their religion, then a God must exist. (Adam)
I struggled speaking Japanese, so every time I was able to open my mouth and speak was profoundly spiritual for me. (Caitlin)
A mother we were teaching unexpectedly looked at my companion and I in the middle of a lesson and told us that our faces were glowing like that of angels. She then proceeded to explain that whenever The Book of Mormon said: "Verily, verily I say unto you." She felt that the word "you" was always talking to her specifically and she knew that it was true. (Tanner)
Bearing testimony and feeling the Spirit tell me that what I was saying was true. (Kawai)
Too many to count!!! (Phil)
Having a husband finally give permission for his wife to be baptized the day I left the mission field. (Greg)
As a "green bean"(new) missionary I went on splits with another elder who was also new to the mission. We knocked on a door and a lady answered. Through our broken Japanese we gave our best door approach. Something was clearly different about this door and with the help of the Spirit we were able to briefly talk to her and set an appointment for the following day when her husband would be home. The family would be baptized a few months later after I transferred, but that feeling of the Spirit telling us that they were ready for the gospel will never fade in my mind. (Scott)
An elder and I in the Mission Training Center gave another chourou a blessing; all involved discussed the tangible feeling afterward. (Patrick)
Resolving issues and seeing people baptized. Dark and starry Christmas Eve with a part-member family far from the city. (Eric)
My companion and I went to visit an inactive member, and when we got there, we were able to give her a priesthood blessing and help her feel the Spirit again. Sharing your testimony in Sacrament meetings and to people who really need your help is one of the most spiritual experiences someone can have. The Japanese people really need the Gospel, so it's great to have these experiences. (Stephen)
My companion and I were out on the street, trying to find an investigator named Kagiya san we had met frequently at the library. We didn't have his contact information, but had met enough to know he was strongly interested. While walking, I felt strongly to turn to a man and ask if he knew Kagiya san. The man replied, the he is his friend, and gave us directions to Kagiya sans house. I know that the Spirit guided me to be able to find Kagiya san. (Grey)
Just one? It's hard to be a missionary and not have many, if you're worthy and humble. I'd say the most spiritual transfer was my second to last. We would pray and get almost exactly what we asked for from time to time. It came from humbling ourselves to the will of the Lord and not letting anything get to our heads. This was during a time when I was a Zone Leader/District Leader. (Ted)
We were teaching a 15-year old girl, who was "pure gold", but whose parents were totally against her getting baptized. They wouldn't even let us visit them. So, we decided to fast with her! It was the most spiritual fast in my life, and that night her parents consented. She was baptized, went on a mission, and married in the temple, and now has 5 children!!! (Phil)
A testimony meeting during the eye of a typhoon. One investigator heard us singing, came in and sat down, felt the spirit, wanted to be baptized. (Andy)
Two Christmases away from family became two of the best, most spiritual times of the mission. Allow yourself to love the members/investigators and they become a different "family." (Jim)
In the middle of my mission, my dad got sick. I was able to return back to Utah to see him before he passed away. His funeral, and being with my family again, was one of the most spiritual and love-filled experiences of my life. Even though I returned to Sapporo after my two weeks at home, it helped cause me to reevaluate everything I was doing. (R)
Blessings. (Paul)
I had a time where I was praying very hard for a certain less active member to specifically have dreams that would inspire her. The next morning, I called to see how she was doing, and she told me of an incredible dream she had where church members were very welcoming and helpful to her. She said it was a very real and vivid dream, and I told her of my prayers for her. (Chris)
Bicycle tire went flat while Smith Choro and I were out, so we returned to the apartment to fix it. While we were there Tanaka Hiroaki called and asked if we would be willing to teach him. He was a college student that had previously talked with the missionaries but couldn't move forward at the time, but when he came to Iwamizawa he looked us up and was baptized a little bit later. Then about a year and a half later I received a letter from him and another friend from Juneau, Alaska who were now mission companions in the Fukuoka mission. (Jeremy)
What are some interesting facts about the Sapporo Mission?
It has winter for 7 months… SNOW and every missionary is like family. (Loren)
First off – it's cold. We proselyte in blizzards because life there moves on in blizzards, so we do too. It's the single coldest mission that still uses mainly bike proselyting. So you bike hard for 8 months of the year and then walk hard for the other four. It's the only Japanese mission where all of the meetings are held in Japanese. Zone Training Meetings are held in Japanese and the younger foreign missionaries wear an earpiece and an older missionary translates the whole meeting for them. (Baden)
The winters are long, cold and snowy, but it's a lot of fun! You find plenty of ways to stay warm and keep things interesting. (Adam)
It has the best food in all of Japan! Its famous for it! And the ice festival in Sapporo is awesome! (Caitlin)
We are known as the "Frozen Chosen" This comes from the changing of the wording in D&C 121:34 to be: "Behold, there are many called, but few are frozen [chosen]." (Tanner)
Missionaries serving here are called the Frozen Chosen: because winters are 8-9 months long. People build doors on the second floor of their homes in order to enter their homes when the snow piles many feet high. Japan's best seafood comes from Hokkaido. (Kawai)
During winter, if you wanted, you can walk across the frozen ocean, to Russia. (Not recommended!!!) (Phil)
The bay/ocean on the northern coast freezes to the point you can walk out on it. (Greg)
We loving called ourselves the "Frozen Chosen". The island of Hokkaido has an indigenous people called the Ainu. There are less than 1500 pure-blood Ainu left. (Scott)
Ainu tribes were still around. (Patrick)
Coldest mission in Japan. Has the northernmost place in Japan, from which you can see Russia. Nicknamed the Frozen Chosen. Coldest Biking mission (no cars, though usually in the winter you take public transportation). (Stephen)
The members in the Japan Sapporo Mission were a huge influence on my life. They showed me how to do Christ-like service and to love others humbly. I still keep in contact with them because they help me draw closer to Christ. Hokkaido, Japan is a very humble land, and the people there really have a lot of Christ-like attributes which I learned from. (Grey)
Someone who was recently made an Apostle said that he believed that the best missionaries in the world were sent to Japan (during a time when he was the Area President). He said that out of the missionaries sent to Japan, he believed that the best were sent to the Japan Sapporo Mission. (Ted)
The coldest mission in Japan!!! (Phil)
TONS of snow! More dumptrucks on the roads than taxis, more taxis than personal cars. (Andy)
Yuki Matsuri in Sapporo is an amazing tourist event unlike any other in the world. (Jim)
Only very bright individuals were sent to our mission (probably due to the language difficulty). But there was also a neediness and unnatural desire for the President's acceptance and approval that caused most of the guys quickly to learn the game of "one-upmanship" as they tried to out-diligence each other on a daily basis. It got very old for those of us who were not there for anybody else's approval or self-promotion. (R)
No one in Sapporo shovels snow off the streets. (Paul)
Sapporo is famous for an ice festival in winter, where the entire Main Street is lined with giant ice sculptures from artists around the world. (Chris)
The nickname for the missionaries that wind up there is "The Frozen Chosen". The winters there are a bit rough compared to the rest of the country. The mission covers the far north island of Hokkaido in Japan. Unlike many of the southern missions there is a lot of open country and rice farms. Sapporo is also the home of the Sapporo Yuki Matsuri (Winter festival) where they plow the snow in the city into the center park and the ice carvers go to town carving full-size buildings, manga characters, and other sculptures from the piles of snow. (Jeremy)
What was the weather like?
Cold then hot…the extremes. (Loren)
You get a full four seasons – full in terms of quality – Spring, Summer and Autumn are short, but they are beautiful. To revive the land after it dies in the winter, heavy rains hit during the beginning of Spring. It will pour hard and then the sun will come out with a vengeance to evaporate the water and keep switching between the two for most of April until the grass and trees are bright and green and all the flowers bloom. Then Summer has some hot and humid days where everything is green, and Autumn turns the land cool and colorful before the winter comes to show it's dominance. (Baden)
It snows almost every day for about 3-4 months a year. It's not particularly cold, but the wind can make it freezing. The summers are hot and humid, as is typical of Japan, but not unbearably so. (Adam)
Cold! So much snow! (Caitlin)
Winter, winter, winter and more winter. This means, snow, snow, snow, blizzards, blizzards, pebble-sized hail, and more snow. (Tanner)
Cold, colder, coldest, colder, cold, two weeks of summer. (Phil)
Nice in the summer time, but very cold in the winter time. (Greg)
Hot and humid in the summers and snowy and cold in winter. The breeze off the ocean that feels so good in summer is bitter cold in winter. (Scott)
Hot in summer, frigid in winter. (Patrick)
Eighteen feet of snow my first winter. Pleasant summers (more humid than western United States). Cool and rainy autumn. (Eric)
Summers were hot and humid, though not near as bad as southern Japan. Winters were extremely cold.Fall and Spring had a lot of rain and were relatively short. (Stephen)
The weather was great. Yes, in the winter it is cold, but the summer is rather mild, and unlike other missions in Japan, there isn't a rainy season. The days of rain are really few and far between. I liked this because it made it easier to work. (Grey)
The seasons were as follows: Fall, Winter 1, Winter 2, Spring Week, Summer, Hotter Summer, Fall. If it wasn't cold enough to snow and it rained, the ocean fell from the sky. When it did snow, there was usually a lot of it. If it was sunny, you enjoyed it when it wasn't busy burning the living daylights out of you. (Ted)
Summers were hot and humid. Spring and fall were beautiful. Winter was harsh, cold, but beautiful. (Kawai)
COLD, cold, temperate and cold again! (Phil)
Winter 8 months of the year. 1 month of spring, 2 months of summer, 1 month of fall. Snow 8 feet to 20 feet deep in towns where we worked. (Andy)
We are the Frozen Chosen for a reason. Embrace the beauty of four separate seasons rather than curse the very harsh winter. (Jim)
Cold and snowy most of the year. I have horrible asthma, and so it was a ridiculous location for me to be sent to. I damaged my lungs considerably during those two years. If you have asthma, I would suggest seriously that you consider another location — perhaps even more south in Japan. (R)
Wet/damp/moist/rainy. (Paul)
COLD. Very snowy, icy and humid in winters. Summer's were pleasant and mild, but rainy. (Chris)
Summers were warm, winters were cold and snowy. There were often several inches of ice built up on the streets of the town and you had to watch out for the holes in the ice formed by manhole covers melting the snow on top of them. You also had to watch out for taxi drivers who didn't like sharing the road with bicyclists. (Jeremy)
Cold, but I loved it. (Michael)
Any things you really like about the area/people?
They are so nice and humble. (Loren)
The people are my favorite. They are hard workers. They value your friendship more than you expect. They trust you as a missionary so much more than we do in Western Culture. The Church in particular is still so young there that everyone remembers that it was missionaries that brought them the truth – missionaries that have the authority of Christ. Members that have been part of The Church for decades will turn to you for answers because they are certain that at your young age you know the truth better than they do – you are a missionary. (Baden)
The people are so kind and inviting. (Adam)
EVERYTHING! I miss it every day! (Caitlin)
Their hospitality and love towards those who strive to learn their culture and language. (Tanner)
Everything!!! (Phil)
Very friendly, and genuinely great people. (Greg)
The people of Japan are very humble and giving. They love to socialize and hold local festivals. I never once felt unsafe from someone we met on the street, even from the Yakuza mafia. (Scott)
Members were so helpful. Every nihonjin I got to know was incredibly generous. (Eric)
The people are super nice and always happy to help. The members are super nice, and the food in Hokkaido (our whole mission) is the best in all of Japan. It's a very safe place to be. (Stephen)
I love the Japanese people. They changed my life and who I am. Because of their influence, the course of my life changed and I now plan on living in Japan in the future. They are a humble, serious, service oriented and very observant people. They will kindly leap to your aid if they notice you in need of help. And although they won't admit it, they have a strong passion for learning. It just takes the right setting to get them to warm up to hearing our message. They work hard in their daily lives, they really want to do their best at their interest. Their determination turned into a drive for me to do better to serve them. Some people say that it is hard to love the Japanese people, that because they don't behave like Americans, they are hard to reason with. But it is really much simpler than all of that. Loving someone isn't about finding someone who will agree with what you do. Love is more than that. When I opened my heart to the people and to Japan, they filled it with who they are, and I learned to love and serve them. (Grey)
I loved the food, the culture, and, most importantly, the people. The people had pretty amazing perspectives. Even when it seemed like you thought it was extremely obvious, they found ways to make things feel as if they were deep. (Ted)
People were kind. Hokkaido is picturesque, green during spring summer and fall, beautifully white in the winter. (Kawai)
They are truly kind people!!! (Phil)
Very nice, always helpful. (Andy)
I taught English almost every day of my life there (I am an English teacher by profession), and even wrote my own curriculum for a quality English course. My students were just amazing! They ranged from kindergarten age through adult business people. They were my favorite people to teach. Also, I enjoyed Sapporo a lot, but hands-down the best place to be was in beautiful little Otaru. (R)
The people who I grew to love are what made this the best mission in the world. (Jim)
People were incredibly polite and humble. (Paul)
The Japanese were the nicest, most polite people I've known. Never did I feel like I was in danger because of other people. Even the Yakuza were nice. The island of Hokkaido was unique from other big parts of Japan because they weren't used to seeing foreigners. So many times they were very curious about us, even if they weren't interested in the message. (Chris)
The people were for the most part extremely friendly and polite. They might not always want to talk to you, but there was only one guy in the two years that I was there, who was rude about telling me so. (Jeremy)
Any packing/clothing advice?
Pack thermals! Layer! (Loren)
ANYTHING you need you can buy cheap once you're over there, so pack light and ask your trainer for advice when you arrive. I brought everything I would need for my two years with me and it was awful having so much luggage to carry around when I transferred or set up home in an apartment. It would have definitely been better to go light and buy what I needed when I needed it. (Baden)
Elders will wear short sleeves in the summer; but heavy coats, thermals and boots in the winter. (Adam)
Buy your winter gear there! ($200-300 dollars) Sorel boots are the best! Scarves, beanies, socks, and gloves go a long way! (Caitlin)
Winter coats and wind breakers are your friend. If you get cold, you stay cold, so don't get cold. (Tanner)
Layering is important. Definitely pack a windbreaker top and bottom. Don't wear thermals because you'll be very uncomfortable indoors. A great bag is a must. Sorels are also a must. Good sweater and scarf. (Kawai)
Bring good boots! (Phil)
Try your best to pack for very warm, but also very cold weather. (Greg)
Find a coat that is long enough to cover your bottom. It will keep you much warmer. Find the best shoes you can. Lots of walking and larger shoe sizes can be hard to find. (Scott)
Suit coats were worthless in the summer. Bring good boots. (Patrick)
Buy good boots. You won't find your shoe size, so ask parents to send new shoes a couple months before you need them. Layers! That means thin sweaters under your suitcoat. (Eric)
While it seems like it's going to be cold all the time, you'll want short sleeve white shirts. Also get winter gear because you will be outside in the cold for a lot of the time in winter. Also get a good coat, and good gloves. (Stephen)
If you want to bring boots, Ecco Gortex Boots are nice to have, but if you don't have your own, or can't afford them, the Mission home has many Sorel Boots to fit your size. Beanies are great for the winter, keeping your head warm keeps your body warm. Ear muffs are nice, but if you have a beanie, you don't need them. For Elders, short sleeve shirts are nice, but if you don't like the Missionary Mall ones, you can buy some nice thin fit shirts from a store called Uniqlo for about $20-25. Sweaters are sold there too if you don't bring any. (Grey)
DO NOT leave without two things: 1. Rain pants 2. A coat with a removable liner so you have a winter coat and a rain coat (I suggest Columbia Titanium). Do not underestimate how cold the rain is or the power of rain pants during the bitter cold times. Rain pants take the edge off the cold. Want a better testimony on it? I wore a t-shirt and shorts under my coat and rain pants during morning exercise and was not cold. It was way below zero. (Ted)
Warm clothes, especially warm boots! (Phil)
Get some good winter boots that are easy to slip in and out of. You take you shoes off every time you go inside. (Andy)
Overspend on really good snow boots (Sorrells). Japan makes everything else needed. If you are regular size, most of the missionary clothing that you can buy there is great. (Jim)
Don't bring expensive leather shoes. (Paul)
Heavy winter clothes and good boots for winter. Short sleeved shirts in summer, if allowed. (Chris)
Short sleeve shirts for the winter. Sorel boots or other nice winter boots for the winter. A trench coat is good for the summer, but you'll want something a bit warmer for the winter months. (Jeremy)
What blessings did you receive from serving a mission?
A strengthened testimony and many more. (Loren)
Friends. So many friends. Experience and therefore Wisdom. Values for my future. (Baden)
I liked who I was before my mission, but I became an even better person, one who I like even more than I did before. I became a better man of God. (Adam)
The ability to trust and rely on God. Confidence in my ability to teach. Recognizing how important other people are. (Caitlin)
Still receiving them. I was able to develop a testimony of Christ that will ground me in the gospel forever regardless of anything the world throws at me. (Tanner)
Conviction that the church is true. Gained confidence to know that I can persevere difficulties in my life. (Kawai)
I have lived in Japan for 32 years now, so my mission is everything to me! (Phil)
My own personal conversion. (Greg)
I learned that any challenge from the Lord is one I can accomplish with His help. I learned to pray harder than I thought I could and I learned to be patient for the answer. (Scott)
I remain in contact with some people, and most my elder pals. I have tried to remain steadfast. I see the world differently now, but that's a good thing. The language remains a thrill to me. (Patrick)
New focus on what I should do for my life. Courage to speak. (Eric)
Too many to name. I made lifelong friends, learned a language, but mostly strengthened my testimony and gained knowledge about the gospel. Learned good study habits, had amazing spiritual experiences and myself and my family was safe while I was gone. (Stephen)
The first and biggest blessing is that I was able to learn a lot about myself. I found passions, strengths, spiritual gifts, talents, and a life path. Many people have some blessings and talents listed in their Patriarchal Blessing, but the mission let me see them occur in my daily life. I was blessed to have my heart more open to people and more anxiousness to serve them, even now after my mission. I learned how to turn to Christ in obedience, and how obedience really does bring us every blessing. My biggest blessings were many personal lessons the Lord taught me in situations that are only possible in the mission environment. (Grey)
I learned how to deal with unfortunate events with other people. You learn to make amends with people better and you better understand that nobody is perfect. Especially yourself. This might be hard to remember when you're first home from your mission, though. (Ted)
Too many to list here!!!! (Phil)
A testimony that Jesus Christ is our Lord and Savior. He above all else is how we are saved. (Andy)
Plan to dress as warmly as possible. If asthmatic, bring a two-year supply of inhalers. Don't ever be afraid to say NO if you are just too sick to go out and proselytize. (R)
I learned discipline, obedience, service and humility. The sooner that humility is unforced the better. (Jim)
Learning to consider others. (Paul)
I feel like serving a mission prepared me spiritually and mentally for marriage, school, and professional life. (Chris)
More than I can count in regards to growing up and gaining an insight into the gospel and personal relationships. The missionaries I served with were incredible examples of many things and I still remember many of the lessons I learned 24/25 years later. (Jeremy)
What are some skills you gained?
Planning and time saving. (Loren)
I can make Japanese Food… I can speak, read and write Japanese. I can speak some Japanese Sign Language. I can make fruit pies for dessert now – apple, pear, grapefruit – whatever is around. (Baden)
Office and business skills. Working in the mission office gave me lots of experience that helped me prepare to return home and be a business major at BYU. (Adam)
Talking to people. And opening up about my feelings. (Caitlin)
Being a good listener, talking to anyone. I'm an expert at "small talk." Being able to relate any subject to the gospel. (Tanner)
Learned Japanese, learned how to interact with people. Learned how to lead people. Learned how to better control my emotions. (Kawai)
Japanese, organizational skills. (Phil)
The Japanese language and a deep understanding of the scriptures. (Greg)
When I am motivated I can learn anything. I learned how to talk to people and listen to answers intently. (Scott)
Language, people skills, love of culture and food. (Patrick)
Fluent 日本語。 Confidence to travel anywhere and speak to anyone. Patience. (Eric)
I learned Japanese, how to talk to people, study skills, how to explain myself to people, and how to make friends. (Stephen)
I learned how to study, to focus on what needs to be done and how to make a plan in the spur of the moment to accomplish something. I enjoy talking to people more and getting to know them. I am better at logically thinking my way through things and also phrasing my words better for others to understand. I can cut to the heart of many problems I find with a gentle directness so as to improve it. (Grey)
Cooking! This is the most impressive skill that I gained from my mission. Aside from language skills, you also get better map reading skills, communication skills, and teaching skills. (Ted)
Language, management, planning, negotiation, humility, perseverance etc. etc. (Phil)
I used to speak pretty good Japanese. I can survive in any cold environment. (Andy)
Proficiency in a foreign language, organizational skills, teamwork building, etc. (Jim)
Leadership. (Paul)
Learning a language and culture like Japanese really honed a lot of logic reasoning skills and being able to think outside the box. It also helped me gain some adult leadership and social interaction skills that were untapped before. Also, I learned to like sushi. And onions. (Chris)
Patience, long-suffering, humility… And the ability to watch Anime without worrying about the subtitles. Also organizational skills, scheduling, and some leadership experience that has helped in work and non-work related situations. (Jeremy)
What do you wish you knew/did at the beginning of your mission?
Studied PMG more, chapter 10 especially. (Loren)
Nothing that can be told. I came in to the mission as ready as I could possibly be and everything I learned that I could redo better had to be learned the long and hard way. (Baden)
I wish I had a stronger testimony of The Book of Mormon and the Restoration. (Caitlin)
Why I was serving and then changing that motivation immediately to be love for Christ, rather than because I was supposed to. (Tanner)
More about the culture and history of Japan. (Phil)
I wish I knew what mission life was really like (first one to go on a mission in four or five generations). (Greg)
In Japanese the children are the hardest to understand. The polite form of speaking is what you learn in the MTC, but children speak in plain form. This takes some getting used to and experience in knowing when it is okay for you to speak that way. Following the mission rules is critical to success as a missionary. The Lord blesses the obedient. (Scott)
How important dialogue with native Japanese is. Mimic their sounds and listen hard. Forget what you know about English. Immerse yourself in the culture. (Patrick)
Conflict resolution! How two people can make a decision instead of one just giving in. (Eric)
I wish I had known more about the religions in Japan to better relate the gospel to them. I wish I would've memorized more scriptures in Japanese and learned how to explain them simply because the Japanese people generally don't believe in God or Christ in the way we do, or anything similar. I also wish I had written more about the new experiences I was having and wrote what was different about America compared to Japan. (Stephen)
I wish I had a firm knowledge about how Obedience works. If I had known what I knew a year out about following the Mission President and about trusting the councils of my leaders, I feel like I would have been a lot more successful and had more growth on my mission. Also, I wish I had known that happiness is a choice, not something other people can control. (Grey)
I wish I knew that I could've packed a little lighter when I did. You do not need three suits like they say. Two is more than enough. You would be better off packing shirts and slacks. But don't overdo it! You also don't need 20 ties. 10 ties is overkill in my opinion. I also wish I knew to use my time much more wisely at the Mission Training Center. Japanese speaking missionaries spend a long time there if it's a second language. I could've used that time to get a lot of spiritual goals done, lose a ton more weight than I did, and relax and enjoy my time there while I could. (Ted)
How to study with someone else. (Phil)
A stronger testimony of Christ's role in our salvation. (Andy)
I wish I knew how to listen to an investigator's questions better, rather than just trying to get through discussions. (Jim)
Language. (Paul)
I am actually pretty proud of how I handled this from the get go, but it's important to see each person as an individual, not a number or statistic. Each person needs to hear the gospel in their own way, and especially in a culture like Japan, you need to take into account the beliefs and culture of those you're talking to. Before you truly care about and empathize with the people, you won't change lives. (Chris)
Getting a better background for what to expect of the culture would have been good. Having a deeper knowledge of the scriptures and the modern day prophets' teachings would also have been helpful. (Jeremy)
Any advice/testimony for pre-missionaries going to Sapporo?
Be humble and willing to learn! Give it your all, every day. (Loren)
Trust your mission president. He knows. No matter what you think he doesn't know about you or your situation – he knows. Trust him. Every area he sends you to, every companion he assigns you to, every responsibility he does or doesn't give you – trust him. There is a reason. He loves you, and notices things about you. One time he started off an interview with me with 'Is anything wrong at the moment?' – there was and we talked about it for a while and afterwards he explained that he asked because I don't smile as much I used to. It blew me away that he could notice something like that. I couldn't have noticed something like that. You are important to him and he is in tune with God, so trust him. (Baden)
Do your best! That's all they'll ever ask for. Just be sure that you truly are doing all that you can do. When you feel you are doing your best and giving it your all, think "is this really really 100%?" The Lord will help you know whether or not it is, and what you can improve, as necessary. (Adam)
Be humble. (Caitlin)
The only convert that matters on your mission is you. I don't care how many baptisms you saw compared to the other missionaries in the mission or the average or the standards of excellence. If you leave the church, none of it matters. (Tanner)
Prepare for rejection, make sure you follow all missionary rules, write home once a week, pour your heart out to your Mission President, keep in mind that people reject the Lord not you. Get ready to work harder than you ever have before. (Kawai)
You will have the best/hardest and most rewarding compressed 18-24 months of your life! Enjoy and learn to love everyone!!!! (Phil)
You can't draw upon scriptural stories and teachings if you don't know and love the scriptures first. (Greg)
Don't be afraid to try new things. Love the culture and the food. Know that missions are hard, but with the Lord's help you can do hard things. (Scott)
Humility, close your mouth and listen, let jerky companions be jerks; just do the work and love your companion. Understand what maturity needs to be by watching and listening. (Patrick)
Go willing to work hard, not for your sake, but for the people you will serve, and for God's sake. As you forget about yourself, you will love the people and be blessed in ways you can't even imagine. When things get hard, and they will get hard, just work your way through it. Talk with your companion about any problems you are having and trust them and your Mission President. Japanese is a hard language, but we've got the Spirit helping. Even if you struggle, know that you will learn it as you work hard, and focus on learning to help the people around you. Even when things get rough, put a smile on your face and take advantage of the time you have to serve the Lord 24/7. You are the luckiest people alive to be going to the Japan Sapporo mission. It's the best place in the world. (Stephen)
Don't decide what God will bless you with, let God worry about that. Be happy. It is a choice. I know that obedience and sacrifice bring forth the blessings of Heaven. Only by being obedient can you expect blessings from God. I tried to hard to fool myself otherwise, but if you are obedient with the right motive, you will be happy. Don't demand blessings, but expect and wait for them when you are obedient, that is faith. Do everything in your power to bring your prayers into reality. I know that is how the Atonement of Christ works in our lives. We can do nothing without his guidance and blessings. I know these things, in Christ's Holy name, Amen. (Grey)
Pre-missionaries going to the Japan Sapporo Mission should understand that it's probably the strictest and most mellow mission. How is this possible? It's easy once you understand that there are rules that you're going to be expected to keep. But this doesn't mean you can't have fun on your mission. I'd say it's like my trainer's motto: Work hard, play hard. (Ted)
Learn to listen to the Spirit now! (Phil)
Read the Book of Mormon, but also read the New Testament. (Andy)
Be willing to learn from others. (Paul)
Same as the question above. Also, try not to take things TOO seriously. Japan is a culture that demands a lot of propriety and respect as missionaries, but don't be afraid to be yourself and let out the wampaku (mischievousness) in you on occasion. (Chris)
You will be working with some of the kindest people in the world. They often come together as towns and cities to celebrate their holidays together. Be respectful and they will be respectful as well. Enjoy your time while you are there, and remember that you are making an impression on people and they are watching. You may not see immediate results, but the influence that you do have may be felt years down the road. (Jeremy)
What was a funny language mistake?
I said 'sexual freedom' instead of 'free agency', hahaha. (Loren)
I got two words mixed up and told a family that my parents were growing illegal mango drugs in their backyard. (Baden)
I intended to say we are God's children, but I said 'God is our child'. (Caitlin)
I called a young man a woman when I meant to call him an adult Otonappoi (adult) vs. Onnappoi (woman). Asked my trainer once if he had a pistol instead of if he had freedom Jiyu (freedom) vs. Jyuu (pistol). Told my trainer that I boiled instead of understood what he was saying Wakashita (boiled) vs. Wakatta (understood). (Tanner)
Using the wrong words and grammar. (Kawai)
My companion wanted to say "Two beings came down from the sky", but ended up saying "Two carrots came down from the plate". But, that investigator ended up getting baptized, so it proves the Spirit is most important!!! (Phil)
Too many to try and list… ;). (Greg)
Japanese children like to use the F-word on Americans. They hear it in movies but don't know what it means. When they would say that, I would look at my watch and tell them the time. They would scratch their heads and I would just smile. (Scott)
All adjectives end in "ii" — tanoshii = fun; kawaii = cute; utsukushii = beautiful. By cutting off an "i" and adding SOU, it converts the word to "it LOOKS fun, it LOOKS cute, it LOOKS beautiful. With one exception. Kawaii (cute) when converted to Kawaisou becomes PITIFUL. One or two elders made this mistake. (Patrick)
One time my companion and I were knocking on people's doors, and I was still a new missionary. When I was telling the person about our message, I meant to say we're sharing a message about God, but accidentally said we're sharing a message about how to become God. While it is technically true, it was funny to think about what they must have been thinking. (Stephen)
The funniest language mistake that I can think of making was in my very first area. I already knew some Japanese, so I could sound like I was at least half Japanese. My trainer had me contact some houses. So I asked if we could introduce a short message, which is how you asked if it were okay to share a message. Something to remember is that Japanese is a very easy language to mispronounce. Instead of saying introduce, I said execute. This wasn't like executing a command or anything like that. No, no. I said the word that meant killing someone. I couldn't understand why the guy was refusing to listen to our message. I thought I asked if we could share a short message. Nope. I asked if we could brutally punish with death. Afterwards, my trainer chuckled and said, "You need to watch what you say." He told me what I need to say to introduce, not whatever I said. I asked him what I said and he showed me on my dictionary. Boy did I feel stupid. (Ted)
"Joseph Smith saw two carrots descending out of heaven…" Poor pronunciation! (Andy)
One of the first doors I knocked on myself, the lady kept telling me "Kaere!" which means to return (go away). I thought she was saying "Haere!" which means to enter. So I did. ✌🏻 Also, since the word for person and carrot sound similar, I heard an Elder once say Christ was "no ordinary carrot" in Japanese. (Chris)
Personal: Mixing up the words of "future" and "life" on my first street approach.. "I have a message about your future purpose," instead of "We have a message about the purpose of life." Elder that was in the MTC with me: nikutai vs nekutai.. Telling the Bishop's wife that her husband has a great body instead of a great necktie. (Jeremy)