Free resources about the Japan Okinawa Mission:
*Other Mission Pages: Japan LDS Missions.
---
---
Japan Okinawa Mission Address
Here's a recent address for the Japan Okinawa Mission. We try to keep this information up to date, but it's a good idea to check the address with several sources, including your mission packet or the mission office.
*This mission no longer exists. See Japan Fukuoka Mission.
Japan Okinawa Mission Map
Here's a link to the mission map for the Japan Okinawa Mission (LDS). To access the official, up-to-date LDS.org map for the Okinawa Mission:
*This mission no longer exists.See Japan Fukuoka Mission.
Videos with Japan Okinawa RMs
Here are in-depth YouTube video interviews with returned missionaries from the Japan Okinawa Mission.  We interview hundreds of returned missionaries each year, so check back regularly to see new RM interviews.
Coming soon..
Videos about Japan
Here are LDS-friendly educational videos about Japan. We scoured YouTube to find the best quality videos about Japan, that are free from inappropriate music, immodesty and profanity.
Japan Okinawa Missionary Blogs
Here's a list of LDS missionary blogs for the Japan Okinawa Mission. This list includes the missionary's name, URL and when their blog was updated.
*Send your missionary a gift (mission-specific shirts, ties, Christmas stockings/ornaments, pillowcases, etc.)
Japan Okinawa Mission Groups
Here are Japan Okinawa Mission Groups- for LDS missionary moms, returned missionaries, mission presidents and other alumni of the Okinawa Mission.
Japan Okinawa Mission Facebook Group (163 members)
Japan Okinawa Mission T-Shirts
Here are T-shirts for the Japan Okinawa Mission!
Shirt designs include Japan Okinawa Mission logo/emblem shirts and Called to Serve shirts. The shirts make great gifts for pre-missionaries, returned missionaries and missionaries currently serving. LDS Mission shirts come in all sizes: Small, Medium, Large, Extra Large, up to 4XL.  The mission designs are printed on white shirts and are shipped to you.
*Simply click on a shirt design to view the details and submit an order. The designs on mission t-shirts may also be printed on other LDS mission gifts, including: Japan Okinawa missionary aprons, Christmas stockings, ties, pillow cases, teddy bears and Christmas ornaments.
*Click here to browse Japan Mission gifts
---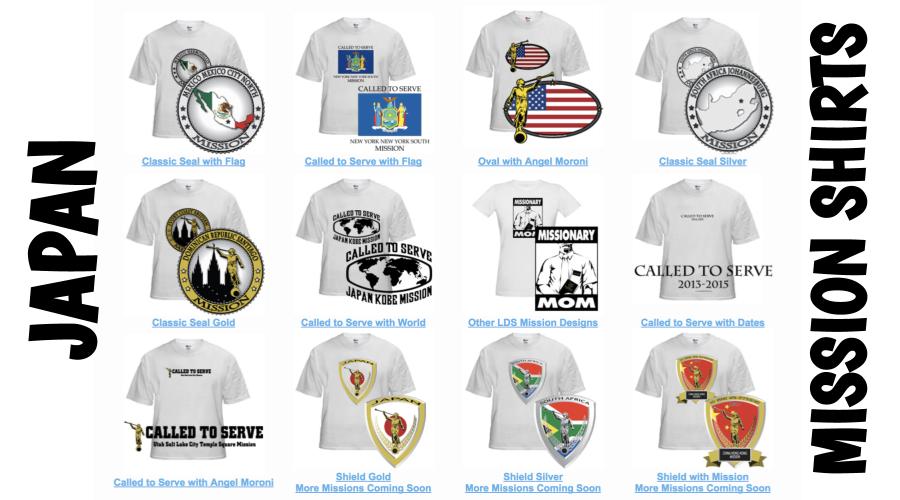 ---
Japan Okinawa Mission Presidents
Here's a list of current and past Mission Presidents of the Japan Okinawa LDS Mission.
Coming soon..
Japan LDS Statistics (2016)
Church Membership: 128,216
Missions: 7
Temples: 2
Congregations: 266
Family History Centers: 63
Helpful Articles about Japan
Japan Okinawa Missionary Survey
Here are survey responses from Japan Okinawa RMs, to give you a snapshot into what it's like to live in the mission.
When did you serve?
1990-1992 (Val)
1992-1994 (John)
Which areas did you serve in?
Okinawa Shi, Naha, Ishigaki, and Itoman. (Val)
What were some favorite foods?
Oyako donburi, Bento, Raman, Tonkatsu, Sushi, Tempura. Everything except NATO! (Val)
NITA! Chicken Katsu Curry. Chicken Kara age. Okinawa Champion. Yakisoba Ramen, udon Katsudonburi. Tonkatsu. Yakitori. (John)
What was a funny experience?
My companion and I was done tracting for the day and was heading down the stairs of a large apartment complex when we turned the corner and bumped into a very small, very old lady. When she saw how large my 6′ 2″ companion was she started screaming. It took a bit to calm her down. (Val)
Morning time, knocked on the door, the lady answered, she looked like she just woke up, so I said, "ああ、すみません!おかしましたか?" I meant to say おこしました. Elder Shibahara had me look up okasu in the dictionary. I was pretty embarrassed and then knew why the lady was looking at me weird. (John)
What was a crazy experience?
I was riding down a steep hill in Naha where there is a stoplight at the bottom. It had been raining as usual. A taxi ran a red light and then realized his error and stopped right in front of me. I hit the front tire of the taxi on the driver's side. The impact thru me up in the air over the car. I caught myself on the hood and did a hand stand. I pushed off and landed by the driver door. He was very scared and started apologizing. He gave me enough money to repair my bike and took a Book of Mormon. (Val)
Bike crashes. Took on a bike gang. Drunk guys. (John)
What was a spiritual experience?
When I was out only a few months, I ended up tracting with an elder that had been out only a month. (Long story why). We found this family and started teaching them the first discussion. We struggled through the lesson but managed ok. At the end we both bore testimony. The investigator was amazed and we asked why. She said it was because our Japanese was suddenly perfect when we were testifying. The Spirit was very strong at that point and we committed them to baptism. That was the only time on my mission someone committed to baptism at the first lesson. Later we realizes that neither of us knew what we said in our testimony, only how we felt. (Val)
Every day. (John)
What are some interesting facts about the Okinawa Mission?
I was in the first district in the MTC that were called to the new Okinawa mission. We met President and Sister Larsen in the MTC when they came for training. (Val)
HOT. (John)
What was the weather like?
Hot, humid, rained a lot. We found there was a cycle to the rain we could depend on until a typhoon came. Then the cycle changed and we would figure out the new cycle. (It would rain every Thursday at 10 for example). (Val)
HOT. (John)
Any things you really like about the area/people?
Many of the people were humble, meek people. Especially on Ishigaki jima where most were farmers or fishermen. I grew up in a farm so they were easy to relate to. (Val)
Any packing/clothing advice?
Just follow the President's suggestions and vacum pack it to make it fit easier. Packages from mom didn't ever make it so unless mail has improved tell mom to forget care packages. (Val)
Short sleeve shirts. Lots of extra under wear. (John)
What blessings did you receive from serving a mission?
My testimony grew for sure is the best blessing. I also matured, learned how to learn better by learning Japanese. After returning to college, my grades were much better than before. (Val)
Haven't stopped being blessed. (John)
What are some skills you gained?
I have used Japanese at work at times. Also I learned how to cook and care for myself. (Val)
Communicating. People skills. How to cook. (John)
What do you wish you knew/did at the beginning of your mission?
Japanese is the obvious answer. How to deal with companions that don't know how to be happy is the biggest one. (Val)
None. (John)
Any advice/testimony for pre-missionaries going to Japan?
Learn Preach my Gospel. It is so much better than the lesson I had to use. From it, learn to teach by the Spirit. (Val)
Listen and obey the spirit always. (John)
What was a funny language mistake?
My companion got up to bear his testimony and says he like the ward mission leader and his wife but when saying he like his wife he used the term diaski, or that he loved her. (Val)
Said pan no unko instead of pan no mimi to the bread store lady… green beans! (John)