Here are free resources about the Japan Okayama Mission:
*Other Mission Pages: Japan LDS Missions.
---
---
Japan Okayama Mission Address
Here's a recent address for the Japan Okayama Mission. We try to keep this information up to date, but it's a good idea to check the mission address with several sources, including your mission packet or the mission office.
This mission does not currently exist.
Phone Number: N/A
Mission President: N/A
Japan Okayama Mission Map
Here's a link to the mission map for the Japan Okayama Mission (LDS). To access the official, up-to-date LDS.org map for the Okayama Mission
*Mission does not currently exist. (Browse LDS.org mission maps)
Videos with Japan Okayama RMs
Here are in-depth YouTube video interviews with returned missionaries from the Japan Okayama Mission.  We interview hundreds of returned missionaries each year, so check back regularly to see new RM interviews. Coming soon..
LDS-Friendly Videos about Japan
Here are LDS-friendly educational videos about Japan. We scoured YouTube to find the best quality videos about Japan, that are free from inappropriate music, immodesty and profanity.
Japan Okayama Missionary Blogs
Here's a list of LDS missionary blogs for the Japan Okayama Mission. This blog list includes the missionary's name, URL and when their mission blog was updated.
*Send your missionary a gift (mission-specific shirts, ties, Christmas stockings/ornaments, pillowcases, etc.)
Japan Okayama Mission Groups
Here are Japan Okayama Mission Groups- for LDS missionary moms, returned missionaries, mission presidents and other alumni of the mission.
Japan Okayama Mission Group (415 members)
Japan Osaka and Okayama Missionaries Group (11 members)
Okayama Mission – William Nako Jidai Group (3 members)
Japan Okayama Mission T-Shirts
Here are T-shirts for the Japan Okayama Mission!
Shirt designs include Japan Okayama Mission logo/emblem shirts and Called to Serve shirts. The shirts make great gifts for pre-missionaries, returned missionaries and missionaries currently serving. LDS Mission shirts come in all sizes: Small, Medium, Large, Extra Large, up to 4XL.  The mission designs are printed on white shirts and are shipped to you.
*Simply click on a shirt design to view the details and submit an order. The designs on mission t-shirts may also be printed on other LDS mission gifts, including: Okayama missionary aprons, Christmas stockings, ties, pillow cases, teddy bears and Christmas ornaments.
*Click here to browse Japan Mission gifts
---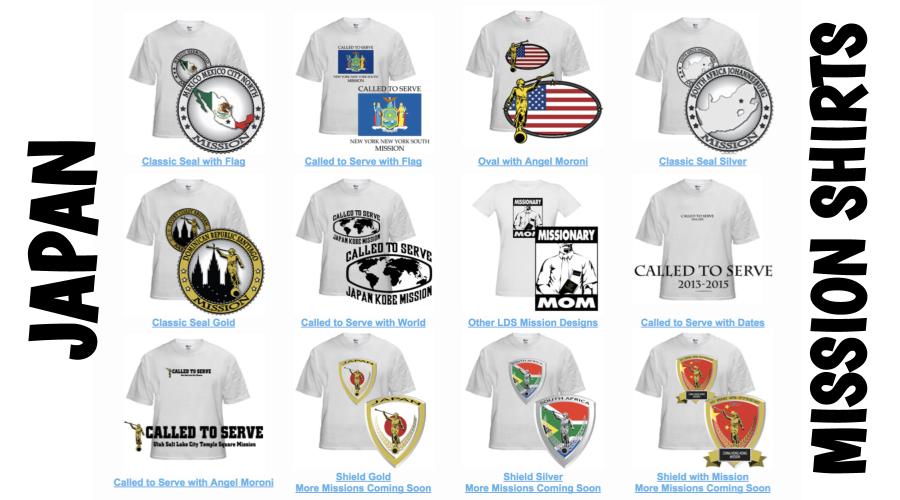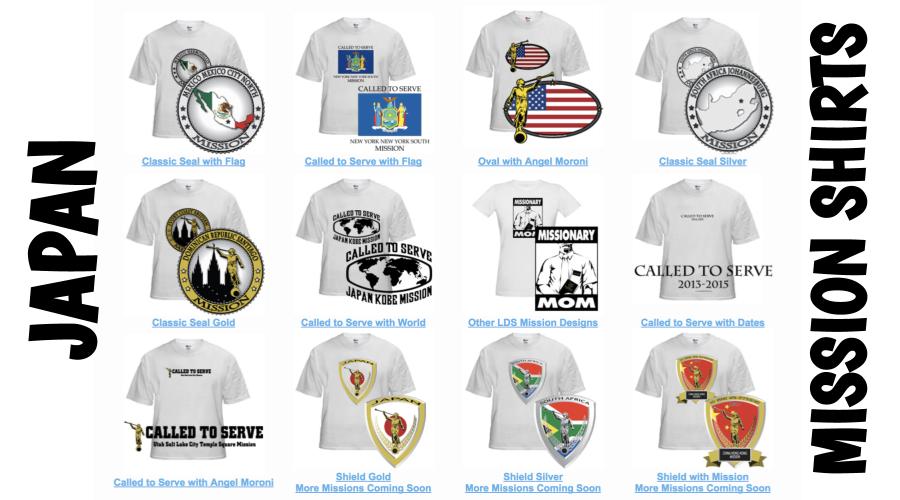 ---
Japan Okayama Mission Presidents
Here's a list of current and past Mission Presidents of the Japan Okayama LDS Mission.
1999, Mission renamed Japan Hiroshima Mission.
1993-1996, Yutaka Onda
1988-1991, Masataka Kitamura
1976, Mission created.
Japan LDS Statistics (2016)
Church Membership: 128,216
Missions: 7
Temples: 2
Congregations: 266
Family History Centers: 63
Helpful Articles about Japan
Central British Missionary Survey
Here are survey responses from Japan Okayama RMs, to give you a snapshot into what it's like to live in the mission.
*Click here to take a survey to help pre-missionaries going to your mission.
When did you serve?
1992-1994 (DeRay)
1982-1983 (Alice)
1993-1995 (Brad)
1979-1981 (Paul)
1977-1979 (Shaun)
1977-1979 (Mark)
1979-1981 (Kelly)
1984-1985 (Kelli)
1987-1989 (Grant)
1988-1990 (Mike)
1986-1988 (Gregory)
1987-1989 (Casey)
What areas did you serve in?
Hamada, Marugame, Kawanoii, Hiroshima, Kurayoshi & Nangoku. (DeRay)
Tokushima, Yonago, Takamatsu. (Alice)
Hiroshima (2×), Marugame, Yonago. (Brad)
Kurashiki, Hatsukaichi (Hiroshima), Shinonome (Hiroshima), Fukuyama, Matsuyama, Kurayoshi, Yamaguchi. (Paul)
Yonago, Okayama, Hofu, Kurashiki, Izumo, Naruto (Tokushima), Fukuyama, Niihama. (Kelly)
Matsue, Uwajima, Fukuyama. (Kelli)
Kawanoe, Kochi, Nangoku, Yanai, Ube, Hofu. (Grant)
Hiroshima , Shikoku, Hamada. (Mike)
Onomichi/Mihara, Kurashiki, Kumayama, and Tottori. (Gregory)
Okayama, Imabari, Ube. (Casey)
What were some favorite foods?
Okonomiyaki, sukiyaki, shabu shabu, ramen, curry. I don't remember the names of the food we ate most weeks for dinner but they were all good. It never bothered me while there, but we ate the same stuff for dinner every week no matter where I was serving unless we ate at someone's house or were taken out for the meal.
Inari sushi Okonomiaki. Everything except umeboshi and omochi (Alice)
Okonomiyaki, Hiroshima style. Mugi-cha- close to frozen on a hot summer day is pure bliss. (Brad)
Okonomiyaki, Yakiniku, Curry Rice, Misc. "pan" breads, Calpis, Nikuman, Mochi, Ika, Ebi, Katsudon, Oyakodonburi. (Paul)
Okonamiyaki, Kare, Pan, Yakiudon. (Shaun)
Yakisoba, Okonomiyaki, Tempura, Gyoza, Cream Pan. (Mark)
 Ramen, Sukiyaki, Yakiniku, Okonomiyaki. (Kelly)
All seafood. I don't think I ate anything I didn't like. (Kelli)
Okonomiyake. Udon. Oyakidomburi. (Grant)
Yakiniku, yaki soba, mugi cha. (Mike)
Okonomiyaki. Takoyaki. Yakiniku. Curry. Mugi monsters (deep fried Mugi pancake batter). Sushi. Sticky buns. (Gregory)
Okinawa Tacos, Tonkatsu Bentos, Ramen, Sukiyaki, Yakiniku. (Casey)
What was a funny experience?
One night during a typhoon we decided to go out and ride around to see what was going on. We found this place that had standing water in it so we decided to ride the bikes through the water. My comp, not a particularly strong bike rider, road his bike into a very deep spot and wiped out. We spent the next little while trying to ride through the same deep spot without crashing. Made it home safe and sound but were completely soaked! (DeRay)
Being ridden off my bike by an elder trying to beat me bike racing in the shorten. The hairdresser keeping my curly red hair after I had my hair cut short. (Alice)
Singing Christmas Carols at the train station in Hiroshima and being on TV. Playing Santa at an orphanage. Dressing up and participating in a street festival parade. Singing dendo at Marugame castle during the cherry blossom festival. (Brad)
Having three very old women peak over the gender divider at the public batch so that they could see what a naked white guy looked like. (Paul)
Seeing myself on TV when I did not know I was being filmed. (Paul)
Playing (and beating) college basketball teams. Speaking in Japanese with a guy from France (our common language). (Mark)
Hearing my Senior telling an investigator over the phone to go and read THIRD Nephi 3:7….Not what an investigator should read! (Kelly)
Beating the Elders in a bike race. Twice. (Kelli)
First door approach of my mission, I was VERY nervous and accidentally introduced myself as Jesus Christ. (Grant)
Trying to feed 100+ people with the smallest turkey I've ever seen at Kurashiki impromptu Thanksgiving gathering. (Gregory)
On our way home, we took the train to Tokyo to catch the flight. We had some time and decided to go and visit the temple as a group. By the time we got back to the airport, the airlines had given away our tickets and all 8 of us had to be re-routed home. Funny, but painful. (Casey)
What was a crazy experience?
Spent a lot of time riding bikes. Had a couple good wipeouts but never anything too bad. (DeRay)
Ending up in a geisha house in my first area as my companion was trying to teach a lesson. It was scary and funny. (Alice)
Having a gecko sneak into my bike helmut and sliding down the back of my neck collar into my shirt during a rain storm. Not knowing it was a gecko until half-dressed in the middle of the street. (Brad)
Having a mentally unstable member physically attack me. It was very odd and I had to restrain myself from simply putting out his lights. It was a very un-Japanese moment. (Shaun)
Sleeping on the roof of the apartment building – in the rain. (Mark)
Watching the zone load up on a regular train (futsu), jumping out when the doors closed and my companion and I taking the express that followed and beating the zone to the conference. (Kelly)
Dropped my bicycle down 10 feet to a merge ramp. There was no guard rail and the upper road just narrowed. (Grant)
Riding bicycles on the narrow streets in Hiroshima Japan. (Mike)
Falling off 70 foot cliff in Tottori. (Gregory)
My companion and I were riding our bikes back to an apartment before a Typhoon hit. It was pretty scary because we were struggling to pedal down hill because the wind was so strong. Luckily, our apartment was concrete and we were not threatened; however I remember watching out the window as debris and tin came whistling by. Scary, but protected. (Casey)
What was a spiritual experience?
In my first area my trainer and I did a 100 hour work week. We were up early and gone all day generally. Lots of different lessons, tracting and service. Toward the end of the week we did splits with the other companionship in the town. We were just about to go home and my trainer and I had just got back together again. We knocked on what would be our last door for the night and my trainer said to me, "this is going to be a golden investigator." A woman opened the door and invited us to come in. We taught her the first lesson that night and committed her and her son to be baptized at a later date. They accepted and were both baptized. It was a very cool experience. (DeRay)
Everyday receiving an acknowledgement from Heavenly Father that he was aware of me and did answer my prayers. I received so much Heavenly help as I had only been baptized two years before. (Alice)
Teaching my first lesson. My first baptism. Being transferred the day before the baptism of a golden investigator, whom we had taught from lesson 1, into another companionship with a baptism. Reaching our goal of having one baptism for every companionship in our district for Christmas. Putting together and performing in a music fireside with other missionaries in our zone. Introducing and then giving a Book of Mormon to a man driving a convertable while we were both waiting at a stop light. (Brad)
Meeting and praying with an investigator family who's father was very ill and regularly hospitalized. The father insisted that he knew we were teaching the truth and wanted it for his family. We found them when we had less than 30 minutes left before our nightly curfew and we decided to do door-to-door in an area near our apartment that everybody had avoided because it was known to have been tracted out many times before. (Paul)
Getting lost at night on splits in Hiroshima. (Shaun)
Finding people of great faith who were ready for the Gospel and seeing their lives change. (Mark)
Every day, plus seeing the temple dedicated in Tokyo. (Kelly)
Introducing people to Christ, having them accept Him and accept His gospel. The baptisms were always a spiritual high. (Kelli)
Numerous occasions where I was led by the Spirit to specific individuals who were prepared by God. (Grant)
Watching people interested in the gospel gain a testimony. Each individual is so different in their process. (Mike)
Surviving falling off cliff in Tottori. (Gregory)
It was April Fools, (April 1st) 1989. My companion and I were riding our bikes when the firetrucks went by. Something said, "Follow the firetrucks!" So I did. When we got to the fire, there wasn't one. So I prayed and said, "I know I'm supposed to be here, what do you want me to do?" When I opened my eyes, there was a young man on a bicycle. We rode over to him and began to talk. Come to find out that he was doing homework and something told him to come down and see the fire. He had been visiting with the missionaries in Tokyo before he moved down to Okayama. He asked if he can continue the discussions. We were amazed at how God's hand led us to him. He was baptized and confirmed in June. (Casey)
What are some interesting facts about the Japan Okayama Mission?
Mission office (name changed too) was moved from Okayama to Hiroshima shortly after I returned home in 1994. (DeRay)
Everyone assumed I was American so I had to keep telling people I was from Ireland. I only served in 3 area, 2 for 3 months each (Tokushima and Yonago) and one area for 10 and a half months (Takamatsu). It was one of the best experiences of my life and Japan and the Japanese people will forever have a very special place in my heart. (Alice)
I had a total of three areas on my mission. My green bean area I was in Hiroshima for 6 months, Marugame for 8 months, back to Hiroshima for 4 months, then my final assignment in Yonago. (Brad)
My mission is where I got to know my future wife and where both of my sons later served their missions. (Paul)
My mission is no more. (Shaun)
Hiroshima was in the mission. (Mark)
Hiroshima was part of the mission, but I never served there. Kurashiki, where I served the longest, has interesting architecture designs and building materials in the old warehouse district. (Kelly)
1/3 were native missionaries. Supposedly the most difficult mission in Japan. Supposedly we had the strictest Dendobucho in all of Japan. (Kelli)
The Atomic Dome and museum in Hiroshima should not be missed. (Grant)
Mission was split up and doesn't exist anymore. (Mike)
Has since been subdivided into multiple missions. (Gregory)
I served on the island of Shikoku in a town called Imabari. They had a ton of mikans (tangerines). I loved it because the branch president was a Mikan farmer and he would bring some to church. (Casey)
What was the weather like?
I always got transferred to the hot places in the summer and cold places for winter. Just my luck. Humidity made a difference in both climates, always seemed to make temps worse! (DeRay)
Hot and humid in the summer and cold in winter. We had snow for two hours one day. The rainy season was an experience on a bike.😄 (Alice)
I remember Hiroshima as rainy. Marugame as hot. And Yonago as very cold. (Brad)
Very cold in the Winter and nasty hot in the Summer. (Paul)
Hot in summer. Cold and breezy in winter. (Shaun)
Humid and wet. (Mark)
Rainy, hot, humid in the summer; cold, snowy in the winter. (Kelly)
Seattle weather in winter–very cold, but only a little snow. Pleasant spring; pouring rain during Tsuyu (rainy season in June/July); hot, sweltering heat in summer; hot autumn, cooling down in November. (Kelli)
Just about identical to the southeast United States. (Grant)
Hot in the summer and cool in the winter. You kind of have to go there to understand. My areas were similar to Seattle, Washington. (Mike)
Mushi atsui. (Gregory)
Hot and humid in the summer. Cold and humid in the winter. (Casey)
Any things you really like about the area/people?
Great ward members in all my areas. Willing to help all the time if asked. Japanese people were friendly towards us in general even if they weren't interested in hearing about the gospel. (DeRay)
I loved all the cultural differences. The Japanese people were very foreigner friendly. (Alice)
I was in areas for a long time and got to know the people very well. The people I served, served with, and loved made the mission. (Brad)
Japan is so very, very interesting…it's people, culture, language, food. I loved the reserve and politeness of the people. (Paul)
Loved them all. (Shaun)
Just the sincerity and friendliness. (Mark)
They were all genuine and true, honest, and hard working no matter where I served. (Kelly)
Pleasant people, even if they weren't interested in the gospel. The church members were always very grateful for our service and fed us well, took good care of us. (Kelli)
Friendly and courteous. I live the rural country side of Shikoku. (Grant)
The people are Awesome! I loved serving there. I loved both the countryside and the city of Japan. (Mike)
Everything. (Gregory)
I loved the people. I loved the old castles and the open malls. I really enjoyed their celebrations. (Casey)
Any packing/clothing advice?
Thick fabric for bikers to handle the riding. Pack as light as possible. (Brad)
If you have large feet, are tall, etc., think about taking along extra shoes because they are difficult to find there. Also, rain gear for taller people is sometimes difficult to find. Take clothing made from materials that wick sweat and dry quickly. (Paul)
Buy rain clothes in Japan. Sisters, bring your own nylons and very personal items. Pack light, the recycle shops are a great place to add to your wardrobe as the seasons require. (Kelli)
Don't bother with a rain suit in the summer. You will sweat so badly that you will be just as wet as rain and stink. (Grant)
Read the letter from the Mission President and follow it. Good warm under clothing layers. There are really good technologies out there nowadays compared to 25 years ago. (Mike)
Good quality rain suit. (Gregory)
Find good shoes. We did a lot of biking and walking. (Casey)
What blessings did you receive from serving a mission?
Greater testimony of the Book of Mormon. (DeRay)
The ability to make decisions. The opportunity to rely on the Lord. The ability to feel the Spirit constantly. The ability to form good habits. The assurance that prayers are answered. Deeper testimony of the Atonement. (Alice)
Learning to see people through a similar lens as our loving Heavenly Father. That each person has immeasurable value to Him and our privilege to share this wonderful message with them. Learning from others and working with them on similar goals. (Brad)
Besides the spiritual blessings of teaching and baptizing, I gained a great friend while serving there who later became my wife. My family moved back there and lived for a couple of years. My son's both served their missions there and today Japanese is very much our family's second language. I also work in the Japanese automotive industry and having language and cultural understanding has been a huge benefit to me. (Paul)
Memories. Language. (Shaun)
Learned a great deal about myself – strengths and weaknesses Learned to appreciate people with different thoughts, ideas, and beliefs. (Mark)
Countless blessings from serving. Learned service and hard work. (Kelly)
Learned the gospel in much greater detail! Learned much about other religions and cultures. Strengthened my testimony. (Kelli)
Came to know my Savior better than I can imagine I ever would have otherwise. How many occasions will you have to be that spiritually focused, every moment of every day for two years? (Grant)
My whole life is a blessing. Just learning about others and how to get along and not be self centered were some of the blessings I received. (Mike)
Second language. Cultural awareness. Stronger testimony. (Gregory)
I met amazing people. I came to know the Lord personally. My testimony was strengthened in ways I could have never imagined. This was the perfect mission for me. (Casey)
What are some skills you gained?
Study skills, meeting people and building relationships, planning. (DeRay)
Decision makimg, ability to study, confidence, independence. (Alice)
I learned to share my testimony through word and song. I learned that blessings come to those who work for them. I learned that Heavenly Father answers our prayers as we diligently seek to serve. (Brad)
Language, enculturation, patience, management, empathy, sympathy, etc., etc. (Paul)
Loss of fear of being in front of people. (Shaun)
Foreign language (learning to learn). Negotiating. Perseverance. (Mark)
Japanese language. I've used it from time to time in business. (Kelly)
Language skills, of course, and teaching skills. (Kelli)
Confidence. Japanese. Persuasive salesmanship. (Grant)
Language, culture, cooking. (Mike)
Bicycling long distances and across narrow rice paddy borders. (Gregory)
I'm not afraid to talk to people and I'm not afraid to commit people to do stuff. (Casey)
What do you wish you knew/did at the beginning of your mission?
The power of service is where it's at! So many doors and opportunities are opened through simple acts of service. I saw that on my mission and young men I have been a leader for are seeing it all the time now as they serve missions. Find all the service opportunities you can! (DeRay)
How tough it was going to be initially, how to combat homesickness. (Alice)
The language does come, just work hard at it and some day you will start dreaming in Japanese. Your green bean trainer was selected for a reason. Never question it.  (Brad)
THE JAPANESE LANGUAGE!!! (Paul)
Japanese. (Shaun)
How to read better – simple kanji, but it came as I served. (Kelly)
How absolutely life-changing a mission can be. How it has affected every aspect of my life since returning. How mind-boggling God's love for His missionaries can be. How our Guardian Angels were never far from us. How I still miss that special closeness that only missionaries are blessed with. (Kelli)
I wish I had have more patience with the less spiritually prepared missionaries. I wish I would have been better at loving the investigators and not just so intent upon teaching. (Grant)
More language skills. (Mike)
Praying and fasting regularly for guidance. (Gregory)
I wish I understood the language better. (Casey)
Any advice/testimony for pre-missionaries going to Okayama?
My trainer always said to "build your empire" where ever you were. Befriend folks in the ward/community that will always be there to help when needed. Having them in your pocket as a resource was very important. (DeRay)
Go, go,go it will be such a blessing in your life forever. It is the gift that keeps giving. (Alice)
If you learn to love the people, this will drive your actions. It will push you to learn the language, it will drive you to share the word, it will motivate you in the work. Learn to love the people and you will become a great missionary. (Brad)
Be humble, teachable, and eager to meet others and share your testimony. (Paul)
Just love them all without reservation. (Shaun)
Be open to new things. Be willing to learn from others. (Mark)
Have a deep and full testimony BEFORE you go. (Kelly)
Keep an open mind! A couple of my American companions were pretty closed-minded towards the Japanese. We are not better than they are. Christians are not better than Buddhists. Life-long members are not better than converts. God loves ALL of his children and the gospel is for EVERYONE. (Kelli)
Don't take one moment for granted. Every experience is designed to help you grow. (Grant)
Study the language hard and Preach My Gospel. (Mike)
Embrace everything. (Gregory)
Have faith. The language will come. Focus on the Spirit. There were plenty of times I didn't think I said the right thing, but the Spirit was there and it took over. (Casey)
What was a funny language mistake?
We all thought we were better than we were. (Alice)
After being in Marugame for an extended period of time, I picked up some bad habits that my ward mission leader in Hiroshima loved to point out. Apparently, I picked up a rural accent to my speech pattern and sounded like a redneck. Always try to practice polished pronunciation. (Brad)
My future wife stood up in my first Sacrament Meeting in Japan and asked if she was from Mesa, Arizona (it's a "ka" thing). (Paul)
Kowai vs kawai, Scary vs cute. (Shaun)
Confusing ningen (person) and ninjin (carrot). (Mark)
Ningen vs ninjin. Joseph Smith did not see two glorious carrots descend from heaven. (Kelly)
When I was first trying to learn honorifics, I asked a housewife when her husband was going to turn into a frog. (Grant)
Asked for kiss instead of spoon. Sepun instead of spun. Said I was diarrhea instead of tone deaf. Unchi instead of onchi. (Gregory)
Kusai and Kuusai… Kuusai means to stink. Ku-sai is 9 years old. So, one of my missionary companions said he was Jyu-kuusai (which translated meant he was 10 times stinky. He should have said Jyu-kusai, which would have been 19 years old. (Casey)