Here are free resources about the Italy Padova Mission:
*Other Mission Pages: Italy LDS Missions.
---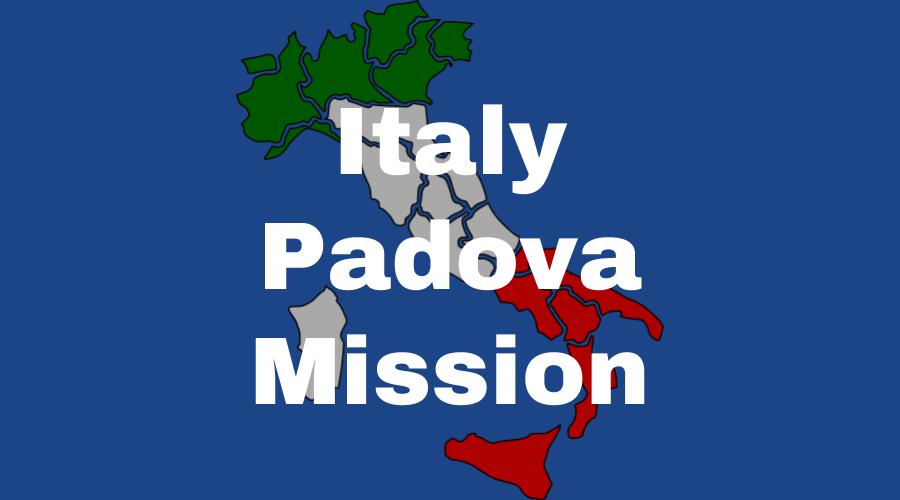 ---
Italy Padova Mission Address
Here's a recent address for the Italy Padova Mission. We try to keep this information up to date, but it's a good idea to check the mission address with several sources, including your mission packet or the mission office.
This mission does not currently exist.
Phone Number: N/A
Mission President: N/A
Italy Padova Mission Map
Here's a link to the mission map for the Italy Padova Mission (LDS). To access the official, up-to-date LDS.org map for the Italy Padova Mission
*Mission does not currently exist. (Browse LDS.org mission maps)
Videos with Italy Padova RMs
Here are in-depth YouTube video interviews with returned missionaries from the Italy Padova Mission.  We interview hundreds of returned missionaries each year, so check back regularly to see new RM interviews. Coming soon..
LDS-Friendly Videos about Italy
Here are LDS-friendly educational videos about Italy. We scoured YouTube to find the best quality videos about Italy, that are free from inappropriate music, immodesty and profanity.
Italy Padova Missionary Blogs
Here's a list of LDS missionary blogs for the Italy Padova Mission. This blog list includes the missionary's name, URL and when their mission blog was updated.
*Send your missionary a gift (mission-specific shirts, ties, Christmas stockings/ornaments, pillowcases, etc.)
Italy Padova Mission Groups
Here are Italy Padova Mission Groups- for LDS missionary moms, returned missionaries, mission presidents and other alumni of the mission.
Italy Padova Mission T-Shirts
Here are T-shirts for the Padova Mission!
Shirt designs include Italy Padova Mission logo/emblem shirts and Called to Serve shirts. The shirts make great gifts for pre-missionaries, returned missionaries and missionaries currently serving. LDS Mission shirts come in all sizes: Small, Medium, Large, Extra Large, up to 4XL.  The mission designs are printed on white shirts and are shipped to you.
*Simply click on a shirt design to view the details and submit an order. The designs on mission t-shirts may also be printed on other LDS mission gifts, including: Italy Padova missionary aprons, Christmas stockings, ties, pillow cases, teddy bears and Christmas ornaments.
*Click here to browse Padova Mission gifts
---
---
Italy Padova Mission Presidents
Here's a list of current and past Mission Presidents of the Italy Padova LDS Mission.
2002, Mission consolidated with Rome Mission and Milan Mission.
2001-2002, Daniel O. Jensen
1998-2001, LeGrand R. Curtis Jr.
1995-1998, Cleve M. Dibbie
1992-1995, Howard C. Anderson Jr.
1990-1992, Vincenzo Conforte
1990, Mission re-opened.
1982, Mission consolidated with Rome Mission and Milan Mission.
1980-1982, Felice Lotito
1978-1980, Arthur R. Watkins
1975-1978, John A. Grinceri
Italy LDS Statistics (2016)
Church Membership: 26,248
Missions: 2
Temples: 1
Congregations: 103
Family History Centers: 68
Helpful Articles about Italy
Italy Padova Missionary Survey
Here are survey responses from Italy Padova RMs, to give you a snapshot into what it's like to live in the mission.
*Click here to take a survey to help pre-missionaries going to your mission.
When did you serve?
1991-1993 (Brent)
1990-1992 (James)
1990-1992 (Calvin)
1979-1981 (Steve)
1978-1980 (Doug)
1994-1996 (Peter)
1977-1978 (Shawn)
1994-1996 (Irenne)
1999-2001 (Joshua)
2001-2002 (Clint)
May 1981 to October 1982 (Lydia)
What areas did you serve in?
Pistoia, Ravenna, Prato, Pisa, Bologna, Pesaro, Rovigo, Udine. (Brent)
Reggio Emilia, Firenze, Verona, Montova, Grosetto, Ravenna. (James)
Trento, Firenze, Reggio Emilio, Ferrara, Pistoia, Udone, Gorizia, Treviso. (Calvin)
Parma, Firenze, Livorno, Modena, Padova, Bologna. (Steve)
Bologna, Forli, Mestre, Prato, Udine, Pisa, Vicenza. (Doug)
Verona, Pisa, Bologna, Florence and then throughout as a traveling sister. (Shawn)
Vicenza, Bolzano, Trieste mestre. (Irenne)
Trieste, Pordenone, Mestre, Genova. (Clint)
Bolzano, Pisa, Triest and Alessandria. (Lydia)
What were some favorite foods?
Lasagna, gelato, tortellini, mozzarella cheese, parmigiano reggiano. Prociuto crudo, pandoro. (Brent)
Pasta alla vongole, Tiramisu, Nutella, Panini, Gelato. (James)
Gelato, and real food made in homes. That's where the real Italian food is, not the restaurants as much. Prosciutto crudo is sliced heaven, and fresh mozzarella with a sprig of basil. (Calvin)
Pizza, homemade chocolate pudding, gelato. (Steve)
Gnocchi, tortellini, Bucaneve cookies, homemade yogurt. (Doug)
Pasta, focaccia, gelato, Nutella, bread, tiramisu. (Peter)
Bolognese lasagna and marguerita pizza from the Padova train station. (Shawn)
Anything made by pasta mamas Pondoro Gelato (Irenne)
Pasta of course! A thinly sliced cut of ham called Speck. Cheese, tomatoes, oil, vinegar, breads, gelato…it's all good! (Joshua)
Vegetable Lasagna, pesto a la Genovese, focaccia. (Clint)
Panetone, Calzone, Caneloni, Gnocchi, Gelato (Ice-cream). (Lydia)
What was a funny experience?
Members wanted to be nice to us by cooking a big traditional Thanksgiving dinner because they knew we would be home sick on a holiday. The turkey and mashed potatoes and stuffing were very kind.. but they couldn't understand how we could eat such a heavy meal in the middle of the summer….. They messed up the dates and made us a Thanksgiving dinner on the fourth of July. (Calvin)
Opening the apartment door in Vicenza at night and seeing thousands of roaches disappear as soon as the lights went on. (Doug)
Was pooped on 4 different times by pigeons…all on the same day. My white shirt was covered in pigeon poop. (Peter)
Every day would get us laughing at streakers, people yelling from the other side of the door saying "non c'e nessuno a casa", elders with no seat bikes, etc. etc. (Shawn)
When we made thanksgiving in Italy and Internet was basic to get recipes required chat room The turkey came with feathers Made stuffing in bucket No tinder timers– had to call international operator to ask advice about how to tell when a full turkey is done (Irenne)
We were late for an appointment, riding bikes, so I was pedaling hard. I stood up to put more weight into it, and the gears slipped. I came down hard on the center frame doing about 30 mph, my feet dragging on the road because it was too fast to catch my footing. When the bike finally stopped I crawled to the edge of the road and curled up in the fetal position. My companion, finally seeing I wasn't behind him anymore, came back, irritated, and told me to hurry up. We were late. I told him I didn't care, I wasn't moving. Later in life I discovered to my joy that I was still able to father children. (Clint)
1. Gaffs made learning the language 2. Working in a district with my district leader who I'm sure wasn't supposed to be doing that in the first place who introduced himself as our husband on a door approach! (Lydia)
What was a crazy experience?
Riding bikes. Got hit by a car twice and once by a bus. (Brent)
My companion and I were racing back to the apartment and our bikes locked handlebars. We wiped out and slid down the road and began laughing so hard people who lived on the street started yelling at us. (James)
During the Gulf War there was a lot of anti-American sentiment and for a while we had to take off our tags and avoid speaking English completely. After visiting a museum with an investigator we came out into a huge communist anti-American demonstration with chanting, running, burning flags and burning dummies of the president. My companion was very blonde and an obvious yank, I blended in more, so we hid him against the wall and snuck out, we think we were followed home once, so we made it a spy game to lose our tail. (Calvin)
Elder Hahn riding his bike into a parked car as he was gazing at the Mediterranean Sea in Livorno. (Steve)
Climbing the tallest tower in Bologna. The inside steps were questionable at best. (Doug)
My companion removed my brakes on my bike. I didn't know it until I attempted to use my brakes while traveling down a busy cobblestone street lined with people. Funny now. Not so funny then. (Peter)
Getting run over by a Fiat 500. Apparently, that happened to a lot of missionaries🚙😵 (Shawn)
The white handbook created for a reason– because a missionary before me made choice that had negative consequences. (Irenne)
Saw a woman get her purse robbed. She was yelling at the thief who was running away, somewhat dangerous looking. I thought about helping but decided not to get involved. I half regret being a coward, and half am glad I didn't put myself in danger. (Clint)
Being cursed by a Witch, yup it happened… Also breaking my head open while playing fruit basket for a zone meeting… My fault! Didn't hurt much but the tiny capillary veins in the skull made for a lot of blood… I could see this as it was at the back of my head and have the scar to prove it. (Lydia)
What was a spiritual experience?
Teaching and baptizing a golden mother and daughter in Prato. (Brent)
The opportunity to provide a blessing for a very sick little boy in the Florence, Italy. (James)
Following the Spirit and ignoring our plans for a day and door knocking is a random rich neighborhood and finding an American less active member who was praying for something and couldn't figure out the phone book to find the church, his mom was praying for help for him… and then we showed up at the door… it was great. (Calvin)
There were many. (Steve)
Meeting Ezra Taft Benson at the dedication of the new building in Bologna, right? (Doug)
Working so hard for a month to find someone to teach and baptize. Worked all month without any success. Last week of the month we met a man who wanted to be baptized. (Peter)
Every day. Every single day. Gift of tongues, preserving life, finding the right words and scriptures just when you need them. I could go on😊 (Shawn)
Everyday– I only had that one day there and I couldn't repeat it– I would always have my home in America– but never again could my experience in Italy be recreated. Everyday was beautiful– I was challenged to write daily in my journal– I did and I am grateful. (Irenne)
Riding the train to the mission home at the very end of my mission. By happy coincidence my favorite companion and the woman we baptized (my only) were on the same train. As we reminisced and laughed I thought "this must be what the Celestial Kingdom is like." (Clint)
Being there, my ancestors are from this mission and I felt at home. The first day there we were taken to the mission home and had a meal and an evening with the President and Assistants. My mission president came from the country and President's wife pealed her apple… before then I had only ever seen my grandma do that and I felt at home. Then we had a film strip presentation of the different areas… as the places rolled of my ancestors zones and areas I was so happy… oh I want to go there my … came from there… then it happened … the place I couldn't go… the one that my grandma was born… the AP Said: You can't go there Sister Gigli that's an Elder's only area… Well as my mission panned out I did serve in those areas… and the Elders only Area… they took the Elders out of… I don't think the president was listening… maybe he was, but I know that those are the places the Lord wanted me to serve and I must have had a righteous desire and my ancestors had a hand in my service and I felt them with me. I loved the people and that made me a good missionary I think. (Lydia)
What are some interesting facts about the Italy Padova Mission?
Some of the greatest art in the world. Some of the greatest food in the world. (Brent)
The art and history brought me to tears. Walking through town was like stepping through the history of the Renaissance on a daily basis. (Calvin)
Italy is one of the most beautiful places on earth. Amazing country with equally amazing people. Rich in history and culture. (Peter)
Our mission president was only 28 years old when he was called. We were the highest baptizing mission in continental Europe. (Shawn)
Love the countryside and the people. (Joshua)
The Padova Mission closed in mid 2002, and I received a new mission call, complete with envelope, to the Milan mission. Half the missionaries from my MTC district went to the Rome mission. I, however, did not transfer out of my area at that time. By the time I went home, 3 out of my 4 areas had been closed and absorbed by other companionships. (Clint)
Each area was so different. Though we think of Italy as an ancient historic place that goes back to the Romans, it's actually a new country. Have you heard of a guy called Garibaldi, well in every town you will find a square right in the center of town dedicated to him… Because…. Italy became a place of lots of countries- each area and zone had it's own king, and language up to little over a century or so ago I think. Garibaldi marched with his army through the country and made it one and re-invented the language. Unlike English which has adopted and held onto each of it's invaders and you can see that in the language. Italian has a clear grammatical and phonetic style because of Garibaldi. Master the grammar and you will have got the language. Hmm but every move you won't understand a word of the dialect! Interesting huh? Padova no longer exists as a mission and it had the most cultured parts of Italy, from Florence and Venice to the mountains and the lakes… I miss the mission. (Lydia)
What was the weather like?
Mild winters. Hot muggy summers. (Brent)
Cold in the winter and hot in the summer. Sure miss the warm rainstorms though! (James)
I served in a class winter mountain town as well as warm Mediterranean cities, a little of everything. (Calvin)
Like Illinois. (Steve)
Never too cold, some wind and rain. Like Washington state, only milder. (Doug)
Humid and hot in the summer. Mild in the winter, depending on where you are in the country. Further north, near the Mountains, it will be much colder in winter. (Peter)
Snowed for the first time in 20 years in Venice when I was flying out in Nov. (Shawn)
Depends on where– cold in winter– thermal cold– summer humid wet. (Irenne)
First month was overcast and rainy all day, everyday in Parma. (Joshua)
Humid. The first day I could barely breathe from the humidity. After a few weeks I didn't even notice it anymore. I got used to having a drenched white shirt at the end of the day. It snowed a couple of times, but was mostly warm. (Clint)
Hot! The Alps and Dolomite Mountains stop all that precipitation and the weather came up from the south and Africa … It's a wet heat and humid. (Lydia)
Any things you really like about the area/people?
Very friendly. (Brent)
Everything, wish I could go back and live there. (James)
They adopted me and I have never felt more at home. Their sincerity and lack of fake filters is refreshing and wonderful. When they love you for your service, they actually love you and aren't just trying to be nice. (Calvin)
They are wonderful people. (Steve)
The cities I served in were all nice, as were the people. (Doug)
The culture and the history. (Peter)
Great variety of weather, cities, culture. (Shawn)
They are still in my heart 20 years later. I left my heart there– next to my family my mission is my greatest accomplishment and I have an extended family because of it. (Irenne)
Everything. (Joshua)
The people are very secular and open to discussing religious topics. The terrain is gorgeous regardless of where you are. The food is the best in the world. (Clint)
The weather and food make the people and they are as warm and sunny and full of heart as is the weather. They love to love and they will love you and if you learn to love them you will be an amazing missionary. Italians love a tryer too, be prepared to lose any cold weather habits you have had from coming from cold places. (Lydia)
Any packing/clothing advice?
You can find a lot of great clothes to buy over there- coats, suits, shoes. (Brent)
Good warm clothing for winter. It's humid and cuts right through you. (James)
They care about fashion. Ignoring fashion makes you look like you don't care about them and aren't very intelligent. Budget in some money to buy cheap ties and shoes and suits while you are there. (Calvin)
Plan for all four seasons. (Steve)
We used Mr. Mac 3 piece suits that would self destruct after two years. Throw your used clothes away, don't bring them home. (Doug)
Short sleeve white shirts are best in the summer months. It gets very warm. (Peter)
Light, pack light. (Irenne)
Remember that the voltage is different there. Don't bother with electronics. Just bring money and buy your electronics there as needed. Don't over-prepare. You will have plenty of time between knocking on endless doors to get what you need. (Clint)
Dress for the heat … hey I'm English/Italian lived in England all my life, so this is important. Leave stuff when you come home- anything that another missionary could use, pass it on… (Lydia)
What blessings did you receive from serving a mission?
Personal growth, maturity. (Brent)
Too many to count. (James)
Speaking a second language has changed my life and changed my learning style. My connection to such a rich and full culture raised my soul to levels I could not have anticipated. (Calvin)
More than I could have imagined! (Steve)
The ability to understand and speak more languages. Stronger commitment to The Church. (Doug)
Gaining a truly personal relationship with Heavenly Father. Seeing all people as God sees them. (Shawn)
My testimony, my desire to serve my forever friends. (Irenne)
I learned the inner-workings of the church's dark underbelly. I don't think I ever would have gotten that perspective without my mission, and would have lived my life oblivious to people who are harmed every day. I was able to gain a level of empathy I never had before. (Clint)
My mission changed me and made me who I am today. I've been home for decades now, but the missionaries back here in damp old England love my mission because it came back with me. All that I now have I can trace back to being a missionary, including my job, husband, strengthened testimony and love of missionary service. (Lydia)
What are some skills you gained?
How to talk to people, becoming more outgoing, teaching skills, becoming more spiritual. (Brent)
Italian cooking. (James)
Ask old ladies to show you how to cook specific dishes. You will use them the rest of your life and you will lose yourself in their culture. (Calvin)
Appreciating another culture and people. Learning to speak, read, and write Italian. Hard work brings blessings. I learned a lot about good leadership and leading by example. And much more. (Steve)
Break dancing, Parkour, glass blowing. (Doug)
Ability to speak Italian. Stronger work ethic. (Peter)
Learning a language, learning to cook Italian, learning more about the gospel, Book of Mormon, and church organization. (Shawn)
Time management, organizational skills, language experience, love love love— a desire to recreate the experience in the sense of the spirit and opportunities. (Irenne)
Cooking. No, seriously. Cooking. My wife has been very grateful for my vast knowledge gained in that field. (Clint)
Language and love of people. (Lydia)
What do you wish you knew/did at the beginning of your mission?
I wish I knew the language better. (Brent)
The importance of real companion study and the lifelong friendships that come from it. (James)
Your trainer might be a jerk and living with a companion was going to be harder than anyone ever told me- I needed to prepare better for that, have better conflict resolution skills. (Calvin)
Know your scripture masteries prior to your mission. (Steve)
How to speak fluent Italian. (Doug)
Spoke up more. I couldn't speak Italian well at all so I chose not to speak for fear of making a fool of myself. Wish I had opened my mouth more and spoke to people. (Peter)
Missionaries are not perfect– we are humans attempting to live a spiritual life in the Telestial Kingdom. We are evolving and learning– be patient, speak up. (Irenne)
Not to worry and to trust the Lord and the Holy Ghost. That the Lord was with me even when I felt alone because my trainer didn't want to train me and was 'trunky' which was the lowest point of my mission and I'm sure you won't have that experience, but if you do… You are never, ever, ever alone- promise. (Lydia)
Any advice/testimony for pre-missionaries going to Italy Padova?
Desire to serve the Lord and feel the Spirit. Humility and most important…. Love… love the Lord, love your companions, love the people and love yourself. (Brent)
Study, pray, laugh and love. (James)
Don't be so hung up on being an American that you lose the opportunity to find a new side to yourself. Let it go, they will love you for being a cool American no matter what, but we are all so loud and obnoxious compared to most cultures. Reel it in, do things their way, think like they do, learn the regional stuff, every city is like it's own country full of their own meats, cheeses, games, and traditions, buy in from the beginning. Have a blast. (Calvin)
Make sure you're sure about your own testimony. (Steve)
Understand exactly what you are committing to do, so you don't quit saying it's too hard. Yes it will be hard. (Doug)
Be prepared to not want to return home. (Irenne)
The Lord loves you, is grateful for you and will be with you when you turn to Him. He is your boss and you can have no greater employer that the Maker of this world and you bear His name and He bore you and you are right there with Him. He holds you and knows your trials and test. The prayers of us and your loved ones go with you. (Lydia)
What was a funny language mistake?
Accidentally saying swear words that were close to other everyday words. (Brent)
Flatulate and discouraged… the senior missionary kept saying she was flatulated at the beginning. Practice telling stories, not just memorizing vocabulary… no one could tell me how to say I crashed my car into a tree, but I tried to include it in my talk anyway .. no one understood. (Calvin)
Realizing years later that some of the things we said were actually pretty bad. (Doug)
Some similarities between Italian and English words. There are also a few similar Italian words that sound the same but mean something completely different. For instance the word for "message" is "messaggio". There is also another closely sounding word "massaggio", which means "massage". Don't get the two mixed up when delivering your "message" of the restored gospel. (Joshua)
Not a language, but culture… American's didn't understand how to use a Bidet back then… Don't ask! (Lydia)