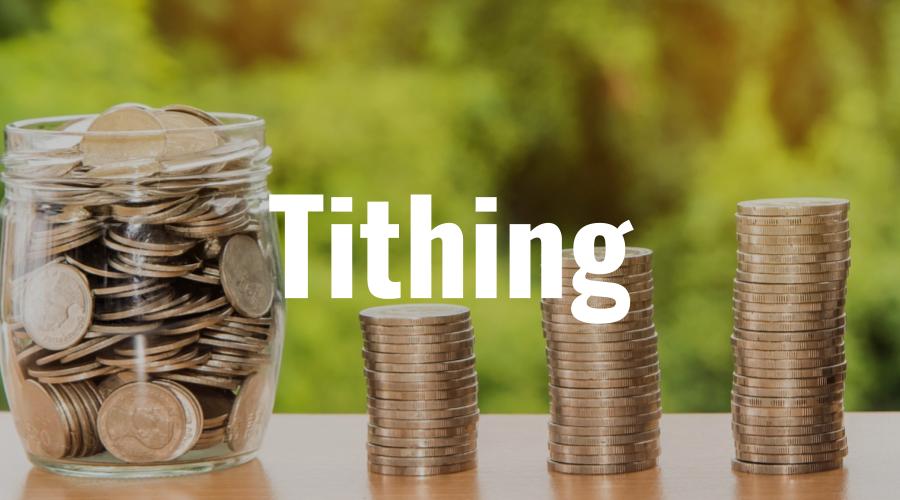 ---
"Bring ye all the tithes into the storehouse, that there may be meat in mine house, and prove me now herewith, saith the Lord of hosts, if I will not open you the windows of heaven, and pour you out a blessing, that there shall not be room enough to receive it."
Malachi 3:10
---
The Lord promises if we pay Him a tithing (10%), He will open the windows of heaven and give us blessings beyond our ability to receive them.
There are millions of faithful Christians who pay their tithes to the Lord and are richly blessed.  Here are five stories that demonstrate the importance of paying tithing.
We should give our best to the Lord
Before modern industrialization, many paid tithing as a tenth of the crops of their field.  The book, "Tongan Saints: Legacy of Faith," recounts a Tongan bishop's memory of his grandfather:
"Grandpa Vanisi's spirituality inspired an awe in me as a child. I remember following him daily to his plantation. He would always point out to me the very best of his taro, bananas, or yams and say: 'These will be for our tithing.' His greatest care was given to these 'chosen' ones. During the harvest, I was often the one assigned to take our load of tithing to the branch president. I remember sitting on the family horse. Grandfather would lift onto its back a sack of fine taro which I balanced in front of me. Then with a very serious look in his eyes, he said to me, 'Simi, be very careful because this is our tithing.' From my grandfather I learned early in life that you give only your best to the Lord."
We should pay tithing even if we "can't" afford it
Dallin H. Oaks shared a story about his mother paying tithing despite their destitution:
"During World War II, my widowed mother supported her three young children on a schoolteacher's salary that was meager. When I became conscious that we went without some desirable things because we didn't have enough money, I asked my mother why she paid so much of her salary as tithing. I have never forgotten her explanation: "Dallin, there might be some people who can get along without paying tithing, but we can't. The Lord has chosen to take your father and leave me to raise you children. I cannot do that without the blessings of the Lord, and I obtain those blessings by paying an honest tithing. When I pay my tithing, I have the Lord's promise that he will bless us, and we must have those blessings if we are to get along.""
In the 1900 General Conference of the LDS Church, Joseph F. Smith shared a memory of his mother:
"My mother was a widow, with a large family to provide for. One spring when we opened our potato pits she had her boys get a load of the best potatoes, and she took them to the tithing office; potatoes were scarce that season. I was a little boy at the time, and drove the team. When we drove up to the steps of the tithing office, ready to unload the potatoes, one of the clerks came out and said to my mother, 'Widow Smith, it's a shame that you should have to pay tithing.' … He chided my mother for paying her tithing, called her anything but wise or prudent; and said there were others who were strong and able to work that were supported from the tithing office. My mother turned upon him and said: 'William, you ought to be ashamed of yourself. Would you deny me a blessing? If I did not pay my tithing, I should expect the Lord to withhold His blessings from me. I pay my tithing, not only because it is a law of God, but because I expect a blessing by doing it. By keeping this and other laws, I expect to prosper and to be able to provide for my family'".
We are blessed when we pay tithing
When we pay 10% of our income to the Lord, we get more than we give.  Though many times we receive spiritual blessings for paying tithing, sometimes the blessings are temporal.
When Edward Stokes Rich was 12 years old he worked at night for a local newspaper to help his single mother earn money for his family.  Whenever Edward received money  he gave it to his mother, who'd pay tithing on it.  One time his mother said, "Edward, I know that you have no overcoat, and you must walk many miles to and from work each night. With winter coming soon, it's going to be very cold when you walk home at four or five o'clock in the morning. So I'll give you your tithing money and you can either pay your tithing or buy an overcoat. I'll leave the decision up to you." Edward hurried to the Bishop's house and paid the tithing.  The next week  Edward's Aunt Mary came over and  gave Edward a coat her sons had outgrown.  It fit him and was better than any coat he could have bought.  Since then, Edward's decided to always pay a generous tithing.
Robert D. Hales told a story about a family who was blessed for paying tithing:  "I know of a couple who lived thousands of miles from the nearest temple. Although they earned little, they faithfully paid their tithing and saved all that they could to journey to the house of the Lord. After a year, the husband's brother—not a member of the Church—unexpectedly came forward and offered them two airplane tickets. This temporal blessing made possible the spiritual blessings of their temple endowments and sealing. An additional spiritual blessing came later as the brother, touched by the couple's humble faithfulness, joined the Church."
"If you always pay an honest tithing, the Lord will bless you. It will be the best investment you will ever make."
– Sheldon F. Child
---
Personal Notes:  Tithing's a wonderful opportunity to show our gratitude to the Lord.  Though my father never made much money in his career, our family's been provided for.    I remember one blessing our family received from paying tithing.  For about eight years my parents rented a house in New Hampshire.  Eventually our landlord offered to sell us the house for the same amount at which they originally had bought it.  They even counted the eight years of rent we had paid as the down payment for the house.  We bought the house for about four times cheaper than its value.  I believe the Lord blessed because we were paying a full tithe.  To learn more reasons why Latter-day Saints (Mormons) pay tithing, visit Mormon.org.
Comments:
Lhalaine Gose
I'm so blessed with the message. God will bless you all.
P. G. Vargis (India):
Let me say my tithe story. I became a born again Christian in 1971. Next week, my Pastor asked me to sit with him for my first discipleship class. He told me about the basic things that a believer should do, which included the 5 things I mentioned above plus two more points. When he said about tithing, I knew he was interested in my money. I said in my mind, "Man, you are not going to get it from me. I will give what I can, what I can spare but NOT one tenth of my income. I can't afford it."

At that time, I was a soldier in the Indian Army and my pay was not much. More over my wife was expecting our first baby in a few months, in the extreme winter of Kashmir. It will bring many fresh expenses like buying coal to heat the room, clothes for the baby, post-delivery treatment of my wife etc. I could not afford to pay one tenth of my income.

Before my conversion, I was making illegal income like stealing from the army store, taking bribe, which you can call it as 'gift' in the Indian language. But now after my new-birth, we decided that we will not have any illegal income or gifts in our house even if we have to live on a shoestring budget.

As I was going home, my Pastor gave me a few old magazines. I love reading and so I read them. Surprisingly there was an article on tithing and giving on each of those 3 magazines. God opened my eyes to see that the pastor was not teaching me to grab my tithe for him or his ministry but for my sake, as an investment for my financial prosperity in the days to come as I walk with Him, as promised by God in the Bible.

Then I realized that I could not afford not to give my tithe if I am really interested in the financial blessings of God. Financial prosperity or self-sufficiency with reasonable prosperity was the plan of God. But to get that promise God put a condition of bringing the Tithe.

No, I was not trying to buy God's blessings with my tithe but I was very interested to obey God and as I do that, I knew that God will do me a favor, give me back what I paid in larger quantity. I read, "When I gave one basketful to God, God gave me one basketful. And His basket is much bigger."

My responsibility was to obey God. And it is His pleasure to give what He promised with that commandment or requirement. I decided to pay more as I am a New Testament believer saved by grace and living under grace, according to my ability as per the Bible. 2 Corinthians 9:7 "Every man according as he purposeth in his heart, so let him give; not grudgingly, or of necessity: for God loveth a cheerful giver".

So instead of Rs. 48, I gave 55 Rupees and let me tell you that it was a sacrificial giving. My heart rejoiced that I could be a partner in God's evangelistic work by giving a part of my income. I was not happy but very happy, though it did hurt me to give that much money.

Next week I was in my office and I asked for a short leave to go and buy ration from the Army store. Another person sitting on the next table told me, "You are going to buy rice and wheat flour? How much rice do you want? I can give you that for just half a rupee per kilo." Another person on the other table said, "Mr Vargis, how much wheat flour do you want? I can give it to you for 62 paise per kilo." It was almost three times in the army store.

They told me that Govt. of India is giving wheat flour and rice to the citizens of Jammu and Kashmir at that subsidized rate and they two are working as part time accountants in different ration supply stores and so they could get me rice and wheat flour as much as I wanted.

Another sergeant from the ration supply depot came to my favor saying, 'There is a special price for officers to buy vegetables. I can give you vegetables at their rate plus best quality coal, all at subsidized rates'.

This was a miracle. I was sitting on that table for the past two years and working with them. These two civilian clerks were my best friends. They never gave me that offer, but after I paid my tithe, God opened their hearts and my expense fell and fell to the bottom.

I was still on a limited budget but I did not lack anything. I was buying gospel of John and Soul Winners New Testament to give to every soldier coming to my office to collect stores. Then our first son Aby was born on 19thJan 1972 when it was snowing in Kashmir.

People came to see the new born. According to the custom of Jammu and Kashmir every visitor thrust some money into the small palm of our son, Rs. 1 or two (paper money). It is the culture of that land so the parents will have some extra money with them at that hour of need. But I decided not to take that money for our need but to donate it to an orphanage as a token of our gratitude for giving us a son after 4 years of marriage.

The miracle did not stop there. Later I was told that I don't have to go to the supply depot to buy the coal, but it will be delivered in my house at no extra cost. Praise God.

Later I wanted to invite all my Hindu friends to the church on the day of the dedication of our son. I was very concerned about the money I will need to give 'tea and snacks 'to all the guests. It will cost over Rs. 200 and I had only Rs. 110. I prayed. Then I met a sergeant of the Army officer's bakery and he said that he can provide everything. The total bill was 86 rupees. I tell you that it was a great miracle for me. Even now as I type this my cheeks are being washed by my tears. (In North India everyone will ask for a 'ladoo' or a chocolate when a boy is born. I decided to invite all my friends for the celebration to the church so they may hear the gospel message too.)

I pay my tithe. Lilly pays her tithe. All my children pay their tithe over and above 10%. We encourage you to pay your tithe – faithfully. As you pay, look at the seeds you are planting in God's vineyard and expect a harvest. You will get it and your children will have it too.

Let me take a leaf from the life of my father. He was born in 1905 (?) in a poor family. He studied in English medium school. He had his own business even at class 3 or 4, like taking care of a lamb he had bought. That one lamb multiplied year after year. Later he started a saving scheme (chit fund) of Rs. 5 when he was in the high school. This was a large amount during those days.

Somehow he failed in the high school exam because of his attention in his business. So he decided to look for a job.

He heard that there was a vacancy of a Superintendent in a rubber plantation and he applied. When he went to meet Mr Antherper at Adoor for the interview, he knew that he was wasting his time. There were 4 others, 3 high school graduates and one Intermediate graduate which was a very high education on those days. Papa had another problem – he was stuttering person. He used to stammer while speaking in Malayalam and it was almost impossible to speak English. If he was facing strangers, he had to jump to get out of the 'stammering mode' and speak.

He stood before Mr. Antherper. He stammered to answer each question starting, 'what is your name?' For every sentence he had to jump to come out of the stammering and utter the first word and then he will speak without stopping.

When the interview was over he knew he wasted his time. After the interview, they were all sent to different areas to assess the rubber estate property and give a report, which my Papa thought that he had done well.

When he was returning on his Humber bicycle, which he bought from his 'saving scheme collection,' it was getting dark and he was hungry. He had already consumed the food his mother had packed for him. He wished he had a penny to buy a 'vada,' but his pocket was empty. He had to cycle over 10 km to his home and there was no proper road during those days. He was tired. He parked his bicycle by the road side and laid down on the grass. He remembered the Bible story his mother taught him and had read in the Bible: Jacob was in the wilderness alone and he prayed to God.

Papa, 18 years old young man at that time, sat there on his knees and prayed like Jacob, "God, I know I cannot get the job. In my own opinion I am the least of them. But God of Jacob, if you will do me a favor and give me this job, I promise you:

= I will walk with you and worship you.
= I will not touch a woman (which was a common practice of rubber estate officers of those days.)
= I will pay my tithe to you.

He is from an eastern orthodox church. During those days, not all families had a Bible. He did not know what it means to walk with God or pay tithe. But he made a covenant.

He went back. His evangelical mother told him about the Lord God of Abraham, Isaac and Jacob and assured him. "God can – now or later, but He will. We will pray." He waited for his next chance.

After a week, he got a post card with the message: 'Mr. G. Pappy, I am pleased to inform you that you are selected as the Superintendent of our rubber estate. Please report to this office on or before…. And join the duty. Signed. Mr Antherper'

The LORD God of my grandmother did it for my father.

My Papa kept his word and walked with God. At the age of 76 he got closer to God and became a Bible believing born again Christian. But let me tell you another leaf from his life.

My father was a religious Christian and did not belong to a Bible believing church. But he had faith in God which he inherited from his evangelical church member mother. He always talked about the God of Abraham, Isaac and Jacob. He read the Bible stories as he had plenty of time after his work. He taught us the Bible stories in the evening daily family prayer. He will walk through the rubber plantation where he worked, sit at a place of his choice and pray beating his chest asking God to bless him.

One day in 1962, he heard that the neighbor was selling his 10 acres of land and going away to another city. He took me to that land when I came on my first holiday after my Army basic training. I was 20 years old and an agnostic, having a mixed faith of Hinduism, black magic, sorcery, hypnotism but very little faith in my father's Lord Jesus. I was more of a non-Christian than a nominal Christian. I did not go to the church for years. He asked me to give the money I had so he may give advance to a small plot of that land, which is half an acre. That 10 acre land was in the names of several members of a family.

I told him that I did not have much but only just over Rs. 130 as I was indulging in bad habits and spent all the money I got. Papa thought that I must have got at least 1000. He said, "Give me that money. I will take a step of faith. And I will pray."

At that time my father was broke due to a series of calamities that drained his bank balance.

Standing there, he prayed a long prayer, tears running over his face. "Lord God of Abraham, Isaac, Jacob and Joseph, you are a God who blesses your people. I am your child. I made a covenant with you like Jacob in the wilderness, when I was just 18 years old and since then you have been walking with me. I am at a crossroad. This land is for sale. I would like to buy it. Help me to buy it. I will give the one hundred rupees my son will give me as the advance payment for half an acre. Help me to buy it. Then the next half an acre or one acre. And hold an umbrella over this land so that no one else should come and buy even a portion of this 10 acre. Give me this land." He prayed very long stretching his hand all over the land in all directions. Then he added: "When you will give me these 10 acres of land, I will pay the tithe to your work."

And in 3 years' time he purchased the whole 10 acres of land and more later.

He believed, he prayed and God helped him.

He did not forget his covenant with God. He talked to a pastor who was working among the tribal dailt people and he helped that pastor to buy some land and construct a church there. (I had the privilege to go to that church and preach after my salvation. I heard this story from that pastor first hand as he introduced me to the congregation.)

As you walk with God and pay your tithe, you can expand because expansion is the plan of God.
Mauricia Casilac
I am so blessed by you tithing testimony. I really had the intent of looking for ideas how to encourage people in my church to tithe. I am a tither after several pastors patiently taught me about it added to how God revealed to me His great providence on ones obedience. I am now in a church where a Pastor and his family believes in Malachai 33:10 but DO NOT practice it.

I have been praying to bravely stand up one day and share my tithing testimony to them. I want them to experience an abundant life..not because of overflowing money but of God's favors and graces.

Please allow me to share some lines of your own testimony. And help pray that I would be guided by the Holy spirit in doing so one day….God bless!
Colleen
Thank you for sharing that to all of us. Indeed I learned a lot. May God bless you abundantly.
Marjel
Great testimony sir.
James Karekei
Am the chairperson of Mary Queen of Apostles, Dagoretti market parish. We started tithe offering last year and every month it kept improving. Christians are now proud in giving of tithe since we have been able to do so much what would required fund raising in the past years. We have constructed a perimeter wall round the church compound we are now in the process of constructing modern washrooms. Kindly send me motivation stories so that I can narrate to our Christians.
GABRIEL VILLAGRACIA
GOD BLESS YOU MORE. CONTINUE TO BLESS THE LORD FOR HE WILL BLESS YOU MORE.
Anne
God bless you for sharing your testimony. I am encouraged and ready to obey God in paying my tithe from August 2017.
Noel JB
Really admire your testimony and continue tithing and the lord will continue bless you more…God never lie and trick his children. He will reveal what he have promised. Abundant Blessings in his mighty Name. Cheers
NEWTON
I'm a freelance academic writer and I can attest that Tithing is a important for every Christian. Last year December, I had just moved out of my parents house and rented a house with an expectation to make a living out of my freelance writing job. By then, I was working with an Australian website and I was confident I would manage to earn some good money form the website to help pay my rent, send something to my parents and save for the future. However, one week after renting a house in town -away from my parents place-the website went down as they had few jobs to sustain their writers. I remember by then I had a debt from my mother that I got while moving out to help pay rent deposit and buy food-which I had planned to pay back in a weeks time. I was depressed in my new place and I had no strength to pray as much as I needed to. I called my aunt-a prayerful woman- and she would wake me up every morning at 5:00 with a call reminding me to pray. After three days, I saw a post on facebook 'looking for experienced academic writers to work online-weekly payments via Paypal.' I applied and received my test job which got a 5-Star Rating. I received my weekly payment and despite the debts that I had accumulated, I paid 10% of my earnings to my church. The next week, I received more job offers and was rated the best writer and got a payment bonus. However, I did not pay my tithes since thereafter, I can attest that things were rough-my life was a mess- till recently when I got back to church and despite the financial problems and few jobs offers this month, I have perfect peace in my life. I have decided to pay my tithe first after every payment before committing my money to pay other bills. I have been following youtube sermons and online posts about tithing and I am now committed to obey God, be prayerful and be faithful in my tithing/giving.
May the Almighty Lord guide my through this journey. Over time I have learnt that when I was not tithing, I was struggling to get new clients, dealing with anxiety issues, felt depressed, got bad reviews from clients e.t.c. However, when I tithe I find peace within myself and always get referrals and good reviews from clients. I read Malachi 3:8-10 and got a better insight about tithing. I'm now back on my tithing lifestyle and will come back here with a testimony.