Free resources about the Indiana Indianapolis Mission:
---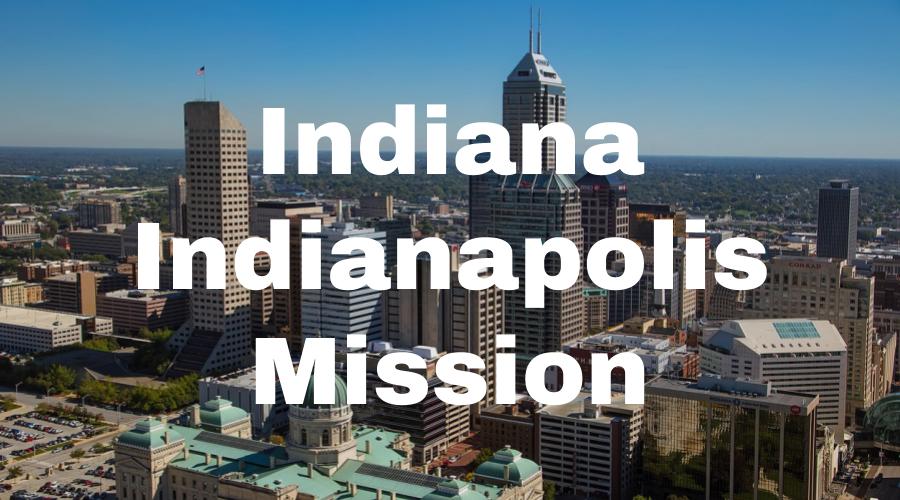 ---
Indiana Indianapolis Mission Address
Here's a recent address for the Indiana Indianapolis Mission. We try to keep this information up to date, but it's a good idea to check the address with several sources, including your mission packet or the mission office.
Indiana Indianapolis Mission
777 Sunblest Boulevard,
Fishers, Indiana 46038-1167
United States
Phone Number: 1-317-845-1722
Mission President: President Daryl H. Carlson
Indiana Indianapolis Mission Map
Here's a link to the mission map for the Indiana Indianapolis Mission (LDS). To access the official LDS.org map for the Indianapolis Mission:
Log into your LDS account here.
Click here.
Videos with Indiana RMs
Here are in-depth YouTube video interviews with returned missionaries from the Indiana Indianapolis Mission.  We interview hundreds of returned missionaries each year, so check back regularly to see new RM interviews.
LDS-Friendly Videos about Indiana
Here are LDS-friendly educational videos about Indiana. We scoured YouTube to find the best quality videos about Indiana, that are free from inappropriate music, immodesty and profanity.
Indiana Indianapolis Missionary Blogs
Here's a list of LDS missionary blogs for the Indiana Indianapolis Mission. This list includes the missionary's name, URL and when their blog was updated.
*Send your missionary a gift (mission-specific shirts, ties, Christmas stockings/ornaments, pillowcases, etc.)
Indiana Indianapolis Mission Groups
Here are Indiana Indianapolis Mission Groups- for LDS missionary moms, returned missionaries, mission presidents and other alumni of the Indianapolis Mission.
Indiana Indianapolis Mission T-Shirts
Here are T-shirts for the Indiana Indianapolis Mission!
Shirt designs include Indiana Indianapolis Mission logo/emblem shirts and Called to Serve shirts. The shirts make great gifts for pre-missionaries, returned missionaries and missionaries currently serving. LDS Mission shirts come in all sizes: Small, Medium, Large, Extra Large, up to 4XL.  The mission designs are printed on white shirts and are shipped to you.
*Simply click on a shirt design to view the details and submit an order. The designs on mission t-shirts may also be printed on other LDS mission gifts, including: Indiana Indianapolis missionary aprons, Christmas stockings, ties, pillow cases, teddy bears and Christmas ornaments.
*Click here to browse Indiana Mission gifts
---
---
Indianapolis Mission Presidents
Here's a list of current and past Mission Presidents of the Indianapolis LDS Mission.
2016-2019, Daryl H. Carlson
2013-2016, Steven C. Cleveland
2010-2013, Kent H. Collins
2007-2010, David L. Corey
2004-2007, Darrell Glen Simmons
2001-2004, Charles Michael Quist
1998-2001, M. Richard Walker
1995-1998, Gary Barton Payne
1992-1995, Robert E. Floto
1989-1992, Richard I. Corey
1986-1989, Mardon C. Lamb
1983-1986, Gail C. Sanders
1980-1983, Arden J. Palmer
1977-1980, Max Mortensen
1974-1977, Keith W. Wilcox
1971-1974, Mark Benson
1968-1971, Arnold N.P. Roberts
1965-1968, Frank C. Berg
1950-1955, Carl C. Burton
Indiana LDS Statistics (2015)
Church Membership: 43,614
Missions: 1
Temples: 1
Congregations: 100
Family History Centers: 29
Helpful Articles about Indiana
Indianapolis Missionary Survey
Here are survey responses from Indiana Indianapolis RMs, to give you a snapshot into what it's like to live in the mission.
When did you serve?
2011-2013 (Danny)
2000-2002 (Michael)
2000-2002 (Ryan)
1975-1977 (Julene)
May 2013-December 2014 (Carra)
2013-2014 (Taylor)
2013-2014 (Jenessa)
2013-2015 (Ryan)
2010-2012 (John)
2012-2014 (Daniel)
2012-2014 (Phillip)
1995-1997 (Mark)
What areas did you serve in?
Lafayette, Linton, South Bend, Indianapolis, and the office. (Michael)
Bedford, Plainfield, Mishawaka, Ft Wayne, and Elwood. (Ryan)
Greencastle, Martinsville, Indy 2, Frankfort, Goshen, North Vernon, Greenwood 2nd, Mission Office (Zionsville, Westfield, and Indy YSA). (Ryan)
Terre Haute/Martin-tucky/Decatur&Bluffton/Columbia City/Franklin/Lebanon/Purdue Campus. (John)
Indianapolis, Greenwood, Columbus, Lafayette West and regular Lafayette, South Bend, Elkhart, Noblesville, Frankfort, pretty much everywhere as a Spanish missionary plus a few areas in campus, Purdue and IUPUI, loved it. (Daniel)
Terre haute, Carmel, Purdue University, Indiana University, Marion, and Indianapolis. (Phillip)
Terre Haute, Greenwood, North Vernon, Huntington, Muncie, Niles. (Mark)
What was a favorite food?
Good bread with good butter and good chicken with good rice. (Danny)
Meat and potatoes, corn on the cob, grilled cheese with raspberry jam on top. (Michael)
Venison, whole pig, corn (Ryan)
Meals with members, back then we didn't get that many. (Julene)
Chicken and dumplings. Spaghetti and chili. (Carra)
Chicago style pizza. Thai food. (Taylor)
Chili 3 way, Stake N Shake, Squealers. (Jenessa)
Lasagna, brownies, ice cream, and watermelon Koolaid. (Ryan)
Mexican Food. (Daniel)
Anything really, but I did enjoy barbecue a lot! (Phillip)
Fresh corn. White castle. Not Cincinnati style chili. That's not chili, it's spaghetti with beans! (Mark)
What was a funny experience?
People had pet raccoons.

(Danny

)

Street contacting on Purdue campus and when someone wasn't willing to talk to us we would say good bye and use Biblical names to identify ourselves like Moses or Ezekiel. (Michael)
Watching us wreck our bikes on preparation day. (Ryan)
We were teaching the Word of Wisdom and the investigator asked about hot drinks and my companion said. "Hot drinks are not always hot drinks". (Julene)
I think just being able to laugh at myself with companions. (Carra)
Slipping in the parking while having a snowball fight with the elders. (Taylor)
This lady we were teaching was super sad we weren't actually polygamists because she wanted to be one. (Jenessa)
One day while helping with the temple construction, they asked us to help them open a maintenance door with a malfunctioning lock. We spent a good half-hour reaching for the door handle on the other side by slipping a bent coat hanger under the door. Finally inspiration struck, and we realized that a cell phone in "selfie mode" could also fit under the door, letting is see our target. The door was soon open and work could continue. (Ryan)
One time my companion and I were in the church building looking for snow shovels to go do service for an investigator. It had been really icy on the sidewalks outside of the church building and so we were running with the shovels in hand acting like hockey players. All of a sudden my companion slipped back and fell so hard and slid across the ice. Just as soon I laughed I also fell and slid across the ice. (John)
I recall many, many, instances were we would ride our bikes through the rain and ice and just fall endlessly and laugh at our life and what it was at that point. (Daniel)
I had a companion who threw everything in our apartment at me! (Legitimately he threw everything at me at one time). (Phillip)
So many. Sending Elder Arnell, who had only one eye, a scripture that said "looking forward with one eye". (Mark)
What was a crazy/dangerous experience?
I rode my bike…in heavy traffic. I knocked doors in the ghetto and in rich/wealthy areas. I can't decide which was more scary. (Danny)
Biking in the woods on preparation day. I experienced lightning storms and a tornado. (Michael)
Riding bikes on the side of freeway. We would come up to intersections and cars would not see you. (Ryan)
The first day that I was with this same companion, I had been out a month and she had been out 1.5 months. We had gone to the mission home to drop off our companions who were going home, we asked how to get back to Bloomington from Indianapolis, the AP's told us to get on the interstate until we saw the sign for Bloomington. We were going on for a few hours and I had to drive, she didn't have her permit yet. We then saw a sign that said Roselawn, 60 miles to Chicago, we were not only at the wrong end of the state, but out of our mission. Needless to say, we were the joke of the mission. We did get to stay with our companions who were leaving the next day and also got to go to the airport to see them off. (Julene)
It was around Christmas and we went into the ghetto. It was dark and the Elders didn't know we were there and we weren't sure we had the right house. My companion was braver then me. I was fearing out. We got chewed out by the Elders later. (Carra)
In Columbus my companion and I were driving in the snow and we pulled over and our car slid into a ditch. We had to call the elders to come push us out. (Taylor)
There was a call in the area that 3 teens were smoking weed in park. We got pulled over and accused of being those kids. Cop wasn't very nice. He searched the car and reluctantly let us go. (Jenessa)
Have you ever driven on the 465 with a trailer? That was scary for the first week.(Ryan)
I do recall a Hoosier in Frankfort that was so drunk that he wanted to nail us with a hammer and then he let us in to have a gospel discussion. (Daniel)
It was raining really hard because we got crazy rain storms, and a member almost crashed his car into the side walk. (Phillip)
A dude in Greencastle invited us in and after talking to us for ten minutes pulled a gun on us. (Mark)
What was a spiritual experience?
I was able to share the Gospel with Agnes and her family. I saw her low countenance turn into a countenance of Christ overnight. I saw light enter her life. (Danny)
Everyday being directed by the Lord to the people prepared to receive His message. Phillips from South Bend has an amazing conversion story. (Michael)
Always sharing the first vision. (Ryan)
I had to go to another area, due to a sick elderly sister, so I left a threesome and they continued to teach the couple who had asked about soft drinks. I was in town for an investigator fireside and really felt a strong impression to have this couple go into a classroom and all of us kneel down and pray. They soon after committed to be baptized. Also, I had a lady who when I met her was in casts up to her neck, she loved the Tabernacle Choir and a member had given her some tapes. We stopped to meet her and got someone to come give her a blessing, we then taught her, her baptism required that she be sitting on a long sheet and that nine men put her into the font on her back and that they baptized her lying flat, she was strong and faithful the rest of her life, even when her children disowned her. I named my daughter after her. (Julene)
In my last area we had a training on testifying of The Book of Mormon. We had a lesson later that night. I used the training and the spirit was so strong. (Carra)
Teaching one of our investigators Dale and seeing her growth throughout the weeks we taught her, and the sweet spirit that she had. She was one who cared about others and shared her testimony.  (Taylor)
When I found my first investigator. I was so happy and the spirit was so strong in that lesson. (Jenessa)
It's hard to pick just one, but I would say one of the best was giving a blessing to an investigator I barely met at the spontaneous request of his very young daughter. This blessing instantly cured his back problem that had been plaguing him for months! (Ryan)
Probably the most spiritual experience I had on my mission wasn't one moment or occasion. Every time we committed someone to obey one of God's commandments, every time we invited someone to be baptized, or even come to church was an amazing experience to see. It showed the great faith to live as God would have them live. (John)
The whole 2 years were spiritual for me but there is nothing like your investigator reaching that point in which they accept the truth and have that change of heart that allows them to take the necessary steps to be baptized. (Daniel)
When I got to witness a young lady get baptized by her boyfriend then a year later we got to go to the temple when they got married! (Phillip)
Teaching a first discussion in the Jewish synagogue in Terre Haute. (Mark)
What are some cool facts about the Indianapolis Mission?
The first area I served in was a KKK stronghold until recently. The town had a sign that said, "Huntington Indiana, where the sun don't set on Negroes." That was a few years ago. Huntington was also home to Dan Quayle. (Danny)
We had 16 baptisms the month I arrived in February of 2000. When I left in March of 2002 we were averaging around 55. The Lord was working miracles! (Michael)
I learned the Hoosier language. It is also known as the southern states language. (Ryan)
Not really about our mission, but our mission president was Keith W Wilcox, he had printed a book about the Washington DC temple. He was on a team with other architects and they were asked to submit designs. President Wilcox had a dream as to what the temple should look like and submitted that, and that is the DC temple we now see. This was right before his call to be a mission president. (Julene)
My Mission President was Steve Cleveland. (Carra)
It is the best mission in the world and the people of Indiana have a sweetheart! (Taylor)
President Cleveland is the best mission president ever! Lots of diverse culture. Anywhere from Asians, blacks, Amish, southern. It's a lot of fun to get to know them. (Jenessa)
The mission's first temple was built and dedicated during my time in service. (Ryan)
Well I was blessed to serve in another mission as a visa waiter and then came around the time President Collins was on his last year or so, then President Cleveland came around and so I had 3 mission presidents. I was the first 18 year old in the mission, I served in 9 areas and had 17 companions. I was able to create a Spanish specialized training and we were able to really focus on practicing our teaching and learning. I was the only missionary that was Mexican and still lived in Mexico and I had the best experience ever. (Daniel)
Purdue University has the highest population of Asian people there. (Phillip)
What was the weather like in Indianapolis Mission?
110 degrees in the summer and minus 25 in the winter. At its worst though. (Danny)
Humid but nice. South bend is cold in the winter and the humidity causes the cold air to go right through your clothes. The summers are awesome! (Michael)
It was humid and cold. We went through everything. Then it was humid hot during the summer. It was wet within minutes of walking outside. (Ryan)
I never had the adventures of tornado threats like I do now living in Missouri, but the ice storms. One time we were walking up a slight incline and could not get up, it was pure ice. We would come out to our car and it would have a sheet of ice all around it. Also the one year we were told to stay in our apartments and clean because the wind chill made it about 30 degrees below. (Julene)
It was freezing in the winter, like negative 60. But in the summers, really hot and humid. (Carra)
Freezing in the winter and super humid in the summer! (Taylor)
Humid, rainy during the spring. Sunny. Cold winters. (Jenessa)
Hot and humid sprinkled with tornadoes and the occasional snow-apocalypse. (Ryan)
Super hot in the summer and super cold in the winter. (John)
Unpredictable, but mostly humid and extremely cold or hot. (Daniel)
Summer was hot and humid spring, was extremely rainy winter and was cold and icy. (Phillip)
Any thing you really like about the people/place?
HOOSIERS. Friendly people and beautiful trees! Indianapolis was very diverse and integrated. Especially on the west side. People were full of love and were very Christian. (Danny)
Hoosiers are the best people in the world! They are patriotic, sport loving, hard working, and God-loving people! They love Jesus Christ! (Michael)
Very down to earth; humble and teachable. (Ryan)
I loved the rolling hills and the country. I served in small towns as a rule. The people were great and my first and last area was Bloomington, In, where it once was a ward it is now a stake. And of course a new temple in the area. I believe that people are nicer to the missionaries that are not members, sometimes they could be pretty rude, but when a temple is close to an area, such as Missouri and now Indiana, people become nicer. (Julene)
I loved everyone. The Spirit definitely helps you have that love. (Carra)
All my companions were sweet, funny and an example! I learned and was taught something from each and everyone of them. (Taylor)
Everyone loves Jesus in Indiana. I loved how willing most people were to talk about it. People were pretty nice for the most part. (Jenessa)
A lot of good down-to-earth folks. The Hoosier members of the church are some of the best! (Ryan)
The people there are unlike any other. There is a wide variety of different people that live in Indiana. You go to one area and there are people with no teeth or very few and then are other areas where there's a huge international population (usually campus). (John)
I love the humility of the people you serve with, I had many companions and some missionaries were just who I needed to meet in order for me to convert myself and do the work. The people, you get all kinds but when you stop caring about rejection and really get to know them, then you begin to see them through Christ's eyes. (Daniel)
I love that a majority of the people are loving and understanding of all people, and most of them would do anything to help another person. (Phillip)
Any packing advice? 
I wish I brought a Rolex watch. I had to buy like seven watches on my mission. I also wish I brought some all-leather, brown and black pairs of Sperry top-sider shoes. You would have to walk 10,000 miles before those shoes would tear. I didn't need to bring an iron and swag. (Danny)
Nothing out of the norm. (Michael)
Thermals or under armor for winter. (Ryan)
Well, thankfully there was a guy and a girl that sewed, so that when I gained 30 pounds, they made me clothing. We always wore colorful clothing and mix and match, glad to see them getting a little more away from black. I like black, but color is needed also. (Julene)
Buy the heavy winter coat out there. (Carra)
Pack lightly and only take what you really need! Packing for transfers and home takes a long time!! (Taylor)
Garments that whisk away the sweat. Light weight clothes. Good pair of boots for the winter. (Jenessa)
Don't bring extra hangers, there will be plenty of those in your apartment. A good tool kit also won't hurt. (Ryan)
You can never have enough ties. (John)
Handkerchiefs, hand-warmers, warm jackets that are not too bulky, snow boots and make sure you buy belts that will allow you to adjust because your weight might fluctuate a lot. (Daniel)
Make sure to layer up in winter! (Phillip)
Anything you can't buy/find easily there?
You can buy anything. (Danny)
What blessings did you receive from serving a mission?
Spiritual, emotional, and educational blessings. (Danny)
Hard work, increased love, patience, faith, hope, charity, respect, diligence, obedience, love for and reliance on Christ, and submission. (Michael)
I learned obedience and determination. (Ryan)
I taught seven persons with different disabilities and that helped prepare me for my first husband who was in a wheelchair, who died at the age of 37 and also for my current husband who has a disability but doesn't limit him as much. (Julene)
My family has seen a lot of blessings. One I think of, is that my uncle became active in the church again. (Carra)
Met my eternal companion and learned what it means to be a witness and servant of my Savior! (Taylor)
A stronger testimony for sure. There are way to many to count. I see them every day! (Jenessa)
While serving, my father reported that they had very few vehicle problems in our fleet of well worn cars. For me, it really was a chance to grow and test my metal. (Ryan)
I met my wife in my last area on my mission so that obviously was a blessing for me. Also, it inspired my younger brother to serve a mission. (John)
My convert dad became my Bishop, I have a new brother, I was blessed to come to BYU, but the most important one is a solid testimony and knowledge of my Savior, Jesus Christ, Our Heavenly Father's existence, and the love that they have for each one of their children. (Daniel)
I've had many! One, however, I did learn how to be responsible and get things done on my own. (Phillip)
In Muncie we had signs in our place that said "the harder you work the prettier your wife will be". My wife is so hot. (Mark)
Any skills you gained on your mission?
Public speaking and leadership. No fear! (Michael)
You have everything to gain by going for things, and nothing to lose. Because if you had not tried or got a no, you would be the same. (Ryan)
I learned to not compare myself to others, only to myself, the wise words from a 20 year old zone leader. I also learned to stay with things, not be a quitter. I do have social anxiety, and I believe that played a factor in my mission which attributed to severe stomach problems. (Julene)
I am less shy because of my mission. (Carra)
Gained an enjoyment of serving other people who are in need. Learned to be more talkative and work with different people. (Taylor)
I'm not as shy anymore. I'm more willing to go talk to people I don't know. I can also play a mean game of corn hole now. (Jenessa)
Other than trivial ones like juggling, piano playing, and driving with a trailer, the most important skill, or rather attribute gained would be faith and endurance. (Ryan)
I learned how to interact with people on a different level than what I was used to. I also learned the skill of hard work and being dedicated to something that was bigger than myself. (John)
Planning, Hard Work, Faith to act, Fluency in both Spanish and English, Decision Making Skills, Organizational Skills, Budget Handling, Schedule Discipline among many others. (Daniel)
I learned to read extremely well and talk to people without being scared. (Phillip)
Speaking and teaching. (Mark)
Is there anything you wish you knew/did at the beginning of your mission?
Humility, CHARITY (most important), and hope. If you figure charity out and are blessed with the gift of charity, then you will succeed. (Danny)
How important preparation is. I went for the vacation experience at first then later learned how important obedience and effort is. (Ryan)
Decide before you leave what kind of missionary you will be and let no one or nothing stop you from being that missionary. (Michael)
As mentioned before, not compare myself to others, I didn't learn my discussions word perfect as quickly as my first two companions and zone leaders, so I felt I was a failure in this way. (Julene)
I think actually knowing how stressful it is. (Carra)
Prepared more for teaching people, answering questions and being more familiar with preach my gospel. (Taylor)
It's a lot harder then it seams. Take it one day at a time. You're not perfect so stop beating yourself up. It's okay to fail just as long as you keep trying. (Jenessa)
Keep better contact with those you taught, because they will need all the support they can get! (Ryan)
I wish I had prepared more before I went out. (John)
That I would miss it so much and so that I should never complain of how harsh my circumstances were, because everything will be alright. (Daniel)
I wish that I used the Book of Mormon more often when teaching investigators. (Phillips)
That you might have to tract on Sunday. For some reason I didn't think so. (Mark)
Any advice for pre-missionaries going to Indianapolis?
I wish I had come to live in Utah for a year before my mission. There were a lot of cultural things I didn't understand about my early companion because I didn't know anything about Utah. Read the Book of Mormon. Study and know what being Christ-like is. (Danny)
Don't let a person pass you by without stopping them. See all people as your brothers and sisters and desire to help them return home. (Michael)
Stay to the faith. Prepare: the more knowledge you have the better you can assist others. Go ready to feel the Spirit and let it guide you. Be humble, lose your ego before you go. You are nothing without the Lord. (Ryan)
For any mission, it isn't going to be easy, sometimes people will find out a person is investigating and turn them away from the church. I would do it again, and I would probably make mistakes, but I would learn and grow from them and be a better person today for having served a mission (Julene)
Definitely have a testimony, because it will be tested. (Carra)
This is such a great opportunity of a lifetime! As we prepare for our mission it is exciting, scary to leave your family and live in a new place. But most importantly you grow spiritually and as an individual. As we enter this chapter in our life begin by preparing spiritually by reading your scriptures, start and end every morning with a prayer and become familiar with preach my gospel. Most importantly always read your patriarchal blessing which is the key to know and learn about yourself and what Heavenly Father has in store for you. Know that he loves you and will be there to guide you as his servant to bring others unto Christ. I am so grateful to have served as a missionary, to have been given the chance to teach others. Learning to be humble, and helping my testimony grow. I know that the Book of Mormon is true and that through the restoration we have a living prophet on the earth today. I am thankful for temples and the blessings in which they bring. I know this is true and as you listen to the Spirit you all will be able to strive and "Touch all the Lines!" I love each and everyone of you in the name of Jesus Christ, Amen. (Taylor)
This is the best thing you'll ever do! I know you'll be great and love it. You'll be amazing at how fast your testimony grows and how many doors the lord will open. If you're having a rough day never forget plan I, plan ice cream! (Jenessa)
Play to your strengths, you have been given talents for a reason. (Ryan)
Give everything you have and never lose sight of what's most important. (John)
It is one of the experiences that you will always look back at and smile, it will bring warm feelings to your heart no matter how long ago you served but mostly it will go by so quick, so don't ever take it for granted. (Daniel)
Read the Book of Mormon every day and pray to have a testimony of that, I think it will be your biggest advantage! (Phillip)
Any funny language mistakes?
Hoosier gibberish is real! (Michael)
I left out the word feel in a sentence when we were bearing testimony of the plan of salvation. Instead of saying knowing God made this for me makes me feel fantastic. I said knowing God did this for me makes me fantastic. The guy looked really confused! (Jenessa)
I had a companion open up with Spanish to a Hispanic man who informed us he only spoke English. (Ryan)
I would always teach new Spanish missionaries that in order to say the food is great you would say say "mas arroz" which meant more rice and missionaries would always end up eating so much food. (Daniel)