Free resources about the Illinois Chicago West Mission:
*Other Mission Pages: Illinois LDS Missions.
---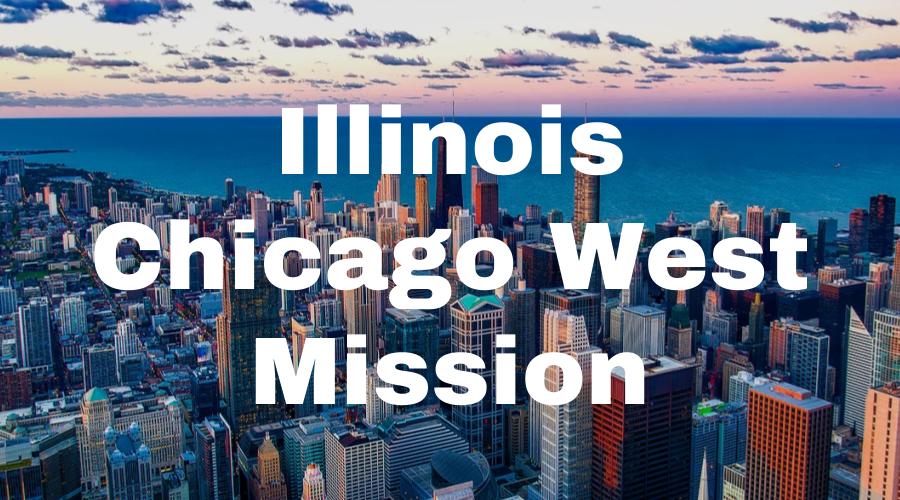 ---
Chicago West Mission Address
Here's a recent address for the Illinois Chicago West Mission. We try to keep this information up to date, but it's a good idea to check the address with several sources, including your mission packet or the mission office.
Illinois Chicago West Mission
1319 Butterfield Rd Suite 522
Downers Grove, IL 60515
Phone Number: 1-630-969-2145
Mission President: President Gilbert Griffin
Illinois Chicago West Mission Map
Here's a link to the mission map for the Illinois Chicago West Mission (LDS). To access the official LDS.org map for the Chicago West Mission:
Log into your LDS account here.
Click here.
Videos with Chicago West RMs
Here are in-depth YouTube video interviews with returned missionaries from the Illinois Chicago West Mission.  We interview hundreds of returned missionaries each year, so check back regularly to see new RM interviews.
LDS-Friendly Videos about Illinois
Here are LDS-friendly educational videos about Illinois. We scoured YouTube to find the best quality videos about Illinois, that are free from inappropriate music, immodesty and profanity.
Chicago West Missionary Blogs
Here's a list of LDS missionary blogs for the Chicago West Mission. This blog list includes the missionary's name, URL and when their blog was updated.
*Send your missionary a gift (mission-specific shirts, ties, Christmas stockings/ornaments, pillowcases, etc.)
Chicago West Mission Groups
Here are Illinois Chicago West Mission Groups- for LDS missionary moms, returned missionaries, mission presidents and other alumni of the Chicago West Mission.
Chicago West Mission (Fenn) – Current Group (183 members)
Chicago/Chicago West Mission (Fenn) Alumni Group (133 members)
Chicago West Mission T-Shirts
Here are T-shirts for the Illinois Chicago West Mission!
Shirt designs include Illinois Chicago West Mission logo/emblem shirts and Called to Serve shirts. The shirts make great gifts for pre-missionaries, returned missionaries and missionaries currently serving. LDS Mission shirts come in all sizes: Small, Medium, Large, Extra Large, up to 4XL.  The mission designs are printed on white shirts and are shipped to you.
*Simply click on a shirt design to view the details and submit an order. The designs on mission t-shirts may also be printed on other LDS mission gifts, including: Illinois Chicago West missionary aprons, Christmas stockings, ties, pillow cases, teddy bears and Christmas ornaments.
*Click here to browse Chicago West Mission gifts
---
---
Chicago West Mission Presidents
Here's a list of current and past Mission Presidents of the Illinois Chicago West LDS Mission.
2015-2018, Gilbert Griffin
2013-2015, Jerry D. Fenn
Illinois LDS Statistics (2016)
Church Membership: 56,920
Missions: 3
Temples: 2
Congregations: 128
Family History Centers: 39
Helpful Articles about Illinois
*Are you interested in becoming a lawyer in Illinois? Learn about the Illinois bar exam
Chicago West Missionary Survey
Here are survey responses from Illinois Chicago West RMs, to give you a snapshot into what it's like to live in the mission.
When did you serve?
2015-2017 (Joelle)
2003-2004 (Neil)
What areas did you serve in?
I served in… eight areas. Naperville and Rockford for the longest time. (Joelle)
Oswego, Cottage Grove, Joliet. (Neil)
What were some favorite foods?
Deep dish pizza, pasta, ice cream. (Joelle)
Chicago-style pizza (Giordano's), homemade Hispanic food (enchiladas, burritos, etc). (Neil)
What was a funny experience?
Trying to ride bikes in a skirt, being chased by evil geese. (Joelle)
Tracting in the sticks in 98º weather with 95% humidity, for 3 hours, and not getting let into any doors. Finally, we tracted into a Jamaican family that answered the door: Jamaicans: Brotha's, how can I help ye? Us: We're just out sharing a message of love, from our Savior, Jesus Christ J: Oh, I LOVE Jesus! U: That's great to hear! We also love Jesus. That's why we— J: Oh yah got ta bee lovin' Jesus to bee out witnussin' in dis weh-tha! They said we looked thirsty and invited us in for a drink of water. We got to share with them the lesson of the restoration. We never met with them again, but they were truly a fun and loving family! We went back out into the melting weather with big grins on our faces and something to joke about for the rest of the day. (Neil)
What was a crazy experience?
Being chased by dogs, trailer parks… Need I say more? (Joelle)
Riding through Englewood after dark. It was rumored to have had the highest homicide rate in the United States just 2 years prior. (Neil)
What was a spiritual experience?
Temple trips and baptisms. (Joelle)
Giving a blessing to a new member who had an acute asthma attack and was in the hospital. I wanted so much to bless her to be healed but was constrained by the Spirit to bless her that she would be a source of inspiration to her family as her Father in Heaven called her home, and that it would bring her family closer together and to the gospel. (Neil)
What are some interesting facts about the Chicago West Mission?
It's cold the majority of the year. The fall is beautiful with rainbow colored nature. There are very strong religious pockets. Also some very strong members. Busses are the way to travel in some areas. Be grateful if you get a car to use, don't complain if you don't. (Joelle)
Many of the black and colored folk called us the Jesus Police. Unlocked/ parts of bikes get stolen, including front tires, back tires, and seats! (Neil)
What was the weather like?
Cold and snowy eight months of the year. I bought a long down coat from Eddie Bower and wore lots of layers under it. Need good boots and gloves. (Joelle)
In the summer, it was either hot and soggy, or it was torrential downpours. In the winter, it was bitter cold and windy, and the humidity made it feel like ice shards were coming through your jacket! (Neil)
Any things you really like about the area/people?
Most are generally friendly. There is a lot of service opportunities. (Joelle)
SOUL FOOD! Sweet potato pie, baked mac'n'cheese, etc…. Just dang good food! (Neil)
Any packing/clothing advice?
See above for weather. Include hats, scarves, multiple socks too. (Joelle)
Bring clothes that protect you from the wind, protect you from the rain, and protect you from the cold. Don't expect to drive, because many areas are biking areas. (Neil)
What blessings did you receive from serving a mission?
Peace and happiness. Strength going through trials when you return home. (Joelle)
What are some skills you gained?
Being able to talk to random strangers about anything. Sense of direction. Following Spiritual promptings. (Joelle)
Having patience living with others. (Neil)
What do you wish you knew/did at the beginning of your mission?
How to prep for weather and how to drive in snow and ice. Also more about the history and beginning of the book of Mormon. READ THE INTRODUCTION over and over and highlight key sentences. (Joelle)
I wish I knew how to recognize a missionary that is out for the wrong reasons. One such missionary ruined my mission. (Neil)
Any advice/testimony for pre-missionaries going to Chicago West?
You're going to do great! Just trust the Lord and never let your praying knees get lazy. (Joelle)
Learn missionary-friendly parking and use it (it will save a lot of drama and grief). Learn to love the people (which shouldn't be too hard, they're awesome). And people there are very passionate, very spiritual, and many are very hostile against the church. Study your scriptures like crazy and build a strong testimony of the gospel, for yourself before thinking you can even start to convince someone else of the truth of it! (Neil)
What was a funny language mistake?
There's too many the count. Just get used to it when you're new. People usually understand and appreciate that you're trying. (Joelle)
Not so much a mistake…. I went on exchanges with the Zone Leader (a Spanish-speaking missionary) and did some tracting. I asked him how to do the door approach. He taught me, and I fumbled it 2 or 3 times. Then, after a third explanation, it finally clicked, I said it perfectly, and the person at the door blasted off in a whole bunch of Spanish that I'll never know what was said 😛 (Neil)