Free resources about the Illinois Chicago Mission:
*Other Mission Pages: Illinois LDS Missions.
---
---
Illinois Chicago Mission Address
Here's a recent address for the Illinois Chicago Mission. We try to keep this information up to date, but it's a good idea to check the address with several sources, including your mission packet or the mission office.
Illinois Chicago Mission
800 Waukegan Rd S-203
Glennview, IL 60025
United States
Phone Number: 1-847-904-2940
Mission President: President Evan G. Bingham
Illinois Chicago Mission Map
Here's a link to the mission map for the Illinois Chicago Mission (LDS). To access the official LDS.org map for the Chicago Mission:
Log into your LDS account here.
Click here.
Videos with Chicago RMs
Here are in-depth YouTube video interviews with returned missionaries from the Illinois Chicago Mission.  We interview hundreds of returned missionaries each year, so check back regularly to see new RM interviews. Coming soon..  
Videos about Illinois
Here are LDS-friendly educational videos about Illinois. We scoured YouTube to find the best quality videos about Illinois, that are free from inappropriate music, immodesty and profanity.
Illinois Chicago Missionary Blogs
Here's a list of LDS missionary blogs for the Illinois Chicago Mission. This list includes the missionary's name, URL and when their blog was updated.
*Send your missionary a gift (mission-specific shirts, ties, Christmas stockings/ornaments, pillowcases, etc.)
Illinois Chicago Mission Groups
Here are Illinois Chicago Mission Groups- for LDS missionary moms, returned missionaries, mission presidents and other alumni of the Chicago Mission.
Illinois Chicago Mission T-Shirts
Here are T-shirts for the Illinois Chicago Mission!
Shirt designs include Illinois Chicago Mission logo/emblem shirts and Called to Serve shirts. The shirts make great gifts for pre-missionaries, returned missionaries and missionaries currently serving. LDS Mission shirts come in all sizes: Small, Medium, Large, Extra Large, up to 4XL.  The mission designs are printed on white shirts and are shipped to you.
*Simply click on a shirt design to view the details and submit an order. The designs on mission t-shirts may also be printed on other LDS mission gifts, including: Illinois Chicago missionary aprons, Christmas stockings, ties, pillow cases, teddy bears and Christmas ornaments.
*Click here to browse Chicago Mission gifts
---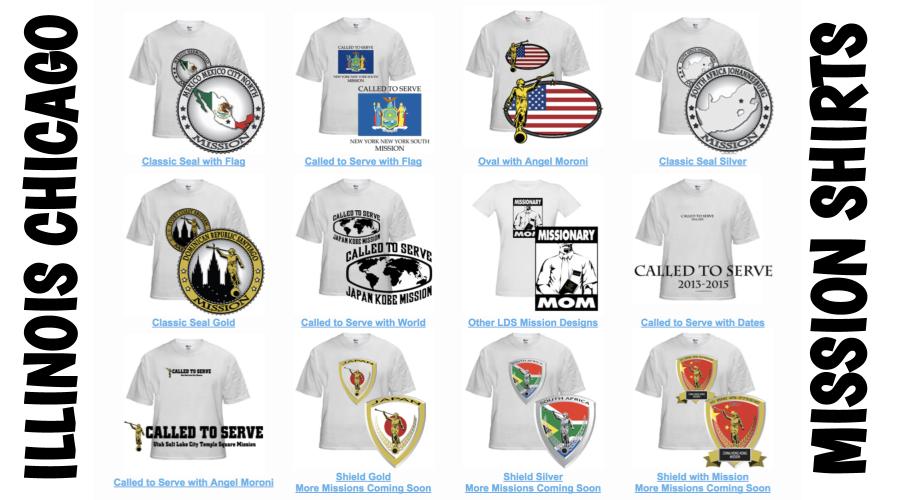 ---
Chicago Mission Presidents
Here's a list of current and past Mission Presidents of the Illinois Chicago LDS Mission.
2016-2019, Evan G. Bingham
2013-2016, Paul S. Woodbury
2012-2013, Jerry D. Fenn
2010-2012, Sherman Leroy Doll
2007-2010, Richard B. Roach
2004-2007, Albert E. Haines III
2001-2004, Gordon D. Brown
1998-2001, Gordon B. Holbrook
1995-1998, Neal Cox
1992-1995, James R. Maddux
1989-1992, Kenneth Neeley
1986-1989, William Tanner
1983-1986, G.W. Simmons
1980-1983, C.E. Peterson
1978-1981, Keith Barber
1975-1978, Neil P. Christenson
1972-1975, Darrell Welling
1969-1972, Wilford Kimball
1967-1968, Henderson
1963-1966, Edward Allen Nadle
1961-1963, Richard W. Maycock
1945-1950, Creed W. Haymond
Illinois LDS Statistics (2016)
Church Membership: 56,920
Missions: 3
Temples: 2
Congregations: 128
Family History Centers: 39
Helpful Articles about Illinois
*Are you interested in becoming a lawyer in Illinois? Learn about the Illinois bar exam
Illinois Chicago Missionary Survey
Here are survey responses from Illinois Chicago RMs, to give you a snapshot into what it's like to live in the mission.
When did you serve?
2015-2016 (Tess)
2014-2016 (Austin)
2014-2015 (Brooke)
2013-2015 (Mitchell)
2013-2015 (William)
2013-2015 (Kristen)
2013-2014 (Hayley)
2013-2014 (Brittany)
2013-2014 (Frances)
2012-2013 (Lauren)
2010-2011 (Jennifer)
October 2003-October 2005 (Jeff)
2003-2005 (Kristy)
2002-2004 (Tony)
1983-1985 (John)
1978-1980 (Peter)
1991-1993 (Michael)
1985-1986 (Ronna)
1984-1986 (Jeffrey)
1984-1985 (Rodney)
1985-October 1986 (Tracy)
1985-1987 (Randolfo)
1979-1981 (Arlyn)
1979-1980 (Michael)
What areas did you serve in?
Downtown Chicago, southside Chicago, Orland Park, Oak Lawn, Crystal Lake, Valparaiso Indiana. (Austin)
Hebron , Indiana. Lake Villa, Illinois. North Shore, Illinois. (Brooke)
Chicago 4th Ward (twice), Blue Island Ward NW area, Griffith 2nd Branch, Indiana. (Mitchell)
Chicago, 5th and 2nd wards and Gurnee 3rd.  I was Spanish Speaking. (William)
Woodstock, Lake Villa, Westchester, La Porte. (Kristen)
Belvidere, Midway Spanish, Lake Villa, Wilmette Spanish, Hyde Park YSA. (Hayley)
Midway/Chi-5/Morgan Park. (Brittany)
Lake Villa, Round Lake, Des Plaines, Willmette, Grandview. (Frances)
Bloomingdale, Chicago 3, Gurnee and Chicago 4. (Lauren)
Chicago Heights; Morgan Park; St Charles; Woodbridge 1 (Jeff)
Lockport, Geneva, Addison, Portage Indiana. (Kristy)
Gary, Indiana, Chicago Heights, Joliet, Watseka, Cicero, Rensselaer, Indiana. (Tony)
Chicago, Buffalo Grove, Wheaton, Arlington Heights. (John)
Waukegan, Chicago, Skokie, Cicero, Gary IN, Arlington Heights, Palatine, Lake Zurich, Crystal Lake. (Peter)
Rockford, Fox River Grove, Northside. (Michael)
Aurora, Elgin, Des Plaines, Chicago Heights, Downer's Grove. (Ronna)
Joliet, Chesterton IN, Chicago Heights. (Jeffrey)
Chicago…South side and North side. (Rodney)
Lake Bluff, West Chicago. (Tracy)
Little Mexico, Elgin, Time Square, downtown Chicago. (Randolfo)
Fox Lake, Joliet, Marquette Park, Lombard, Chicago Heights, Renssalaer (Indiana) (Arlyn)
Arlington Hts., Elgin, Elmhurst, Valprasio. (Michael)
What were some favorite foods?
Chicago pizza. (Tess)
Chicago hot dogs from Portillos, Giordanos deep-dish pizza, everything Mexican. All the food in Chicago is awesome!! And there are really good hot peppers called giardinara! (Austin)
Deep dish pizza, fried chicken, and Chicago hot dogs. (Brooke)
Posole, pupusas, chicago dogs, deep dish at Giordanos and whatever Mexican food the Mexican families made for us. (Mitchell)
Tortas de asada. Chicago style deep dish pizza of course! (William)
Homemade chicken noodle soup. (Kristen)
The food from the Hispanic members… always on point! I miss chocolate cake shakes and dogs at Portillo's Giordanos was the best pizza. (Hayley)
Definitely the deep dish pizza. I was an Hermana so I also loved the street tacos and the pollo. (Brittany)
Oh the Chicago hot dogs from Portillos for SURE (and the chocolate cake shakes. I still dream of them to this day.) (Frances)
Flautas!!!! (Lauren)
Portillo's chocolate cake shake, Chicago deep dish pizza, Chicago dogs. (Jennifer)
Giordano's pizza. Chicago style hot dogs from hole-in-the-wall style places. (Jeff)
Steak. (Kristy)
Giordano's Pizza and Portillo's Hot Dogs are great Chicago joints. You need to be careful in this mission, or you will get gain weight. (Tony)
Mr. J's burgers. (John)
Gyro's and deep dish pizza. (Peter)
Gino's East Deep Dish Pizza Dawgs. (Michael)
Stuffed pizza. (Ronna)
Tomato soup and grilled cheese sandwiches. (Aldi about $1.00) Anything made by Sister Pat Childs at her weekly dinners. (Jeffrey)
Gyros, Chicago dogs, grilled onions. (Rodney)
Gyros. (Tracy)
Arroz con gandules(rice with peas) Pollo con pipian, (chicken with pipian), caldo de res (beef stew) And casamiento (rice mix with black beans!!!! (Randolfo)
Gyros! Gino's East! Giordano's! (Arlyn)
White Castle hamburgers. (Michael)
What was a funny experience?
My companion and I saw a huge dead beaver on the side of a busy road one morning and decided to stop and pick it up (we had a truck) and put it on the car of the sister missionaries that served in our ward as a prank. It was the only way we could get them back for the April Fool's joke they played on us. At the church parking lot, we waited until they went inside and then we put it right smack on the hood of their car. By the time they saw it, there was blood dripping down the front of the car!! It was nasty!! But we got 'em back! We found out later that picking up roadkill is illegal, so this is highly not recommended. (Austin)
As I was serving in north Chicago, we ran into three little girls in a apartment complex. They sang songs for my companion and I. They even had dance moves. (Brooke)
When an Elder had a concussion, he was in the hospital, and we were there with him. A nurse came to find out how he was, and one of the questions asked was, "Who is the President?" Without skipping a beat, he replied, "President Monson!" (Mitchell)
Falling flat on my face as I walked down the road, having my companion laugh, and then falling himself later on. (William)
Once upon a time, my companion and I came home after a long day to have dinner. We had noticed the inside-the-trunk-opener when we took groceries in earlier that week and decided to test it out. As we were about to climb into the trunk, our neighbor pulls up. We waited until the coast was clear until we made another attempt to climb into the car. (Kristen)
I was in a Spanish-speaking area during 4th of July. We were asked to go home early that night because of the holiday. So we went home early, and while we were inside, drunk Mexicans on our block all got together and were shooting huge aerial fireworks right outside our window. Some hit our car (it's okay, Elder Taggart!!), and the window of our house. Some sparks got caught in the trees and exploded on the street. It was quite the entertainment 🙂 (Hayley)
I had my face traditionally shoved into a birthday cake for my birthday. It was hilarious. (Brittany)
My first Christmas in the mission, we did white elephant with the zone and I got the creepy, horrific, dentist clown statue (that weighed like, 10 pounds) and the entire mission thought it would be SO funny to make that statue follow me in whatever area I got transferred to…let's just say I kinda worry sometimes if it followed me back to Utah. (Frances)
My entire first transfer opening the Gurnee Spanish Branch Hermana area. (Lauren)
I was never attacked by a dog, but I was attacked by a cat. (Jennifer)
We met a lot of people who would call us "the Jesus people." Whether it was in Chicago Heights. (Jeff)
I lived in a house of four Elders. The whole transfer was a blast. (Tony)
How many missionaries would come into the city on days that they were not supposed to, and when they saw us, they would get our names and call the Mission President to report us: must have been interesting when they found out that it was our area. Living in student housing for Billy Graham Bible College was fun. They would knock on doors to talk to people about their church. We were visited at least weekly. (John)
Having a very old gentleman tell us that they'd run the Mormons out *$%&#* years ago and he would run us out too! Another time we were out tracting in the freezing cold, we knocked on a door and a small dog started to bark and jump up and down on a couch. Suddenly the dog disappeared and was muzzled, but you could still hear the dog's muted barks. Then someone started swearing up a storm as the dog must have bit whoever was holding it. (Peter)
Watching my trainer's door approach. He would start, pause, look down the street, look back and continue. Most people at the door would look down the street too, just to see what he saw. (Jeffrey)
The time a street preacher tried to "heal" my deaf companion. When it didn't work, he asked for some olive oil. When I said I wasn't going to give him any, he asked if I could give him $0.50 for a cup of coffee. (Rodney)
Learning, "the field is white already to harvest…" while tracting during a snow storm in Lake Bluff. (Tracy)
I was with Elder Blackburn on a pd in downtown Chicago and I told him"Elder watch out there is a snake "!!! "Where where?"he reply. It was very funny!!!!! (Randolfo)
At a door saying we're from the Church of cheese and rice. (Michael)
What was a crazy experience?
When I was in a drive- by shooting at McDonald's. (Tess)
One afternoon, my companion and I were with a priest-age young man in the ward doing some stop-by's. I felt prompted that we should not go to a particular spot that we were planning on, but didn't act on the prompting like I should have. When we approached the area there were 3 gunshots and we hurried and ran back the other way. Thankfully, none of us were hurt, but my failing to act on the promoting I received from the Holy Ghost put all three of us in extreme danger. (Austin)
In the back woods of Indiana, there was a member whom we were doing service for and she wanted us to cut back the bushes/weeds to make a trail down to a canal. In the end, we never made it to the canal but we got a lot of mosquito bites and cuts from the branches. (Brooke)
Witnessed a robbery, helped 3 elders (each on a different occasion) who got hit by cars while riding bikes, walked into one of the biggest drug houses in Chicago. (Mitchell)
Riding our bikes past a deceased man in the middle of the road. Yikes! (William)
While at a member present lesson with an investigator, the lesson was interrupted by a knock on the door. The investigator stood, walked to the door, then back to his bedroom, back to the door, back to the bedroom, and then returned to the living room where we were. A few minutes later, the same thing happened. Our member confirmed our fear when she told us that he was dealing drugs and we needed to get out of there. (Kristen)
There were a few of these, but one of the most memorable was a day that we spent outside tracting in an area. To save miles on the car, we were going to stay there all day to work, but after a while, my companion and I felt like we needed to go to the opposite corner of our area to visit someone. It didn't make sense, because we had made plans where we were to search people out, and we were trying to save miles, but we went anyway. We found out the next day that there was a shooting where we had been, and a few people were killed. We were as far away from the danger as we could have been- God watches out for his missionaries. (Hayley)
My companion and I were in our apartment getting ready for bed when some gunshots went off behind our apartment. Apparently, it was a gang murder. Stay obedient, stay safe. (Brittany)
Oh, at almost Christmas, our car slid on black ice and we almost hit a massive truck…we stopped like, inches from it, which was a miracle since almost half the cars in the mission were already in the shop (and we could NOT let that happen to our car!!) (Frances)
My lovely companion went to contact a drug dealer right after he dealt drugs to three scary gang members. I told her it wouldn't be a good idea but she did it anyway. (Lauren)
My companion and I visited a less active family in Morgan Park. They had a distant cousin over who was very violent. He started arguing with us and would not allow us to leave. He started yelling and threatening to kill us when another family member dragged him outside. They called the cops and we were able to leave. (Jeff)
We had close encounters with tornadoes on two separate occasions. They were scarier than any time spent in the hood. (Tony)
Being in the Projects after dark. (John)
We were driving down a country rode when a DUI crossed over into our lane and should have hit us head on. But some how he missed us and hit the car behind us that was tailgating us and hit him head on. He then went through a rancher's fence and hit a tree. The driver of the car behind us was severely injured, while the drunk driver literally pour out of his wreaked car into the field where he laid till the State Troopers and EMT's pulled up. (Peter)
Accidentally crashing a mission car into a fence. (Michael)
Coming back from a baptism at midnight on the el train on the south side of Chicago. (Jeffrey)
A crazy Native American pulled a knife on me on the bus. I kept talking calmly until he moved a few seats away. He then hit me with his sweatshirt. The funny thing? There were six other elders in white shirts and ties on the bus. . .they didn't do a thing. "You looked like you were handling it." (Rodney)
Being chased by dogs while tracting. (Tracy)
It was 200 hours that I can remember when suddenly a drunk man broke our window and broke in and Elder Blackburn called 911 and I was wrestling the the drunk man when the police arrived. The apartment was completely destroyed and there was blood everywhere!!!!! (Randolfo)
Going by a housing project; rocks and bottles thrown at you. (Michael)
What was a spiritual experience?
I was prompted to go to go to McDonald's not knowing what would happen. (Tess)
The day after the shooting, my companion were biking and everything we had planned for the day had fallen through. As we were going over an overpass, I saw a sign for a Salvation Army which was where a recent convert named Gregory lived temporarily. We had tried a lot of times to contact him, but hadn't had success and hadn't been able to visit him for over a month, nor had we seen him at church. We had tried stopping by before, but the guards at the front desk repeatedly never let us in. When I saw the sign, I felt prompted to stop by Gregory. Remembering what happened the day before when I failed to act on my prompting, I yelled at my companion to turn around and try stopping by Gregory. We did, and to our surprise, the guards let us right in and we had an awesome spiritual visit with Gregory on a bench outside. He came to church the next Sunday and received the Aaronic Priesthood and passed the sacrament for the first time. He continued to come to church and we had regular visits with him. (Austin)
We were stressed out of our minds with a certain investigator. That Sunday when I took the sacrament, the Spirit testified to me that God is in charge. (Brooke)
Being a part of someone's conversion, and being able to baptize her on the last Saturday of my mission. That was the only time I was able to perform the ordinance, and it was worth every moment of work in those two years. (Mitchell)
Having an entire family commit to be baptized. (William)
My companion and I experienced our first baptism/only baptism of the mission together. Watching him enter the covenant, allowed me to catch a glimpse of the Celestial Kingdom. Shortly after that, our recent convert fell of the wagon and went on a week long drinking spree. I've never prayed so diligently for someone else's well being. Both of us fasted and prayed for him. The day came that he had drunk himself sick landing him in the hospital. When we came to visit him, both of us were angry and frustrated that he had made such a poor decision in the first place. However, when we entered the room and saw him laying on the gurney, all I felt was an overwhelming love. He looked over at us and then turned away ashamed. It was then that I realized how God feels when we make mistakes. He loves us more than we can imagine, and he would never push us from His presence. We are the ones who pull away from Him. (Kristen)
I was a visa-waiter waiting to serve my mission when I was reassigned to Chicago. I stayed in Chicago an entire year before I felt like I needed to pull out my visa papers and stay in Chicago for the remainder of my mission (Chicago was all the foreign-ness I needed! I loved it so much). The minute I told my mission president of that decision, he confirmed the decision by saying I was to be called as an STL and being moved to a new area. A couple days later, I moved to the area where I would finish my mission. That's where I met Simone, the most incredible investigator I ever had the privilege to teach. She was so prepared, so concerned about learning, and loved God and Jesus with all her heart. She asked the most incredible questions about the gospel- questions that I'm surprised I never thought to ask after an entire lifetime in the church. I'm pretty sure I learned more from her than she ever learned from me. She was baptized on my birthday, before I went home, and came to my temple wedding a year later, right before leaving on her own mission. She continues to bless my life in immeasurable ways. And to think, I might have never met her or experienced teaching her if I hadn't pulled out my papers. (Hayley)
There are too many too count. My advice, record them in emails or a journal. Then read them again each month when you come home. It'll help a lot. (Brittany)
When an investigator of over 12 YEARS (oh yeah, we got all THAT paperwork and saw all those lessons) wanted to get baptized!!! (Frances)
In my last area, my greenie and I had been contacting, searching and praying to find someone who was ready to hear the gospel. We decided to skip dinner because then we would have had to drive for a half hour to get home and then drive a half hour back to where we were contacting. The next door we knocked was an amazing investigator that truly needed to hear us. (Lauren)
We tracted into a man who we began teaching. We later had to drop him as an investigator because he was not progressing. We later learned he had moved to a different mission, tracked down the missionaries, and was baptized! (Jennifer)
On a number of occasions, we visited someone who had been praying for guidance. Whether they were a member or not, we stopped by someone and were the answer to their prayers. (Jeff)
Reactivating a family and helping them come back to church. The mom has since remarried in the temple and the son who we baptized has since served a mission. (Tony)
Teaching and watching people gain their testimonies for the first time. (John)
My companion and I gave a blessing to an investigator who was about to be baptized that if she listened to the Spirit and followed it faithfully, that the Lord would help carry her load. (She had cancer.) She became a member, went through the Temple and was in remission until she finally passed on of old age. (Peter)
My first time serving with Elder Pawlik and feeling the Spirit as he taught the Joseph Smith Experience in Polish. I still get tears when I look back on that moment. (Michael)
After tracting out one whole sub-division, we had two blocks to complete. Last house on the first block had a group of Jehovah's Witnesses getting ready to go tracting. We thought about going somewhere else to try, but we both felt that we needed to go on. Very next house, we were let in, taught the lady of the house and baptized her 3 weeks later. (Jeffrey)
We tracted out a woman who's brother had been in a terrible motorcycle accident. She asked us to go to the hospital and give him a blessing. We went to the hospital and walked straight to his room without anyone stopping us. We gave him a blessing , and as we ended the family in the waiting room noticed us. They asked us why we were there, who sent us, etc. While we were talking to them the doctors came in and announced that he was no longer at risk of dying. (Rodney)
The first time I taught about the church being the only true and living church upon the face of the earth. I remember pausing and thinking," I cannot say this if I don't believe it," I did believe it and said it. My testimony was strengthened that day. I was with my trainer Sister Michelle Litner. (Tracy)
We found a celestial candidate from Guatemala and he told us that a night before he had a dream that two young men will come to visit them and he say that this two men had good news for them and then started crying and it was very spiritual experience!!!! (Randolfo)
Watching the Spirit change people's lives for the better. (Michael)
What are some interesting facts about the Chicago Mission?
The church is building the first church building in downtown Chicago. It will be four stories with two chapels, and will have the capacity to house six wards I believe. Right now, the four units that will attend that building are meeting in an old elementary school north of downtown. Chicago is the 3rd largest city in America and the mission includes the entire city, except O'hare Airport. About 33% of the units are Spanish speaking. There are a lot of Spanish speaking members, and the church is growing fast among the Spanish speaking units. (Austin)
It has so much diversity! People and places. We can catch fireflies! (Brooke)
When I was there, we had the highest sister to elder ratio in the states. We were the first mission ever to have and use both iPads and Facebook in the field. When I served in the Spanish branch in Griffith, it covered the whole Valparaiso Stake, which is about an hour drive east to west, and an hour drive north to south, on the expressways. (Mitchell)
We were one of the first nine missions to use Facebook and iPads. Also, we were 160+ missionaries in one of the most condensed missions in the United States. (William)
It contains the city, suburbs, and farmland areas. There's a wide variety of cultures to experience. (Kristen)
Go to eat the pizza, stay because you got murdered. (Lauren)
1. Chicago is amazing 2. Chicago is plenty foreign 3. Public transit is pretty stellar 4. Aldi's is where you go to buy food on a missionary budget 5. Snow sucks- I'm from Colorado, and it was still ridiculous in my opinion 6. People are automatically less inclined to talk to you in the winter. But when the sun comes out and summer comes, people are in a better mood 🙂 7. Try out the little restaurants you find around your area. I found some of the best food on the streets of Chicago 8. You meet people from all over the country and all over the world. Where people live is super segregated, but Chicago is incredibly diverse 9. People from Chicago don't really recognize that they live in the state of Illinois. It's just "Chicago" 10. Nobody likes living there, but nobody leaves haha. (Hayley)
My trainer and I were the first sister's ever to serve in my first area. (Brittany)
It does stretch to one of the scariest cities in the Midwest…Gary, Indiana. May not be TOO interesting for some, but if you have to call president before going into the city AND when you're leaving it, then you know you're going into something…dark. (Frances)
The Chicago mission(s) are often referred to as a "yo-yo" mission. This means that as the number of missionaries fluctuate, the mission will split and combine over and over again. When I went out it was split into a North and South mission. A few months into my mission it combined into one. Shortly after I left it split again into West and East missions. This has been happening for a long time. (Jennifer)
I served in Morgan Park for the last 9 months of my mission. The Apostolic Pentecostal Church of Morgan Park just down the street from the church building had the preacher get caught embezzling almost a million dollars. (Jeff)
Called English speaking, went into Spanish at 9 months out. Did it for 4 1/2 months. Then got sent to Indiana and opened English area and trained a new missionary. She came a week late. Then after only one transfer, went back to Spanish area for last 4 months of my mission. (Kristy)
What's not interesting about Chicago? From Al Capone's grave, to Sue the Dinosaur. (Tony)
One of the smallest land-wise, but crowded. (John)
Every summer, several Elders and Sisters, along with an older couple or two were sent to Nauvoo to help with the tourist season. Another Elder and myself were asked to revise the "rainbow colored" Native American Indian discussions. We also were the Elders that opened Skokie and had to learn another set of discussions for working with the Jewish population. (Peter)
Mission was so large at the time I spent hours on the van for transfers once. Also going to the top of Sears Tower. (Michael)
At that time, there were only four stakes in the mission. With 120 missionaries, you seemed to get to know quite a few and in the same areas for longer periods. One of the areas in the Chicago Heights stake, had members living about 35 miles from the building. Their friends thought they were crazy to travel so far for church. Most communities had several local churches. (Jeffrey)
We did a lot of volunteer work with the Chicago club for the deaf. We interpreted for the national deaf basketball tournament. Elder Kenny Anderson actually got to play with the team. The Chicago team won the tournament and were crowned national champions. The coldest day was -78 with wind chill. My companion felt cheated that it didn't get to -80. (Rodney)
One of the best moments of my life; good Mission President, good companions, good food and we didn't have tablets. (Randolfo)
The Pope came one year to Grant Park. (Michael)
What was the weather like?
Really hot and humid in the summer, and really cold and windy in the winter with lots of snow and ice. Church was even cancelled on Sunday because there was so much snow. There are also tornadoes in the spring and summer. (Austin)
So HUMID! Very cold winters and hot summers! (Brooke)
Occasional, brutal wind and rain storms, but not frequently. Rained on occasion. Snows a lot, well below freezing during the winter. (Mitchell)
Usually cold, windy and humid. Unless it was during the three months of summer, then it was hot, windy and humid. Haha. (William)
There was a lot of fog, more fog than I've seen before. Chicago also experienced the worst winter it has had in years while I was there so I'm not entirely sure what the winters are typically like. There was a lot of snow and it was pretty cold. (Kristen)
Chicago weather wasn't bad. Summers were hot and humid with occasional rain. Transition into Fall was gorgeous with all the big trees. Winter is freaking cold, and the snow is crazy. If you're from a snowy place, it's fine, but still nuts. (Hayley)
Humid, always. You will never ever be dry. Sister's bring several pairs of fleece lined tights for winter. It's a beast. (Brittany)
The very first day I was there, literally when I got off the plane, I felt my soul freeze. Coldest winter in 26 years and I happened to get there right as it started. Let's just say "the cold doesn't bother me anyway". (Frances)
Beautiful summer rain storms! I miss them! The snow was crazy too! (Lauren)
Freezing cold in the winter and oppressively hot in the summer. It is really humid because of Lake Michigan. It also can get really windy. (Jennifer)
Colder than anything I've ever felt during the winter, especially in Pullman. (Jeff)
Cold in winter, windy. (Kristy)
Hot and humid in the summer and cold and wet/snowy in the winter. (Tony)
Cold and humid, hot and humid. (John)
Really nice spring days, hot and humid with afternoon thunderstorms during the summer. A very short fall with the leaves changing color and dropping everywhere. Then a dusting of snow the week before Halloween (it didn't stay on the ground long). A brief "Indian summer", and then the snow was on the ground to stay from just before Thanksgiving almost all the way through March. (Peter)
COLD in winter. HOT and humid summers. Never saw rain in summer until my mission. (Michael)
Freezing cold in the winter, hot and humid in the summer. The week of spring and the week of fall were pretty nice. (Jeffrey)
Cold. . .and hot. . .and cold. . .and then it was hot and humid. (Rodney)
So so cold. (Tracy)
Windy, cold, humid. (Randolfo)
The winter of '78-79 had I heard over a 100 inches of snow. (Michael)
Any things you really like about the area/people?
There are so many great people in Chicago. The majority of people you meet aren't interested in what you have to say, but are generally nice. There are so many different cultures I experienced and the areas vary widely. I met some of the richest people in the world, and other people who had absolutely nothing. It's really eye-opening. (Austin)
I loved getting to know the backgrounds of the people, everyone has a story. The corn fields of Indiana reminded me of home. (Brooke)
They were always willing to support us, if we were willing to show that we cared about them as individuals. By opening up to others and going out of your way to make sure they know you care, they will in turn be willing to do anything for you. (Mitchell)
I loved loving like the Lord. Learning to understand and love another person like God would is amazing. (William)
I have my fondest memories of the Hispanic wards (I served English or Spanish, depending on the transfer. I went back and forth). The Hispanic people can be kind of flaky, but the members who are with it will help you in any way they possibly can. Food is a sign of love, so accept it and constantly give compliments and thanks for it. They are some of the most genuinely kind people ever, and if you're raised in a white/English speaking american home, you might not be used to it right away. (Hayley)
The different cultures. I really developed a greater love and respect for the Hispanic people. They taught me how to love and pray more sincerely and unconditionally. (Brittany)
So many different types of people have so many stories…you learn to realize that a person you'd normally never talk to on the street that looks like they've had a horrible past would actually turn out to be the closest person you ever knew. (Frances)
The people were unique. The Morgan Park Ward had a lot of interesting people. (Jeff)
The people are great. The food is great. The Midwest is awesome. (Tony)
Loved the ward members! Loved working in Skokie (even though our apartment was in the north-end of the City of Chicago). The people for the most part were friendly and polite. We were invited to speak at other churches twice, one Baptist and one Synagogue. (Peter)
Great people I served with. Very close to the Lord. Elders Pawlik and Elder Turturicci were a few of my favorites. (Michael)
People are the same wherever you go. You meet all types, rich, poor, young and old. Where the pure in heart are, you will find them. (Jeffrey)
The food was awesome. The trains were great, seriously. (Rodney)
So willing to give us referrals. (Tracy)
Very friendly, hard working members and a lot of love for missionary work. (Randolfo)
The variety. (Michael)
Any packing/clothing advice?
Bring boots for snow, and heavy winter coats for the cold months. You'll need every piece of clothing that will keep you warm or the brutal winter wind will blow right through anything you have on. For summer, you'll need light-weight clothes. Short-sleeves, raincoats. (Austin)
For Sister Missionaries, tights in the winter, and heavy coat. The summer, light fabrics are appreciated. (Brooke)
Pack for the season you will be arriving in, and worry about getting everything else when you're there. If you are coming in the spring, don't bother bringing a winter coat. You can probably get a better coat there than where you come from. BRING SNOW BOOTS. The smartest thing I ever did was get a pair of slacks that were a little too big for me at the waist, and wear sweatpants under my slacks in the winter while waiting for the bus. (Mitchell)
Lots of white shirts. 10+ of whichever you will wear most. Long/short sleeve and pick a fabric type appropriate to the climate. (William)
Be aware of the climate and pack appropriate clothing. Be modest, but remember it's okay to dress cute. (Kristen)
Bring layers. Bring things you don't mind sweating in in the summer. Bring something for the occasional rain, and don't skimp on a winter coat. My mom spent a bunch of money getting me a coat that looked like a sleeping bag from Lands End, and winter was fine and dandy with that baby. I could've trekked Antarctica in the thing, so Chicago was just fine. (Hayley)
Again, tights. Wear moderately loose and comfortable clothing. Bring a lot less than what they tell you to pack. Chances are you'll receive clothing from other sisters and members. And it's a popular preparation day activity to shop at thrift stores. Seriously, don't bring nearly as much as they tell you too. The Lord will provide and you can always write home if there is something you can't live without after so many weeks. (Brittany)
If you're going in the winter…for the love of everything, PACK HEAVY WINTER CLOTHES…THEY WILL SAVE YOUR FEET AND LEGS AND YOUR LIFE. (Frances)
Don't leave for your mission with your bags stuffed to the max capacity. You WILL bring things home. Buy bed sheets when you get to Chicago because they will just take up space. The MTC has sheets for you. (Lauren)
If you are a sister, make sure you don't have too many flowing skirts. It gets windy and it is very frustrating fighting to keep a skirt down while you are walking outside. (Jennifer)
Warm coat. (Jeff)
In the winter get some snow boots if you're going to do any tracting. (Tony)
Cold weather clothes, even if you are from areas that get cold: -25 is colder. (John)
Buy good quality shoes and have wooden shoe trees to help them dry out between wears. Don't buy slip on covers for shoes for winter wear; they make you slide all over the place. Buy a good pair of boots instead. Buy your winter gear there if you arrive before winter starts. Make sure you get a good quality jacket that goes down past your hips for winter wear. London Fog type overcoats are okay for the rainy weather but not for the freezing, cold, windy weather that comes with the winter; even with liners you'll freeze. (Peter)
Learn how to maximize space. Men, garments can be put into sets and rolled tight and rubber banded. (Michael)
Winter time, overcoat, scarves, ear muffs and sweaters. Lots of layers. Summertime, cotton. (Jeffrey)
If you're from Arizona, buy your coat and boots when you get there. (Tracy)
Pack for 100 degrees and 90 % humidity to -20 degrees with wind chills. (Michael)
What blessings did you receive from serving a mission?
I never got sick my whole mission, I guess that's a blessing. But the biggest blessings were the people that I got to see change their lives, and the eternal friendships I made. I still contact a lot of the people I taught and it is so cool to see how far they've come and the progress they continue to make. Also my testimony is a lot stronger. (Austin)
I learned how to not judge a person so quickly. The kindest people are those who have had the worst times. (Frances)
So many! Talking to people about the gospel has been a huge blessing. Knowing the Book of Mormon stories. As well as the self-discipline skills are amazing! (Brooke)
Blessings of health, strength, comfort in times of need, and a wonderful wife to go with it (I gave her a Book of Mormon before my mission, and she was baptized a month after I got home. None of that meeting your wife on the mission business). (Mitchell)
Too many to count. (William)
Improved study skills, a greater understanding of what the gospel actually is, a stronger testimonies, lifelong friendships. (Kristen)
Samoan companions becoming some of my closest friends. Having an incredible Mission President who taught me about following the Spirit. Better study habits. Exploring questions and circumstances in the church to gain a better testimony. Learning to trust in God. (Hayley)
I can do hard things. I can look God in the eyes and say I honestly did my best. (Brittany)
I gained a deeper understanding and love for our Savior and the Atonement. I've been able to help others heal from past mistakes because of the stories I've been able to share with them from my mission. (Lauren)
My testimony grew significantly. (Jeff)
A husband lol. And a stronger testimony of the Church of Jesus Christ of Latter Day Saints. (Kristy)
My family was taken care of while I was gone. I made great friends and my testimony grew a lot. (Tony)
I received my Patriarchal Blessing in the Mission Training Center and was told that if I wrote my siblings and shared my mission experiences, that some would become more active in the church. One had been excommunicated and about halfway through my mission wrote to my Mission President and asked if I would be allowed to come to Maryland and baptize them. She's now a very active member and has done our family genealogy way, way back. (Peter)
Many but I think the fact that God blessed me when I got home with finding a temple worthy mate was the best blessing. (Michael)
Stronger testimony of the gospel. When we followed the rules with exactness, the Lord was bound to bless us. He did. (Jeffrey)
Strengthened testimony. Improved my relationship with my family. We were somewhat estranged at the beginning of my mission. Made lifelong friends. (Rodney)
I gained a stronger testimony on that it doesn't matter who your bishop, stake president, mission president, companion is…the church is led and directed by our Savior, Jesus Christ. It is his church not their church. (Tracy)
Oh boy a lots of blessings!!!! (Randolfo)
Really finding out for myself if the Church was true. (Michael)
What are some skills you gained?
My social skills improved a ton, talking to people isn't a problem. I'm more confident in myself, I have better leadership qualities. (Austin)
The ability to jump in to giving lessons on the spot, loving people for who they are, laughing at myself for the dumb things we sometimes do as human beings. (Brooke)
I learned how to communicate with others rather than communicating to others. I learned that there are a lot of ignorant people in the world, and I learned how to respect them while still desiring to help them. I learned how to make compromises with companions and others, and I learned how to take initiative, and to stand up for my beliefs, even with members who may disagree with you. (Mitchell)
A second language, bike repairs, navigating a large city on public transit. (William)

Communication, listening, city driving, teaching skills. (Kristen)

Spanish! Talking to people. Better understanding of what kinds of members are needed in a ward. (Hayley)
I can speak Spanish fluently. I can also navigate a lot better. (Brittany)
I learned to pay more attention to people's feelings. (Frances)
I am bilingual now! I shock people all the time because of it. It's hilarious! (Lauren)
I learned how to talk to people about anything and everything. (Jennifer)
I learned how to teach, which I do as a career. (Jeff)
Not so shy! And able to stick up for what I believe easier! (Kristy)
How to talk to people and being able to read body language and verbal cues. It's helped me in my career. (Tony)
Confidence, people relations. (John)
I learned to not take "no" personally, I also learned patience and to talk to and with people at their level of understanding. I also learned to eat a lot of foods that I wouldn't even try before. (Peter)
I still walk with a missionary stride. My wife says I walk too fast.☺ (Michael)
Relying on the Lord. (Jeffrey)
Leadership, confidence, and I learned to sign like a deaf person. (Rodney)
Communicating better with people. Learning how to state my opinion and to accept other opinions without getting my feelings hurt. (Tracy)
I became a good teacher and learned to socialize. I was very timid during my first 6 months in the mission field!!!!! (Randolfo)
Came from a small town in Idaho and had never used public transportation before my mission. Became fairly adept at trains, buses, taxis, etc. (Arlyn)
How to fix a bike. (Michael)
What do you wish you knew/did at the beginning of your mission?
How to have and work hard at the same time. I didn't learn that till the end of my mission. (Austin)
The missionary lessons. A scripture study habit. (Brooke)
I wish I had read the Book of Mormon more and had been better about scripture mastery. I had read the Book of Mormon 4 times before I left, but the better you know it, the stronger your testimony will grow. (Mitchell)
I wish I'd have know that the mission is so different from the Mission Training Center. Don't even think it will be similar. Haha. (William)
How to set real goals, not just the lofty, unrealistic ones all greenies have. Putting on the badge doesn't automatically make you "the perfect missionary" -> you have to work for it, and you still won't be perfect. Everyone starts off green; it's okay to make mistakes. (Kristen)
I spent a lot of time asking and questioning and interviewing a million people before my mission to get a firm understanding about what it's like out there. Even though what everyone said was true, it was totally unlike what I imagined. Just recognize that the mission is like something you've never done before, and accept it. It'll still be great, I promise. (Hayley)
I am worthy to be called God's servant. And just because I didn't talk, act, feel, or was as emotional as other sisters, didn't mean I was messed up. I'm imperfect, yes, not messed up. (Brittany)
You don't have to know EVERYTHING to be a good missionary. A good missionary is always learning. (Frances)
You're going to do some serious growing and you're gonna like it. Haha. (Lauren)
Make the most of every moment! Always be obedient!!! So many blessings come from being obedient, especially if it is hard to do. (Jennifer)
I wish I understood how hard it would be at times. The day-to-day grind can be tough. (Jeff)
I had great trainers and companions in the beginning, who helped me. (Tony)
Stronger testimony. (John)
Where to start? Wow, I wish I'd paid more attention in Sunday School and in Seminary. Coming from a first generation family who's parents never went through the Temple, that was an eye opening experience. (Peter)
More in tune with Spirit. Scripture mastery from seminary. (Michael)
I wish I had better study and prayer habits. (Jeffrey)
Took more pictures. (Rodney)
Made sure companion study got done every day. (Tracy)
To be fluent on the English language!!!!! (Randolfo)
It's a learning process. Nobody is born a seasoned missionary. (Michael)
Any advice/testimony for pre-missionaries going to Chicago?
Study Preach My Gospel! Pray for the ability to feel the Holy Ghost now! (Brooke)
Read the Book of Mormon. I was astounded by the number of Elders who hadn't read it all the way through before arriving to the mission field. Don't be that Elder. Also, to learn the language, read the Book of Mormon out loud in your mission language. It doesn't matter if you are saying everything exactly right and understanding everything exactly word for word when you start. Your language skills will improve exponentially when you enlist the help of the Spirit that will always accompany you while you study from the Book of Mormon, regardless of what language you read it in. (Mitchell)
The Lord is always willing to bless those that serve with all their hearts, with all their desires, and with all their love. Resist the temptations of the adversary and remember that blessing come to those who wait. (William)
Move forward with faith and allow God to work His miracle in you. At the end of every day, look at the names on your badge (it's your individual Title of Liberty). (Kristen)
Just trust in the Lord. Trust him. And make a commitment, in personal prayer, out loud to Him that you will do His will and be His servant, no matter what. It made all the difference in my mission because it no longer became "What is MY mission going to be like, where am I going to go, etc." It was, "How am I going to be the Lord's faithful servant today? What errands does He need me to run for Him to bless His children?" I got my mission call to Brazil, and was reassigned to Chicago. I waited a year and never got my visa. I know visa-waiters that went to a reassignment and didn't work because it 'wasn't their mission.' Stop that attitude right now. If I had laid back and relaxed, waiting for my visa because it "wasn't my mission," I would have wasted my entire mission. And when it came down to it, I took my papers out because I loved the place so much. Whether or not you are waiting for a visa, you need to work. You are there for a reason and a purpose-go figure out what it is. Remember this is the Lord's mission, not yours. So drop that pride, drop that attitude, and get on your knees. Otherwise, your going to look back and regret it. (Hayley)
Take it one day at a time. You wouldn't be there if God didn't know you could do this. (Brittany)
You're going to be facing people that come from so many different backgrounds and religions that when they see you, all they will want to do is fight scripture with you. Don't. Do. It. Be strong and just tell them your beliefs and testimony and move on. If you take out your scriptures to prove a point, you've lost. Smile and move on. (Frances)
Leave your little girlfriends and boyfriends on the back burner. Your focus is the mission. I know you just love them so much because they're so amazing and everything but you chose to serve a mission. The Lord needs ALL of you, not most of you. It's not fair to the people that need you in the areas in which you serve if you're kinda focused because you're thinking so much about the pretty girl or the hunky guy you left at home. Focus your minds, hearts, spirits and souls because the Lord will show you endless miracles! (Lauren)
Work hard and have fun. Play basketball at the parks on P-day. Write in your journal every day. (Jeff)
Give every day 100%. You only get one mission and once it's done you wish you would've worked harder. Do what the good elders do and don't follow any peer pressure. (Tony)
Talk to another Elder or Sister who's served there recently and find out what to bring and not to bring. Be open, be honest and learn to love the people. (Start with your companion first.) SERVE, your companion, the people within your Mission and yourself. (Peter)
Pray and read every day. Learn to bear your testimony. (Michael)
Learn the gospel. I had to start my mission memorizing the discussions. We got stuck a lot when teaching. Now with the Preach My Gospel plan, you learn more to rely on the Spirit to teach. What an advantage. (Jeffrey)
Practice hearing yourself bare your testimony to others. (Tracy)
Chicago is a very dangerous city with lots of gangs but the gangs don't interfere with the Lord's work. Just obey the mission rules at all times and be fearless. Find them… the Lord will guide you to those Celestial candidates who are ready and waiting for You!!!! (Randolfo)
Read the Ensign and Preach My Gospel besides the scriptures. (Michael)
What was a funny language mistake?
I made plenty. I once used a swear word in a lesson that I had no idea was a swear word, it was just in the dictionary and I decided to use it for my new vocabulary word for the day. I was glad that the investigators that heard it got a good laugh out of it. (Mitchell)
Oh man, the first six months of my mission were full of these. I said I was pregnant. (A pregnant Elder was the inside joke for a while) I also called someone a derogatory term when I meant to say charcoal. Oops. (William)
My last District Leader was from Germany. After an extremely long day of conferences, he and his companion joined us at the Bishop's home for dinner. He said something to complement us (I think President went over respecting Sisters in that conference) but it came out completely flirtatious. Poor kid didn't understand why we were laughing. (Kristen)
None I can think of. I remember some interesting pronunciations though. (Brittany)
So apparently boba (which is a delicious Japanese tapioca drink) means boobies in Guatemala. (Lauren)
I was an International Zone Leader and one day, in downtown Chicago, my companion and I had just visited a member at his office in the "Loop".  As we rode the elevator down, two young Latino's got on the elevator and started talking in Spanish. Not knowing that my companion spoke Spanish, they remarked about how they were looking forward to the days that they were married and didn't have to worry about what they ate for lunch going to their hips and so on. The conversation then went to how cute the two guys in suits were and wondered where we worked…..the elevator doors opened to the Lobby and my companion turned to the two and thanked them in Spanish, told them who we were and where we worked. (Peter)
A new sister missionary tried to say, "I'm excited to come here and work." She ended up signing "make out" instead of "work." (Rodney)