Free resources about the Idaho Nampa Mission:
*Other Mission Pages: Idaho LDS Missions.
---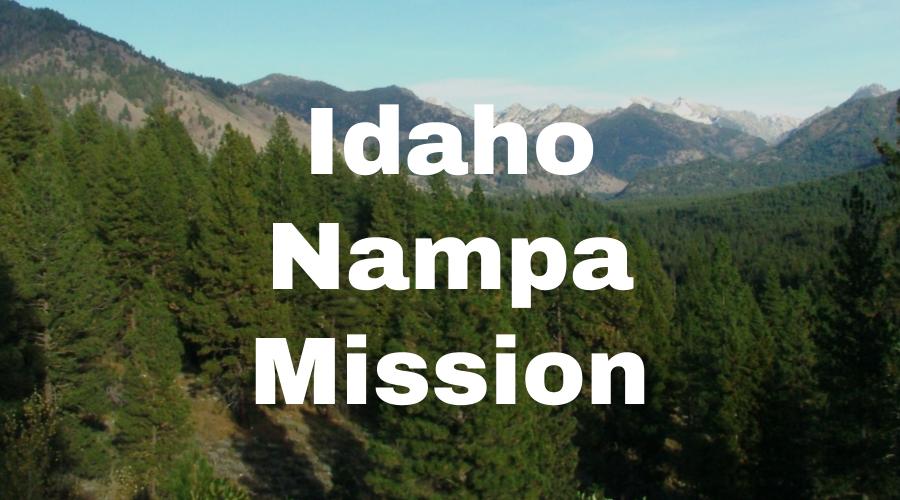 ---
Idaho Nampa Mission Address
Here's a recent address for the Idaho Nampa Mission. We try to keep this information up to date, but it's a good idea to check the address with several sources, including your mission packet or the mission office.
Idaho Nampa Mission
1370 Caldwell Blvd Suite 300
Nampa, Idaho  83651
United States
Phone Number: 1-208-463-4385
Mission President: President Paul D. Sorensen
Idaho Nampa Mission Map
Here's a link to the mission map for the Idaho Nampa Mission (LDS). To access the official LDS.org map for the Nampa Mission:
Log into your LDS account here.
Click here.
Videos with Idaho Nampa RMs
Here are in-depth YouTube video interviews with returned missionaries from the Idaho Nampa Mission.  We interview hundreds of returned missionaries each year, so check back regularly to see new RM interviews.
LDS-Friendly Videos about Idaho
Here are LDS-friendly educational videos about Idaho. We scoured YouTube to find the best quality videos about Idaho, that are free from inappropriate music, immodesty and profanity.
Idaho Nampa Missionary Blogs
Here's a list of LDS missionary blogs for the Idaho Nampa Mission. This list includes the missionary's name, URL and when their blog was updated.
*Send your missionary a gift (mission-specific shirts, ties, Christmas stockings/ornaments, pillowcases, etc.)
Idaho Nampa Mission Groups
Here are Idaho Nampa Mission Groups- for LDS missionary moms, returned missionaries, mission presidents and other alumni of the Nampa Mission.
Idaho Nampa Mission Families Group (64 members)
Nampa Mission 2013-15 Pres. Stuart B. Cannon Group (57 members)
Idaho Nampa Mission T-Shirts
Here are T-shirts for the Idaho Nampa Mission!
Shirt designs include Idaho Nampa Mission logo/emblem shirts and Called to Serve shirts. The shirts make great gifts for pre-missionaries, returned missionaries and missionaries currently serving. LDS Mission shirts come in all sizes: Small, Medium, Large, Extra Large, up to 4XL.  The mission designs are printed on white shirts and are shipped to you.
*Simply click on a shirt design to view the details and submit an order. The designs on mission t-shirts may also be printed on other LDS mission gifts, including: Idaho Nampa missionary aprons, Christmas stockings, ties, pillow cases, teddy bears and Christmas ornaments.
*Click here to browse Nampa Mission gifts
---
---
Idaho Nampa Mission Presidents
Here's a list of current and past Mission Presidents of the Idaho Nampa LDS Mission.
2016-2019, Paul D. Sorensen
2013-2016, Stuart B. Cannon
Idaho LDS Statistics (2015)
Church Membership: 430,757
Missions: 4
Temples: 4
Congregations: 1,117
Family History Centers: 63
Helpful Articles about Idaho
Idaho Nampa Missionary Survey
Here are survey responses from Idaho Nampa RMs, to give you a snapshot into what it's like to live in the mission.
When did you serve?
2015 (Stephanie)
2014-2015 (Kylie)
2013-2015 (Mikayla)
What areas/cities did you serve in?
Nampa. (Stephanie)
Parma, Marsing/Caldwell, Nampa, and Ontario, OR. (Kylie)
Nysaa, Middleton, Enterprise, Marsing, Emmett, Nampa South. (Mikayla)
What were some favorite foods?
Mexican food and pasta. (Stephanie)
Potatoes (of course) and fresh fruit and veggies from the people's garden. (Kylie)
All the homegrown and home cooked meals we were fed! (Mikayla)
What was a funny experience?
One of the new members always had crazy stories about his week to tell. (Stephanie)
Every day there was something. We helped castrate, brand, and tag cows. It was funny because it was foreign to my companion and I but we just went with it. (Kylie)
What was a crazy experience?
A giant dog coming out of nowhere barking and running at my companion and I in the car. (Stephanie)
I got bit badly by a dog that I was trying to help. I can't blame him but man that hurt bad and it got infected. I had to get 2 shots and a good scolding from the doctor but lots of love from my sister president. (Kylie)
Got the Mission President to dress up in cowboy gear for a cattle branding party. (Mikayla)
What was a spiritual experience?
Seeing people accept the gospel and get baptized. (Stephanie)
Every day had something. It was amazing to be on a mission and experience the closeness to the Savior. The first time I really felt the true love of Christ was in my first area and we were "practicing" the lessons on a less active to help me get the flow of it as a new missionary. In about the third lesson, I was so overcome with love for this woman I couldn't think of anything else. I felt so warm and so much love toward her and from that moment on I could more easily tap into that love and it has touched me forever and has changed me. (Kylie)
Finding out the weekend before I went home at an investigator's baptism that my sister started teaching her a couple years prior during her mission in Washington. (Mikayla)
What are some interesting facts about the Nampa Mission?
I don't really know many I was sent home early for medical reasons. But the people of the Nampa Idaho mission have to be the best members around. (Stephanie)
Our region put out the most onions in America. (Kylie)
Almost all missionaries live in member's homes. You won't always have a grocery store in your area. (Mikayla)
What was the weather like?
Warm in spring and cold in the winter. (Stephanie)
Warm in the summer and freezing and icy in the winter. (Kylie)
Hottest was about 85. Don't know how cold it really was…we were always in a car. Not too much snow, but enough to stay on the ground. (Mikayla)
Any things you really like about the area/people?
The member were amazing and so was the Mission President. (Stephanie)
Most of my areas were farmers and they are the greatest and most humble people alive. (Kylie)
Even the people that weren't interested were usually super nice. It was the angry less-actives hiding from the church that weren't nice. (Mikayla)
Any packing/clothing advice?
Pack clothong for both the cold and the warmth. (Stephanie)
Don't bring too much. Layer when cold because people keep their houses very warm in the winter. Don't bring sheets or anything because they have plenty. (Kylie)
Wool socks. Jeans for service. Waterproof boots for weather and service projects. (Mikayla)
What blessings did you receive from serving a mission?
I received so many in the short amount of time I was out. (Stephanie)
Neither of my brothers were active for a long time, I prayed every day that my service would affect them. A year after I got home, my brother and his wife went through the temple and were sealed as a family. Just 2 weeks ago that brother baptized his oldest. He told me once that my example was a big reason he decided to come back. Thank the heavens. (Kylie)
Refinement. I grew so much. Which got me my husband. He never would have liked who I was before- maturity made all the difference. (Mikayla)
What are some skills you gained?
The most important is confidence. (Stephanie)
Being able to talk to anyone and find common group. Every job I have that's one of the biggest things I'm complimented on and I wouldn't be like without a mission. (Kylie)
Branding and tagging cattle. Loving someone you hate. Teaching. (Mikayla)
What do you wish you knew/did at the beginning of your mission?
I wish I had studied preach my gospel. (Stephanie)
READ THE BOOK OF MORMON AT LEAST ONCE. I grew up semi-active and had never read it and I felt like I was a failure who was super behind. Also, obedience is better than anything you may think of doing. Don't be a robot, be who you are. People can see right through you if you're not genuine and won't want to hear what you have to say if they sense it. (Kylie)
People are different and it's okay that they're at a different place than you. (Mikayla)
Any advice/testimony for pre-missionaries going to Nampa?
Don't doubt yourself and study the scriptures and Preach My Gospel. (Stephanie)
You're sent there for a purpose, find it. (Kylie)
Be prepared to be outside doing service every day. Just be obedient. If you don't know why you're on a mission, figure it out or don't go. Pressure from family and everyone else to serve is not a good enough reason to be there hating the whole experience and being a bad name for the church. (Mikayla)
What was a funny language mistake?
Hahaha Idaho people say "Boy-c" for Boise. Don't get that wrong. (Kylie)