Free resources about the Idaho Boise Mission:
*Other Mission Pages: Idaho LDS Missions.
---
---
Idaho Boise Mission Address
Here's a recent address for the Boise Mission. We try to keep this information up to date, but it's a good idea to check the address with several sources, including your mission packet or the mission office.
Idaho Boise Mission
1111 So Cole Rd
Boise, ID. 83709-1869
Phone Number: 1-208-343-9883
Mission President: President Randall D. Bartlett
Idaho Boise Mission Map
Here's a link to the mission map for the Idaho Boise Mission (LDS). To access the official LDS.org map for the Boise Mission:
Log into your LDS account here.
Click here.
Videos with Idaho Boise RMs
Here are in-depth YouTube video interviews with returned missionaries from the Idaho Boise Mission.  We interview hundreds of returned missionaries each year, so check back regularly to see new RM interviews.
LDS-Friendly Videos about Idaho
Here are LDS-friendly educational videos about Idaho. We scoured YouTube to find the best quality videos about Idaho, that are free from inappropriate music, immodesty and profanity.
Idaho Boise Missionary Blogs
Here's a list of LDS missionary blogs for the Idaho Boise Mission. This blog list includes the missionary's name, URL and when their blog was updated.
*Send your missionary a gift (mission-specific shirts, ties, Christmas stockings/ornaments, pillowcases, etc.)
Idaho Boise Mission Groups
Here are Idaho Boise Mission Groups- for LDS missionary moms, returned missionaries, mission presidents and other alumni of the Boise Mission.
Idaho Boise Mission T-Shirts
Here are T-shirts for the Idaho Boise Mission!
Shirt designs include Idaho Boise Mission logo/emblem shirts and Called to Serve shirts. The shirts make great gifts for pre-missionaries, returned missionaries and missionaries currently serving. LDS Mission shirts come in all sizes: Small, Medium, Large, Extra Large, up to 4XL.  The mission designs are printed on white shirts and are shipped to you.
*Simply click on a shirt design to view the details and submit an order. The designs on mission t-shirts may also be printed on other LDS mission gifts, including: Idaho Boise missionary aprons, Christmas stockings, ties, pillow cases, teddy bears and Christmas ornaments.
*Click here to browse Boise Mission gifts
---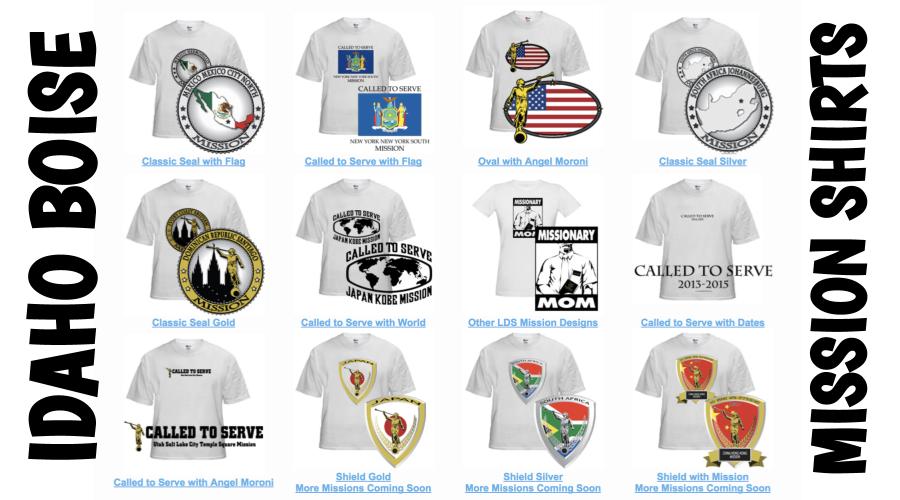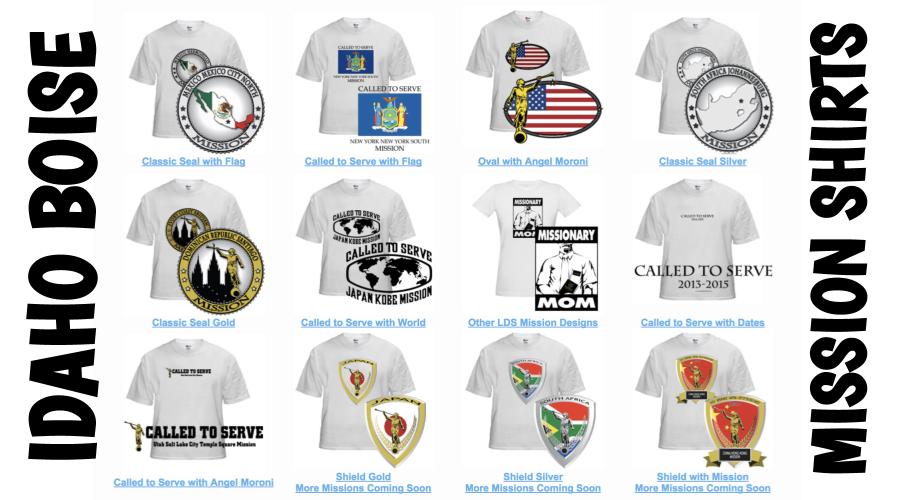 ---
Idaho Boise Mission Presidents
Here's a list of current and past Mission Presidents of the Idaho Boise LDS Mission.
2016-2019, Randall D. Bartlett
2013-2016, John Winder
2010-2013, Kent H. Cannon
2007-2010, John W. Yardley
2004-2007, R. Brent Ririe
2001-2004, Thomas Albert Holt
1998-2001, Stanley A. Taylor
1995-1998, David M. Brown
1992-1995, Don L. Buehner
1990-1992, F. David Stanley
1987-1990, Howard K. Barlow
1984-1987, Boyd K. Storey
1981-1984, John K. Carmack
1978-1981, Richard M. Marbury III
1975-1978, Sherm Crump
1974-1975, Ernest Eberhard
Idaho LDS Statistics (2015)
Church Membership: 430,757
Missions: 4
Temples: 4
Congregations: 1,117
Family History Centers: 63
Helpful Articles about Idaho
Idaho Boise Missionary Survey
Here are survey responses from Idaho Boise RMs, to give you a snapshot into what it's like to live in the mission.
*Click here to take a survey to help pre-missionaries going to your mission.
When did you serve?
2015-2017 (Sandra)
2013-2015 (Gregory)
1997-1999 (Amber)
2001-2003 (Brandon)
1990-1992 (Sam)
1981-1983 (Joy)
2004-2005 (Beth)
1995-1996 (Richard)
2013-2014 (Lynn)
2011-2013 (Josh)
1985-1987 (Gregg)
What areas did you serve in?
Paramount 1 (Meridian, in Nampa mission now), Boise East 4, Twin Falls Temple 2, Kimberly 3, Meridian South 4. (Sandra)
Meridian, Boise. (Gregory)
Twin Falls, Boise, Ontario, OR. (Brandon)
Ontario, Oregon, Boise, Wendell/Gooding/Hagerman, Weiser/Payette, Sun Valley. (Sam)
Weiser, Sun Valley, Baker, OR, Pocatello, Idaho Falls, Buhl, Rexburg. (Joy)
Emmet, Sweet, Horse Shoe Bend, Meridian, Twin Falls, Kimberly, Hansen and Nampa, Idaho. (Beth)
Burley, Eagle, Meridian, New Plymouth, Middleton. (Josh)
Jerome, Ammon, Nyssa Oregon, Garden City, Rigby. (Gregg)
What were some favorite foods?
Everything! People cooked such good food. (Sandra)
We had a pretty good variety but for some reason I remember the salads we had were really good. (Gregory)
I love potatoes- while I served I ate potatoes a lot of different ways. Desserts. 💜 (Amber)
Potato Ice Cream (Buhl, ID) lol, Meat and Taters, Sandwich place in Twin Falls (can't remember the name…it gave half off to missionaries), Taco trucks. (Brandon)
Apple sauce WITHOUT cinnamon- which I had once and ate the entire full bowl. Otherwise it's generally heavily tainted with cinnamon. Jello salad- mmmm. (Sam)
Zucchini Lasagna that one of the members made. (Joy)
Creamed potatoes and peas taco soup. (Beth)
POTATOES!! (Lynn)
Funeral potatoes, "sesame seed-less chicken" (inside joke), burgers, steak, ribs, salad and soup. (Josh)
Bambinos from La Pizzaria in Rigby. Steaks with the Byrum family. Papa Kelsey's pizza in Twin Falls. 25 cent Maverick refills!!!!!! (Gregg)
What was a funny experience?
We once handed a Book Of Mormon out the car window, going 30 mph, to two guys who were blasting there music at us. (Sandra)
We were walking down the main road of our area, ten miles, and this guy passed us on a motorcycle and yelled to us that we were awesome. Then preceded to DANCE ON HIS motorcycle yelling at people to listen to the Mormons! Got a good laugh out of that one. (Gregory)
I hadn't ridden a bike in years. Well in my first area my companion convinced me to ride Elders' bikes. Well we got to a curb and I couldn't stop, ran through a flower bed and got some big mums stuck in the pedal. (Amber)
Prank Wars with other missionaries. Pranking new missionaries with members. Preparation Days. (Brandon)
Teasing members who ask: "What language do you speak in England?". Zone Leaders got stopped by the police for trying to force our car over a stop line. Other Elders lost car keys so we had to get a member ride to Zone Conference. They thought the keys might have been in the car. He didn't have to pay the locksmith, as he couldn't get the car open, but they could. Other Elders found the car keys in a shirt pocket when we arrived at Zone Conference. It took hours and favors from many members to relay us back home. (Sam)
My companion and I were looking for a family referred by a member. They lived out in the boonies. We were on a dirt road covered in snow. She was from California, she was to close to the edge on her side. She said she was fine. We were trying to find the house without seeing any numbers. Next thing we know we were in the ditch. It turned out the ditch was in front of the house we were looking for. They helped us out of the ditch and invited us in. It got us in the house. (Joy)
This lady yelled at us once that we were sending people to hell! My companions and I would also make a quote board for our wall in the apartment where we would write down funny things we said, did or heard. (Beth)
We were driving to a zone conference at the mission office and our car skidded on some black ice right as we were about to turn in to the church parking lot. We ended up missing the car exiting the lot and took out the stop sign on the corner in the process. Best part? The person driving the car we almost hit was the vehicle coordinator! (Lynn)
My companion who was waiting for his visa to go to Mexico and learning Spanish was having a rough time with the language. I helped him out by randomly stopping a random man by saying "hola" and handed it off to my companion to add to it because that is all I knew haha. He did his best and shared his testimony. (Josh)
Chiniquy falling while trying to break into my second story apartment and leaving his butt print in the windshield of the car he was standing on. (Gregg)
What was a crazy experience?
Someone once came out with a gun… It was only a BB gun though… It's not a very dangerous mission. (Sandra)
We did have one guy point a shotgun at us and tell us to get off his property, that was scary. (Gregory)
We were tracting and guys in big trucks would drive up and down the street and would spray snow everywhere. Not fun. (Amber)
A haunted house in Twin Falls- the story we were told by the owners and being asked to bless the house. (Brandon)
Lots of service on ranches, branding cows, manning the squeeze chute, etc. (Sam)
We were tracting one day. As we walked up to a house there was such a strong feeling of evil as the door opened. There were candles and incense burning. The lady invited us in, but the Spirit restrained us and we just left her with a pamphlet. (Joy)
We lived in a duplex with a convicted rapist. (Beth)
While in Jerome, my entire zone and I went to Mount Baldy Ski Resort the week before it opened and went tubing down the slopes. That was extremely crazy and dangerous. Especially, when the one group hit a tree. Fortunately no one was hurt. (Gregg)
What was a spiritual experience?
There were tons. One of the best was teaching a less active at her aunt and uncle's house and it felt like we were in one of the district videos. (Sandra)
I was actually out on splits with my Ward Mission Leader in my 4th area and we had an appointment with a family where the husband was less active and didn't believe anymore in the church. After talking for a few minutes the whole family gathered around and the WML turned the time over to me. I felt to testify of the Atonement and bore powerful testimony of it and quoted scriptures referencing this marvelous act, the Spirit was so strong, everyone. Including me. Was tearing up. I will never forget that day. (Gregory)
So many to name, but teaching about Christ would always make me swell up with the Spirit. (Amber)
Too many to list. (Brandon)
Helping someone recognize their feelings and commit to baptism. (Sam)
We were teaching a member-referred family. We had taught a discussion. We set the next appointment for some days later. When we got there the mom asked how many discussions there were- I told her we had six more. She said so a total of seven? I confirmed that was correct. She then got tears in her eyes. She said when she had paid to know if the message was true she was told in seven divine days she would know the truth. By the end of the discussions she had received her answer and she was baptized along with her husband and two daughters. (Joy)
Teaching a guy named Floyd. He was the one and only convert we met from tracting. He was amazing!! He was baptized at 78, went through the temple and was sealed to his wife and then passed away a few years later. (Beth)
There was a woman I had become really good friends with in one of the wards I served in. She was less active and just starting to come back to church. I left the area and found out a week later that she had taken her own life. The grief I felt was indescribable. But soon after, I felt a beautiful, amazing warmth and briefly saw this friend in a bright space (I don't quite know how to describe it). She was smiling and whole and I knew that the spirit was telling me that everything was alright and that it had been her time to go. (Lynn)
Praying for the rain to stop. It did long enough for us to walk home. (Josh)
The first blessing I ever gave was to a mother whose baby died by getting tangled and hung in a crib mobile. The Spirit was so strong and the Lord was very much aware of that family that day. (Gregg)
What are some interesting facts about the Boise Mission?
The boundaries changed Midway through my mission so my first area is in the Nampa mission now. The members love you. (Sandra)
It was the third smallest geographical mission. (Gregory)
I'd never driven in the mountains before- it was a scary experience (I am from Illinois). Western Idaho has more non-members then the eastern side. (Amber)
It was the best ever in the history of the world. (Brandon)
My mission president's first month was my first month, and my last month was his last month (he was called to one of the Seventies). I suspect he was there just for me. (Sam)
Not everyone is a member despite what people think. Members have a huge influence on a nonmembers' perceptions. Idaho missions are high-baptizing missions. (Joy)
Every area I served in is now it's own mission. Locals say things like "A couple two or three" or "I drive truck" instead of being a truck driver. President R. Brent Ririe and Beverly Ririe were my mission president and mission mom. We were also in the MTC together. (Beth)
Fact: it's the absolute best mission ever. I'm not biased. (Lynn)
The Boise Temple was being renovated and was opened back up and re dedicated on my mission. The facing was changed to the bright white it is today and the inside was totally gutted out and redesigned and rebuilt. Also the Meridian Temple will be the 5th temple built in the state of Idaho. Open houses are huge advantages in a mission as many people from all walks of life come and see the temple and feel the Spirit there! Awesome experience to share that. (Josh)
In the MTC, you were in the Choir and we were the first people to ever sing the song "I Believe in Christ". I had five areas and 10 companions. Most of the cars were Cavaliers, K-cars and Renault Alliances. But we had an S-10 pickup in my first area. At the time, President Storey was the oldest serving mission president. The smallest area I served in was one stake. Most were two stakes. One set of missionaries for like 12 units was normal. The media campaign, Bounce Back, was started in my mission and so was Heavenly Father's Plan. (Gregg)
What was the weather like?
Cold! The snow is the worst. It does get hot in the summer too. (Sandra)
Snowy in the winter. Hot in the summer. Not much in between. (Gregory)
Winter is cold and snowy. Summer is hot, but a dry heat. (Amber)
We experienced an extreme heat wave and drought, to blizzard and constant snow…the full spectrum. (Brandon)
Lovely and hot in the summer and deathly freezing snow in the winter. Great fun! (Sam)
Beautiful, even when it is cold. Lots of variance around the state. The years I was there, the winter were kind of mild. Summers were beautiful. I loved Idaho. (Joy)
There were very mild winters the years that I was there. Summers were hot. (Beth)
Nice and pleasantly hot in the summer, frigid and beautiful in the winter. Fall in downtown Boise is breath-taking. (Lynn)
Rained here and there. Hot in the summer and on the winter was slightly cold with little snow fall. (Josh)
It was Idaho. If it wasn't snowing, it was raining. Not really. Sometimes it was utterly beautiful weather. It could also be very windy. In my first area, we had 6 weeks of constant below freezing temperatures. (Gregg)
Any things you really like about the area/people?
The members! (Sandra)
Everyone, (mostly) was really nice, even if they did not agree or want to listen they at least would be respectful about it. (Gregory)
Everything. I went to Ricks College before going on my mission. I love Idaho and I served in some farming communities and it reminded me of home. People took good care of us. (Amber)
They are a very spiritual, hard working and faithful people. (Brandon)
They all love missionaries, and all love English missionaries. They were so very generous, kind and patient with me when I was a new simple fool. (Sam)
They are service-oriented, missionary-oriented, friendly members and non-members. They love to feed the missionaries. (Joy)
I loved everything about my mission! I moved to Utah a couple years after I returned home, I even live really close to the Idaho border. I've kept in touch with people from my mission, but never returned because I have it on such a pedestal that I don't want to break that or ruin it in any way. (Beth)
The people (non-member and member alike) were generally so friendly and open. (Lynn)
I loved that members in the mission were so open to non members. That is how its supposed to be. Unfortunately thats not the case in other places. You don't see the cliques of members like you do in other places. Non members are invited all the time. You will often see non members at ward parties such as trunk or treat. Members are so willing to help with the work. They just need the helping hand that the missionaries can offer. (Josh)
Most people were friendly. I love Idaho and the mountains. I would love to live there but my wife doesn't do cold. (Gregg)
Any packing/clothing advice?
Don't worry about clothes. There are so many places to get clothes there. Come with a light suitcase and you will probably leave with a heavy one. (Sandra)
Pack two pairs more than you think you're going to need. You never know what crazy thing you will be called to help with, like castrating a pig or shoveling up mud to pull a tree out, never hurts to have a few spare clothes. (Gregory)
Bring all machine washable things (no dry cleaning items), it will save you money. Leave any extra clothes at the end of your mission that you don't want, so you don't have to drag them home. Bring only sturdy shoes for tracting etc., cutesy shoes are fine for Sunday. (Amber)
Vacuum pack. You will accumulate a lot of things. Books, music, clothes, etc. (Brandon)
A thong is not beach shoes, but a piece of string and flap of canvas worn for some sports that for some bizarre reasons can't be done wearing regular underwear. (Sam)
Follow the recommendation given in your call. It worked out great for me. (Joy)
As a sister missionary, I stayed warm by layering. I bought thermals and wore those under thick tights. I know it's not the most fashionable, but warmth when you're out in the weather all day is important. You can hide a lot of layers under a skirt! (Beth)
Warm things. It gets REAL cold starting in October. (Lynn)
Coat and short sleeve shirts. (Josh)
Not really, but always unpack in a new area. Don't live out of your suit case. (Gregg)
What blessings did you receive from serving a mission?
My blessings from the last question. (Sandra)
Knowledge, humility, patience. It is had but you learn a lot. (Sandra)
The biggest blessing is of course for me getting to know my Savior more. Having and building a relationship with Him, I could not ask for anything more. (Gregory)
More gospel knowledge. A stronger testimony. I can still share the Gospel easily. (Amber)
I met my wife on exchanges after the mission. She was being taught and I went with them. We were sealed in the temple and we have two children now. (Brandon)
I learned how to love and relate to people. (Sam)
Learning that hard work brings miracles and faith is important in every aspect of my life. Losing my fear of public speaking, being able to meet new people with ease, gaining a true understanding of the Gospel. I was my greatest convert. (Joy)
I was able to see so many peoples' lives change for the better. I was able to watch others' testimonies grow, as well as my own. I think the biggest blessing I received is being able to witness miracles, receive answers to prayers and build a strong foundation of faith from those experiences. (Beth)
I don't think I could truly count them all. I'm a better person now because of it. I have a deeper understanding of the gospel and of our savior. I have learned how hard it is to forgive those who betray you and how rewarding it is when you finally succeed in forgiving. There were many hard things I had to learn as well as wonderful things that have blessed my life. (Lynn)
Communication skills. Knowledge of the gospel. (Josh)
Because of my mission, I met my wife. I got to know her aunt and uncle. She was living with them when I went back to go to Rick's college. It made me a better teacher. It solidified my testimony. It let me know I could finish something. (Gregg)
What are some skills you gained?
I became confident in myself and more comfortable with who I am. (Gregory)
Going door to door (yes, I have to recruit for my job). Not being so shy 😀. Self-esteem. (Amber)
Speaking Spanish, public speaking, how to read people, good handshake skills, haha, preparation, planning, scheduling, conversation skills, teaching skills, budgeting and much, much more. (Brandon)
Relating to people, conversing with people. DOS and Windows, how to give technical support to people who needed it. I'm sure I wrecked a couple of PCs too, but not on purpose. Accepting people (and other missionaries) non-judgmentally. (Sam)
Published speaking, relying on my mustard seed faith, talking to everyone and anyone, hand work, and the ability to see good in all people. (Joy)
I was a trainer quite a few times on my mission, so I would say leadership skills. I had to learn how to trust, accept, cope, communicate and be BOLD! (Beth)
I can sort of boil water now. (Lynn)
Knowledge of the gospel. Talking in front of people. Communicating. Recognizing the spirit better. (Josh)
Able to teach a lesson with no notice. How to deal with people, both good and bad. Patience. How to recognize the Spirit and when others are feeling it's influence. (Gregg)
What do you wish you knew/did at the beginning of your mission?
It's okay if your not perfect. Also, don't wait for your trainer to do something. If you think it is from the Spirit, then do it. Nothing will happen unless you make it happen. (Sandra)
That it's about trying your best, a lot of new missionaries I feel have this thought that if they don't get the right numbers or meet the goals for that day that they failed, I think we all need to go a little easier on ourselves and try our best and know that we did all we can do. (Gregory)
Maybe having a chance to do a mini-mission would've been great. (Amber)
Keep a journal. You can't have too many pictures. Keep the contact info of people you meet and fellow missionaries. Networking starts now. (Brandon)
I wish I knew how to be a better missionary, but I don't see how I could have known that. (Sam)
Time will fly. Use every minute to the best of your ability. Treasure your testimony. Rely on personal inspiration more completely. (Joy)
I wish I would have known how hard it was going to be at first. I wasn't prepared for how much I would miss my family or how much I would feel like I was missing out on things going on at home. My sister got married to a man I had never met while I was gone and that was hard. I became an aunt multiple times while I was out… I wish I would have known how lonely I would feel at times, so I could have better prepared myself for having a difficult companion. I wish I would have been 100% committed from day one to the very end. I also wish that I had been more willing to serve others at the beginning- that would have made difficult companionships easier. (Beth)
God didn't call a caricature of me and what I thought a missionary was; He called ME as a missionary. He needed me with all of my faults and quirks to serve Him. Once I figured that out, I could work on being a better version of myself rather then being unhappy with trying to be someone else entirely. (Lynn)
It okay to have fun as a missionary. You will have trials. Sometimes your best contacts still say no. (Gregg)
Any advice/testimony for pre-missionaries going to Boise?
There are people to teach in Idaho. Don't let anyone tell you otherwise. Just because you don't have people to teach doesn't mean that they're not there you…just have to work hard. I was told that tracting wasn't effective but I think you're showing the Lord that you're willing to work so if you have nothing to do, tract even if your companion doesn't want to. (Sandra)
Be true to yourself, pray about when to go on a mission. Make sure your ready for it. Don't go because someone wants you to. Go when you feel it's time, I can testify that the Lord has a time and a place for you to be and there is a reason for it, show the world what makes you unique and how this Church has helped you become who you are. That's a great way to start strong and keep going when times get hard. (Gregory)
Rely on the spirit always. Love the people and your area. The Lord will help you rely on Him always. You don't need to know everything, you will learn. (Amber)
Obey the rules. You are not the first missionary ever. The rules are there for a reason and perfected over generations of missionaries. Remember that. (Brandon)
Be clean, be willing. (Sam)
Love every minute of it. Your mission will become precious memories that will shape your life. Don't see your mission as your service- when you get home keep that serving, loving attitude. (Joy)
I almost went home early on in my mission because of homesickness and a difficult companion. I came very very close to just leaving. Had I done that I would have missed out on some amazing experiences that helped shape who I am today. Mosiah 26:18; 20-21. These scriptures saved my mission! They came to me through prayer and fasting and they helped me recommit myself to the reasons I chose to go out in the first place. I am so glad I stayed to witness miracles, to be a part of them and to be a servant of the most High God! (Beth)
Love your companions, even when they wrong you. Love your members, even when they fall short. Love your investigators, even when they choose a different path. Love your mission because it's where you need to be. (Lynn)
Go on exchanges. Spend as much time as you can with your local missionaries. Study and pray!!!!!! The habits you develop on your mission will stay with you your entire life. (Gregg)
What was a funny language mistake?
I served an English-speaking mission. (Amber)
Early in my mission we were tracting and I was trying to explain I was embarrassed because I wasn't very good at the language yet. I said "Estoy embarazada…" (Brandon)
I struggled on my first day with having to call the trunk of a car a "trunk" instead of a "boot" (as it is in England). I took a risk and asked to get my bags out of the trunk, and no one noticed what a silly name it was for the boot of the car. (Sam)
When asked if I spoke Spanish I said "muy porquito", instead of muy paquito. Very piglet, instead of very little. I'm an English speaker so please forgive spelling.  (Gregg)