Free resources about the Ghana Kumasi Mission:
*Other Mission Pages: Ghana LDS Missions.
---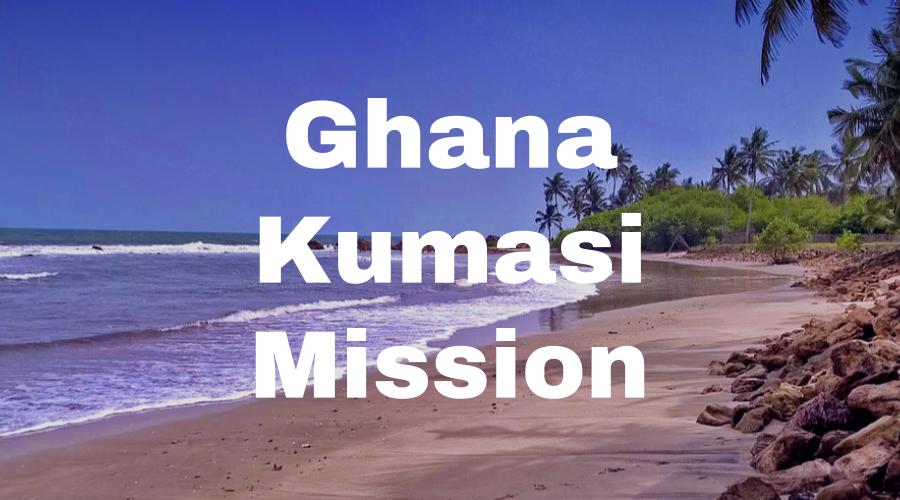 ---
Ghana Kumasi Mission Address
Here's a recent address for the Ghana Kumasi Mission. We try to keep this info up to date, but it's a good idea to check the address with several sources, including your mission packet or the mission office.
Ghana Kumasi Mission
Church of Jesus Christ of Latter-day Saints
P.O. BOX PMS KS 16333
Kumasi, GHANA
Phone Number: 233-24-350-0263
Mission President: President Michael L. Cosgrave
Ghana Kumasi Mission Map
Here's a link to the mission map for the Ghana Kumasi Mission (LDS). To access the official, up-to-date LDS.org map for the Kumasi Mission:
Log into your LDS account here.
Click here.
Videos with Ghana Kumasi RMs
Here are in-depth YouTube video interviews with returned missionaries from the Kumasi Mission.  We interview hundreds of returned missionaries each year, so check back regularly to see new RM interviews.

LDS-Friendly Videos about Ghana
Here are LDS-friendly educational videos about Ghana. We scoured YouTube to find the best quality videos about Ghana, that are free from inappropriate music, immodesty and profanity.
Ghana Kumasi Missionary Blogs
Here's a list of LDS missionary blogs for the Ghana Kumasi Mission. This list includes the missionary's name, URL and when their blog was updated.
*Send your missionary a gift (mission-specific shirts, ties, Christmas stockings/ornaments, pillowcases, etc.)
Ghana Kumasi Mission Groups
Here are Ghana Kumasi Mission Groups- for LDS missionary moms, returned missionaries, mission presidents and other alumni of the Ghana Kumasi Mission.
RMs from Ghana Kumasi Mission Facebook Group (49 members)
Men and Brethren Ghana Cape/Kumasi Mission Group (43 members)
Ghana Kumasi Mission T-Shirts
Here are T-shirts for the Ghana Kumasi Mission!
Shirt designs include Ghana Kumasi Mission logo/emblem shirts and Called to Serve shirts. The shirts make great gifts for pre-missionaries, returned missionaries and missionaries currently serving. LDS Mission shirts come in all sizes: Small, Medium, Large, Extra Large, up to 4XL.  The mission designs are printed on white shirts and are shipped to you.
*Simply click on a shirt design to view the details and submit an order. The designs on mission t-shirts may also be printed on other LDS mission gifts, including: Ghana Kumasi missionary aprons, Christmas stockings, ties, pillow cases, teddy bears and Christmas ornaments.
*Click here to browse Kumasi Mission gifts
---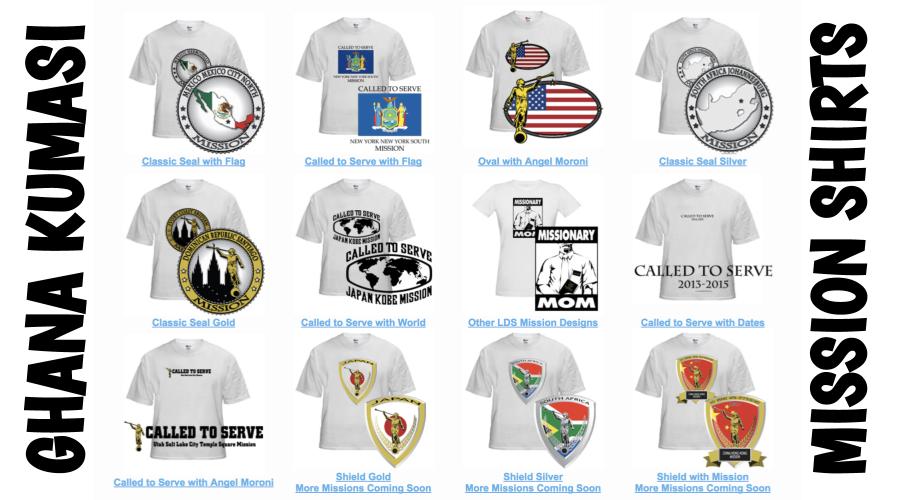 ---
Ghana Kumasi Mission Presidents
Here's a list of current and past Mission Presidents of the Ghana Kumasi LDS Mission.
2015-2018, Michael L. Cosgrave
2012-2015, Leon A. Holmes
Ghana LDS Statistics (2015)
Church Membership: 62,031
Missions: 4
Temples: 1
Congregations: 207
Family History Centers: 35
Helpful Articles about Ghana
Ghana Kumasi Missionary Survey
Here are survey responses from Ghana Kumasi RMs, to give you a snapshot into what it's like to live in the mission.
*Click here to take a survey to help pre-missionaries going to your mission.
When did you serve?
2016-2018 (Amaechi)
2013-2015 (Okwuolisa)
2014 (Okrah)
November 2012-June 2014 (Owas)
2012-2014 (Daniel)
2013 (Sarah)
2011-2013 (Prince)
2013 -2015 (Albugaste)
2013-2015 (Dino)
2013-2015 (Aaron)
What areas did you serve in?
Most of my mission was served in the Ashanti region, first to Offinso, Effiduase, Buokrom, Asokore Mampong, Obuasi, Sefwi Bekwai, Daban and Kronum. (Amaechi)
Bibian, Agric Nwamase, Kwahu Mpraeso, Agona Asamang and Asuyeboa Kumasi. (Okwuolisa)
Kumasi, Kwamo, Meduma, Sunyani, Tamale. (Okrah)
Kumasi. (Owas)
Bibiani, Techiman, Daban, Tamale. (Daniel)
Kwamo, Nkabeng, Tamale. (Sarah)
Sofokrum, Moree, Tech(ust), Suame and Nkawkaw. (Prince)
Sunyani, Mampong, Asamang, Efiduase and Khumasi. (Albugaste)
In order- Daban, Obuasi (different city), Suame (back in Kumasi), Buokrom, and Penkwase (Left Kumasi). (Aaron)
What were some favorite foods?
Banku with peppe, shito and fried fish. (Amaechi)
"Face the Wall" aka Kokonte, Tom Brown, Wakye. (Okwuolisa)
Fufu and kenkey. (Okrah)
Banku, rice, plantains, yams. (Owas)
Nothing at first. A month or so later, everything! (Daniel)
Rice with stew. (Sarah)
Fried rice and chicken, fufu, banku, ampesi, ga-beans (gari and beans, with fried plantain). (Prince)
Fufu, Banku and Apetie. (Albugaste)
Fufu. (Dino)
Apetie, fufu, rice. (Aaron)
What was a funny experience?
My most funny experiences were learning to speak the twi to the people,and as I make mistakes while trying to speak,we laughed at each other and good relationship begins. (Amaechi)
During my training in Bibani, we were walking to the apartment one hot afternoon for lunch, and a man rushed to us asking questions and my companion couldn't understand the language and told the man 'I can't speak Twi" and wanted to walk away, then I told my companion 'Wait! That's not Twi he was speaking, it was French.' 😉 (Okwuolisa)
Teaching an investigator in the hot sun in Tamale. (Okrah)
The way they speak their language while teaching and expect you to contribute to the lesson when you don't understand the language. (Owas)
Three apartments flooding. (Daniel)
Teaching in a different language that was I didn't expect. (Prince)
Falling of my bike😆 when I was green…Albugaste)
When Ghanian are respond to you when you greet them. (Dino)
Watching my trainer and two other Elders wrestle. But having fun doing so. (Aaron)
What was a crazy experience?
I did not have any, my mission was smooth. (Amaechi)
Teaching Muslims with fear of being beaten by other Muslims. (Okrah)
When thieves started going to the sisters apartments. (Owas)
Killing a goat, pig and chickens. (Daniel)
When my trainer and I went to teach an investigator. While greeting a man said traditionally, my companion should've started from the right and should've greeted our investigator first and we should've left, but my companion said we wouldn't leave because we were there for a purpose and when the guy heard that, he started to fight my companion and other people came around to stop him, because me- I was too lazy and too small to stop the man. (Prince)
My companion went into a well of water while helping a member to get water. (Albugaste)
When Muslim try to attack me and my companion. (Dino)
When a missionary in the same apartment as me, said he would beat, yes literally beat another missionary. (Aaron)
What was a spiritual experience?
Well a lot, but the common one was going to lay hands on a brother who has not been coming to church for weeks because of illness,and watch him stand strong on his feet after few hours that he received the priesthood blessings,and was in church the next Sunday, looking sound both in body and In spirit, I testify that the power of God is real and true. (Amaechi)
Baptizing an idol worshiper in Asamang (Bro. Opoku). (Okwuolisa)
In Sunyani when we taught a man in his home having a kneeling prayer. (Okrah)
Gaining more testimony about the Gospel and watching your investigator get baptized and get a calling, while you help them grow. The feeling is so wonderful. (Owas)
Finding prepared families ready for the Gospel! Character building days! (Daniel)
My first baptism. (Sarah)
Teaching with my trainer in an area that was white washed by the Mission President wasn't easy at all. One day my companion and I went out to proselyte and we met an investigator who used to say we worship saints, so that day when we were passing, he said come and convince me that you people don't worship Mermaid (a saint in Ghana), then I will join the church; and my companion and I read a scripture with him from the book of 1 Corinthians, and right there he was converted. (Prince)
While praying for our investigator, he felt the Spirit so much that he started to cry in front of us. My companion and I also started crying the when the Spirit was very present in its abundance. (Albugaste)
When Brother Francis get baptized. (Dino)
Testifying about The Book of Mormon to several investigators. (Aaron)
What are some interesting facts about the Kumasi Mission?
Well, Ghana Kumasi mission, I will say that the environs loves, welcome and entertain strangers, but you must be prepared to learn and speak their language which language is Twi. (Amaechi)
Having a companion with me 24 hours every day, every week, every month for two years. That's really, really interesting. (Okwuolisa)
The people are friendly. (Okrah)
The mission is difficult, investigators are easy to find but very difficult to baptize because of polygamous marriages. (Owas)
You only get runny tummy once, but it lasts two years. (Daniel)
We speak Twi frequently instead of English and eat a lot of fufu for FM. (Prince)
We struggle for food, lack of water and mosquitoes, but we survived just fine 😆. (Albugaste)
My mission covered most of all Ghana. From Kumasi northward. Probably one of the harder missions. (Aaron)
What was the weather like?
Hot, warm and cold based on what the weather choose to give, but you can find the three there all comes in their seasons. (Amaechi)
HOT!! (Okwuolisa)
Hot and very hot. (Okrah)
So so hot and dry. (Owas)
Hot and humid. Or hot and dry. (Daniel)
The weather up north is not cool at all. (Sarah)
Pretty much sunny, but sometimes it rains and floods overflow the streets. (Prince)
Hot , rains a lot and its humid. (Albugaste)
Very hot. (Dino)
Hot. Dry. Humid. Dry season, rainy season. (Aaron)
Any things you really like about the area/people?
One thing I love about them is that, they are loving, so passionate and ready to learn inasmuch as you are ready to understand them and their needs. (Amaechi)
It was the first time in my life seeing people who don't have much, and are happy, content and grateful for the little they have. It really humbled me. (Okwuolisa)
The people are very friendly and kind. They're easy to approach. (Okrah)
The language and culture. (Owas)
Everyone is friendly! (Daniel)
The food and the language. (Prince)
Very nice and receptive. (Albugaste)
They are lovely. (Dino)
All the people were and are, very hospitable. They give you more then what they could ever have. (Aaron)
Any packing/clothing advice?
Short sleeves shirts are best, forget about long sleeves. It's hot here all year round, and most importantly, get shoes as strong as a bulldozer. Thank me later. (Okwuolisa)
Not really. Just standard mission clothing. (Okrah)
Simple clothing and shoes. (Owas)
Bring as much candy as you can! Shaving cream/deodorant is available but expensive- pack that if you want. I never saw contact solution being sold. Everything else you just have to know where to look. (Daniel)
Not at all- it's kind of normal, but hot during summers, mind you during January to February you need a sweater and lip balm for when the wind blows a lot. (Prince)
It's a walking mission so you need 2 pair of shoes (strong ones). (Albugaste)
Clothing: nothing flashy. Keep it plain. You can also buy clothes there. (Aaron)
What blessings did you receive from serving a mission?
A lot of blessings, the most important ones are, discovering the gifts which I have from God that I never knew I had and so many others. (Amaechi)
Humility. (Okwuolisa)
A lot of blessings. Testimonies being strengthened, Gospel knowledge being improved and life plans moving on. (Okrah)
More knowledge of the Gospel, more Christlike attributes and more friends. (Owas)
Direction. Love. Testimony. (Daniel)
The Lord healed my allergies. (Sarah)
I learned how to render service, teach the Gospel with love and serve in responsible callings in The Church. (Prince)
Plenty I cannot count , my testimony of the Atonement is great. (Albugaste)
A better understanding of the gospel mainly. I see how much more blessed I am for what I have. (Aaron)
What are some skills you gained?
Goal setting, planning, good listener, to be out spoken, budgeting and more. (Amaechi)
Accountability. (Okwuolisa)
Teaching skills, good communication skills and analytic skills. (Okrah)
Learning to speak a new language, eating new food and having the skill to be able to talk to anyone no matter the mood they are in, meeting them, making them happy and becoming friends. (Owas)
Goal setting. Having drive. Speaking boldly. (Daniel)
Reading and planning skills. (Sarah)
Teaching skills and how to discern and respond to someone's concern. (Prince)
Hard work. . Communication skills. Leadership. (Albugaste)
 Job skills, many skills. (Dino)
How to hand wash, how to live with the little we have. (Aaron)
What do you wish you knew/did at the beginning of your mission?
I wished I knew the missionaries lessons and scriptures well, and also the Twi language. (Amaechi)
I wish I read The Book of Mormon cover to cover before coming to the mission. (Okwuolisa)
I wish I loved more. (Okrah)
Started learning the language on time. (Owas)
How fast it goes. Position doesn't mean anything. (Daniel)
Be prepared. (Sarah)
I wish I knew how to speak Twi before serving in the Ghana Kumasi Mission. (Prince)
How to speak twi (a native language). (Albugaste)
To learn the language. (Dino)
I wish I knew what I know about the gospel now. (Aaron)
Any advice/testimony for pre-missionaries going to Kumasi?
For me, I testify that missionary work is the work of our Father in heaven, He watches us, cares for us and leads us through the Holy Ghost, all you need do is to be humble, obedient and at all times and in all places to always let the will of the Lord to be done in all things and you will have a successful mission. (Amaechi)
Whoever you are, wherever you come from, JUST BE HUMBLE. (Okwuolisa)
Be like the people and try to have a big heart. (Okrah)
Do what is right at all times even when others think otherwise. Always know the reason you are there is to teach the Gospel and invite others unto Christ. (Owas)
Don't be scared. It's the best mission ever. Follow the white handbook. Be independently obedient. Look for families. Love the members. (Daniel)
Yes, there are great testimonies; You will learn to love the Ghanaian's fufu first and the language. Just enjoy by being friendly and loving to the place you are called to served. (Prince)
Serve with love.  (Albugaste)
Just be who you are and be obedient. (Dino)
Read, read, read "Preach My Gospel." Ghana Kumasi is a "Preach My Gospel mission." And as always, do your best. (Aaron)
What was a funny language mistake?
A new Elder from the USA didn't know the meaning of the Ghana name he gave to himself was goat, but he kept telling other missionaries that was his name, until we Sisters told him the meaning- the Elders didn't, they just laughed. (Owas)
Twe means see. (Sarah)
Twi Me ko , or ye ko I did not know the difference. (Albugaste)
Learning Twi. That is the language they speak. Plus English. All I can say, is learn their language. They listen to you more. (Aaron)