Free resources about the Ghana Accra Mission:
*Other Mission Pages: Ghana LDS Missions.
---
---
Ghana Accra Mission Address
Here's a recent address for the Ghana Accra Mission. We try to keep this info up to date, but it's a good idea to check the address with several sources, including your mission packet or the mission office.
Ghana Accra Mission
PO Box 2585 Main
Accra
GhanaPhone Number: 233-30-265-0167
Mission President: President Trevor T. Keyes
Ghana Accra Mission Map
Here's a link to the mission map for the Ghana Accra Mission (LDS). To access the official, up-to-date LDS.org map for the Accra Mission:
Log into your LDS account here.
Click here.
Videos with Ghana Accra RMs
Here are in-depth YouTube video interviews with returned missionaries from the Accra Mission.  We interview hundreds of returned missionaries each year, so check back regularly to see new RM interviews.
LDS-Friendly Videos about Ghana
Here are LDS-friendly educational videos about Ghana. We scoured YouTube to find the best quality videos about Ghana, that are free from inappropriate music, immodesty and profanity.
Ghana Accra Missionary Blogs
Here's a list of LDS missionary blogs for the Ghana Accra Mission. This list includes the missionary's name, URL and when their blog was updated.
*Send your missionary a gift (mission-specific shirts, ties, Christmas stockings/ornaments, pillowcases, etc.)
Ghana Accra Mission Groups
Here are Ghana Accra Mission Groups- for LDS missionary moms, returned missionaries, mission presidents and other alumni of the Accra Mission.
Ghana Accra Mission T-Shirts
Here are T-shirts for the Ghana Accra Mission!
Shirt designs include Ghana Accra Mission logo/emblem shirts and Called to Serve shirts. The shirts make great gifts for pre-missionaries, returned missionaries and missionaries currently serving. LDS Mission shirts come in all sizes: Small, Medium, Large, Extra Large, up to 4XL.  The mission designs are printed on white shirts and are shipped to you.
*Simply click on a shirt design to view the details and submit an order. The designs on mission t-shirts may also be printed on other LDS mission gifts, including: Ghana Accra missionary aprons, Christmas stockings, ties, pillow cases, teddy bears and Christmas ornaments.
*Click here to browse Accra Mission gifts
---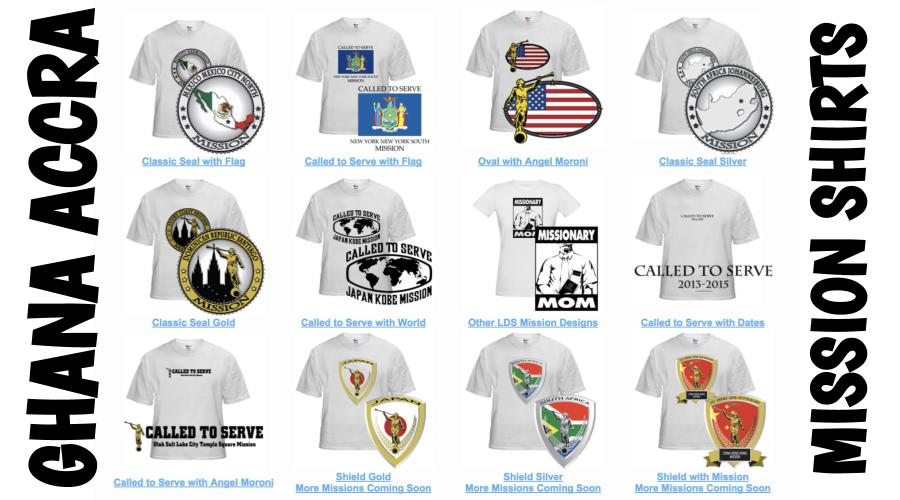 ---
Ghana Accra Mission Presidents
2017-2020, Trevor T. Keyes
2014-2017, David Louis Heid
2011-2014, Daniel K. Judd
2007-2009, Joseph Wayne Brockbank
2004-2006, Robert C. Gay
2002-2004, John C. Riding
2000-2002, Duane Arnold Hoem
1997-2000, Larry Bodhaine
1995-1997, Larry B. Duke
1992-1995, Christopher N. Chukwurah
1991-1992, Grant Gunnell
1988-1989, Gilbert Petramalo
Ghana LDS Statistics (2015)
Church Membership: 62,031
Missions: 4
Temples: 1
Congregations: 207
Family History Centers: 35
Helpful Articles about Ghana
Ghana Accra Missionary Survey
Here are survey responses from Ghana Accra RMs, to give you a snapshot into what it's like to live in the mission.
*Click here to take a survey to help pre-missionaries going to your mission.
When did you serve?
2010-2012 (Jordan)
2007-2009 (Hope)
2002-2004 (Pascaline)
2002-2004 (Shane)
2000-2002 (Nnamnso)
1999-2001 (Adam)
1992-1994 (Kelvin)
1987-1989 (Afran)
Which areas did you serve in?
Mataheko, McCarthy Hills, Ho, Adenta, Dodowa. (Jordan)
Abomosu, Kade, Sankubenase, Amunum, Asamankese. (Hope)
Accra, Cape Coast, Mankessim, Koforidua, Asamankese, Kumasi, Oda, Accra. (AP). (Shane)
Nsawam, Dansoman, Koforidua, Liberia, Kumasi, and Korle Bu. (Nnamnso)
Accra-Lebanon, Nugua, Mateheko, Cantoment, Kola Bu and Kwabeng. (Ebenezer)
Accra, Cape Coast, Takoradi, Koforidua, Osino etc. (Kelvin)
1st Osino 2nd Abomosu, Osino, Cape Coast, Accra, Tema, Sekondi. (Afran)
What were some favorite foods?
RED RED!!! Fufu was also great. Jollof rice. (Jordan)
Yam and beans, fufu. (Hope)
Fried Plantain. Fried Rice. Jollof Rice. (Pascaline)
Fufu, jollof rice,omo tuo, light soup, best chop bar was Akos chop bar asamankase. (Shane)
Banku, Aponchi, Kelewele, Groundnut soup, and Abeng Kwan. (Nnamnso)
FuFu, Banku. (Adam)
Banku with okro stew and fufu with palm nut soup. (Ebenezer)
Banku with okra soup, fufu and light soup with goat meat. Rice. (Kelvin)
Rice and beans stew. (Afran)
What was a funny experience?
During a lesson an older drunk man walked by and grabbed onto my nose and held on for like 10 seconds and then just walked off. It wasn't like a violent grab, he was just kinda holding it. So awkward. (Jordan)
A man said I am a white man in a black man body. (Hope)
Trying to speak Twi. (Pascaline)
While tracting, I and my companion accidentally ran into a poll on the street as we discussed our next move after a failed appointment. It was really funny. (Nnamnso)
Not having running water for six months. (Adam)
Going to the beach on preparation day to kill pigs and play football. (Ebenezer)
If we don't teach the missionary discussions to any investigator for 2 to 3 days in sequence, my senior companion often requests us to fast and pray to seek the spirit of the Lord and his guidance to bring those he has prepared to be taught. Birthdays of my companions(Kelvin)
What was a crazy experience?
I was getting out of a tro tro and I opened the door and a motorcycle slammed into it. There were three people on the motorcycle. They were all fine but a crowd started and they were saying I should be taken to jail. We ended up taking the three people to the doctor. The doctor loved missionaries (Americans really) and so he didn't charge us and he calmed down the people who were on the motorcycle. (Jordan)
When we ride from Kpong to Akosombo. (Hope)
As my companion and I passed by a taxi, a robber inside the taxi snatched her proselyting bag and the taxi took off. (Pascaline)
Kumasi to Accra in 3 hrs! Supply elders did it in 2 1/2! (Shane)
My companion and I got caught up by anti-terrorist units in Liberia on a preparation day and were detained for several hours. (Nnamnso)
Flash flood in town of Adenta. (Adam)
That when I was hit by a car twice- in my first area and my last, but one area I was hit by a military car. (Ebenezer)
My Senior companion and I were physically attacked by a pastor of another church for sharing the restored gospel of Jesus Christ. It was my first month on my mission. I had to go between my companion and the attacker to separate them and calm the situation down. I then bore my solemn testimony of Jesus Christ and his church once more restored on earth. (Kelvin)
That was when I had a serious accident at Osino. I was knocked down by two cars. What I saw was at the hospital when the nurses were stitching a cut at my back. There was no phones but a car was sent from Accra to take us. After a week, we came from Accra and started proselytize again. (Afran)
What was a spiritual experience?
My companion and I were teaching a man in mataheko. I feel like the only reason he needed us was for arranging the baptism. He was so prepared and spiritual already. He was baptized but his wife started to hate The Church. We'd go over and talk to her and meet with her but she continued to yell at us. She told her children they couldn't go to church either but they'd sneak out to join their father. I remember putting down her story in the area book and hoping for the best. About a year and a half later I saw them at a conference and they told me they were scheduling their family sealing. She said she was so impressed by our persistence and care for her. (Jordan)
A new missionary from the USA spoke in tongues. He spoke Twi to a woman who couldn't speak any English. (Hope)
One of my companions went to wait for our investigator's father, who was blind at the bus stop so we could help him go home. (Pascaline)
Temple dedication and open house. Meeting elder Nelson. (Shane)
For spiritual experience I had many, but while still with the anti-terrorist units in Liberia, we were filled with the Spirit as we talked to them and we could feel the Spirit present with us and that was what saved us from the unit on this very day as we bore our testimonies of the gospel and the divine son ship of the Savior Jesus Christ. (Nnamnso)
Converting a Muslim who became part of a branch presidency. (Adam)
Going to the temple every transfer and meeting with General Authorities for instruction. (Ebenezer)
The visit of Apostles Richard G. Scott, Russell M. Nelson 1992. The visit of President Gordon B. Hinckley of the first Presidency 1993. (Kelvin)
At Abomosu, we were to have a white baptism in December, we were to go for some of our candidates in a nearby village and there was no car at the station so I told my companion that we should go home not knowing why. As we left the station, a driver with a car called us and took us to the village. We meet with the candidates and there was no car to return. We played and within some few minutes a car came, picked us up and had a wonderful baptism. (Afran)
What are some interesting facts about the Accra Mission?
At the time the mission spanned at least five different languages. The mission contains the headquarters for The Church in West Africa. (Jordan)
Some people do not understand English. Sometimes there is no water or gas, but it's easy to have someone to teach. Most cars in town have written on them something about Jesus. (Pascaline)
Ghana Accra Mission covered three countries at the time. (Nnamnso)
I opened the area called Konongo with my companion. (Adam)
I went on my mission just after the freeze of the church in Ghana. A lot of media propaganda targeting the church was in wide circulation. Missionaries were frequently being attacked by anti-Mormons. The mission was freeze for two years and missionary were sent home but the freeze was lifted again and I was among the first set of foreign missionaries to Ghana. (Kelvin)
What was the weather like?
Either rainy, hot or really dry. There's a rainy season that is cool when it rains but the moisture in the air intensifies the heat every other day. The dry season is much cooler but expect A LOT of dust. (Jordan)
Normal. (Hope)
Sunny and hot. (Pascaline)
Hot n humid! (Shane)
It was temperate. (Nnamnso)
Hot 24/7, 365 days. (Adam)
Hot in the dry season and cold in the raining season. (Ebenezer)
Dry and hot. Sunny. (Kelvin)
It was still Ghana weather. (Afran)
Any things you really like about the area/people?
Very relaxed people (although it does frustrate you when extending commitments) Kind. Generous. Life is very simple there. It's rough for a lot of people, but it's simple and I loved that. (Jordan)
They are prepared by God. (Hope)
People are friendly and receptive to the gospel. We did not have to try hard before getting people to teach. We could even teach the taxi driver while we are having a ride. (Pascaline)
The most loving, kind, generous and happiest people you'll ever meet! (Shane)
It was wonderful meeting people of another culture that accepted me and my own culture. (Nnamnso)
The love they had for us. (Adam)
The people love the gospel and 95% of them will let you come to their homes. (Ebenezer)
I love the Country and the people, most especially members of the church for their hospitality often extended to missionaries. Their hospitality and reception. (Kelvin)
Most of the places were new places (group). Which means the work there was hard unlike that of the cities. (Afran)
Any packing/clothing advice?
As cool as mesh sounds, it is NOT cool. I would HIGHLY suggest bringing a battery operated fan and a lot of batteries. (Jordan)
Bring few simple dresses only. You might not have the opportunity to put on suit. The weather is too hot for that. The place is very dusty, so plan footwear or shoes accordingly. I gave out all the nice and too "dressy" clothes I brought from home to people and got myself some second-hand but not to worn out dresses. (Pascaline)
Lots of white shirts! (Shane)
Light clothing will be fine as the weather can be very hot. (Nnamnso)
You don't need a wash board if they still tell you to bring one. It's easy to wash by hands. (Adam)
We were not using cars but bicycles. But our clothes were always clean. White shirts were worn once and when washing, we use hot water. (Afran)
What blessings did you receive from serving a mission?
Better understanding of the gospel. A perspective of what Africa really is. It helped me change my lifestyle, I was 300 lbs in high school. It's four years after the mission and I still hang around 220 lbs. (Jordan)
Five months after my mission, I got married. (Hope)
There are so many. I will only say few. I understood more about the atoning sacrifice and the love of the Savior for me. I learned to recognize his voice through the ministering of the Holy Ghost. I'm disciplined and obey easily the principles I taught. I'm strong and spiritually self reliant. I'm a good speaker. I'm bilingual. I know how to make people feel good about themselves. I can tolerate any kind of nonsense if I want to. (Pascaline)
Too many to count! (Shane)
The blessings that I have received are numerous. But I have been blessed to know that after this life, I have hope of the First Resurrection when the Savior comes, through my faithfulness to His word. (Nnamnso)
Knowing that it was not about me but about the people I was there to serve. (Adam)
The blessings are many, but the one that stands out to me is the courage to face life challenges. (Ebenezer)
My full time missionary work bless my life and the lives of my family. I have been with a wonderful family and a good job to provide for my family and help other church members. (Kelvin)
More blessings. I had leadership skill and also open mind and also been a good father. (Afran)
What are some skills you gained?
Leadership, teaching, bartering, sweating. (Jordan)
Giving short lessons, planning. (Hope)
I can now speak English. I'm comfortable speaking in public. I can convince easily. I can walk fast. I set goals and make plans. (Pascaline)
Listening skills, Communication skills, Service, Leadership skills, and Humility. (Nnamnso)
I learned to share my testimony in their native language Twi. Also learned how to live without electricity and running water. Also how to fix everything. (Adam)
Leadership skills. (Ebenezer)
Leadership skills. The ability to speak in public and be a leader while others follow. (Kelvin)
How to lead. Serving in new areas has really helped me to organized groups into branches. (Afran)
What do you wish you knew/did at the beginning of your mission?
Keep it simple. Lessons should be as simple as possible. Also, when doing commitments always use "will you.." (Jordan)
Opened my mouth. (Hope)
I wish I knew about the pioneers' experiences. I would not have complained about the sun and the food. (Pascaline)
Learn the Twi language and be endowed at the time. (Nnamnso)
Contacting people, but I learned that at the beginning of my mission. (Ebenezer)
I wish to have known about the culture, tradition and custom of the people I would be serving. (Kelvin)
It was bad for me because even when I was posted to my first assigned area, I didn't know much. I humbled myself and learned. (Afran)
Any advice/testimony for pre-missionaries going to Accra?
Be simple, be sincere. Ghanaians are very good at sensing when someone is "preaching". Be sincere and say what you mean. (Jordan)
The field is white. (Hope)
You might hate the food and/or the sun at the beginning of your mission. There might be mosquitoes and shortage of water or power problems, but know that all of those will give you experience. Focus on the Lord and the people He has sent you to serve. Don't give in for distraction. The Lord will be by you and you will start feeling his love and presence once you FORGET YOURSELF. (Pascaline)
"Forget yourself and go to work!" (Shane)
"Where ere thou art, act well thy part" – David O McKay. (Nnamnso)
Remember it's only for 2 years. Return with honor. (Adam)
It is very important for them to start proselyting with the full-time missionaries in their wards so that they will eliminate their fears and have faith in Jesus Christ all the time. (Ebenezer)
Missionaries have to prepare their mindset and focus on the work. After all, what a missionary can do, it all depends on the Spirit. If they live the mission rules, study the standard works, pray often, there will be no end to what the can achieve. When I was on my mission, I used to read 5 to 10 chapters from the Book of Mormon every night before going to bed. One blessed evening, I went into a trance. Indeed, the Spirit I felt and the experience was beyond human description. The experience strengthened my testimony in the restored gospel and richly blessed my life. Be polite to people, and try to speak some few words in the local language. (Kelvin)
I advise that those preparing for mission should learn the gospel very well… especially Preach My Gospel. Contacting, knocking at people's doors is now the thing of the past. Nowadays, missionaries don't do this. They only teach referrals. When missionaries serve well, they receive full blessing from God. (Afran)
What was a funny language mistake?
We had a Ghanaian in one of our apartments who couldn't speak Twi but said he understood it. There was a lot of yelling outside of our apartment and someone was holding up a white sheet that had a stain on it. He told us the yelling was about a beating that had happened and the sheet was proof. Turns out someone accidentally knocked the sheet in the mud and his parents weren't happy. (Jordan)
Me pe wo se wu ba asori. Which means, I love to come to church. (Hope)
I used to say "moustiquoes". Also speaking Twi is funny. (Pascaline)
Elder Ainge told a kid he was going to eat him. I don't remember what he was trying to say. (Shane)
I accidentally called some goat balls in their language according to my companion who was a native. (Adam)
Learning the local Twi language brought foreign missionaries closer to the people. It provided profound opportunity to share the gospel. Locals were excited to hear a foreigner learning to speak the local language. How to ask the prices of items. (Kelvin)
There was a farm at Abomosu and there were farm missionaries, they were to be integrated into full time missionaries. They were prepared and the Mission President came to interview them. The Mission President interviewed the first person and the answer was no, no, no. The second person came and the first question was answered no and the second question was, you mouth looks black, do you smoke? Not understanding this he answered yes. This got the Mission President angry and took his car and left. (Afran)