Free resources about the Germany Munich Mission:
*Other Mission Pages: Germany LDS Missions.
---
---
Germany Munich Mission Address
Here's a recent address for the Germany Munich Mission. We try to keep this information up to date, but it's a good idea to check the address with several sources, including your mission packet or the mission office.
Germany Munich Mission Map
Here's a link to the mission map for the Germany Munich Mission (LDS). To access the official, up-to-date LDS.org map for the Munich Mission:
This mission no longer exists. See LDS Missions in Germany.
Videos with Germany Munich RMs
Here are in-depth YouTube video interviews with returned missionaries from the Munich Mission.  We interview hundreds of returned missionaries each year, so check back regularly to see new RM interviews. Coming soon..
Videos about Germany
Here are LDS-friendly educational videos about Germany. We scoured YouTube to find the best quality videos about Germany, that are free from inappropriate music, immodesty and profanity.
Germany Munich Missionary Blogs
Here's a list of LDS missionary blogs for the Munich Mission. This blog list includes the missionary's name, URL and when their blog was updated.
*Send your missionary a gift (mission-specific shirts, ties, Christmas stockings/ornaments, pillowcases, etc.)
Follow blogs of the Alpine German-Speaking Mission.
Germany Munich Mission Groups
Here are Munich Mission Groups- for LDS missionary moms, returned missionaries, mission presidents and other alumni of the Munich Mission.
Germany Munich Mission T-Shirts
Here are T-shirts for the Germany Munich Mission!
Shirt designs include Germany Munich Mission logo/emblem shirts and Called to Serve shirts. The shirts make great gifts for pre-missionaries, returned missionaries and missionaries currently serving. LDS Mission shirts come in all sizes: Small, Medium, Large, Extra Large, up to 4XL.  The mission designs are printed on white shirts and are shipped to you.
*Simply click on a shirt design to view the details and submit an order. The designs on mission t-shirts may also be printed on other LDS mission gifts, including: Germany Munich missionary aprons, Christmas stockings, ties, pillow cases, teddy bears and Christmas ornaments.
*Click here to browse Munich Mission gifts
---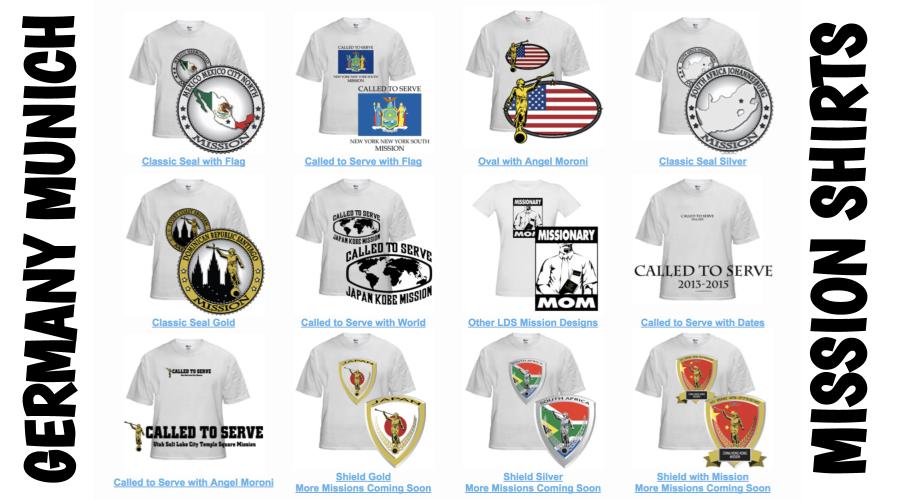 ---
Munich Mission Presidents
Here's a list of current and past Mission Presidents of the Munich LDS Mission.
2008-2011, Robert Gideon Condie
2005-2008, Holger Rakow
2002-2005, LeRoy S. Wirthlin
1999-2002, Laurence A. Harker
Germany LDS Statistics (2016)
Church Membership: 39,726
Missions: 3
Temples: 2
Congregations: 166
Family History Centers: 111
Helpful Articles about Germany
Germany Munich Missionary Survey
Here are survey responses from Germany Munich RMs, to give you a snapshot into what it's like to live in the mission.
*Click here to take a survey about your mission.
When did you serve?
1992-1994 (Nate)
1991-1993 (Fred)
1976-1978 (Doug)
1973-1975 (Luva)
1997-1998 (Johanna)
2000-2002 (Shawn)
2000 (Carl)
2000-2001 (Sara)
1983-1985 (Anonymous)
1980-1982 (David)
1979-1981 (Don)
1978-1980 (Cheryl)
What areas did you serve in?
Innsbruck, Pforzheim, Heilbronn, Augsburg, Muenchen. (Nate)
Freiburg. (Fred)
Crailsheim, Ludwigsburg, Augsburg, Reutlingen/Tübingen. (Doug)
Freiburg on der Taube, Karlruhe, Stuttgart, Munich. (Luva)
Munich, Karlsruhe, Stuggart. (Cheryl)
What were some favorite foods?
Brautwurst, Spaetzle, Sauerkraut, Rotkohl. All the bread. (Nate)
Döner Kebabs, Schnitzel, Spätzle, Semmel Knödel, Pretzels, Brötchen, Quark. (Fred)
Spätzle. (Doug)
Bockwurst. lebkucken. cheesecake. hot German potato salad. (Luva)
Doener, Spaghetti Eis, Schokolade (of course), Mahltaschen, Spaetzle, Bretzeln mit Butter, Trinkjogurt. (Johanna)
Maultaschen, Rouladen, Käsespätzle, Döner Kebap. (Shawn)
Bratwurst from the street vendors, Quark dessert with strawberries, Roladen, Döners, and Lebkuchen at Christmas. (Sara)
Bratwurst, apfelschorl. (Anonymous)
Spätzle is right up at the top of the list, but I liked most everything. Including the stuffed pig's stomach we were served in one area on one occasion, although it made me a little queasy to think of what it actually was as I was eating it. I loved Curry Wurst, as well, which we would buy from a stand in the Fußgängerzone in Kaufbeuren. And nowadays, one of my favorite 'German' foods is Döner Kebab, which you can get right here in Salt Lake City at a place called Spitz. (David)
Bozna's. (Don)
All German food was good (except cake with spider webs on it). (Cheryl)
What was a funny experience?
Our apartment in Heilbronn was on 4th or 5th floor and had a window to the room. We would go out and sit on the room looking at the city at night or early in the morning. Another was when my companion crashed his bike riding over the white markings of a crosswalk in the rain. (Nate)
When Sister Meixner in Freiburg asked my name I thought she asked how old I was so I said 19. She called me Elder Neunzehn after that. (Fred)
Was exiting a train near Stuttgart and my foot got clamped in the door- one foot on the Bahnsteig- and one stuck in the pneumatic train door! Ganz böse Schafner! (Doug)
I was proposed to by a stranger on the street. (Luva)
Once my companion and I were sitting on a bench eating lunch when an old lady, bent over with age yelled at us from a distance, calling us names and cursing us for being in her city. It may sound horrifying reading this, but we just laughed. (Johanna)
At Christmas, everyone at the Ingolstadt Ward party wanted to hear some American Christmas songs. Neither I nor my companion were very good singers. My companion refused to sing. I didn't want to disappoint, so I sang Jingle Bells at the top of my lungs. It was a big hit. (Shawn)
Eating snails for the first time and also getting stranded at a train station for two hours in the middle of nowhere. No houses to tract, and the Elders had told the family that had come to pick us all up that we weren't going to be coming, so they had already left the station. We didn't have a phone, so we spent the next two hours taking random pictures at the train station. And giving the Elders a major guilt trip when the family brought them back to catch the train home. (Sara)
While volunteering with kids in Bamberg at a walkathon type event, I was given an opened Schnaps to drink. No one around knew I was Mormon, but I didn't drink it. (David)
Handlebars came loose on my bike, road off the pavement, front wheel buries itself in mud and I go flying like Superman into the muck. (Don)
We were tracting, knocked the door of a very tired firefighter. My companion was fairly new to our mission. She wanted to tell this man about the Book of Mormon. Instead of saying "it's the story of the people in old America" she told him "is the story of the old people in America". I couldn't help but burst into laughter and I could not stop. (Cheryl)
What was a crazy experience?
I was riding my bike in Innsbruck when a car came along side me. My pedal scraped the car door/fender as it passed by too close. (Nate)
Driving on The Autobahn with Elder Jarman, and using the passing lane. (Fred)
Following the stoplights, my companion and I proceeded with traffic to cross an large intersection. A car coming crosswise was not stopping. I tried to stop, and watched as the car stopped barely a foot from me. It stopped without a screech of tires or even slowing down beforehand. My companion called out from behind. She was fine. We were thus left unhindered to continue. (Luva)
While I was training a new missionary, we were almost late coming home. We had to run from the subway stop to our house to make it on time. As we ran, a man from behind us called out in English: "Hey! Sisters! Wait!" I looked back. It was a man we didn't know. I told my companion we needed to go home, and continued to run, but she stopped. She started walking toward the man, so I had to go with her, but she protested. When we got near the man, he grabbed my companion. I grabbed her and tried to rip them apart. Finally, we broke loose and sprinted home. Luckily, he didn't follow us. The Lord was watching out for us that night, because I'm sure that man could have taken both of us if angels hadn't have been helping. (Johanna)
I was in a companionship with three elders around Christmas time when it gets dark by 4:00 P.M. and we were trying to keep tracting knocking on doors. People were answering the door with scared looks on their faces or looking like we had roused them from bed. Finally the police showed up and asked us for our papers. My one of my companions had left his Geistlicher Ausweis in the apartment. We didn't know what was going to happen to him. He was able to talk his way out of it by agreeing to go home for the night. (Shawn)
I was on an exchange with a member. We were crossing a fairly busy street and it was dark. We had gone to the streetlights and crossed there, but there was a car that came around the curve really fast. He didn't see us. I made it to the curb (he missed me by inches), but the member was struck and killed. There were a ton of miracles and tender mercies that we found out only after the fact, but it was made very clear that the Lord had been making arrangements to bring that Sister home for awhile. And her situation on earth was such, that this truly was a tender mercy for her. Strange to say, but true. (Sara)
A lot of late night tracting in Turkish immigrant areas. (Anonymous)
T-boning a drunk German in his Mercedes. (Don)
We got invited into an old part of one of the cities. It was the red light district but we did not know that. We got chased into a train by a drunk man certain that we were prostitutes and he wanted to join in the "party." (Cheryl)
What was a spiritual experience?
I remember the day I learned that the gift of tongues was real when as a greenie I could understand Tirolish better than a native speaker, and we had a three-way conversation where I translated Tirolish to a German missionary so he could teach the investigator only I could understand. (Nate)
Last night of my mission- a sweet lady had read the Book of Mormon- when challenged for baptism she responded: "I was wondering how I could do that?" (Doug)
We had an interesting visit with a gentleman who had recently lost his wife. He wanted spiritual help raising his 2 young children. So he wanted us to come back and tell him more. As we left the apartment and got back to the street, both my companion and I were impressed that he would someday become a Bishop. (Luva)
We taught a man from Africa who recognized us on the street as people from the same church that he had seen in his home country. He loved everything we taught him about the Gospel. We had to teach him in English and it was very difficult to do. Another time, I was asked to give a blessing of comfort to a widow who was in her sixties. She says I told her things I shouldn't have known anything about. I believe I was guided by the Spirit. (Shawn)
I was in a small town with my companion. We were contacting in the Stadtmitte. I went up and spoke to a lady. She heard my accent and asked where in America I was from. When I told her Southern Utah, she got all excited, because she had visited Zions, Monument Valley and that whole area. When I said, "yep, that's where I am from"…she looked at me and I looked at her, and we were both suddenly overwhelmed with a feeling of love from the Lord. Her eyes got big, and we both had tears in our eyes. I grabbed her hand, and said, "Did you feel that?" She just nodded. I bore my testimony to her right there that the Lord knew whatever it was she had been searching for, and that we had the answers. I've never felt so strongly the love that the Lord has for our brothers and sisters as I did at that moment. He had let me have a taste of what his perfect love feels like. Words really can't describe it, but it was one of the most amazing experiences of my life. (Sara)
Healing a near-death woman. (Don)
What are some interesting facts about the Munich Mission?
My mission has changed several times and added many new areas. (Nate)
It was very beautiful there. (Fred)
It had one of the lowest baptismal rates. But the members were very supportive. (Luva)
As far as I know, no one who I found was ever baptized. I taught two people who were baptized while I was serving in their area. We had 200 missionaries and had about 100 baptisms each year. One per companionship on average. But some companionships baptized more than one person per year. (Shawn)
There's an old dialect called Bayrisch that they speak in the country in Bayern. It's the hardest thing to understand, but fun to learn some of the little sayings. Also, Germans all come off kind of grumpy. They don't talk to people they don't know, and keep to themselves, so it can be a little intimidating. But they really are the warmest and sweetest people once you get past the surface. They don't open up immediately, like a lot of us Americans. It can take some real persistence to get past that outer crust, but they are absolutely wonderful people. (Sara)
Most baptisms were in the American military wards and immigrants. (Anonymous)
Where the Sound of Music was filmed (Salzburg ). (Don)
What was the weather like?
Winters were cold, but not as much snow as Utah. (Nate)
Same as we have here in WA State. (Fred)
Rain, rain, rain. (Doug)
Mild four seasons. (Luva)
Very wet and cold in the winter. I could never put enough layers on to feel warm. Very hot and muggy in the summer. I would sweat through everything all the time. (Johanna)
It rained almost constantly for most of the year. I don't remember it ever getting very hot. The winters were brutal, though. Missionaries spend hours at a time outside. I used to hold my gloved hand over my ears in between talking to people. It was the first time I'd ever been so cold that my lips wouldn't work right making it difficult to talk. (Shawn)
Warm and humid in summer, Wet and cold in the winter. It gets dark at like 4 pm in the winter time, but in the summer it stays light until sometimes 10 pm. (Sara)
Humid and rainy. (Anonymous)
Not much different from the weather in Utah aside from it being more humid, which I noticed in the summer. I remember riding bikes past a large forest between Kaufbeuren and Neugablonz and feeling a noticeable coolness in proximity to it. (David)
Cold. (Don)
Cold in winter, very damp. At night, we would come home after tracting and our hair would be frozen. Hot in the summer. Fall was great, very pleasant for riding our bikes, etc. I really loved the fall. (Cheryl)
Any things you really like about the area/people?
Many were kind even if they weren't interested. (Nate)
Very nice people. Beautiful area and just enjoyed the culture. (Fred)
Warm wonderful people! (Doug)
They showed a lot of respect for the missionaries in spite of them being Americans. American servicemen had been around since WW2 and were dirty, inconsiderate, thoughtless. It left people there with a very bad impression. But they often told us, "You are not like them. Why are you different?" (Luva)
Most people were very nice and great to talk to. Most of them have zero interest in talking about religion and those who do are mostly open-minded people who want to learn about other people and their beliefs, but who don't want to act on them. The food was awesome. The music was awesome. Walking through the forest in places like Waldkraiburg was amazing in the spring and summer. Riding a bike to a tiny village is like going back in time. (Shawn)
Everything except all the nasty advertisements that were literally everywhere. Sometimes you just have to keep your eyes on the sidewalk. Great food, beautiful scenery and architecture, fun people…what's not to love? (Sara)
Fabulous history, food, technology, art. (Anonymous)
Beautiful towns and surroundings. I like that they appreciate their history and take special care to preserve their past. We Utahns could learn a lot from them. (David)
Honest, hardworking people in the most beautiful place. (Don)
I loved every aspect of my mission. It was the hardest thing I had ever done, but I loved it, even the parts I would never want to experience again. (Cheryl)
Any packing/clothing advice?
Good coat and gloves. (Nate)
Keep an eye on your luggage and don't assume your companion is keeping track of it when you unsteig. (Fred)
Dress for rain and 40 degrees. (Doug)
As a sister, our clothes could get boring, sort of. So lots of tops and skirts that can mix and match is the best idea. We were told to bring "suits." But if they are not comfortable, they will never get worn. (Luva)
Figure out how to keep your legs warm. I wore sweat pants under my suit pants. You will never have space for all the stuff you want to keep. Pack light. (Shawn)
Warm coats for winter. You are outside a lot! I would recommend a nice wool dress coat. And don't bother trying to use the power converters for your electric stuff like shavers or blow dryers. Just buy those when you get there. The conversion never works very well. (Sara)
Leave the books at home and buy very good shoes. (Don)
Don't buy expensive boots to take with you for winter, instead buy them there. Don't buy a sparkly bike, buy a black bomber, it'll last much longer. (Cheryl)
What blessings did you receive from serving a mission?
I converted myself and a few others along the way. (Nate)
Learned to love people from different walks of life and circumstances. That God loves them all. (Fred)
The Mission Training Center of my life. First truly challenging experiences of my life-a preparation for everything else since. (Doug)
A great love for God's children all over the world. There can be cultural differences. But all have a love for their families and can be very devout in their beliefs in God. (Luva)
Learning a new language has been great. Learning how to be patient in almost any environment has really helped me. (Shawn)
Wow, too many to name. But one really big one is that I have been able to do genealogy and family history work that, had I not known the language and culture, I never would have otherwise been able to do. My dad's side is German. I have learned about two half-brothers of my dad that even he didn't know about, but who were both born in Germany as well. But it never would have come to light if I didn't know the language so well. (Sara)
Too many to list. (Don)
Every day, even now, I am so grateful for my mission. It gave me love for gospel, love for the Savior, love for family, humility for family who paid for my mission, etc. (Cheryl)
What are some skills you gained?
Courage. Dedication. Hard work. (Nate)
Speaking German. (Fred)
Patience. Endurance. Faith. (Doug)
How to strike up a conversation with just about anybody. (Luva)
I learned to talk to almost anyone and quickly build rapport. This has helped me throughout my life. I also learned to work hard even when I don't want to. Many people struggle with that. (Shawn)
Persistence. Germans are not like South Americans- lining up to be baptized. They are very suspicious of religion and it takes a lot of patience and love not to get frustrated at how slowly they sometimes progress in the gospel. There are the rare "golden" investigators, but for the most part, it took a lot of genuine love and work and study before any of our investigators joined the church. So don't get discouraged. Also, you have to develop a bit of a tough skin. Surprisingly, not everyone over there likes Mormon missionaries (hear the sarcasm?) so you have to learn to love those people that are mean to you and not let their comments and insults get under your skin. Also, cooperation. Companion 24-7-365. Need I say more? (Sara)
Speaking German. (Anonymous)
I use German in my employment today as a genealogist working for Henning Schröder, an heir-tracing firm in Germany. (David)
German language, lost the fear of speaking with people. (Don)
Confidence, leadership, communication, teaching, biking, talking in public, etc. (Cheryl)
What do you wish you knew/did at the beginning of your mission?
To really treasure the time you have. I had to go home sick 19 months in. I wished I could have stayed longer, but it wasn't in the plans. (Nate)
Had a better sense of urgency. (Fred)
Follow the Spirit. (Doug)
We were not taught well how to follow spiritual promptings. That could/would have made lots of difference. (Luva)
It's all between me and the Lord. I don't need to worry about what other missionaries do, say, or expect of me. (Johanna)
I wish I had paid more attention to my trainer. I spent the first six weeks just trying to keep up. (Shawn)
That bringing souls to Christ in Germany is a tough process. I am not a very patient person, so I kept wanting to just push and push so they would get it! But that's not how Germans work. Slow and steady. Steady. Steady. Keep getting them to feel and recognize (especially recognize) the Spirit, show them your genuine love for them, and you will see miracles. (Sara)
I wish I'd been a bit more mature. (David)
The discussions and language. (Don)
How hard it would be. (Cheryl)
Any advice/testimony for pre-missionaries going to Germany?
Have a strong testimony as the German people are challenging to teach. I believe they are spiritual, but not religious. It is tough to reach them, but you have to try. (Nate)
Follow the Spirit. (Doug)
Be patient but persevering in learning to speak the language well. The German people have a much higher first impression if you at least try to communicate in their language. (Luva)
Germany is awesome. Be patient. Germans don't like to change very quickly. But they can change. Don't get impatient and don't give up. You're making a difference. (Shawn)
Be obedient. Can't stress that enough. And just embrace the cuddly grumpiness that is a German. Embrace their culture and their history. Lose yourself in the people and the work. (Sara)
Work hard and you'll never have regrets. Always follow the Spirit and never doubt. (Don)
Take it one day at a time. Do your very best that day then leave it behind to prepare for next day. Love the Savior, love the people, love your companion. Pray all the time. Be thankful to your family for helping you be there. (Cheryl)
What was a funny language mistake?
Heisse Maronis…(Doug)
The words for goodness and girlfriend are pronounced nearly the same. Learn the difference. When I first arrived I was in the south nearer Switzerland. The people there 'sing' when they talk with a lot of voice inflection. So, not having a companion who had been in the country long either, that is how we learned to talk. Then I was transferred to a different area with a companion who came from the area in Germany where the best pronounced German was spoken. She complained of the singing thing. And I could see by the contortions on her face that it pained her to hear me speak like that. So I had to unlearn. (Luva)
A woman answered the door hiding behind it. My companion thought she said she was in the middle of moving (to a new home). He asked if we could help. (Ich bin gerade beim Umziehen!) it actually means "I'm changing my clothes right now!" Umziehen and such umziehen are very similar. (Shawn)
When I was still learning, I wanted to say "cross the street". The word for cross is Kreutzen. But this word means cross as in crucifixion. The word for crossing the street is uberqueren. So I had been saying I wanted to crucify the street. I'm sure many a German had a chuckle about that. (Sara)
Asking for a pastry at the bakery with churches on top. Should have been cherries. (Don)
Already shared. Oh, I served back in the day of "Herr Brown". My language was very new, I called the investigator Herr Brown, but that was not her name. (Cheryl)