Free resources about the Florida Tallahassee Mission:
*Other Mission Pages: Florida LDS Missions.
---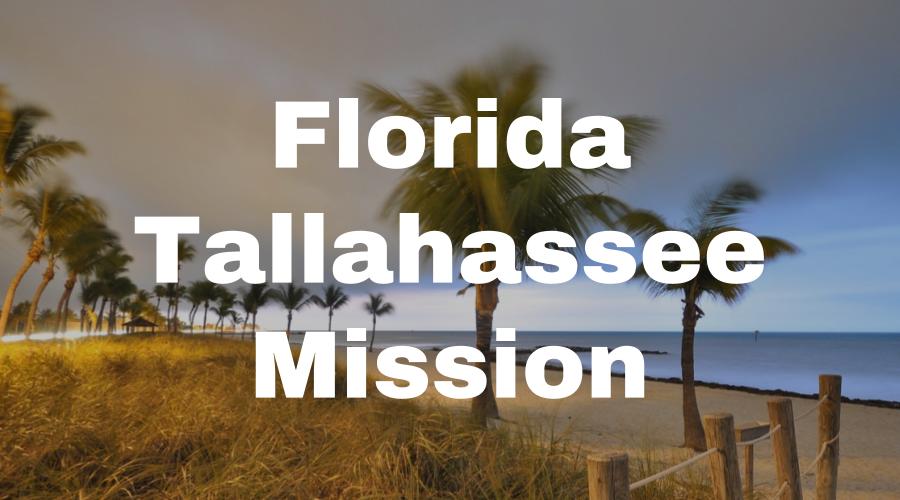 ---
Florida Tallahassee Mission Address
Here's a recent address for the Florida Tallahassee Mission. We try to keep this info up to date, but it's a good idea to check the address with several sources, including your mission packet or the mission office.
Florida Tallahassee Mission
1535 Killearn Center Blvd Suite C-3
Tallahassee, FL 32309
Phone Number: 1-850-893-4243
Mission President: President Clint W. Smith
Florida Tallahassee Mission Map
Here's a link to the mission map for the Florida Tallahassee Mission (LDS). To access the official LDS.org map for the Tallahassee Mission:
Log into your LDS account here.
Click here.
Videos with Tallahassee RMs
Here are in-depth YouTube video interviews with returned missionaries from the Florida Tallahassee Mission.  We interview hundreds of returned missionaries each year, so check back regularly to see new RM interviews.
LDS-Friendly Videos about Florida
Here are LDS-friendly educational videos about Florida. We scoured YouTube to find the best quality videos about Florida, that are free from inappropriate music, immodesty and profanity.
Florida Tallahassee Missionary Blogs
Here's a list of LDS missionary blogs for the Florida Tallahassee Mission. This list includes the missionary's name, URL and when their blog was updated.
*Send your missionary a gift (mission-specific shirts, ties, Christmas stockings/ornaments, pillowcases, etc.)
Florida Tallahassee Mission Groups
Here are Florida Tallahassee Mission Groups- for LDS missionary moms, returned missionaries, mission presidents and other alumni of the Tallahassee Mission.
Florida Tallahassee Mission T-Shirts
Here are T-shirts for the Florida Tallahassee Mission!
Shirt designs include Florida Tallahassee Mission logo/emblem shirts and Called to Serve shirts. The shirts make great gifts for pre-missionaries, returned missionaries and missionaries currently serving. LDS Mission shirts come in all sizes: Small, Medium, Large, Extra Large, up to 4XL.  The mission designs are printed on white shirts and are shipped to you.
*Simply click on a shirt design to view the details and submit an order. The designs on mission t-shirts may also be printed on other LDS mission gifts, including: Florida Tallahassee missionary aprons, Christmas stockings, ties, pillow cases, teddy bears and Christmas ornaments.
*Click here to browse Tallahassee Mission gifts
---
---
Florida Tallahassee Mission Presidents
Here's a list of current and past Mission Presidents of the Tallahassee LDS Mission.
2016-2019, Clint W. Smith
2013-2016, Bradley J. Smith
2010-2013, Dale H. Jensen
Florida LDS Statistics (2015)
Church Membership: 149,355
Missions: 5
Temples: 2
Congregations: 241
Family History Centers: 69
Helpful Articles about Florida
Florida Tallahassee Missionary Survey
Here are survey responses from Florida Tallahassee RMs, to give you a snapshot into what it's like to live in the mission.
*Click here to take a survey to help pre-missionaries going to your mission.
When did you serve?
2015-2017 (Steven)
2014-2016 (Collin)
2013-2015 (Elora)
2012-2014 (Jason)
2012-2014 (Brendon)
2012-2014 (Marcus)
2012-2013 (Layne)
1980-1982 (Dave)
1993-1995 (Melanie)
late 70's (Darcy)
1987–1989 (Mike)
1986 to 1988 (Martu)
2012 (Savannah)
1989-1991 (Peter)
1996-1997 (Jeremy)
2013-2014 (Sheri)
1975-1976 (David)
2005-2007 (Jeffrey)
2010-2012 (Daniel)
2014-2015 (Kristen)
2013-2014 (Anna)
2013-2014 (Emily)
1982-1983 (Howard)
1998-2000 (Rob)
What areas did you serve in?
Mobile, Alabama; Navarre, Florida; Pensacola, Florida, Semmes, Alabama (covered Lucedale, Mississippi), and Florida State University, Tallahassee, Florida. (Steven)
Florida Areas- Mexico Beach, Apilachacola, Niceville, Tallahassee, Thomasville, Georgia, Mobile, Alabama. (Collin)
Ozark Alabama, Madison Florida, Troy Alabama, and Pensacola Alabama. (Elora)
Tally 2 and 4, Bristol FL, Pine Forest (Pensacola FL), Ozark AL, Enterprise AL, Saraland/Mobile AL. (Jason)
Tallahassee 4th, Fox Run, Crestview, Theodore, and Cairo. (Brendon)
Douglas GA, Bainbridge GA, Enterprise AL, Tallahassee FL, Lucedale MS (Marcus)
Gulf Breeze. (Layne)
Ft. Walton Beach, Blountstown, Pensacola. (Melanie)
Tallahassee, Thomasville Georgia, Jacksonvillle, Panama City. (Darcy)
Tallahassee, Perry, Baimbridge Georgia, Troy Alabama. (Mike)
Jacksonville, Mobile, Tallahassee, Niceville, Bonifay, Blountstown, St Marys, GA. (Martu)
Geneva and then 18 months in Grove Hill, Alabama. (Peter)
Bristol, Tallahassee, Pensacola, Atmore Alabama, Ozark Alabama. (Jeremy)
Tallahassee campuses (Florida State, FAMU, Tallahassee Community College), Marianna, Pensacola (Fox Run Ward), Bristol, Tallahassee First, Baker. (Sheri)
Valdosta, Pensacola, Selma, Bunnell, Panama City, Tallahassee, Live Oak. (David)
Pace, Fox Run East, Madison, Enterprise Al, Calloway and Troy Al. (Jeffrey)
Dothan, AL; Crawfordville, FL; The Perdido Key of Pensacola, FL; Milton, FL. (Kristen)
Navarre, Gulf Breeze FL, Brewton AL, Ozark AL. (Anna)
Tallahassee, Jacksonville. (Howard)
What were some favorite foods?
Grits, Hamburgers, Cole Slaw, Venison (burgers, sausage, etc.), Conecuh sausage. (Steven)
Fried chicken, collards, fried green tomatoes, mustard greens, red beans and rice, Del Taco. (Collin)
Biscuits and gravy, cheesy grits, hush puppies, and fried okra. (Elora)
Anything bbq, red beans and rice, gumbo, crawfish. (Jason)
Fried fish, grits, whatever Sister Taylor cooked! Venison. (Brendon)
Fried chicken, squirrel, creamed corn, deer etc. (Marcus)
Seafood, Thai, and Greek. (Layne)
Fried chicken, smoked mullet. (Dave)
Okra, boiled peanuts, pecans, squirrel, raw oysters, frog legs, watermelon. (Darcy)
Gumbo. Wild pig. (Mike)
Gator, catfish, cheese grits. (Martu)
Honestly? I loved collard greens cooked with bacon. Oh, and I love Brunswick stew. Not very many people like either. (Savannah)
Southern Fried Chicken of course! Pound cake. The best potato salads anywhere on earth. Sweet potato pie. Pork and beans. Peach cobbler. Watermelon. Anything from Piggly Wiggly or Hoggly Woggly. You can't not love a supermarket with a name like that. (Peter)
Everything fried, so just about everything. (Jeremy)
Fired catfish served with cheese grits and baked beans. (Sheri)
Grits, black eyed peas. Sister Shuler's biscuits, ice cold Sprite. (David)
Greens, fried chicken, jambalaya, and banana pudding. (Daniel)
Chicken and Waffles, Chicken and Dumplings, Fried Oreos, Fresh Fish (If you're in an area close to the coast). (Kristen)
Fried chicken! Boiled peanuts, red beans and rice, chicken and dumplings, and possum jerky! (Anna)
Fried chicken, fried pickles, corn nuggets, wild hog, jalapeño cornbread and the barbecue was always fantastic it's the best barbecue you'll ever have! (Emily)
Deep fried catfish, hush puppies and grits. (Howard)
Pizza. (Rob)
What was a funny experience?
When I was in Apilachacola the Ward Mission Leader made a pot of venison stew the year previous and would unthaw it every time he served it. (Collin)
Seeing a preacher on a horse on the corner, a man dragging a large wooden cross on his shoulder with a wheel on the bottom to make it easier to drag, a congregation meeting in the gazebo in the park in the center of town with a microphone singing and praising the Lord, and then us Mormon missionaries walking the streets finding people to teach the gospel. You've got to love the south! (Elora)
Tearing my pants open riding my bike home one night. (Jason)
Elder Winter and I were riding bikes. He was to my right because we were just getting on and as he started riding his right handle bar grip slipped off. His reaction, just like anyone would, was to brake. The left brake is the front brake so he ended up flipping his bike and flying over his handle bars. As I saw this happen, I was calling someone. I had the phone in my right hand. I didn't want to hit him so I braked as well. That resulted in me doing exactly the same thing. To add insult to injury, a guy driving a white van saw it all and asked us if we were okay. Luckily we were. (Brendon)
Tons of them. (Marcus)
Because it's up in the Florida panhandle area, there are some areas that are pretty redneck and rural. I was chased by a turkey sitting on someone's porch. I was also chased by pigs. It's such a fun and different place to be! (Melanie)
Singing Christmas carols about Florida. (Darcy)
Getting asked a serious question of how many wives I had. Trying to explain to one of our investigators that adultery was not a big tree (Adult Tree). (Mike)
Haha. RAIN! There were many times my companion and I would get completely soaked, and we would meet people that way. We got the funniest reactions, and it made me laugh. (Savannah)
The great gift the rural Deep Southerners have is a vibrant oral culture of fantastic storytelling and delighting in their own eccentric catch phrases and proverbs. My favorite quote was from a lady who didn't believe the moon landings were real. She said "I ain't goin' no higher up than pickin' corn or lower down than digging taters….till the Lord comes!" (Peter)
Blew my pants out at an investigators house. (Jeremy)
Too many! A man told my companion that her shoes fit good on her feet. (Sheri)
I lost my sense of humor. (David)
Running over a gator on rural highway. (Jeffrey)
We met some SUPER backwoods-y people… but you really just learn to love them. :). (Kristen)
Having people adopt me into their families and then proceed to give qualifications for my future husband (it happened multiple times). (Anna)
We were teaching a man named Billy and we were sitting outside and he was drinking some Hawaiian punch. Well there was a bee that kept flying around his cup and bugging him so he got up in the middle of the lesson and he was talking to the bee and said I'll give you a Hawaiian punch and we just laughed! (Emily)
What was a crazy experience?
While I was tracting I had a gun pulled on me. (Collin)
We ran out of miles on preparation day, so we had to bike to Walmart for groceries and we had to buy baskets for our bikes to put the groceries in, and we weren't allowed to bike onto the military base which was where the library was located so we wrote a hand written letter to President, and my dad called the mission office the next day concerned. (Elora)
I had a gun pulled on me once. (Jason)
Elder Smith and I were in Pensacola and we rode to the church in the middle of a huge rainstorm at night. Then about a week or two later we found out there were a bunch of tornados that were supposed to be in our area that night but they didn't get to us for some reason. We had no idea about the tornado warnings either. (Brendon)
Being run off the road while biking. (Marcus)
When our apartment was struck by lighting. It blew our surge protector, washer, dryer, computer, and printer. (Layne)
We liked to attend local churches from time to time and that could get pretty crazy. There was a lot of "speaking in tongues" which was something I had never seen before. (Melanie)
Dodging dead armadillos. (Darcy)
Having a gun held to my head while interrupting a drug deal in Perry Florida. "Oh, your not cops" whew! (Mike)
Someone loosened bolts on my tire. Tire came off while riding my bike. (Martu)
BI loved seeing the light in people's eyes when they learned and applied the Gospel in their lives. It didn't matter if they were member, investigator, less active, or even someone we just met. It is one of my favorite things about the mission.eing old ladies' cars who were over the age of 80. Enough said. (Savannah)
A very scary looking dog with large teeth running for me and fortunately reaching the end of its chain and snapping its jaws a foot from me like is only meant to happen in cartoons. My cousin's husband who served in the South had taught me how to stun a dog between the eyes with a Quad but fortunately it didn't prove necessary. (Peter)
Walking through sketchy neighborhoods or apartment complexes and being hit on by many men that were drunk or high. (Sheri)
Getting my face really close to a soft shell snapping turtle we found while tracting on a country road by a lake. I was holding for a photo op. At that distance, it could have reached out of it's shell and bitten my nose off. (David)
Dogs. (Jeffrey)
While tracting one day, I was cornered by five great Danes on a stranger's doorstep out in the middle of no where. Luckily after a few minutes, the owner allowed us to get by the beasts. (Daniel)
Getting chased by loose dogs all the time while biking through the projects. (Kristen)
We were followed a couple of times. Be careful and vigilant! Also there was a lot of witchcraft in some areas. When people start telling you your future it can get a little scary. (Anna)
One time my companion and I were going to teach an investigator and we parked the car and we could see that something strange was going on and it was dark so we sat for a minute and the people started staring at us and we knew something was wrong. I told my companion not to get out of the car and so we stated put and it turns out it was a drug deal. I knew we could not stay to teach our investigator because the spirit was not there and I did not feel safe so we went home. Always trust the Spirit it will never lead you astray. (Emily)
Knocking on doors, and dogs being let loose on us. (Rob)
What was a spiritual experience?
My companion and I were in a lesson with one of our investigators and the Spirit was really strong and we were talking about the importance of baptism and his mom was a recent convert. After weeks of trying to figure out his concern, he finally told us it was baptism. He thought his baptism was valid through the Church of Christ and that he didn't need to be baptized again. But we told him how the Savior was baptized and he committed and two weeks later I was in the circle to ordain him a Priest. (Collin)
Seeing the change come over someone as they accept the gospel and live the standards. Also seeing someone step into the waters of baptism. (Jason)
One lady called and told us the she decided she didn't want to be baptized. I had no idea what to say. I opened my mouth and was able to say just the right things and she did get baptized. (Brendon)
Helping to reactivate an older gentleman, and attending church with him for the first time in 60 years. (Marcus)
When a young man was able to baptize his mother. (Layne)
Baptizing in the Atlantic Ocean by Jacksonville. (Darcy)
The entire area of Troy Alabama. Also, starting in Tallahassee. The very first two doors as a missionary I knocked on ended in baptisms. The Swillys who still live there. And Kevin and Patricia. Kevin was blind and the first door I ever not gone and the first person to open the door to me as a missionary. The book of Mormon in braille took up three boxes. (Mike)
Had an awesome baptism in Mobile, after previous elders were sent home dishonorably. (Martu)
I loved seeing the light in people's eyes when they learned and applied the Gospel in their lives. It didn't matter if they were member, investigator, less active, or even someone we just met. It is one of my favorite things about the mission. (Savannah)
Teaching a very humble man who was in a very happy clappy Pentecostal congregation who worried that because he felt prompted to cry when he felt the Spirit rather than speak in tongues that he was missing something. We assured him he was feeling the Spirit too and the Spirit was so powerful in the room I could hardly speak and we could feel it bouncing off the walls. He and another man we taught who did not feel he fitted in with the traditional local churches did not join our church, but we helped them make significant progress in their spiritual lives and understanding that will benefit them forever and they are the first people I think of when reflecting on my teaching experiences. Our theology that any progress you make in life comes with you into the next enables us to appreciate and value any good we can do for others even if they don't go all the way to baptism. (Peter)
Being converted to the gospel myself. The whole two years was a spiritual experience. (Jeremy)
Promising blessings to people as the Spirit prompted, and seeing those blessings come to fruition. (Sheri)
The day of the baptism of the first family I helped to teach and baptize. It was a mom and her daughter in Valdosta. I was normally pretty depressed during my mission, but this baptism was extremely uplifting. (David)
Lots. (Jeffrey)
Watching people change and knowing that if I continued to be worthy of the Spirit, I could continue to be a tool to help the Atonement be effective in their lives. (Kristen)
Being able to see a promise from God fulfilled as a woman I had been teaching (who had practiced witchcraft) got baptized. She was so happy that she started giggling and couldn't hardly get out of the fount. (Anna)
We were teaching a man named Jim who had been married to a member and had been taught by missionaries off and on for 20 years and one night we were at his house and he said to us what do I need to do to get baptized and the Spirit was so strong and he was baptized 2 weeks later. Watching him accept the gospel after 20 years was an incredible experience! (Emily)
Attending church and baptism. (Rob)
What are some interesting facts about the Tallahassee Mission?
I served in a town called Port St. Joe and it was only two votes away from being the state capital. (Collin)
There are trees everywhere and it covers a few different states and cultures. (Jason)
It is in Florida but most people expect the Florida you see on TV. What you get is a very southern experience. (Brendon)
People will eat anything. (Marcus)
We served in Gulf Breeze. There was only one church building within a 50 mile radius. We were 3 hours from the mission home. (Layne)
Panama City is beautiful, Tallahassee is a college town. (Darcy)
During hurricanes, surfers and sharks come out and equal force. Swamp cabbage rarely comes from the swamp and is not cabbage. (Mike)
Served in the largest city in the US. (Martu)
Troy State University enrolls many international students, most of whom are Chinese. Troy campus missionaries help teach a lot of people from China, and some get baptized. Troy is actually one of the leading baptizing areas for Chinese in the nation! (Savannah)
When I was there most of the smaller communities were still very racially segregated. It was like the most painful bits of the legacy of slavery and the civil rights movement were over and this was the uneasy peace after the storm where people had not moved on much but very few people talked about it. I hope things have progressed since then, but it will probably take a couple of generations to fully integrate. There are white and black neighborhoods with very different cultures and music and even though the kids all go to school together, they tend to retreat to their own worlds outside school. The only miserable Southerners are the racists. The Church is seen as a white Church in most communities and it is very hard for any locals in small towns of any race to join the church because their family's church community is everything, so you will be a pioneer helping to move things forward and build tolerance and respect for Latter-day Saints and strengthen the emerging stakes as they get more established. My favorite place is the Boll Weavil Monument in Enterprise, Coffee County. (Google it!) It says everything you need to know about the Southern spirit – having a quirky way of dealing with a very difficult historical legacy, a dry sense of humor about themselves, local civic pride making the most of whatever you have to work with in your community. All the best things about small town America. Alabama smells great! It should be really sweaty and stinky, but the whole place smells pine fresh because of all the pine forests. Natural air fresheners. The tragedy of the South is the people absolutely love hunting and fishing, but the wildlife they have to work with is pitiful. The fish are catfish and taste like mud, but they don't let that stop them loving catfish restaurants. The deer are tiny, but that won't stop them strapping a dead one to the truck with pride. You might find yourself living 9 hours drive away from the mission office. We called ours the Twilight Zone and they forgot to invite us to a conference once. (Peter)
The facts I learned about my mission are that there are a lot of good Christian people in Florida. We did not have a high baptism rate but that did not take away the importance of the work we were doing down there. (Jeremy)
Covers 4 states and 6 stakes. Florida rains a LOT despite being called the Sunshine State. It is the true South down there. (Sheri)
As missionaries, I was given flyers by ward members and passed out flyers against the equal Rights Amendment during the time Florida was a deciding State for it's passage or failure. I was told that President Benson who was a general authority at the time, had called our Stake President and told him that the Stake leadership were expected to take a proactive roll in fighting the ERA so it would not pass. I thought that was interesting. (David)
Really low Elevation. Think 59 feet about sea level is as high as it gets?? (Jeffrey)
The average weight gain is like… 35 pounds. Fried food galore. If you utilize your exercise time though, you should be fine. :). (Kristen)
The beach is gorgeous! Jaws was filmed somewhere there. There's also a lot of military bases. Plus areas in 4 states is pretty awesome! (Anna)
The people are friendly and genuinely nice. There are some who are not but most are. Everyone will offer you food and or water and it's kind of rude not to accept at least a drink. Everyone knows who Jesus is and most have a solid testimony of Christ. The people in the south are very religious and whatever religion they are they are very dedicated to it. (Emily)
No such things as "BIBLE BELT" there are "BIBLE ROPES". (Rob)
What was the weather like?
Humid. Very humid. Even mix between Sun and Rain. Winters can get down to 40F. Summers are in the upper 90's. (Steven)
Hot, hot and hot as blazes, but September was all right. (Collin)
Super hot and humid: 100 degrees felt like 140 and the weather changed every 5 minutes. The rain was awesome: it rained harder than I've ever seen. (Jason)
Humid and in the 80s and 90s in the summer. In the winter it is 40-60s but a bone chilling cold. It rains a lot. There are lots of tropical storms. (Brendon)
Hot and humid most of the time and freezing cold for one week each year. (Marcus)
Hot and humid in the summer. Cold and humid in the winter. (Layne)
Depending on where you lived, it could get very hot and muggy. Winter/Spring was quite nice though. (Melanie)
HUMID. (Darcy)
Wonderfully humid. Never cold. And the rainstorms sneak up on you in an instant. (Mike)
Humid. (Martu)
Humid and hot compared to Idaho and Utah. (Savannah)
Mostly insanely hot and sunny with a brief 3 pm tropical rain shower in summer. The humidity getting off the plane in Tallahassee was like having a hot wet towel put over your head. You actually run between air conditioners. Surprisingly cold in winter – actually snowed in Alabama one Christmas Eve so it was nice to have seasons. Endless sunshine keeps you happy. You just have to get used to moving slowly and kind of absorbing the heat because it isn't going away. Because it is so flat, the skies are big and the sunsets are spectacular and go on for ages. (Peter)
Loved the weather in Florida. The winters are short and still really warm compared to Idaho. (Jeremy)
Lots of rain. Thunder/lightning storms. Humid and hot in summer. Humid and cold in winter. (Sheri)
It was unusually hot the month I arrived. Everyone would keep telling me how it was "never this hot and humid here". The next year it snowed, and we tracted Christmas Eve and Christmas morning in the snow. The cold goes to the bone with the humidity. Everyone kept telling me how it "never gets this cold here". (David)
Hot and sweaty. (Jeffrey)
Summer is hot, rainy I during the other seasons. (Daniel)
Lots of rain, and REALLY hot. There were 10 minute afternoon storms almost every day in the summer. (Kristen)
Generally beautiful!! The rain can get a little crazy but generally only lasts in spurts unless there's a major storm. Also humidity can be a killer in summer and winter. But you won't find a better spring or fall. (Anna)
It was hot and humid. In the winter it does get cold. It also rains a lot so bring a raincoat. (Emily)
H-U-M-I-D-I-T-Y!!!!!!! (Rob)
Any things you really like about the area/people?
In the small branches the people are really committed and are really nice and would do anything for the missionaries. (Collin)
Everybody loved God!!! (Elora)
I love how welcome everyone was. Everyone wanted to help us when we would ask the time or help us find someone. (Jason)
Southern hospitality. (Brendon)
The kindness and politeness of the people. (Marcus)
Everything! (Layne)
I left the FTM with such a great love for the people there and for the South as a whole. Most people were so friendly and would invite you in just to chat and offer you a drink or a piece of cake. I loved the slow pace of everything there. The members took you under their wing and treated you like family. (Melanie)
I love the saints in the southern states of Florida and Georgia. (Darcy)
Always nice. Even if they didn't like you. Always courteous even if they didn't trust you. (Mike)
The southern people are genuine and sincere. (Martu)
The FTM is in the South. Southerners are amazing, and everything you've heard and seen about Southern hospitality is true. In fact, stories and movies don't do it justice. (Savannah)
They make the most of what they've got, which isn't much in many places, with a sense of humor and unbeatable hospitality. The old people are very much in touch with their inner child and are not afraid to be eccentric. They reciprocate love easily. The Deep South just oozes history even if there isn't much in the way of physical historical stuff (I'm from England where medieval buildings and castles are pretty commonplace. Most of what's in this mission is less than 100 years old.) It's in the air – ghosts of experiences and stories with an equal measure of tragedy and triumph. Sometimes you expect to turn around and find yourself in the middle of a slave plantation. The cotton fields might make you want to cry just thinking about what they mean and have meant. Watching a cargo barge slowly making its way along a brown river feels timeless. It is a place with emotional depth that only comes from a shared communal experience of centuries of struggle and suffering. The people don't talk about it much and are not naturally morose, but it's always there below the surface. Even after 2 years there, I still felt like I had not been let in on the secret, yet I also felt completely at home. I think all the most mystical, distinctive and profound places are like that. It will never leave your heart. (Peter)
The people in the Tallahassee Florida mission were very kind and the members treated me like a son. I absolutely loved the people. Florida is warm, green, and just a beautiful place. (Jeremy)
Everything! The people are so kind and loving! It's beautiful down there! (Sheri)
Flagler Beach/Bunnel was a nice place. it would have been better without a white shirt and tie. I enjoyed the Air force members in all my areas. They were from all over. I met some very nice local members who were genuinely good hearted people. The beaches were the best. (David)
Pretty chill and relaxed people. (Jeffrey)
Chipley, Ozark, Foley and Tallahassee were the most amazing areas ever. The people love you and know your God's servant. Some can be mean but overall just good Christian people. (Daniel)
Southern Hospitality is real. If you're nice to people, they'll be really nice to you. Even the ones that reject you will sometimes tell you to have a blessed day and see if you need a drink of water or something. The people are for the most part really nice. :). (Kristen)
Everyone is kind and loving. And pretty much everyone will talk to you about Christ and pray with/for you. If you give part of yourself to them they return the favor every time. (Anna)
They are all super solid in their religious beliefs. Usually everyone was at least open to talking about God because they all know who he is and have solid testimonies of Him. They are all so sweet and nice for the most part. Southern hospitality really is a way of life. (Emily)
Fellow Children of our Father in Heaven. (Rob)
Any packing/clothing advice?
Pack light and buy a guitar. (Collin)
Anything light-weight is great. Take a light rain coat; you'll need it. (Jason)
Make sure you have a sweater and rain coat. Waterproof your shoes and make sure they are light-weight. (Brendon)
Water proof your shoes. (Marcus)
Have a sweater or jacket with you. (Layne)
No nylons or tights – WAY too hot and muggy. (Melanie)
Short sleeve shirts, stain remover. (Darcy)
My MTC companion grew up with four sisters. Elder Alan. He was the most efficient suitcase packer I ever knew. Had a strange way of letting the legs and sleeves hang out of the suitcase putting socks and underwear in the middle. Then he would fold everything in like a big onion. You have to see it to believe it. (Mike)
Wear your clothes in layers in the winter. (Martu)
Try to find clothes that can resist the moisture – cool and breathable material, especially if you grew up in a desert climate. (Savannah)
You won't need a full suit much so don't spend a fortune on one. Definitely no need for 2. Mostly light trousers and short sleeves shirts to reflect sunlight. (Peter)
Lots of short sleeve shirts. The summers are very hot and require 2 shirts a day sometimes. (Jeremy)
Bring a coat. It does get very cold. Pack light shirts and skirts for summer since it's very hot and humid. (Sheri)
Pack to dress warm because it gets really cold. Pack to dress cool because it gets really hot. Have the best quality high wear shoes you can afford. I went through several sets walking while tracting 15 miles per day as we did in my first area of Valdosta, Georgia. (David)
Pack mostly clothes you can stay cool in during the summer, but also bring tights or a nice coat or both for "winter". It's only like… 3 weeks long, but it's FREEZING because of the humidity there. Yes, it's warm most of the time, but don't forget good winter clothes that you can wear for a month. (Kristen)
Think light and cool! And don't forget a coat, it does still get pretty darn cold. (Anna)
A raincoat, light weight clothing because it is hot and humid, bike shorts for girls to wear under your skirt when you have to ride your bike. Bring waterproof spray for your jackets and shoes or they will get ruined. (Emily)
What blessings did you receive from serving a mission?
I learned a lot and it forced me to grow up a lot which I didn't know before I left, but I really needed it. My testimony is also strong now because of all the opposition I went through and people trying to separate me from it and so I was able to strengthen my testimony by all the opposing force against it. (Collin)
I met my fiance, I gained a greater testimony of and a stronger relationship with my Savior Jesus Christ and Heavenly Father which has helped me face my trials better and become stronger from them. I also have a greater confidence in myself because my greatest confidence is in the Lord. (Elora)
I'm able to talk to people without hesitation. I'm able to share the Gospel with anyone including church members in meetings and I am able to bear a special witness of the Gospel. (Jason)
People skills, budgeting skills, how to live with another person, but Gospel knowledge and a testimony are the biggest. (Brendon)
Too many to identify. (Marcus)
The ability to talk with people. (Layne)
I came to know my Savior more in those 18 months than I have the rest of my life. It's really something to be alone and totally relying on the Savior for help. (Melanie)
Testimony, Working with President Curtis and his family. (Darcy)
Learned The true nature of people, of God and what this life is for. I went on my mission not even concerned with if the church was true or not. I just wanted to help people. I quickly gained a testimony that it was true and how the Lord has a plan for Missionaries to help. The plan is to help them understand who they really are and how they can help themselves and others in return. (Mike)
Gained greatest experience for my sales career. (Martu)
I continue to receive blessings from my mission. I have a firm testimony that Jesus Christ is my Savior. Some of the people I met have become my best friends. Their friendship and encouragement help me so much, even now. Plus, I have so much support from my mission president and his wife still – they, too, are two of my best friends. (Savannah)
God certainly looked after me after my mission so I can't complain. Having grown up in the Church learning the discussions was the first time I had understood the gospel in a simple structured way. My testimony had only needed to be mostly intellectual before my mission so it was my first experience with profound spiritual feelings and learning how to act on spiritual promptings and immediately say 'Yes' to opportunities that arose however odd they seemed and how by doing that you go through a few steps of acting on promptings to go on a journey that gets you to a completely different place or encounter with someone that is where you are meant to be, but you wouldn't have got there without the weird stuff in between that didn't seem like it had a point or was going to lead to a missionary opportunity. I learned to trust those instincts and promptings. My mission completely transformed me for the better. (Peter)
My testimony is the greatest blessing I received. Also being able to testify of truth and teach people about the restoration. I also made eternal friends, members and companions. (Jeremy)
Getting a better understanding of how God feels for His children. (Sheri)
By the grace of God, I survived the 2 year experience. (David)
Lots, just do it. (Jeffrey)
Everything I am today is because I served a mission. I have a wife, son, and getting a great education because of the things I learned on my mission. (Daniel)
All kinds. I feel like I learned a plethora of valuable life skills, but if nothing else, after serving my mission now I have a sure testimony of the gospel for myself. I feel like the amount the Lord is blessing me today hasn't been raised exponentially from when I left or anything, but I'm just noticing it more in my life. (Kristen)
Beyond confidence and increased testimony and close relationships I also gained further understanding and guidance for my life post mission. A lot of which I was unsure of before. (Anna)
So many I can't even count. My testimony grew so much and became a solid testimony. The blessings you receive from serving the Lord full time are so great and they will continue even after you return home. Work hard! (Emily)
Serving a mission is TOO GREAT. (Rob)
What are some skills you gained?
Being able to talk to anyone about anything. I learned how to take criticism and correction and give it lovingly in return. I also learned how to get stains out of my white shirts and cook half decently. (Collin)
People skills, budgeting, and sewing. (Jason)
Communication and self confidence. (Marcus)
Teaching and leadership. (Layne)
Perseverance, faith. (Darcy)
That one can indoor anything. In the simple gestures of kindness can mean the world to people. That so many brothers and sisters are lost in the world and just looking for truth. I learned that some no truth and aren't interested in following it at times I learned that God is real. I learned that he cares. I also learned that he has an awesome sense of humor. (Mike)
Many principles from teaching. (Martu)
I learned to teach better – not just the Gospel, but anything. (Savannah)
To be self driven, dedicated to hard work, and never give up. You need all those to succeed in life. (Jeremy)
Not being afraid to talk to strangers. (Sheri)
I learned how to push through and work every day one day at a time no matter how I felt about it. I spent the majority of my mission severely depressed.I served six months in the Tallahassee area in order to get counseling from a psychologist who specialized helping with missionary's depression. They could not leave me there forever so I was transferred to other areas. I pushed through. (David)
Lots of life experience. Knowledge of gospel. Hot wife. (Jeffrey)
Study skills. Better knowledge of the Scriptures (especially the Bible– being in the south, but also the rest of the standard works as well). People skills. Learning to live with someone. Conflict resolution. Leadership skills, etc. (Kristen)
Speaking and teaching with confidence! (Anna)
People skills, how to hold a conversation with a total stranger, the ability to see others as Christ sees them, the ability to teach the gospel and the ability to be an example to others. There are lots more I just can't name them all. (Emily)
Work hard. (Rob)
What do you wish you knew/did at the beginning of your mission?
That it's pointless to bash and that you shouldn't waste precious time on people who aren't prepared yet. And that dropping investigators will bring a lot of blessings. (Collin)
I wish I would have studied the lessons more. (Jason)
I needed to trust myself and the Spirit more. (Brendon)
More from Preach My Gospel. (Marcus)
More about the Gospel. (Layne)
Just do the best YOU can. Don't compare yourself to anyone else. We all have strengths and weaknesses and it's easy to get depressed if you compare yourself. Be the best YOU that you can and Heavenly Father will take care of the rest. (Melanie)
More about the culture of the people. (Darcy)
I learned that the Spirit does the teaching. The Spirit does the converting. I learned that everyone has their choice and that things really will be OK. I learned that things will be great if you just try hard. God is a great rewarder of Ernest intentions. (Mike)
That it was going to be this much fun! It is a hoot – basically being freed from most of the responsibilities and worries that beset normal life and having freedom to focus mainly on being a nice person, making friends with other people and then blessing their lives with something amazing. (Peter)
I just wish I went out a lot more prepared as far as knowledge goes. (Jeremy)
People have their agency and you can't make then do anything even I they know it's right. (Sheri)
Missionaries are not perfect and that it would be super HARD. (Jeffrey)
I wish I'd studied Preach My Gospel (especially chapter 3) more, and I wish I was a little more familiar with the scriptures. I also wish I'd really opened up and told my trainer more about the stresses I was feeling. I learned to communicate a lot more openly with my companions as my mission went on, but I wish I'd communicated more openly with my trainer as well. (Kristen)
Don't be afraid to speak. (Anna)
I wish I had more Faith in the Lord to trust him enough to follow His counsel in all things. I struggled with being able to open up and share the gospel because I thought I didn't know enough but if I had trusted my Heavenly Father more I would have know that he makes up for what I lack. He will help you say and share what you need to, to be able to touch the hearts of those around you. Trust Him! (Emily)
Keep contact info and stay in touch with ALL who we teach. (Rob)
Any advice/testimony for pre-missionaries going to Tallahassee?
It's not about what you know, it's that you know it's true and as long as you do all you can to stay on the right path no earthly force can separate you from it. And, you are your own worst critic and as soon as your doing your best Satan is doing his best to discourage you and drive you from it, so take heart and don't be so hard on yourself. (Collin)
Write in your journal about everything!! The good, the bad, the ugly, and the random. (Elora)
Don't be afraid! Know that God is on your side! You might struggle or find it hard, but He is there for you and so is your companion! Be obedient so that your example can influence everyone around you so that they can see the light of Christ in you! (Jason)
You know enough and bare your testimony when you don't know what to say. I know it works because it did for me. (Brendon)
There will be tough times, it's a hard mission. Love the people and befriend the members and they will help you. (Marcus)
Be obedient and live the mission rules. (Layne)
Pray. (Darcy)
Learn to listen to and follow the Spirit. Learn to be humble and open to new things. Learn to love people. (Mike)
Study the standard works. (Martu)
You are going to the best mission in the world for you. You are called to serve with your mission president. He and his wife need you, and you will need them. Heavenly Father knew what He was doing when He called you to the Florida Tallahassee Mission. He knows you, and He knows the people in the FTM. There are people there who only you can touch. Do your best to be exactly obedient and follow the guidelines in Preach My Gospel, and you will be able to touch those people. (Savannah)
Missions are a surreal mixture of the sacred and profane – living and working with people who one minute can be like holy prophets teachings wonderfully and humbly and then back at the missionary apartments it can be like a frat party at times (without booze and snogging!). Remember these are the same people and have a sense of humor rather than being judgmental – you can't stay serious all the time and be mentally and spiritually healthy. Enjoy all the spontaneous opportunities a mission gives you for experiencing a new place, a new culture, new people and seize the moments along the way. If you genuinely love and enjoy where you are people will feel that and trust that you really appreciate them and their community. You are not there to be a robotic machine detached from what is all around you. Be your best self and have total respect for everyone – they know a lot more than you about most things so don't get arrogant. Everything you do to be patient, kind, respectful, helpful towards everyone you meet is casting bread on the waters and not a waste of time – it takes several encounters with the Church and members before most people are ready to have discussions with missionaries – if you are gracious even when being rejected it sends very strong messages that build respect for the next encounter. You will discover the 'members and missionaries underworld' – a network of members, some of whom are less active, who devote a lot of time to supporting and feeding missionaries and become your second families. Most wards have one or 2 individuals or families who do this and the rest of the ward are not that aware of it. Love these people and keep in touch with them and become one of them when you have your own home and a fridge with food in. Missionaries need people they can completely relax around and be unconditionally loved by without the pressure to beg them for referrals. In a mission, you will see the best and worst ways to lead and motivate people – remember and learn from both. Remember what Elder Oaks taught about only setting targets regarding the efforts you make to offer the gospel to people. After that point, it is all between the investigator and God – nothing you do does or should interfere with or influence that relationship and free agency. Your faith is not making their decisions for them so don't expect it to. Numerical target setting of actual baptism numbers is wrong, Pharisaical, doesn't actually work, and is the opposite of what Doctrine and Covenants Section 121 teaches about only teaching and serving through gentle persuasion without any guile or ulterior motives. Avoid any culture of business-like high pressure marketing and sales targets and techniques because they corrupt everyone's motives and on reflection after your mission you will not feel good about what you did if you get sucked into that mindset. And as I said, they don't work so are a waste of time. People who have been railroaded into baptism won't stay for long because they are not making the choices completely for themselves. Your priority must be retention, not rushing to the font. Prepare converts for the long haul and make sure they are socially integrated into the ward before baptism. Most intelligent people serious about their religion are not going to make that decision and commitment quickly – talk to the rock solid older members of any ward about how long they investigated and you will find very few of them committed to baptism fast. Parable of the sower – deep roots last. Saying yes quickly to baptism is not an indicator or lasting faith – it can also mean being gullible and not having really thought enough yet about the implications. Don't forget common sense amongst all the talk of miracles. It usually turns out to be right over time. A mission puts you at a very young age into situations that are really way beyond your life experience to be responsible for – making fundamental changes to people's lives and relationships with their family and community. Don't be intimidated by that – sometimes people stuck in a rut need a good dose of naive youthful missionary enthusiasm to realize they can be spontaneous and make big exciting changes still in their lives – we need young people to shake us up and remind us not to let our habits and the complications of life enslave us. But also don't ever let your enthusiasm and idealism override consideration for the potential consequences of what they and you are doing – this usually manifests as imposing a rushed timetable on investigators they are not comfortable with. Let them make all the decisions about dates and so on – there is no prize worth having for rushing. Don't compromise their freedom to choose and the essential importance of making the journey themselves to meet their needs and wants, not yours. You will regret it bitterly if you look back and feel you were doing rather too much of Satan's plan rather than Heavenly Father's. The most powerful and self-perpetuating motivation is love and it is all you need. Sales gimmicks and targets that in any way impose decision-making on investigators distract from and compromise pure love. My other advice is about coming home and making that adjustment. My experience watching many of my friends and companions as they returned to real life is that those people who were pretty sorted as human beings before their missions have a version of themselves as a civilian they are happy to go back to being and the transition is pretty smooth. Those people who did not really like themselves before their mission, really find it hard to adjust afterwards because they don't have a version of themselves they want to be to go back to and they tend to be very lost for a long time, or hang on to their mission experience too much afterwards. A mission is amazing, but it is only the beginning of a lifetime of even more amazing. Don't buy into the idea that these are the best years of your life – they are only the best years so far. Love it, remember it fondly, but move on from it. Most of your really significant missionary work and Church service is going to happen after your mission, but you will be far better at it because of the skills and confidence and wisdom your mission gave you. I did my best missionary work after my mission at University. The real work of conversion is a slow burn effort over many years – every member needs years and years of ongoing support and teaching and every moment along that journey is as important as the first ones. It is much more difficult and challenging than a mission because you also have to reintroduce all the other life ingredients of education, work, family relationships, developing your other talents and so on. So it is slower and less intense than a mission, but ultimately even more fulfilling, so look forward and don't have guilt trips that you aren't as busy with gospel things as you were on a mission. Don't make any major life changing decisions in the first 5 months of coming home – adjust to reality again first. Off the plane and up the aisle is rarely a good idea! Wait till you have got over the over-idealized missionary mindset that things will just work out fine even though it seems unlikely to everyone around you – trust their judgement. Get any serious relationship thoroughly vetted by the older wise people in your life because they will see things you are missing or not noticing! Also do this on your mission – get older and wiser members with you when you teach investigators and if they are trying to tell you to slow down or consider something you have not thought about or noticed about the investigator and their situation, you must listen to them because they know more than you about life however super fired up with the Spirit you are feeling. Faith and reason, intellect and feeling, wisdom and courageous risk-taking must be balanced with each other. (Peter)
I had a hard time trying to decide whether I should go but once I made the commitment it was the best experience for me. The experiences are like a well you draw from for the rest of your life. (Jeremy)
Stay close to the Spirit and be obedient. (Sheri)
They will not let you into the mission field or leave you out there if you suffer from depression these days. So that is not a problem you will face. The only relationship that matters is the one between you and God. Let the rest of the world disdain you as they will and listen only to God. As my mission President said to me at my exit interview before releasing me to return home at the end of my mission, "I hope you do not look back on your mission as a negative experience!" That was the best advice he could give me, and I commend it to you. (David)
READ and READ when you get home after a long day write in journal and read the Book of Mormon or other approved books. Good way to get energized and pumped for the next day. (Jeffrey)
Learn quickly to communicate with your companion. Openly, Honestly, and Lovingly. Understand that you definitely won't know everything right off the bat, and that's okay. Be humble and teachable, and learn everything from your trainer that you possibly can. Read Adjusting to missionary life and apply it. You might feel silly, but I swear it helps. Just do it. And most of all, when you get discouraged and think it's hard, just pray a lot, and remember why you chose to go out. Remember who it is you've promised to dedicate this time to, and the hardships He went through on behalf of you, and just ask Him to help you through it. :). (Kristen)
Love them with all you have! Love will do more in that area than you know! Sometimes it takes a different approach, teach first by example then in words. And remember you have incredible power!! You can touch people and you can overcome Satan. (Anna)
Be obedient, work hard, and remember you are on the Lord's errand. Forget yourself and go to work. It's no longer just about you it's about those you serve. Trust in Heavenly Father and in His will! Do what you know is right always follow the Spirit. Trust God's plan for you don't ever doubt that He knows what He is doing. You will be blessed and guided as you put your faith and trust in him, his will and his timing. Do the work. Don't be lazy! Blessing come from serving the Lord. (Emily)
Keep contact info, and never lose track. (Rob)
What was a funny language mistake?
Using "y'all" at the wrong time (yes it happens). (Collin)
Using y'all correctly as well as using their different lingo incorrectly. (Jason)
My companion rode his bike down a steep driveway and ran into the curb on the other side of the road and wrecked, it was funny. But none of the people watching would talk to us after still. (Marcus)
I thought that since I was going to Florida (English speaking) that I wouldn't have any problems. However, I was in one area for 8 months that was a tiny town tucked away in the South and sometimes I had NO idea what people were saying to me. I'd have to look at my companion and we'd both try to figure out what was being said. 🙂 (Melanie)
More about the culture of the people. (Darcy)
I had a French companion for a time. Those are the funniest days I ever had on my mission. (Mike)
The Southern accent can be pretty strong. I was sat in a trailer trying to make small talk with a topless man with a big blonde mustache who looked like a Viking warrior while my companion did his wife's baptism interview in the next room. I asked him what he did for a living and I was sure he said 'Ah Whale'. He definitely looked the part to be a whaler with a harpoon, but we were a long way from the North Atlantic. Eventually I worked out that he had said 'I weld.' He was a welder. (Peter)
I started talking like a Southerner and used improper grammar. (Sheri)
Buggies are shopping carts just so y'all know when you're fixin to go shopping. 😉 (Anna)
SOUTHERN!!!!!!!!!! (Rob)