Free resources about the Florida Orlando Mission:
*Other Mission Pages: Florida LDS Missions.
---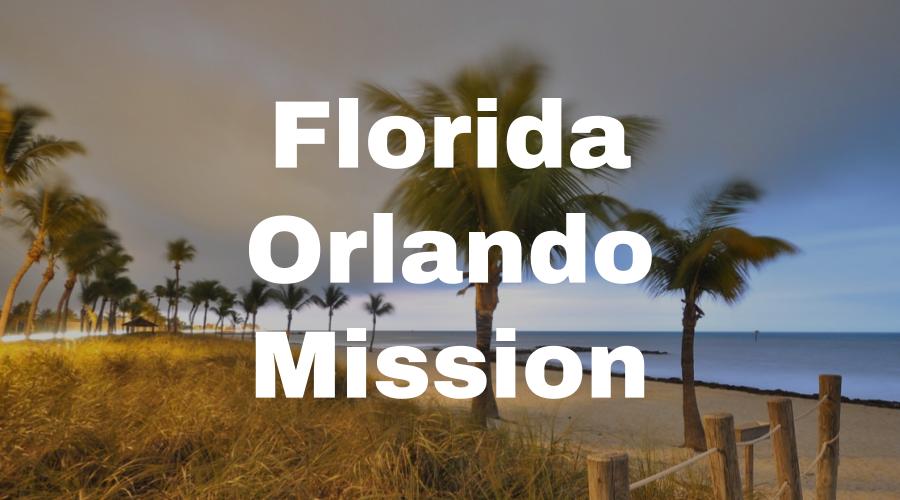 ---
Florida Orlando Mission Address
Here's a recent address for the Florida Orlando Mission. We try to keep this info up to date, but it's a good idea to check the address with several sources, including your mission packet or the mission office.
Florida Orlando Mission
10502 Satellite Blvd Ste E
Orlando, FL 32837-8426
Phone Number: 1-407-852-1270
Mission President: President David K. Clark
Florida Orlando Mission Map
Here's a link to the mission map for the Florida Orlando Mission (LDS). To access the official LDS.org map for the Orlando Mission:
Log into your LDS account here.
Click here.
Videos with Florida Orlando RMs
Here are in-depth YouTube video interviews with returned missionaries from the Florida Orlando Mission.  We interview hundreds of returned missionaries each year, so check back regularly to see new RM interviews.
LDS-Friendly Videos about Florida
Here are LDS-friendly educational videos about Florida. We scoured YouTube to find the best quality videos about Florida, that are free from inappropriate music, immodesty and profanity.
Florida Orlando Missionary Blogs
Here's a list of LDS missionary blogs for the Florida Orlando Mission. This list includes the missionary's name, URL and when their blog was updated.
*Send your missionary a gift (mission-specific shirts, ties, Christmas stockings/ornaments, pillowcases, etc.)
Florida Orlando Mission Groups
Here are Florida Orlando Mission Groups- for LDS missionary moms, returned missionaries, mission presidents and other alumni of the Orlando Mission.
Florida Orlando Mission T-Shirts
Here are T-shirts for the Florida Orlando Mission!
Shirt designs include Florida Orlando Mission logo/emblem shirts and Called to Serve shirts. The shirts make great gifts for pre-missionaries, returned missionaries and missionaries currently serving. LDS Mission shirts come in all sizes: Small, Medium, Large, Extra Large, up to 4XL.  The mission designs are printed on white shirts and are shipped to you.
*Simply click on a shirt design to view the details and submit an order. The designs on mission t-shirts may also be printed on other LDS mission gifts, including: Florida Fort Orlando missionary aprons, Christmas stockings, ties, pillow cases, teddy bears and Christmas ornaments.
*Click here to browse Orlando Mission gifts
---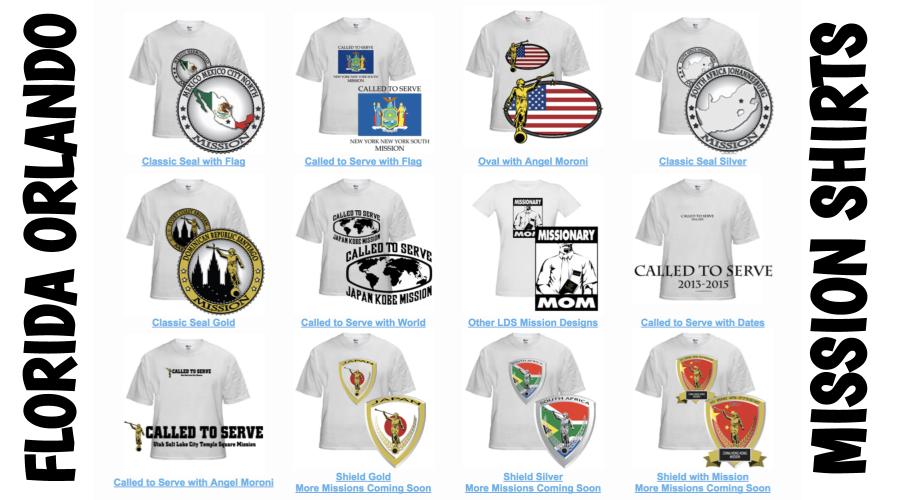 ---
Florida Orlando Mission Presidents
Here's a list of current and past Mission Presidents of the Orlando LDS Mission.
2016-2019, David K. Clark
2013-2016, Michael J. Berry
2010-2013, Garth V. Hall
2007-2010, John C. Darrington
2004-2007, Kent Walker Farnsworth
2001-2004, Wesley Miller White
1998-2001, Alma Paul King
Florida LDS Statistics (2015)
Church Membership: 149,355
Missions: 5
Temples: 2
Congregations: 241
Family History Centers: 69
Helpful Articles about Florida
Florida Orlando Missionary Survey
Here are survey responses from Florida Orlando RMs, to give you a snapshot into what it's like to live in the mission.
*Click here to take a survey to help pre-missionaries going to your mission.
When did you serve?
April 2013-October 2014 (K'Loni)
2014-2015 (Alexandra)
What were some favorite foods?
I loved Jimmy Hulas and Sweet Tomatoes. There are a lot of hispanics so a lot of rice, beans, and chicken. I like basically all foods! We didn't eat anything terrible. (K'Loni)
Anything Hispanic or South American. (Alexandra)
What was a funny experience?
We wrecked on our bikes a lot and got many laughs! (K'Loni)
We took a recent convert with us to a lesson, and afterward she insisted on tracting with us – and she was doing most of the talking. It was so funny, and so cool! (Alexandra)
What was a crazy experience?
While serving on a college campus we had a stalker! Luckily he got arrested. (K'Loni)
My trainer was held at gunpoint. (Alexandra)
What was a spiritual experience?
In my last area, we were at a dinner with some members and their nonmember friends, and one of the friends caught me off guard and out of the blue asked me what my testimony was. I don't remember exactly what I said, but I remember that the words weren't just mine; they were inspired. More than that, though, I remember how I felt, and I remember the look on this woman's face. The Spirit was so strong, and I KNOW that we all felt it and knew exactly what it was. (Alexandra)
What are some interesting facts about the Orlando Mission?
It's very diverse. Many missionaries, including sisters, get to bike. It has DisneyWorld, SeaWorld, and Universal Studios so lots of tourists. The traffic is insane. There are rural and urban areas. There is a temple and we got to go twice per year and also if a convert was going to get their endowment. (K'Loni)
It's one of the most dangerous places in the U.S. for pedestrians and bicyclists. Also, we do a lot of biking. It's really touristy and a little transient, so we got to meet people from all walks of life, all over the world, all different religious backgrounds. The people were the best part. (Alexandra)
What was the weather like?
VERY humid and hot for most of the year. Hurricane season is May-November so that is when it rains every day in the afternoon, but it is still super hot. December was the most beautiful month, I thought. It got a little cold in January and February; the humidity cuts right to the bone! (K'Loni)
HOT! Humid and pretty gross. But in the winter, it got shockingly cold, which I wasn't expecting. I definitely wasn't prepared for that part. (Alexandra)
Any things you really like about the area/people?
I loved biking and being able to talk to people on the street. Most were willing to talk about Christ. Depending on the area, some people were much more open than others. All of the members are awesome and good to the missionaries. (K'Loni)
When I opened my call, I was disappointed about where I'd been called to. But I didn't tell anyone that. But I remember that my stake president said something in my setting-apart blessing that was prophetic to me: "You have not been called to a place, you have been called to a people." I didn't like the place for most of my mission – but I loved the people. And I needed them! I wouldn't trade those relationships for anything. (Alexandra)
Any packing/clothing advice?
Try to get shirts that you don't need to wear another shirt under. I wore a lot of just cotton T-shirts from Target. Many sisters would cut off cotton leggings to wear under their skirts to bike. Biking shorts material is just too hot. (K'Loni)
You might want a raincoat at first, but you'll get used to the rain – after my first couple months, I never used my raincoat again. Not even during summer, when it rained almost every day. But do be prepared for the cold winters. Layering is key. I sprayed my shoes with weatherproofing stuff, and I highly recommend that as well. (Alexandra)
What blessings did you receive from serving a mission?
Just a year after being home, I have an amazing husband and awesome job 🙂 My sister is now on a mission, which was a miracle. Things have just really come together for me since being home. (K'Loni)
While I served, a lot happened in my family. My parents moved, one sister got married, another had a baby, and the third moved across the country and had a baby. All of those things were hard but they were blessings. As for me… I felt SO unqualified as a missionary. I wasn't active in high school, so I didn't go to seminary, and I felt like that left me with a major handicap. I didn't know the scriptures! But Heavenly Father helped me overcome that, and so many other challenges I had. It was still hard, like it is for everyone, but I know I had help. I was completely changed by my mission, and my life is so much better now than it would have been if I'd chosen not to serve. The people I got to know are a huge blessing to me as well. I could go on forever… The tender mercies, the blessings, the miracles, are just overwhelming. (Alexandra)
What are some skills you gained?
How to pray, study, communicate, listen, work hard, and love. (K'Loni)
I learned how to be more social; I learned how to get along with a lot of different types of people; I learned how to study and pray and fast and make sacrifices like never before; I learned how to ride a bike; and possibly most important, I learned how to be a better version of myself than I'd ever imagined. (Alexandra)
What do you wish you knew/did at the beginning of your mission?
I wish I knew how to just love people more and not worry so much about the numbers. (K'Loni)
I wish I'd been more obedient. My trainer did a lot of things I wasn't comfortable with, and I wish I'd spoken up and sought counsel from mission leaders instead of letting it continue. (Alexandra)
Any advice/testimony for pre-missionaries going to Orlando?
KEEP A JOURNAL!!! You'll start to forget things even while you're still on you mission. Plus, you have no idea what a blessing it will be to look back on your experiences and the things you learned from studies and your companion, once you're home. My notes and my journal were a lifeline for me. Other than that… You need to realize that this is the opportunity of a lifetime. Don't be afraid. Realize how much Christ trusts you – He has hand-selected you to represent Him. You can do hard things, with His help. Don't waste this time – it's your offering to the Lord, but it's also yet another precious gift He is offering you. Look for the parables, look for lessons to learn, whether it's going well or horribly or everything in between. Some days will be very difficult, but just know that God will never leave you alone. He loves you and knows you and He will never, ever forsake you. And, being His servant and representative, you have a duty to do the same for the people you serve. Strive to see them as God sees them. (And strive to see yourself & your companions that way, too!) Love them, get to know them, and never give up on them. Even if all you can do is pray for them – do all you can. Account to the Lord every day, and humbly seek His counsel. As you strive to live the gospel in the fullest way, and love these people, and love your leaders and fellow missionaries, and love yourself, I testify that you will come to know for yourself what the enabling power of the Atonement is, and you will understand more about its infinite nature. (Alexandra)
What was a funny language mistake?