(Get this design on a T-shirt!)

Free resources about the England Manchester Mission:
*Other Mission Pages: England LDS Missions.
---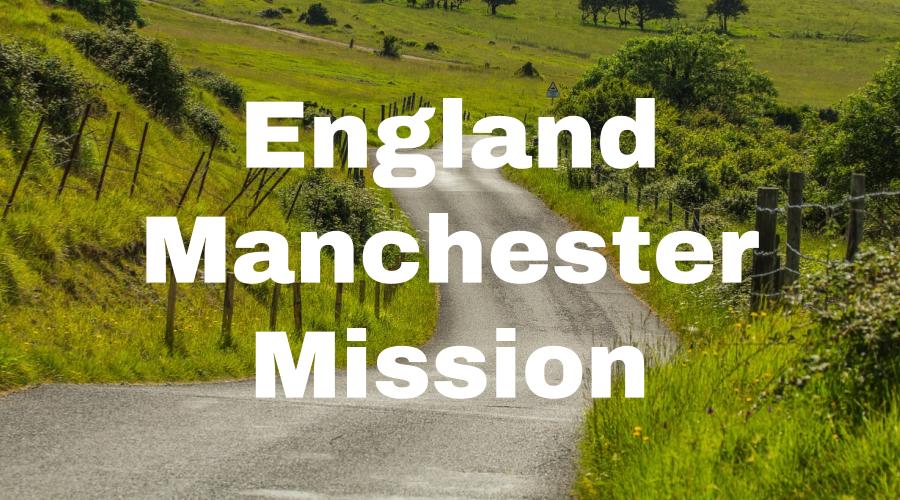 ---
Manchester Mission Address
Here's a recent address for the England Manchester Mission. We try to keep this info up to date, but it's a good idea to check the address with several sources, including your mission packet or the mission office.
England Manchester
The Church of Jesus Christ of Latter-day
Altrincham Road
Manchester
England M22 4BJ
United Kingdom
Phone Number: 44-156-575-5878
Mission President: President Stuart N. McReynolds
England Manchester Mission Map
Here's a link to the mission map for the England Manchester Mission (LDS). To access the official, up-to-date LDS.org map for the Manchester Mission:
Log into your LDS account here.
Click here.
Videos with England Manchester RMs
Here are in-depth YouTube video interviews with returned missionaries from the Manchester Mission.  We interview hundreds of returned missionaries each year, so check back regularly to see new RM interviews.
LDS-Friendly Videos about England
Here are LDS-friendly educational videos about England. We scoured YouTube to find the best quality videos about England, that are free from inappropriate music, immodesty and profanity.
Manchester Missionary Blogs
Here's a list of LDS missionary blogs for the Manchester Mission. This list includes the missionary's name, URL and when their blog was updated.
*Send your missionary a gift (mission-specific shirts, ties, Christmas stockings/ornaments, pillowcases, etc.)
England Manchester Mission Groups
Here are England Manchester Mission Groups- for LDS missionary moms, returned missionaries, mission presidents and other alumni of the Manchester Mission.
England Manchester Mission T-Shirts
Here are T-shirts for the England Manchester Mission!
Shirt designs include England Manchester Mission logo/emblem shirts and Called to Serve shirts. The shirts make great gifts for pre-missionaries, returned missionaries and missionaries currently serving. LDS Mission shirts come in all sizes: Small, Medium, Large, Extra Large, up to 4XL.  The mission designs are printed on white shirts and are shipped to you.
*Simply click on a shirt design to view the details and submit an order. The designs on mission t-shirts may also be printed on other LDS mission gifts, including: England Manchester missionary aprons, Christmas stockings, ties, pillow cases, teddy bears and Christmas ornaments.
*Click here to browse Manchester Mission gifts
---
---
Recommended Mission Prep Books

(Fun fact: George Durrant served a mission in England!)
Manchester Mission Presidents
Here's a list of current and past Mission Presidents of the Manchester LDS Mission.
2017-2020, Stuart N. McReynolds
2014-2017, Mark D. Ulrich
2011-2014, Robert I. Preston
2008-2011, David John Bullock
2005-2008, Theodore M. Jacobsen
2002-2005, David M. Fewster
1999-2002, Philip Wightman
1997-1999, Bruce Stucki
1994-1997, H. Bryan Richards
1991-1994, Terry R. Clegg
1988-1991, Paul Davis
1985-1988, Dean Jarman
1982-1985, Parley Joe Livingstone
1979-1982, Ellis R. Ivory
1976-1979, O. Louis Alder
United Kingdom LDS Statistics (2016)
Church Membership: 186,423
Missions: 6
Temples: 2
Congregations: 332
Family History Centers: 122
Helpful Articles about England
Manchester Missionary Survey
Here are survey responses from England Manchester RMs, to give you a snapshot into what it's like to live in the mission.
*Click here to take a survey to help pre-missionaries going to your mission.
When did you serve?
2017-2019 (Enoch)
February 2014-August 2015 (Hayley)
2011-2013 (Dennis)
2001-2003 (Clint)
2002-2004 (Mark)
1996-1998 (Oliver)
1989-1990 (Jayne)
1981-1982 (Ertle)
1986-1988 (Dana)
1988 (Jean)
September 1978-September 1980 (Alain)
1980-1982 (Mark)
1992 to 1994 (Ronald)
2008-2010 (Luke)
2012-2014 (Terrence)
1989-1991 (Eric)
2012-2014 (Taylor)
2007-2009 (Hugh)
2000-2002 (John)
2001-2003 (Andi)
1995-1997 (Nathan)
1984-1985 (Stephen)
1983-1984 (Rick)
What areas did you serve in?
Hyde, Stoke, Ashton, Rhyl, Manchester South, Kendal, Blackpool. (Enoch)
Lancaster, Birkenhead (near Liverpool), Wigan, Whitefield (near Manchester), Crewe, Borrow-in-Furness. (Dennis)
Accrington, Stockport, Altrincham, Mission Office, Chorley, Middleton, Runcorn, Skelmersdale, Eccles, Burnley Nelson (Oliver)
Shrewsbury, Isle of Man, Rochdale, Liverpool, Preston. (Luke)
Preston, Warrington, Oldham, Burnley, Southport, Hyde. (Eric)
Chorley, Bolton, oldham, Rhyl (Wales), St. Helens, Macclesfield, Stoke-on-Trent, and Warrington. (Taylor)
Porthmadog, Wales. (Hugh)
Wrexham, Porth Madog, Eccles, Chester, Blackburn. (John)
Hyde, Bolton, Bangor (Wales) and Northwich. (Andi)
Rhyl, Sale, Blackpool, Southport, Rawtenstall. (Nathan)
Bolton, Stockport, Barrow, the Isle of Man, Liverpool, Warrington, and Rochdale. (Stephen)
Manchester, Bury, Stockport, Preston, Rawtenstall. (Rick)
What were some favorite foods?
Yorkshire puddings. (Enoch)
Trifles. Egg white pudding. Chocolate!! Yorkshire pudding. Jacket potato. Beans on toast. (Hayley)
Indian curries, Sunday roast dinner, Fish & chips. (Dennis)
Chicken Kebab, and Sleepy Panda in Wrexham. Chips and cheese or chips and meat pie. (Clint)
Kebabs (Mark)
Baked Beans. Chips (like thick cut french fries). (Oliver)
Roast potatoes, cheese pie, mushy peas, English chips, and all of the chocolate as it has no preservatives. (Jayne)
Fish & Chips. (Ertle)
Kabobs. Chip's. Never had much fish because I couldn't afford them. (Dana)
Cheese and onion pie. Fish and chips and mushy peas. (Jean)
Fish and chips. Fresh bread. Meat pies. English chocolates. (Alain)
Vimto and Curry. (Mark)
Vanilla Slice and Yorkshire pudding! (Ronald)
Carvery's, Yorkshire Puddings, Any kind of dairy product. (Luke)
Bangers and Mash, Fish and Chips, Banofee Pie,Yorkshire Pudding, Curry. (Terrence)
Donner kebabs, brussels sprouts, Yorkshire pudding, Skips crackers, Hob Nobs, Crunchies, Roasties, lamb and mint sauce, Indian food. (Eric)
Sunday roast, curry, shepherds pie. (Taylor)
Anything in front of me except yogurt. Specially loved Welsh dishes called laver bread and cockles. (Hugh)
Roast beef. Kebabs. (John)
Trifle, pasties. (Andi)
Chips and curry. (Nathan)
Donor kebabs, cheese & onion pasties, pickled onions, curry, fish and chips, shepherds pie, Mars Bars, salt & vinegar crisps, Vimto, Schler. (Stephen)
Fish and chips, sausage rolls, Yorkshire pudding, Cornish pasties, cheese and onion pies, Chinese, kabobs. (Rick)
What was a funny experience?
When the new missionaries did not understand British phrases. Sometimes people didn't understand the dry humor that British people have and they felt offended while it was normal for the others. (Hayley)
After anyone asks you if there is anything he/she can do for you, always ask something funny whether it is spiritual, funny or awkward.(Dennis)
Members telling me I'd be sore from riding a bike. (Clint)
Toilet Papering other members of my district's flat. (Mark)
My district leader from Germany had a radio controlled alarm clock. He had bought it in Germany and it received it's signal from Germany. Therefore he was always an hour ahead and needed to adjust his wake-up time accordingly. He didn't know about the option to adjust it by x hours. I grabbed his alarm clock and adjusted it by an hour to be consistent with GMT (British Time) instead of CET (Central European Time). I forgot to tell him about the adjustment. The next morning all of us were fast asleep, when he entered the room to inform us, we were an hour late. We checked the time and asked him what was going on, as it was 5:30 am. Of course, he wouldn't believe us, because his clock was radio controlled. Then I remembered what I had done the day before and all of us enjoyed some more sleep. He wasn't amused at all. LOL (Oliver)
The wind blows a lot in England! As my companion and I were walking up to do a door approach to a man we saw, my skirt flew up over my head! We all got a good laugh out of that. (Jayne)
Can't really say it but it was when an elderly man came to answer the door while tracting. (Dana)
Getting pulled over on my bike by a copper on a bike for riding on the wrong side of the road. It was my first month there. (Alain)
Tracking with George Knox. (Mark)
Building a snowman shop of horrors! (Ronald)
A cat followed us for a few doors once when we were tracting. He was staring at me from the ground and suddenly jumped up my body and pawed me in the face. We didn't pet cats anymore after that experience. (Luke)
In my 2nd area, me and my companion went to go and contact an AUF (Address Unknown File) in the evening. When we got off the bus and started walking, it started raining hard. I didn't have an umbrella so my companion gave me one of his. We started walking and kid you not I walked about 20 steps and the wind broke the umbrella. He then gave me an extra one. That one broke as well. He then offered to share his big umbrella. He then said, "This will strengthen our companionship unity!" I was already drenched from the rain. It then rained harder. After that I just gave up and walked in the rain. When we got to the AUF.l, she answered the door. She then said, "You must be cold. You all should get out of this storm!" In our heads we wanted her to invite us in! She then shut the door. Me and my companion started to laugh! If you will be serving in England, be prepared for rain…LOTS OF RAIN! (Terrence)
Too many to tell! On the sides of the roads there are double, solid yellow lines. They are parallel to one another and there is a space of about 4-6 inches between each line. We rode bikes everywhere and my trainer told me that between those lines was the bike lane. That you MUST ride between those lines or get a ticket. I did my best to stay within those lines for a few days until I noticed that he wasn't doing it. He was a VERY obedient missionary so I just couldn't imagine him flouting the law like that! We got to our destination and I asked him about it. He laughed and told me that he was pranking me. It was the first time I realized that it was okay to have fun as a missionary! (Eric)
The first day I got to a new area there was a baptism. So we went to the church and helped with the refreshments. As we were heading back into the church to grab the rest. I turned around and ran right into a pile that was coming out of the building. Most of the ward saw it and it was pretty funny;) (Taylor)
Hearing the Spirit's voice sounding just like mine when I answered a less-active sister's questions to which I didn't know the answers. (Hugh)
Street contacting. Some of the bizarre and interesting people we came into contact with. (John)
My companion wiped out on his bike, and broke his pinky finger. We went to a doctor's office where they set it and put it in a finger splint. When we went back for the follow up, the doctor removed the splint and asked my companion to close his hand. As my companion closed and opened his hand a few times his pinky finger overlapped his ring finger as the pinky had been set crooked. The doctor asked if my companion played the piano to which he answered no. The doctor's comment then was, "Oh well, it won't make much difference then, will it?" (Stephen)
Scaring my companion in the Preston Cemetery. (Rick)
What was a crazy experience?
Got people throwing rocks at us from across the street. (Hayley)
Being followed by around 10 chavs while it's dark. Helping a less-active with his dishes which he didn't do for months(?), so there was mold everywhere. (Dennis)
I nearly died on a bike twice. (Clint)
Finding an old man stuck on an old railway bridge half way across a river and rescuing him. (Mark)
There were quite a few. People attacking us physically. Once people attacked us with fire crackers or rockets or something like that. (Oliver)
Riding bikes. (Ertle)
Getting surrounded by a gang of teenagers in Liverpool later in the evening. (Dana)
The bus ride home from a mission conference when all us American missionaries rode on the upper level and leaned away from the turns on the roundabouts. (Alain)
Having a large carving knife put to my throat and told I was going to die. (Mark)
Breaking into the font when nobody would bring down keys! (Ronald)
I had an egg thrown at me from a car while waiting at a bus stop on an exchange. The egg bounced off my chest though. (Luke)
In my 4th area, me and my companion were just finishing our meeting with a less active family. Suddenly a guy yelled out, "Bible bashers!" Of course it was normal so we ignored it. The guy who yelled it was asking what are we doing here. I just gave a remark to shew him away. He then tried to follow us. After walking a bit, we realize that we forgot the phone. The guy was there just looking at us and looked like he was about to do something. I didn't flinch and I kept walking. I then looked in his direction and smiled at him. He was then called back home by one of his brothers. I stared him down, he left, we got our phone and headed back home. It was crazy and it could have been dangerous, but the reason why I share this story is that the Lord will always protect you on His errand. Do not buckle down to fear others for the Lord has got your back. (Terrence)
We went into many areas that even the police didn't go and no one ever bothered us. One time we were in a McDonalds and some kids came in and wanted to fight. They had clubs and xacto knives and it was pretty nerve wracking for a moment until one of the Elders walked right up to their leader and told him that he had two choices, they could leave and leave us alone to have lunch so that we could go and do God's work, or we could all go outside and brawl. He said that if they chose the latter, people were going to get hurt and that those people would be him and his gang. More a Captain Moroni moment than a meek and lowly lamb moment! (Eric)
As a missionary you are placed in many different places that you normally would not be in. There was one home that we went into that had been fine the times before. But this time it was different and we did not realize how different until we were inside. No matter how hard we tried to bring the Spirit he could not reside in that Home. When we left we did not feel safe. So we started walking. We didn't realize where we were going until we found ourselves on the temple grounds. I know that if you are doing want you are supposed to be doing the lord is there to help guide you through it. (Taylor)
One extremely near miss while driving to district conference; lesson – don't argue with trucks ten times your size. (Hugh)
Sledding (tobogganing) down a huge, long, snowy hillside desperately trying to slow down because it felt so horribly sickening not being able to stop the adrenaline, but all I got for putting my feet down was a lot of icy powder in the face, making things even worse. (Andi)
Riding bikes through a heavy rainstorm on poorly lit roads in the middle of nowhere. Riding bikes through parks in the dark to make it to an appointment [or home]. Riding bikes on black ice. (Nathan)
Riding our bikes on the icy streets in Barrow after a storm, and trying to knock each other over. (Stephen)
What was a spiritual experience?
Everything. There were a lot of times when I felt I found those people that God has prepared on my path to find. There are a lot of conversations I had with people from different ends of the world. (Hayley)
Baptizing someone who was in a wheelchair and was found by a dream (my companion heard his street name as a whisper in one of his dreams). (Dennis)
Zone conferences, interviews with the president, the open house and dedication of the Preston Temple. This was the most spiritual experience: One day, as we were walking down the road, people were yelling after us. This wasn't anything unusual, so we kept walking, as they usually would try to make fun of us. They yelled again, so we stopped. It was an elderly couple. We asked them, what was up. They told us, they were visiting from the United States and members of the church. They asked us to visit them one day. So we made an appointment and visited them the other day. It was amazing, how strong the Holy Ghost was present. It felt like we could touch the Spirit. If I had a knife with me, I could have cut a slice of air to take home with me. It was so wonderful and one of the most spiritual experiences of my life. (Oliver)
So many times we would follow the Spirit to specific streets or houses or saying the right things at the right time. Every time we listened, we had so many blessings. The Lord is always there. (Jayne)
Rededicating myself to the work. (Ertle)
While teaching, my companion and I were experiencing a recognition that we are opening or mouths and the Lord was providing the words. (Dana)
I got to baptize in the river Ribble in Preston in October of 1979. (Alain)
My whole mission. (Mark)
Knowing president Clegg was very spiritual and for me a life changing experience that's kept me a follower of Christ to this day without question. (Ronald)
My Dad got cancer when I was on the Isle of Man. My companion and I were fasting and praying that my Dad might be healed as we worked hard. We worked hard and my Dad was healed and we began teaching 3 families that were later baptized. (Luke)
There was a time in my 3rd area where we were out and about talking to people as usual. Except this day was where the people became more rude. People yelled at us, called us names, and someone yelled out a racial slur to me. It was a difficult day. At the end of the day, we had a lesson with a Gypsy family from Poland. It started out rough because everyone was doing there own thing. My companion had a great idea to read a passage from the Book of Mormon. Slowly the family all came into the room and read with us. The Spirit was so strong and we felt prompted to ask them to prepare for baptism. They then agreed to be baptized. It was the most perfect way to end a day. (Terrence)
In one of my areas the whole time I was there we saw miracles after miracles. The area and the people were ready. I look back at it and think what did I even do? I was there and let the Lord work through me to help those that were ready!! (Taylor)
Baptizing when we were not meant to be doing that, our mission was not proselyting! (Hugh)
When sharing my testimony and knowing that the receiver is feeling the Spirit. (John)
So many "little" day-to-day things letting us know God was with us. Also, visiting a musical church service for another faith, and enjoying the shared love of Christ which came out in the music and celebration. (Andi)
Seeing the Spirit work upon a member missionary to lead us to a person who is ready to hear the gospel and be baptized [married and sealed in the London Temple about a year later]. Seeing myself grow spiritually, emotionally, and mentally was a spiritual experience. (Nathan)
Teaching a discussion about the restoration, and receiving a spiritual affirmation of its absolute truthfulness. (Stephen)
Wow. Numerous. Usually teaching experiences. Finding people out of the blue. Conferences. (Rick)
What are some interesting facts about the Manchester Mission?
They had the first baptism outside of the United States. President Hinckley, Woodruff, and many other apostles served in this blessed land. We have the oldest ward that is still serving since the church has established. (Hayley)
If you think they speak proper British English in the Manchester Mission, then you're totally mistaken. (Dennis)
The Isle of Man is best the last week of May and first week of June. (Clint)
Oldest mission in the United Kingdom. (Scot)
My mission had most of the church history sights in the United Kingdome. I loved visiting those sights. (Jayne)
In 1982, we were the highest baptizing, English speaking mission in the world. Over 2000 people. (Ertle)
The first baptism in Europe was performed in our area. Many great missionaries served there. (Dana)
My mission covered 3 stakes which gave us 4 to 6 missionaries per ward. The first baptizms outside of the United States were performed in Preston in the river Ribble. (Alain)
It rained a lot. (Mark)
I was old even 25 when I started out as a missionary! (Ronald)
I got to see my brother when I had a couple months left, he got called to Leeds and I was serving in Preston when he was in the MTC. I asked and they let me be his companion for the finding experience they let you have in the MTC. (Luke)
It was the 1st international mission, Alot of Church history sites. (Terrence)
The areas in which I served in were areas that my ancestors lived in and served in before they migrated to the states. (Taylor)
My wife and I served 18 months in one branch (Porthmadog). When we were released, we just stayed on our mission but without badges! We couldn't leave those wonderful people so we didn't go home. We still live there. Our mission was in Wales, NOT England. The people like to be recognized as Welsh and treated as such. Name badges should be in Welsh (available to order from the Mission office). (Hugh)
One of the first missions ever created in this dispensation. (John)
It may have changed, but there were a LOT of African refugees. We prayed about where to tract, and I got a distinct feeling about one particular street (Luton street, in Bolton – #14 if I recall 😉 ). It turned out to be a "waiting" apartment where people lived while their asylum papers were pending. Some would move on, and new people would move in… and they were ALL humble and teachable. They also knew others who were interested, and many were from French-speaking, African countries. By the time we'd been there 4 1/2 months, the two of us sisters were "shotgunned" out of the area to be replaced by two French-speaking Elders because the French-speaking branch had already grown to about 14 members. (Andi)
Saints left from the Liverpool docks. There is a Beatles museum in Liverpool. Loads of general English history all over. (Nathan)
The first LDS mission and baptisms in this dispensation outside of North America took place there; it was the heart of the industrial revolution and everything was run by coal, the factories, the transportation, heating the homes, and black soot covered all the buildings; some of my ancestors joined the church and emigrated from there; legends of the origins of the British people tie them to migrations from ancient Israel, particularly the tribe of Ephraim; President Hinckley served there as a young missionary (in Rochdale). (Stephen)
Smallest in area outside of Utah. Was the top English-speaking baptizing mission at the time. (Rick)
What was the weather like?
Rainy. Lots of rain! It's cold and rainy and chilly. (Hayley)
It was very wet, the summer of 2012 was the wettest summer ever in the area. (Dennis)
On the Isle Of Man, it's like Spain, sand, sun, and palm trees. The mainland, it rains. (Clint)
Very hot in the summer with some rain, very wet in the winter. (Mark)
Cold and rainy and windy. And I loved it all! (Jayne)
A lot of rain. (Ertle)
Nice summers. Quite rainy. Winter chill and dampness goes right to the bones. (Dana)
Wet, rainy. (Jean)
Rainy, cloudy, temperate weather. Prepare for wet. (Alain)
It rained a lot. (Mark)
It was mixed. The winter was cold with plenty of snow. Very humid as well. During the year, it was a mix of sun and rain. One summer was extremely hot and dry – at least in Chorley, where I served at the time. (Oliver)
Cold, very cold. (Ronald)
Wet! The cold would bite because of the humidity. It was surprisingly hot in the summers though. (Luke)
Rain, rain and more rain, Very Humid. (Terrence)
Misty, fine rain punctuated by periods of sun, followed by broken clouds and topped off with cold downpours. (Eric)
Beautiful. I loved it everyday! (Taylor)
Wales is the cleanest country in the world – it gets washed every second day. When the sun shines, the place is glorious, but when it's wet – usually – it's pretty miserable. (Hugh)
Raining. (John)
Lots of clouds, some rain, some sun, some fog, some snow, sometimes weather would change in 5 minutes. (Andi)
Beautiful. More cloudy than sunny. Humid. Gets to around freezing in winter and into the 90's F in summer. (Nathan)
Humid, and typically cold and windy and often rainy, the kind of wind, because of the humidity, that seemed to just go right through your bones no matter how many layers of clothes you had on, although the ground never froze. (Stephen)
Remember some rain and snow on occasion, but no real memories of it being bad or miserable or anything. Loved being in England! (Rick)
Any things you really like about the area/people?
People are so kind. They are kind to everyone if you treat them right. And the place is blessed because the early apostles left great promised blessings there. (Hayley)
They are very polite and friendly people who want to respect each other as much as possible. (Dennis)
The TT and rally races were a lot of fun to experience. Thousands of years of history is cool as well. (Clint)
Very honest and kind people. (Mark)
People were very open about religion. It was simply a topic to discuss on the road. It was normal to teach at least one first discussion on the road and get a return appointment for a second. I liked the rolling hills in the country side. Enjoyed it much more that the city. The air was much better as well. (Oliver)
The English people are quite reserved at first. But when you get to know them, they will do anything for you. Very kind. I love the people there! (Jayne)
Humble people and a lot of history. (Ertle)
The history and close identity. Their fervor toward their football clubs. (Dana)
The people are humble and welcoming. (Jean)
The people loved you or hated you. I found that the people who hated me didn't know me yet. Lots of history. Birthplace of the Beatles. (Alain)
Their sense of humor. (Mark)
Like? Are you kidding ?? I LOVE the people of Britain. (Ronald)
What do I not like is probably a better question. I loved it all. Even when the people were stubborn I loved them just for who they were. (Luke)
So green, beautiful scenery, the people are wonderful and headstrong, the youth of the Church there are so special. (Terrence)
The sense of history, the rolling hills and stone fences. The reserved and proper nature of people who were generous and gracious almost always. (Eric)
I loved that each place was different just like the people. You could always find new thinks to love about them. (Taylor)
Everything. The people are friendly, generous, humorous. The place? well, when God made the world he made Wales so people would get a preview of the Celestial Kingdom. (Hugh)
They're children of Heavenly Father just as much as I am. (John)
I can't really describe it. I liked coming back with a sing-song-y lilt that wasn't quite an accent. (Andi)
The accent, weather, the small wards. (Nathan)
My ancestry is from there, I loved how green it was, I loved the stone masonry and stone walls everywhere, and I loved the quaint country lanes and villages. I was amazed how old everything is and how much history is there. I loved the challenge of driving there. I also loved the Lancs British accent but I found that people are people, and that albeit circumstances may differ, they are the same no matter where you go, but I grew to love the people I served. (Stephen)
The beauty of the areas and the living history. The members were great! (Rick)
Any packing/clothing advice?
Thermal wear is not necessary. A huge and waterproof coat is needed. Wear your clothes in layers. Sisters need more warm tights. (Hayley)
Bring a good rain coat and warm coat for the winter time, as you will be outside a lot. (Dennis)
Top of the line rain gear is a must. GoreTex is your friend. Get it in the states before you depart for the Mission Training Center. I'd recommend two sets. One light weight set and another with a fleece liner, for hard winter times. Umbrellas are junk. Don't waste the money on one. Water proof shoes are a must too. (Clint)
Decent waterproofs. (Mark)
Take warm clothes for the winter and a good rain coat for the rest of the year. (Oliver)
Water proof shoes and jackets. We layered a lot in the winter. (Jayne)
Rain gear, warm coat. (Ertle)
Buy cheap and durable suits. They'll get worn and dirty. (Dana)
Raincoat and good walking shoes. (Jean)
Warm clothing. Shoes that really stand up to a lot of walking. It will snow and church shoes are very slippery. Think of shoes or over shoes with traction. (Alain)
Pack for rain. (Mark)
Doc martins and a wax jacket! (Ronald)
Buy your coat in England. Don't get a coat in America, mine wasn't warm enough and didn't keep out the humidity. (Luke)
Make sure you get Long Johns! Get shoes that are water proof and sturdy (you are going to WALK). Get a good rain jacket. Buy a brolly (umbrella) in the UK. (Terrence)
Good shoes! I destroyed my Rockports in the first month. In fact, my best shoes were shoes that I bought in England. Doc Martins are cheaper there and I had a couple of pair of the black ones that lasted me forever. Save some money to buy a nice wax jacket when you get there. A "waxie" is a hip length rain coat, usually cotton made water proof with a paraffin based waxing. They are warm and water proof and hold up to the weather great. The bedding situation was a surprise to me. As we moved to new areas, there was always a bed (or just a mattress sometimes) but rarely any sheets. Most missionaries had a large down comforter that they took with them and many times, that was our only bedding. You would lay it down then get in and fold it over you like burrito or something! (Eric)
I would wait to get a rain coat in England! They have ones that can really stand up to their rain. (Taylor)
Take lots of spare socks; in United Kingdom, yours will get wet during the day and it's a good practice to change your socks at around 5 pm daily – it will put an extra ten gallons in your tank! Pack a couple of light-weight raincoats – one on and one drying! And take a set of scruffy working clothes or a set of coveralls for service projects, with old shoes. (Hugh)
Always carry a light rain coat. (John)
Layers. A warm coat, and warm shoes/extra socks. (Andi)
Bring sweat pants to wear under your dress slacks in winter. Good gloves are important. You may or may not be able to wear a vest, but get a big wide scarf [big enough to wrap around you twice and cover your chest] and that should work instead of a vest. Bring nice looking black boots you can walk in for a while. (Nathan)
Don't take a winter coat or a raincoat; rather, wait and buy them there and get a proper heavy wool overcoat (bought mine for about 20 pounds at Aflec's Palace, a used clothing store in Manchester, and still have it) and a "rain mac" raincoat (sold mine to another missionary, wish I had hung onto it). (Stephen)
What blessings did you receive from serving a mission?
I learned how to study better. (Hayley)
The most important blessing there is: a strengthened testimony of the Gospel of Jesus Christ. The Privilege to see people being changed by the Gospel. (Dennis)
A stronger testimony of Jesus Christ and the restoration of the gospel through the Prophet Joseph Smith. (Clint)
Life long friends. (Mark)
Learned a lot about people and about the gospel as well. I found out, the people in the wards are the same, no matter where I went. There are always the same characters – different names, different faces, but same or similar constellation. As English isn't my native language, I was able to improve my English skills quite a bit. I was also blessed to gain more understanding of the gospel. (Oliver)
I had wanted to serve a mission since I was 9 years old. I learned the Lord is always there for me if I turn to Him. I learned He knows me. I am the mom of 4 boys and its great to talk to them about my mission. (Jayne)
Too many to list. (Ertle)
Testimony of the Spirit's real influence. Interpersonal skills. Leadership. Unselfishness. Better husband. (Dana)
I gained the ability to talk to anyone anywhere. I got to really know the saving principles of the gospel. (Alain)
Rain from heaven. (Mark)
Too many to fit in this little box! My whole life and beautiful family and all I hold dear! (Ronald)
A lovely wife, a good education that led me to a great job, preparation to be a sacred husband and father, and so much more. (Luke)
I received great blessings: I became fearless in asking people to hear the missionaries, I was able to go back to school, and the biggest blessing I've received from serving is that I married a sister from my mission! 🙂 (Terrence)
I met my wife through a missionary friend. She was serving a mission all the way around the world. Her friend and I got to know each other then she set us up when we got home! I grew spiritually and emotionally. It solidified my Gospel foundation. (Eric)
I found my ancestors and met a member that had journals from and ancestor that we did not have. I was able to send them home so my family could have time. I was able to learn who I am and what I am really worth. That I deserve more than what I was letting myself believe. (Taylor)
You mean apart from the thrill of serving the Lord? One baptism and 22 less-actives reactivated – and the daily thrill of being with my wife. (Hugh)
A greater love for the temple and missionary work. (John)
Saw God's hand in His work every time I asked Him to make me an instrument. Met 14 different souls who were eventually baptized, and got to be part of various stages of their conversion. Sometimes I watered, sometimes I saw the reaping at the end of other missionaries' efforts. The people skills I learned were a huge help when seeking employment. (Andi)
Personal growth. My family received blessings also.  (Nathan)
I gained a sure testimony of the truthfulness of the gospel and the restoration, I learned many great lessons–most through tribulation, I fell in love with the British people, and 4 1/2 years after leaving, I married one of our best member missionaries and a great friend. (Stephen)
A lifetime of experience and memories to look back on. Preparation for a life of service in The Church. (Rick)
What are some skills you gained?
Play the ukulele. Teaching. (Hayley)
Getting out of my comfort zone by bus contacting, it's so awkward in the English culture! (Dennis)
The ability the endure, and a solid ability to communicate. (Clint)
The ability to plan and talk to groups of people. (Mark)
Improved English. Learnt a lot about people. Resilience. (Oliver)
Definitely talking to anyone, anywhere. Listening, and looking for common ground to build on. (Jayne)
Living with a companion. Been married for 30 years. (Ertle)
Leadership and interpersonal skills. (Dana)
Learned how to talk to people, brought me out of my shell. (Jean)
Persistence, and the ability to get along with people. The blessing of seeing other lands and religions; to be able to understand different points of view. (Alain)
How to be confident around people and how to dress for rain. (Mark)
Hands down I learned to be a good follower! That's a skill that's kept me active and faithful and growing. (Ronald)
Talking to people I didn't know and overcoming shyness were really big. Also the ability to teach and train groups. I also learned how to drive manual transmission. (Luke)
Constant prayer, faith, humility, planning, cooking, diligence, charity. (Terrence)
Cooking, ironing, living with another person, appreciation of another culture and other ways of thinking. How to drive on the left side of the road! 🙂 (Eric)
I have a better study habit. I have a better desire to share the gospel. And I know that there are more skills to come;) (Taylor)
Teaching the Gospel. (Hugh)
Verbal communication. (John)
I have Asperger's Syndrome… it really helped me be more fearless in my social skills. (Andi)
Talking to people [I'm an introvert]. Initiating the contact with others. Talking to others about a, sometimes, sensitive topic. Being calm in the face of an angry person. Accepting rejection. Simplifying topics. (Nathan)
I can speak a pretty good British accent. I'm pretty good at riding a bike on ice, and knocking over other people on bikes without falling myself. I got pretty good at stomping on empty juice boxes and popping them. I could walk forever without getting tired. I learned how to corner in a car pretty well by accelerating through a turn. I gained a lot of self confidence in my abilities to relate to and work with people. (Stephen)
Communication skills. Recognizing and following the Spirit. (Rick)
What do you wish you knew/did at the beginning of your mission?
The British slang phrases. (Hayley)
I never wanted to fulfill leadership positions, I just wanted to do missionary work, but you can learn so much from it that profits you the rest of your life, and be of support to other missionaries while fulfilling leadership positions. (Dennis)
I wish I knew about gear requirements, and how bad tracting would actually be. I also wish I'd known that not all companions would be as driven to work as they should be. (Clint)
Wish I'd known how hard it was going to be at times. (Mark)
More posture would have been helpful. Less fear of people. (Oliver)
Not to sweat the small stuff. (Jayne)
Not sure. Maybe a little more courage and boldness. (Dana)
That it is very, very strict and the sister missionaries can be judgmental of other missionaries. (Jean)
Not to waste time being homesick and the more I worked, the faster time went. To keep better track of the people I met to keep the life long friends. (Alain)
I wish I had the testimony and faith I have now. (Mark)
How to get along with everyone. (Ronald)
Trust in the Lord completely, and put your whole soul into the work. Forget yourself and go to work. (Luke)
I wish that I could have complained less, be more understanding of my companions' needs, and I wish that would have served my trainer more. (Terrence)
I wish I had been more serious in my study of the Book of Mormon. I wish I knew how hard it was going to be in the MTC but also how fun it turned out to be. I wish I knew that I would have been much better off WITHOUT a girlfriend before I left. The Dear John letter was when my mission really took off because I finally stopped thinking about her and started concentrating solely on my mission. I wish I knew how fast 2 years really goes by. (Eric)
That I would have had more faith in myself and what I was there to do! (Taylor)
Missionary work. Sounds crazy, but senior couples didn't get to go to the Mission Training Center – so we had to really push to get five days there; it was invaluable as a lead in to "Preach My Gospel." (Hugh)
Had a greater understanding of the scriptures. (John)
Wish I'd been braver, and more mature, and as ready to connect with people… wish I'd been at the beginning of my mission like I was at the end. I also wish I'd learned a bit more cooking basics so I'd have better nutrition and energy. (Andi)
More about the gospel and how to listen to people. How to cook on the cheap. (Nathan)
I wish I knew, like I did at the end, that the church was true. (Stephen)
Prepared to give 110% all the time. (Rick)
Any advice/testimony for pre-missionaries going to Manchester?
Listen to your trainer when you get to the mission field. They do know their stuff. (Hayley)
Study Preach My Gospel thoroughly. Just love the people, trust God and work hard, and everything will be all right whatever your (lack of) skills. (Dennis)
Learn to work, learn fundamentals of leadership, learn to speak and communicate. (Clint)
Study hard. (Mark)
Be kind to the people. Treat them, as you expect to be treated. Don't be prideful. Learn to love the people. Don't brag about your home country. Be obedient to the T, but don't be dumb. At birth, you've been equipped with a brain. Use it. Don't try to copy other missionaries or other people. The Lord sends YOU there for a reason. Not someone else. Be yourself and allow the Lord to use you as a tool in His hand. Find out, why you were called to serve in your mission. *** Be Humble ***. (Oliver)
The English are very steeped in tradition when it comes to religion. Rejection is very common. Just love them for who they are. (Jayne)
Lose yourself in the work. Totally serve the Lord and don't worry about the rest of the world. (Ertle)
Humble yourself and go out with your missionaries regularly. (Dana)
Remember to always be yourself. (Jean)
Take time to learn about the area. Contact and talk to people who have served there. (Alain)
Be strong and endure to the end. (Mark)
Enjoy every single day and certainly above all don't leave at the end with any regrets!! (Ronald)
Love it, love the people, love the Lord. You only get to do this once, do it right. Focus on becoming a sacred missionary, not just doing missionary things. (Luke)
I testify to you today that the work that you will be engaged in full time is true. I know that the Lord lives and that you have been called to preach His Gospel and defend His faith there. The Book of Mormon is true and as you read and teach from its pages every day of your mission, you will become nearer to your Savior and Redeemer. Yes you are serving the Lord here and doing His work, but this is for you. He will stretch you, teach you, guide you, and convert you so that you can be a powerful lifelong missionary. I know that as you obey the counsel of your mission president, you will be blessed. This testimony I leave with you, in the name of Jesus Christ, amen! (Terrence)
I know that the England Manchester mission is a special and blessed mission. If you put your heart in it you will learn things about yourself and what you can do! I know that it was not by chance I was sent to that mission, the areas, or the companions I had. We were there for a reason much bigger than we could understand right now. The England Manchester mission is a family and we are always there for each other no matter when we served. I know that the Gospel is true and there is a reason for everything around us! I know that when you realize why you are there it will change your mission. You will see so many miracles. Remember you are never alone!!! (Taylor)
Be prepared for some peculiar English accents and words. You can't learn this – just be aware it's different from home. (Hugh)
Study the scriptures and understand them. (John)
Remember that God does not work through this church alone; His spirit also moves through other churches, via what light and truth they have. It's not permanent damnation if someone you're working with isn't ready to take the next step – God knows what to do with them. If He tells you to be bold with them, do so – but, not everyone will respond to that, and some might feel pressured and turned off of the church. (Andi)
Go on splits with missionaries in your area. break your shoes in before your mission. Get used to running in non-running shoes (dress shoes are not the same as running shoes) – buy a cheap pair and try running in them some (you are always cutting the time close and don't want to miss the bus to an appointment – or arrive late to a dinner appointment). (Nathan)
Try a donor kebab, and a cheese and onion pastie, eat a lot of English chocolate, plan to dress warm, and serve the people. (Stephen)
Trust the Spirit and work as though it is all dependent on your efforts. (Rick)
What was a funny language mistake?
When others greet you, they start by saying "Hiya! You alright?" It means how are you. If you say yes then it means you are doing well. They did not mean to ask you if you are physically well. Some of my companions got confused. (Hayley)
Tea means dinner. 'Hiya' is like saying 'hi' but sounded to me like 'how are ya?' I'm dutch and we say 'hoor' a lot ('ja hoor!' is like saying 'yes, sure!'), but accidentally saying 'hoor' sounds like saying 'whore'. (Dennis)
I drove down the wrong side of the road on a few occasions. Another Elder drove straight over a traffic circle hump in a moment of frozen terror. (Clint)
I'd rather keep that to myself. 😀 (Oliver)
Took a while getting use to driving on left. (Ertle)
Fanny is a word you shouldn't use…at least during our time there. (Dana)
Everyone speaks English but there are many words in common that have drastically different meanings. Don't be offended by names you are called until you know what it means there. (Alain)
Use of the word "fanny". (Mark)
Um I asked how much is that fanny pack once! Whoops don't ever ask that! (Ronald)
You may be speaking English but it's entirely different. When you are asked to come to a members house for "Tea" it means Dinner! 🙂 (Terrence)
If someone says, "Hiya, y'alright?" they're not asking if something is the matter – it's more like, "How's it going?" "Chatting up" is flirting, not idle chatting. "Spunky" refers to masturbation, and to some folks, "pants" are underwear. Also, a "peace sign" with the back of your hand towards someone is called "forking" – it's like giving someone the middle finger. To avoid doing this accidentally (as yours truly once did), use your thumb when you start counting or display a # "2". (Andi)
English in England is different from American English. Just beware of using some terms – Fanny and Spunky come to mind. (Nathan)
I was shocked, shortly after arriving there, to have someone tell me, "Keep your pecker up, cock!" (Stephen)