Misión República Dominicana Santo Domingo Este

(Get this design on a T-shirt!)
Free resources about the Dominican Republic Santo Domingo East Mission:
Aquí están algunos recursos gratuitos sobre la Misión República Dominicana Santo Domingo Este:
*Other Mission Pages: Dominican Republic LDS Missions.
---
---
Santo Domingo East Mission Address
Here's a recent address for the Santo Domingo East Mission. We try to keep this info up to date, but it's a good idea to check the address with several sources, including your mission packet or the mission office.
Dominican Republic Santo Domingo East Mission
SDQ 4102
2250 NW 114 Ave Unit 1A
Miami FL 33172-3652
Dominican Republic
Phone Number: 1-809-687-5080
Mission President: President Bret G. Smith
DR Santo Domingo East Mission Map
Here's a link to the mission map for the Dominican Republic Santo Domingo East Mission (LDS). To access the official, up-to-date LDS.org map for the Santo Domingo East Mission:
Log into your LDS account here.
Click here.
Videos with Santo Domingo East RMs
Here are in-depth YouTube video interviews with returned missionaries from the Dominican Republic Santo Domingo East Mission.  We interview hundreds of returned missionaries each year, so check back regularly to see new RM interviews. Coming soon..
LDS-Friendly Videos about the Dominican Republic
Here are LDS-friendly educational videos about the Dominican Republic. We scoured YouTube to find the best quality videos about the Dominican Republic, that are free from inappropriate music, immodesty and profanity.
Santo Domingo East Missionary Blogs
Here's a list of LDS missionary blogs for the Dominican Republic Santo Domingo East Mission. This list includes the missionary's name, URL and when their blog was updated.
*Send your missionary a gift (mission-specific shirts, ties, Christmas stockings/ornaments, pillowcases, etc.)
Santo Domingo East Mission Groups
Here are Dominican Republic Santo Domingo East Mission Groups- for LDS missionary moms, returned missionaries, mission presidents and other alumni of the Santo Domingo East Mission.
Santo Domingo East Mission Shirts
Here are T-shirts for the Dominican Republic Santo Domingo East Mission!
Shirt designs include Dominican Republic Santo Domingo East Mission logo/emblem shirts and Called to Serve shirts. The shirts make great gifts for pre-missionaries, returned missionaries and missionaries currently serving. LDS Mission shirts come in all sizes: Small, Medium, Large, Extra Large, up to 4XL.  The mission designs are printed on white shirts and are shipped to you.
*Simply click on a shirt design to view the details and submit an order. The designs on mission t-shirts may also be printed on other LDS mission gifts, including: Santo Domingo East missionary aprons, Christmas stockings, ties, pillow cases, teddy bears and Christmas ornaments.
*Click here to browse Santo Domingo East Mission gifts
---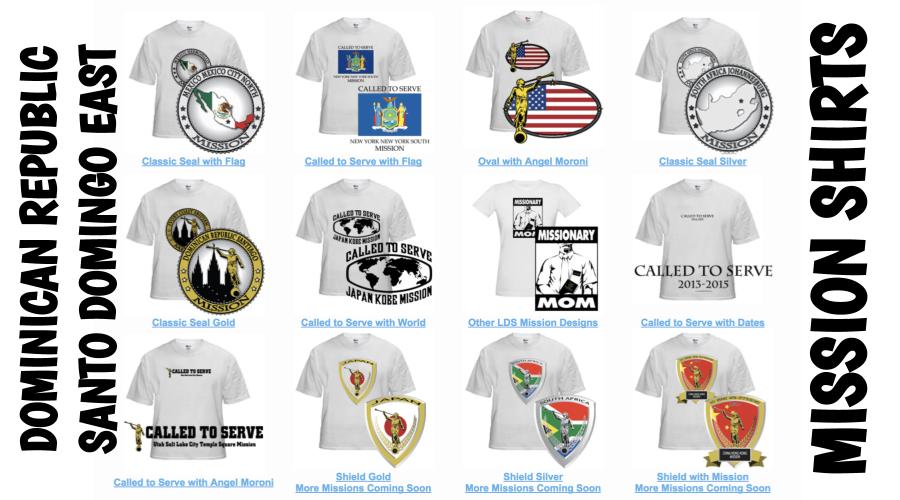 ---
Santo Domingo East Mission Presidents
Here's a list of current and past Mission Presidents of the Santo Domingo East LDS Mission.
2017-2020, Bret G. Smith
2014-2017, Ahmad Saleem Corbitt
2011-2014, Heriberto Hernandez
2008-2010, Guillermo Antivilo
2005-2008, Juan A. Garcia
2002-2005, Kenneth E. Hudson
1999-2002, Robert M. Johns
1997-1999, Ewles Marshall McCoy
1997, Moore
1994-1997, Charles K. Hinds
1991-1994, Mark Allen Jarman
1931-1991, Other Mission
Dominican Republic LDS Statistics (2015)
Church Membership: 127,530
Missions: 3
Temples: 1
Congregations: 205
Family History Centers: 29
Helpful Articles about the Dominican Republic
Santo Domingo East Missionary Survey
Here are survey responses from Dominican Republic Santo Domingo East RMs, to give you a snapshot into what it's like to live in the mission.
*Click here to take a survey to help pre-missionaries going to your mission.
When did you serve?
2007-2009 (David)
2007-2009 (Sarah)
What areas did you serve in?
I served in Los Molinos de las Americas,Yamasa,Los Mina Viejo, Bayaguana, Los Trinitarios,Ensanche Luperon1,Los Llanos de San jose, and La Victoria. (David)
San Isidro, La Romana, Monte Plata and Mendoza. (Sarah)
What were some favorite foods?
My favorite food was honestly Mondongo, Locrio, Asopao, Chimi, Empanada completa, moro, and la bandera. Zapote was my favorite fruit, fritos I love too. (David)
Plantanos fritos, aroz guandules, biscochitos. (Sarah)
What was a funny experience?
A funny experience for me was one day I was in transfers in Gazcue and an American missionary came up to me speaking in Spanish. I answered his questions in English and he was surprised that I knew English very well. I told him that I am from the United States and he was very surprised! (David)
My first area was such an eye opener. The smells, sounds and proximity to the neighbors was so strange to me. I remember the driving was super crazy with the buses (guagua) and all the motorbikes (called motor), along with all the taxi cars.. I asked my trainer if she had seen lots of accidents, as we were in a taxi, and she said "oh no I haven't seen any. I think they have it all figured out". Right then a man on a motor crashed into the back of a guagua. He was ok but it was so perfectly timed. My trainer was shocked. I didn't see any other accidents after that but I did see a man transporting a live calf on the back of his motor. You make do with what you have. I miss the fun! (Sarah)
What was a crazy experience?
The most crazy and dangerous experience was that I was in a car accident caused by hydroplaning in a highway between Yamasa and la Cruce in Monte Plata District. Outside of that the other crazy experience was that in my first area, we would run across the Las Americas Highway to get a ride with the ZLs to go to zone conference. (David)
I had mostly a safe experience. I think I speak for most when I say that riding a guagua on the highway, getting to higher speeds, was scary. I tried not to think about how bouncy or loose the body of the bus felt as we turned corners and went down hills. Felt like maybe the top of the bus was gonna pop off the wheels. Also, one time I went to sit on a seat in a guagua and it fell to the floor when I sat down. It was already broken and had been carefully set up to look just fine. After I crashed to the floor, those around almost seemed to imply I had broken it. Sure wasn't a self esteem booster. The bus system is really convenient but definitely make for some amazing stories. (Sarah)
What was a spiritual experience?
Spiritual experience for me was the day that I felt inspired to tell members of the church that I wouldn't know my wife on the mission, but she'd be from the Dominican Republic and I wouldn't know her during the rest of my mission. It then happened later on in the year 2011, I returned for her. (David)
We had been praying for investigators to come to church. Our ward started at 8:30am, so it was difficult to get them to come. We had been working diligently in our area for weeks with little success. One Sunday, we stood by the chapel door to welcome any investigator who should come. In walked a tall guy, whom we had never met. We all got acquainted, went to sacrament meeting, and arranged for a lesson in the week. At the lesson, we asked him why he came to church. He told us he always had something telling him to go. As he was walking past something (we all know what) told him to just finally go! He did. He was a great guy and eventually got baptized. It was amazing to be a part of his miraculous conversion. (Sarah)
What are some interesting facts about the Santo Domingo East Mission?
Interesting fact about my mission is that we do have most of the historical tourist sites. (David)
I taught many Haitian people. Christopher Columbus first landed there. Prettiest sunsets even inland (don't need to be on the beach!) Yelling at the door is how you knock. Sisters to Sisters : greeting with cheek to cheek is a thing. Men will ty it. You'll figure out how to help them not do it to you. (Sarah)
What was the weather like?
It is very warm, tropical and humid. It rains once in a while during the day normally in the afternoon. As well, when tropical storms come they make the temperatures drop which is wonderful! (David)
Hot. Humid. Rainy. In the winter it's nice. I actually got cold my second winter and had to sleep with my robe and boil my shower water so it was warm. I couldn't handle cold early winter mornings and cold showers. The members teased me but it was worth it! (Sarah)
Any things you really like about the area/people?
I loved the people for the most part they treated me with love and had patience with me. Sure there were some that were rude, but the majority were nice and treated me with respect. (David)
The people are simply amazing, Fun and friendly. They would let you come teach them almost always. It was so interesting to see another culture and learn to see their perspectives. They are a faithful people. (Sarah)
Any packing/clothing advice?
I took knee high nylons not to wear but to string up my bug net over my bed. The nylons work well. Get Great breathable durable shirts skirts and garments. Also I would only get a few nice outfits for zone conference. You don't want to look too dressy when you're out and about. Get a good sandal. You'll be walking. A lot. I never drove or rode a bike. (Sarah)
What blessings did you receive from serving a mission?
Blessings that I received from serving a mission is able to speak Spanish, found my eternal companion, stronger testimony, greater love for my heritage, greater appreciation of sacrifice and love for other people. (David)
A testimony of prophets. I struggled. But teaching it and studying it and hearing a prophets voice solidified it for me. (Sarah)
What are some skills you gained?
I gained the ability to be patient and being diligent not matter how hard the trials could be in life! (David)
I learned to do hard things everyday, even when I don't want to. I'm learned how to wash my clothes with no washer. Or dryer. I learned how to approach people and listen to them. I learned the Spanish language. I learned how to study and also listen to the spirit a little better. (Sarah)
What do you wish you knew/did at the beginning of your mission?
I wish I knew Spanish before the mission, the reason is because I am part Latino. My dad is from Mexico, but as a child I didn't learn Spanish. So when I went on my mission, the Dominican people thought I knew it fluently because of my last name. When they realized that I didn't know it very well, they made fun of me and were not that patient with me. The treatment that I got from the members and non members alike. It motivated me to continue practicing my Spanish to the point that they couldn't say that I didn't know it. (David)
I wish I knew that my trainer wasn't perfect and was doing her best. Also to be slow to anger when people made fun of me. I wish I knew to find people better who were ready and not waste time on those who were just wanting to chat. I wish I had been more careful with my picture taking. Snap away missioneros, snap away. Also I did have to opportunity to learn quickly that when I had a hard time with a companion, I could pray to love her and it worked. It helped the transfer and our teaching because I loved her and wanted to do my part instead of resenting every little thing. Prayer works to change the heart. (Sarah)
Any advice/testimony for pre-missionaries going to Santo Domingo East?
I would tell you be patient, get to know the culture. The Dominican people, generally speaking are friendly. They want you to get to know their culture and history, so that you will be able to appreciate them even more. As well, don't be a picky eater. On the other hand, try the food first especially when they invite you to their houses to eat. Most of the members of the church who invite you to their houses are poor. And it would be rude if you won't try their food. (David)
Prayer. Patience. Love. It's just like other missions. People don't know or think they should care. It's hard to convince them otherwise. Let the spirit convince them and you'll have done your best. Do your part to not be irritated with your comp over simple things. it's not worth it. Don't get hung up on the investigators who aren't progressing. Find those who will. I know if you are being diligent you will see blessings, either there in the lives of those you teach, or your own life. Maybe even years later. I have found that for me, my most significant and important conversion was myself. So don't do your study half way. It's as much for you as it is for the wonderful people you get to teach. You get to tell them the most important message they will ever hear: the gospel. There isn't anything more important that they should know. I know it changes lives and blesses families. I know it. (Sarah)
What was a funny language mistake?
My trainer said she thought "un chun" meant a little bit so when asked if she wanted more food she responded "un chun" and they gave her a ton more. She had confused "un chun" for "un chin" which was actually a little bit. She never forgot that one. (Sarah)