Here are free resources about the Colorado Colorado Springs Mission:
*Other Mission Pages: Colorado LDS Missions.
---
---
Colorado Springs Mission Address
Here's a recent address for the Colorado Springs Mission. We try to keep this info up to date, but it's a good idea to check the address with several sources, including your mission packet or the mission office.
Colorado Colorado Springs Mission
4090 Center Park Drive
Colorado Springs, CO 80916
Phone Number: 1-719-265-5949
Mission President: President Daniel K. Stevenson
Colorado Springs Mission Map
Here's a link to the mission map for the Colorado Springs Mission (LDS). To access the official LDS.org map for the Colorado Springs Mission:
Log into your LDS account here.
Click here.
Colorado Springs Missionary Blogs
Here's a list of LDS missionary blogs for the Colorado Springs Mission. This blog list includes the missionary's name, URL and when their blog was updated.
*Send your missionary a gift (mission-specific shirts, ties, Christmas stockings/ornaments, pillowcases, etc.)
Colorado Springs Mission Groups
Here are Colorado Colorado Springs Mission Groups- for LDS missionary moms, returned missionaries, mission presidents and other alumni of the Colorado Springs Mission.
Colorado Colorado Springs Mission (Official) Group (353 members)
Colorado Springs Mission – Sisters Facebook Group (26 members)
Colorado Springs Mission T-Shirts
Here are T-shirts for the Colorado Colorado Springs Mission!
Shirt designs include Colorado Colorado Springs Mission logo/emblem shirts and Called to Serve shirts. The shirts make great gifts for pre-missionaries, returned missionaries and missionaries currently serving. LDS Mission shirts come in all sizes: Small, Medium, Large, Extra Large, up to 4XL.  The mission designs are printed on white shirts and are shipped to you.
*Simply click on a shirt design to view the details and submit an order. The designs on mission t-shirts may also be printed on other LDS mission gifts, including: Colorado Colorado Springs missionary aprons, Christmas stockings, ties, pillow cases, teddy bears and Christmas ornaments.
*Click here to browse Colorado Springs Mission gifts
---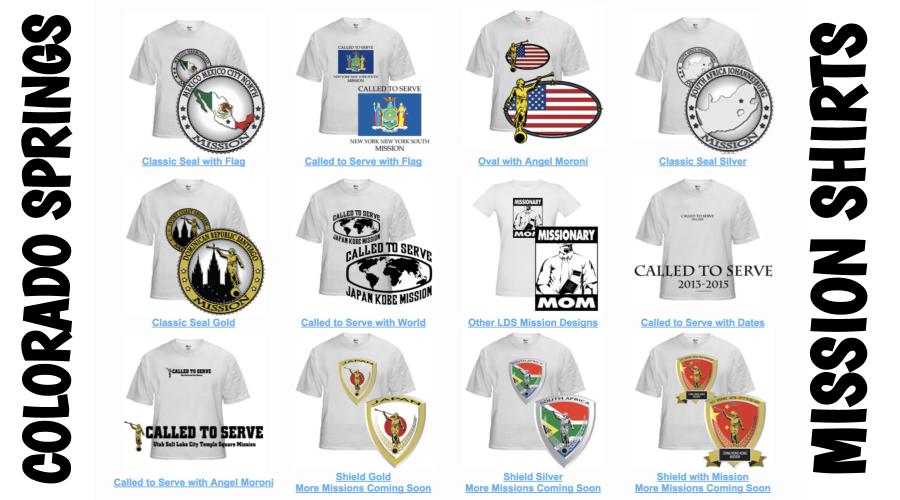 ---
Colorado Springs Mission Presidents
Here's a list of current and past Mission Presidents of the Colorado Springs LDS Mission.
2017-2020, Daniel K. Stevenson
2014-2017, Dennis Eugene Rehm
2011-2014, Anderson J. Patrick
2008-2014, Brian L. Pfile
2005-2008, Robert S. Fotheringham
2002-2005, Carl Eugene Hymas
Colorado LDS Statistics (2016)
Church Membership: 151,580
Missions: 4
Temples: 1
Congregations: 312
Family History Centers: 63
Helpful Articles about Colorado
Colorado Springs Missionary Survey
Here are survey responses from Colorado Colorado Springs RMs, to give you a snapshot into what it's like to live in the mission.
*Click here to take a survey to help pre-missionaries going to your mission.
When did you serve?
2014-2015 (Cynthia)
2013-2015 (Joshua)
2010-2012 (Michael)
2004-2006 (Patrick)
2013-2014 (Jenny)
2013-2015 (Zachary)
2011-2013 (Noah)
2013-2015 (Shelby)
2014-2016 (Amanda)
2013-2014 (Hannah)
What areas did you serve in?
Everywhere. (Cynthia)
Raton, NM. Pueblo. San Luis. Colorado Springs. Antonio. And Center. (Joshua)
Kansas. (Michael)
Manassa, Antinito, Fox Creek, Fountain, Colorado Springs, Lamar, Holly. Then as an assistant we traveled everywhere. (Patrick)
Castle Rock, Colorado Springs, Manitou Springs (Teresópolis and Leopoldona in Brazil). (Jenny)
Castle Rock, Ft. Garland, Pueblo, Canon City, Colorado Springs. (Zachary)
Calhan, Parker, Pueblo, Alamosa, Colorado Springs. (Noah)
Mt. Herman YSA, Meridian/Woodman Hills Ward in Falcon/Peyton, Jackson Creek Ward in Monument, Ridgeview Ward, Glen Eagle Ward. (Shelby)
Manassa, Salida, Parker, Monte Vista. (Amanda)
The Springs Pieblo. (Hannah)
What were some favorite foods?
Carne Asada and other Hispanic foods, especially with green chili from Pueblo. (Joshua)
Carne Asada with a Coke and tortillas. (Michael)
First time in my life I ever had a green chili burrito at Vals Place in Manassas. So I'll go with that. (Patrick)
Mexican food. (Jenny)
Green chiles. Sloppers. (Zachary)
All of it. (Noah)
Pho. (Shelby)
Green Chili from the San Louis Valley! So crazy good! They put it on everything! Smoked Salmon from our Mission Leader in Parker. Cinnamon bears around Christmas time in Manassa. (Amanda)
Pizza, pasta, baked potatoes, roasts, rolls, fruit and vegetables. (Hannah)
What was a funny experience?
When serving in the San Luis Valley, I would run across the weirdest, craziest people. A lot of doomsday peppers and hippies. People that live out in the boonies are always crazy and say the funniest things. (Joshua)
Forgetting my companion's name during a prayer. (Michael)
Too many to count. Probably serving with Le and having Rose as our service missionary. Rose was too funny. Fell off his bike when we told him not too. (Patrick)
My younger brother was called to serve in the Colorado Springs Mission while I was there and we even served in the same zone and saw each other at district meeting each week. Crazy right? (Jenny)
Got to bike in the snow. Similar to ice skating except on a bike. (Zachary)
Freezing mountain runoff water for showers. (Noah)
I ate two worms! (Shelby)
Once I was giving the spiritual thought for a family and we were all sitting around the dinner table finishing our cookies and milk. Their one year old was sitting in his dad's lap right across the table from me playing with the salt shaker. Something made him super excited and he chucked it and the salt shaker hit the edge of my glass of milk and catapulted my milk literally all over me. It was in my hair and dripping down my face and eyelashes and I had a big pool of milk in my skirt. It was dead quite for about two seconds and then the whole table exploded, we were all laughing so hard. (Amanda)
I called a ward member the wrong name for a long time, she didn't correct me until my last Sunday in that area. She wanted to see how long it could go on for, it gave her a good laugh. (Hannah)
What was a crazy experience?
We got into a car accident. The drivers are horrible there. (Cynthia)
One time we had to give a blessing to a recent convert who was very sick and it was effecting his memory, so he didn't know who we were. And he used to be the Enforcer in a motorcycle gang, so he pulled a gun on us when we first walked in. But before he pulled the trigger he realized who we were and put it away. (Joshua)
While driving down to Kansas switching drivers and not stopping to do so. (Michael)
Hitting sand going 20+ on my bike and re-breaking my wrist. (Patrick)
I got bit on my chin by a giant parrot (like the ones from the movie Rio) that a member owned. It was worth the picture with the cool bird. (Jenny)
Had a man come to the door with a gun. Luckily we were with our High Priest Group Leader. (Zachary)
It is not a very dangerous mission. If you are obedient you will be protected and the Lord will look out for you. There were shootings around where we were, but a lot of times the Spirit will keep you from danger. So always have the Spirit with you. Also, pay attention on your bike and don't do anything stupid, you might wind up injured. (Noah)
Almost hit a huge buck on the highway, but felt something protecting the car. (Shelby)
I was serving in Manassa and Manassa has a ton of dogs. Most of them are usually nice but my companion and I were visiting this less active man who wasn't home but he had three dogs outside that were usually friendly. Well, we were walking down off the porch and his huge pit bull cornered me and wouldn't let me move. He was snarling and barking and was about ready to pounce. My companion was terrified of dogs so she was freaking out. I had her get in our car and drive right up to where I was so I could hop in. Thankfully our plan worked. (Amanda)
I thought my appendix had burst so I rushed to the hospital with my companion and the members we were living with. It wasn't my appendix but I was in severe pain for six days before they figured out what the problem was. Endometriosis. (Hannah)
What was a spiritual experience?
Seeing less active members come back to church after 20 years. (Cynthia)
I met a bunch of people who were amazingly prepared to hear the Gospel, and you knew it because as you taught them the Spirit filled you and you said things you didn't prepare and they just get it. Sometimes they move faster than you thought they could and you are prepared to know that as long as you have the Spirit. (Joshua)
Lessons about the Restoration and baptisms. (Michael)
Watching people gain a testimony was awesome. Blessing homes that had unwanted presences. (Patrick)
Seeing one of my investigators get baptized, confirmed, and ordained to the priesthood after teaching him for seven months. (Jenny)
Got to help someone from knocking on their door to teaching to baptizing and confirming them. Then being able to go to the Temple with them to do baptisms for the dead for her mom and deceased husband. (Zachary)
My companion and I were tracting and felt like we should put a copy of the Book of Mormon in our hands. After we did, we noticed two figures walking towards us a few blocks away (the streets were deserted so they were easy to spot). As we walked towards them, they made a B-line to us. One had been meeting with the missionaries in California, but had moved before being baptized. She wanted to hear more and be baptized. She said she thought it was us, but once we put the Book of Mormon into our hands, she knew exactly who we were. (Noah)
Recent convert/ less active firesides held quarterly. (Shelby)
We were teaching this couple in Monte Vista and we loved them so much. They agreed to be baptized and married both on the same day. The baptism just 10 minutes after the wedding. It was such a wonderful day! It was a beautiful wedding and the most powerful baptism! Everyone showed up, we filled the whole chapel with the ward and their close friends. After the baptism they shared their testimony with us. I remember sitting in the pews and watching these people who I have loved so much make these huge life changing events. They bore their testimonies with so much power and conviction. They talked about how the next step is the temple and how the church had saved their lives and my testimony that day was strengthened so much more by them than what I ever could have ever helped them to develop. (Amanda)
My parents sent a letter with their testimonies of the Plan of Salvation and eternal families when my little brother was in the hospital for a staph infection. They were inactive for years but I knew they believed many principles of the gospel. It was good to hear it. (Hannah)
What are some interesting facts about the Colorado Springs Mission?
Its about half city, half boonies. Chances are you will serve in both, and they have completely different cultures. But the people are nice. There are some of the richest areas in the USA, but also some of the poorest. (Joshua)
We only had four sets of sister missionaries at the time and we baptized a ton out of Kansas. (Michael)
Umm, I believe we had the oldest Catholic church in Colorado down in the San Luis Valley. (Patrick)
I was originally called to the Brazil Juiz de Fora Mission but served in the Colorado Springs Mission for a year until my visa came and I spent the last six months of my mission in Brazil. (Jenny)
Colorado has a bunch of 14ers (mountains over 14,000 ft in elevation). (Zachary)
It was the second largest in North America. Now it is not that large. Each zone is an entirely different mission. There are rural areas, suburbs, major cities, ranches, military bases, and everything in between. (Noah)
Manitou is a hidden gem! All of Colorado Springs had lots of healthy people, beautiful scenery…best place on earth. (Shelby)
Our mission covers down into New Mexico and all the way up to Castle Rock, Colorado. Pikes Peak is in our mission and that is the "purple mountain majesty" written about in My Country Tis Of Thee. The southern part of our mission was settled by saints in the 1800's. They still have an old sealing house in Manassa and some of the coolest family history. (Amanda)
There are 13 Sonic fast food restaurants in one city there. We went from having maybe 16 sister missionaries to over 100 with the age change. (Hannah)
What was the weather like?
Hot in the summer and snow in the winter. (Cynthia)
In the San Luis Valley the summer is amazing but the winter can get very, very cold. Pueblo is very hot in the summer but nice in the winter. Colorado Springs itself and the cities north of it are pretty moderate temperatures. (Joshua)
Hot summers, cold winters, windy springs and rainy falls, but I loved it. (Michael)
It was AMAZING! Cold when it was supposed to be cold, hot during the summers. Depends where you served but the weather was great. (Patrick)
Sunny! Most of the time, it's great! And you get all four seasons. (Jenny)
Crazy. Snow would melt pretty fast. 60s one day and 25 degrees the next. (Zachary)
Lots of sun. Depending on the area it could be 130 in the summer and -30 in the winter. (Noah)
Changes 5 X a day. Seasons seem to be delayed a month or two. (Shelby)
Beautiful! The weather in Colorado can't be beat! The spring is so beautiful. Sometimes it snows. It snowed in May while I was there. The summers are gorgeous…very warm and mostly dry. The winters can get a bit intense. It's snows a lot and in the southern part it can get down to -30. Which it did my last winter there. (Amanda)
A lot like Utah weather (where I am from) except higher elevation. Cold winters, summers in the 90's, very dry, not humid. (Hannah)
Any things you really like about the area/people?
Salida, Alamosa the valley!! And the Park Meadows Ward. (Cynthia)
The people are nice, and as you seek for the Spirit, even in the hardest of areas, you will always be able to touch people's lives and help them become one step closer to Christ. (Joshua)
They were all good Christians. (Michael)
It was overall good. Loved the people in Colorado. At the time we were there, there was new life Church that was a big anti LDS but I don't know what it's like now. (Patrick)
The people were so fun and interesting. Members treat you like sons/daughters. (Jenny)
People were honest and genuine with you. (Zachary)
Some of the nicest and most polite people I've come across!! (Shelby)
These people have huge hearts. They truly want to do what is right. These people are hard workers and they watch out for each other. They're selfless, they'll do anything for a neighbor. They are family people and are dedicated to fulfilling their responsibilities. The very best members and golden investigators I have ever met. (Amanda)
They were very humble, genuine, kind people in poorer areas. It was a dirty little town but the members were strong in missionary service. (Hannah)
Any packing/clothing advice?
Bring rain and winter gear. There will be snow. (Joshua)
Warm boots, extra socks, thermals for under the pants. Don't be afraid to get dirty, but look presentable when it's time. (Michael)
Be prepared for any type of weather. (Patrick)
Hot and cold weather clothing. (Jenny)
Warm clothes. It's okay to wear a scarf. (Zachary)
Depending on when you go in, be ready for the extremes of that season. Then, have the opposite extreme mailed to you/buy it there. For example, if you go in during the summer, bring short sleeved white shirts, and have your winter boots/coat mailed out. It'll save room. (Noah)
Bring warm boots as a a sister and fleece lined tights. (Shelby)
Fleece lined tights are really good for winter. Also if you're in a biking area or even if you're not biking, shorts to wear under your skirts are very helpful. (Amanda)
Don't wear t shirts instead of a blouse, bring plenty of flowing skirts and limit pencil skirts to a minimum. They are hard to sit in all day and teach kids on floors etc. (Hannah)
What blessings did you receive from serving a mission?
I learned how to recognize the Spirit and act on it immediately. I learned to do what the Spirit says, even if it's hard. I learned to be able to do the hard things asked of me no matter what it may seem I am giving up. (Joshua)
My road map to eternal salvation and a desire to follow God's plan. (Michael)
You know it's a tough thing to say. I believe that blessings are given, at least in my life, a little bit at a time. The far reaching effects of serving are life long. The disciplines you learn can transfer over to your civilian life. The biggest blessing was gaining and strengthening my testimony in Jesus Christ and his gospel. That's the biggest and greatest blessing for me. (Patrick)
I gained a stronger testimony of the restored gospel, became a better, more selfless person, and came closer to my Savior. (Jenny)
I became more fully converted to the Gospel and I truly can to know my Savior. (Zachary)
Every good thing that has happened to me since my mission is directly related to my service in the field, and if I am applying all that I learned in it. (Noah)
Increase of testimony, built great habits of studying and using time wisely, set a good example for siblings. Greater relationship with the Savior. (Shelby)
My mission is so much a part of me still. It has helped me to be more solid in who I am and helped me to learn how to trust God in everything. While I was on my mission, a woman told me "you will spend 18 months serving your mission, but your mission will serve you the rest of your life". (Amanda)
I met my eternal companion when we got home when we were at our Mission President's homecoming. I taught two young adult girls who are two of my best friends. I am a better wife, sister, daughter, friend. I am less high maintenance and more patient and caring. (Hannah)
What are some skills you gained?
A better ability to talk to people. (Cynthia)
Recognizing the Spirit, studying, focusing more, rubix cube, etc. (Joshua)
Being able to talk to everyone. (Michael)
Boldness, confidence, stronger work ethic, ability to stay busy and engaged even when you literally have nothing. Study habits, greater psychological and physical disciplines, patience and empathy. Last but not least I learned to listen, truly listen. (Patrick)
People skills, teaching skills, Portuguese speaking skills, and the ability to love people for who they are. (Jenny)
I gained a lot of teaching skills and methods. (Zachary)
Time management, diligence through droughts of "success," obedience when the end is not visible, leadership, saying hard things, building others by first tearing them down, introspection, love the way the Lord does. (Noah)
Time management, communication, cleanliness. (Shelby)
Lots of people skills! I have definitely learned how to hold conversations with random people and work in the gospel as well. It taught me to seek revelation in all aspects of my life and helped me to realize how much Heavenly Father really does love us! I've also learned how to take the bull by the horns not only in my mission but as I've been home. I can accomplish tasks and make goals and plan and make things happen. (Amanda)
How to be bold with people in a loving way. How to relate and get along with all types of people. I am better at speaking to larger groups now. How to get ready in the morning fast but study scriptures. (Hannah)
What do you wish you knew/did at the beginning of your mission?
I wish I focused more on the Savior, especially in the beginning. (Cynthia)
I wish I had learned right away how to approach people, and gotten over the fear of randomly talking to people I meet. (Joshua)
I wish I was more humble by listening to my trainer. (Michael)
That missionaries are people. Don't be so naive to what you'll see and experience within the mission. The Lord has entrusted his gospel and church into the hands of very imperfect people. Don't allow that to shake what you know is true. (Patrick)
I wish I would've sang more for members. (Zachary)
Talk to EVERYONE!!!!!!!!!!! (Shelby)
I wish I would have had more patience with myself. I expected myself to be perfect all at once. It takes some learning and some adjusting. It's a big lifestyle change and it takes some time. But as long as you're doing your best the Lord will magnify your efforts.
The scriptures better. I had read the Book of Mormon but I didn't go to Primary as a child and I wish I had those references instilled in me. I wish I could have fully understood that life goes on without you, family members can pass away, siblings could be in the hospital with major illnesses and you have to accept, you can pray and show support but can't change anything physically for them. (Hannah)
Any advice/testimony for pre-missionaries going to Colorado Springs?
The mission will be hard. No one's mission is easy, no matter where you go. The best way to serve and get the most out of your mission is to learn to recognize the Spirit, be obedient and study every day, and you will have the Spirit. You need the Spirit or you will not know what to do. And you need to know what to do so you can find those people who the Savior has prepared for you. Seek the Spirit. (Joshua)
Think outside the box. The goal is baptism. (Michael)
See above comment. Also I'd add: stay focused to the objective. Don't be swayed by other's incompetence or laziness. Even when those around you choose to be dipsticks, stay true to the core and the overall mission objective. It's only two yrs of your life, make the most of it. You will, whether you want to or not, think about your mission the rest of your life. And last but not least, JUST WORK! (Patrick)
Pray as if everything depended on the Lord. Work as if everything depended on you. Obedience brings blessings. Exact obedience brings miracles. (Zachary)
Love every second. It's your mission, don't let anyone steal it from you. You choose what kind of mission you serve. Obedience brings blessings, exact obedience brings miracles. Love everyone. People can change. (Noah)
Write in your journal EVERY SINGLE DAY. (Shelby)
You're mission is suppose to be life changing. It will be life changing. Throw yourself into it. Be more invested in your mission than you have ever been with anything else before. The Lord is with you and goes before your face. He will guide you whether you realize it or not. He wants you to succeed. It will be hard but those will be the more heart felt moments that you'll have. Believe in God. Believe in the Atonement. Believe in yourself. You won't be able to measure the amount of lives you change. I promise you'll make a difference and make the world a better place. (Amanda)
Get to know the members you serve WITH, make them serve with you. Together you can do amazing things. Get to know members well and treat everyone like you would your family. Be open and loving and easy to talk to…not closed or keep to yourself. Now is the time to talk to and help as many people as you can, most of the time through a simple check up on how their family from Washington is doing or how excited they are that their daughter is having a baby etc. When you reach out, they will want to reach out. Make commitments and keep them. It is hard, you can get homesick like me but in the end it'll be worth it. It's the hardest thing you may have done, but have fun with it. Remember it's the best 18 months FOR your life, you'll be glad in the end to have all the trials you will have. (Hannah)
What was a funny language mistake?
I was trained in Manassa. Down there the people have accents. Like weird Mexican/American/Yankee/speedy accents. And coming from the south, we speak slow and with a draw. I remember Le and I met with our ward mission leader and remember when he got done talking I looked at Le and asked, "I didn't understand one word he just said. What language do they speak here?" I honestly thought that the MTC failed in teaching us the local dialect. Le laughed and explained everything. In time, I learned it was a weird form of English. (Patrick)
I taught all my companions the basics of Portuguese so they could do language study with me. Many funny, memorable times! (Jenny)