Misión Colombia Bogotá Sur
Here are free resources about the Colombia Bogotá South Mission:
Aquí están algunos recursos gratuitos sobre la Misión Colombia Bogotá Sur:
*Other Mission Pages: Colombia LDS Missions.
---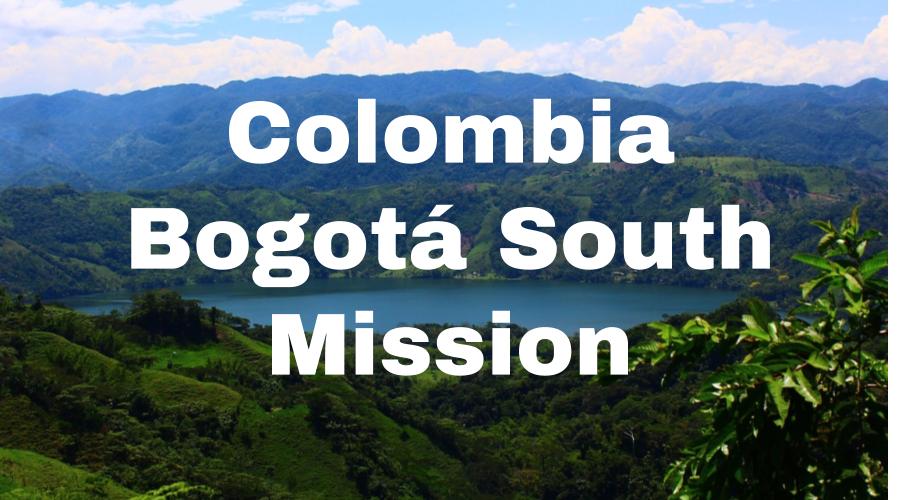 ---
Bogota South Mission Address
Here's a recent address for the Bogota South Mission. We try to keep this info up to date, but it's a good idea to check the address with several sources, including your mission packet or the mission office.
Colombia Bogota South Mission Map
Here's a link to the mission map for the Colombia Bogota South Mission (LDS). To access the official, up-to-date LDS.org map for the Bogota South Mission:
Log into your LDS account here.
Click here.
Bogota South Missionary Blogs
Here's a list of LDS missionary blogs for the Bogota South Mission. This blog list includes the missionary's name, URL and when their blog was updated.
*Send your missionary a gift (mission-specific shirts, ties, Christmas stockings/ornaments, pillowcases, etc.)
Bogota South Mission Groups
Here are Colombia Bogota South Mission Groups- for LDS missionary moms, returned missionaries, mission presidents and other alumni of the Bogota South Mission.
Bogota South Mission T-Shirts
Here are T-shirts for the Colombia Bogota South Mission!
Shirt designs include Colombia Bogota South Mission logo/emblem shirts and Called to Serve shirts. The shirts make great gifts for pre-missionaries, returned missionaries and missionaries currently serving. LDS Mission shirts come in all sizes: Small, Medium, Large, Extra Large, up to 4XL.  The mission designs are printed on white shirts and are shipped to you.
*Simply click on a shirt design to view the details and submit an order. The designs on mission t-shirts may also be printed on other LDS mission gifts, including: Colombia Bogota South missionary aprons, Christmas stockings, ties, pillow cases, teddy bears and Christmas ornaments.
*Click here to browse Bogota South Mission gifts
---
---
*Click here to see our new shirt design for the Colombia Bogota South Mission:
---
---
Bogota South Mission Presidents
Here's a list of current and past Mission Presidents of the Bogota South LDS Mission.
2015-2018, Renzo Baquerizo
2012-2015, Letvin Lozano
2009-2012, Justo P. Casablanco
2003-2006, Edgar Angel Mantilla
2000-2003, Jésus Villareal
1997-2000, Francisco Ignacio Giménez Gras
1994-1997, Juan Ramón Fajardo
1991-1994, Jeremiah Cahill
Colombia LDS Statistics (2016)
Church Membership: 193,350
Missions: 5
Temples: 1
Congregations: 264
Family History Centers: 51
Helpful Articles about Colombia
Bogota South Missionary Survey
Here are survey responses from Colombia Bogota South RMs, to give you a snapshot into what it's like to live in the mission.
When did you serve?
2008-2010 (Jordan)
1993-1995 (Tobi)
1992-1994 (Rudver)
What areas did you serve in?
Soacha, Pitalito, Ibagué, Melgar, Bogotá. (Rudver)
What were some of your favorite foods?
Jugo de lulo (realistically all the fresh fruit juices), All the fruit, Arroz con pollo, Empanadas, sancocho soup, Ajiaco soup. (Jordan)
Todos los Mariscos. (Tobi)
Sancocho, fríjoles, carne sudada, ensaladas. (Rudver)
What was a funny experience you had?
Got bit by a jaguar at a zoo in the Amazon. No serious damage or pain, just a funny story Having children in their underwear flock around me and climb on me arms, happened in the Amazon, where I'm not sure if I was the first white person they had seen or not. (Jordan)
Los bautizmos de los investigadores. (Tobi)
Ayudar en la conversión de 4 jovencitas al Evangelio en Soacha Compartir. (Rudver)
What was a crazy/dangerous story you had?
Getting robbed at gun point by teenagers half my size, robbed at knife point. Being told to leave an area by the natives because of the native guerilla forces or thieves or both. (Jordan)
Jugamos un partido de futbol con la mision norte y 6 personas fueron a parar en la clinica fue divertido. (Tobi)
Ninguna a Dios gracias. (Rudver)
What was a spiritual experience you had?
Being able to see the moment in their eyes when the gospel made sense, or when they started to believe for the first time. Being guided to certain houses and families and personally knowing you were there because God wanted to help this specific family at that specific time. (Jordan)
Orar con los investigadores con mi companero. (Tobi)
Poder utilizar el ayuno con frecuencia para poder compartir el Evagelio. (Rudver)
What are some interesting facts about the Bogotá South Mission?
We had a cap limit of 20 North American missionaries at the time I served, because it was a very dangerous mission. The mission boundaries are about half of the country, and even covers one part of Brazil because it's too far for the nearest Brazilian missionaries to travel. (Jordan)
Las ciudades donde serví, los compañeros con quienes compartí ese tiempo,y los llamamientos en los que fui llamado. (Rudver)
What is the weather like?
Depended on the city. Each has its own culture, dialect, food, and weather. Bogota is considered cold land, everything outside of bogota is considered hot land. Some cities super hot and humid, others just a perfect temperature with a cool breeze. (Jordan)
Excelente durante la mayor parte del tiempo. (Tobi)
What do you love most about the people and place?
They love the people around them, and especially the missionaries. As a people they are very respectful and polite and care a lot about manners. (Jordan)
Son personas muy singulares, llenas de fe y amor. (Rudver)
Any packing advice?
Just what they tell you in preparation packet. (Jordan)
Llevar ropa de acuerdo al clima donde se vaya a servir. (Rudver)
What blessings did you receive from serving a mission?
Deeper love for others well being, deeper love for God and Jesus Christ. (Jordan)
Estudie una carrera profesional, luego me especialicé, tengo varios trabajos, un llamamiento como presidente de rama, actualmente estoy terminando una maestría, tengo una hermosa familia y soy muy feliz. (Rudver)
What skills did you gain on your mission?
Language, how to teach effectively, planning. (Jordan)
Comunicación, enseñanza, servicio, visión, perserverancia, orden, planeación, tener más fe. (Rudver)
What do you wish you knew at the beginning of your mission? 
At the beginning I was great, it was towards the end that I became too confident and sure of myself instead of being confident in the lord. I wish I could e kept that humility I had in the beginning. (Jordan)
Que no sería fácil, pero sí posible. (Rudver)
Any advice or bit of testimony for pre-missionaries called to serve in your mission?
Simply try your best, don't push yourself harder than you should, but don't settle for mediocrity. (Jordan)
Que sean dignos, llenos de fe, conocimiento, valor y sobre todo tener claro que se está al servicio del Señor y Nuestro Padre Eterno, reconocerlos en todo momento en lo que hagan y que la luz del Espíritu sea su guía constante. (Rudver)
Funniest language mistake?
I thought the word for preservatives, like the preservatives in our food to make them last longer, was preservador. It's actually conservantes. Preservador is Spanish for condom. So I was explaining to this family that difference in our food was that we had lots of condoms in ours, and they didn't. (Jordan)