Here are free resources about the Colombia Bogotá Mission:
Aquí están algunos recursos gratuitos sobre la Misión Colombia Bogotá:
*Other Mission Pages: Colombia LDS Missions.
---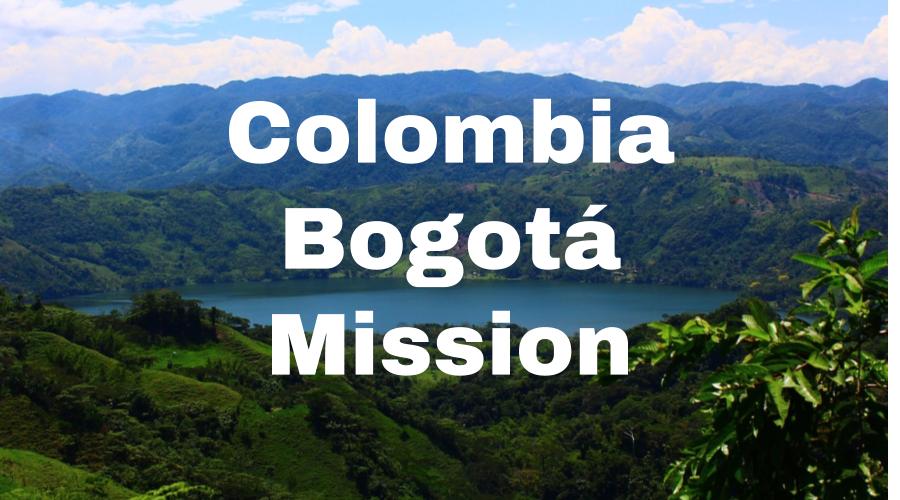 ---
Bogota Mission Address
Here's a recent address for the Colombia Bogota Mission. We try to keep this info up to date, but it's a good idea to check the address with several sources, including your mission packet or the mission office.
Colombia Bogota Mission Map
Here's a link to the mission map for the Colombia Bogota Mission (LDS). To access the official, up-to-date LDS.org map for the Bogota Mission:
*Mission does not currently exist. (Browse LDS.org mission maps)
Bogota Missionary Blogs
Here's a list of LDS missionary blogs for the Colombia Bogota Mission. This list includes the missionary's name, URL and when their blog was updated.
*Send your missionary a gift (mission-specific shirts, ties, Christmas stockings/ornaments, pillowcases, etc.)
Bogota Mission Groups
Here are Colombia Bogota Mission Groups- for LDS missionary moms, returned missionaries, mission presidents and other alumni of the Bogota Mission.
Bogota Mission T-Shirts
Here are T-shirts for the Colombia Bogota Mission!
Shirt designs include Colombia Bogota Mission logo/emblem shirts and Called to Serve shirts. The shirts make great gifts for pre-missionaries, returned missionaries and missionaries currently serving. LDS Mission shirts come in all sizes: Small, Medium, Large, Extra Large, up to 4XL.  The mission designs are printed on white shirts and are shipped to you.
*Simply click on a shirt design to view the details and submit an order. The designs on mission t-shirts may also be printed on other LDS mission gifts, including: Colombia Bogota missionary aprons, Christmas stockings, ties, pillow cases, teddy bears and Christmas ornaments.
*Click here to browse Bogota Mission gifts
---
---
Bogota Mission Presidents
Here's a list of current and past Mission Presidents of the Bogota LDS Mission.
1992, Mission renamed Colombia Bogota North Mission.
1991-1994, William L. Riley
1988-1991, Bruce F. Carter
1986-1988, Frank E. Barrett
1983-1986, David H. Pratt
1980-1983, James Dunn
1977-1980, Kurt M. Olson
1974-1977, David K. Richards
1974, Mission created.
Colombia LDS Statistics (2016)
Church Membership: 193,350
Missions: 5
Temples: 1
Congregations: 264
Family History Centers: 51
Helpful Articles about Colombia
Bogota Missionary Survey
Here are survey responses from Colombia Bogota RMs, to give you a snapshot into what it's like to live in the mission.
*Click here to take a survey to help pre-missionaries going to your mission.
When did you serve?
1987 (Liliana)
1981-1983 (John)
1980-1982 (William)
1978-1980 (David)
1977-1978 (Helena)
1978-1980 (Steve)
1978-1980 (David)
1969-1971 (William)
Which areas did you serve in?
Bucaramanga, Bogotá. (Liliana)
Bogota, Barranquilla and Bucaramunga. (John)
Valledupar, Cucuta, Bucaramunga, Barranquilla, and Bogota. (William)
Sogamoso, Ibague, Bucaramanga, Barranquilla, Bogota, (2) Monteria, Pitalito. (David)
Bogota, Bucaramanga, Ibague, Tunja, Sogamoso, Tierradentro. (Helena)
Barranquila, Soacha, Giradot, Ibague, Nieva, Monteria, Garzon. (Steve)
Cartagena, Bucaramanga, San Gil, Bogota, Barranquilla, Ibague, Kennedy, Neiva. (David)
Cali, Medellin, Manizales, Bogota. (William)
What were some favorite foods?
Changua. (Liliana)
Arepas with eggs. (John)
Arepa. Fruits…all of them. (William)
Arroz con Pollo, Yucca, Pony Malta, Colombiana, Plantains. (David)
Arepas and guava! Cheese bread in Sogamoso. (Helena)
Not Arepas or Mondongo! Everything else was great!! (Steve)
Believe it or not, I love rice and beans!! Tostones. Fried plantains. Arepas Santandereanas. (David)
Empanadas from Manizales. Fruit juice (every home has electric blender) juice de mora (like raspberry). I'm from Texas and like rice and beans .  In Cali, you could get steak at the restaurant on the top of the Hotel and the price was less than a hamburger in the states. (William)
What was a funny experience?
Ir a pescar. (Liliana)
Zoo monkeys throwing feces on us. (John)
Carnival. Maizena in the face. It was so absurd…and surprising. (William)
Being suspended from the ceiling in a makeshift chapel in Monteria dressed as the Angel Moroni, during a show for the members. (David)
Dog bite and military escorts. (Helena)
I had Elder Catron dress as a lady…he was over 6 feet, in a play we conducted in Soacha. The local towns people loved the play and laughed hysterically at such a large person playing a female. But we got the spiritual message across and we converted many in that small town. (Steve)
Not so funny in 1970, but my companion told me I had to explain to new convert (black 19 year old girl) that she couldn't go to the temple to be sealed . . . before the 1978 revelation on the Priesthood. Brother Brown (senior missionary – retired) gave a black baby blessing and promised him he would get the priesthood at age 12. Afterwards, the young missionary explained that the boy was black and could not receive the priesthood. . .  "No my problem, I was inspired to say that and now the Lord will take care of this matter." (William)
What was a crazy experience?
Preparar un pavo para el acción de gracias. Un misionero se corto su dedo meñique. (Liliana)
A group of youth were sizing us up to do us harm. Luckily, they did not. It could have been bad. (William)
Being accused of being a spy by a troubled man who was armed with a pistol. (David)
Anything in Tierradentro. (Helena)
Being threatened by the Cartel to get out of Santa Marta! So we returned and served in Barranquilla. Then there was the time that I was to fly from Barranquilla to Bogota and the airport went on strike, so I took a bus! I was missing for days as the bus ride went from B'quilla to Cucuta, to B'munga, to Bogota. The mission was looking for me! It was a wonderful experience seeing Colombia by land!! (Steve)
My companion and I were stoned (not the marijuana kind of stoned) in San Gil. (David)
Nothing dangerous . . . not one time in all my mission was I sick . . . and we ate food from street vendors. Our President's wife said we would get sick and not to eat from those vendors. One set of elders lived above a rich home (mansion) . . . after the Presidential Election, he saw (from their apartment window) a body guard shot and killed. DO NOT GET POLITICAL IN COLOMBIA. (William)
What was a spiritual experience?
Personas aceptando bautizarse inmediatamente después de las charlas. (Liliana)
Helping an almost nun join The Church. (John)
People willing to change. They could lay it all on the line to change. We changed a lot too. (William)
Many baptisms and wonderful discussions. Seeing complete families baptized. (David)
Baptizing a young couple, the Rodriguez family, with two very young children and finding out years later that over 75 members of their family have been baptized and some have served missions, become Bishops, been in Stake Presidencies, and been temple workers in Colombia and that now Barranquilla will soon have a temple. (Steve)
A good friend from a ward in Bogota had a brother-in-law in Barranquilla that he took me to see. It was the most spiritual charla I was ever involved it. Sadly, he was way past feeling. (David)
Getting a letter from a convert who said, "I have not been inactive for even one day!" His wife said she was born Catholic, raised Catholic, and would die Catholic. END of Story . . . After I left Cali, she was baptized and they went to the Washington DC Temple and were sealed together. :). (William)
What are some interesting facts about the Bogota Mission?
Crecimiento espiritual, conversión de las personas, metas y hechos cumplidos, prueba superada. (Liliana)
As a mission, we baptized over 500 people in a month, many times. (John)
The beauty and diversity of the landscape in Colombia. The people are very beautiful too. (William)
I was in 8 cities and was with the group that opened Monteria. I was a zone leader in Barranquilla. (David)
It was an exceptional opportunity to learn and grow and many of the skill sets to think "outside the box" and resolve difficult problems came from my time as a missionary. (Steve)
The grandson of a couple I baptized in Bogota was my son's District Leader in Lima. (David)
David O. McKay called me to serve and I think that got me out of the War in Viet Nam. I got back and finished BYU about the time the war ended. I never spoke great Spanish. A teenager told me I spoke like her 3 year old brother. Then she said it didn't matter . . . "he understands us and we understand him, and that is all that matters". (of course this is my translation from Spanish to English) (William)
What was the weather like?
En Bucaramanga, bastante calor. (Liliana)
Bogota was cloudy, cool and often rainy. Barranquilla was hot and dry. But when it rained, it poured and the streets would fill up with rain water. Bucaramunga had perfect weather almost all the time. 72-75 almost every day. (John)
Warm on the coast. Cool in Bogota. (William)
Cool in the South. Warm in the North. (David)
Nice, hot, cold depending where you are sent. (Helena)
Weather was dependent upon the location. As you have highlands and cool temperatures to the Amazonia region and hot and wet climate. (Steve)
The only places that really stood out were perpetual spring in Bucaramanga and incredible heat in Cartagena. (David)
Perfect weather in Cali for me. Being from South West Texas and living in hot . . . hot weather . . . Cali was perfect year round. Bogota is famous . . . many are called, but few are frozen. (William)
Any things you really like about the area/people?
Hermosos lugares y la gente avida de conocimiento. Su amabilidad, cariño. (Liliana)
They would do anything for you. They'd prepare juices and nice meals for us and then not eat themselves because they didn't have enough. Very humble and loving people. (John)
Made me feel at home. They were looking out for me in the same way my family would have been looking out for them. (William)
Everything. (David)
Great people. (Helena)
The Colombian people are a loving and gracious people. It was an honor to serve them. (Steve)
Very sweet people. I love the Colombian people. (David)
Colombian's average height is less than my short 5′ 9″ . . . In school, I was the short kid. (William)
Any packing/clothing advice?
Llevar almohada facil de comprimir. (Liliana)
Never expect to get packages. The mail system is terrible. (John)
Depends. If you will be serving in a warm mission (Barranquilla), pack light clothing. If serving in Bogota, pack for cool fall weather. (William)
Everything is available in Colombia. I had beautiful suits made there. (David)
Roll it up, light weight, you have to be able to carry it in cities, jungles, and mountains. (Helena)
None. As a Boy Scout; always "Be Prepared." (Steve)
Great wool suits in Colombia and less expensive. Take good walking shoes . . . my best shoes were USA made. (William)
What blessings did you receive from serving a mission?
Salud, conocimiento, prosperidad, buenos amigos, la compañía del Espíritu Santo; mi vida al servicio de La Iglesia. (Liliana)
Learned to speak Spanish. Made great friends. (John)
Lifelong friends. An understanding and love of the gospel. (William)
My family was blessed by my service as was I. Many people were open to the Gospel of Jesus Christ and many accepted baptism. (David)
Too many to count. (Helena)
I was blessed to serve the Colombians and got to know some very wonderful people and had the opportunity to convert many during my mission. (Steve)
It changed my life completely. (David)
My knowledge of the gospel went from 10 to 100. I always believed the Church as true . . . but know I know it is true. Learning Spanish is great second language. It gave me several college credits for taking a short test at BYU. (William)
What are some skills you gained?
Amar a mi prójimo, servir a los demás, conocimiento del evangelio, expresarme en público. (Liliana)
How to wash clothes by hand. (William)
Mastery of the Spanish language. (David)
Language in Spanish and Paez. Survival skills. How to do radio programs. How to build a baptismal font in a river. (Helena)
My mission served me well and prepared me for a career of diplomacy and diplomatic missions in Latin America, North Africa, Middle East, and Southeast Asia. (Steve)
I use my Spanish all the time–35 years later. (David)
Being able to talk to anyone in any place on any subject. A mission is a time of learning and learning helps keep you young. Keeping a journal was never something I did before my mission, but now I enjoy this exercise and find it helpful in so many ways. (William)
What do you wish you knew/did at the beginning of your mission?
Que la misión es la mejor parte de nuestra vida para desarrollar nuestro amor a nuestro Padre Celestial. (Liliana)
Do more street contacts. (John)
How to play the piano. (William)
More about the culture. An better understanding of the political process and the Catholic Church. (David)
Don't eat strawberries and cream. (Helena)
Nothing! Better to go into your mission with a "clean slate" than preconceived concepts or ideas that will limit your experience. (Steve)
It will be harder than you think, but it will be far more valuable as well. (David)
The more you know the Book of Mormon, the better. I wish I had done more scripture study before my mission. (William)
Any advice/testimony for pre-missionaries going to Bogota?
Que El Señor les cuidara y entre mas dedicados sean a las enseñanzas del Evangelio en su vida recibirán las bendiciones que recompensaran su tiempo y esfuerzo. (Liliana)
Colombia has a huge range of classes of people. From the poorest to the wealthy. Expect to see it all within a few blocks. The people are warm and welcoming and will make you feel at home. They (non-members) will also want you to marry their daughters, so be sharp. Expect to walk a lot and in mud. Expect to have fleas in your bed. Expect to be on crowded buses. You will ride a lot of buses. (John)
Love the people as your own. (William)
Learn the Gospel and learn to recognize the Spirit in your life. (David)
Work hard and do your best, be fully committed as it is a wonderful experience. (Steve)
On Christmas day in 1978, President Spencer W. Kimball came to the MTC to speak to us. Among the many things he shared was something that has blessed my life tremendously: D&C 62:3. He said that it was a true promise and applied to us as much as to the missionaries to whom it was directed. We were directed to take advantage of our opportunity to bear witness of the truth of the Restoration. (David)
I do believe that a mission of two years is better than four years of college. A mission helps you prepare for marriage and family. (William)
What was a funny language mistake?
Palabras que en Ingles que se parecen en Español pero significan algo diferente. (Liliana)
Many words in Spanish can be guessed. "Embarrassed" is not one of them. The Spanish "guess" for embarrassed is embarazada…which means pregnant. One way or another…you will probably experience that faux paux. (William)
I was taught a song only sung in Cantinas by my first companion for a branch talent show. I have got a lot of mileage out of that one. (David)
I asked a lady in the grocery store if, "Si tiene Leche?" instead of "Si hay Leche? I got slapped and did not know why at the moment, won't make that mistake again!! LOL (Steve)
A member of my MTC district was confirming a new convert and he said: "colocamos nuestros cabezas sobre tus manos". (David)
When I spoke Spanish with my Texas accent, the people thought I was speaking English. (William)