Here are free resources about the China Hong Kong Mission:
---
---
China Hong Kong Mission Address
Here's a recent address for the China Hong Kong Mission. We try to keep this info up to date, but it's a good idea to check the address with several sources, including your mission packet or the mission office.
China Hong Kong Mission
18 Dorset Crescent
Kowloon
Kowloon City
Hong Kong
Phone Number: 852-2337-7556
Mission President: President Maurice M. Lam
China Hong Kong Mission Map
Here's a link to the mission map for the Hong Kong Mission (LDS). To access the official, up-to-date LDS.org map for the Hong Kong Mission:
Log into your LDS account here.
Click here.
China Hong Kong Missionary Blogs
Here's a list of LDS missionary blogs for the Hong Kong Mission. This list includes the missionary's name, URL and when their blog was updated.
*Send your missionary a gift (mission-specific shirts, ties, Christmas stockings/ornaments, pillowcases, etc.)
China Hong Kong Mission Groups
Here are Hong Kong Mission Groups- for LDS missionary moms, returned missionaries, mission presidents and other alumni of the Hong Kong Mission.
China Hong Kong Mission T-Shirts
Here are T-shirts for the China Hong Kong Mission!
Shirt designs include China Hong Kong Mission logo/emblem shirts and Called to Serve shirts. The shirts make great gifts for pre-missionaries, returned missionaries and missionaries currently serving. LDS Mission shirts come in all sizes: Small, Medium, Large, Extra Large, up to 4XL.  The mission designs are printed on white shirts and are shipped to you.
*Simply click on a shirt design to view the details and submit an order. The designs on mission t-shirts may also be printed on other LDS mission gifts, including: China Hong Kong missionary aprons, Christmas stockings, ties, pillow cases, teddy bears and Christmas ornaments.
*Click here to browse Hong Kong Mission gifts
---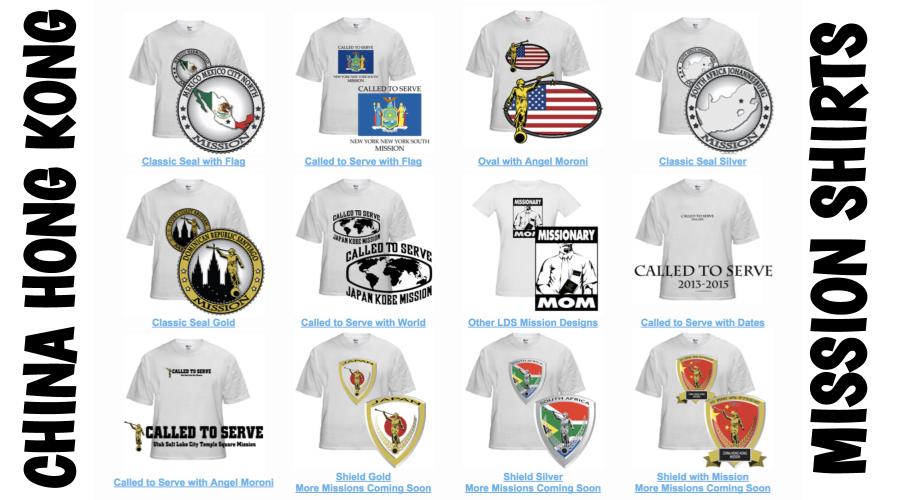 ---
*Click here to see our new shirt design for the China Hong Kong Mission:
---
---
Hong Kong Mission Presidents
Here's a list of current and past Mission Presidents of the Hong Kong Mission.
2015-2018, Maurice M. Lam
2012-2015, Val Don Hawks
2009-2012, Simon Yue-Sang Chan
2006-2009, Lee H. Van Dam (Listen to an interview with the Van Dams)
2003-2006, Ted Hop Ong
2000-2003, Donald Ray Hinton
1997-2000, Stanely Tak Chung Wan
1995-1997, John M. Aki
1992-1995, David Leishman Lowe
1989-1992, Kwok Yuen Tai
1986-1989, Charles W. H. Goo
1983-1986, Brent Armstrong
1980-1983, Gary Mitchell
1977-1980, David Chen
1974-1977, Jerry Wheat
1971-1974, William Seely Bradshaw
1968-1971, W. Brent Hardy
1965-1968, Kieth Garner
1962-1965, Jay Quealy
1959-1962, Robert Taylor
1955-1959, H. Grant Heaton
1949-1955, Hilton A. Robertson
Hong Kong LDS Statistics (2015)
Church Membership: 24,746
Missions: 1
Temples: 1
Congregations: 37
Family History Centers: 4
Helpful Articles about China
Hong Kong Missionary Survey
Here are survey responses from China Hong Kong RMs, to give you a snapshot into what it's like to live in the mission.
When did you serve?
May 2012-June 2014 (Spencer)
June 2013-December 2014 (Elle)
2001-2003 (Adam)
April 2009-May 2011 (Chad)
2010-2012 (Christopher)
1993-1995 (Angelina)
April 2012-April 2014 (Chris)
1982-1984 (Rich)
2003-2004 (Brice)
2000-2001 (Chi Ming)
2002-2004 (Jeremy)
2010-2011 (Sara)
2001-2004 (Mike)
1985-1986 (Paul)
1984-1986 (Carl)
1984-1986 (Gloria)
1983-1985 (Lori)
1983-1985 (Robert)
1983-1984 (Jennifer)
1983-1984 (Gillian)
1983-1984 (Jennifer)
1969-1971 (Peter)
What areas did you serve in?
Tuen Mun, Butterfly, Tin Shui Wai, Kwai Fong, Tsuen Wan, Tai Wai, Sha Tin, Ma On Shan, Tai Po, Tai Wo, Sheung Shui, Macau (both international and Cantonese) and Hong Kong island international. (Sara)
Shatin, Pok Fu Lam, International, Homantin, Kwai Fong, Causeway Bay. (Mike)
Kowloon and new territories. (Paul)
Hong Kong Island and New Territories. (Carl)
Central, Westpoint, Hung Hum, Tai Bo, Tuen Wan. (Gloria)
Kowloon, Tsuen Wan, Kwun Tong, Chai Wan, Sham Shui Po, Cheung Sha Wan. (Lori)
Tauren Wan, Sha Kei Wan, Sha Tin, Yuen Long, Kwun Tong, mission office. (Robert)
West Point, Central, several areas in Kowloon, Macau. (Jennifer)
Nagoya Tao Gok, Tsam Tsui Bo??? (Gillian)
I served most of my mission in West Point and my last months in Macau, but I was also on special assignment with Sister Knight. We were able to travel throughout the mission to serve with a variety of sisters. (Jennifer)
Un Long, Tsuen Wan, Aberdeen, Kowloon Lai Chi Kok. Started out in Southern Far East Mission then Hong Kong-Taiwan and finishing in the Hong Kong Mission. (Peter)
What were some favorite foods?
BBQ pork with rice. (Spencer)
Egg Tarts, Sweet and Sour Chicken, Street Waffles, Tam Zai, Korean BBQ. (Elle)
Cha Siu Faahn. THE BAKERY BREADS!!! Anything cooked by Filipinas. Cool soda flavors not available in the USA. (Adam)
Cha Siu (barbecue pork), Siu Maih (steamed snacks), Maih sin (the best noodle soup you will ever have in your life), Gaai meih baau (coconut bread that will make your heart stop), Shake shake fries at McDonalds (they come for one month every year and will haunt your dreams the rest of your life), Saan Juk (Mangosteen, the best fruit you'll ever have, short season of availability- get it while you can). (Chad)
Home cooked Chinese (of course). Real lemon chicken (fried), fried fish with green onions, Chinese spinach, and home made noodles, are just a few. If you must eat out, the Taahm Jai maaih sin (noodle soup) with "sour cabbage" is exceptionally good. For everything in between, there are Maxim's ice cream moon cakes, cheuhng fan, yeuhng ji gam louh, either BBQ pork or custard steamed buns; seafood pizza, squid, cuddlefish, octupus, Chyun Waan handmade dumplings, saai maaih louh, fresh Indian curries (made by people from India), and flower teas. (Christopher)
Bok choi, street vendo rice boxes. (Angelina)
Curry chicken. Dim sum. Pineapple bread. (Chris)
Gaimei Bau, Sweet & Sour Pork, Peanut butter & sweet cream pancakes, Egg tarts, BBQ Pork. (Rich)
Cha siu bau; Shrimp wonton; Pork chop rice lunch; curry beef with naan bread; fried bread buns and dumplings; ginger beer. (Brice)
Cheap food and home cook. (Chi Ming)
Eggplant with Pork (I still dream about it all the time) Chaa Siu Faahn (char siu – BBQ pork – rice) Gaai Mei Baau (butter coconut rolls) Bo Lo Baau (pineapple bread) yaahm chaah (dim sum) – haa gaau (shrimp dumplings) (Jeremy)
Tam jai rice noodle soup, most of the breads, char siu pork on rice, juk (congee), water spinach, the list goes on and on. (Sara)
Chicken tail bread. BBQ pork rice box. (Paul)
Street waffles, gai mei bao, really anything, it was all great, even the tripe! (Mike)
GaiMeiBau. (Carl)
The gai mei bou (not the correct pinyin) the buns in Ho Min Tin area. I took a whole box of them home with me to eat on the plane when I went to the Hong Kong Temple dedication. Absolutely delicious. The coconut muffin like bread. The stir fry that our Ahma made while in Tai Bo. (Gloria)
Cha Siu Bau. (Lori)
DimSum. Bolo bau, char siu rice box. (Robert)
Stir fried noodles. I also loved the digestive crackers. I grew to love chicken curry with potatoes. (Jennifer)
Back Chou. Char Sui. Coconut bread. (Gillian)
Stir fried noodles were my favorite! (Jennifer)
Won Ton Fan. Gai Laan Choi. Haam Yue. Ngau Yuk Chau Choi. Most everything except thousand year old eggs and Moon Cake. (Peter)
What was a funny experience?
Companionship exchanges, preparation days, early morning exercise with an elderly man and woman. (Spencer)
People's reactions to Foreigners speaking Chinese. (Elle)
Plenty of tone mistakes. (Adam)
Playing Chinese chess in the parks with old men as a finding activity. They love seeing random Americans that know how to play their game. (Chad)
Trying to speak a tonal language. There are some words that are easily messed up—really easily messed up. (Christopher)
Because of my height, the umbrella I used was so useless. Everyone's umbrella dumped rain right on my face . It rained so hard sometimes I remember it feeling like it was raining from the ground up. I always gave up and just got wet. (Angelina)
An old man tried to kiss me. (Chris)
When I gave my companion a haircut. It didn't turn out well. (Rich)
Lost on Lantau Island and chased by wild dogs. (Chi Ming)
Having subway attendants with white gloves help press as many bodies as possible into each subway car in the northern Hong Kong Island subways at rush hour. (Jeremy)
One of my companions thought she had correctly rescheduled an investigator and a member present, but when two members showed up realized that because everyone has the same name, she had rescheduled the member who was originally to be accompanying the lesson, and then found a member to attend the lesson. She was devastated that this investigator had ditched her appointment, when really it was just a misunderstanding because there are a ton of Sister Leungs. (Sara)
Sitting on a bus in a part of Hong Kong where no one was a foreigner. I started to wonder why all these Chinese people were looking at me weird. I had totally forgotten I was a Caucasian American sitting in the middle of Hong Kong! I even asked them what they were staring at! (Mike)
Having my companion point and ask for $5.00 of Choi Sam… But instead said Saam (which changed it to $5.00 to take off her shirt). (Paul)
Companion shaking a front door gate in the walled city and having it come loose on him. (Carl)
My companion, Marianne Jones, I think and myself being chased by dogs in the Tai Bo area while in some of the villages (which sadly are no longer there). A man at the end of the trail cussed us out and told us that if we didn't run, the dogs wouldn't chase us. I wasn't going to take that chance. (Gloria)
Tripping up the steps of a shanty town in Kowloon. (Lori)
WuKaiSha. Mission conference and sporting competition 😎. (Robert)
I picked up a toilet plunger in our bathroom in Macau when I first arrived there only to discover it was a cover for a nest of cockroaches, the size of small animals. It was like something out of a horror movie. It as covering a hole in the floor that went through to the ground underneath. (Jennifer)
First day I was there, a cockroach as big as my hand walked up and over my suitcase, later I tripped over a cow's head laying in the market and splashed blood up my leg which stayed there all day. (Gillian)
Wearing long johns, sweats, a coat, and gloves to bed because it was so cold in the winter time. We didn't have any heat in our apartment. I borrowed my companion's water bottle to sleep with as well. (Jennifer)
One day, my companion and I were peddling our bikes out in the New Territories on a concrete pathway adjacent to a field. There happened to be a man pushing his cart coming in our direction. Elder Riley stopped his bike to let the gentleman pass. However, I needed to show my prowess in handling my bicycle in tight places. I intended to slip right by the cart on the field side of the path, no problem. Nothing was further from the truth. I made it part way passed then the peddle hooked underneath the cart which sent me careening over the edge. I rode the bike all the way down. (Peter)
What was a crazy experience?
We had encounter with Hong Kong gangs call Triad. And had some problems with people who were possessed. (Spencer)
We were followed a few times. It was creepy. (Elle)
Drunk Pakistani confrontations just after 9/11. (Adam)
Hong Kong isn't really a dangerous place. Other than coming across the occasional stray dog pack out in the boonies, you probably won't experience anything dangerous. There is this guy in Gun Tong they call "the grabber"… You'll have to keep an eye out for him. Basically he will not let go of your hand once you shake his. (Chad)
We hiked in an old bomb shelter/barracks thing in Macau, and there was a real, black snake (probably four feet long) slithering in there. They also have these huge black and yellow spiders that live on all the banana trees growing there. While they aren't what most people think of when they hear "banana spider," we didn't know their real name and called them that anyway. They are huge and terrifying—like the cockroaches under the kitchen sinks! (Christopher)
I don't remember ever feeling like I was in danger. But it was incredibly uncomfortable while on a crowded street car during summer, when smelly armpits were exposed while hanging on the hand straps. (Angelina)
Trying to get home during a typhoon. There was lots of debris flying through the air that we had to dodge as we ran to our apartment. (Chris)
Seeing an old man at the bottom of some stairs. He had just fallen down and cracked his head open and died. (Rich)
Getting attacked by monkeys. (Brice)
Lost on Lantau Island and chased by wild dogs. (Chi Ming)
Tracting into a couple Triads (hahk seh wuih – "black society" – Hong Kong mob) members who taught people how to gamble in the casinos in Macau. They were really nice, and paid a bunch of people in cash that delivered things to their doors while we were there. (Jeremy)
Honestly, I don't think I ever felt unsafe in Hong Kong. The typhoon that hit while I was in Macau kept us inside and was really cool, but I never felt like we were in danger. (Sara)
Elevator disconnecting and dropping a few floors with us in it. I still hate elevators to this day. (Mike)
Climbing lion rock, taking pictures sitting on the ledge. (Paul)
Being in an area we were just opening up, and walking into the courtyard of an bunch of apartments and having a chair being thrown at us from an upper floor, and just turning my head a fraction and being missed by a bottle being thrown at me. (Gloria)
Looking for a member living in Kowloon Walled City. We were with some Elders but it was a very sketchy place! (Lori)
Riding the siu Ba to Stanley Market. (Robert)
When I first arrived in Hong Kong, we were staying in the YMCA before being assigned to our companions. They had a #10 typhoon that blew my window in and carried my missionary name tag out, never to be seen again. My companion and I hid in the bathroom to avoid scattering glass. I can still remember the building swaying. From that point on, I would use duck tape to tape up the windows anytime there was a typhoon. I still don't like strong winds. When I lived in Hawaii, I survived Hurricane Iwa. It reminded me of the scary typhoons during my mission. (Jennifer)
Riding in a taxi! Was in two crashes! (Gillian)
I saw a lot of rats running around our area when I was serving in West Point. I believe there were several areas in Macau that would be considered dangerous by today's standards, but, at the time, I felt confident the Lord would protect us. (Jennifer)
What was a spiritual experience?
Too many to count! Lessons, baptisms, personal study, zone meetings, and leadership council. (Spencer)
Teaching people from Mainland China. (Elle)
My first baptism. Strong spirit. Straight to the heart. (Adam)
We helped a man quit smoking in less than a week. He asked for our help and we taught him about prayer and told him the next week we would come with a lesson tailored to quitting smoking. When we saw him next, he said he had quit. He told us every time he wanted to smoke he would pray and the craving would disappear. He never went back. (Chad)
Meeting people ready for the Gospel and seeing them be baptized—even thousands of miles from Utah. (Christopher)
One day a Filipino woman working as a maid approached us while we were going right off the subway station. She said "I just had a feeling to get off the subway, I never get off here…I must have needed to talk to you today." (Angelina)
We worked really hard to get investigators to church, but when it started, there was nobody there. During the opening prayer, I said a final prayer and asked God to help these people get to church. When I opened my eyes, three investigators had walked in the door. (Chris)
Teaching a family about prayer and having the young daughter in the home give a prayer…sweet and pure and filled with the spirit. (Rich)
At the Mission Training Center. (Chi Ming)
Seeing people have experiences with reading the scriptures, praying, and receiving answers from the Holy Spirit. Being able to share the first vision, and share your testimony. (Jeremy)
All of the little things. I used to tell my missionaries I taught at the MTC that some of the best spiritual experiences on the mission are things that feel so natural as you're guided by the Holy Ghost. It becomes a part of you. I remember going running one day and noticing a swing set for the first time on our run even though we did the same path every day. I felt like swinging! Totally natural, right? Well turns out there was a girl who came by maybe 1 minute later to swing and had some questions about missionaries/God. It wasn't like a huge thing- no voice or angel or anything, but simple. In hindsight, I can see that because I was worthy the Lord was guiding me (almost without my notice) to meet that girl and countless others throughout my mission. I literally have no clue what happened to her spiritual path because she was just there for a trip and was from mainland China… But it is a great example of how the Lord guides his missionaries, and might I add, members, to help people everywhere come closer to Christ. (Sara)
Talking with people who'd lost hope or were discouraged. Often our message wasn't what they needed at the time, but instead just someone to be nice to them and listen to how they were feeling. Often I felt closest to God by being present with people in their life's trials. If my message of the restoration fit, it would come up, but I found when I stopped trying to preach and instead listened to what was really going on for people, I was a better missionary. It made it much easier to preach when people were receptive because it was genuine. (Mike)
Going over the old contacts, having all the lines go grey, except for one. Called the number, and having the contact pick up on the first ring, and tell me she has been waiting for us to call… Immediately taught her, was baptized in 3 months. (Paul)
I remember one month my companion and I came up short of money at the end of the month. We decided we needed to pray about this dilemma and shortly thereafter we were on our way back to the apartment and were in the subway station. Usually this would be full of people but we found ourselves alone on the platform. I look down and find a $100 HK bill. Not much today but as a missionary that was enough to get us through the month. (Carl)
Teaching a family who lived in the mountains, in a part cave, dirt floor, and eventually baptizing the entire family of mom, dad, and two little boys. We had contacted the father in a park in Tuen Wan. There was something about him that made me stop him and talk to him. (Gloria)
I had been in Hong Kong for only a few months. My companion and I had been teaching a young student the missionary lessons. He enjoyed attending church and the social activities with the ward. He had new friends and felt included in all areas. However, he wasn't committed to our challenge for baptism. My companion wanted to drop him as an investigator because he wasn't progressing towards baptism anymore. I remember standing outside the chapel building waiting for a bus home. I earnestly bore my testimony in my limited Cantonese to him on the importance of prayer. He was able to feel the Spirit strongly enough that he was impressed to take serious our challenge to read The Book of Mormon and to sincerely pray about its truthfulness. The next day he shared with us his desire to get baptized as soon as possible. This was beautiful music to our ears!! (Lori)
Most of the time there… Loved teaching testifying and sharing the Savior's love for those humble, wonderful people. (Robert)
I don't remember a specific one. I just remember that sweet, warm feeling that followed being set apart as a missionary. The mantle of a missionary is a very special calling and the Spirit that is felt is very profound at times. (Jennifer)
Seeing in my mind, a door with a number while we were tracting and then finding the door, finding the three orphans behind it and teaching them the gospel and watching them be baptized. (Gillian)
When I was serving with Sister Kenyan in West Point, we met three sisters, the Sheh girls, who let us in their home immediately. They said it was because they were curious about my long hair. While my long braid got us in the door, the Spirit took over. We challenged them to baptism the first visit and they accepted. (Jennifer)
Any interesting facts about the China Hong Kong Mission?
The first missionaries in Hong Kong came in the 1850s and left 3 months later. The mission was organized again in 1949. I would suggest that you visit everything, especially Mongkok. (Spencer)
Dedicated in the 1920's, but missionaries did not come until the 1950's. (Elle)
My Great Great Uncle opened the mission. (Adam)
Hong Kong may be the closest knit mission in the world. Unless you are in Macau, you will never be more than an hour train ride from the mission home and every other missionary in the mission. They used to hold full-mission activities and conferences once a transfer. They don't do that anymore, to my knowledge, but the fact is while in other missions you could go the rest of your two years without seeing your MTC companion, in Hong Kong you will probably see them at least once every transfer. (Chad)
Cantonese. Wan Chai was bombed by the Japanese in WWII. The (one) temple there was or is the designated temple for half of the world's population (China+India+Indonesia+so many others…). (Christopher)
There were so many choices for transportation. All were so fun to travel on. I loved the tall buildings and riding the elevators to the top to get an ariel view of the land. Sometimes with so many people on the street it was like looking at an ant farm. The city was busy all the time. (Angelina)
Mission area covers China, but doesn't allow the missionaries into mainland. The mission also includes the Portuguese founded country of Macau. There are lots of people from the Philippines. The horse people have the opportunity to have church service on any day of the week, not just Sunday. (Chris)
It is very, very small and compact. Anybody can get to the mission office in less than an hour. Because it is such a cosmopolitan city, it has opportunities for "international work" where during a transfer or two you try to teach everybody who is NOT Chinese. (Brice)
Not only to meet the true me also made a lot of true friends. (Chi Ming)
Hong Kong/Macau are the only parts of China that are currently open to proselytizing in China, a country of over 1 billion people. Hong Kong is a melting pot for Southeast Asia, where you will meet people from all over the world, and yet feel extremely safe at all times. (Jeremy)
Cantonese has 9 tones, but you're lucky because you only have to learn it with 6 to be decent. It is, as far as I know, the only place where they have church for the domestic workers every day of the week besides Mondays. (Sara)
Super small mission with a tons of people in it. The "international zone" aka English speaking area, had church every day of the week. That was really cool. (Mike)
Safer to walk the streets than almost anywhere in America. (Paul)
So much has changed there, when there it was an interesting mix of modern and ancient China. (Carl)
The temple is now resting on the place where the mission home was when I was serving. The day of the dedication, I remember getting off the Da Ha Tien (subway) and walking down the road, turning the corner, and seeing angel Moroni, and catching my breath. I never thought I would see a temple in China. (Gloria)
We split into 4 stakes while I was there. Elder Maxwell visited and promised a temple in Hing Kong in the near future if we were faithful and worked hard. (Robert)
The temple now stands where our mission home stood. I thought because I was English and Hong Kong was then under British rule, everyone would be able to speak some English!! Ha! (Gillian)
Hong Kong is one of the most fascinating places in the world. It is a mixture of the modern skyscrapers and sampans in the harbor. (Jennifer)
At the time of my calling, it was the largest mission in the Church. (Peter)
What was the weather like?
The weather is tropical. It has very high humidity. It is 10 C – 35 C (50 – 95 Fahrenheit). It rains a lot in the spring and summer and has typhoons. (Spencer)
Hot and humid in the summer. Very cold in the winter. Lots of rain during the wet months. (Elle)
Hot, humid. (Adam)
Hot and humid in the summer, comfortable in the spring and fall, COLD and humid in the winter. You wouldn't think 50 degrees would be that bad, but with 90% humidity, it cuts right to your bones. (Chad)
So great. Don't be fooled by the humidity, it gets cold in the winter. Summer is tolerable if you're in the shadows of the main city's buildings, but gets hot out there in the sunshine/on the beaches. (Christopher)
It was hot and humid and it rained a lot. (Angelina)
Really hot and humid during the summer. Very rainy during the spring. Cold and humid during winter. There aren't any heaters there. (Chris)
Warm and humid. Sometimes cold enough for a sweater in the winter, and often rainy enough for a long coat. (Brice)
The weather is like everywhere in the world, sometime raining, sometime sunny and super hot, sometime windy and dry. (Chi Ming)
Mostly extremely hot and humid (4-5 months of the year, but you get used to it), it gets cold in the winter for about 1-2 weeks, warm temperatures for 2-3 months, and relatively cool, comfortable temperatures for 2-3 months. (Jeremy)
Humid and hot in the summer, humid and cold in the winter– not temperature cold really, but you feel SO cold because of the humidity. Prepare to sweat. (Sara)
Hot and humid all the time, but lovely just the same! (Mike)
Hot and humid. (Paul)
Always humid, mostly hot. But in winter it could get cool, but still humid. (Carl)
Hot in the summer, wet in the fall and winter. I remember wearing plastic shoes and wading through water coming back from appointments. Wearing my sweats pushed up underneath my long skirt to add a little warmth. I already had on a couple of other layers. Wearing the gloves with the fingers cut out so that I could flip through pages of the scriptures when we were teaching and not have to take off gloves. (Gloria)
Humid!! The humidity makes the cold weather feel colder and the warm weather feel warmer. Be prepared!! (Lori)
Muggy in summer, windy in winter but half the time it was paradise. (Robert)
Hot and humid in the summer. I suffered from prickly heat rash when I first got there. Then, in the winter, I slept in a coat with sweats. It was freezing. We didn't have any source of heat. (Jennifer)
Coldest winter recorded the first year I was there…I did not expect that! Monsoon weather was crazy…very hot and humid. (Gillian)
In the winter, it is damp and bone-chilling. In the summer, it is damp and hotter than Hades. (Jennifer)
What are some things you love about the area/people?
The people are incredibly busy; however, they love their family members and are very thoughtful. Chinese festivities! (New Year's, Mid-autumn Festival, and Ancestor Worship) (Spencer)
Hard-working, energetic people. (Adam)
The wards LOVE the missionaries. The whole city is full of nice people who are willing to help each other out. They can be stubborn, but they are good people. (Chad)
They are a hard-working people. They love their family members. They don't compromise their long-held values. They have way better food than we "Westerners" want to admit. 🙂 (Christopher)
They were so encouraging with the language. If you made an effort to learn, they praised you. Many shared traditions of the people, foods and made us feel at home and welcome. (Angelina)
They are so accepting and loving of Americans. They want to help you learn the language and also love practicing their English. (Chris)
They don't abuse you, the just ignore you. (Brice)
I love Hong Kong. (Chi Ming)
The Chinese people are very warm and gracious, once you get to know them, and understand the culture. They are quick to laugh, when you try to make any jokes or say any Chinese idioms. (Jeremy)
One thing I love about the people is the respect for the elderly. You can get on a train, and even if you think that teenage boy is 100% glued to his phone, he'll notice right away if an elderly person gets on and give up his seat immediately. About the place, I love the mountains. Pretty much everywhere you go, you're just a few minutes from some of the best day hikes in the world. I also love the food. It can take a bit of getting used to, but Hong Kong has some of the most delicious food in the world. (Sara)
Often very nice, would often slow down their Chinese to help us out. Often very family oriented. (Mike)
Everything. (Paul)
Always hard working and industrious. Good people. (Carl)
The Chinese were gracious people. They were grateful for the efforts the Americans took to learn their language. They loved having you in their home. They walked in the evening in their pajamas, with their birds. They did Tai Chi in the early mornings and evenings in the parks. They were humble people. (Gloria)
The Chinese were gracious people. They were grateful for the efforts the Americans took to learn their language. They loved having you in their home. They walked in the evening in their pajamas, with their birds. They did Tai Chi in the early mornings and evenings in the parks. They were humble people. (Gloria)
Humility, diligence and love. (Robert)
I can't put into words how much I grew to love the Chinese. When my mission was winding down, I was anxious to return to America and emotional and depressed at the same time. It was so difficult to leave those people I loved so much. (Jennifer)
The Chinese people are amazing, very humble and smart, hard working. I loved the way girls would run around holding hands. Once they are converted they are solid. (Gillian)
I loved Hong Kong. I loved the busy, exciting atmosphere with all the swarms of people and open markets. I loved the humble people with all my heart. (Jennifer)
Any packing/clothing advice?
Bring a waterproof suit coat and more breathable clothing. I didn't need I-pad speakers for music listening. It was difficult to find good deodorant and Dr. Pepper. (Spencer)
Bring a good trench coat. Buy plenty of white shirts, but only open half of them. Save the other half for your one year mark. Save the packages for your best-fitting garments for easy reordering. (Adam)
The missionary booklet covers what you really need. Keep in mind that Hong Kong is a hub for clothes. If you happen to be able to get down to Mong Kok, you can get suits, ties, and white shirts for really cheap. Mong Kok may have special rules for how many times you're able to go there per transfer if you aren't serving in that zone. Avoid heavy socks that don't breath. You will sweat. A lot. (Chad)
Nothing super thick (one coat maybe being the exception). (Christopher)
Get really good shoes and then be prepared to get more. The thing I loved- not sure if they still do this- was clothes swapping for the sisters. We would leave clothes we didn't want anymore in the apartment and there were always clothes left at the new apartment. It was like a new wardrobe every transfer. Also, the clothes were really cheap there. (Angelina)
You can buy almost any clothes there. Bring ziplock bags for when you move. I had a bottle of contact solution open mid travel and ruin some books. (Chris)
Nothing special. You basically can buy everything here. (Chi Ming)
I wouldn't bother with a long trench coat, pack all short-sleeved white shirts, you will only wear a suit once a month or so, except in the winter when you want to layer up with a suit, and thermals. (Jeremy)
Breathable garments. Well… Breathable clothes in general. Again, sweat. (Sara)
Don't bring a stupid rain jacket or really anything to keep warm. You're in China, where it's all made anyway! If you need it, buy it there. Comfortable shoes are a must, spend more for better shoes now, you'll likely walk a lot. (Mike)
No wool. Cotton and silk. (Paul)
I leaned how to cook Chinese food. I learned how to speak Cantonese. I learned how to write characters. I leaned how to read and study the scriptures in a whole different way. I learned how to get along with others better. I learned how to study better. I learned how to teach better. I learned how to approach people and start up conversations. I have always been a journal writer, but my mission taught me to really capture the most important moments. (Gloria)
Mesh Garments. Good shoes. (Carl)
I would pack long thermals for the winter, a down coat, a hot water bottle. I slept with one at night. (Jennifer)
Pack light! Please pack light…transfers are a nightmare if you don't. Buy shoes there. Don't take mesh garments! (Gillian)
Be sure you have warm clothing for the winter. Long johns and a warm coat are essential. You will do a lot of walking so make sure you have supportive, comfortable shoes. (Jennifer)
What blessings did you receive from serving a mission?
I continue to find blessings from missionary service. The greatest blessings have been the strengthened relationship with God, my family, and the Chinese people. (Spencer)
More confidence/self esteem. People skills. Making great friends. How to interact with people. How to plan and stick with the plan. (Elle)
I am now a Chinese language teacher. (Adam)
Everything I have in my life came from serving a mission. I drew closer to the Lord than at any other time in my life. I became very familiar with how the Holy Ghost works with me on a personal level and this has been the most invaluable blessing I received. (Chad)
I realized a greater vision, especially regarding human potential. Even though I wasn't the brightest person, working hard makes a huge difference in other people's lives. (Christopher)
A really strong testimony. 20 years later I am still serving. I have been sealed to my husband. I have always had a temple recommend in my pocket, a strong family and I owe it to the discipline, hard work and focus I learned on my mission. (Angelina)
I became a more confident person. I gained a strong faith and the ability to push through trials. (Chris)
Real true friend forever. (Chi Ming)
Got to share the gospel, gained invaluable life experiences, learned what I value in others, learned to be a good roommate, learned what attributes I liked and disliked in others – which allowed me to grow and become the person I wanted, learned to manage finances, learned another language, learned another culture, gained new perspectives, learned to love others as much as myself. I made great friends and relationships that persist today. (Jeremy)
Greater understanding of my place in the world, cultural understanding, some of the most amazing friendships of my life, tenacity for hard things, more humility than I had before, learning to forgive and learning to love. (Sara)
The biggest one was feeling like I found myself, not necessarily religiously, but as a fellow human in this great gift of life! I found peace in imperfection and how acceptance is a profound characteristic. I sat in awe as kids would transition between being a Buddhist monk and then back to schooling as they were making their way through life. I'd always assumed people started on a path and stuck to it until they switched; being multifaceted and ever changing and that being okay, was a great perspective change and a huge blessing. (Mike)
Best thing I could have done. (Paul)
Built my testimony for life. (Carl)
Every day of my life is a blessing. I learned how to work hard. I learned how to serve. I learned how to recognize the Spirit and depend on it in my life. I learned how to open my mind to others who seemed so different from myself, and yet, know that we all have so much in common. I learned how to love people in ways I did not know I could do. (Gloria)
Was my dream since I first knew I wanted to serve to serve in Hong Kong. So I pretty much was blessed every day just being there. (Robert)
I learned to recognize the Spirit, love other cultures, love diversity, and love speaking a foreign language. (Jennifer)
I served 33 years ago and it has shaped my life ever since. It has made me a better member missionary, better wife, mother…better everything. Would do it all over again. Can't wait to serve with my husband when we retire. (Gillian)
A testimony of the restored Church. (Peter)
I gained a love for diverse cultures. It has blessed me throughout my life. As a registered nurse, I serve a demographic that is very diverse. I have carried that love and compassion over into my practice. (Jennifer)
What are some skills you gained?
Intercultural communication. Language skills. Self-discipline. Scripture knowledge. Ability to navigate through a large, foreign city. (Adam)
I served in multiple leadership roles, and the experience I had prepared me for my university studies and leadership roles at work. Cantonese is a beautiful language, but it is incredibly difficult. I learned 3,000 characters when I was there and achieved a high level of skill in the language. After I got back I took Mandarin and, despite the differences in the spoken language, because I had learned characters, it was a cake walk. (Chad)
Bartering, Cantonese, cooking and social skills. (Christopher)
Early rising (always difficult for me). Talking to people in general (I am on the shy side) and specifically about the Gospel. Getting up in public and speaking with confidence. How to be kind and keep my mouth shut when I want to criticize. (Angelina)
Speaking Cantonese. (Rich)
The Cantonese language is awesome, and it inspired a desire to learn more languages. (Brice)
Talking and suffering. (Chi Ming)
Public speaking, the art of conversations, the ability to give presentations, the ability to be a good leader, language skills, etc. (Jeremy)
Chinese, goal-setting/planning. (Sara)
Ability to work way too hard! Ability to talk to anyone at any time. And ability to talk my way out of things. Sometimes religion has some not so happy aspects that have to be addressed; mission showed me how to address them without having to argue. (Mike)
More outgoing. (Paul)
Not afraid to talk to anyone. (Carl)
I leaned how to cook Chinese food. I learned how to speak Cantonese. I learned how to write characters. I leaned how to read and study the scriptures in a whole different way. I learned how to get along with others better. I learned how to study better. I learned how to teach better. I learned how to approach people and start up conversations. I have always been a journal writer, but my mission taught me to really capture the most important moments. (Gloria)
I gained the ability to talk with strangers in a sincere way. I continue to use this skill throughout my life. (Lori)
Language, overcame fear of public speaking, confidence in hard work and sacrifice. (Robert)
Multiple language skills. I got good bargaining for deals too. Relating to diverse people and appreciating our differences. As a registered nurse, I work with many diverse populations and I enjoy it immensely. I really learned to love people from different backgrounds. (Jennifer)
Planning. Doing tough things. Getting along with people of all walks of life. (Gillian)
Language skills, people skills, especially tolerance and compassion, and being able to be flexible. I certainly learned to endure through adversity. I spent 17 years caregiving to my elderly parents. It was a difficult but very rewarding time. I learned to serve on my mission. The greatest times in my life have been in the service of my God and I felt closer to Him when I was brought to my knees seeking his guidance and support. (Jennifer)
The ability to speak a foreign language and mimic native speakers of Cantonese. (Peter)
What do you wish you knew/did at the beginning of your mission?
I wish I had known Chinese and how to teach by the spirit. (Spencer)
Don't stress about saying things right. It will ruin you. (Elle)
Keep a daily journal. Don't stress about perfect entries; just get two or three sentences down on paper. (Adam)
I wish I knew how to truly listen to the Holy Ghost and how intimately our Heavenly Father really knows His children. It took me a while to figure this out, and if I had known early on it would have made me a much more effective missionary. My advice is to take some time to include God in your plans in your life. Put yourself in environments that are conducive to the Spirit and give the Holy Ghost opportunities to help you out. Listen carefully and focus on what you feel and the thoughts that come to your mind. Find out how the Spirit works with you. (Chad)
I wish I knew Cantonese, and wish I had humbled myself a little bit more. (Christopher)
I wish I knew that the language will come with time. That I would make the best friends of my whole life while serving. That crying is okay….you don't have to hide it. But, don't let frustration distract you from your work. (Angelina)
Teaching skills come through experience, spend your prep time learning the doctrine. It isn't a fun two years. There are fun moments, but for the most part it is very hard and trying work. (Chris)
Acceptance is the answer to all of my problems. (Rich)
For Cantonese, really focus on learning the sounds and tones really well, I didn't realize I was making some of the sounds/tones incorrectly until I was a year into my mission. Be loving of every person you meet and serve with, you don't always know their past experiences/backgrounds, and I wished I would have been more understanding and loving of everyone. It took awhile to get to that place. (Jeremy)
Not to worry so much, that you can have fun, be obedient and spiritual, and work ridiculously hard all at the same time. (Sara)
Learning Chinese characters would be a fun hobby but truly useless unless you were certain you wanted to study it for a lifetime. Almost all missionaries should not spend anytime on the characters. The cultural norms in China are a huge thing and that it's perfectly okay to teach a lot of people who can't get baptized because of family issues. (Mike)
Study the language hard, I had a real trial with the language. (Carl)
A mission is the hardest thing I've ever done, and it is the most rewarding thing I have ever done. I wouldn't trade the experiences for anything in the world. (Lori)
Wish I did more "sounds and tones" prior to arriving. (Robert)
To not take myself so seriously. To enjoy the experience and just love the people without getting too caught up in the less important aspects of life. (Jennifer)
Left home behind sooner, left myself behind sooner. Knew more Chinese. (Gillian)
To not take myself too seriously, to focus on loving the people and cherishing it. The time really flies. (Jennifer)
I wish that I had at least read the Book of Mormon and had become more familiar with its message. (Peter)
Any advice/testimony for pre-missionaries going to Hong Kong?
Immerse yourself in the customs and traditions of the people. This will help you understand them and connect on a deeper level. Learn to eat anything. It is impolite to turn down food, and you will get very strange food. I wish I had studied Preach My Gospel more in-depth. Read and study Preach My Gospel chapter one, "What is a successful missionary?" (Spencer)
Love the people, don't stress about the language, and listen to your Heavenly Father. (Elle)
Save some money for souvenirs. Get a good camera and record names and contact info for friends, members, investigators. (Adam)
Don't bring cotton! It will mold. Bring tights for the winter months.  A rain jacket is nice. Don't bother bringing an umbrella. You can buy one in Hong Kong for cheaper (plus, it will break, promise). No rain boots, too bulky. Buy rain shoes in Hong Kong. (Elle)
Enjoy to the end. Hong Kong is a strong, obedient mission. The city is truly one of a kind and you are so blessed to have been called there. Not many people get a chance to serve in such a holy place. It's also one of the funnest missions! You will get much closer to the missionaries you are serving than with any other mission I've heard about since I've been home. You'll make lifelong friends from around the world. Enjoy it while you can, don't take yourself too seriously, breathe it in while your there. (Chad)
Don't doubt—just lead and they will follow you… (Christopher)
You will love it and hate it at first. Just keep going and doing what you are supposed to do. (Angelina)
Love your mission. There will be many times you get discouraged but remember that the people don't know better. If they honestly knew better, then they would change. Your work isn't to change people. It is to teach, encourage, and give people the opportunity to change. If you did those three things, you will be successful regardless of how many people accept the gospel in their lives. (Chris)
Get good shoes. (Rich)
You need to prepare yourself and think is that what you really want to do. (Chi Ming)
Consistently strive for empathy for the people of Hong Kong, and for your fellow missionaries. (Jeremy)
Don't forget to be grateful. Even if its hard and you might think you don't like it or whatever individual challenges you have… when you leave, you will miss it, so remember to love it and be grateful for it and embrace all the crazy and weird that is the mission experience. Be yourself, be obedient, and love the people (that includes yourself and companion). You're going to one if the most incredible and important places in the world, which is a huge responsibility but a great gift, to take advantage of the time you have. (Sara)
It's going to be hard, but it's an amazing journey. Don't compare your mission to your friend's (even if they're in Hong Kong) because it's your experience, not theirs. It's truly one of the most unique missions in the world, you'll understand that when you return home, but while you're preparing and going just embrace it and love it without a care in the world! (Mike)
This is a hard mission, but the people need what you are sharing. Those who accept the message will make a real change in generations of their families' lives. (Carl)
Study the language as much as you can. Study the scriptures. Know your lessons. Learn about the culture of people you are serving. Develop a dependence of the spirit to make your decisions. (Gloria)
Work as hard as you can, play as hard as you can (on preparation day). (Paul)
Read The Book of Mormon with a desire to know the authors of the different books. Their testimonies are meant for your benefit. (Lori)
Know the scriptures and be confident in your testimony of the Atonement. (Robert)
Just love those you serve. Do your best and leave the rest up to the Lord. (Jennifer)
Be Obedient. Be Obedient. Be Obedient. I testify that this is God's work. If we get out of the way and let Him work through us, we will see mighty miracles. Angels can and will attend you if you seek them. Just give your whole heart to the work and your life will be forever changed ❤ (Gillian)
Learn to serve, learn to put yourself second. Learn to be a peacemaker. You will have conflict on the mission and you need to learn to love your companion and get past your own needs. (Jennifer)
When learning to speak Cantonese, listen to the children. Their speech is so much more clear than adult speakers. Swallow your pride, forget about yourself, your feelings of negativity, remember whose children you will be interacting with(Heavenly Father's). OBEY THE RULES of your mission, every jot and tittle. Have fun and smile…a lot. (Peter)
What was a funny language mistake?
There are different tones to pronounce a sound. For instance "jyu" can mean Lord, house, and pig. You wouldn't want to say, "Jesus is pig" instead of "Jesus is Lord." Sometimes Elders use the wrong tone. oops (Spencer)
"Spreading dog feces" and "missionary" are dangerously similar in Cantonese. Also, I told a guy the The Book of Mormon was like the Bible and that it was translated by Mormon, an evil prophet. (Adam)
LEARN YOUR TONES. Many normal sentences can take a bad turn very quickly. Speaking Cantonese is like singing and you have to be very exact with your tones. Know that English has it's own tones and be aware that you have to overcome your natural language tones to speak Cantonese well. Tones in Cantonese are not used to express emotion as they are in English- they have modifiers that you'll learn about- do that. TONES TONES TONES. Everyone makes mistakes that they'll laugh about. Swear words have sounds that are similar to words you will use all the time if they're not spoken with the correct tone. (Chad)
I said I would like the tohng (candy) when I was trying to ask for tong (soup). (Christopher)
The way to say pregnant and stinky is similar…that was uncomfortable. (Rich)
Get your tones right. "Going fishing" with the wrong tone is an f-word. "Missionary" with the wrong tones is "spread dog poop". (Brice)
You don't want to know. (Chi Ming)
It is very easy to mispronounce words, and the wrong tone/sound can transform an innocuous word into profanity very quickly, so you need to be careful. (Jeremy)
I thought people were talking about crab at dinner one night when they were talking about shoes (haai 5th tone versus haai 4th tone). And contributed to the conversation that I liked to eat shoes. Mmmmm. (Sara)
A roommate told a story in Gospel Essentials about going fishing, but in Chinese the act of fishing also sounds like our equivalent of a very bad swear word. So for five minutes he talked about how he could feel Heavenly Fathers love through doing terrible things to fish over and over again all day with his friends. Everyone was dying of laughter. When every sound has seven tones it's easy to mess it up, even if you're about to go home! (Mike)
My first prayer in the MTC. Bless… "Juk fuk". Yup, I said it… Even the teacher was literally ROFL…. LITERALLY. (Paul)
I think I was teaching about Jesus Christ and said the character of Christ incorrectly with the wrong tone, which I think said pig. My teacher in the Mission Training Center started to laugh. (Gloria)
Learn your correct sounds and tones!! (Lori)
I used the word for Savior and pig incorrectly so I was representing a pig! (Gillian)