Misión Chile Santiago Sur
Here are free resources about the Chile Santiago South Mission:
Aquí están algunos recursos gratuitos sobre la Misión Chile Santiago Sur:
*Other Mission Pages: Chile LDS Missions.
---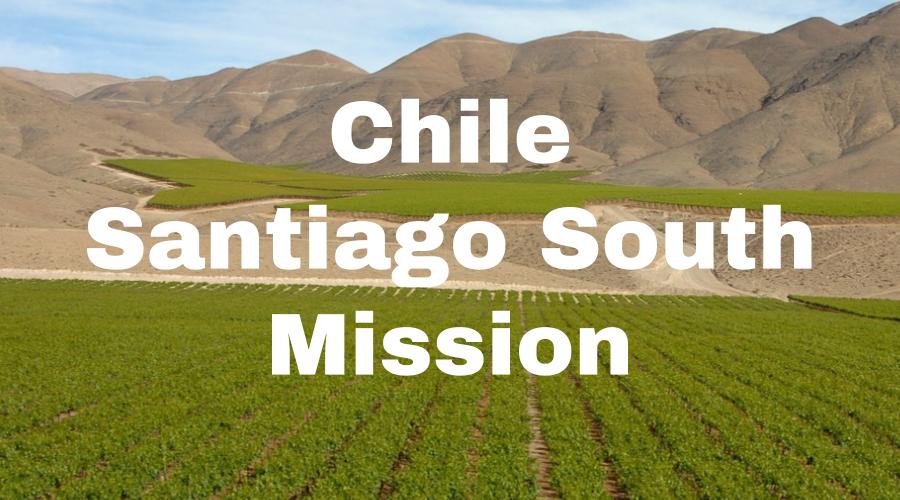 ---
Santiago South Mission Address
Here's a recent address for the Chile Santiago South Mission. We try to keep this info up to date, but it's a good idea to check the address with several sources, including your mission packet or the mission office.
Chile Santiago South Mission
Casilla 544
San Bernardo
Region Metropolitana (Santiago)
Chile
Phone Number:
 56-2-2980-3611
Mission President:
 President Douglas J. Gwilliam
Chile Santiago South Mission Map
Here's a link to the mission map for the Chile Santiago South Mission (LDS). To access the official, up-to-date LDS.org map for the Santiago South Mission:
Log into your LDS account here.
Click here.
Santiago South Missionary Blogs
Here's a list of LDS missionary blogs for the Chile Santiago South Mission. This list includes the missionary's name, URL and when their blog was updated.
*Send your missionary a gift (mission-specific shirts, ties, Christmas stockings/ornaments, pillowcases, etc.)
Chile Santiago South Mission Groups
Here are Chile Santiago South Mission Groups- for LDS missionary moms, returned missionaries, mission presidents and other alumni of the Santiago South Mission.
Chile Santiago South Mission T-Shirts
Here are T-shirts for the Chile Santiago South Mission!
Shirt designs include Chile Santiago South Mission logo/emblem shirts and Called to Serve shirts. The shirts make great gifts for pre-missionaries, returned missionaries and missionaries currently serving. LDS Mission shirts come in all sizes: Small, Medium, Large, Extra Large, up to 4XL.  The mission designs are printed on white shirts and are shipped to you.
*Simply click on a shirt design to view the details and submit an order. The designs on mission t-shirts may also be printed on other LDS mission gifts, including: Chile Santiago South missionary aprons, Christmas stockings, ties, pillow cases, teddy bears and Christmas ornaments.
*Click here to browse Santiago South Mission gifts
---
---
Fun fact: Brad Wilcox served a mission in Chile!
Santiago South Mission Presidents
Here's a list of current and past Mission Presidents of the Santiago South LDS Mission.
2016-2019, Douglas J. Gwilliam
2013-2016, David L. Cook
Chile LDS Statistics (2015)
Church Membership: 579,235
Missions: 10
Temples: 1
Congregations: 604
Family History Centers: 99
Helpful Articles about Chile
Santiago South Missionary Survey
Here are survey responses from Chile Santiago South RMs, to give you a snapshot into what it's like to live in the mission.
*Click here to take a survey to help pre-missionaries going to your mission.
When did you serve?
September 1992 – August 1994 (Dan)
1989-1991 (Joshua)
1989-1990 (Karen)
1986-1988 (Paul)
1984-85 (Karen)
1992-1994 (Kirk)
1994-1996 (Chad)
1994-1995 (Jared)
1991-1993 (Eric)
1991-1993 (Pamela)
1989-1991 (BJ)
1982-1984 (Ted)
1989-1991 (Manuel)
1989-1991 (Jaynne)
1988-1990 (Vince)
1985-1987 (Michael)
1985-1986 (Luis)
1980-1981 (Glenn)
1979-1980 (Wayne)
1977-1978 (Rosa)
October 1981-May 1983 (Richard)
1977-1979 (Eduardo)
What cities/areas did you serve in?
Curico, San Fernando, Pena Flor, LA Bandera, Javiera Carrera. (Joshua)
Punters alto, Rancagua, San fernando, las Cisterna. (Karen)
San Antonio, and Santiago in communities of La Florida, El Bosque, Puente Alto, Cerrillos, Maipu and La Cisterna. (Paul)
Puente Alto, Nancagua, San Bernardo, Buin, Curico, San Vicente. (Karen)
San Fernando, the office (AP), La Bandera, Ignacio Carrera, Los Carolinas, Andino. (Kirk)
Puente Alto, San Bernardo, Vicuna McKena. (Chad)
La Pintana, El Bosque, La Florida, San Bernardo, Viluco, Rancagua, Lo Espejo. (Jared)
Curicó, La Bandera, Rancagua, San Bernardo, Peñaflor. (Eric)
Paine, Rancauga, La Florida, and San Fernando. (Pamela)
Puente Alto, Paniahue, La Florida, Rancagua, La Cisterna. (BJ)
La Cisterna, El Bosque, San Miguel, San Bernando, Nancagua. (Ted)
La bandera, San Bernardo, Rancagua, Curico, la Florida. (Manuel)
San Bernadino, Piedra, Santa Cruz. (Jaynne)
Rancagua, Molina, Santiago, San Fernando, Curico, Pena Flor. (Vince)
Puente Alto, La Florida, La Cisterna, San Vicente de Tagua Tagua, Cinco de Abril, Curico, Chepica, San Fernando, and Peor es Nada. (Michael)
La Florida, Puente Alto, Talagante, La Cisterna, Pajaritos, Lo Espejo. (Glenn)
El Monte, Isla de Maipo, Departamental, Rancagua, La Cisterna, Las Condes. (Wayne)
Santiago, Macul, Ñuñoa, Santa Cruz. (Rosa)
Ochagavia, Subercasseaux, Graneros, Pichilemu, Maipú, Curicó. (Richard)
Santa Cruz, Santiago. (Eduardo)
What were some favorite foods?
Pastel de choclo, Completos, Asados, Manjar, Papas fritas. (Dan)
Pastel de choclo, Empanadas de quest, Barros Lucos. (Jashua)
Humitas, empanadas de horno, y pan! (Karen)
Churrasco o Barros Lucos sandwiches, Empanadas de queso. (Paul)
Empanadas, sopaipillas, arroz con leche. (Karen)
Manjar, chicken and rice, pan and cakes. (Kirk)
Completos, Empenadas de carne, Empenadas de queso, Ayuyas con manjar. (Chad)
I loved all foods that I ate in Chile except for tripe! Curanto was my favorite meal in Chile and I only had it once as a "going home" dinner by a family we had taught in San Bernardo. Completos rock! The papas fritas and mostaza that you can buy in the street at nights are great also. (Jared)
Empanadas, pastel de choclo, mate, Chocman. (Eric)
Empanadas, pastel de choclos, Humitas, Porotos Granados, Dulce de leche con Pan and Ecco (Wheat hot drink) Any and All Fruits. (Pamela)
Empanadas de Pino, Pan, Lentejas, Arroz con Mariscos, Carne Asada. (BJ)
Empanadas de pino, pastel choclo, umitas, sopaipillas. (Ted)
Cactus ice cream. Pastel de Chocolo. (Jaynne)
Completos, empanadas, pastel de Choclo. (Vince)
Humitas, Empanadas de Queso, and Sopaipillas. (Michael)
Ensalada a la chilena. (Luis)
#1 traditional or cheese empanadas deep fried. #2 spaghetti noodles, rice, or mashed potatoes topped with a fried egg. I make it for myself quite frequently. #3 Berlines (Bismarks) at the pastry store in La Florida near the correo on Vicuna Mackenna #4 Manjar. (Glenn)
Cazuela de chancho, cazuela de ave Humitas, Pastel de choclo, Empanadas, Porotos granados, Pan amasado, Completos, Sopaipillas pasadas, Barros Luca, Barros Jarpa. Pretty much everything except guata. (Wayne)
Tortilla de Rescoldo con Queso de Cabra. (Rosa)
Empanadas de horno, empanadas de queso, picarones, ceviche, cordero asado, sopaipillas, humitas de choclo, completos, almejas, piure, erisos, jaivas, toda fruta, pastel de choclo. (Richard)
What was a funny experience?
Getting held up at knife point by a borracho and him not being that aware and us just walking away laughing. (Dan)
Looking at my journal after one of my cambios and it had nothing but spades scores. (Joshua)
There were so many good or fun, everyday things, but I can't think of anything specific. Adopting a kitten, falling in a pond on the way to a picnic, saying completely inappropriate things (unknowingly )with my terrible beginner's Spanish. (Karen)
As a greeny, my trainer set my bed up in a dirty shed and told me it was our quarto. (Chad)
I painted my toenails (don't ask) thinking that they would never be seen. And then I had a baptism and as I was changing into my white clothes I realized how horrible of a mistake it was. (Eric)
Learning some of the Family Home Evening Games from Chile. Choo Choo Wa, and others. (Pamela)
Freak Snowstorm in July. (BJ)
Once at a baptism in the winter, the room was full so I stood next to the heater in the front of the room to one side. In the middle of the meeting someone yelled, "Elder, you're on fire!" My suit coat was literally on fire! Don't stand too close to the heaters! (Ted)
English speaking elementary student from Canada got permission from his teacher to talk to us on English! While the whole class watched! (Jaynne)
Going to the hospital. (Vince)
In Puente Alto, we had the best Ward Mission Leader. After work each day, he visited all of our investigators and read the Book of Mormon with them, escorted them to church, and answered their questions. His next door neighbors were devout Catholics (even had a carved crucifix in their front yard). The family asked us to teach them the gospel and we taught them the first two lessons and they accepted a baptismal challenge. At our next meeting with the ward mission leader, we asked if any of his neighbors would be interested in the gospel. He said no. We asked about the next door neighbor. He said there was no way that they would be interested, as they were very devout Catholics. We let him know that they were committed to baptism. He could not believe it, but was very excited to work with them. They were baptized, and later the Ward Mission Leader's son married their daughter in the temple. (Michael)
No se. (Luis)
One night, we saw a dog rummaging through garbage about fifty feet away. He had his head all the way inside a big garbage bag moving it around inside. We thought it would be funny to scare it by throwing a rock next to it. My companion threw a little rock high in the air that hit the poor dog right on the top of the head. It took him a few seconds to get his head out of the bag. It must have been obvious to him, we did it because we were laughing so hard. He wasn't as amused as we were and started chasing after us. (Glenn)
My companion and I were opening up a brand new town outside of Santiago and it was near New Year's. And we were walking around when two girls on a motorcycle followed us around and started asking us very personal questions. We had to try and find a member's house or get back to our pension to get away from them. Every time they saw us they'd follow us on their motorcycle and asked us very embarrassing questions, so we'd try to find a place to hide. (Wayne)
No me acuerdo. (Rosa)
When some wannabe gangsters began throwing rocks at us and my companion wanted to go bust them in the chops, but we compared their lousy aim to Samuel the Lamanite. We knew they wouldn't be able to hit us in our cause. (Richard)
What was a crazy experience?
One night we took a shortcut home and ran into a bunch of drunken youth who were sort of a gang. They pulled a knife on me and tried to cut off my tie. I simply swiped my arm like a jedi to block his arm with the knife in and kept on walking as if it was nothing. He fell to the ground and started to cry and complained to his buddies I wouldn't let him steal my tie. (Joshua)
Turning on a group of guys following us and yelling at them to back off, scared them half to death. (Karen)
Too many….. mugged at knifepoint in Las Acacias and Clara Estrella Hanging out the door of a "Micro" bus speeding down Amerigo Vespucio and over-loaded with people. Listening to a mother and daughter speaking inappropriately about my companion and myself in a restaurant, not knowing we understood everything. (Paul)
Spring 1985 earthquake was an 8.8 at the epicenter. I was in Curico where it was about a 6. We and the elders were doing a baptism and it started in the middle of the service. The District Leader, my companion and I who grew up in California started telling people to get under the chapel pews. The DL's companion from Arizona wanted to "ride out the waves." The quake lasted more than a minute it seemed. There wasn't any apparent damage and the investigator wanted to continue the baptism, so we did. While he was changing into dry clothes the rest of the congregation decided to sing hymns. I was leading the music and chose "Master the Tempest is Raging" (Peace, Be Still) as the first song. Of course, we all laughed a little. (Karen)
The front tire came off my bike and I wrecked, before helmets were handed out. I was in the hospital for several days. (Kirk)
My companion and I visited an investigator and as we were talking at the gate, I had the impression to look behind me. I did and saw a car driving up the sidewalk at us. I grabbed my companion and pushed him up against the fence just as the car drove by, the mirror just missing me. The investigator asked us if this happens all the time. We said not really. She then said that this Church must be true then. (Chad)
I probably shouldn't talk about this, but I remember when I picked up my first greenie from the mission home and we were en route to Viluco, where we were to serve and replace the Elders that were in that area before us. We had to switch buses and as we were sitting there at the bus stop waiting for the next bus, a group of guys surrounded my companion while another guy aimed a pistol at me and tried to get me into his car. I refused (obviously) and I don't remember exactly what I said but I ended up talking him out of messing with me. My companion couldn't understand much that was being said since he was fresh out of the MTC, but by the time I got out of my strange situation and headed back over to him, the group was telling him about the things they were going to do to him and he was just smiling, thinking that they were being friendly to him. They weren't and I don't want to write down the things I heard them say to him. Again, I don't remember what exactly I said to the group or how I said it, but I remember us getting out of there unscathed that day. My companion was a bit distressed when I explained to him what had actually happened. (Jared)
I was mugged a few times, but it was never too scary because I knew the Lord would protect me. And even if I were somehow killed, it couldn't happen at a better time than while on a mission. (Besides, a General Authority would probably speak at my funeral.) (Eric)
We were in the home of a member and her daughter. Her son was a carabinero and didn't like the missionaries. He was discussing with my companion (Chileno) about how it was his house and he could do anything he wanted in it, even kill us. His back was turned to me and I could see his gun. We left peacefully, but he had the means to carry out the threat. (BJ)
Being in a taxi that got broadsided by a bus or hanging on to a moving bus with my finger tips. (Ted)
Once we were visiting a family and people against the government exploded a police station and killed everyone. That happened about 100 yards from the the house we were visiting. (Manuel)
Walking an empty railroad line. (Jaynne)
Getting bit by a dog. Ripped open my arm and I had to ride one handed down a dirt road to the hospital. (Vince)
My Companion and I were walking on a back road in Puente Alto, when a man came up to us and demanded "Dollars." He then pulled out a switchblade and demanded the money again. When he went to open the switchblade, it would not open. My companion and I backed away while he yelled at us to come back. We were about a 1/2 block away when a police car "happened" to come down that street. We flagged him down and explained what had happened. I guess the man spent the night in jail. (Michael)
Me case. (Luis)
There was a dog about the size of a German shepherd laying on the sidewalk and across the street a group of dogs were chasing a dog with its tail tucked between its legs. This dog jumps up and runs head long into the street after the other dog and right in front of a truck driving down the road. We heard a bang and a yelp from the dog as it rolled under the truck. It happened so fast the driver couldn't stop and kept going. I braced myself to see a dog laying dead in the street. However, when the trucked drove away there was no sign of the dog anywhere. A few seconds later he came trotting back as if nothing had happened and resumed his spot on the sidewalk. He did have a noticeable cut that was bleeding on his cheek. He had been so intent on chasing the other dog that he must have gotten to his feet and run out underneath the truck before the back tires came by. (Glenn)
We were in downtown Rancagua and my companion, a greenie said we should leave because it wasn't safe there. So we left and were going back to our pension and there was a big car accident near where we had been. (Wayne)
Ni tuve. (Rosa)
Getting pick pocketed in La Victoria where years prior they hung 30 carabineros from the light posts. But they tossed back the wallets for some reason without taking anything! (Richard)
What was a spiritual experience?
On my first day my trainer told me to pick the first house to knock on. After about 6 turns and going down a few streets I felt good about a specific house. We baptized one member of the family 3 weeks later then another member a couple weeks after that and then the mother was baptized a few months later. Both of the girls we baptized served missions with one of them on her mission before I even finished mine. (Joshua)
Long, tiring day, stopped at house, just a last ditch effort for the day, and one simple door knock led to an investigator who then led us to his mom, then her friend, her friends son etc….he later served a mission …that door knock was never our doing… (Karen)
Many more than any bad ones. Hard to explain that moment when the Spirit tells you exactly what is in a person's heart and having them recognize that it is by the Spirit that we know, and they know they must follow their heart and commit! (Paul)
Seeing an area where we taught few lessons blossom after we and some elders wrote & directed a musical "Pelea la Buena Batalla de Fe" (Fight the Good Fight of Faith." The young adults and youth of the stake were the performers. We saw many less active members return to the Church. (Karen)
My companion and I prayed like usual for our day and we had a great feeling that we would have An amazing experience…after a full day of cancellations and "no's" we were headed home and we saw a house that looked like it was lit up…we knocked the door and taught a great family that eventually accepted the gospel. (Kirk)
We passed an old gentleman sitting on his deck every day. Every day, he waved and smiled at us. My companion and I decided we would stop in and say hi to him. As we talked to him, we found out that he was 76 yrs old, virtually blind and deaf and his ears were sewn shut and he had a speech impediment. In order to teach him, we had to yell and give him our discussions so he could read them in order to understand the principles. We were not sure if he understood everything but he did tell us he knew what we were showing him was true. He accepted the invitation to be baptized. During the discussions, we found out that he also had a heart condition. The day came for his baptism. In order for him to be baptized, he had to sit on a metal chair as he could not support himself as we lowered him into the water and 20 minutes later, he was baptized. A couple days later when we were finishing up the paperwork, we realized that we missed a name and had to re-baptize him. When we told him, he heart sank but he was very determined to have things right. We redid the ordinances after confirming his full name. He was relieved. For the time I was there, he was faithful to his covenants and he was a faithful member in attending church regardless of his physical disabilities. His wife followed suit and joined the church as well and came with him. (Chad)
There were too many to write here, but I always loved seeing an investigator feeling the Spirit for the first time. (Eric)
Being a district leader and doing baptismal interviews. The faith of those joining the church was awesome to be a part of. (BJ)
Spiritual experiences are so plentiful in Chile. They mostly related to impressions regarding whom to talk to, what to say, where not to go at particular times. (Ted)
I baptized a golden family in every area I was assigned. I couldn't ask for more. (Manuel)
Prompted by the Spirit to go back and visit a referral girl who smiled knowing we would come by prayer, and just before her momma whisked her put of our sight. (Jaynne)
Every day. Praying to ask for the dog to stop barking so people could hear the discussion. (Vince)
In La Florida, a devout Pentecostal had a dream in which she was preparing for an important guest and discovered she was dirty and needed to be cleaned. She saw in vision a pool of water with white walls and a blue tiled floor. She then had a second dream in which she was looking to the second coming. An angel told her she was not clean and needed to be clean before she could see him. She asked what she should do and was told to get baptized in the Mormon Church. The next day she visited our chapel and was given a tour. She recognized the baptismal font (white walls and blue tiled floor). My companion and I got to teach her the gospel. (Michael)
Testimonio. (Luis)
When President Kimball came down to break ground for the temple, the people were standing in the field in the rain. When he got up to speak, many of the Chileans couldn't see him because of all the umbrellas that were open and began to complain a little… about that time the rain stopped. People put down their umbrellas and everyone there could see the prophet. I looked up in the sky. I saw a ring of clouds widening just above us. It was still overcast but it had stopped raining. After he spoke, President Kimball came down from the covered platform he had been on and broke the ground for the temple as soon as he did it started raining again. I knew I had witnessed a small miracle, which allowed the Chileans to see the prophet. (Glenn)
We gave people health blessings and many of them were healed. One lady had leukemia and was cured, there were so many spiritual experiences. People who couldn't read who prayed and then could read. Teaching the first charla and knowing that the family would be baptised. Or going up to a door and knowing that the family would accept the Gospel, before we'd knock. (Wayne)
Bautizar a hermosas familias. (Rosa)
When the Brezzo family of 8 told us they had had a dream of 2 angels coming to their door. Later they told us it was us! (Richard)
What are some interesting facts about the Santiago South Mission?
Known for terrorist attacks and rough areas but continued to be one of the highest baptizing missions in the world. (Joshua)
Very different environments in one smallish mission. Santiago was a super modern bustling city, but within the same mission you could have city ghetto or the most rural of countrysides, it was amazing. (Karen)
Served near the end of the military regime of dictator Agusto Pinochet. Lots of crime seen, but those neighborhoods also had some of the most faithful and believing people. Started out in San Antonio, which was rebuilding after an "8" earthquake just a year before. Saw lots of damage still from that. (Paul)
#1 baptizing mission in the world for all but one month. Created multiple stakes and wards. Mission home was an old Swiss embassy building. (Kirk)
At the time I was there, our mission was the highest baptizing mission in the world. My average month was 12 convert baptisms. (Chad)
I learned a bit about priesthood authority and the proper organization of the Church when I served in Viluco. That area had not seen any baptisms in a long time and we weren't having much success in Viluco, so I looked at a map and saw that there was a village named Valdivia de Paine within biking distance (although very far away on an unpaved road). We decided to start working there. We started teaching people and generating enough interest to gather a group together for Sunday sacrament meetings. We held sacrament meetings on top of a hill just outside of the village. The people sat on rocks at the top of the hill and there was large rock that we blessed the sacrament on. All of this without consulting with the mission president! We held baptismal services in the river that flowed past the hill. This little twig of the Viluco branch started growing rapidly and after a few short weeks, President Hendrix had an interview with me and informed me that what we had been doing was not properly authorized and would not be allowed to continue. While our efforts weren't properly directed, it was the richest and most memorable part of my mission. (Jared)
At the time I was there, it was one of the top baptizing missions in the world. I was very blessed to be called to a country where so many people were prepared to hear the Gospel. (Eric)
I wasn't called to the Chile Santiago South mission at first. I was originally called to Bolivia. However, due to the murder of two missionaries in Bolivia, my call was changed. I received my change while in the MTC, however the communication didn't make it to President Zwick. They knew they were getting a new missionary, but didn't have any information on me. (BJ)
It was one of the highest baptizing missions at the time. One of the highest percentages of church members in the world. In the Santiago South mission, particularly in Santiago one can walk between chapels, much like Utah. Yet, there were still many small towns with no missionaries and people who knew nothing about the church. (Ted)
It was the best time of my life. (Manuel)
Missionaries drive as crazy as in the USA. Best mission ever! Stayed healthy by LOTS AND LOTS of walking or biking. Loved the friendliness of the country!! (Jaynne)
The country has every climate in the world. (Vince)
The weather was temperate, similar to central California. When I was in my second area in Santiago, we had severe floods that contaminated the water treatment plant. Water was shut off to the entire city of Santiago for about a week. A year later, I was in Curico, and we again had severe floods that washed out all of the roads between Curico and Santiago. (Michael)
Bautizar a una joven no se su nombre pero esa sonrisa nunca se me olvidara. (Luis)
You can see the Southern Cross and the scorpion constellations at night. From the top of the Andes to the bottom of the ocean floor off the coast n Chile is the steepest change in elevation on the planet. (Glenn)
I was allowed to go back to my first sector which was a town where I was the first greenie. I didn't need permission, I could just go. There was really no branch when I got there, the town had been open a couple of months. Then in a few short months we had a branch, the members raised money for a capilla, they paid the temple fund, sometimes we had 150% attendance. 100% members +50% investigators. (Wayne)
What was the weather like?
Typical Chile. Cold in the winter and hot in the summer. Flooded when it rained. (Joshua)
Cold and rainy in the winter, hot in the summer. ..but never extreme (Karen)
Winters are not cold, by Canadian north standards for sure, but near freezing temperatures with rain and high humidity do tend to penetrate to the core! Nose most always ran in winter. In contrast, summer is really nice, albeit some hot might days in Santiago with calm winds can really drain you too. Only ever got one sunburn, without ever wearing sunscreen. That was on a P-Day. (Paul)
Opposite seasons than the US. No white Christmases! (Karen)
Mostly warm and good…rainy season was bad…snowed one time. (Kirk)
Humid, 30 degree C summer and 1-2 winters. (Chad)
I totally loved the weather. Not a drop of rain from late spring until early fall, but plenty of rain in the winter months to replenish everything. Somewhat arid and 80's and 90's every day in the summer and cool and wet in the winter, but not cold enough to freeze or snow. (Jared)
Very hot in the summer. Cold and wet in the winter. (It only snowed once and, being from Utah, it was nothing to much, but the people talked about it for weeks.) (Eric)
Wet and cold at times and warm and wonderful. (Pamela)
Temperate for the most part. Pleasant enough that we could walk anywhere without getting to hot, cold or wet. (BJ)
Cold or hot, depending on the season. (Ted)
Rainy during winter months and very cold. (Manuel)
Hot, hot Christmas. Rainy. Cold was bearable…no humidity. Clear, cool nights. Never flood rains. (Jaynne)
Gorgeous California weather. (Vince)
The weather was temperate, similar to central California. When I was in my second area in Santiago, we had severe floods that contaminated the water treatment plant. Water was shut off to the entire city of Santiago for about a week. A year later, I was in Curico, and we again had severe floods that washed out all of the roads between Curico and Santiago. (Michael)
Rainy and cold during the winter months and an overcoat, overshoes and umbrella are your best friends. (Glenn)
I spent summers outside of Santiago so it wasn't smoggy or too hot. We'd get a nice breeze but in winters… it was cold and rainy. In Rancagua, it got quite cold and we always got the flu. Santiago isn't as smoggy as it was back then, but it's cooler out of town. (Wayne)
Terriblemente frío. Especialmente Rancagua. (Rosa)
Hot and sunny in the summer, rainy and chilly in the winter between May to October. Muddy streets in Poblaciones. (Richard)
Any things you really like about the area/people?
So awesome. Very welcoming. (Joshua)
Really too many to list. I really enjoyed the beauty of the country and I loved learning about people, their life stories. (Karen)
Most friendly, open and caring people around. Amazing how many people you can get to know and truly love. I love the way Spanish feels as a language of prayer. Nearly 30 years later, my personal prayers are mostly in Spanish. (Paul)
Very loving! (Karen)
Chileans believed heavily in God. Loved their families and dedicated everything to their families. (Kirk)
The people were friendly. You could be in a line with strangers and leave friends They love soccer and who they are as Chileans. If you know those two things, they will love you for life. (Chad)
I loved the humility of the people. And the love they showed us was inspiring. Plus, Chile is one of the most beautiful places on the earth. (Eric)
I loved all and everything? When you are called to serve an area it is because you belong there and will love it there and those you serve. (Pamela)
The people were loving even if they weren't interested in hearing the gospel. They were polite and would make conversation and allowed you to feel like you were in fact Chilean. (BJ)
Great sense of humor and they know how to relax. Chileans like to have fun and giggle. They like to tease each other. They can turn on/off fun and spirituality in the blink of an eye. Detecting when those switches happen is helpful. Watch for cues and don't be offended if people laugh while you are saying something spiritual. It could be that they are just happy and not saying something mean about you. Don't ever get so confident that you think you understand all of their slang. They have tons of it, and they like to teach it. (Ted)
They were always waiting for you, very open minded. (Manuel)
The whole missionary experience. Learning to love the people and play with them as of it were home. The beautiful country and how taxis/bus/train rides differ. The fantastic fruit juices and fresh fruit and foods each day. (Jaynne)
Amazing humble people. (Vince)
The people are very humble and have strong faith. (Michael)
Llolleo. (Luis)
There is nothing more beautiful than the sunset reflecting off the snow of the Andes. The people are the most kind and generous people overall that I have met. (Glenn)
I liked the love and humility of the members. I will always remember my first sector which is now a barrio and the first little town that my companion and I were the first Elders to open up. They have a chapel now as well. If you show your love for the people, and try to speak the language they will show you how wonderful they are. (Wayne)
Todo. (Rosa)
Mostly very kind, filled with faith, seeking, and hospitable. (Richard)
Any packing/clothing advice?
Don't over pack, you'll inherit clothes from companions. (Karen)
Really good quality shoes are a must. One companion had Rockport shoes which lasted nearly the entire time. I had many lower quality shoes which gave their all for the cause. Cotton garments are more comfortable in hot humid areas because of better absorbency. Good quality umbrella for rainy winter months. Hopefully you no longer need a stick for personal protection. (I had a nice eucalyptus one that I never used). (Paul)
Bring good quality shoes do to the gravel. Dress slacks for Sunday's only. The rest of the week Dockers because of the dust. (Chad)
We rarely wore suits while proselyting. Also, don't worry about buying rubber boots until you get there. Trust me, in the mountain areas you will need them, but it's better to buy them there. (Eric)
Not sure what the standard is for the mission now, but I loved my jean jumper dress and skirt during the winter. Turtleneck shirts and those you could layer were great as well in the winter. Summer cotton or other cool fabric skirts and shirts were great. Good pair of walking shoes and or sandals, boots water proof for winter. Waterproof coat and hood (umbrellas did not do so well) warm coat also waterproof. Gloves and scarfs and head gear for winter. Sweaters good idea. (Pamela)
Shoes and socks will be the most needed. A sweater is good in the winter and definitely pack some tennis shoes for preparation day. (BJ)
Sweaters and beanies were commonly worn by Chileans for layering and are also convenient for missionaries. I'd suggest taking money to buy a local sweater versus taking one from home. Take shoes for playing soccer on concrete. (Ted)
Very warm clothes for winter times, humid winter. (Manuel)
Take very little. You can get what you need there if needed. Take nothing that looks valuable to a third world country, including jewelry, clothing, and other worldly possessions you THINK you will need because you will not miss it. (Jaynne)
Long Johns and knee high rubber boots for the winter. (Vince)
Pack what you are instructed to in your mission letter. If you have large feet, be sure to have an extra pair of shoes. Size 12 shoes are next to impossible to get there. (Michael)
Despues. (Luis)
Thermal undies and a long overcoat, at least to your knees, are a must. (Glenn)
A raincoat for winter for sure. I didn't take one, I just had a jacket and an umbrella. Take clothes which are easy to wash and comfortable shoes. (Wayne)
Take pullover sweaters and a good long overcoat that repels water. Same with shoes. A frequent shoeshine is necessary due to dusty roads and mud. (Richard)
What blessings did you receive from serving a mission?
Set me up for the rest of my life. (Joshua)
Everything that came after…really. But learning to love all kinds of people….really love them, not faking it…is probably the one that keeps giving. (Karen)
Life long love of the people and language. I have maintained and improved my Spanish and am often able to use it in my work with patients from Latin American countries. Numerous spiritual experiences which I have shared with many throughout my service and callings in the church. (Paul)
Too many to list. (Kirk)
I learned how church administration worked from working with Church leaders in various situations. I learned compassion and charity for others who are struggling. (Chad)
Because we were such a high-baptizing mission, I've found that the finding and teaching skills that I learned in the mission have been helpful in the leadership callings I've held since the mission. Not having any fear when talking to people about potentially sensitive topics came from teaching and participating in the conversion of so many in Southern Santiago. (Jared)
I believe most of the blessings I have received in life is due to my mission service. Plus, the ability to learn Spanish has been a great blessing to me in my life. (I am currently serving as the High Councilor assigned to a Spanish ward in my stake.) (Eric)
I learned a lot about how the church functions and how to fulfill a calling. I also gained a deep knowledge of the scriptures which has served me to this day. The biggest blessing was to help me get organized so I could put a direction to my life when I returned and meet my educational and life goals. (BJ)
A day doesn't go by that I don't think of people, conversations and lessons learned during my mission. (Ted)
I served during Pinochet dictatorship, it was hard but I couldn't deny that  I was always been protected. (Manuel)
How to listen to the Spirit. Learned another language. How to be a diplomat and diplomatic. Loving the Lamanites. (Jaynne)
Every day I am blessed by the strengths and testimony I gained from my mission. (Vince)
No lo se. (Luis)
I have been hired for a number of jobs solely because I had the Spanish communication skills learned on my mission. Being able to communicate with the in-laws of two of my children. A greater love for people in general and a greater appreciation of what I have. (Glenn)
When I was sick in the mission home with pneumonia, my first sector found out and 1/2 of the branch (50 people) took a micro (bus) up to the Mission Home. They came to see me and I got to teach them all a charla. The blessings I received were the love of the people, and I never had any major issues with my companions. The blessing was these were poor people and spent a lot of money to come to see me. The blessings I also saw was how people's lives were changed. From the first charla to their baptism, to seeing them in Church leadership positions. (Wayne)
Encontré trabajo inmediatamente. Es el que tengo hasta ahora. (Rosa)
Focus to study, linguistic abilities, a great care about Latin America in general. Disgust for US interference in national sovereignty. Love for seafood! (Richard)
What are some skills you gained?
How to deal with people. Patience. The skills I learned on my mission made me a very successful businessman. (Joshua)
Language (gone now), Patience, Compassion. (Karen)
Teaching by and recognizing the Spirit to help others feel and gain or have a desire to gain their own testimony. Strengthened testimony and understanding of the entire plan of salvation. Ability to truly love those I serve. (Paul)
Better Spanish (I studied in school), more self-confidence. (Karen)
Communication and selling skills. Being able to read people. (Kirk)
Learned how to understand people from other nationalities by learning a second language. How to accept other cultures. (Chad)
The aforementioned Spanish. The ability to talk to strangers. Losing the fear of sharing the Gospel. (Eric)
Organization, social skills (communication with others mainly), teaching techniques. (BJ)
Love, listening, people skills, perseverance. (Ted)
Better testimony. Patience. Sharing the gospel. Teaching skills. How to like foods I did not before. (Jaynne)
Spanish, Knitting, Cooking, Laughing, talking, driving. (Vince)
Fluency in Spanish. The ability to talk to anyone. (Michael)
To be more open with people. To speak a foreign language and to learn the local vocabulary. To be able to speak with people in the campo and also in the city. To be more confident, and to get along with people from a different culture as well as my companions who had different interests back home. You will remember your experiences even years later and you'll always carry a piece of Chile in your heart.
Planificación. (Rosa)
Linguistic, diplomacy, translation, study, learning, memorizing, conversation, negotiation, commitment. (Richard)
What do you wish you knew/did at the beginning of your mission?
To just enjoy it and not get hung up on my personal feelings which ended up leading to failures. (Joshua)
That while it was often hard, it could also be fun, in good ways….and that you need to learn to enjoy people and experiences. (Karen)
I wish I had prepared and studied harder. (Paul)
I wish I had a better deeper knowledge of the gospel and doctrine. (Kirk)
Paid better attention in seminary and other youth activities. (Chad)
THIS IS EXTREMELY IMPORTANT: keep a detailed journal of your mission. Many missionaries do not do this and 20 years after their mission cannot recall hardly anything. I show photos of families that we baptized to my former companions and explain to them who the people are and many times I find that they have no recollection of them. Write down all of the details about the people that you taught and baptized as well as members of the wards/branches that played a key role in your mission. I kept poor records in my first couple of areas and have really regretted it because now I have no way of finding those people that I served. (Jared)
Even though I wrote in my journal every day, I feel like I could've written more detailed entries. Some of my experiences were not written down for one reason or another. (Eric)
I wish I knew the gospel better. I went to seminary, but just went through the motions. I wish I had taken it more seriously and learned the doctrines so that I could have lived the gospel better as a missionary. (BJ)
I wish I had known the New Testament better and some history of the country. Many people, particularly evangelicals, Jehovah Witnesses and Seventh Day Adventists know their New Testament. Chile has a unique history that's different from other Spanish speaking countries, with its own heroes and triumphs which Chileans are proud of. Chileans seem interested and versed in history, generally. Know also about how the church arrived in Chile. (Ted)
Spanish. Wish I had my last companion as my first. Left lots of luggage at home. How to live more simply. How to memorize better the scriptures etc. (Jaynne)
Scheduling your time wisely. (Vince)
I was very surprised when the Mission President sent a city boy like me into a small town without an actual branch yet and that maybe I had had more Church positions before my mission. I had to learn everything from 1st counselor in the Branch Presidency to being a Sunday School President and even teaching Relief Society. I wish that I had been able to learn more Chileno Spanish because I was lost for days when I arrived, until I was able to understand and learn local vocabulary. (Wayne)
Conocer mejor las escrituras. (Rosa)
More conversational Spanish. (Jeffrey)
Any advice/testimony for pre-missionaries going to Santiago South?
Best advice I ever got, I repeated over and over , and it saved me. LOVE THE PEOPLE. (Karen)
Know that the promise in the missionary call letter, though the same for all is exactly true and you will truly experience greater happiness and more blessings than you have ever experienced as you embark on this labor of love among the Children of Men. Know also, that that particular call will come and end, but your commitment should continue from that calling to all other callings thereafter and particularly in your most important calling as you form an eternal family of your own. Your first convert must be yourself. Find yourself by losing yourself in service. (Paul)
Love the people! (Karen)
Have no regrets! Work hard and have fun! (Kirk)
Learn to love those who are different. The people of Chile are more patriotic and loving than we are in North America. It was been 20 years and my love for Chileans is huge. I miss those that I have served and served with. (Chad)
Follow the rules and love the people. Everything else will fall into place. (Eric)
Go with open mind to your mission, hearts full of love and readiness to serve. Share your testimony with all you meet, give a Book of Mormon to all who you meet and will take one. Listen to the Spirit at all times and always be ready to teach for you will find those the Lord wants you to and there will be those he brings to you. You will learn much and receive many blessings if you are willing to receive them. (Pamela)
Love the people. The language will take time if you are not fluent, but don't stop speaking. Listen to the people and they will love you back. (BJ)
Don't be afraid to express your feelings about The Church. Chileans seem to be very in touch with feelings and impressions. They are a spiritual people. Chile is an awesome place to serve. Some of the most prominent people in the church have gone through Chile. They are proud of their country and it's easy to love Chile and Chileans if you open up your heart. Try "mate", but don't get hooked on it. (Ted)
Stay calm. Enjoy every minute. Write home weekly as if the people you are writing can see through your eyes. Stay close to the gospel teachings for the things you will see will be eye opening and some things heart breaking. God has a plan for every one…remember that and how nothing good or bad you experience or see will get past our loving Heavenly Father. (Jaynne)
There is nothing as good for you as serving a mission. (Vince)
Work, Work, Work, and follow the mission rules. If you do, you will be richly blessed. (Michael)
Keep a journal. (Glenn)
Go to Chile with love in your heart. Don't have any preconceptions. Be open, listen to the people, listen to the members. Have and bear a strong testimony. Don't be pushy, lead and guide people to the Church. Even if you don't speak perfect Spanish, do your best. My first few days I was totally lost. Within 2 weeks I was teaching Sunday School classes. Jump right in, learn about the people, their culture and their lives. Be empathetic. (Wayne)
Servir con todo el corazón. (Rosa)
Enjoy the experience all the time no matter what and have fun experimenting with the language. Even if you make a mistake, you still try and at least remain in fluent and creative language production. Be like a child that way. (Richard)
What was a funny language mistake?
I told a member once that he was "hot"… meaning of course temperature…but I was new so you know how that goes. (Karen)
I nearly tripped entering the kitchen at the bishop's house, and said "Casi me Caigo" after which his wife showed me where the bathroom was. There is a big difference between "Caigo" and what she heard "Cago." (Paul)
Heavenly Father & Jesus Christ have bodies of flesh (carne) and eggs (huevos), instead of bone (hueso.) Is your dead home? Esta su murido? Instead of, is your husband home? Esta su marido? (Karen)
A sister missionary was asked to share her testimony her first Sunday. She was embarrassed and wanted to say "I am so embarrassed and it is all the bishop's fault"…she messed up the word for embarrassed, she thought the word for embarrassed was embarazada…which is actually pregnant. So she really said " I am so pregnant and it is all the bishop's fault". (Kirk)
When I first started, my trainer made note that I said umm and and a lot when I tried to speak. (Chad)
The word "tomar" means "to take". It also means "to drink". As I was teaching about the Word of Wisdom, I asked the man I was teaching if I could take his beer from him. It came out sounding like I was asking to drink his beer, after I had just explained that we don't drink. (Eric)
My trainer had a hard time conjugating poder and would also use the wrong tense of the verb or make up one completely. (BJ)
When approaching a person to ask directions, I meant to start by saying "excuse me" which would be "discúlpeme por favor" but instead I said "escúpeme por favor" which means "please spit on me". (Ted)
Changing from female to male words. (Jaynne)
I was speaking in a ward and was trying to tell everyone how wonderful my mission experience had been up to that time and used the word espantosa thinking it meant something really great! It actually is a word used to describe atrocities, like the holocaust. (Glenn)
Well I had a greenie companion who bore his testimony and said "despues de esta vida podemos estar todos en Valparaiso" instead of "en el paraiso." The members smiled and it was his first testimony and they all loved him. Instead of "pucha" one time I said "chucha" by mistake. There was also an American Hermana giving a talk at a mission conference and one of the Elders was making faces at her and giving her a hard time. So she got flustered and said "estoy embarazada" she thought it was embarrassed (it means pregnant) and the Elder who was giving her the hard time, started laughing. Then she pointed at him and said "y el tiene la culpa," and it's his fault. Everybody gasped and then when we realized she had messed up we all laughed. (Wayne)
Hablo el idioma. (Rosa)
Companion said he was "embarasada" when he meant "embarrassed!" (Richard)