Misión Chile Santiago Norte
Here are free resources about the Chile Santiago North Mission:
Aquí están algunos recursos gratuitos sobre la Misión Chile Santiago Norte:
*Other Mission Pages: Chile LDS Missions.
---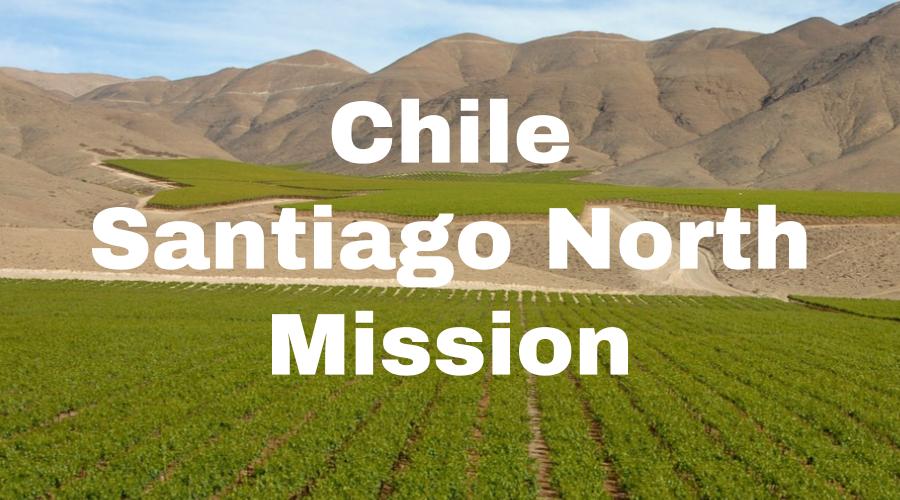 ---
Santiago North Mission Address
Here's a recent address for the Chile Santiago North Mission. We try to keep this info up to date, but it's a good idea to check the address with several sources, including your mission packet or the mission office.
Chile Santiago North Mission
María Graham 312
Recoleta
Region Metropolitana (Santiago)
Chile
Phone Number:
 56-2-777-3661
Mission President:
 President Jeffrey D. Meservy
Chile Santiago North Mission Map
Here's a link to the mission map for the Chile Santiago North Mission (LDS). To access the official, up-to-date LDS.org map for the Santiago North Mission:
Log into your LDS account here.
Click here.
Santiago North Missionary Blogs
Here's a list of LDS missionary blogs for the Chile Santiago North Mission. This list includes the missionary's name, URL and when their blog was updated.
*Send your missionary a gift (mission-specific shirts, ties, Christmas stockings/ornaments, pillowcases, etc.)
Santiago North Mission Groups
Here are Chile Santiago North Mission Groups- for LDS missionary moms, returned missionaries, mission presidents and other alumni of the Santiago North Mission.
Santiago North Mission T-Shirts
Here are T-shirts for the Chile Santiago North Mission!
Shirt designs include Chile Santiago North Mission logo/emblem shirts and Called to Serve shirts. The shirts make great gifts for pre-missionaries, returned missionaries and missionaries currently serving. LDS Mission shirts come in all sizes: Small, Medium, Large, Extra Large, up to 4XL.  The mission designs are printed on white shirts and are shipped to you.
*Simply click on a shirt design to view the details and submit an order. The designs on mission t-shirts may also be printed on other LDS mission gifts, including: Chile Santiago North missionary aprons, Christmas stockings, ties, pillow cases, teddy bears and Christmas ornaments.
*Click here to browse Santiago North Mission gifts
---
---
Fun fact: Brad Wilcox served a mission in Chile!
Santiago North Mission Presidents
Here's a list of current and past Mission Presidents of the Santiago North LDS Mission.
2017-2020, Jeffrey D. Meservy
2014-2017, Rene Orlando Videla Riveros
2011-2014, Fred D. Essig
1979-1982, Heber Avon Packard
Chile LDS Statistics (2015)
Church Membership: 579,235
Missions: 10
Temples: 1
Congregations: 604
Family History Centers: 99
Helpful Articles about Chile
Santiago North Missionary Survey
Here are survey responses from Chile Santiago North RMs, to give you a snapshot into what it's like to live in the mission.
When did you serve?
Mar. 2012-Feb. 2014 (Matthew)
2009-2011 (Scott)
2008-2009 (Tiffany)
2006-2008 (Marlon)
2004-2006 (Jacob)
2002-2004 (Scott)
2002-2004 (Spencer)
2001 2003 (Esteban)
2000-2002 (Randy)
1998-2000 (Darren)
1997-1998 (Lisa)
September 1989-September 1991 (James)
1979-1981 (Bret)
1977-1979 (Bob)
What areas did you serve in?
Lampa, Quilicura, and Los Andes. (Tiffany)
Huelen, San Felipe, Colona Fontt, Huechuraba, Renca. (Jacob)
Pudahuel, Batuco, La Pincoya, Independencia, Isla Juan Fernandez, Pudahuel Sur, Lo Prado. (Scott)
Quilicura, Pudahel (barrio Galvarino) Renca, Pudahuel again in a different ward though, Recoleta. (Spencer)
Santiago Norte. (Esteban)
Los Manantiales, San Felipe (Almendral), Conchali, Renca (Jose Miguel Infantes), Vivaceta (Conchali 14), Pudahuel. (Darren)
Cerro Navia, Independencia, Lo Prado, Zapadores, Los Andes, Renca. (Lisa)
Ovalle, Santiago, Viña Del Mar and Quilpue. (Bob)
Santiago / San Felipe / Los Andes. (Marlon)
Santiago, Iquique. (Bret)
What were some favorite foods?
Empanadas, choripan, chorazcos, completos italianos (Matthew)
Empanadas, sopapillas, completos, pastel de papa. (Scott)
Completos, Pastel de choclo, Humitas, Calzones rotos, Cazuela, and Sopapillas pasadas. (Tiffany)
Almost everything. (Jacob)
Cazuela, empanadas de cualquier clase, sopaipillas, ensalada chilena. (Scott)
Empanadas (both kinds they do there), they do lots of food with lentils and they are great! There were many small restaurants that made amazing rotisserie chicken and fries. The fries are served with mustard. (Spencer)
Humitas. (Esteban)
Pastel de choclo, Churrasco, Street food (rotisserie chicken with fries, sopaipillas). (Darren)
Bifstek a lo pobre, churrasco, un completo (hotdog), empanadas, Miel de Papaya… (Bob)
Furta: manzana, platano. Yogurt soprole. Cereal. Leche y oreos. Pasta. Vianesas. (Marlon)
Sopa de Porotos, Lentejas, Charquicán, arroz árabe, tutti fruity, the barley drink that wasn't Pero, palomitas de maíz, peras, maní. (Lisa)
Empanadas, Humitas! Tallarines! (James)
Completos! Sopaipillas. (Randy)
Empanadas. (Bret)
What was a funny experience?
One time I was training an elder and he didn't know much Spanish and we were coming home from an activity and I saw a bus that we had the same number that the bus that we arrived in. So I told my companion to come with me to take that bus. So we got on it and it took us the exact opposite direction. So we were on this bus for 45 minutes thinking that it would turn around and it never did. So we got off the bus and took the correct bus back to our area. I was freaking out about it, I was the district leader at the time. But we made it back just in time to write our families for about 10 minutes and then get back to our apartment to study. (Matthew)
My parents went to pick me up and we spent some time visiting my areas I had served in. We rented a car for part of the time, and one night got a flat tire. While we were fixing it a couple drunks came and offered their help. After it was all taken care of, the drunks, who had mostly just stood by and watched (my Mom did more than they did, she put the flat in the trunk) wanted $50 for their "help." I talked them down to $10. When they left and I explained to my parents that they wanted money, my parents laughed. (Scott)
Lots of funny stuff with the language. While serving in Lampa, I was hit by a city bus. It is funny since I wasn't seriously hurt, but for the rest of the nine months I was there, people identified me as the gringa who got hit by the bus. It was a great tool to get me in lots of doors. (Tiffany)
Once, I was in a rural area on my 20th birthday. We were away from home and it was dark. I didn't have access to a bathroom and needed to go, so I walked toward what I thought was a little ditch. As I stepped down, my foot never touched ground and I worried that I was falling off the end of the earth, until I eventually felt cold water wash over me. In the darkness, I had unknowingly stepped off a bridge not into a ditch, but into a creek. (Scott)
The construction of many of our missionary apartments/homes were not like here in the USA. One of my houses (a townhouse with 6 missionaries) had like an entire flock of pigeons living in the attic space. They are very noisy creatures. We finally crawled into the attic space and found that we were far outmatched and decided just to co-exist. (Spencer)
Cuando andaba en bicicleta y caimos en una barranco en medio de la noche. (Esteban)
When I first arrived in Ovalle it was Christmas Eve. I was asked to participate in a skit that the young people were doing at the branch where I played Santa Claus. I didn't understand the language well enough to understand what was going on. As I placed gag gifts under the tree with the children there asleep (gifts like toilet plungers, etc) they all awoke and piled on top of me hitting me for the terrible gifts I was giving them… it took me a little while to understand what was going on but it was funny and the members loved the skit. (Bob)
Mi compañero estaba siguiendo con el lapiz a un perro que nos ladraba todos los dias.. el perro estaba detras de una cerca.. y mi compañero le estaba apuntando con el lapiz.. el perro mas se enfureció. . Cuando llego a un punto que ya no hania mas cerca y tuvimos que correr mucho jajaja. (Marlon)
The Elders were so funny. They cracked me up. They always cheered me up. (Lisa)
My first pension my mamita gave me some powdered milk and asked me if I liked it and I said, "si pero el próximo ves menos fome por favor!" I Didn't know what fome meant at the time!  (James)
What was a crazy/dangerous experience?
Our house was broken into during the night at about 3 am and we were all asleep. Before they tried to break in one of the elders in the house saw something outside and told his companion. His companion thought that he was just dreaming and told him to go back to sleep and then out of the blue this black shadow covered their window and they decided to run into our bedroom and wake us up. So their related what had happened and we closed our door, called our mission president and then called our stake president. I decided to see if they had gone yet. So I left the room to go to the front room and I had my mallet for crushing walnuts in my hands and went to the window to see. I saw one person but thankfully within a few minutes they left running because our neighbor heard the noises and came outside to check and saw them rummaging through our backyard and called the police. So the police came and caught two of the three culprits. Thankfully none of us were hurt but we did have to live in our stake president's house for about three weeks while repairs were being made to our house. (Matthew)
An 8.5 earthquake, while my companion and I were living on the 9th floor of our apartment building. (Scott)
I never felt like I was in danger… Except for the dogs! The dogs were all crazy and dangerous looking. (Tiffany)
Missing our bus that also happened to be the last bus back to town where we lived and being left to walk the 15 or so km in the dark. We were able to get a ride with a trucker that happened to be a member from Argentina. (Jacob)
This was not my experience but that of a companion of mine. He and his companion were working late at night and were on their way home when some local troublemakers started following them. Eventually, the troublemakers accosted my companion and his then-companion. Right when it looked like things were going to get ugly, some policemen came out of nowhere and said something like "So….you like to pick on Mormon missionaries, eh??" The police in Chile were known for having few qualms about using force and they proved that to be true in this case. The police started beating those troublemakers with their sticks and their boots. Close escape for my companion. (Scott)
In Chile, there are "celebrations" that often end with fairly calm riots that often end with tear gas. One day, my companion and I were walking down a narrow street and we were just around the corner from a police compound (police stations have high walls, and turrets for a guard to stand in and are pretty well fortified) and we heard shouting from a crowd and before we knew it, there was a wall of tear gas pouring down the street we were on. We must have been down wind of everything and we got a good amount of that. Pretty funny. Seriously though, the "riots" are actually quite civil and are not anything to be afraid of. They are always known about in advance and the mission takes all precautions to make sure that missionaries are not in areas during those periods. (Spencer)
Cuando unos borrachis nos persiguieron y peleamos. (Esteban)
The fear every time there was a tremor/earthquake. (Bob)
Cuando nos robaron el celular.. un hombre en una bicicleta. . El me golpeo en la mano porque estaba hablando con el celular y este callo luego hizo una expresión como que nos hiba a golpear y solo corrimos.. mi compañero grito mi apellido diciendo. . Morales corrrrreeeeeeee..(Marlon)
When the guy tried to steel my bike with a machete. See Kid History Episode 3. (Randy)
When the teenager held a knife at my companion's throat and I had to pray and we had to talk him out of killing her. (Lisa)
What was a spiritual experience?
At the end of my last transfer on the last Sunday in my first area, a less active member that we had been helping to come to church finally came to church and I was so happy to see her. It was a wonderful experience to see her. (Matthew)
My companion and I were working with a part-member family. The wife had been inactive and when Elders knocked on their door she told them she had been waiting for their visit. The husband received all the lessons but was unsure about baptism, although the wife kept asking him about it. One Preparation Day as we were preparing to leave to work a few hours, we felt that we should visit him, even though we hadn't planned to. When we got there his wife was gone so it was just him and us. We had felt prompted to share a bit from Preach My Gospel about the Holy Ghost. He then told us he was ready for baptism. We set a date, but he said he wanted to keep it a secret from his wife as long as possible so it would be a pleasant surprise for her. If we hadn't felt prompted to visit that night, we might have had to wait longer for his baptism. (Scott)
Every time I was able to kneel with a family to pray about the Book of Mormon or Joseph Smith, it was exceptionally spiritual. (Tiffany)
Seeing the changes that families made while growing in the gospel. (Jacob)
I was with my trainer, and we weren't getting along that great and the work was a bit slow. I was not really doing much to pull my weight and when one of our appointments fell through, my trainer did what he usually did, which was to look for something else to do. As he did this, I looked up at a door across the street from where we were and something about that door was calling out to me. The door kept looking larger and larger in my minds eye, as if beckoning me to knock on it. I said one word to my companion. "Vamos". He followed me across the street and I knocked the door. A guy eventually came to the door, and I started the normal door pitch. He asked if we were mormon missionaries and I said yes. He let us in. The guy clearly was having a hard time. He was incredibly visually impaired and struggled with alcohol. We talked a bit about life and invited him to church and we hoped that we made a difference to him. The odds of getting into any one door are probably less than 3% in Chile. there was no doubt in my mind that this experience was a lesson to me to pay attention to the Spirit and to participate rather than just sit back and let other people do the work for me. (Scott)
We had a wonderful investigating family. The son and daughter were baptized first, then the mother was getting closer and closer to baptism. Then one day as we were walking on the section of our sector that was the furthest from their home, my companion said to me "I think that we need to go see the Osses family". We walked there and when we yelled our "Alo!" (that is how you knock there), the mother came out astonished that we had arrived. She said that she had been praying that we would come visit her just moments before that. She thought that her son had somehow told us to come. We told her that it was a prompting that was followed that brought us there at that moment. She eventually was baptized a member of the church. (Spencer)
Cuando salvamos a un hombre de un asalto y el espiritu me indico que fueramos y.lo dalvamos le endeñamos una leccion y el testigico que estaba sintiendoel espiritu. (Esteban)
Met a family who was inactive and they were studying with the Jehovah Witness' and were close to joining. We met with them and straightened out some misunderstandings but they were still having a hard time reactivating. We met with them and knelt in a circle and each of us took a turn praying and we went around the circle and asked if reactivating was what they should do…. it was a grandma, her two daughters and their 3 kids kids. The Spirit was tangible it was so strong and there was no doubt what they needed to do. They started back at church and soon after the grandkids were baptized too. (Darren)
It was very wonderful to teach a former Nazi (who had moved to Chile from Germany after the war) to pray for the first time in her life and seeing her cry because of how she felt. (Lisa)
1. Eating dinner with Bruce R. McConkie and on a different occasion with Thomas S. Monson. 2. Bearing testimony to investigators with the spirit so strong that there isn't a dry eye in the room. 3. A Fast and Testimony Meeting in Ovalle where the spirit was so strong that we let the meeting last for hours…. everyone wanted to bear their testimony. (Bob)
Un domingo de ayuno y testimonio una mujer con su hijo nos pregunto en la puerta de la iglesia si podia entrar… le dijimos que claro !!!! 3 semanas después se bautizo. .. nos dijo que habia soñado con nosotros que ya conocia nuestros rostros. (Marlon)
Unlimited, so many. (Randy)
What are some interesting facts about your mission?
My mission has Easter Island in it's boundaries. We have one the biggest malls in our mission. Our mission also had some very poor areas. (Matthew)
The people love you with food. Lunch is the big meal in Chile. (Tiffany)
The speed bumps at every intersection are to cross the street in the rain. That way only your ankles down get wet. (Jacob)
Our mission is quite small…one of four within the city of Santiago. Areas are subsequently quite small usually, and in most cases, areas can be traversed by foot. There are two islands in the Santiago North Mission (at least there used to be in my time there):Easter Island and Juan Fernandez Island. Assignments to those areas was seen as rather prestigious. I served on Juan Fernandez Island, and found it to be an interesting chapter of my mission. (Scott)
The mission boundaries are a bit strange, at least when I was there, it went to the Argentine boarder and into the Andes Mountains but also had two islands in the Pacific! (Those islands are in our mission because the airport is in our mission). In the MTC they said "never eat the food from street vendors", I ate food from the vendors just about everyday and never got sick from that food. Their tap water is drinkable as well. They just installed a subway system at the end of my mission and I am sure that it is a wonderful way to get around now. The buses and taxi system are a well oiled machine but traffic "laws" are more of suggestions to many drivers. Stray dogs are everywhere. I am proud that I never kicked a dog but often pretended to throw a rock at some of them when they got close. Dog bites seldom happened. Chilean common Spanish is very strange. It follows the rules of Spanish taught in the Provo MTC but it is very lax with pronunciation. I strongly urge you not to fall into the easy temptation to pronounce words in the Chilean slang because it does not befit a rep. of the Savior and it is useless to use in other countries. Use good Spanish as much as possible. Guns in any form are illegal for citizens to own so there isn't anything to fear from crazy gun owners down there. All citizens are required to serve in the military. Maybe just men? (Spencer)
Mi amor al evangelio El conocer mas a fondo a las personas. (Esteban)
It was very small geographically. The people are very kind in general and open to speak of God. (Darren)
It is divided into regions from top to bottom. Before you go, learn what they are and learn about them. In Chile, they are mixed race. They are descended from natives and from the Spanish who came in. Some of the natives were Arhuacanians. The Arhuacanians hunted condors while they were flying, catching them by throwing a rope with a weapon on it, into the air. Learn about the political history of Chile (expecially about Pinochet) before you go or you may be confused. There are two big soccer teams. Figure out which you like. They will want to know. Learn about the world soccer cup and Chile's history in it. It is very important to Chileans. (Lisa)
The North Mission exploded with baptisms in 1978 and as a consequence the Chile Viña Del Mar Mission was formed. We sent the first Chilean missionaries to the temple (Sao Paulo). Until then our Chilean companions were unendowed Elders. (Bob)
La comida es muy diferente a lo que estoy acostumbrado pero es deliciosa. . Y los chilenos son muy acogedores saben como hacerte sentir especial. (Marlon)
Streets turn into rivers when it rains hard, buses are main transport, get so full and crazy. (Randy)
What was the weather like in Chile?
Dry, sunny and hot. When it rained which was like two times a year it would poor for a few days. (Matthew)
Very rainy in the winter; cold, but never enough to snow. Warm and sunny in the summer. Never too hot, but the heat was such that even shade offered no protection, it was just as warm in the shade as in the sun. (Scott)
Much like Utah. Hot summers and cold winters. Many cities I served in don't have the greatest drainage systems in the streets so they would turn to rivers in the rain. I remember taking the hottest showers to try to get warm before going to bed in the winters spent in Los Andes. (Tiffany)
Hot in the summer and wet and cold in the winter. (Jacob)
90s during the summer and cold and rainy during the winter. No snow in Santiago when I was there, but there is plenty of rain and damp cold during the months of July-August. The temperatures were not extreme, but they felt worse than they might in the United States because of the lack of air conditioning and heating that was prevalent in my time there. Sleeping at night during the summer was occasionally difficult for me. (Scott)
The summer gets close to 100 degrees, hot and dry. The winter is very cold, in the 40's and rains a bunch. I never saw snow in the city. So imagine 40 degree weather and soaking wet, you will love it! I did. The street drainage systems were very poor so during heavy rains, the roads became water ways. Waterproof socks are a great idea. Rubber shoe coverings are ok, but if the water is deeper than 2-3 inches, your feet will still get wet. Your shoes will take a beating regardless so protect your feet rather than your shoes. (Spencer)
Bueno algo de frio pero bueno. (Esteban)
Hot around Christmas time (like high 90s) and cold in June, July, August (no snow in the mission but in the mountains) but it would get really cold especially since the homes were not insulated. (Darren)
It was hot and dry in the summer. I got heat exhaustion. Make sure that if nobody is letting you in to teach, that you go to a member's home and ask for water and sit for a half hour, when you feel really hot, or you may find yourself throwing up a lot. It was extremely cold and dry in the winter, with the exception of the winter of 1997, which was an El Niño year. El Niño really affects Chile, so learn about it. We had water up to our thighs that winter. A lot of people let us in because they felt bad for us, which really helped spread the gospel. Spring and fall are gorgeous and perfect. (Lisa)
Cold Winters, Hot and Smoggy Summers. Very little rain in Ovalle but LOTS of rain in Vina Del Mar. (Bob)
El verano es muy marcado hace mucho calor… y los inviernos son intensos con las lluvias pero es soportable. . Solo es la contaminación que hace por momentos la vida algo insoportable. (Marlon)
Can get cold at night since houses don't have heating. (Randy)
What do you like about the place/people you served?
How humble they are. I loved how cheerful many of the people were even though they basically had nothing. They were also very willing to give. (Matthew)
Chileans are very hospitable. They will eagerly welcome a stranger into their home, even going as far as to invite them to dinner. Even when they had no interest in hearing our message, there were still friendly and welcoming. (Scott)
I could go on for days. The Chilean people are the most loving giving people I have had the pleasure to meet. You will become a brother, sister, daughter, son, to those you teach. Even those who don't accept your message will love you. I will forever be changed by the goodness of those people that will remain in my heart para siempre. (Tiffany)
People are the most loving caring people. Country is beautiful and the food is great. (Jacob)
Great people, that want to be very good hosts. Sometimes people would agree to do things just because they didn't want to be rude. It was important to not take advantage of that good will to manipulate people into joining the church, at least in my opinion. (Scott)
The Chilean people are very kind. They have different customs and traditions and they are beautiful. They are amazingly spiritual people and will take you in and offer you hospitality if you can make a friend of them. Don't ever speak ill of their customs or traditions, just because it is different than from where you are from, the Lord has called you to love and serve them. (Spencer)
Me gusto su dispocion a cambiar el amor que entregaban. (Esteban)
The people were the best part. So kind and endearing. I loved the city. The Andes Mountains are beautiful too. (Darren)
They are extremely loving and caring. They are very personable. When you meet them and start teaching them, then you become like a part of their family. The women have to go to the market a lot to buy fresh food. They spend all day cooking, cleaning and washing the laundry. Women are not treated well by the men in many cases. It is a male dominant society. Many men work from 10:30 am to 9:30 pm with a siesta from 1 to 4. There is a lot of unemployment. There is a lot of sickness. Socialized medicine is crappy and you will figure out why when you ask the sick people of Chile why they do not go to the doctor. (Lisa)
The Chilean people are a wonderful people with very big hearts. Many times we would be invited into strangers homes and offered food and drink. (Bob)
Cada chilen@ que conocí fue especial. . Nunca me trataron mal … siempre estabam dispuestos a pasar un buen momento con nosotros. (Marlon)
Such humble people. (Randy)
Any packing/clothing advice?
You don't need boots like the booklet says. Bring thicker long sleeve shirts and have a warm jacket because it can get very cold in the winter. But no snow. (Matthew)
Anything you don't have you can buy there. They have many stores called Lider, which are like Walmart. A good pair of rain boots and a rain jacket are very wise. (Tiffany)
Sturdy shoes. Comfortable slacks and a great rain coat. (Jacob)
Plenty of walking, so bring comfortable shoes and be prepared to have to buy another pair or two while in the country because it might become necessary. Also, a sweater to wear under suit jackets might be a good idea to think about if packing allows for it. Learn how to properly and efficiently pack things; during transfers most missionaries had to take public transportation to the Santiago Temple to participate in the transfer activities. The less stuff you have to haul, the better. (Scott)
One thing I wish that I had was waterproof socks. I had a companion that had them and I was jealous everyday with bad rain. Have a good, compact umbrella. I had thin, water-resistant gloves that were the best part of my cold weather attire. Don't get bulky gloves, you can't handle scriptures and other things well with them. A waterproof trench-coat was invaluable. Water resistant won't keep you dry if you are outside for 6 hours between appointments. Some days, you just may not be able to get in to any homes and if it is raining, you at least want to stay dry. (Spencer)
Lleven ropa de media estacion nada muy frio nada de mucho calor. (Esteban)
You will want your warm clothes for the winter time. Sweaters and especially a good rain coat. Good shoes are a must! There were no cars in the mission and few bikes. So you do lots and lots of walking. (Darren)
Layers is key. In the winter, you will love having the long garments, extra thermals and tights, then layers of jackets. Leave your thermals and coat outside hanging in the winter, spring and fall to make them freeze at night. That kills the fleas. Fleas hate cold and it kills them. In the morning you can bring your coat in and warm it by the estufa. I loved my doc martins. I also had some nicer looking shoes that were good for walking in, for summer and for going to the mission home and temple. Make sure your luggage has sturdy wheels and don't have too much of it. If you do, you won't keep it long. You will not have a slave or valet to lug it from CAMBIOS at the mission HQ, along many streets and on many buses, to your new pension. Also have some waterproof flat walking boots. Do not have any heels. They are not worth it. Have interchangeable shirts and skirts so you can have variety. The thick, thigh length neutrals were my favorites. My khaki one was awesome. These are great for riding on bikes. Maybe get a couple skirts, try riding a bike with them on at home, and test them out that way. I only had a bike in one area, but I was there for 3 months. Be prepared for biking in a skirt! (Lisa)
Whatever the mission advises. (Bob)
Para el verano un traje fresco de tela muy delgada.. para el invierno mucha ropa y zapatos especiales para el agua… llueve muy fuerte. Quizá un buen paraguas y un buen impermeable. (Marlon)
Such humble people. (Randy)
What blessings did you receive from serving a mission?
Confidence and to always be happy even when times become tough which was almost everyday of my mission. (Matthew)
Too many to list. I definitely greatly strengthened my testimony and faith. (Scott)
Countless, I can't begin to list. Learning Spanish, loving a people so much it hurt to leave, seeing hearts change and people come into Christ. Solidifying my testimony because of the blessing of being a part in someone else's conversion. Being able to see people leave behind habits that were causing so much pain all to become closer to the Savior. (Tiffany)
What blessings didn't I get? (Jacob)
I had the opportunity to help people come to know God better and seeing some of the people that changed their lives has been blessing enough. I only participated in the baptism of one entire family, but that family branched out further than I even imagined. The mother and her daughters first, followed by her mom, then her husband, then her dad. Then her brother, then the husbands brother (who later served a mission to Los Angeles and is married in the temple). It is just gratifying to see the impact that one or two righteous decisions can have on a family tree. (Scott)
By learning how to love people who have different customs and traditions then my own, I have been able to be more tolerant to people after my mission. In no way do I condone people views if they are against what I believe, but I have a greater capacity to still love them and respect them. Value your scripture study time. You will never again be able to dedicate so much time to the Gospel of our Lord. (Spencer)
Muchusimas reconoci los susurros del espritu reconoci Pude llegar a aprender sobre la empatia el servicio ser mejor lider infinitas bendiciones. (Esteban)
I learned to serve and to love others. I learned a language which I love and use almost everyday in my job now. I solidified my testimony of the Savior and His love for all of His children. (Darren)
I am 40 years old now and I still remember all of the lessons I learned from my mission. One is to slow down, that there is no need to hurry. One is that friendship is extremely important because God wants us to have joy. One is that you have to figure out how to get along with people whether you want to or not. (Lisa)
A foundation for the rest of my life and by applying myself to learn the language I have native level ability in Spanish. (Bob)
Todas las que te puedas imaginar. .. mi vida es mas prudente y sabía. . Gracias a la decisión que tome cuando tenía 19 años. (Marlon)
I brought a nice Jansport backpack, people tried to rob me like 4 times until I got rid of it and bought a Chilean made pack. Don't bring a nice backpack, it makes you a target. (Randy)
What are some skills you gained on your mission?
People skills. I learned how to make conversations and maintain them. (Matthew)
Talking with strangers, Spanish, living on my own, knowledge of travel and learning a new place, and understanding of new cultures. (Tiffany)
I am able to relate to different people. I look at people and their potential. (Jacob)
Patience, interpersonal relationships, fluency in Spanish, ability to feel and listen to the Spirit. (Scott)
Take your Spanish training and cultivation very seriously. I always kept a small booklet in my pocket to write down new words that I heard so that I could study them and commit them to memory. You will never know "enough" Spanish. Pray always in Spanish and you will never lose it. After my mission, I studied Spanish at college and worked as a Spanish interpreter to pay for school. That is a life long valuable tool that the Lord is giving you if you do your part to learn it properly and cultivate it. Like I said, if you have no soccer skills or lots of them, you will get more by participating in Chile. The members, non-members, missionaries and anybody else play. Join in and enjoy it. (Spencer)
Spanish language. Leadership skills. Dealing with and understanding other people from different backgrounds. (Darren)
I learned a lot about getting along with my companions. I learned that the Holy Ghost is necessary for missionary work and that if you and your companion are not getting along, the Spirit leaves and you cannot teach anyone. You have to get along and love each other in order to get any missionary work done. I learned how to walk all day long and late into the night, how to take off or add layers while walking, how to listen to and obey the Holy Ghost, how to trust Heavenly Father, how to teach people the gospel by loving them first, and much more. I learned how to wash clothes without a machine. I learned all about which herbs to use when. I learned about the culture and peoples of Chile. I learned a lot more Spanish. I learned not to toss the Chilean a pen. Hand it to them! I learned that if you compliment a Chilean on their clothing, they will give that item of clothing to you. If you say, "I love this (item), they will immediately gift it to you. Be careful about complimenting. They are extremely unselfish! Also, you will likely feel an big urge to gift some of your clothing to your native South American companion before returning home. They need it more than you do. I should have done more of that, because when I got home, my mom said my clothing was gross and she took all of it to charity. You may as well let your companion or a native South American sister have it, rather than carry it home for no reason. (Lisa)
Public speaking, Spanish language fluency. (Bob)
Liderazgo. Empatia con mi familia y amigos. Buen animo siempre. Responsabilidad. Saber escuchar a los demas. Organizarme mejor. Ahorrar Etc..etc (Marlon)
Never ending blessings! Work hard out there and you pile up blessings! (Randy)
What do you wish you knew/did at the beginning of your mission?
Spanish. (Matthew)
I wish I had studied Preach My Gospel. (Scott)
That it goes too fast, so don't waste your time counting down. I wish I would have never cried or missed what I had at home because now I cry because I miss those people I love so much and think about them and the beautiful experiences I had there every day. (Tiffany)
Better prepared language wise and more outgoing. (Jacob)
I wish I wasn't looking so forward to the ending of my mission when I first started. It took me a while to change my mind set from "getting through" the mission to actually "serving" a mission. Once that happened, time rushed through my fingers. I wish that I had some of the maturity that I have now to counsel with people I taught. Having 19 year olds serve missions is beneficial in some ways, but maturity can be pretty helpful in seeing what people we were trying to teach were struggling with. Most of my "wishes" can be chalked up to just better knowing how to relate to people. Part of life is accumulating the experience to teach those things. That is, to say, I don't regret not knowing these things, because they have to be learned. I can just see what kind of help they would have been had I possessed such skills then. (Scott)
That Chilean Spanish is different that what I learned before. Don't fall into the trap to try to "sound Chilean", though it may be sort of cool to some, it will not be beneficial in the long run.  (Spencer)
Como enseñar mejor me hubiera deseado saber. (Esteban)
Just be more knowledgeable of the scriptures. Be more humble. (Darren)
The history and geography of Chile, politics and sports in Chile, all about fleas, how to give a discussion in English (I had to do that once and was translating from Spanish to English the whole time–awkward!), more about how to get along with and what to do about, disobedient companions. I wish I had know that just because your trainer does it one way, does not mean that is the only way or the best way or the correct way. God loves that they all use different methods and techniques, schedules and methods of operation. Learn the different ways to do things and do not argue about how that other way was best. (Lisa)
I wish I could've been better prepared. I was a convert of just one year myself. (Bob)
Al inicio yo era muy nervioso para hablar con personas que no conocía. . Luego aprendí que este mensaje no era tan difícil de enseñar .. ame mas a las personas y eso desapareció todo temor. (Marlon)
I use my Spanish every day at work. (Randy)
More Spanish. (Bret)
Any advice/testimony for pre-missionaries going to your mission?
Don't fear and don't give in. It'll be tough but if you look for the good everyday you'll be successful. (Matthew)
It can the best experience of your life to date. It's not easy, but it's definitely worth it. If you work easy, it will be hard; if you work hard, it will be easier. (Scott)
Be prepared to love a place and a people so much that even when my parents came to pick me up, I didn't want to leave. I cried the whole intern hours home. Chile and the people there will change you forever. Being a part of someone's conversion is a blessing you will cherish for eternity. Before my mission, I doubted that it could be fun. It was the most "fun" thing I've done in my now 28 years of life. Never will you feel more purpose in building and expanding the kingdom! Be prepared because the Chilean people deserve the very best. (Tiffany)
Take it one day at a time and work every day like it is your first and last day. (Jacob)
Going on a mission generally is a fabulous decision that will touch many aspects of your life, if you let it. Santiago North is a wonderful place where you will get to interact with mostly city folk who aren't wealthy, but aren't destitute. I am excited for those who get to serve in the mission I served in. (Scott)
The Lord has called you to serve, not any man or woman, but the creator or heaven and earth. He trusts you to do what is right in all situations while you act in his name. Do not betray that trust. (Spencer)
Sentrense en el espiritu el los guiara se debe trabajar con el. (Esteban)
Go ready to love these people and be willing to give all of yourself to these 2 years. It will go by fast (although some days will be long and slow) and once it's over you don't get a redo so do it right the best you can the first time. (Darren)
Alma 32 about the seed, can also be about planting a seed of love in your heart for your companion. It is about faith in Jesus Christ, and Jesus wants you to love your companion no matter what. You must nurture the seed and help it grow. It will take time, constancy and patience. Keep it up and have faith. It will give you fruit and joy. I know this, that you can do better teaching the full on hour first discussion. That is where all of their doubts later on, will come back to. Also, you will have more success with conversions and baptisms by teaching members and inactives the discussions and new member discussions. This will make them have confidence to invite their neighbors over the next time. Then, taking active members with you to every discussion past the first one will help immensely so that the person will stay active after you go home from Chile. When you are forty, do you want to look back knowing that all of the people who were converted are now inactive? No. You don't. (Lisa)
Read about the history and culture of Chile, understand what they have gone through. Study about the history of the Church in Chile and how it has grown. (Bob)
Amen a todos o traten de amar a todos sin importar quienes son o que hacen.. cuando llegues a amar a un hijo de Dios, con ese amor puro.. los corazones se conectarán con el Espíritu y sera muy facil .. que tomen las mejores decisiones en su vida .. como bautizarse y seguir adelante con firmeza en Cristo. . Y lo mejor es que uno mismo cambia.. toca el cielo aunque aun tengas los pies en la tierra. (Marlon)
Work hard, the time flies by so fast. (Bret)
What was a funny language mistake?
I called clouds the wrong word in Spanish and my trainer made fun of me the rest of my mission. Great guy. (Matthew)
In Spanish the word for egg (huevo) is very similar to the word for bone (huevo). Once while teaching the Plan of Salvation, I was teaching that God has a body of flesh and bone. But I accidentally said that God has a body of flesh and egg. (Scott)
Embarasada sounds like embarrassed in English. In Spanish it means pregnant. (Tiffany)
Asking for a dog in heat rather than a hot dog. (Jacob)
I had a companion from Hawaii who didn't speak a lick of Spanish beyond the very basic Mission Training Center phrases. He just hadn't grasped the language yet, but he LOVED to talk. He mentioned to a less active member that we were going to play soccer the next morning on the field at the church. When he said the word "field" he substituted a vowel and ended up actually using a very crude term for the female anatomy. The investigator exploded in laughter and I grimaced for my companion while laughing on the inside. These things happen to most everyone. It's important to be able to laugh at yourself and not torture yourself too much if you aren't learning as quickly as you might like. (Scott)
My training companion in Chile gave me a line to memorize when I went to my first dinner in country. the line was "gracias vieja por esta porqueria" I said the line flawlessly after our meal and was answered with strange looks and then roars of laughter. I soon was given the meaning of that sentence and it actually means "thank you old lady for this pigsty" Good humor for all even though I was a little sheepish. (Spencer)
Polola novia Lolas Cabro niñas Cabra. (Esteban)
We were encouraged to teach English to our Chilean companions. My first companion had been with a previous 'gringo" companion who had purposely taught him the animals in English, but all mixed up. Cows were sheep, sheep were cows etc… (Bob)
Jajajaja mi compañero siempre usaba mal los verbos aveces hacia oraciones sin ningun sentido hasta que aprendió. . Por ejemplo queria decirme … compañero por favor alcanzame la sal.. y decia… compañero por favor tire sal a mi..(Marlon)
I did not know, but my first area was like the ghetto. I went to my second area and they thought it was crazy that I was speaking all trashy like that. Funny. I just think it was funny for me to try to give the first discussion in English to someone who only spoke French and English, because she had moved to Chile from Canada. It was so hilarious that I had to think of it in Spanish and try to translate it into English. I had never learned it in English. Oh, here is a joke my Chilean papito told which was very funny. Cual es la diferencia entre una pera y un pololo? La pera, es pera. El pololo no espera. Oh, and a really funny toungue twister game I learned in Chile is the game with, un limon, dos limones, tres limones. Un melon, dos melones, tres melones. It is so hard to do! You keep mixing up the m and the l. (Lisa)