Here are free resources about the Chile Rancagua Mission:
Aquí están algunos recursos gratuitos sobre la Misión Chile Rancagua:
*Other Mission Pages: Chile LDS Missions.
---
---
Chile Rancagua Mission Address
Here's a recent address for the Chile Rancagua Mission. We try to keep this info up to date, but it's a good idea to check the address with several sources, including your mission packet or the mission office.
Chile Rancagua Mission
Alcalde Eduardo Melero 883
Casilla 2-C
Rancagua
Lib. Gen. B. O'Higgins
Chile
Phone Number:
 56-72-223-2750
Mission President:
 President Reed J. Harris
Chile Rancagua Mission Map
Here's a link to the mission map for the Chile Rancagua Mission (LDS). To access the official, up-to-date LDS.org map for the Rancagua Mission:
Log into your LDS account here.
Click here.
Chile Rancagua Missionary Blogs
Here's a list of LDS missionary blogs for the Chile Rancagua Mission. This list includes the missionary's name, URL and when their blog was updated.
*Send your missionary a gift (mission-specific shirts, ties, Christmas stockings/ornaments, pillowcases, etc.)
Chile Rancagua Mission Groups
Here are Chile Rancagua Mission Groups- for LDS missionary moms, returned missionaries, mission presidents and other alumni of the Rancagua Mission.
Chile Rancagua Mission T-Shirts
Here are T-shirts for the Chile Rancagua Mission!
Shirt designs include Chile Rancagua Mission logo/emblem shirts and Called to Serve shirts. The shirts make great gifts for pre-missionaries, returned missionaries and missionaries currently serving. LDS Mission shirts come in all sizes: Small, Medium, Large, Extra Large, up to 4XL.  The mission designs are printed on white shirts and are shipped to you.
*Simply click on a shirt design to view the details and submit an order. The designs on mission t-shirts may also be printed on other LDS mission gifts, including: Chile Rancagua missionary aprons, Christmas stockings, ties, pillow cases, teddy bears and Christmas ornaments.
*Click here to browse Rancagua Mission gifts
---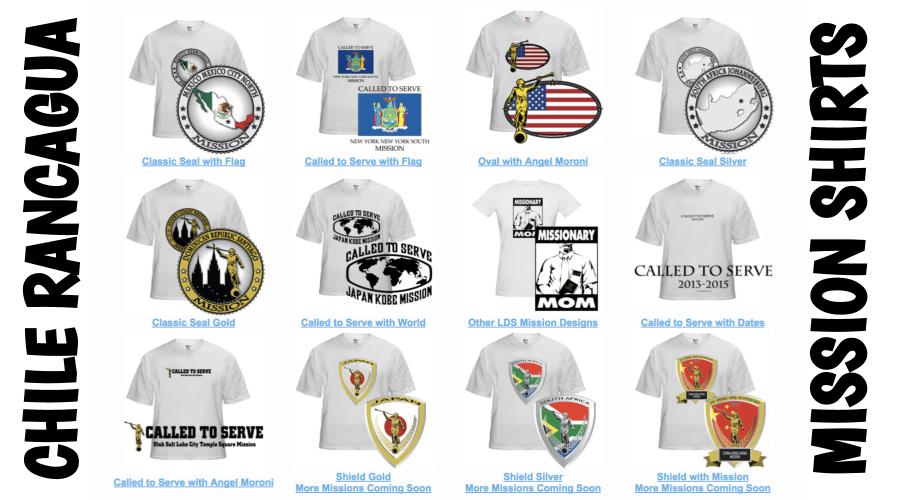 ---
Fun fact: Brad Wilcox served a mission in Chile!
Chile Rancagua Mission Presidents
Here's a list of current and past Mission Presidents of the Rancagua LDS Mission.
2016-2019, Reed J. Harris
2013-2016, Thomas R. Warne
2010-2013, James D. MacArthur
2007-2010, Esteban Gabriel Resek
2004-2007, Kenneth L. Openshaw
2001-2004, Curtis R. Bennett
1998-2001, David C. Hoopes
1995-1998, Theron M. Hall
1992-1995, Roger A. Hendrix
1989-1992, W. Craig Zwick
1986-1989, Jerald L. Taylor
1983-1986, Donald D. Jacobson
1980-1983, Leonard Hartley
1977-1980, Bruce Gibson
1975-1977, William R. Bradford
Chile LDS Statistics (2015)
Church Membership: 579,235
Missions: 10
Temples: 1
Congregations: 604
Family History Centers: 99
Helpful Articles about Chile
Chile Rancagua Missionary Survey
Here are survey responses from Chile Rancagua RMs, to give you a snapshot into what it's like to live in the mission.
*Click here to take a survey to help pre-missionaries going to your mission.
When did you serve?
June 2013-May 2015 (Ben)
2011-2013 (Jake)
2006-2008 (Wilker)
What areas did you serve in?
Rancagua, San Bernardo (Santiago South mission), Machali, and Buin. (Jake)
San Francisco, Hospital, Rancagua, Pichilemu. (Wilker)
What were some favorite foods?
Chorrillana (french fries with meat and egg and sauce) Completos (hot dogs but way better, more toppings and a really delicious bun.) The bread is amazing. They served lots of rice with meat as well. (Ben)
Las empanadas, los choripanes, el pan, el asado, los berlines, y la chorillana. (Jake)
LAS PANTRUCAS, LAZAÑA, Y LOS POROTOS. (Wilker)
What was a funny experience?
Hahaha, I have too many to count. One preparation day, we took a bus into Rancagua, and my phone fell out of the pocket of the shorts I was wearing. I realized it shortly after I'd gotten off the bus. I ended up chasing the bus for probably a half mile before I caught it at a light. I got on the back and saw a guy holding my phone. He looked really startled to see me and gave me my phone without any hesitation. (Jake)
What was a crazy experience?
The most dangerous things that I saw in Chile were the dogs and people with alcohol and drug problems. One time a dog bit a hole in my rain coat, but generally there was no problem. And there are usually certain neighborhoods in your area that you should avoid because of drug and alcohol problems, but its not a big problem. (Ben)
1. An investigator of ours who lived right above us accidentally started a fire in the garbage chute of the apartment building where we lived. We had to evacuate the building at about 10:30 pm at night along with all of our neighbors, but everyone was fine. We had our emergency backpacks, so the Assistants to the President were pleased when they arrived 🙂 2. While driving a group of missionaries to the airport, we got a blown out tire on freeway during rush hour. Thankfully we made it to an emergency pull out, and we were close enough to the airport that we had another car looped back and picked up the missionaries we were transporting. Everyone made it to the airport on time, but my companion and I ended up stranded at a gas station where the tow truck left us for several hours. 3. While driving to a baptism, one of the wheels on our car fell off completely. It's a strange sensation to see one of the wheels of your car roll past you. 4. I got bit by a couple of dogs. It only drew blood once and I had to get a rabies shots 🙁 5. Several minor earthquakes. (Jake)
What was a spiritual experience?
One time we had the opportunity to help the father (of a less active family) reconvert that was going through extremely hard trials and regain his faith in Christ. In one lesson, we taught about faith and at the end he offered one of the most sincere prayers I have ever heard. I could see from that experience and onward a change in his attitude and he brought his family back to church. (Ben)
There were numerous. I felt the spirit strongly many times while on my knees praying with investigators. I had a very personal experience with the Book of Mormon on my mission that I'll treasure for the rest of my life. Also, there is a special joy that you feel when you see investigators that you've taught dressed in white and entering the waters of baptism. (Jake)
What are some interesting facts about the Rancagua Mission?
It is a rural area. There are lots of fields and countryside. The cities area more or less small. There are tons of baptized members of the church, but around 90% are less active. We generally walked around the city on foot, but some areas need bikes. Sometimes you take taxis or the bus to get where you need to go. (Ben)
The Rancagua mission used to encompass most of what is now the Santiago South mission. Those areas were more urban, and tended be poorer and more dangerous than most of the areas currently in the Rancagua mission. The mission split and received part of the Concepcion mission in July 2013. (Jake)
What was the weather like?
Summer: Its very hot, but the part worth worrying about is the sunlight. For some reason, the sun just feels stronger down there. Winter: Not too cold compared to lots of other places, but you do need a coat, a good raincoat would be useful a well. It rains pretty hard every now and then and the streets flood because they don't have good drainage. (Ben)
The weather is temperate. It gets very hot and dry in the summer, and virtually never rains. The temperature doesn't reach as high as some places in Chile, but there is a large hole in the ozone over much of Chile which makes the sun seem stronger (use sunscreen). The winter is much wetter than the summer, and the temperature will drop into the mid to low 30's. Overall, I'd say the weather is pretty friendly compared to many other missions. (Jake)
Any things you really like about the area/people?
Its generally a beautiful landscape. You have a little bit of everything from mountains to valleys and hills to beach. All beautiful, fresh air, not crowded. The people are simple and very very very very very kind. Obviously there are those that don't like the missionaries and the church for one reason or another, but the general population is kind and even if they don't want to learn the Gospel, will offer food and water. (Ben)
Chileans are a vibrant, fun-loving and generous people. They are also generally respectful even if they have no desire whatsoever to listen to the missionaries. Embrace the differences in the culture, and love the people. (Jake)
Any packing/clothing advice?
Good clothes for rain in the winter, maybe some waterproof shoes/boots. Extra socks! (Ben)
What blessings did you receive from serving a mission?
I learned to love people more sincerely, and see them as God's children. I gained a great testimony of the Christ's Atonement and the Gospel and a deeper understanding of its laws. I learned how to find answers, receive revelation and trust in prayer and humble obedience. All of which apply to after mission life and lead to success. I was also blessed with great friendships and confidence that with God I can do all things in life and in every part of life. (Ben)
The greatest blessing I've received was a strengthened testimony, and relationships with people that otherwise I would have never met. (Jake)
What are some skills you gained?
I learned how to study and understand the scriptures. I learned how to pray more sincerely. I learned how to teach to people with the Spirit and testify with sincerity and power. I learned how to listen to the Spirit. I learned how to start conversations and talk to people about what they like. I learned how to make friends and serve in simple ways. I learned how to speak Spanish. I learned how to cook a little bit better. (Ben)
Aside from learning Spanish (Castellano), I learned a tremendous amount about teaching, leadership, goal setting, discipline, and planning. I also became a much better soccer player, and more importantly I developed a stronger testimony of my Savior. (Jake)
What do you wish you knew/did at the beginning of your mission?
I wish I would have been more focused on helping people reach a true conversion as my biggest goal and focus, in every conversation and lesson. I think that is accomplished by first doing everything you can do to obedient, faithful and diligent so that you as a missionary are converted. Then, pointing people towards Christ in whatever way they will understand it best so that they have spiritual experiences on their own. Even just teaching people how to sincerely pray and search for answers from God will start them on the conversion process. (Ben)
I wish I understood better the interplay between the agency and our work as missionaries. (Jake)
Any advice/testimony for pre-missionaries going to Rancagua?
Do not doubt in the importance and power of the Spirit. If you work obediently and diligently every day to serve others and keep the mission guidelines, then you have the Spirit and then everything you do will bless the lives of other people, even if you cannot see the fruits of your work. If you work to have the Spirit with you, there will be thousands of fruits from your efforts. God will make things happen and you will be happy and at peace. (Ben)
Live in a way that you can bear testimony of each of the principles/commandments you will teach. Learn to cook simple meals and take care of yourself. (Jake)
Recuerden de quien es el tiempo en la misión… de ustedes o del Señor??? (Wilker)
What was a funny language mistake?
My first week in the mission field, we went to meet the bishop of my ward to tell him about a new young single adult center (centro para jovenes adultos solteros). Even though I was consciously trying not to, I mixed up the word for "adults" and "adulterers" (adulteros), so I ended up telling my bishop that there would be a new center for young single adulterers 🙂 (Jake)