Here are free resources about the Chile Antofagasta Mission:
Aquí están algunos recursos gratuitos sobre la Misión Chile Antofagasta:
*Other Mission Pages: Chile LDS Missions.
---
---
Chile Antofagasta Mission Address
Here's a recent address for the Chile Antofagasta Mission. We try to keep this info up to date, but it's a good idea to check the address with several sources, including your mission packet or the mission office.
Chile Antofagasta Mission
Casilla de Correo 70
1240000 Antofagasta
Antofagasta
Chile
Phone Number:
 56-55-2-222-841
Mission President:
 President David Ferreira
Chile Antofagasta Mission Map
Here's a link to the mission map for the Chile Antofagasta Mission (LDS). To access the official, up-to-date LDS.org map for the Antofagasta Mission:
Log into your LDS account here.
Click here.
Chile Antofagasta Missionary Blogs
Here's a list of LDS missionary blogs for the Chile Antofagasta Mission. This list includes the missionary's name, URL and when their blog was updated.
*Send your missionary a gift (mission-specific shirts, ties, Christmas stockings/ornaments, pillowcases, etc.)
Chile Antofagasta Mission Groups
Here are Chile Antofagasta Mission Groups- for LDS missionary moms, returned missionaries, mission presidents and other alumni of the Antofagasta Mission.
Chile Antofagasta Mission T-Shirts
Here are T-shirts for the Chile Antofagasta Mission!
Shirt designs include Chile Antofagasta Mission logo/emblem shirts and Called to Serve shirts. The shirts make great gifts for pre-missionaries, returned missionaries and missionaries currently serving. LDS Mission shirts come in all sizes: Small, Medium, Large, Extra Large, up to 4XL.  The mission designs are printed on white shirts and are shipped to you.
*Simply click on a shirt design to view the details and submit an order. The designs on mission t-shirts may also be printed on other LDS mission gifts, including: Chile Antofagasta missionary aprons, Christmas stockings, ties, pillow cases, teddy bears and Christmas ornaments.
*Click here to browse Antofagasta Mission gifts
---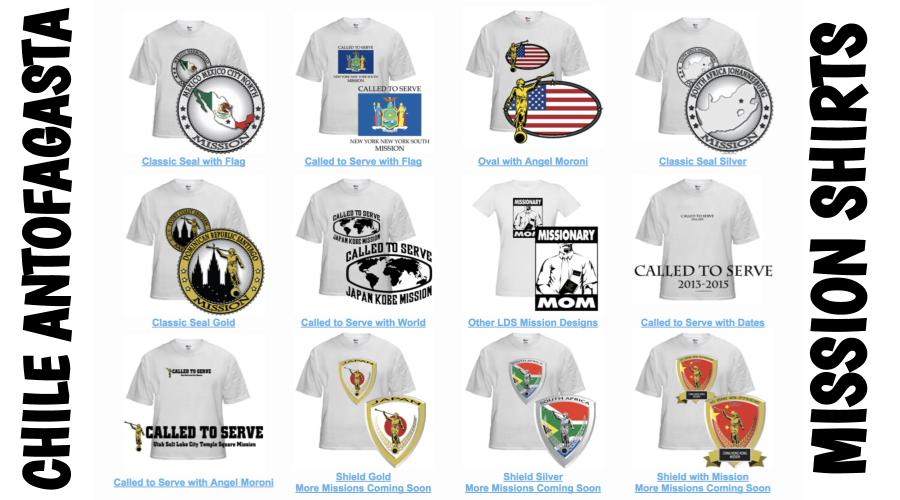 ---
Fun fact: Brad Wilcox served a mission in Chile!
Chile Antofagasta Mission Presidents
Here's a list of current and past Mission Presidents of the Antofagasta LDS Mission.
2016-2019, David Ferreira
2013-2016, Craig Lee Dalton
2010-2013, Leland Egan Bruce Jr.
2007-2010, Juan A. Urra
2004-2007, Francis C. Alder
2001-2004, Daniel Call
1998-2001, H. Arnold Wagner
1998-1998, Latimer
1997-1998, Ferguson
1994-1997, Spencer V. Jones
1991-1994, Emilio Diaz
1988-1991, Carlos Ramon Espínola
1931-1988, Other Mission
Chile LDS Statistics (2015)
Church Membership: 579,235
Missions: 10
Temples: 1
Congregations: 604
Family History Centers: 99
Helpful Articles about Chile
Chile Antofagasta Missionary Survey
Here are survey responses from Chile Antofagasta RMs, to give you a snapshot into what it's like to live in the mission.
*Click here to take a survey to help pre-missionaries going to your mission.
When did you serve?
1998-2000 (Pablo)
1995-1997 (Robert)
February 1991-February 1993 (Marcelo)
1990-1992 (Connie)
1990-1991 (Carmen)
1989-1990 (Melissa)
What areas did you serve in?
Arica. Iquique. Antofagasta. Tal tal. Calama. Huasco. Pozo Almonte. (Pablo)
Arica (first and last area), El Salvador, Calama, Antofagasta, Iquique, Copiapó. (Robert)
Vallenar, Paso de los Libres, Arica, Antofagasta, Copiapó. (Marcelo)
Antofagasta, Arica, Vallanar, and Iquique. (Connie)
Antofagasta, Iquique, Vallenar. (Carmen)
Antofagasta, Calama, Arica. (Melissa)
What were some favorite foods?
Salads. (Pablo)
Empanadas, cazuela, dulce de mil hojas, manjar. (Robert)
Papas a la Guaicaina. (Marcelo)
I absolutely LOVED the empanadas! They were the best. I also liked the mango flavored ice-cream. I liked their completos (hot dogs) and the french fries they sold on the streets (the mayonnaise sauce was awesome). I loved the fresh bread and rolls (especially the wonderful smells every afternoon as the bakeries made them!). I tried bread pudding for the first time in Chile and it was amazing! (Connie)
Porotos, mangos, cazuela. (Carmen)
Manjar, enselada chilena, pollo spiedo. (Melissa)
What was a funny experience?
Bike ride on the sea side on preparation day. (Pablo)
I was celebrating transfers (my first after my 3 month training concluded in Arica) with my zone at a small restaurant called "El Sabrosón". It was like a Chilean version of any of the best greasy burger dives you can think of in the States. Apparently it had been closed once or twice (or more) for being dirty. Unsubstantiated rumor. Food was GREAT. Next day I'm on a bus from Arica to El Salvador, Chile. That transfer took about 18 hours total travel time. Well, whatever I ate (mixed with my anxieties and stress) gave me the worst case of diarrhea I'd had to that point in my life. (I had worse later on.) Thank Heaven Elder Cowdery (transferring home and finishing as an Assistant to the President) had a backpack full of toilet paper AND the bus had a small airliner-style bathroom in the back. Cowdery was a man's man, a little older and more experienced than the rest of us (thank goodness). OH…MY…GOSH! What a LOOOOONG transfer bus ride THAT was! It wasn't funny then but I laugh about it still…and it's been over 20 years. (Robert)
Bromas a otros misioneros, por el idioma principlmente. (Marcelo)
When the new missionaries would come into the mission field, the more seasoned missionaries would "initiate" them. An elder would initiate a sister and a sister would initiate an elder. The new missionary would stand against a wall. The seasoned missionary would stand in front of them and ask what their legs were used for. Of course, the new missionary would say things like walking to appointments and finding investigators. Then the seasoned missionary would say, "How about for dancing?" The seasoned missionary would then move their feet a little closer to the new missionary. The seasoned missionary would then ask, "What do you use your arms for?" After responding with missionary appropriate answers, the seasoned missionary would say, "How about for hugging?" The seasoned missionary would then put their hands on the wall on either side of the new missionary. By this time, the new missionary would be getting a little nervous. The seasoned missionary would then ask, "What do you use your lips for?" After some more missionary appropriate answers from the new missionary, the seasoned missionary would lean in a little closer, say, "How about for kissing?" and then rub their finger up and down on their lips and say, "BBBbbbbbbb"! It was fun to watch the expressions on the new missionaries faces as they thought they were going to get kissed! (Connie)
Que mi entrenadora confundiera ola de mar con terremoto, por como movio la capilla. (Carmen)
What was a crazy experience?
A lot of incidents with outrageous dogs and funny drunk people. There are some hills and dangerous places by the sea side. Quakes and the constant hazard of tsunamis. (Pablo)
The craziest experience I had was ending up in the hospital in (I believe) Antofagasta. I was on a split/exchange and my neck started to hurt and got progressively stiffer and more painful throughout the day. That night I never slept and paced all night outside our house trying to alleviate the pressure I felt in my neck. My companion was freaked out that I didn't wake him when I told him I didn't want to bother him while he slept. I was brought to some sort of hospital or international clinic where the doctors/nurses performed and emergency spinal tap to rule out or discover cerebral or spinal meningitis. Holy uncomfortable! I was given diazepam (valium) to relax. I have no memory of an entire week. Diagnosis: acute articulitis (???) My folks got a bill right around Christmas. (Robert)
Un intento de asalto, donde uno de los asaltantes impidió que el otro lo haga. (Marcelo)
My companion and I were teaching a young man who said he would go to church with us if we went to church with him. We figured "Why not?" So we went to church with him. I don't even remember what religion it was but they had a live band. The people would sing out loud with the band and shout "Hallelujah!" and other praises. People would stand and start shouting praises whenever they "felt" the urge to do so. My companion and I could feel the most evil spirit in that meeting. We told the investigator that something had come up and we couldn't stay. The evil feeling was so strong and we couldn't get out of there fast enough! (Connie)
La lluvia y posterior aluvion. (Carmen)
We hitchhiked all the time. Probably not very smart. (Melissa)
What was a spiritual experience?
Well. Some investigators had dreams with Jesus and Angels testifying about the truth. (Pablo)
Muchas, pero una en particular una Conferencia de zona con Elder Jacob De Yager y con Elder Scott en CCM. (Marcelo)
We lived in a room above the home of a family. One night the mother and daughter were fighting and it turned physical. There was such an evil feeling and my companion and I took turns saying prayers. My companion went to sleep but I could not get to sleep. I saw Satan standing outside our bedroom door. I prayed with all my heart, might, mind and strength to be safe. All of the sudden, I felt an overwhelming sense of peace and I could see two angels dressed with swords and shields standing outside our bedroom door, guarding us and keeping us safe. I was finally able to go to sleep. (Connie)
Los bautismos. (Carmen)
What are some interesting facts about the Antofagasta Mission?
The water is horrible. Drink only bottled water unless you want an epic diarrhea. All this is because of the minerals in the water. (Pablo)
The Atacama region within the Misión Chile Antofagasta is home to petroglyphs and mummified remains of ancient people older than those found in Egypt. The Atacama region has the least annual precipitation than any other region in the world. (Robert)
Cuando se me asignó y supe que era el Desierto de Atacama, me preocupe por problemas que tenía en la piel por exceso de sol, pero estando ahí nunca tuve inconvenientes. (Marcelo)
You can pretty much see the ocean from wherever you are. I loved being close to the ocean. There are also big bushes with flowers everywhere that are so beautiful. The taxi drivers and buses are crazy so hang on tight when you take public transportation! (Connie)
La calides de las personas en el norte de Chile. (Carmen)
Warm mostly, but it gets very cold in the high elevations. (Melissa)
What was the weather like?
Desert. But depends on the city, the coast cities are cold in the morning and hot and wet in the afternoon. The cities in the altiplano (high lands) are cold in the morning, very warm mid day and freezing in the night. It's dry so you must carry a chapstick to protect your lips. (Pablo)
Super dry! In the high altitude plains (altiplano) the dust (polvillo) is so fine it resembles moon dust…finer than talc powder. Coastal cities off the altiplano can be extremely humid (ie Iquique). In the altiplano, the air is so dry that it changes temperature drastically and rapidly with sunup and sundown…creating terrific (and dust-filled) winds. (Robert)
Mucho calor, sobre todo en Pedro de Valdivia, un pueblito en medio del desierto de Atacama. (Marcelo)
The weather was pretty nice year round. In the winter, you only needed to wear a sweater. It was a little bit humid. (Connie)
Bueno, calido. (Carmen)
Any things you really like about the area/people?
The first contact is hard. In the North people are uneasy to feel trust when they don't know you, but then, after a couple of visits you will be part of the family. (Pablo)
The people are warm. Even poor, they would give you the shirt off their backs to make you feel welcome. The landscape and climate are so extreme in places that you can't help having it rub off on you. It forces you to really wonder how people survived in early ages there. (Robert)
Gente muy receptiva a los mensajes, sentía que los misioneros eramos muy respetados por miembros y no miembros. (Marcelo)
The people were amazing. I love them so much. So humble and caring and giving. Mostly everyone we met was nice to us. The people are very loving and those with little are so willing to share. Very friendly and wonderful people. (Connie)
Lo amorosas y serviciales que son. (Carmen)
Any packing/clothing advice?
A long coat, sunglasses and a hat. Sunblock. (Pablo)
Light colored clothes for general missionary work….khakis, short-sleeved shirts, lots of sunblock. Elders will need a nice suit for zone conferences and church, but that's it. I served 20 years ago so things may be different now. (Robert)
Camisas mangas cortas. (Marcelo)
It's been a little over 25 years since I went so I don't know if this is still the case, but customs would check your luggage at every city. When packing be as organized as you can so the officials can just look at your belongings and not have to shuffle through them. (Connie)
Llevar poca ropa y liviana, en el norte se seca rapido el lavado. (Carmen)
You can purchase things in Chile; no need to over pack. Buy sunscreen and moisturizer; even the elders would benefit because it is really dry and sunny. (Melissa)
What blessings did you receive from serving a mission?
All the promised, prosperity and the Holy Ghost guiding always. (Pablo)
I was loved by and learned to love a people that will always hold a special place in my heart. I learned more in two years about the organization of the church and its history than I had before or have since. I learned that "perfect" is the goal and "I'm trying to do my best" is the daily reality. (Robert)
Durante la misión me di cuenta de lo que podía llegr a hacer y lograr, aún como padre y lider uso las experiencias de mi Misión. (Marcelo)
I was very shy before my mission. I am now more outgoing and I love to meet and talk to people. I have a greater testimony of the gospel that I have been able to share with my children as they grow. I still keep in contact with people from my mission – I have many wonderful friendships and memories. (Connie)
Se afianzó mi testimonio. (Carmen)
What are some skills you gained?
Bilingual, English, leader capabilities. (Pablo)
Wonderful Spanish skills. Talking to people without too much anxiety. (Robert)
Comunicación con otras personas y trabajo en equipo. (Marcelo)
I learned to be more organized and set goals. I learned to build relationships of trust and to communicate better. I learned to be a "people person". (Connie)
El conversar más, socializar mas. Hasta hoy uso modelo de compromiso, se hizo parte de mi. (Carmen)
I learned how to knit. (Melissa)
What do you wish you knew/did at the beginning of your mission?
How dry the North is. (Pablo)
I wish I hadn't wasted so much time fearing the appearance of foolishness while learning; it's gonna happen so get used to it. LOL. I would have learned my learning style a LOT sooner and used my study time more effectively. (Robert)
Servir en lo que se me pidiera y compartir el evangelio con todas las personas que pudiera. (Marcelo)
I wish I would not have been so scared. Everything works out and the Lord is always with you. I should have had a little more faith and relied on the Lord a little bit more. (Connie)
Haber conocido el Modelo de Compromiso. (Carmen)
Any advice/testimony for pre-missionaries going to Antofagasta?
Forget about yourself, work hard, two years is nothing. (Pablo)
Accept the call from The Lord's servant and dive in. Don't succumb to fear. Don't deny yourself the experience of admitting that you are feeling fear…just don't succumb to it. The Lord called you; He will qualify you if you let Him. (Robert)
Es un lugar maravilloso, no se pierde tiempo por lluvia ni por frio, y la gente el maravillosa, para mi es el lugar ideal para servir. (Marcelo)
Going on a mission is like being dropped in the middle of a giant rose bush. All through your mission, you are fighting your way through the thorns. But when you look back, all you see are the roses! Going on a mission was such an amazing experience! I wouldn't trade it for anything in the whole world. Yes, it is hard but it is definitely worth it! You will grow so much and touch the lives of more people than you will ever realize. The Lord will be with you every step of the way! (Connie)
Sean obedientes, veran milagros. (Carmen)
What was a funny language mistake?
Sure, my North American companions should know that embarrassing means pregnant and preservative means condom. (Pablo)
No tuve, hablaba algo de inglés. (Marcelo)
In my first area, the grandmother that we lived with asked me to guess what we were having for lunch. I guessed fish (pescado), but I said pecado, which means sins! The grandmother laughed and laughed! (Connie)
No recuerdo nada. (Carmen)