Here are free resources about the Cape Verde Praia Mission:
---
---
Cape Verde Praia Mission Address
Here's a recent address for the Cape Verde Praia Mission. We try to keep this info up to date, but it's a good idea to check the address with several sources, including your mission packet or the mission office.
Cape Verde Mission
Rua Povoação Velha #17
Palmarejo
420 Praia
São Tiago
Cape Verde
Phone Number:
 238-262-9403
Mission President:
 President Robert Paul Mathews
Cape Verde Praia Mission Map
Here's a link to the mission map for the Cape Verde Praia Mission (LDS). To access the official, up-to-date LDS.org map for the Praia Mission:
Log into your LDS account here.
Click here.
Cape Verde Praia Missionary Blogs
Here's a list of LDS missionary blogs for the Cape Verde Praia Mission. This list includes the missionary's name, URL and when their blog was updated.
*Send your missionary a gift (mission-specific shirts, ties, Christmas stockings/ornaments, pillowcases, etc.)
Cape Verde Praia Mission Groups
Here are Cape Verde Praia Mission Groups- for LDS missionary moms, returned missionaries, mission presidents and other alumni of the Praia Mission.
Cape Verde Praia Mission Moms and Friends Group (67 members)
Cape Verde Praia Mission Facebook Group (1 member)
Cape Verde Praia Mission T-Shirts
Here are T-shirts for the Cape Verde Praia Mission!
Shirt designs include Cape Verde Praia Mission logo/emblem shirts and Called to Serve shirts. The shirts make great gifts for pre-missionaries, returned missionaries and missionaries currently serving. LDS Mission shirts come in all sizes: Small, Medium, Large, Extra Large, up to 4XL.  The mission designs are printed on white shirts and are shipped to you.
*Simply click on a shirt design to view the details and submit an order. The designs on mission t-shirts may also be printed on other LDS mission gifts, including: Cape Verde Praia missionary aprons, Christmas stockings, ties, pillow cases, teddy bears and Christmas ornaments.
*Click here to browse Cape Verde Mission gifts
---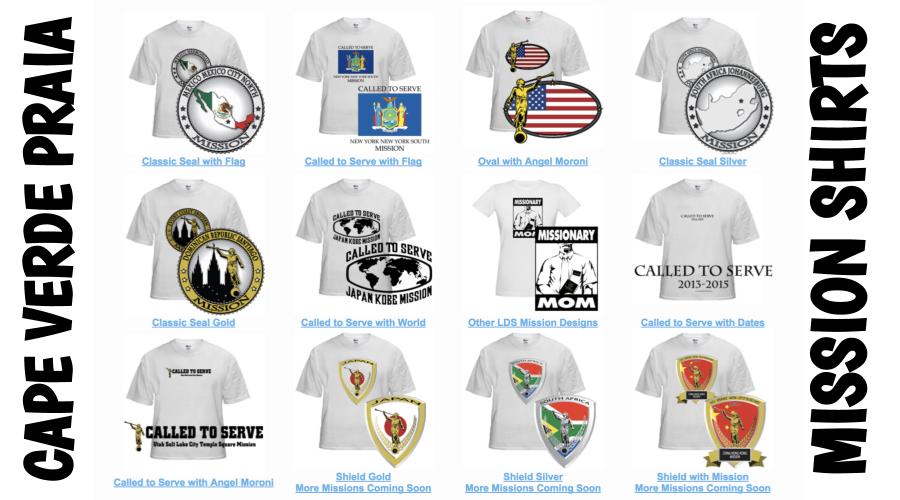 ---
Cape Verde Praia Mission Presidents
Here's a list of current and past Mission Presidents of the Cape Verde Praia LDS Mission.
2017-2020, Julio de Amo
2014-2017, Robert Paul Mathews
2011-2014, Roberto Florencio de Oliveira
2009-2011, Joselito Neves
2006-2009, Ronald C. Tolman
2004-2006, Romeo A. Piros
2002-2004, Daryl Hobson
Cape Verde LDS Statistics (2015)
Church Membership: 11,898
Missions: 1
Temples: 0
Congregations: 36
Family History Centers: 2
Helpful Articles about Cape Verde
Cape Verde Praia Missionary Survey
Here are survey responses from Cape Verde Praia RMs, to give you a snapshot into what it's like to live in the mission.
*Click here to take a survey to help pre-missionaries going to your mission.
When did you serve?
2013-2015 (Jared)
2012-2014 (Daniel)
2013-2014 (Connor)
2002-2003 (December)
What cities/areas did you serve in?
Cova Figueira- Fogo, Ribeira Grande-Santo Antao, Ponta de Agua-Praia-Santiago, Riberao Manuel and Cabeca Carreira-Santiago, Santa Maria-Sal, Ribeira Brava-Sao Nicolau, Campinho-Mindelo-Sao Vicente. (Jared)
São Filipe, Cova Figueria, Tarrafal, Mindelo/Fernando Pó, Corvo/Achada Grande, Misteiros. (Connor)
What were some favorite foods?
Cachupa! Mangos Kamoka. (Jared)
Cachupa! It's like stewed corn, beans, and meat. Love it! Also fried fish and beans. The Fanta soda there is so good. Also you need to get some fresh sugar cane from someone and if possible you should try breadfruit (fruto de pao). Try Kamoka. It's like ground up corn. You mix it with milk, sugar, and cinnamon. It was a favorite of all the Elders. (Daniel)
Cachupa, Beans and Rice, Fried fish, Eel. (Connor)
Coconut rolls from the bakery in Sao Felipe Fogo. Feijoada, a dish that is probably like a gumbo from the South in the US. (December)
What was a funny experience?
I sat on a goat (in the most ghetto vehicle I have ever been in) as we drove down the side of a volcano on broken roads inches away from huge drops to death. (Jared)
One time I got chased down the street by a crazy dude that drank half of my Pepsi. We hid out for awhile in some investigator's house and after a few hours, they walked us home because it was getting late. (Daniel)
When I got one of my new missionaries, I convinced him that I was a native Portuguese that didn't understand English. Long story short, it terrified him! (Connor)
What was a crazy experience?
One time, we were walking home in a pretty well lit area that got a decent amount of traffic and we were approached by two kids in their 20's, one of which had a concealed knife. (This was the only time this happened to me the whole mission, and we usually walked home from places that didn't have any light at all) The one without the knife approached us and asked why we were walking around on their turf, and we told him we love it here and were there to teach people about Jesus. As soon as we mentioned Jesus, the kid with the knife backed off completely and we proceeded to make friends with the other and gave him a pamphlet about the Plan of Salvation. (Jared)
One time in Boa Vista, a guy got shot and then the whole town rioted. Also in Praia, there was a shootout down the road from our house after we got home. (Daniel)
I ate blow fish… But have learned since that those are super dangerous…. Oh, and I was in the area closest to the volcano when it erupted. (Connor)
My companion and I were talking with a member and her boyfriend came up and punched her, and my companion physically separated him from her and restrained him. (December)
What was a spiritual experience?
One transfer my companion and I tested the power of fasting and we fasted at least once a week. During that transfer, it seemed like everything we did was a miracle. We found a lot of investigators and many people got baptized. This transfer was the spiritual peak of my life. (Daniel)
Haha. Well, the entire experience was a spiritual experience. Anyone's conversion is the biggest miracle ever. (Connor)
There was a fireside where music was performed by various people. A group of about six to ten children sang "I'm trying to be like Jesus". It was POWERFUL. The spirit was so strong. (December)
What are some interesting facts about the Praia Mission?
The people grew up speaking Creole, but pretty much all understand Portuguese. The Creole will vary pretty drastically from island to island and place to place. You will have a lot of people that are illiterate. If you really master Portuguese first, Creole will be pretty easy to learn, but don't waste time trying to learn it, especially at the beginning of your mission. (Jared)
It's a desert…there are giant centipedes and lots of dogs. The people are incredibly friendly. There are like no diseases like malaria. You walk or bus everywhere but it's really small so it doesn't take you too long. They speak Portuguese that's similar to that which is spoken in Portugal. However, most people actually speak a thing called Creole, which is like a mix of Portuguese and several African dialects. (Daniel)
It's ten African islands. Nuff said. Super tight! (Connor)
Water is not guaranteed in your apartment. Or wasn't when I was serving. A water truck would go around and fill water tanks on the roofs, if they ran out of water before your building, you didn't get water. We learned how to shower with two 2-liter bottles of water. That made sure that you would at least get some kind of shower. Also you ONLY drink bottled water. (December)
What was the weather like?
Pretty much beautiful all year round. Depends on where you are though. Some places get lots of sun and can get pretty hot, while others have lots of wind. (Jared)
Hot and humid, but not too bad. It averages around 70 degrees. Some areas are very windy and kind of cold. In the summer, most places will seem way too hot. (Daniel)
Warm all the time. Once it was cold enough that I thought about wearing a sweater. I didn't though. (Connor)
Hot and hot and hot. (December)
Any things you really like about the area/people?
The people are amazing. So open. (Jared)
I liked the food and I really liked street contacting because everyone was so interesting. If someone is sitting on the side of the road (everyone sits on the side of the road), you can just sit next to them and there is no way for them to escape haha. Fun times. (Daniel)
The people are so humble and so friendly!! (Connor)
Any packing/clothing advice?
Don't take what you don't need, and get a light suit case. You can't leave stuff in the mission office. Transfers are difficult with a weight limit if you are flying which happens frequently. (Jared)
Bring extra garments. No one uses the rain jacket because it rains for like two weeks and that's it, and it's very sporadic. Don't bring the gospel library because there are a million copies of it in every missionary house and it just weighs you down. Bring some sturdy shoes…the streets are made of rough cobblestone and they will destroy your shoes. Learn to sew. (Daniel)
Lots of short sleeved shirts for Elders. Also, don't go cheap on the shoes. Get durable ones. They have guys who can repair shoes for cheap, but any shoes you buy there will be very low quality. (Connor)
Loose skirt, as the terrain is hilly and straight skirts make ascending the hills hard. Lightweight sandals because you walk a lot and heavy ones are tiring. (December)
What blessings did you receive from serving a mission?
I came to know my Savior so much better and made some of the greatest and most inspiring friendships of my life. (Jared)
Most of them will probably be manifested in the future, and as I get older and have a family or something. However, I think the greatest blessing was my testimony. (Daniel)
Haha! Where to begin? (Connor)
What are some skills you gained?
Running from crazy people (see above), scripture study skills, enduring long church meetings, surviving without water for a few weeks, eating a lot of rice. (Daniel)
Confidence in talking to people, work ethic, study habits, etc. (Connor)
What do you wish you knew/did at the beginning of your mission?
I wish I knew that it was a desert and not a tropical paradise like the tourism websites made me believe. (That's all that was posted when I went on my mission.) It is pretty, but in it's own rugged way. Also, there are beautiful green spaces and beaches, but you won't be around those much. (Daniel)
Wish I'd read ALL of preach my gospel beforehand. (Connor)
Any advice/testimony for pre-missionaries going to Cape Verde?
No matter how hard it gets, it's completely worth it. (Daniel)
You're going to love it so much! You'll get out of it what you put into it, so work hard every day so you don't have any regrets. 🙂 keep the rules!! (Connor)
What was a funny language mistake?
The word for stew is estufado and the word for coach stuffing is estofado. I didn't know this. My companion was Brazilian. We had eaten lunch at a restaurant where we had delicious stew. We had also gone contacting earlier in the week and met a guy that was making a couch. My companion asked "hey, do you want to try to talk to the guy that was doing the estofado?" and I was like " the guy at the restaurant? With the estufado?" and I was super confused. It took him like 5 minutes to stop laughing explain what he was talking about. (Daniel)