Here are free resources about the Canada Vancouver Mission:
*Other Mission Pages: Canada LDS Missions.
---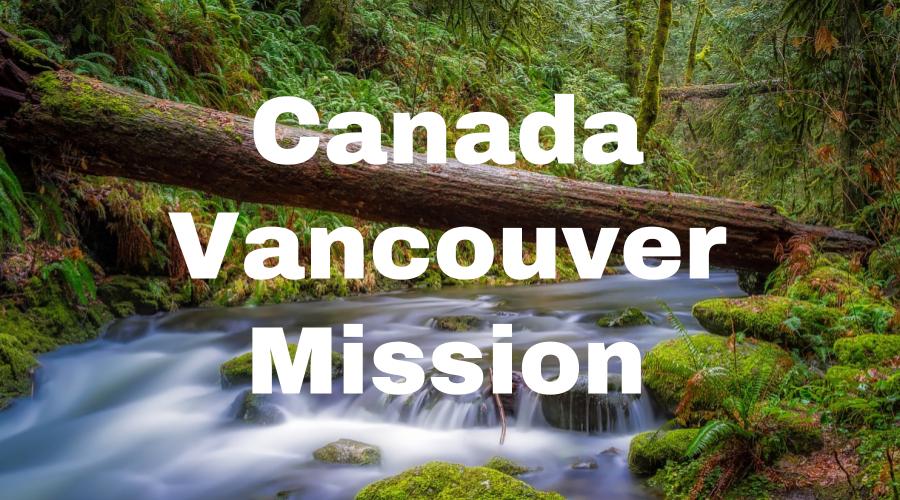 ---
Canada Vancouver Mission Address
Here's a recent address for the Canada Vancouver Mission. We try to keep this info up to date, but it's a good idea to check the address with several sources, including your mission packet or the mission office.
Canada Vancouver Mission
8440 Williams Rd
Richmond, BC V7A 1G6
Canada
Phone Number: 1-604-271-3585
Mission President: President Chi Hong (Sam) Wong
Canada Vancouver Mission Map
Here's a link to the mission map for the Canada Vancouver Mission (LDS). To access the official, up-to-date LDS.org map for the Vancouver Mission:
Log into your LDS account here.
Click here.
Canada Vancouver Missionary Blogs
Here's a list of LDS missionary blogs for the Canada Vancouver Mission. This list includes the missionary's name, URL and when their blog was updated.
*Send your missionary a gift (mission-specific shirts, ties, Christmas stockings/ornaments, pillowcases, etc.)
Canada Vancouver Mission Groups
Here are Canada Vancouver Mission Groups- for LDS missionary moms, returned missionaries, mission presidents and other alumni of the Vancouver Mission.
Canada Vancouver Mission T-Shirts
Here are T-shirts for the Canada Vancouver Mission!
Shirt designs include Canada Vancouver Mission logo/emblem shirts and Called to Serve shirts. The shirts make great gifts for pre-missionaries, returned missionaries and missionaries currently serving. LDS Mission shirts come in all sizes: Small, Medium, Large, Extra Large, up to 4XL.  The mission designs are printed on white shirts and are shipped to you.
*Simply click on a shirt design to view the details and submit an order. The designs on mission t-shirts may also be printed on other LDS mission gifts, including: Canada Vancouver missionary aprons, Christmas stockings, ties, pillow cases, teddy bears and Christmas ornaments.
*Click here to browse Vancouver Mission gifts
---
---
Canada Vancouver Mission Presidents
Here's a list of current and past Mission Presidents of the Vancouver LDS Mission.
2017-2020, Chi Hong (Sam) Wong
2014-2017, Ronald P. Burt
2011-2014, Karl Michael Tilleman
2008-2011, Kent Kruger Nelson
2005-2008, Anthony Wayne Middleton Jr.
2002-2005, Steven H. Stewart
1999-2002, Robert P. Haight
1998-1999, Kenneth Young Knight
1995-1998, Sterling D. Colton
1992-1995, Heber B. Kapp
1989-1992, Robert W. Hill
1986-1989, Donald L. Hoskin
1983-1986, Ralph Pulman
1980-1983, John F. Taylor
1977-1980, Steven J. Scott
1974-1977, E. Bruce Preece
1972-1975, weston F. Killpack
1969-1972, Raymond Bowers
1966-1969, Arza Hinckley
1963-1966, Stewart A. Durrant
1960-1963, Milton L. Weilenmann
1958-1961, Parley A. Arave
1955-1958, Moroni Larsen
Canada LDS Statistics (2016)
Church Membership: 193,850
Missions: 7
Temples: 8
Congregations: 486
Family History Centers: 186
Helpful Articles about Canada
Canada Vancouver Missionary Survey
Here are survey responses from Canada Vancouver RMs, to give you a snapshot into what it's like to live in the mission.
*Click here to take a survey to help pre-missionaries going to your mission.
When did you serve?
2014-2015 (Alise)
2014 (Brooke)
2013-2015 (Emmaline)
2013-2015 (Christian)
2013-2015 (Alicia)
2013-2014 (Aldene)
2013-2014 (Rachel)
2002-2004 (Nathan)
2002-2004 (Jonathon)
2001-2003 (Kevin)
1998-2000 (Velda)
1998-1999 (John)
1996-1998 (Misa)
1994-1996 (Aaron)
1994-1996 (Scott)
What areas did you serve in?
Sooke and Delta. (Alise)
Richmond, Vanderhoof, Surrey, White Rock, Langley. (Brooke)
Vanderhoof, Abbotsford, Vancouver YSA, Victoria. (Emmaline)
West Vancouver, Port Coquitlam, Maple Ridge/Pitt Meadows, Surrey, Terrace, Kamloops. (Christian)
Vanderhoof, Kelowna, Maple Ridge, Deep Cove, Aldergrove. (Alicia)
We travelled all of Haida Gwaii (Skidegate, Masset, Tlell, Queen Charlotte, etc.). (Aldene)
Vernon, Kamloops, Victoria YSA, Langley YSA, Willoughby, Victoria. (Rachel)
Surrey (Whalley), Duncan, Westbank, Kamloops, and Nanaimo. (Nathan)
Campbell River, Kelowna, Abbotsford, Vancouver, Vernon. (Jonathon)
Served in Vancouver, Canada (British Columbia) in Nanaimo. (Velda)
Victoria, Burnaby, Surey, Parksville, Williams Lake, Duncan. (John)
Port CoQuitlam, Nanaimo, White Rock, and Victoria. (Misa)
Parksville, Naniamo, Vernon, Kelowna, Prince George, Quesnel, Burnaby, and Vancouver downtown. (Aaron)
Vancouver, Kelowna, Surrey, Courtenay. (Scott)
What were some favorite foods?
Fish, curry, burgers, chicken. (Alise)
Potine. (Brooke)
Poutine, Tim Hortons. (Emmaline)
Poutine. It's Canada's only trademark dish. But man, it's good. Super unhealthy, but delicious. (Christian)
Poutine, bubble tea, sushi, maple cookies. (Alicia)
Fresh prawns, crab, clams, clam chowder, macaroni and cheese, pickled sea asparagus, fresh berries, the sweets people dropped off. Haida Gwaii has marvelous fish especially salmon and halibut. People generously shared food with us! (Aldene)
Poutine! We didn't eat with members often though..so I don't know many other cultural foods. (Rachel)
Nanaimo bars, pan de sal (Filipino sweet bread), Sikh food (dal, roti, jalebi), and traditional British foods like Yorkshire puddings or lamb with mint jelly. (Nathan)
Nanaimo bars, bear, moose, cougar, salmon. (Jonathon)
The Korean food. (Kevin)
As senior sisters, we mostly cooked ourselves, but we had some very good cultural foods when we were invited to members. We enjoyed the fish, mostly salmon in Nanaimo. (Velda)
Ate lots of meat and potato dishes, but I enjoyed the pizza by the slice places in the cities. Also, the fresh Salmon (when prepared properly) was excellent. But Canada introduced me to perogies (sp?) and the Wonder Bar. (John)
Indian cuisine, Tongan, Chinese, kimchi, curried chicken and potatoes. (Misa)
Burgers, pizza, but some Canadian favorites I learned to enjoy: Poutain– which is fries covered in brown gravy. Also, they have at LEAST 50 flavors of potato chips in Canada. USA has maybe 20. (Aaron)
Pizza and ramen. (Scott)
What was a funny experience?
I tripped off a curb after saying hello to someone. (Brooke)
Knocking on a door and their dog bolted out the door. We chased the dog until we were up to our hips in snow. The dog owner was baptized 2 years later. (Emmaline)
My husband accusing me of losing his set of keys then finding them in his baptismal pants when I washed them three days later. Not knowing how to prepare prawns the first time and after working for an hour trying to get the shells off we had very little to cook – next time just laid them on the baking sheet and broiled for < 10 minutes – the shells popped off and we ate them right off the broiler pan. Baptizing in the ocean. Watching the Elder raise his hand to the square and step back right off the ledge and drop up to his neck. (Aldene)
One time, I was out finding people to teach and my companion slipped on the ice. Not only did she fall, but somehow she bounced from her backside to her front side. I peed my pants from laughing so hard right in the snow. We had to go home. (Rachel)
Door after door tracting when the Canucks were in the Stanley Cup. "Sorry, the game's on" was almost like clockwork right after the door would open. (Nathan)
Getting flipped off was always fun. (Jonathon)
Watching snow fall into the ocean. Usually, snow is expected 7,000-8,000 feet up in the mountains. But it snows right on the beach in Canada. (Aaron)
We met an old farmer in Port Coquitlam. As we told him about what we do and teach people and after each sentence he would say "holy crow eh!" (Misa)
Someone opens a door and their dogs came out and they say come in you two and I thought they were talking to me and my companion. They weren't. It was funny. (Kevin)
My companion and I (actually I was on splits) were locked in a Prison for about 4 hours. We were there to do service (play basketball with the inmates) and they took us up to the gym and left to go get the kids. Something happened (fight or something) and the prison went on lock down. 4 hours, a few thousand free throws later, we busted down a door to an office and called down to the control tower. (John)
Getting run over and breaking my foot in 4 places. (Scott)
What was a crazy experience?
I was chased by a random guy, and almost bit by a dog. (Brooke)
Angry moose, RUN! (Emmaline)
We were at a public library waiting to have a lesson, but the potential investigator stood us up. My companion needed to use the washroom, and so did I. While in my stall, a blonde, long-haired man wearing ghetto clothes (and some studly blue shades) turned to my companion who was washing his hands and asked after a prolonged stare, "So, preaching the word today, are we?" After confirming his assumption, my comp began talking with him about our message. I also spoke with him once I was finished and we had a decent 10 minute discussion about the Restoration. We got his phone number and set a time to meet in a couple of days. All we needed was a prayer! But we were in a restroom. We both knew that it would be interesting for others to see. We went ahead with it anyway, with my comp asking him, "Is it alright if we pray with you?" The man immediately agreed, dropping to his knees. We were just going to stand, but we hesitantly knelt as well. Before we could do anything, he said, "I'll say it", and proceeded with the longest, weirdest, silliest and sincere prayer I've ever heard a non-member say. His starting sentence, "Lord, I would like to start with forgiveness, for I am a lustful man…" and completely disclosed many of his thoughts and desires for women he had only seen in public places, yet never met personally. He then moved on to asking for the health of his family, his dog, his cat, his doctor, his doctor's mother, and anyone else he could think of. This while cracking jokes about them and laughing to himself. We knew the inevitable was going to happen soon. Halfway through the prayer, someone opened the washroom door. We could hear the footsteps about to enter the stall area. I thought to myself, "Here. We. Go." I could tell my companion was laughing silently, and though I couldn't see his head buried in his arms, his body was bouncing slightly. The footsteps came closer and closer. Once I knew the person could see us, they stopped. I peeked up at their legs (I could only see as high as their knees without them knowing I was watching them). Those feet didn't move an inch for what seemed like several seconds. Then, ever so slowly, they backed out, retracing their steps as quietly as possible. The faint sound of the door being closed was audible. It was at this moment that I knew I had a great one for the books. (Christian)
I had some German Shepherds sicked on me a couple times… That was terrifying. (Alicia)
My husband outside the car taking pictures of the huge ocean waves in the storm. He got back in after my insisting and then just after the ocean surge covered the car (with us in it). People trying to break into the trailer at night while we were in it. Finding the lost sheep. Knocking on the door. The pit bull coming through the door and engulfing my husband's hand and wrist. But, a miracle he did not bite! (Aldene)
One time, I was finding investigators in Surrey central and I went to talk to a lady and she was really distracted. Finally, she told me someone was stalking her and asked me to help her. My companion went and called 911 but the stalker was not happy I was helping her and came and yelled at me. I thought we were going to die. But the police showed up quickly and he ran off. (Rachel)
Helping evacuees in Kamloops during the Barrierre fire in 2003. We would take the night shift directing traffic and moving supplies and bedding, etc. Staying up in service all night long was definitely not what I'd thought missionary service would be about. (Nathan)
Hearing shotguns when walking on to a weed crop/farm. (Jonathon)
Wrestling my companion. He got mad and cracked 2 of my ribs. Good times. (Aaron)
Didn't happen to me but Elders serving in Burnaby had a gun pointed at them. It was raining and no one had answered the door they were at so they decided to stand on the porch to get out of the rain for a minute. Well the front door opened and when the looked inside there was a guy with a shotgun pointed right at them. (John)
Getting run over and breaking my left foot in 4 places. (Scott)
What was a spiritual experience?
Baptism. (Brooke)
Knocking on doors and a man ends up talking to us eventually he points to the Book of Mormon in my hand and says "What is that book, I have read that book. I found it in an ally 20 years ago. It's the most true book I have ever read before!" Mind blown he was baptized 2 weeks later. (Emmaline)
A woman we had been teaching for a couple months was set to meet us at a member's home for dinner and a lesson. This lady had originally been tough to initially contact, but once we got in our first lesson, she was consistent with every lesson after that. We wanted to invite her to be baptized in 3 weeks the end of this lesson. But we also wanted our area to have a baptism at least once in the transfer before my companion went home, which was just over a week away. We had a powerful lesson about the Holy Ghost, and I bore my testimony of the truth of everything we had taught, especially the Book of Mormon. I was prompted then to tell her that I could sense she knew it was true as well. It was a bold move, one that I am glad I took. Once I said it, she immediately affirmed that I was right. We invited her to be baptized in 3 weeks. She declined. She was going to be out of town that weekend. Much to our surprise, she suggested that she be baptized the next Saturday, only two days before my companion was scheduled to return to the mission office in preparations for going home. It was an amazing baptism and conversion. Today she is a strong member of the church and plans to attend the temple soon. She later revealed that every lesson we were scheduled to teach her, she was going to let us go, thinking that she didn't need to learn about the church anymore, but every time we called to set up or confirm our plans, something would prompt her to just say okay. (Christian)
Hearing that a less active from a previous area got to baptize his wife was pretty incredible. (Alicia)
Doing several baptisms in the ocean and lake. Perhaps one of the most memorable was baptizing an eight year old in the ocean, the light broke through the clouds and shone on him and then community members on the beach walkway sang and drummed the Welcome and New Beginning Songs as we walked back in to shore. Being told we should stop at an Indian Gift Store in another community. Last stop for the day. I was admiring the items in the display case. The owner chatted with me. She was not a member of the Church. Then she reached under the counter and brought out a copy of the Book of Mormon saying – she had read all the way to the end of Helaman and asked when the wars would end. Later, the Elders and ourselves were able to teach her. (Aldene)
When Elder Christofferson came to our mission, it was the most powerful experience I had ever felt. The Spirit bore powerful testimony to all those who were prepared to feel it, of his discipleship. It wasn't anything he said specifically, but the Spirit alone. (Rachel)
We were teaching the non-member husband of a less-active member. He had struggled to quit smoking, but had stopped for a certain number of days when we taught him. As my companion and I both testified to him, he got very quiet, and I asked him what he was feeling. He described a feeling like he was being swallowed up in a wave, and his voice gave no sense of fear. We helped him to identify the Spirit bearing witness to him. It was a sense of love that I can never forget. (Nathan)
There were a lot and many of them were personal but I would say that either attending baptisms or having the opportunity to interview someone for baptism was some of the most spiritual experiences I had. I also had a number of personal experiences while studying. (John)
Prayed about which street to tract on. Got no's several times then both felt like we should go to a certain street. No one was home on the entire street but just as we were finishing, a man was walking on the sidewalk toward us. He had been baptized by his foster family when he was eight, but has never been to church since. We taught him and know we were led to find one of Gods lost sheep as he embraced the teachings of the gospel. (Misa)
Finding and teaching people. Watching them turn their life around. I am still friends with many of them. One is now a bishop and his wife a seminary teacher. (Aaron)
My first baptism. (Scott)
What are some interesting facts about the Vancouver Mission?
It's a beautiful place. (Brooke)
It's actually the promised land. (Emmaline)
Intersection lights are pedestrian controlled; if the intersection is used mostly in one direction, lights will blink green (to indicate controllage) for that direction until a pedestrian or car activates motion sensors. Bathrooms are called washrooms. It's an unspoken custom to remove shoes when entering a home, though most of the time hosts would tell us not to worry about it as we tried to take them off. Paper money is not paper, but plastic (and durable). There is no such thing as plastic units of one or two dollars, but instead coins called "loonies" and "toonies". Shopping carts must have a coin inserted before use. You may retrieve your coin after shopping by plugging it into other carts. (Christian)
We are 1.5 x the size of Texas, we are the warmest mission in Canada- most areas of the lower mainland and the island get hardly any snow- there are parts of the mission that you have to fly or ferry to. (Alicia)
I had fushias blooming on the porch in late October (at home they would be dead by mid-September). We stayed on the islands for the entire year and only left a couple weekends when District conference was being held on the mainland. We went octopus hunting. We ate eggs right out of the sea urchin, fresh octopus stew (the tentacles looked purple so I closed my eyes), octopus meat balls, dried herring roe, and oolicans (a bit like sardines). I restarted the Cub Scout Pack. We had 8-10 kids attend our weekly meetings. Member and Leadership Support can mean everything from teaching all sorts of different Church lessons, building self-reliance skills, delivering humanitarian aid and helping people learn to drive. (Aldene)
It is beautiful! Honestly, that's really all I know about Vancouver because I wasn't there to learn about the culture. Everything else really is opinion. There are a lot of different races, and a lot of things to do there. When I served there, the mission was unlike anything I had heard of. We worked super hard. Few breaks, we tried to not waste time. President Tilleman asked a lot of us. We ran from door to door. But we saw incredible miracles from our sacrifice. (Rachel)
It is the size of California, Oregon and Washington combined. Did not have a temple in the mission when I was there, though there is one in Langley now. Extremely diverse, I learned how to introduce myself in Chinese, Tagalog, Punjabi, Korean and Spanish. Even got to bear my testimony in German while in Kelowna! (Nathan)
Massive in geographical size but not in population. (Jonathon)
I think the thing that most people I talk to are interested is the size of the mission. At the time, it was the size of Washington, Oregon and Idaho combined. I had an area I could drive 8 hours east to west. (John)
Lots of Chinese people and other ethnic backgrounds. Hardly anyone spoke French in British Columbia. (Misa)
Huge geographic mission. One transfer, I was driven to Vancouver International airport and flew 2 hours north on a 737. The mission president had to drive 17 hours to get to our zone. It would have only taken 15 to get to Salt Lake City. Hence, they told us: You are farther from the mission office than the mission office is from Church HQ in Utah. (Aaron)
We had the Knapps, Sister Knapp was the Relief Society President to the entire church at one time. (Scott)
What was the weather like?
Wet. All. The. Time. (Alise)
Warm and cold. (Brooke)
Rain, snow, sunshine. (Emmaline)
Depends on where you are. It's tropical in the city, cloudy most of the year, rain half and half, snows like two inches in January and then it's gone. If you're more inland, weather is desert-ish. Up north, it gets insanely warm during the summer, and insanely cold during the winter. (Christian)
Lower mainland and island- rainy all the time. Okanagan (east of the lower mainland) like Utah- dry, and has all four seasons. North- normal Canadian winters. Lots of snow and very cold in winter, amazing in the summer. (Alicia)
Beautifully mild compared to -25 winter at home. Sun broke through clouds. Clean air. Great storms. (Aldene)
British Columbia is a huge province with just about every climate. Vancouver is rainy, and then hot, not much snow. Victoria is similar. The middle of the mission known as the Okanagan is dryer, with much hotter summers, and cold winters with snow. I never went all the way to the top of the mission, but I hear it's cold! (Rachel)
My winters were spent on Vancouver Island (Duncan and Nanaimo) so I never got that cold, but definitely wet. Summers in the lower mainland are stunningly beautiful, while the interior is also gorgeous, but it can get pretty warm there. (Nathan)
Depends on what part of British Columbia you were in. (Jonathon)
Cold in the winter and can be 100 degrees in the summer. (Kevin)
Crazy. Snowed, rained (a lot), sunny in the summer. I spent 11 months on Vancouver Island and the weather was always pretty good. (John)
In Nanaimo, it was like spring most of the time, but overcast a lot all the time. Very humid. When it rained it was very fine and gentle. (Velda)
Crazy. Snowed, rained (a lot), sunny in the summer. I spent 11 months on Vancouver Island and the weather was always pretty good
Wet. Rainy most of the year but very green. Humid and cool. (Misa)
Usually sunny inland. Usually cloudy on the Island or in the Vacouver metro area. (Aaron)
Rained a lot. (Scott)
Any things you really like about the area/people?
People were very friendly and relaxed in general. (Alise)
They are all so nice. (Brooke)
Canadians are the nicest people in the whole world! Plus the chocolate knocks USA chocolate out of the park! (Emmaline)
The Canadian stereotype that most Canadians are nice and polite is actually true. In Vancouver, the city is next to the ocean, but also in the middle of a forest, with mountains on the other side. So much green. Every city is very multi-cultural as a results of Canada's immigration popularity. (Christian)
I liked how much diversity there was. There were Sikh people, Muslim people, Buddhist people, among all the Christian and agnostic, etc. people. It was fun to try different foods, meet people from different cultures, and understand them as we tried to bring them closer to Christ. Also, British Columbia is GORGEOUS. (Alicia)
I served on Haida Gwaa which is remote. I love the spirits of the people and the places. They took care of each other and us. The Haida culture and sense of history is very strong, I loved the environment – woods, ocean, sea lions, whales, eagles, ravens, deer. The people laughed and knew how to have a good time. (Aldene)
There is so much diversity! I served a lot in Young Single Adult branches and I loved meeting so many different types of young adults. I met young adults from India, China, Africa, Australia, all over! So many different religious backgrounds as well. It was incredible to learn how to teach just about anyone about the gospel because you never met two people who were the same. (Rachel)
I know this will sound simplistic. I do not doubt prophetic inspiration in mission calls. It was where I was supposed to be. (Nathan)
Hard working. (Jonathon)
The terrain was fantastic. Lots of memories of going on hikes on P-Days or just some of the terrain I encountered while tracking (especially in the Vancouver area). Also the diversity of people in British Columbia is pretty impressive. (John)
The diversity. (Misa)
Rugged, normal, down-to-earth people. Most people would talk to us on the busses or at their door, even if they didn't take a lesson. (Aaron)
Some were nice. (Scott)
Any packing/clothing advice?
Make everything waterproof! Everything. (Alise)
Good shoes for both warm weather and cold. (Brooke)
Buy your snow coat in Canada. They know how to make winter wear! (Emmaline)
If you head up north, wait to buy your coat until you get there. You might not even need it during certain months of the year. You will need clothing for high and low temperatures, particularly humid temperatures. (Christian)
Make sure that your stuff really does fit in two suitcases and a carry-on, because you may be flying to some of your areas. Buy clothes that will work with rain, and plan on layering, but wait till you get to the mission to get any snow gear, because you may not need it as much as rain gear. (Alicia)
I did use my long underwear, heavy tights and sweaters in winter. Be prepared for wet weather and chill. In winter, I wore a couple layers. Summer is also hot and muggy. Everything was washed in water pumped from the creek. We used lots of oxy-clean. We had no dry cleaner. (Aldene)
Good luck. It really will depend on where you get transferred. I didn't need a really warm coat because I was in warmer weather for the most part. But some missionaries didn't need any raincoats or boots where I definitely did. Bring comfortable clothes that you can layer if needed. PACK LIGHT! You will be traveling A LOT! (Rachel)
Get a decent coat, including a trench coat for the rain. (Nathan)
Wait to buy jackets/coats until you arrive. Winter in Vancouver is VASTLY different than Prince George. (Jonathon)
Clothes that are specific may be better to buy in Canada. (Kevin)
Light raincoats. (Velda)
Pack for everything. You might spend winter in the northern parts of the mission and it gets cold. If you are on the island or lower mainland for winter it is a different cold. Tons of humidity and rain. Summers were pretty mild – not even as hot as Utah would get. (John)
Water proof, comfortable shoes. Heavy coat. (Misa
You get acclimated quickly. I imagined needing a parka and deep-expedition gear. But 80 percent of the time, I wore a short-sleeved shirt and no jacket. (Aaron)
Pack an umbrella, bring a trench coat as well. (Scott)
What blessings did you receive from serving a mission?
Recognizing the Spirit, relying on Christ. (Alise)
Words can't even express my love for the Lord. Missions change you into God needs you to be. (Emmaline)
I became much closer to my Heavenly Father and learned how to listen to the prompting of the Spirit, something that many people I taught on my mission (and the rest of the world) struggles to do. I learned how to forget my needs and turn to service. Having served a mission has helped my testimony grow in a way that is only acquired in the service of God. I have greater trust in God's ways and direction. (Christian)
My dad started taking missionary discussions and will get baptized soon! Also I learned a lot about how to focus on others when going through hard things and how to use the Atonement. (Alicia)
Developed several close friendships who are almost family. Time to really delve in to my scriptures. Learned to rely on the Lord and the power of prayer more. Really developed a deep appreciation for Indigenous culture. Even closer to my husband. Continued working on Christ Like attributes, tension dropped away as I slept deeply and moved about in the wonderful clean air. Saw the gospel change people's lives. (Aldene)
I met my husband there and that's been pretty amazing. The rest of my life stems from that. It's amazing to have relationships with the same investigators. Now he's in medical school and I'm a mom and I know I never would have wanted to be a mom or had the skills to do so without my mission. We live in a different state for medical school and I have to get to know new people all the time which is easy now. My most important blessing though is my testimony of the gospel. I went out on my mission not even believing in God, and came home a disciple. I understand the gospel and how things fit together. I don't have doubts in the brethren or get offended because my faith is in Him. I do this for myself now. (Rachel)
My mission has literally influenced every single aspect of my life to date. In fact, my wife and I still hold companionship inventory. (Nathan)
Lifelong testimony. (Jonathon)
While I was in on my mission Nanamo, I was blessed with 6 grandchildren and two great, grandchildren. The Lord has blessed them with peace in their homes and great testimonies of the gospel. (Velda)
I think my life would be dramatically different had I not served a mission. I'm married in the temple and have had the chance to do service in a number of callings that my mission experienced helped prepare me for. (John)
Too many to list. I learned how to love and connect with people, resolve conflicts and strengthen my testimony. (Misa)
I learned mostly about myself. I learned that I am a "follower" when it comes to housekeeping: with a sloppy companion, I didn't care about dishes or laundry. With a neat freak, I had no problem following along and keeping things clean. I also learned that things I thought were important really weren't like CD collections and video games. (Aaron)
A great family, the ability to handle trials. (Scott)
What are some skills you gained?
Talking to strangers, taking responsibility, working with people you don't know. (Alise)
Patience, obedience, kindness. (Emmaline)
I became comfortable talking with strangers and being naturally social. I know how to handle a conversation much better than before. I learned how to get along with people who had different ways of doing things, especially those whom I have to remain with all the time. (Christian)
Talking comfortably with people. Less stressed about large event planning. Greatly expanded my ability to entertain and cook. Appreciating the lives of others and not judging. Patience. Simply living again. Being more flexible. (Aldene)
I can talk to just about anyone now! Missionary work is much easier now at home. I can do hard things! I learned how to plan better and keep my cool in stressful situations. (Rachel)
Patience and listening. We had a First Nations (native) investigator who would pause for ten to fifteen seconds before answering a question. I learned a lot from her. (Nathan)
Dealing with others and my own weaknesses. (Jonathon)
Social, being able to talk to just about anyone. (Kevin)
Certainly talking to people – which I use a lot in my career. I learned to study. In high school I was a 2.1 GPA student. I did a masters degree and had a 3.9 GPA. (John)
Teaching, contacting, memorizing, resolving concerns, communication, follow up, and committing. (Misa)
I can walk up to anyone and talk to them. I learned that people almost ALWAYS want to. Talk about their family, where they have traveled or their hobbies. Just have to find out what their passion is. Once you do, and talk about it for awhile, they ask why you are there, what you do, etc. (Aaron)
Talking to others, determination as well. (Scott)
What do you wish you knew/did at the beginning of your mission?
It'll work out and homesickness isn't permanent. (Alise)
I wish I knew how to study my scriptures better. (Brooke)
You don't need to know everything. All you need is desire. The Lord will take care of the rest. (Emmaline)
I wish I could have been bolder and left more commitments. I also wish I was more relaxed when talking with people, especially strangers. (Christian)
I wish that I knew that God was pleased with everything I did on the mission. That it's not about convincing people to come unto Christ, but finding people who are ready. Also, that you can't compare yourself to others. I had depression my entire mission, and it was made worse by thinking I was more pathetic than others because I couldn't do everything everyone else could. (Alicia)
More time to learn about the history of the Haida people and culture before we went including downloading the Haida language app. I read up very quickly on the Church's Indian placement program and the difference between it and the Indian Residential School experience (thank goodness as a senior and an academic I had my laptop). Really knew my scriptures and had them memorized. (Aldene)
Preparation days are not free days. You are cleaning and getting ready for the rest of the week, and getting a good nap! You get some time to do fun things, but you still work that night. I wish I knew how good for me this was going to be. Sometimes, it's super overwhelming at first to realize you don't get a break for 1.5 years…but looking back, I can't think of one blessing I have that didn't stem from my mission, and I also can't think of one that I would still have had, had I gone home early. (Rachel)
More personal prayer. My communication skills with the Father should have been well developed by the time I went. They weren't. (Nathan)
Kinder to my companions. (Jonathon)
More knowledge of the gospel – although I think anyone would tell you that you can't have enough of that. (John)
Relaxed more and talked to more people. (Misa)
You cannot fake interest. People KNOW, deep down, if you really care about them. If you just learn to love the people and their city, success is easy. (Aaron)
How many people will turn you down when you knock on doors. (Scott)
Any advice/testimony for pre-missionaries going to Vancouver?
Make the basics part of the daily routine- church, pray, read, study! (Alise)
It isn't going to be hard. The hardest thing you ever do. You were called for a reason. Now "forget yourself and go to work." (Emmaline)
When you get into an argument with your companion (because it will happen), remain calm. Being aggressive only invites them to mimic you. If you are calm, they will likely control their behavior. Once you state your opinion about the matter, ask them how they feel. (Christian)
This is truly a wonderful place to serve. There are so many people ready to hear the gospel, and there is so much happening there. Go ready to talk to anyone and everyone, and be open to the spirit, and God will help you find people. (Alicia)
I needed to create a spiritual experience and homey feeling where ever we were. So I packed small pictures that I could hang up – the temple, the "Do well thy part" from the MTC, Strippling Warrior, etc. I had a small picture of Christ taped to my bathroom mirror with a heart stuck to it. Took LDS music to play in the car and in our trailer. (Aldene)
Find your testimony now, but be patient with the things you still don't know. Give yourself to the Lord. If he wants you to run from door to door, do it. If he wants you to say something, say it. Be his clay. Be patient in the hard times, remember it won't be forever. Have fun! Don't get so caught up in what makes a good missionary. Just be yourself and you will attract who you need to, to the gospel. Some missionaries get so caught up with doing everything right. Memorize the white handbook, but then take off! There are no rules but what's in there. It doesn't matter how you start a conversation, it matters that you tried. (Rachel)
Don't let the vast diversity of tongues and cultures deter you. I know that they are all in need of the Gospel of Jesus Christ. (Nathan)
Work hard. (Jonathon)
Just do whatever you can to strengthen your testimony and knowledge. Study the Book of Mormon a lot. Also wouldn't hurt to study the different cultures in the providence. With such diversity, you have to change the approach a lot. Knowing more about different cultures that were in Canada would have been helpful. (John)
Do it! Study hard, work hard, never give up! Trust in God! (Misa)
A mission is about teaching the gospel, not about numbers. I am REALLY glad I got a mission NOT around the world. (I'm from California). I always imagined going somewhere half-way around the earth, but, years later, I have returned to my mission 6 times. I have attended baptisms, ordinations, weddings and funerals of people I loved. I've gone camping with my converts!! I've taken my wife and kids to see some of the places and people! None of that would be possible if I had to buy expensive airfare and travel around the globe today. (Aaron)
What was a funny language mistake?
I was on an exchange with a missionary who was originally assigned Chinese, but his current area was an english assigned area. He was always looking for opportunities to use his Chinese. While contacting, he saw a family of four who looked very Chinese, and excitedly began speaking with them. I am part Chinese by blood, but do not speak mandarin; just english. The family was quite surprised that the american-looking missionary was speaking fluent mandarin, so they turned to me and began asking questions in mandarin, assuming that I could speak it. Before I could tell them anything, the american missionary cut them off and said something to them in mandarin, to which the family looked at me and said in broken english, "Oh, very talented! Very talented!", and gestured in bowing motions with their head and hands. After more conversation, they left. I asked my exchange-companion what he told them. He replied, "Oh, since you don't speak Chinese, and to save you from embarrassment, I told them all you can speak is Russian!" (Christian)
Spoke English… but when I came home I said eh a lot. My family thought it was funny. I never noticed I did it. (John)
I did ask if I could use the bathroom at a members home. They asked, "why, do you want to take a bath?" They call it the washroom. (Misa)