Here are free resources about the Canada Toronto Mission:
*Other Mission Pages: Canada LDS Missions.
---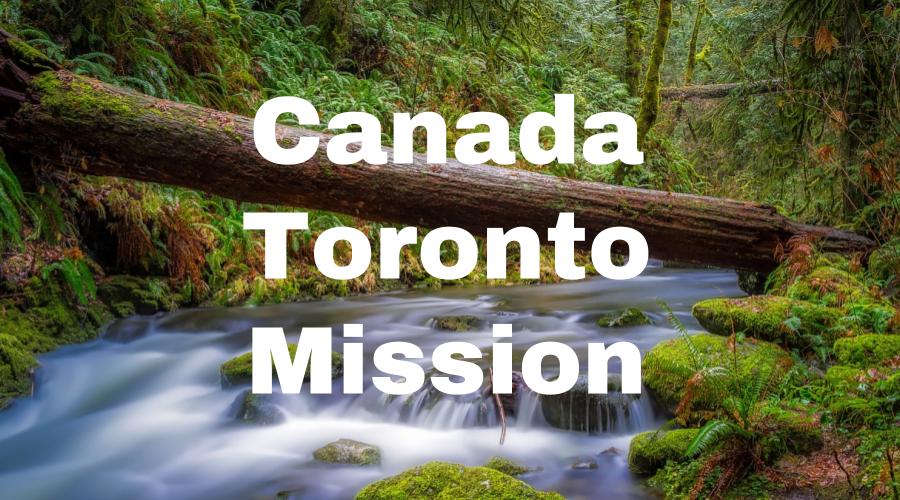 ---
Canada Toronto Mission Address
Here's a recent address for the Canada Toronto Mission. We try to keep this info up to date, but it's a good idea to check the address with several sources, including your mission packet or the mission office.
Canada Toronto Mission
1624 Wanless Dr
Brampton ON L7A 0A7
Canada
Canada Toronto Mission Map
Here's a link to the mission map for the Canada Toronto Mission (LDS). To access the official, up-to-date LDS.org map for the Toronto Mission:
Log into your LDS account here.
Click here.
Canada Toronto Missionary Blogs
Here's a list of LDS missionary blogs for the Canada Toronto Mission. This list includes the missionary's name, URL and when their blog was updated.
*Send your missionary a gift (mission-specific shirts, ties, Christmas stockings/ornaments, pillowcases, etc.)
Canada Toronto Mission Groups
Here are Canada Toronto Mission Groups- for LDS missionary moms, returned missionaries, mission presidents and other alumni of the Toronto Mission.
Canada Toronto Mission T-Shirts
Here are T-shirts for the Canada Toronto Mission!
Shirt designs include Canada Toronto Mission logo/emblem shirts and Called to Serve shirts. The shirts make great gifts for pre-missionaries, returned missionaries and missionaries currently serving. LDS Mission shirts come in all sizes: Small, Medium, Large, Extra Large, up to 4XL.  The mission designs are printed on white shirts and are shipped to you.
*Simply click on a shirt design to view the details and submit an order. The designs on mission t-shirts may also be printed on other LDS mission gifts, including: Canada Toronto missionary aprons, Christmas stockings, ties, pillow cases, teddy bears and Christmas ornaments.
*Click here to browse Toronto Mission gifts
---
---
Canada Toronto Mission Presidents
Here's a list of current and past Mission Presidents of the Toronto LDS Mission.
2016-2019, Jeffrey L. Shields
2014-2016, Weatherford T. Clayton
2011-2014, Brent Scott
2004-2007, Alan C. Ashton
2001-2004, Paul K. Sybrowsky
1998-2001, Brent H. Satterthwaite
1995-1998, Paul Sampson
1992-1995, Glenn T. Potter
1989-1992, Sidney A. Smith
1986-1989, John W. Hardy
1983-1986, Carl. W. Bacon
1980-1983, Allen C. Brown
1977-1980, Raymond L. Russell
1974-1977, M. Russell Ballard Jr.
1971-1974, Roy R. Spackman
1968-1971, Leland C. Davey
1965-1968, Lamont F. Toronto
1963-1965, Frank Pitcher
1959-1962, Thomas S. Monson
Canada LDS Statistics (2016)
Church Membership: 193,850
Missions: 7
Temples: 8
Congregations: 486
Family History Centers: 186
Helpful Articles about Canada
Canada Toronto Missionary Survey
Here are survey responses from Canada Toronto RMs, to give you a snapshot into what it's like to live in the mission.
*Click here to take a survey to help pre-missionaries going to your mission.
When did you serve?
2014-2016 (Bryce)
July 2007-July 2009 (Shea)
1989-1991 (Chris)
1980-1982 (Sue)
1978-1980 (Nick)
1977-1979 (Clark)
What cities/areas did you serve in?
Chatham, Don Valley Toronto, Kitchener-Waterloo, Don Mills Toronto, Brantford. (Bryce)
Toronto, Brampton, London, Scarborough. (Chris)
London, Oshawa, North York, Weston, Downsview. (Sue)
Orillia, Brampton, Peterborough, Downtown Toronto. (Nick)
Scarborough (twice), Etobicoke, Hamilton, Brantford, Belleville, Rexdale. (Clark)
What were some favorite foods?
Poutine. Schwarma. 🙂 Lots of sushi and Asian food. Portuguese food. There is food from everywhere, but mostly 'normal' American food. (Bryce)
Perogies Putine. (Shea)
Pasta. (Sue)
Kraft dinner. (Nick)
What was a funny experience?
When a girl sneezed when we were at her door, there was a huge string and she sucked it back up her nose. I was trying so hard not to laugh, but that didn't work. My companion had to ask me if I was okay to make me stop. (Shea)
Running into the zone leaders poaching in our area. They lost their way…yay right. (Sue)
Trying to teach my trainer Mike, a born and bred Utah inhabitant how to speak the Queens English!!!! …and having our bikes dismantled by a couple of 7 year olds!! (Nick)
Elder Jeremy Hoyland's driving. (Clark)
What was a crazy experience?
I went to court to testify against a man because I witnessed him assaulting a teenager. (Bryce)
When I was walking home one night with my companion and a guy walked up to us with a knife, a kitchen knife, and asked us for all of our money. (Shea)
Tracting in -25c weather, people would let us in just to warm up. (Sue)
Knocking on doors !!!! (Nick)
Elder Jeremy Hoyland's driving. (Clark)
What was a spiritual experience?
There were so many. I had more spiritual experiences on my mission when talking about the first vision then anything else. (Shea)
Teaching a Muslim family. Highlight, after teaching them for about one month, I felt the strong impression to testify of the Savior. Words came out of my mouth, that were definitely not mine. The Spirit was unbelievable. We left after that. It was quite incredible. (Sue)
Working on the Indian reservation with incredibly humble people. (Nick)
What are some interesting facts about the Toronto Mission?
Nearly 1/3 of the Canadian population lives in your mission. Some areas are extremely crowded and populated, others are practically empty. (Bryce)
President Monson was a mission president of my mission at one point. And my mission is the only geographical place that Joseph Smith served a mission outside the United States. Brigham Young and Parley P Pratt are from my mission. My mission is the most south mission in Canada. It's more south latitude wise than Portland, Oregon. (Shea)
Niagara Falls is in the mission. Seeing President Monson at least three times while I was there. He was an apostle at the time and took every opportunity to come to 'his' mission. (Sue)
Diversity of the population, mix of nationalities and how well everyone integrates…the vastness of the country and beauty of nature. (Nick)
What was the weather like?
Humid. Real hot in the summer, real cold in the winter. (Bryce)
Super cold, like below freezing in the winter and super hot and muggy in the summer. (Shea)
Hot and humid in the summers. Cold in the winters. Gorgeous in the fall. (Chris)
Summers are hot and sticky, the winters cold, and I mean cold, bone chilling cold. (Sue)
Very, very cold in winter. Very humid and hot in summer. (Nick)
Any things you really like about the area/people?
It is very diverse. You find people from every belief system. (Shea)
Great diversity. (Chris)
The members were great, always willing to help and come tracting with us. (Sue)
Very friendly, welcoming..unique place. (Nick)
Those I served with, especially President and Sister Russell. (Clark)
Any packing/clothing advice?
Good socks. Sweaters in the winter. Short sleeves in the summer. (Bryce)
Get lots of long sleeve and short sleeved shirts. (Shea)
Buy your winter coat in Ontario, and summer, for Sisters, cotton clothes. (Sue)
As above for extreme seasons. (Nick)
What blessings did you receive from serving a mission?
Strong testimony and I became more acquainted with the Lord. (Shea)
People skills. (Chris)
I met some amazing people. My testimony grew and I learned how much I hated knocking on doors. Oh the endless joy :). (Sue)
More worldy wise..gift of communicating with different peoples, looking after yourself. (Nick)
I became an adult with a spiritual foundation–based on a knowledge of the purpose of life and of my Savior, the Lord Jesus Christ. (Clark)
What are some skills you gained?
Cook better, gained an appreciation for reading. (Shea)
Teaching with the Spirit. (Sue)
Communication. Responsibility. Organization. Cooking. (Nick)
Personal responsibility. (Clark)
What do you wish you knew/did at the beginning of your mission?
Read the Book of Mormon and know the doctrine. You don't have to teach all you know, just be simple and clear. (Bryce)
Memorized scriptures better, like scripture mastery. (Shea)
How cold it was in the winter. (Sue)
More knowledge of the world and how better to communicate. (Nick)
Any advice/testimony for pre-missionaries going to Toronto?
Give all yourself to the Lord. Put everything into your mission and have no regrets. (Shea)
Learn to use the Spirit. It will light up your life and make you a more productive missionary. (Sue)
Look at the big picture of your life. A mission is the right thing to strive for at age 18-25; it will bless others and help you prepare for greater opportunity and responsibility in immeasurable ways. (Clark)
What was a funny language mistake?