Here are free resources about the Canada Montréal Mission:
*Other Mission Pages: Canada LDS Missions.
---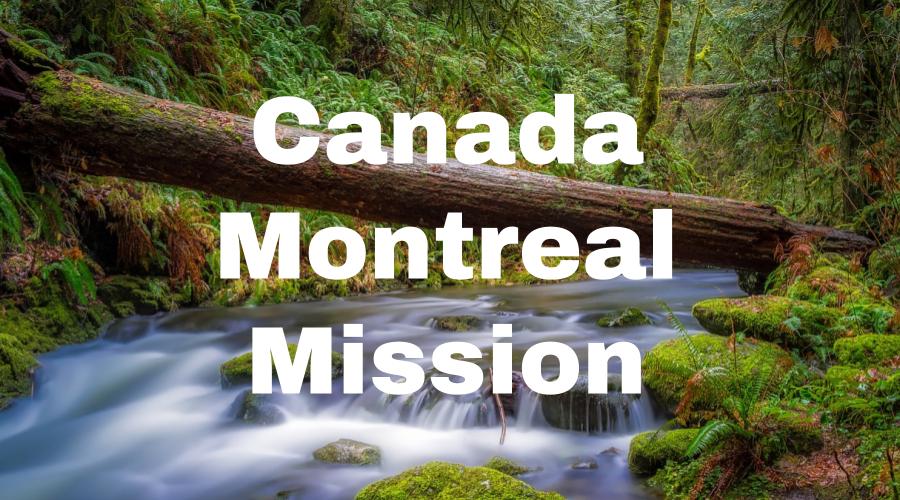 ---
Canada Montreal Mission Address
Here's a recent address for the Canada Montreal Mission. We try to keep this info up to date, but it's a good idea to check the address with several sources, including your mission packet or the mission office.
Canada Montréal Mission
470 Rue Gilford Ste 300
Montreal, QC H2J 1N3
Canada
Phone Number: 1-514-731-0612
Mission President: President Robert L. Phillips
Canada Montreal Mission Map
Here's a link to the mission map for the Canada Montreal Mission (LDS). To access the official, up-to-date LDS.org map for the Montreal Mission:
Log into your LDS account here.
Click here.
Canada Montreal Missionary Blogs
Here's a list of LDS missionary blogs for the Canada Montreal Mission. This list includes the missionary's name, URL and when their blog was updated.
*Send your missionary a gift (mission-specific shirts, ties, Christmas stockings/ornaments, pillowcases, etc.)
Canada Montreal Mission Groups
Here are Canada Montreal Mission Groups- for LDS missionary moms, returned missionaries, mission presidents and other alumni of the Montreal Mission.
Canada Montreal Mission T-Shirts
Here are T-shirts for the Canada Montreal Mission!
Shirt designs include Canada Montreal Mission logo/emblem shirts and Called to Serve shirts. The shirts make great gifts for pre-missionaries, returned missionaries and missionaries currently serving. LDS Mission shirts come in all sizes: Small, Medium, Large, Extra Large, up to 4XL.  The mission designs are printed on white shirts and are shipped to you.
*Simply click on a shirt design to view the details and submit an order. The designs on mission t-shirts may also be printed on other LDS mission gifts, including: Canada Montreal missionary aprons, Christmas stockings, ties, pillow cases, teddy bears and Christmas ornaments.
*Click here to browse Montreal Mission gifts
---
---
Canada Montreal Mission Presidents
Here's a list of current and past Mission Presidents of the Montreal LDS Mission.
2016-2019, Robert L. Phillips
2013-2016, Victor P. Patrick
Canada LDS Statistics (2016)
Church Membership: 193,850
Missions: 7
Temples: 8
Congregations: 486
Family History Centers: 186
Helpful Articles about Canada
Canada Montreal Missionary Survey
Here are survey responses from Canada Montreal RMs, to give you a snapshot into what it's like to live in the mission.
*Click here to take a survey to help pre-missionaries going to your mission.
When did you serve?
2013-2015 (Emily)
2013-2015 (Edwardo)
2006-2008 (Brett)
1995-1996 (Lisa)
1993-1995 (Eric)
1976-1978 (Michael)
1975-1977 (Jeff)
What areas did you serve in?
Montreal West, Zarahemla, Mascouche. (Emily)
Zarahemla, Saint-Jean-Sur-Richelieu. (Edwardo)
Montreal, Quebec City, Ottawa. (Lisa)
Donnacona/Quebec City; St. Michel; Alma; Ottawa; Ogdensburg, NY; Parc Jarry. (Eric)
Bair Como, Quebec, La Val, Motreal. (Michael)
Drummondville, Sherbrooke, St. Hubert, Brossard, Longueil and St. Denis. (Jeff)
What were some favorite foods?
Poutine, pupusas.  (Emily)
Poutine. Papusa. Schwarma. Timbits. (Edwardo)
Poutine with smoked meat, meat pie (tourtiere), shawarmas, spruce beer, pure maple syrup and all Haitian food. (Brett)
Anything vegetarian! (Lisa)
Poutine (curd cheese on fries with gravy over the top, basically 'pig in a blender'), cassoulet (a sort of all-day casserole), tarte au sucre (Sugar pie. Literally.), Fufu (not Canadian, but African. Sort of communal mashed corn curd with green or red sauce. Eat with your fingers, everyone shares a plate). (Eric)
All the french pastries. (Michael)
Quiche, Tortierre, Tarte au Sucre. (Jeff)
What was a funny experience?
Everyone thought I was Moroccan, and would attempt to speak to me in Arabic. (Edwardo)
I went bowling and the pins were about 8 inches tall and the ball I got was about the size of the softball. I knew it was bowling but it felt more like fast-pitch softball. (Brett)
Too many to count. You make your own fun every day, and anything can be fun if you are willing. (Eric)
Waking up in my first area and finding our house covered in snow. We had to dig our way out of the house. (Michael)
I was just new out on the mission and I was supposed to give the Joseph Smith story. As I was relating the story, my companion burst out laughing. Somehow I managed to tell our investigator that Joseph Smith had translated golden bear skins. (Jeff)
What was a crazy experience?
We were doing emails at the Apple store, downtown Montreal when a big black man came to my companion and asked her if she wanted to go out with him. He looked intimidating and started approaching her more and more until there was no space between them. She offered him a pass-along card and her testimony and he said he wasn't interested in her religion but in her. That was so freaky, fortunately there was an elder around and asked him politely to keep his distance and to respect her. I bet the man felt the elder's authority because he just walked away. (Emily)
Icy roads. Freezing rain. Falling icicles. 45 below zero. (Edwardo)
I was in Sept-iles which was about 7 hours away from zone conference in Quebec City and we had to carpool with the Elders in Rimouski to save on gas. Those were some of the scariest drives of my life in the winter (and I'm from a snowy place.) The roads out in the sticks can be downright treacherous. (Brett)
Being street harassed on a daily basis. (Lisa)
Tracting on hockey night- DON'T do it. Driving on icy roads. Contacting 'street people' in some of the rougher neighborhoods. (Eric)
Almost getting run off the road while crossing a bridge over the river. (Michael)
Never really had any. (Jeff)
What was a spiritual experience?
Meeting so many people from around the world, there were lots of people who were receptive to the gospel. (Brett)
I met my husband. (Lisa)
Seeing the Gospel make a difference in people's lives. Looking for the potential in everyone you meet. ZONE CONFERENCES! (Eric)
Seeing the French people really grow to form their own stake. (Michael)
Too many to tell. President Wayne Owens really pushed on teaching and challenging with the Spirit. It was an amazing time. (Jeff)
What are some interesting facts about the Montreal Mission?
It is one of the biggest missions (area wise) but there are no missionaries in the most remote parts because it is extremely cold and there are no people to teach. (Emily)
So many languages and peoples! (Edwardo)
The North Pole is in our mission. While there, I contacted people from over 100 countries. (I kept track because it was so frequent.) They produce the best pure maple syrup in the world. (Brett)
The Montreal Mission had almost no bike areas, so it had one of the largest car fleets in North America. It was geographically huge and spread out. The mission boundaries go from northern New York, to above the arctic circle. The mission is a mix of French, English and bilingual areas; so when you knock on a door, you don't know what language they are going to answer in. (Eric)
There were both English and French speaking missionaries. There were very different communities to serve in, from sparse farming villages to rural towns, and large metropolitan areas. The Catholic Church is very strong there and many of the families still identify themselves with it as if it was their heritage. (Micheal)
The members are so incredibly awesome. I loved the south shore area that I served in three areas for one year. I was in two areas of the same district. I loved the south shore. (Jeff)
What was the weather like?
Don't believe the meteo (weather cast) if they tell you it is -25…what they really mean to say is -50. It is extreme cold during winter. The first snow fall is like around mid October and after that you will see snow for the next 7 months. Snow sticks to the ground and won't leave until the end of April. (Emily)
Cold. (Edwardo)
I experienced a fluctuation of 145 degrees in 6 months! -45 degrees in Sept-iles during winter and 100 degrees in the Montreal summer. It's humid so the cold goes right through you and the heat makes you sweat no matter what. But the colors in fall are breathtaking.
Cold. Very, very cold. 🙂
Winter can be absolutely bone-chilling. Summers make up for it, they are beautiful. If you are from Utah, get ready for humidity. (Eric)
I loved the variations of the seasons. The fall colors were amazing, the winter snows challenging but fascinating, the springtime welcoming and alive, and the summer was humid but not too bad. (Michael)
Lots of humidity, incredibly cold during the winter, and can get very hot and humid during the summer. (Jeff)
Any things you really like about the area/people?
It is so fun to see the different cultures and religions. Montreal is a very multi-cultural area. (Emily)
There were so many immigrants and languages spoken so it felt like a world tour, not just a Canadian city. Also, the ethnic food restaurants were so authentic I didn't want to go home. (Brett)
Montreal was amazingly diverse. I was a wonderful place to serve and get to know many different cultures. (Lisa)
All of it! Quebec City is like being in Europe. Northern New York has Amish. Northern Quebec has Inuit. The National Capitol is not in the mission (it's in Ottawa). Montreal is like NYC, you can find someone from anywhere there. But through all this, you find out that people are really the same, no matter where they might be from. (Eric)
It was so different from my familiar surroundings back home. Although it was not Europe, it sure felt like it. (Michael)
It's become my second home. I grew up on my mission. (Jeff)
Any packing/clothing advice?
Bring layers of clothes. Anything that has the label "thermic" is very welcome. (Emily)
Don't take a trench coat…that's the Jehovah's Witness uniform. Just wait to buy a coat until you get there. When I was there, every Elder would go and buy a nice dark Columbia soft shell jacket/coat that we wore about 70% of the year over our shirt and tie. (Brett)
Buy what you need when you get there because you'll have a better idea of the weather and mission-appropriate clothes. (Lisa)
Wool socks for winter. Bring a good camera for preparation day- the region is beautiful. (Eric)
Make sure to have all the seasons covered. (Michael)
Get your winter clothes in Montreal. (Jeff)
What blessings did you receive from serving a mission?
I definitely received more clarity on what I wanted to do with the rest of my life. I had a good vision for what job I wanted and how I wanted to raise my family. (Brett)
I learned how to listen. Meeting many people from many different walks of life has opened many doors in my post-mission life. Listen. Learn. 🙂 (Lisa)
Too many to list. If you serve your mission with all your heart, it changes the trajectory of your entire life. (Eric)
Well, I have a son now serving in St Paul Minnesota speaking the Karen language. He is the fruit of missionary service. (Michael)
I really strived to learn French and love the people. (Jeff)
What are some skills you gained?
I learned how to knit. Sounds weird, but they have special yarn that they use to make slippers (pantoufles) that NEVER wear out, not after 40 years of daily use. So, an old lady taught me how to knit and I would do that late in the evenings before bed. (Brett)
This will sound odd, but the thing I learned most was to chuck goal setting out the window. Our mission was very number-oriented and I learned that PEOPLE trump theology every, single time. (Lisa)
Patience. The ability to think fast on your feet, and teach effectively. And I can speak French in a Québécois accent so thick, my French family can barely understand me. (Eric)
Besides still being able to speak French very well, I also gained an appreciation for tolerance. (Michael)
The ability to communicate. (Jeff)
What do you wish you knew/did at the beginning of your mission?
I wish I had researched the history. (Edwardo)
I wish I would have done more service. Towards the latter part of my mission, I realized how effective unplanned service was. Like helping someone change a flat tire on the side of the road, helping somebody move out of their house. Take time to look for ways to help somebody, because they will remember you for it. (Brett)
I wish I slowed down, appreciated each day and each experience. (Lisa)
Don't just go with the flow, because that is time wasted. The mission goes by fast, and you got to do as much as you can to make every day count. (Eric)
That the restrictions placed on us ("mission rules") were really blessings in disguise. (Micheal)
How to teach with the Spirit. Understanding that fear and faith cannot co-exist. (Jeff)
Any advice/testimony for pre-missionaries going to Montreal?
Be ready to get humbled. (Edwardo)
Some native people of Quebec have been quite hurt by religion in the past and may not be open to the gospel at first. Think of ways to still get involved with them and be around them. I created surveys to ask people at the door asking if they believed in God, the Bible, eternal families, prophets, and at the end if they would be interested in reading something about Christ visiting America. That got me in hundreds of doors as opposed to some of the go-to lines that are easy to reject. (Brett)
The memories you make as a missionary will last your lifetime and it WILL NOT be your best two years! You'll have a lifetime to look back on the memories you make as a missionary but that the best years are yet to come! (Lisa)
Work hard, play hard. Teach your testimony. Be worthy and willing to serve. (Eric)
Get ready for the best time in your life. The mission, although challenging for various reasons to different individuals, is so rewarding, especially when you can look back and see what your sacrifice and service have done for the country and people that you served. I see the growth of the church now and know it was because we worked so hard to bring families and individuals by ones and twos to now see the church in full bloom. It will continue until the Savior returns to take over, but hold on to your tie for the ride of your life. (Michael)
Teach and testify with the Spirit. Baptize 1's a month, teach 21 discussions a week. That was our mission standard. No one cares how much you know, until they know how much you care! (Jeff)
What was a funny language mistake?
Tabernacle is a curse word in Quebec. One time, we were talking to someone and we said Mormon Tabernacle Choir. The eyes of the woman turned big!!! but she didn't say anything. We later found out why she suddenly became cold and gave us the cold shoulder. (Emily)
One day, a few people misheard when we said we were messengers for massagers. They were for the most part not interested either way. (Edwardo)
At the beginning of my mission, I asked two young ladies (who happened to be very attractive) if they wanted to be baptized. But, I was still learning French and couldn't remember when to put the verb before the subject and I said, "Je veux vous…(I want you…) and then realized that was not right and got super embarrassed and blushed while they laughed and helped me find the correct way to say it. (Brett)
Don't say 'Je suis embarrassee' when you mean you are 'embarrassed'. It actually means you are pregnant. Don't say "Je suis chaud' when you mean you are hot, it actually means you are drunk. And don't say "Je suis fini', when you mean you are finished, that means you are dead. (Eric)
We were always saying something wrong in French. I do not remember specifically what was said but I do remember the children of some of the families I taught as a new missionary giggling at my words or pronunciations. It was all good though. Everyone got to laugh together. (Michael)