Here are free resources about the Canada Edmonton Mission:
*Other Mission Pages: Canada Missions.
---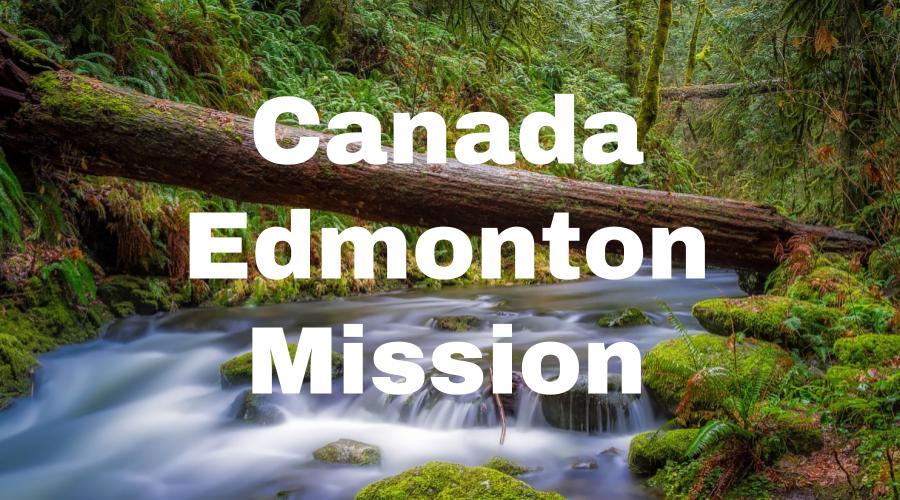 ---
Canada Edmonton Mission Address
Here's a recent address for the Canada Edmonton Mission. We try to keep this info up to date, but it's a good idea to check the address with several sources, including your mission packet or the mission office.
Canada Edmonton Mission
305-8925 51 Ave NW
Edmonton, AB T6E 5J3
Canada
Phone Number: 1-780-461-2757
Mission President: President George C. Pattison
Canada Edmonton Mission Map
Here's a link to the mission map for the Canada Edmonton Mission (LDS). To access the official, up-to-date LDS.org map for the Canada Edmonton Mission, simply
Log into your LDS account here.
Click here.
Canada Edmonton Missionary Blogs
Here's a list of missionary blogs for the Canada Edmonton Mission. This list includes the missionary's name, URL and when their blog was updated.
*Email alexbalinski@gmail.com to add your blog to the list.
Canada Edmonton Mission Groups
Here are Canada Edmonton Mission Groups- for LDS missionary moms, returned missionaries, mission presidents and other alumni of the Edmonton Mission.
Canada Edmonton Mission T-Shirts
Here are T-shirts for the Canada Edmonton Mission!
Coming soon..
---
Canada Edmonton Mission Presidents
Here's a list of current and past Mission Presidents of the Edmonton Mission.
2016-2019, George C. Pattison
2013-2016, Larry G. Manion
2010-2013, Chris Wyatt Campbell
2007-2010, George F. Rhodes Jr.
2004-2007, David M. Randall
2001-2004, Albert Roy
1998-2001, Richard Andrus
Canada LDS Statistics (2016)
Church Membership: 193,850
Missions: 7
Temples: 8
Congregations: 486
Family History Centers: 186
Helpful Articles about Canada
Canada Edmonton Missionary Survey
Here are survey responses from Canada Edmonton RMs, to give you a snapshot into what it's like to live in the mission.
*Click here to take a survey to help pre-missionaries going to your mission.
When did you serve?
2015-2017 (Anissa)
2013-2014 (Hannah)
2013-2014 (Alyssa)
2011-2013 (Chase)
2011-2013 (Brock)
2011-2013 (Brittany)
2011-2013 (Christopher)
December 2008 – December 2010 (Jordan)
2008-2010 (John)
2008-2009 (Jennifer)
1999-2000 (Paula)
What areas did you serve in?
Gateway YSA, Tofield, Stettler, Wainwright, Red Deer, Fort St. John. (Anissa)
Ellerslie, Coronation Park, Castle Downs and Drayton Valley. (Hannah)
Edmonton, Millwoods, Grande Prairie, Lacombe. (Alyssa)
Edmonton, Wetaskiwin, Hinton, Devon/Leduc, Wainwright, Fort Saskatchewan. (Chase)
Rocky Mountain House, Red Deer, Londondary, Grande Prairie, Fort McMurray, St Paul. (Brock)
Edmonton Lacombe and Innisfail. (Brittany)
Lacombe, Tofield, Stony Plain, Knottwood, South Gate (South Edmonton Millwoods area). (Christopher)
Innisfail, St. Albert, Peace River, High Prairie, Spruce Grove, Conner's Hill. (Jordan)
Fort Saskatchewan AB, Downtown Edmonton, Yellowknife NWT, Leduc/Devon Area. (John)
Edmonton…Garneau then Millwoods YSAs and Conner's Hill family ward, and Red Deer YSA. (Jennifer)
Edmonton, Calgary North. (Paula)
What were some favorite foods?
Poutine and donair pizza!. (Anissa)
Beets, Pickles, Pinterest Cafe Rio. (Hannah)
Perogies, Poutine, fries, all from members garden meals, Alberta carrots, mashed potatoes, salads. (Alyssa)
Poutine, Donairs, Mucho Burrito (for the Mexican food withdrawals). (Chase)
Poutine, Donair, Bison Burger. (Brock)
Perogies. Anything with potatoes, Canada chocolate. (Brittany)
Poutine, Donairs, Wonderbar. (Christopher)
Perogies, donairs. (Jordan)
Donairs. (John)
Poutine…loaded…Gyros. (Jennifer)
Pizza. (Paula)
What was a funny experience?
There was a time when my companion and I were going to switch trains so we could ride back home. As I was going to get off the train, the doors suddenly shut- my companion was on the platform. So I was stuck on a train going 10 minutes in the opposite direction from her. We had to use a stranger's phone in order to figure out where to meet each other. We eventually found each other again, but it was so weird to not have a companion with me. (Anissa)
Hiding in the trunk of our car to scare our zone leaders, who came to change our flat tire. (Hannah)
I wet my pants in our apartment entry way because my companion beat me to the bathroom, when we got home for the night. It was hilarious. We were living with another set of sisters, and they got home before us and were hiding when we were racing in…I screamed twice and wet my skirt… (Alyssa)
My first time street contacting in south-east Edmonton, my Zone Leader was trying to tell me I didn't need to be afraid of talking to people, and that it could be fun. He told me I should talk to the next person, and I saw a women in her yard. The second I opened my mouth, she started yelling about walruses and weird stuff. (I think she was on drugs.) So she walked swiftly to her front door and slammed it. It was weird, but it made contacting afterwards a lot easier. (Chase)
Meeting Ed the prophet…He pays you to believe he is a prophet. (Brittany)
Some of the homeless people there can get pretty funny. (Christopher)
A lady, who was high, kissed my greenie and I on the neck on Valentine's Day… (Jordan)
Street contacting on White Ave and Jasper Ave. (John)
Walking down a sidewalk, street contracting. We approach a man who stood to talk to us! He asks us what we will do when we go back home and we had him guess our educational plans… Got mine dead on… Not surprising that someone guess right, but just solidified that my life seems to be an open book…strangers can literally read my face and accurately predict my life plans. The funnier story was when my companion yells POLE! just as I walk into a POLE. Who puts a POLE in the middle of a sidewalk? Canadians 🙂 Gotta love em! (Jennifer)
We were serving in a small geographical area. We had tracked the area 3 times. We knew that a person at a particular door wasn't interested. When we knocked they laughed and said, "Still not interested." We laughed back and replied, "Just Checking. You never know!" 0:D (Paula)
What was a crazy experience?
Well, my first winter in Canada, I got frost bite. We went out caroling with some members and I noticed my feet getting cold but I figured if I just kept moving them they would be okay… but by the end of the night I couldn't walk and the pain was so extreme. (Anissa)
Death threats from a crazy recent convert. (Hannah)
My companion and I were driving to an appointment, and I noticed a car running perpendicular to us that ran a stop sign. The car hit the back end of ours, and we did a 180. The other car just sped away. Another motorist tried to follow them to get the plates, but lost them, then came back to check on us. We were both fine, and in between talking to our vehicle coordinator and the police on the phone, we gave them our card and had a nice conversation with them. (Chase)
Going out in -50 degree Celsius to see other missionaries because we were not supposed to be out very long at that temperature. (Brock)
Eating pigs feet…hair and all. (Brittany)
My companion wrestled with another missionary and lost his short term memory for two weeks. (Christopher)
My greenie and I almost flipped our truck in Valley View because we were driving in a blizzard down a dirt road. (Jordan)
Street contacting on Jasper Ave. (John)
We were teaching a man who lived alone, so we either only talked to him on his porch or brought another sister with us. He seemed very friendly and opened to the scriptures and would read what we invited him to. Occasionally he would seem to be a little weird when we would call to follow up…like he didn't remember us, but we didn't think much of it. Then one day we got a message from him that was pretty scary…He was suicidal and wanted to talk to us and for us to come over… We didn't know what to do and called president to get advice. He calmed us down and made arrangements for someone else to go check on him and help him…but that was probably the scariest situation we had. (Jennifer)
A man invited my companion and I (sister missionaries) into his home for a dinner appointment when his significant other wasn't present. We declined (and kept the mission rules). He became irate. We opted to meet for the discussion at a public fast food restaurant. Upon discussion we learned that he was infatuated with one of us. We promptly excused ourselves and directed him to the Elders for any further inquiry. (Paula)
What was a spiritual experience?
When the Spirit very clearly reminded me to "talk to everyone," we approached a scary looking guy who it turned out had an LDS sister inside who did not speak English. She was praying missionaries would find her so she could go to church. Her husband took the lessons and was baptized 5 weeks later. They were recently sealed in the Edmonton temple! (Hannah)
A less active member called us for a blessing, and we met her at the church. She asked if I would give the blessing, and the feeling that I felt as I spoke cannot be described. I felt as though I was listening to the words, and not speaking the words at all. Afterwards I couldn't contain the joy and spirit I felt in that moment. (Chase)
Having a mission-wide fast for the missionary work and experiencing the many small miracles that took place following and during the fast. (Brock)
When our investigator called us to tell us he knew that God was his Father, Christ is his Brother and we can become like Them. (Brittany)
Giving a blessing to a lady from Uganda and when it was over she was in tears and asked us if we could bless her son. (Christopher)
Having the Reflections of Christ come through my area. (Jordan)
Teaching a family from Hungary for the first time. (John)
We had been teaching Christina, who is such a faithful Christian, lived the Bible's teachings and wanted to know more. She had so many questions but was hesitant to actually read the Book of Mormon. One discouraging evening that had been filled with people bailing on appointments, she called us. She wanted to let us know she had been reading the Book of Mormon! And that she felt peace. Definitely a tender mercy! (Jennifer)
We saw a man who had been fellowshipped by the members for over 10 years, accept the gospel and be baptized. He is still active and strong more than 15 years later. (Paula)
What are some interesting facts about the Edmonton Mission?
Every summer, the missionaries work with the food bank to collect donations at Heritage Days. Everyone in Edmonton goes to eat food from around the world, and it is so fun! (Hannah)
It's one of the biggest, boundary-wise, in the world. At least it was when I served. It has so many "biggest" things. Like the biggest mallard duck, the biggest sausage, the biggest papier-mâché egg, and stuff like that. Lots of interesting photo locations. (Chase)
Northern lights were amazing, Canadians don't have that big of an accent, poutine is amazing. (Brock)
It gets really cold. Biggest land area. (Brittany)
Home to a lot of the world largest random things, squirrels, UFO landing pad, mushrooms, mallard ducks…etc. (Christopher)
Biggest mission geographically speaking. (Jordan)
It is the largest (or second largest) mission in the world, geographically. (John)
I don't know about now, but when I served there were only nine or ten sister missionaries…And president didn't allow any sisters to serve in Yellowknife (apparently there is a trucker show about the ice highway…?)…though sisters had been assigned there in the past…;) (Jennifer)
What was the weather like?
It was freezing from September–April and the summers were so nice, never really getting too hot. (Anissa)
Nice in the summer. FREEZING in the winter. And winter is LONG. (Hannah)
Weather was all over the place. Wait 20 minutes and it would change. Very typical for that area. (Alyssa)
During the summer, it was glorious! Perfect temperature and long days. During the winter? That's another story. The sun rises late and sets early, and it snows a lot. Luckily I only experienced one day where we weren't allowed outside due to the cold temperatures, so that's good. It's just weather, though, and you get used to it. (Chase)
COLD!!! Well there are two seasons: winter and road construction. (Brock)
Cold and a bit humid in the summer. (Brittany)
Changed every 5 minutes. (Christopher)
Summer could get up to 30C and in winter it could go to -40 and below. (Jordan)
It was very cold. I served in the North West Territories and it was even colder there. -60 degrees Celsius or colder for over two weeks straight. (John)
Desert-like in the summer, and extremely dry in the winter…of course besides c.o.l.d. (Jennifer)
Dessert Hot, and Tundra Cold. Freak snow storm for 4th of July. Have to love Calgary! (Paula)
Any things you really like about the area/people?
It is so diverse in Canada! People are so willing to share their culture with you too, and it is so wonderful. (Anissa)
I learned so much about different cultures and religions. Most people there are so nice. (Hannah)
They were always having fun and knew when to have fun in the right times. (Alyssa)
Canadians are so friendly, generally. Even those who aren't interested are usually polite about it. They have a wonderful hospitality about them and are just wonderful people! (Chase)
The people were very interested and involved in America and I noticed they were all very similar to us Americans. (Brock)
Friendly people, awesome accents. (Brittany)
I loved how kind most of the Canadians are, the nationalism they have and the Northern Lights. I saw them over five times on my mission. (Christopher)
Kind and warm hearted by and large. Beautiful small towns up north. (Jordan)
Everyone seemed to be genuinely kind. Slower paced society. (John)
I served in mostly the YSA wards and branches. They were all so steering and were such great member missionaries. I learned so much from them…And boy could they have fun! Also, Alberta is simply gorgeous! My first trip outside the city just blew me away with it's beautiful rolling hills and fields. I loved serving in Red Deer the most probably because it is a smaller city and felt a little like home. The YSA branch was just filled with such amazing people who I am still friends with today. (Jennifer)
The Latter-day Saints are both humble and very well seasoned members in the doctrines of the gospel and in the execution of both ministering and administering. The non-members are polite and kind. (Paula)
Any packing/clothing advice?
Learn how to layer!!! You will need that in the winter time. Get a good pair of winter boots- they aren't cute but they will save you from freezing. (Anissa)
Buy your winter coat as soon as you get there. I often wore leggings or even sweat pants under my skirt. (Hannah)
Pack light. It's ALWAYS easier to BUY more than come with too much. Have a color theme with sisters and take the time to understand your own personal uniform. Mine is light tops, dark bottoms, fun shoes. It makes it easier to combine outfits and feel happy about your clothing. (Alyssa)
A lot of people will say wool socks, coats, boots, which of course you should bring; However, for me, I suggest a variety of clothing. For Elders, like myself, I suggest bringing as many good quality ties as you possibly can. Wearing the same one can get so taxing, even after a month or two. (Chase)
I would say no boots or huge coats. Definitely a scarf and tooke with gloves. (Brock)
Buy warm clothes in Canada. Layers! (Brittany)
Get it when you get there, from a thrift shop. (Christopher)
Make sure to get a good parka in the mission and good boots. (Jordan)
The list I received before I went was a great list. My only recommendation would be to buy your winter coat and boots when you arrive in the country. (John)
Hummm. Get snow boots that are warm but comfortable to walk in. That really goes for shoes too…Dansko shoes were a very good investment for me…even used them for several years teaching school after I came home… (Jennifer)
Winter. Thermal Underclothes. Sorel Winter Boots. Down Full-length Parka. Summer. Light Cottons. (Paula)
What blessings did you receive from serving a mission?
I learned how to be a better person and those attributes and lessons I learned have carried into all my relationships here at home. It has been such a blessing to still see people through God's eyes like I was able to on my mission. (Anissa)
Endless blessings! The biggest one I'd say is a deeper personal conversion to the Gospel of Jesus Christ. I love continuing to see my converts lives improve as they work towards and make it to the temple, even. Since I've been home. (Hannah)
I have a car for free, a well-paying job by being in the right place, a husband, and a strong testimony. (Alyssa)
I increased in my testimony, and learned so much about the gospel. I made lifelong friendships with companions, members, investigators and even non-members. It made me a more patient and well-rounded man, and I'm so grateful for that. (Chase)
A strengthened testimony in my Savior Jesus Christ and the knowledge and love our Heavenly Father has for all His children. (Brock)
Deeper testimony of the Atonement and stronger conversion. (Brittany)
The confidence to go out on my own in life and take on hard tasks. I was already loyal, trustworthy, dependable before, but serving a mission proved to myself also that I had integrity to live the way I was supposed to. (Christopher)
A strong testimony and scriptural knowledge among other things. (Jordan)
I received the blessing of being able to share the gospel that I love with people and help them receive the same joy that I have received by living by its principles. (John)
Stronger faith in the power of prayer and how to receive answers. Really understanding the natural communication the Holy Ghost can have with me. More compassion for people of all situations and courage to invite. A greater LOVE for the scriptures. Realizing that the mission was really just an MTC for life. (Jennifer)
The miracle of learning to hear the Spirit tell you where you need to be, when you need to be there, and what you need to be doing. (Paula)
What are some skills you gained?
I learned how to cook and clean. I learned how to teach with the Spirit and not from a memorized script. I learned how to be patient and forgiving and I learned to love myself and others always, and to accept God's will. (Anissa)
How to read a map and take a bus. (Hannah)
Interpersonal skills are the best thing to delve into as a missionary. Embrace being not good at it, embrace the mistakes and ROLE PLAY! I hated it at the beginning, but in the end it was the BEST tool EVER! (Alyssa)
How to back up a car while using only mirrors. How to conserve toilet paper. How to shop for myself. How to study. How to give and receive constructive criticism. The list goes on. (Chase)
COMMUNICATION! I love to talk with people and can now communicate more effectively with my wife, family, and anyone I meet. (Brock)
Studying the scriptures better and communicating beliefs. (Brittany)
Leadership, getting out of the comfort zone, approaching people, making long-term friends. (Christopher)
Scripture study. (Jordan)
How to study for others…how to change as you're in a dress…how to do anything and everything in a skirt, really. :). (Jennifer)
Loving others, and learning to see their needs. (Paula)
What do you wish you knew/did at the beginning of your mission?
I wish I hadn't stressed so much in the beginning about trying to be a amazing missionary immediately. I always felt like I didn't measure up and it took its toll on me. I wish I would've just let myself learn and live in the moment. I feel like I would've learned more that way. (Anissa)
You don't have to work until you can't function. Take care of yourself, then you can worry about others. (Hannah)
I wish I would have relaxed and just rolled with the punches and allow myself the space and grace to adjust to missionary life. I was very uptight my whole mission, as a result, I now lack the lasting friendships that others have. Also be confident in your ability to adjust to pressure. (Alyssa)
I wish I would have made a greater effort to memorize scripture references in relation to certain lessons. It wasn't until about a year in that a companion lovingly rebuked me for not knowing what a commonly used scripture reference was. When I memorized the reference, my teaching and studying improved greatly. (Chase)
 I wish I knew how to teach. (Brock)
The power of the Atonement in my own life. (Brittany)
It goes fast! There is no time to say wouldn't it be cool if we…just do it! Don't think to yourself this is something I want to do before I leave, do it right then! (Christopher)
Ate smaller amounts of food. (Jordan)
I wish I would have been more familiar with my Mission President. (John)
How to weekly plan more effectively. (Jennifer)
How to tell others that I cared for them enough to invite them to accept baptism. (Paula)
Any advice/testimony for pre-missionaries going to Edmonton?
Just love the people. People may say rude things or may not understand you but just show them love and it will all turn out okay! (Anissa)
It is the best and hardest thing you'll do. I have not seen as many miracles in the rest of my lifetime as I saw just in the 18 months of my mission. Homesickness is real, but it doesn't last forever, and the Savior is literally your saving grace in hard times. That has stuck with me, and I love Him. (Hannah)
Enjoy your mission and work with your heart in love. You will go farther and accomplish more than you ever thought possible. (Alyssa)
I have a hard time giving advice to anyone because every missionary has different experiences. I just know that I had the best time of my life. It is hard, don't get me wrong. There are times you will want to go home, especially on that particularly cold day with a new companion who you haven't learned to get along with yet, but press through. The hardest times are often the precursor to the greatest blessings, and the hardest companions may turn out to be some of your best friends. It happened to me. Don't get down on yourself. Press forward, with faith in Christ, and He will help you be all you can be. (Chase)
Immerse yourself fully in the mission life, obey all the rules and you will be so blessed for your hard work. (Brock)
Be obedient and have fun! Be yourself when you teach. (Brittany)
This is a sacred land to me. There are plenty of people who want to hear your message, a lot of people who will accept your message and a lot who don't and will not hear your message. Don't let that discourage you. In those times serve your companion as best as you can. They may be the ones you are called to save. A few of my companions have since gone less active or have left The Church and I wish I did more for them on my mission. (Christopher)
Don't tract during a hockey game. (Jordan)
Love the people you serve. Know why you are there and never forget that. Don't waste your time, and wake up on time. (John)
Study what an investigator must f e e l when they are becoming converted…learn what it feels like for you. Study that section in Preach My Gospel. (Jennifer)
Work with the Members. They are fabulous. Introduce them to your investigators. Let them do the work. They will. (Paula)
What was a funny language mistake?
In Canada the use Celsius, meaning the deal with numbers that are lower than zero a lot more often. During my first winter, I was talking about the weather and I said it was "negative 12" outside (that's 10 degrees Fahrenheit) and a member corrected me. It's not "negative" it's "minus." They have to say it much more often, so it's much shorter. They get a little weird about that one, but now I still say it. (Chase)
I forgot to say 'eh' one time. (Brittany)
I once was speaking with someone and said the word "bugger." The person that I was speaking with was European and said that the word "bugger" is a very derogatory term and mostly offensive. Canada is a very European-influenced country, so that knowledge came in handy throughout the remainder of my mission. (John)
One of my companions was French-speaking. She kept getting confused that the Apostles names were different in English. It was great. Sometimes she would use their French translation and sometimes she would use the English translation. Some people would be really confused when we were teaching. Very fun. (Paula)