Here are free resources about the Cambodia Phnom Penh Mission:
*View resources about the Vietnam Hanoi Mission.
---
---
Phnom Penh Mission Address
Here's a recent address for the Cambodia Phnom Penh Mission. We try to keep this information up to date, but it's a good idea to check the address with several sources, including your mission packet or the mission office.
Cambodia Phnom Penh Mission
House 2B, Street 222, Off Norodom Blvd
PO Box 165
Phnom Penh Cambodia
Phone Number: 855-23-214-081
Mission President: President James L. Christensen
Phnom Penh Mission Map
Here's a link to the mission map for the Phnom Penh Mission (LDS). To access the official, up-to-date LDS.org map for the Phnom Penh Mission:
Log into your LDS account here.
Click here.
Phnom Penh Missionary Blogs
Here's a list of LDS missionary blogs for the Phnom Penh Mission. This list includes the missionary's name, URL and when their blog updated.
*Send your missionary a gift (mission-specific shirts, ties, Christmas stockings/ornaments, pillowcases, etc.)
Phnom Penh Mission Groups
Here are Phnom Penh Mission Groups- for LDS missionary moms, returned missionaries, mission presidents and other alumni of the Phnom Penh Mission.
Phnom Penh Mission T-Shirts
Here are T-shirts for the Cambodia Phnom Penh Mission!
Shirt designs include Cambodia Phnom Penh Mission logo/emblem shirts and Called to Serve shirts. The shirts make great gifts for pre-missionaries, returned missionaries and missionaries currently serving. LDS Mission shirts come in all sizes: Small, Medium, Large, Extra Large, up to 4XL.  The mission designs are printed on white shirts and are shipped to you.
*Simply click on a shirt design to view the details and submit an order. The designs on mission t-shirts may also be printed on other LDS mission gifts, including: Cambodia Phnom Penh missionary aprons, Christmas stockings, ties, pillow cases, teddy bears and Christmas ornaments.
*Click here to browse Cambodia LDS Mission gifts
---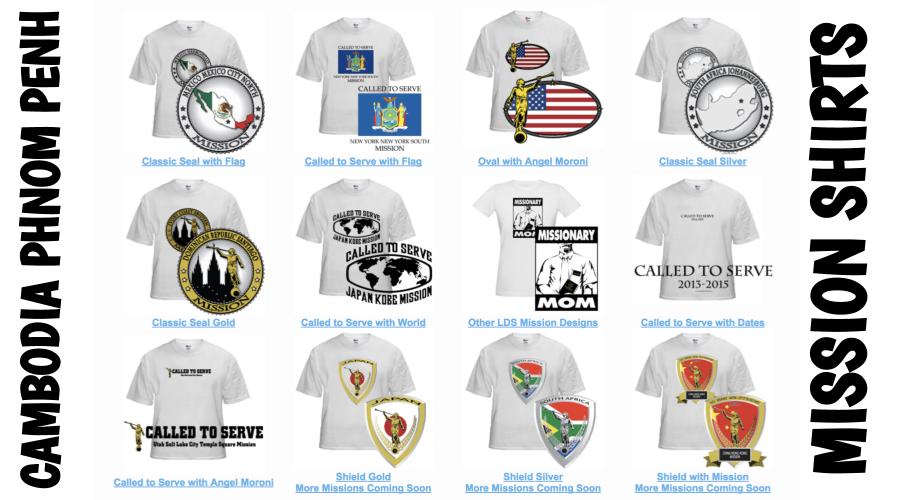 ---
Phnom Penh Mission Presidents
Here's a list of current and past Mission Presidents of the Phnom Penh LDS Mission.
2015-2018, James L. Christensen
2012-2015, David C. Moon
2009-2012, Scott Smedley
2006-2009, Robert Winegar (Listen to an interview with the Winegars)
2003-2006, David John Towers
2000-2003, John Philip Colton
1997-2000, Leland D. White
1994-1997, Troy Corriveau
1991-1994, White Larry
Cambodia LDS Statistics (2015)
Church Membership: 12,882
Missions: 1
Temples: 0
Congregations: 30
Family History Centers: 4
Helpful Articles about Cambodia
Phnom Penh Missionary Survey
Here are survey responses from Cambodia Phnom Penh RMs, to give you a snapshot into what it's like to live in the mission.
*Click here to take a survey to help pre-missionaries going to your mission.
When did you serve?
2015-2018 (Kiet)
2012-2014 (Justin)
2010-2012 (Amreth)
2007-2009 (Kong)
2007-2009 (Diane)
2007-2009 (Diane)
2007-2008 (Heather)
In which areas did you serve?
Saigon, Hanoi. (Kiet)
Toul Tom Poung, Battambang 1st, Pochentong, Tuek Thla, International Branch, Stueng Mean Chey 1st (Justin)
Battambang, Siem Reap, Kuen Savy, Kompong Thom. (Amreth)
កំពូងចាម ,តាខ្មៅ,សែនសុខ ,សាខា4. (Kong)
PP Branch 11 and 12 , KC 1&2, BB 2. (Diane)
Phnom Penh, Kamponcham, Battambang. (Diane)
Ta Khmao Branch 2, Pochentong, Kompong Cham Branch 2, Ta Khmao 1 + Bakou, Steung Mean Chey Ward 3, Tuek La'ak, Tuek Thla and Chomkarmon. (Johnny)
What were some favorite foods?
Bún đậu, cơm heo quay, bún chả. (Kiet)
Sngao mreah, Any type of chaa (stir fry), dragon fruit, and street-side smoothies are all phenomenal. (Justin)
Sweet-sour soup, deep fried and some pasta. (Amreth)
Somlar kako, machu kruang, fruits, tuk ompel, mii chhaa. All the sweets. (Diane)
Somlar kako, samlor machu krueng, fried banana, all fruits, somlar curry, nom banchok, fresh baguet, sugar cane juice. (Diane)
Com suong nuong. Pho .Canh chua. Frog legs. Any kind of fish. I miss the food. 😭 (Heather)
I love Kuy Teav, Fried Noodles, Fried Rice, Curry, Gruel/Rice Porridge and Khmer Noodles! (I also love the Spring Rolls over there, however it's never like my mom's!) (This even includes general Asian Dishes like Banh Chau, or what I used to translate as Yellow Patties!) (Johnny)
What was a funny experience?
All of my companions at least hit someone, or was hit by someone. (Kiet)
I served in an area with working train tracks. Whenever a train would come through, all the people who lived near the tracks would run outside and throw their garbage bags onto the train. That was their way of taking out the trash! (Justin)
Slipped into a muddy pool on the way to teach. (Amreth)
My investigator drank my American water. (Kong)
Mostly being silly with companions or laughing at our speaking mistakes. Playing with the kids and joking with the youth. Doing service with the members. Getting wet and muddy. (Diane)
The down pour monsoon season is the funniest. Always muddy or biking through water. (Diane)
When the Mekong was getting higher and closer to the houses, we were teaching a lady near the water. We opened a little gate that lead to the ladder we had to climb to get to her house and began walking the short pathway. Both my companion and I looked down at the same time and there where hundreds of black worm like things crawling up from the Mekong and covering the pathway. They were climbing up our shoes too. I immediately started kicking them off but my companion went in full on panic mode. Kicking and screaming and flailing her body everywhere. It was totally freaky to see those worms but my companions reaction still makes me laugh today. Heather)
Okay, luckily I thought of this one. So my first companion in Ta Khmau Branch 1 + Bakou, we faced a lot of funny people to contact that would even include gay people in a park. (Around town in Ta Khmao) I remember when we faced gay people, they really acted homosexual, now I am not overly against those kind of people, but me and my companion were willing to share about our views in our church so that they know about and see if they are interested as well. So, I remember when my companion was attracted to a lady-like figure who was selling soda and then found out he's a man… a very shocking lesson learned for him when it comes to locking our hearts during our entire mission no matter how hard it is! (Johnny)
What was a crazy experience?
Tickling Elder Lam-can kick you across the room, letting Elder Vinh ride a bike- hits every moving and static objects in sight, letting Elder Duy get lost in Saigon- watched him passed me twice as I stood in front of the bookstore, Letting Elder Quang contact- he doesn't, putting peppers in Elder Tri's phở-than burning my eyes after rubbing it with peppered fingers. Falling over Saigon bridge at 40mph and getting hit by a xe búyt. (Kiet)
There was a crazy old homeless man who we tried to teach, but he was always out of it. One day he was CONVINCED that I was his long lost brother whom he hadn't seen since the 70's. He almost didn't let me leave. Also, in that same neighborhood I saw a dead person. (Justin)
Riding bike in the dark forest. (Amreth)
On the way they fought us. (Kong)
Biking past curfew from dinner with the Seniors. Men were saying "even Jesus' people I would rape…" (Diane)
Nearly getting hit by moto bike, biking home past hours (it was a dinner with the senior couple), threats yelled at us while we biked home from men. (Diane)
During the same time of year-when the Mekong river rises and floods the little villages around the banks of the river, there was one particular village that got flooded with sewer/(polluted water?). It was black, black and smelled sooooo bad. We had to cross on a long skinny boat to get to the houses. The boat's sides were barely above the water and I about had a heart attack every time the boat would rock. I did NOT want to fall in. 🤢 We were ferried over to a rickety bridge made of scrap wood that connected house to house. We would balance on this bridge as we made our way to our investigators home…all the while praying that I didn't slip into that disgusting putrid smelling black water. (Heather)
I remember going along with my first companion in Tuek La'ak and we prayed about our last amount of time when our final appointment of the night didn't go through, me and him went into a neighborhood, someone asked about my background and I burst out sharing the fact that I don't care about my background and what we're here for and I just wanted to share a testimony that if we applied the Gospel of Jesus Christ we can all feel true happiness. Every one was quiet in the neighborhood especially the drunk ones! (Johnny)
What was a spiritual experience?
Everything… (Kiet)
We were teaching a family outside on their bamboo porch with a tin roof. It was the first lesson, so at the end we invited him to pray. It started raining SO hard like it does in Cambodia, and the tin roof made it impossible to hear his exact words. The Spirit, however, was undeniably there. I could feel the sincerity of this man's humble first prayer above the pounding rain. (Justin)
The Lord guided us to a family who had been praying if we're true messengers of God. (Amreth)
All members in Cambodia are very poor, but they are so kind and have good hearts. (Kong)
Seeing the truth light up the investigators faces when everything clicked and they knew. (Diane)
My entire mission was a spiritual experience altogether. If I were to narrow down to my most favorite, it's when I was with my first companion white washing in Tuek Thla. It wasn't the easiest transfer, but it was doable, because I strove to follow the Holy Ghost and humble myself as much as possible. Everywhere I went made me become more humble, because I was literally given so much- an opportunity to grow, use good bikes and even have a decent roof over my head in my mission. I always love praying along with my companions, even in the public. It's been awesome and I always love the moment where I witnessed God answer my honest prayers along with my companion! (Johnny)
What are some interesting facts about the Phnom Penh Mission?
You don't know the people until you've met them. (Kiet)
It is a fairly young mission. The first member was baptized in 1994. I was blessed to be there for the 20 year anniversary of the church in Cambodia. Just two weeks before, the very first two stakes were organized in the country. The next goal is a temple. (Justin)
I love it. It's an amazing mission. (Amreth)
Being up at 5am and in bed by 9pm, many were Vietnamese speakers in the city. (Diane)
Most are open to learning and were so eager to learn about Christ. Happy tears when they knew it was the truth. (Diane)
When I think back about my mission, I feel overwhelmed with gratitude for the opportunity to grow closer to my Heavenly Father. Spiritual experiences continued to come as I was obedient and strove to keep peace with companions. As I did everything I could to keep the spirit with me. I don't have one specific that I want to share. I just want to say that the Spirit was so strong as I studied the scriptures every morning. At times, it felt thick in the room and I understood things differently/deeper. It was so strong when I bore pure testimony to those I met. There were so many small yet powerful, heart changing moments that made all the hard things worthwhile. (Heather)
Native Cambodians don't bluntly tell their culture, but it's up to you to ask them and they're open to listen to your side of your culture and where you come from! Ancient Cambodians were the most dominant Asians in the entire South East Asia region! Cambodians aren't very educated because of the Khmer Rouge. (Johnny)
What was the weather like?
Hot and moist. (Kiet)
Hot and humid for most of the year, and a monsoon season for a couple months where it rains everyday. (Justin)
Hot and wet – monsoon. Tropical rain. (Amreth)
Hot, lots of rain. (Kong)
Wet, humid and hot. Lots of rain and thunderstorms. Crazy rain storms were my favorite. (Diane)
Hot, humid and wet. (Diane)
Weather was super hot always. Part of the year it would rain and rain and flood the streets so fast. It was mostly warm rain and it felt so good. You are never dry. Either sweating or wet from rain. (Heather)
It's mostly hot, sunny and super rainy out there! (Johnny)
Any things you really like about the area/people?
Everything: I miss them. (Kiet)
The area is beautiful. If you get to serve outside of the capital, the countryside is breathtaking. Green rice fields and palm trees as far as the eye can see. The people are so kind, and even non-members appreciate the work that missionaries do. They are loyal and loving. (Justin)
Kind. Smile. (Amreth)
I like them a lot. (Kong)
Very humble and eager to learn, especially the younger generation. (Diane)
It's a beautiful culture. So many interesting things to learn and see. Such a humble way of life. The people are such a kind, loving people. They will love and welcome any missionary coming and help them in any way they can. They are so easy to fall in love with. (Heather)
The Cambodian people are a very unique people, they are blunt because they automatically show love that way. It's weird but that's them. I noticed that the members there are humble and most of them are trying very hard to apply gospel of Jesus Christ despite their prosperity and wealth! (Johnny)
Any packing/clothing advice?
Buy your supplies in Vietnam, everything is 5xs cheaper. (Kiet)
Only buy in the states the clothes you need to get through the MTC. I bought a $500 suit, $30 shirts and pants, but when I got to the country I discovered that you can get clothes specifically cut to your body for very cheap. I bought a few 90-100 dollar suits and ditched my expensive American one. (Justin)
Leave some spaces for some additional objects when you come back home. (Amreth)
Bring your own shoes, nice good quality ones (there are not very many good ones). Most clothes were tailored there and very cheap, so I would just have them make them for you once you're there. Don't bring expensive clothing since they will just get ruined from the mud, but light and airy material. (Diane)
Have your clothes made there, it's tailored to you and cheaper than bringing clothes. Anything nice will be ruined by weather so Don't spend lots on nice clothes or fabrics.Don't but shoes there, not good quality at all. Only a light sweater is necessary when it might be chilly. I used mine twice only for 10 minutes. (Diane)
Don't spend too much money on anything pretty, you just need practical (they will get sweaty gross so fast). You can also get clothes made for relatively cheap there. Don't wear makeup. The women don't wear it. (Heather)
This depends, I would advise that you bring a decent bike helmet and good missionary shoes because I busted about four pairs throughout my mission! (Johnny)
What blessings did you receive from serving a mission?
Everything I needed and a stronger desire to come back. (Kiet)
So much of the good about me now came from my service in Cambodia. I was blessed with a knowledge that God lives and loves us.  (Justin)
Patience, love and kindness. (Amreth)
I got so many blessings for me and my family. (Kong)
Being able to communicate with Cambodians, learning to love everyone. (Diane)
Made lots of forever friends. I can connect to local Khmer here in the USA. Having a better knowledge of the culture and be culturally diverse and better understanding of God's children. (Diane)
Besides what I said before about my relationship with my Heavenly Father, I grew to love and know my Savior in a way that experience could only offer. I lived among a people who the Savior loves. My heart has expanded to encompass another nation of people. We say we love all of God's children (and we do!) but when we know them and understand them, the love is deeper and more meaningful. I know people now that I can't imagine my life without. My life has been very enriched in so many ways. (Heather)
I know the Khmer Language now and I can use it with my family- as in my mom and all of my relatives, this brings more closeness than I ever had in my entire life! I got skinnier, and I am spiritual stronger, and striving to still remain the best! (Johnny)
What are some skills you gained?
Working with foreign officials, learning the language, understanding and adapting to the culture and traditions, loving the people. (Kiet)
I learned a somewhat useful language. I learned how to manage my time and set appointments. I learned how to talk to people I didn't know and people I didn't even want to talk to. I learned how to set goals. I learned how to work hard for 15 hours per day, 365 days per year. I learned how to communicate with a companion during contention. I learned how to love someone for no other reason than because they are a human. I learned SO much. (Justin)
English, teaching, communication. (Amreth)
One skill I got from my mission is talking. (Kong)
Learning Khmer, planting, harvesting rice. Cooking Khmer food. (Diane)
Learned to cook their food, speak, write, read and translate. Being more patient. (Diane)
Learned a new language. Preach My Gospel is a powerful tool and taught me how to be an effective missionary then and an effective teacher now in my callings and as a mother. Learned how much I don't know, how inadequate I am…so how to rely on the Spirit more fully. (Heather)
I learned how to stay organized when it comes to records, I learned how to stay patient with those around me, and I learned how to work hard! Missions can help one develop a skill of how to work our butts off! (Johnny)
What do you wish you knew/did at the beginning of your mission?
I wouldn't change anything. (Kiet)
I wish my testimony had been stronger at the beginning of my mission so instead of working on that so much, I could have focused more on helping others feel the same way. (Justin)
Just tried my best. (Amreth)
To be more patient with myself, the language barrier frustrated me most and thinking I couldn't learn it fast enough. (Diane)
Mostly language preparation. I didn't understand really anything they said in the beginning since I only knew gospel words and simple conversation. I wish I listened to native khmer people so I knew what they sounded like. The Mission Training Center now does Skype with the locals so that probably helps a lot. (Diane)
I wished that I knew the background of my first trainer a lot more, so I could figure out the way I could love him at the highest capacity possible! (Johnny)
Any advice/testimony for pre-missionaries going to Phnom Penh?
What Lam said. In addition, you hurt the people, I hurt you. (Kiet)
Don't let one single day go by that you don't thank God and appreciate the blessing that it is to be there. You WILL miss it when you return home and it is very difficult to go back. Love yourself, your companion, God, and the great people of Cambodia. (Justin)
Be so prepared so that you won't fail when faced with obstacles. (Amreth)
Be patient. Practice, practice, practice. Open your mouth even if it may not be clear. Opening my mouth was what got my language going quick. (Diane)
Open your mouth. Once you do, that's when you'll learn your Khmer and get better at it. Don't be shy and be confident even if you do pronounce it right. It's hard, really hard in the beginning but after about 3 months it starts to smooth out a bit with the language part 🙂 Learning to live with companions is a different story, be patient and try to be understanding. Having a Japanese father helped me in understanding why they do what they do :). (Diane)
Choose to be 100% obedient. Choose it for the blessing of the Spirit…choose it for the people you are suppose to meet. Waking up at 5 every morning was hard EVERY SINGLE MORNING for my entire mission. I had to choose it every day. And I did! I chose it every day. And I feel so grateful that I did. Love your companions. Don't have big disagreements. It's only a short time on your mission. Just love and forgive. I wanted to leave my mission and look down from the plane at the land and the people I was leaving and know that I had done everything I could for them. That I had done my very best. I had worked hard and loved hard. Then to pray to Heavenly Father for that confirmation. Make that your goal! (Heather)
If you're a Khmer-American I would advise that they should get ready for the culture there, because my biggest language barrier was actually not knowing the Khmer Culture, if you find ways to understand the culture out of love like our Savior, then the language will come and the people will love us more- this doesn't have to be just Khmer-Americans, but anyone around the world who's called to serve here! (Johnny)
What was a funny language mistake?
A missionary accidentally learned "ku ". (Kiet)
My trainee called David A. Bednar a demon instead of Apostle. Another companion was trying to say that I was a half child (Cambodian/American), but he ended up saying that I was a child cut in half. (Justin)
Saying "perfect in Christ" instead I said "no finger nails in Christ". (Diane)
Instead of saying perfect, I said no nails. Many of the senior couples had lots of pronouncing mistakes and it made me laugh really hard. They sure tried hard though. (Diane)
The language is tonal. So it's easy to make lots of mistakes. I was talking to a group of kids about colors and was saying "blood" over and over instead of "color". (Heather)
In the beginning of my mission I accidentally called the Holy Ghost a "it" which in Khmer Culture is interpreted as a Devil! Ahhh! I remember when I was in Pochentong, my first companion over there tended to mix words like a tongue twister which is super funny because I tend to do that to! (Johnny)