Here are free resources about the California Ventura Mission:
*Other Mission Pages: California LDS Missions.
---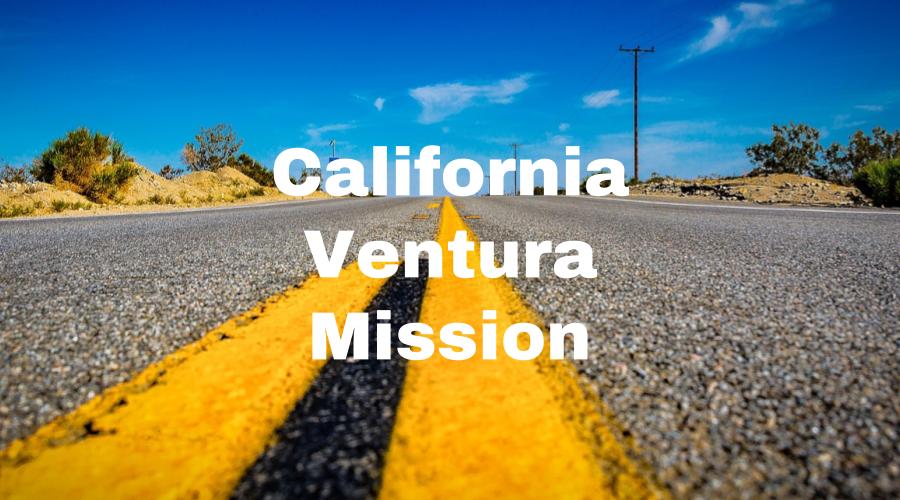 ---
California Ventura Mission Address
Here's a recent address for the California Ventura Mission. We try to keep this info up to date, but it's a good idea to check the address with several sources, including your mission packet or the mission office.
California Ventura Mission
3301 West Gonzales Road
Oxnard, CA 93036
Phone Number: 1-805-485-1034
Mission President: President David H. Nakken
California Ventura Mission Map
Here's a link to the mission map for the California Ventura Mission (LDS). To access the official LDS.org map for the Ventura Mission:
Log into your LDS account here.
Click here.
California Ventura Missionary Blogs
Here's a list of LDS missionary blogs for the California Ventura Mission. This list includes the missionary's name, URL and when their blog was updated.
*Send your missionary a gift (mission-specific shirts, ties, Christmas stockings/ornaments, pillowcases, etc.)
California Ventura Mission Groups
Here are California Ventura Mission Groups- for LDS missionary moms, returned missionaries, mission presidents and other alumni of the Ventura Mission.
California Ventura Mission T-Shirts
Here are T-shirts for the California Ventura Mission!
Shirt designs include California Ventura Mission logo/emblem shirts and Called to Serve shirts. The shirts make great gifts for pre-missionaries, returned missionaries and missionaries currently serving. LDS Mission shirts come in all sizes: Small, Medium, Large, Extra Large, up to 4XL.  The mission designs are printed on white shirts and are shipped to you.
*Simply click on a shirt design to view the details and submit an order. The designs on mission t-shirts may also be printed on other LDS mission gifts, including: California Ventura missionary aprons, Christmas stockings, ties, pillow cases, teddy bears and Christmas ornaments.
*Click here to browse Ventura Mission gifts
---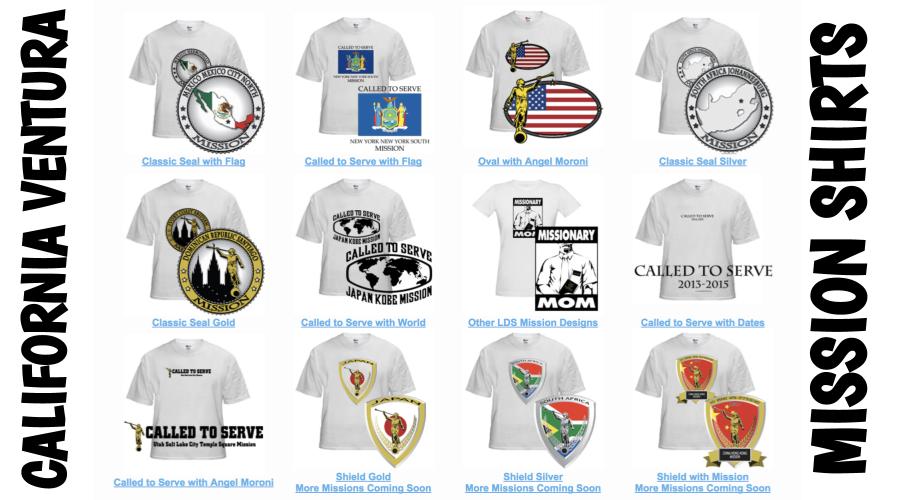 ---
California Ventura Mission Presidents
Here's a list of current and past Mission Presidents of the Ventura LDS Mission.
2017-2020, Nakken, David H.
2014-2017, Felix, Dell C.
2008-2011, Murri, Wayne Dale
2005-2008, Ellsworth, Richard M.
2002-2005, Henderson, David J.
1999-2002, Clarke, Val L.
1996-1999, Murdock, Micheal D.
1993-1996, Butterfield, Roger C.
1990-1993, Nielson, Jack K.
1987-1990, Oswald, McKinley
1984-1987, Barney, Newell A.
1981-1984, Cooper, Lyle J.
1978-1981, Smith, Hyrum
California LDS Statistics (2016)
Church Membership: 773,762
Missions: 20
Temples: 7
Congregations: 1,357
Family History Centers: 222
Helpful Articles about California
California Ventura Missionary Survey
Here are survey responses from California Ventura RMs, to give you a snapshot into what it's like to live in the mission.
*Click here to take a survey to help pre-missionaries going to your mission.
When did you serve?
2013-2014 (Chelsea)
2010-2012 (Ana)
2007-2009 (Clayton)
2005-2007 (David)
1980-1981 (Carlin)
July 1978-1980 (Craig)
1978-1980 (Robert)
1978-1980 (John)
1978-1979 (Dave)
What areas did you serve in?
Paso Robles, Newbury Park, Moorpark/Thousand Oaks, and Santa Maria. (Chelsea)
Bakersfield, Santa Paula, Simi Valley. (Ana)
Camarillo, Pismo Beach, Moor Park, Bakersfield(N/A), Santa Barbara. (Clayton)
Panama Ward, Bakersfield South Stake; Atascadero; Goleta; Simi Valley 4th & 5th Wards; Roseville Ward, Bakersfield North Stake; Wasco. (David)
Pasadena,Buena Park, Northridge, Riverside. (Carlin)
Morrow Bay, Simi Valley, Ventura, Arroyo Grande, Lancaster and Santa Barbra. (Craig)
San Francisco Valley, Simi Valley, Ventura and Mojavi Desert. (Robert)
Canoga Park, Inceno, Ventura, Oxnard, Palmdale, and Santa Maria. (John)
California, Ventura deaf mission. (Dave)
What were some favorite foods?
Panuchos, pupusas, sopes, flautas, posole, etc. (Chelsea)
Fajitas. Home made Tostadas. Enchiladas. Round Table Meat Pizza. Mexican foods just not Menudo..lol. (Ana)
Tri-tip and anything Mexican, except tripe. (Clayton)
Tri-tip, fresh orange juice (like the-oranges-were-picked-off-the-tree-in-the-backyard-seconds-before-being-juiced fresh), guacamole. (David)
It was normal food, nothing fancy or ethnic. (Carlin)
Fresh squeezed lemonade. Artichoke dipped in mayo. Mexican foods. (Craig)
Refried beans…learned to love them. (Robert)
Ribs in Santa Maria. (John)
Pizza. (Dave)
What was a funny experience?
We once were teaching a woman and her transgender friend showed up for a visit. We continued the lesson, and as soon as Joseph Smith was mentioned, the woman's husband appeared at the door asking, "Jose Smith?" Pretty soon the three of them were all talking at once in rapid Spanish, and my companion and I just sat there trying to keep up. As soon as we got in our car, we burst out laughing and wondered what had just happened. (Chelsea)
One day as I was walking with my companion in Santa Paula (I'm Polynesian and my companion is from Reno…she's white) and we were talking to a lot of people we met on the street and we wave to other people who drove by. That evening, the Spanish elders invite us to have dinner with one of the families in their ward. As we were walking to the house, the elders told me a funny story saying "So Sister T, this family we're about to have dinner with told us that they saw the "Mexican and the White sister missionaries walking down the streets today" and we all started laughing. So we finally entered the house and we went in we sat around the table and we started eating after one of the elders said the prayer. So the mother asks me and my companion where we're from and so my companion introduced herself and now it was my turn. I took a bite of my tacos and then wait a little while and the told them. Oh I'm from Mexico. The elders just started busting out laughing and my companion kicked me on the leg under the table. I was trying so hard to have a serious face at the moment. So the coupls askes "where in Mexico?" I just turn and say "Oh from Tijuana..and the elders and my companion flat out laugh out loud and one of the elders choked on his own food..haha..The couple were so confused because they literally thought I was telling the truth because I wasn't smiling at all. That I'm not Mexican I'm Polynesian and I'm from the Island of Tonga. And they were more confused because they never heard of Tonga. So I took the time to tell them about my home. But throughout my mission most people thought I was Mexican. Lol. (Ana)
Making my companion think he was just bitten by a stray dog. (David)
The first time we went to teach an investigator, and my companions didn't know the scriptures for the first discussion, I found them and gave them to them during the lesson. I thought that was funny and sort of weird. (Carlin)
Playing football in our suits with a few kids in the streets and I split my pants. Had to have a member lady sew them up. They gave me a robe to wear. They had teenage daughters. It was embarrassing. (Craig)
Darting between two cars and realizing that there was a chain between them and my pedal catching it and catapulting me several feet in the air. No damage to my pants. (Robert)
One time I was racing down the road to beat a light on my bike. I couldn't stop fast enough on the corner, hit the curb, over the handle bars, rolled back got on bike and kept going. The other elders were laughing so hard I had to pull over and wait for them. I was not hurt. (John)
What was a crazy experience?
It was getting dark and we were street contacting. We ended up talking to a man who gave us a creepy vibe. As soon as we finished talking, we left, and I had to stop my companion from going to the car. We went around the corner out of sight for a few minutes until we were sure he was gone, then went back to our car. For the next couple weeks we avoided the area, especially at night. (Chelsea)
One of the craziest experiences I faced when I was on my mission was when my companion and I were tracting down one of the streets and we came across  of an older man who was painting and we offered to help but when he saw our name tag he said a "NO" with a very firm voice. My companion then started to tell him about what we were teaching and this guy started bashing us with all these weird talks about how Jesus Christ was Adam's Father because they dwelt in the Garden of Eden and it shows in one of Brigham Young's books and he has read all about our history.And he was just going on and on. I hold my companions hand and we just bore our testimony and we left. (Ana)
Witnessed a fight while we were street contacting before 9 pm. The person we were talking to was approached by bigger men, one ripped out the contact's door backing past the stopping point as they tried to drive away. (Clayton)
Didn't really have any. (David)
It was crazy but not altogether not dangerous but with the deaf almost anything goes. (Carlin)
While serving in Simi Valley, we were riding home and racing another set of elders and it was dark and we were going so fast my light burned out on my bike. A few miles later, I hit a rock in the path and it threw me off my bike into a large canal bank. The next day, we noticed I was just inches away from a large cactus bush. (Craig)
My second companion from Colville, Washington had two accidents where he flew over the handlebars of his bike, one on a very busy street and lost a shoe as well. He ended up with whiplash and doctor appointments. Not good. (John)
Canyon county… riding my bike up a hill and got pinched from a car passing by. (Dave)
What was a spiritual experience?
It was always amazing when lessons would go really well and you could feel the Spirit so strongly as you bore testimony of the things you knew were true. (Chelsea)
Eve and so we all went and the whole day the only name that was on my mind was my father's name.This was when I was on my very first transfer in the mission. I started to worry because when I left on my mission my dad wasn't a member yet he was struggling with smoking and before I left I asked him to quit smoking and join the church but he jokingly said "Ana if I stop smoking, I will die fast". I was so sad but he just laugh. When we went to the temple and all I can think of was him and I was a bit scared. Thoughts of losing him came to mind or maybe something bad has happen to him. But as we went in to the Celestial room, I said a very humble prayer and tears of worry came down and as I finished my prayer, a feeling of peace and assurance that all will be well overcame me. And I was quiet the whole ride back home. My trainer asked if I was all right and I told her yes. It's a lovely day. Next preparation day, I got an email from my little sister telling me the answer to my worries. She said "Sister T guess what? Dad quit smoking on New Year's Day". I couldn't help myself but I straight up cried with tears of joy knowing that the very day I was in the temple was the very exact day my dad quit smoking back in the Kingdom of Tonga.This was the major turning point of my testimony about prayers and I could never question any teaching of this gospel. My dad later on got baptized in to the church. (Ana)
Being able to go to the temple with a recent convert, and watching him go on a mission of his own. (Clayton)
We answered a referral, and the potential investigator asked straight out what he needed to do to get baptized. Another was when my companion felt prompted to tract a certain street when plans fell through, which ultimately led to someone receiving the Gospel. (David)
I had heaps of spiritual experiences but one of the craziest ones was when my district planned to go on a temple trip to Los Angeles on New Year's. (Carlin)
The most spiritual time I had with both spirits, good and bad was at the area conference held at the Rose Bowl Stadium. At the end, President Spencer W. Kimball waved to all the members. You could just feel the love of him and God's love for us all. Then after leaving and walking to our car, there were numerous anti Mormon protestors and the evil spirit was strong then. I truly knew the difference between them and the spirit I felt in the meeting. I would go to any meeting like that as opposed to listening to the anti Mormon messages. It was very powerful to me. (Craig)
Every baptism and a realization that Christ loves me and that he lives. (Robert)
Taking a family a year later to the temple to be sealed that we had taught in Canoga Park. (John)
What are some interesting facts about the Ventura Mission?
Just before I got to the field, the mission was split to create the Bakersfield Mission. There were a few other missionaries I knew who had served in areas of Bakersfield before the split. (Chelsea)
Best Mission in the WORLD *Very Obedient Mission *Everyone is a Family member in our mission *It is led by a Representative of our Lord. *Everyone is treated equally through revelation *Every missionary is ready to harvest the field. (Ana)
Best weather in the world, just an opinion. It is amazing weather though. (Clayton)
At the time, it was the biggest mission in California (I can't remember whether for square miles covered or number of missionaries; around 300 at the time); it is home to one of the oldest olive trees in the Americas. (David)
While serving there, our mission was the number on highest baptizing English speaking mission in the church for a number of months. Don't recall how many baptisms or how many months. (Craig)
I was there when the mission was formed. (Robert)
I met a family member that I didn't know in almost every area I served. (John)
What was the weather like?
Warm and sunny almost all the time. (Chelsea)
The weather was Fantastic. The warmth of the sun was just perfect for me since I'm an island girl. THANK goodness we didn't have snow in the mission because in the days we had low 30 I was freezing already..lol (Ana)
Hot during the summer, rainy during the winter. (David)
California weather unpredictable. (Carlin)
Weather was mostly nice and mild. We did however get caught in a few downpours. Generally, it was nice as I served mostly in coastal cities. (Craig)
Hot with lots of pollution in the valley. (Robert)
Hot in the San Fernando valley, and when it rained, it Rained! (John)
Any things you really like about the area/people?
I served Spanish-speaking, and the people were almost always very kind and polite. They loved to feed us and share what little they had with us, even if sometimes they barely knew us. (Chelsea)
*I LOVE LOVE LOVE the people I serve because they were sooooooo KIND. Even the homes we knocked on their doors and they didn't want to listen to our message, they didn't slam the door in our faces. The members sometimes were slow to help us out with missionary work but they NEVER let us go hungry at any time. The members loved us as their own daughters and we were blessed beyond measure for they worked with us in socializing with our investigators. And it was just a joy to see them welcoming new members into the fold. But above all, I LOVE these people so much because over time as we visit their homes, we taught them the gospel and witnessed the differences this gospel did to their lives and their countenances start to change and miracles happen. I will forever LOVE the people in my mission. (Ana)
Even though there were a lot of wealthy people around, they were still down to earth. (Clayton)
Just about everything. I want to move back so badly! Perhaps not to the areas I served in per se, but to that part of the state. (David)
The area reminded me of my picture of Hawaii. Just very beautiful and new to me. The people we fantastic. You grow to love the people wherever you are called to serve. (Craig)
Hyrum Smith was a phenomenal president. Inspired me to read the scripture with passion and make them live and apply to our time. He made them real to me and I try so hard to do the same with the youth. (Robert)
I liked the diversity of culture and learning about them. (John)
Any packing/clothing advice?
With the warm weather, it was pretty easy to pack light. It's also really easy to collect stuff–clothes, shoes, etc–as you go from area to area. Although it's usually warm, be prepared for the occasional rainstorm. Umbrellas come in handy on rainy days, and people would be confused as to why we were out in the rain, often letting us inside. (Chelsea)
Don't take too many clothes with you because over time, you will gain a little bit of weight. Sometimes it's a struggle for sisters to know they've gained weight on the mission but I always look at it as a positive thing. I remember my greenie complaining about how she has been gaining weight in her first few weeks on our first transfer and I told her "Our purpose is to invite others to come unto CHRIST and Heavenly Father is just helping us fulfill that. We are gaining weight because Heavenly Father doesn't want our investigator to focus on us because we are tooooo pretty and good looking but He wants our investigators to focus on our message. We will lose weight when we go home, so don't worry about your weight" and wallah problem solved. lol Just pack enough clothes and shoes because you never know if your size will change. Lol (Ana)
One jacket for cooler nights/2 weeks of total rain you may get while there. You may bring nice suits, you'll only wear them to meetings. Bring good slacks for day to day. (Clayton)
Good waterproof jacket and coat for the winter, comfortable shoes. (David)
Short sleeve shirts. (Craig)
Pack light and get a good bike. (Robert)
What blessings did you receive from serving a mission?
I've managed to keep a good habit of morning scripture study and daily prayer, and even started doing some family history myself. I also feel like in the year since I've been home, some of my talents have improved quite a bit, like my art. (Chelsea)
My Family was SEALED for all time and eternity on the day I returned back home. *My two younger siblings are now serving their missions *My dad is the First Counselor in our Ward Bishopric *My family is much happier than ever before..united in every decision we make at home. (Ana)
Patience. (Clayton)
Too many to begin to list them! (David)
My testimony was strengthened beyond measure. I made a strong commitment to the Lord just before returning home. I committed to obey the sabbath day, not participate or watch sports on Sunday's. This has blessed me so much more than I can express. Last few years, I had noticed the blessing on how I hallow the Sabbath. It truly is a blessed day in my life. I have received many blessings from this single commitment I made. (Craig)
My testimony. (Robert)
Leadership skills that I have used in church callings as well in my career. How to counsel and listen to the Spirit. (John)
What are some skills you gained?
I learned Spanish, for one, and it's proved useful on occasion, though I don't get to practice as much as I'd like. I've also learned to get out of my shell a bit more and overcome some of my shyness. (Chelsea)
I've gained the attributes of patience *I'm more outgoing and confident to give a talk at any time I'm called upon *More wise about my financial needs and budgeting it. *Prioritizing my time to spend with/on things that are important *More mature with my decisions in life. *Habit of loving to read my scriptures and saying my prayers and being positive about life. (Ana)
Patience. (Clayton)
I learned to lead others, and to push myself out of my comfort bubble. (David)
Being on my own and trying to get along with different roommates. (Carlin)
Learned to speak to strangers and carry on a conversation with them. (Craig)
Speaking, a greater knowledge of gospel principles, organizational skills. (Robert)
How to counsel others, listening, managing. (John)
What do you wish you knew/did at the beginning of your mission?
I wish I'd been better at actually trying to write in Spanish in my journal at the start. Eventually, I got to the point where it was completely Spanish, and that helped me with speaking it because it helped me learn how to form coherent sentences. (Chelsea)
Memorize more scriptures *Spiritually ready. (Ana)
The Mission Training Center teachers didn't serve in your mission. Listen to your trainer because they have served in that area. (Clayton)
I wish I were more diligent in my obedience.  (David)
I wish the MTC would have been better prepared for a deaf sister missionary. I spent 4 hrs in MTC then went right into the mission field. I was Not prepared at All. (Carlin)
I wish I would have had more confidence in my priesthood and ability to serve, I wish I could have discerned between the Spirit and my own thoughts. (Craig)
Realize just how short 2 years are and not waste as much time at the beginning. (Robert)
Scripture study. I wish I would have read the Book of Mormon and studied it more. (John)
Any advice/testimony for pre-missionaries going to Ventura?
Love the people, love the work, and take care of yourself so you can take care of others. I had a few companions who needed reminders to take care of their health so they could serve with all their heart, might, mind, and strength. Push yourself to do well, but don't be too hard on yourself if you don't feel like you're meeting your expectations. The Lord knows you and your limits, so trust that He's happy with the efforts you put forth and will support you as you try to do His will. (Chelsea)
I advise you to be who you are when you teach. Study the lessons and apply your own words. Teach from your heart and let the Spirit send the message into your investigator's heart. Smile at all times even when you're not having a good day. Always be one with your companion in the decisions you're both making. Always trust in the Lord and know that he is there. Don't be afraid to talk to people you come in contact with. Remember,there are angels walking along side with you and your companion. Always THINK positive about other people and especially your companion. Love your companion and be EXACTLY obedient. (Ana)
Listen to your President, and obey him completely; he was called for a reason. (David)
Don't be to proud to begin early in your teenage years to prepare and gain a strong testimony. Take every opportunity to experience and learn how to teach the gospel. (Craig)
Understand the doctrines and history of the church. So you are not blindsided by all the Nay Sayers. Defend your testimony… don't let your faith waiver. (Robert)
Attend your meetings with desire to be there. Participate in lessons. Read and pray about Book of Mormon. (John)
What was a funny language mistake?
Teaching the law of chastity in the MTC, my companion was trying to say, "El matrimonio es entre un hombre y una mujer. (Marriage is between a man and a woman.)" and ended up saying, "El matrimonio es entre un hombro y una mujer. (Marriage is between a shoulder and a woman.)" It took forever for us to stop laughing. (Chelsea)
We were English speaking and I just remember a number of times people would say I had an accent. Me from Orem, Utah. I thought it was funny. Only people back east have accents. (Craig)
When ever I tried to speak Spanish. (Robert)