Here are free resources about the California San Diego Mission:
*Other Mission Pages: California LDS Missions.
---
---
California San Diego Mission Address
Here's a recent address for the California San Diego Mission. We try to keep this info  up to date, but it's a good idea to check the address with several sources, including your mission packet or the mission office.
California San Diego Mission
7404 Armstrong Pl
San Diego, CA, USA
92111-4912
Phone Number: 1-858-277-0910
Mission President: President Mark D. Stubbs
California San Diego Mission Map
Here's a link to the mission map for the California San Diego Mission (LDS). To access the official LDS.org map for the San Diego Mission:
Log into your LDS account here.
Click here.
San Diego Missionary Blogs
Here's a list of LDS missionary blogs for the San Diego Mission. This list includes the missionary's name, URL and when their blog was updated.
*Send your missionary a gift (mission-specific shirts, ties, Christmas stockings/ornaments, pillowcases, etc.)
California San Diego Mission Groups
Here are California San Diego Mission Groups- for LDS missionary moms, returned missionaries, mission presidents and other alumni of the San Diego Mission.
California San Diego Mission T-Shirts
Here are T-shirts for the California San Diego Mission!
Shirt designs include California San Diego Mission logo/emblem shirts and Called to Serve shirts. The shirts make great gifts for pre-missionaries, returned missionaries and missionaries currently serving. LDS Mission shirts come in all sizes: Small, Medium, Large, Extra Large, up to 4XL.  The mission designs are printed on white shirts and are shipped to you.
*Simply click on a shirt design to view the details and submit an order. The designs on mission t-shirts may also be printed on other LDS mission gifts, including: California San Diego missionary aprons, Christmas stockings, ties, pillow cases, teddy bears and Christmas ornaments.
*Click here to browse San Diego Mission gifts
---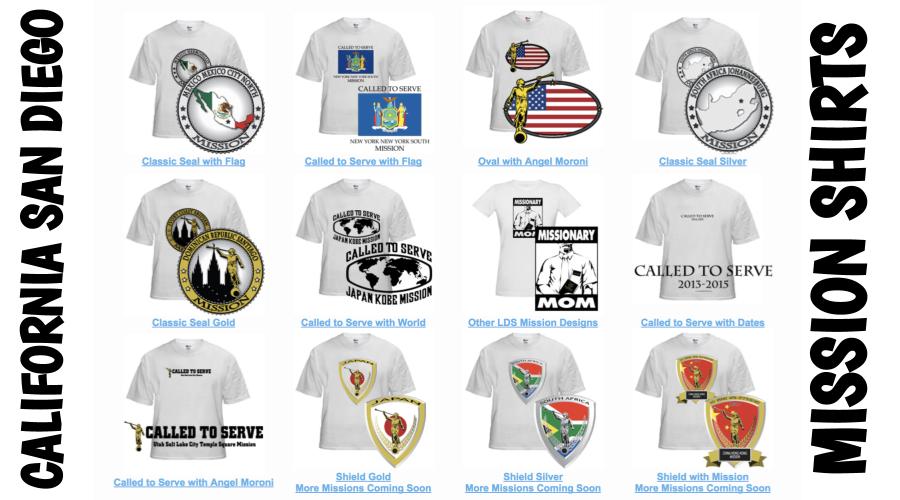 ---
San Diego Mission Presidents
Here's a list of current and past Mission Presidents of the San Diego LDS Mission.
2017-2020, Mark D. Stubbs
2014-2017, Jonathan S. Schmitt
2011-2014, Paul N. Clayton
2005-2008, Robert N. Packer
2002-2005, Eldon Dale Olsen
1999-2002, Richard L. Pitcher
1996-1999, John S. Boyden
1993-1996, Jerry C. Washburn
1990-1993, Jay LeRoy Christensen
1987-1990, Thomas E. Brown
1984-1987, Claire E. Rosenberg
1982-1984, Richard Winder
1979-1982, Roy Middleton
1977-1979, Hartman Rector Jr.
1974-1977, Frank M. Bradshaw
California LDS Statistics (2016)
Church Membership: 773,762
Missions: 20
Temples: 7
Congregations: 1,357
Family History Centers: 222
Helpful Articles about California
San Diego Missionary Survey
Here are survey responses from California San Diego RMs, to give you a snapshot into what it's like to live in the mission.
When did you serve?
March 2008 – March 2010 (Bradley)
2011-2012 (Whitney)
2010-2011 (Clare)
1992-1993 (Maggie)
2000-2002 (Shane)
2001-2003 (Kevin)
2000-2002 (Michael)
1998-2000 (Tyler)
1987-1989 (Brian)
What areas did you serve in?
Holtville, Santee, Tierra Santa, La Jolla, La Mesa, National City. (Kevin)
El Cajon, Fanita, Imperial Beach, Alpine. (Michael)
Yuma, AZ; Serra Mess, CA; Mission Valley, CA; El Cajon, CA; Quartzsite, AZ. (Tyler)
Fallbrook, Mira Mesa, Chula Vista, La Jolla, Clairemont. (Brian)
What were some favorite foods?
Samoan banana boiled in coconut milk. (Bradley)
California Burritos, Carnitas. (Whitney)
Pan dulce, rositas little candies, any of the fruit aguas (especially agua de sangria) (Clare)
Carne Asada, chili. (Maggie)
As I was served in one of the earlier known young Temple Missions (where I labored for the deceased) inside the San Diego Temple, my favorite was the stuffed bell peppers served in the cafeteria by good old Sister Moon.(Shane)
California Burrito, real carne asada, San Diego mexican food in general. Krispy Kreme doughnuts. I am from the south and was already familiar with them, but the stores were new to the San Diego area and were frequented. Many frozen yogurt stores with all kinds of great flavors. (Kevin)
Authentic homemade chicken tortillas. (Michael)
Carne asada burrito. (Tyler)
Lumpia. Prior to serving my mission, I had never even heard of it. I know it is a kind of Filipino egg roll but I still liked it. (Brian)
What was a funny experience?
There was this Jewish man who claimed to be a direct descendant of Moses and one time he called us up to drive 45min for something important. And when we got there, he told us that he had some library books that needed to be taken back. So we helped him. And we soon realized that he followed us to the library to make sure we returned them. Oh man, we stopped teaching him after that. (Bradley)
Serving at the Mormon Battalion Historic Site, we had a woman that got so freaked out by the talking pictures that she tried to backwards crawl up the bench back while screaming. (Whitney)
One time my entire district got food poisoning from a member in the Ward. It was awful! But pretty hilarious. #donteatthemole (Clare)
When I got into my first area, Yuma, AZ, I had my suitcase keys in my scriptures and my scriptures were left at the mission home in San Diego. We had to stop at a locksmith to have my suitcase unlocked. (Maggie)
When I was serving inside, doing ordinance work, endowment sessions and such, I was on a shift helping out in the Temple laundry when one of the recorders (Temple Managers), came in and asked me as an Elder to go out to the parking lot, where a brother was experiencing a severe reaction to some skin treatment on his scalp, because of skin cancer he had there. As I sat in his SUV with him and reached over to carefully administer to him, I couldn't avoid sitting on the seat belt latch between us. As this actually hurt quite a bit, I remember using this anomaly, to assist me in giving a more direct and instinctive blessing, using the pain in what I was feeling to put me in-tune with what he needed. (Shane)
Getting pulled over while walking down the road and finding out the police officer was Latter Day Saint and wanted to take us to lunch. (Michael)
Not sure if funny is the right word but when I was out in the Blythe Zone serving in Lake Havasu City. If there was Zone Conference in El Centro, we would make sure to stop in Glamis on the way home to go sledding on card board boxes on the Sand Dunes there. (Brian)
What was a crazy/dangerous experience?
We were in a part of our area after dark that we didn't know was dangerous and following us on the other side of the street was a gang. (Whitney)
We had a less active member that relied on us a lot and she confessed that she was thinking about cheating on her husband. She found out later that the man she was going to cheat on him with had molested her child. We came over in time to see the police taser the guy and take our statements. She started coming to church again shortly after that. (Clare)
Well, this was not so much dangerous, but quite "crazy." While preparing to leave for the day, I stopped to talk with Nick, one of our faithful security and watch guards. As we talked, two young ladies came up to us and started talking with us. They seemed quite friendly and asked about our Temple, while telling us a bit about their husbands, as we cordially had asked them of such. They were very happy, and stayed to talk for a good 15 minutes. After they left, Nick continued talking with me for a bit more. He began telling me of an experience he had 3 days ago. "While on my way home that night, I was driving the speed limit, ready for a good night home. I noticed behind me a car which kept tailing me closer and closer. I did not budge. They came up closer and closer again, most times within one foot of my car. Then, they quickly sped around me, and got in front, about ten feet ahead. The Spirit said, stop! So I slammed on my breaks. Just then the car ahead slammed into me, and they got wrecked. As a former Emergency Medical Technician, I knew what to do. As the two ladies were trapped inside, I had to remove some of their apparel to get them out and tend to their wounds. As I did so, I did everything I could to calm and assure them. I stayed until help came. As we talked, I told them where I work, and invited them to come visit me there sometime. Then they were off. It finally hit me as Nick walked off, that I had just met these two friends of whom he had helped save. (Shane)
Having guns pulled out while riding bikes through a neighborhood by some drug dealers. (Overall gang members and drug dealers normally looked out for missionaries.) Also had a very large man stop me and cuss me out ready to beat me up for missing saying high to him particularly at a bus stop as we attempted street contacting various people on our walk home. (Kevin)
Had dogs set loose on us when walking up a steep driveway. Heard a door slam and glanced back to see my companion already back in the car. I held my soft cover Book of Mormon between me and the dog, a rottweiler, and backed slowly while it growled at me and slobbered on the book. (Michael)
Rocks thrown at me and my companion on my first day in the field. They missed, every one of them. (Tyler)
The only time I was ever attacked was by a toy poodle. The owner had not latched the screen door so it burst out and nipped me in my back of the ankle. Never had issues with the big dogs. Most were friendly. (Brian)
What was a spiritual experience?
When I heard about a favorite family who got baptized after I got home. (Bradley)
There was a family that I taught that got baptized when I'd been out for 3 weeks. My trainer and I were both still missionaries when they got sealed and we were able to go. (Whitney)
Every time I invited someone to be baptized, the Spirit would fill me up and it was just overwhelming. I could feel the love God had for that one person and how much He wanted them to come home to him. I wanted that for them too. (Clare)
Seeing an investigator pray for the first time. (Maggie)
There was one time when we had good Elder Richard G. Scott come to our Temple to conduct some business. While he was there, he decided to do an endowment. I happened to be on that session with him, just one row back. What amazed me, was how he was always the first one to stand for each prompt, and the first to sit down again. I remember not being the only one who noticed this. In fact, there was one brother on his same row, who tried to out-do him. This gentleman was determined. On the next "round," he was so good, that he stood up, even before being asked or prompted. Wow, I thought. How embarrassing! (Shane)
Giving a blessing to an 18 year old senior when his dad was out of town. He was concerned about being sick and running a high fever. He was a starter on the basketball team and they were playing their rival. The blessing we performed stated he would be over his illness long enough to play the game, he would play well and then the illness would return. That is exactly what happened. It changed this young man immensely and made a large impact on the ward as a whole and specifically among the young men. (Kevin)
Teaching and baptizing many people in the different areas where I served. (Michael)
Knocking on a former investigator's door after a prompting, only to discover she had literally asked God to help her figure out what she was supposed to do with her life. (Tyler)
Most spiritual experience I can talk about was getting to meet President Ezra Taft Benson at a missionary meeting between sessions of a Regional Conference. (Brian)
What are some interesting facts about the San Diego Mission?
It's the most Southwesterly mission in the continental USA. (Bradley)
Your mission ends where the beach begins. (Whitney)
The San Diego Temple is absolutely gorgeous. (Whitney)
There are now Arabic and Mandarin speaking missionaries in the mission. (Whitney)
The Mormon Battalion Visitor's Center is there and it is a fantastic tool! Also, The District missionary training videos were filmed there. #claimtofame (Clare)
I was called and served my Temple Service Mission before Temple Missions were even talked about, or brought up in General Conference. (Shane)
Overall nice people and collection of people from all around the world. Variety of cults and varying economical groups in small geographic areas. Lots of parks and things to see and do on preparation day. The best Temple in the world. (Kevin)
When I first got there we covered all of San Diego and part of Arizona, up to Flagstaff. But the "desert" was given back to the Phoenix mission after my first transfer, along with the missionaries who where there. (Michael)
When I served there, the mission covered all of San Diego County as well as Imperial County and along the California/Arizona Border between Yuma AZ and Needles California. (Brian)
What was the weather like?
Perfect 70's. (Bradley)
"The thermostat in the Garden of Eden couldn't have been better." – quote from a senior missionary at the Mormon Battalion It stays between 70-80 when you're in San Diego itself. If you go further east, it will get hotter. If you serve in Imperial Valley near the summer, expect it to go above 100. May and June are colder and overcast constantly (May Gray and June Gloom). (Whitney)
It was perfect in the summer, but wet and rainy in the winter. Mostly, I remember that because I was on bike the whole winter. (Clare)
Warm. (Maggie)
It was very good. We had some good rain, but I could only be a part of that when I was up on the fourth floor atrium, where the roof was open to the sky, to see it if it rained. We had beautiful flowers and plants, just as in all Temple grounds outside, but I liked the atrium better. (Shane)
If on the west side of the mountains, near perfect year round. If in the first sets of valleys before the high mountains, a little on the warm side in the summer. If over the large mountains and in the dessert, like an oven in the summer and cold in the winter. (Kevin)
It was mostly sunny and 80 degrees. Except for my first area, El Cajon, which was 116 my first week there. And it rained a total of two weeks while I was in San Diego. (Michael)
Dry. (Tyler)
Mostly mild through in the spring…it seemed to get cooler and there was a better chance of fog that time of year.  (Brian)
Any things you really like about the area/people?
I loved that people were very honest with you (depending on where you were). The people will straight up say what's on their minds and it's always a toss up. (Bradley)
I met a lot of kind people. There are a lot of Christians so it gives something in common to talk about people with. Whether you're serving in the nice areas or the ghetto, you'll find people to teach if you do everything you can and trust in the Lord. (Whitney)
It is beautiful there! And everyone is so diverse. I loved learning about their personal stories and experiences. (Clare)
It was my home town. Because I am a gifted writer, I would often bring poems I would write about the gospel during my free-time to the Temple. The Presidency knew all about them and never said anything contrary to my sharing them. There are actually two really cool stories about that. Maybe later. (Shane)
I liked the varying cultures and the overall exposure to different cultures around the world while being in a small mission. (Kevin)
I loved seeing the beaches and everybody I met. (Michael)
Very laid back. (Tyler)
My favorite place to serve was Fallbrook. I am not sure if that is still in the San Diego Mission or in the Carlsbad Mission now. (Brian)
Any packing/clothing advice?
Pack light. You can always get more when you arrive. (Bradley)
Be sure to take a good jacket. Even though the temperature is nice most of the time, when the sun goes down it gets chilly. (Whitney)
Don't just pack for summer, you should back for three seasons: spring, summer, and fall. (Clare)
Make sure you buy your Temple clothing as a missionary once on your mission, if you need it. They give discounts to missionaries. (Shane)
Slacks and shirts. Most of the time won't want your suit. When I served we only had to wear our suits to meetings. (Kevin)
Pack thick shirts, they'll last longer. (Michael)
Two pant suits. You don't need two jackets. (Tyler)
I was the weird Elder. I had 2 Military Surplus Duffel bags and one Garment bag. One duffel bag was for my clothes and bedding gear. The other bag was for all the other stuff I needed Study guides, shoes, clothes, iron etc. (Brian)
What blessings did you receive from serving a mission?
I got into college and married because of it. (Bradley)
I have made lifetime friendships with other missionaries and there are people that I taught that have forever changed my life. (Whitney)
The blessings I received were all very internal. Things like, increased faith, increased confidence, increased dependence on the Lord. My family received a lot of blessings too. One of my sister's who had been trying to get pregnant for 7 years was finally able to conceive about half way through my mission and from the beginning of my service I knew that was a blessing she would receive. Now she and her husband have three beautiful children! (Clare)
I was able to heal mentally, emotionally, and wade through some very dark curses, pronounced upon me by some very evil and vindictive cult, during what some know to be called ritualistic abuse. Basically very messed up, and parts even in direct opposition and mockery of our very own sacred temple ceremonies. (Shane)
So many blessings from serving mostly in unexpected form. Mostly preparing me for my eternal companion and children. (Kevin)
My dad rejoined The Church while I served. My future wife, waited for me. (Michael)
Learned to just enjoy the spiritual experiences, peaceful moments and use those to keep me grounded in later years when the real trials of life began. (Brian)
What are some skills you gained?
How to fake confidence. (Bradley)
Focusing my study on a specific topic, how to follow the Spirit better. (Whitney)
Public speaking, courage, I learned how to speak Spanish, how to study the scriptures effectively, and how to communicate my feelings openly. (Clare)
Just learning more about self- reliance. (Maggie)
I learned to be proficient in all the ordinance work that a Temple worker performs. I even got to be a witness for a live sealing, and sign the marriage license as a witness. I learned that Temple work is essential, to us and our forebears, and how privileged I was to learn that as a young person. It set the Temple worship stage for the rest of my life. (Shane)
I learned to speak with strangers better, to have patience, how to study the scriptures and relate them to everyday life. (Kevin)
I know The Book of Mormon much better for having studied it for two years. (Michael)
Being able to relate to people from all walks of life as well as different cultural back grounds. (Brian)
What do you wish you knew/did at the beginning of your mission?
That people can sometimes be unkind, including companions. (Bradley)
I wish I hadn't been too timid to talk when my trainer dominated the conversation. (Whitney)
I wish I had known that everything was going to be ok. I wish I had focused less on my personal struggles and more on the people in front of me. I wish I had worked harder to have more meaningful relationships with Ward members and investigators. (Clare)
Before I went on my mission, I made a habit of serving with the missionaries from my family Ward, in the capacity of going on exchanges with them…sometimes five days a week. One day I was out with them all day, driving around in my little 1987 Toyota Corolla. It got to the point where they were asking me to teach too, not just bear testimony. One time, after a successful discussion, and working really hard to break down the negative barriers that were in our investigator's way, I remember chatting with the missionaries as we were leaving. The senior companion said, "Man, Shane, every time I felt things weren't going right or got off track, I turned it over to you, and you made it work!" I said, "Really?" He said, "Oh yeah!" (Shane)
I wish I would have paced myself in the beginning. Usually it is the opposite problem, but I physically pushed so hard in the beginning that by the end I had several physical issues that took a good bit of time to overcome after being home. If you are having an issue, don't be afraid to speak to the mission Doctors rather than trying to tough it out. (Kevin)
Wish I'd had better shoes to start with. (Michael)
Any advice/testimony for pre-missionaries going to San Diego?
Stay focused. The girls can be very attractive at certain points of the year. Keep your head down and keep moving forward. (Bradley)
San Diego is a wonderful place with great people. Working with members will serve you better than anything. They are your greatest resources for finding and teaching investigators. (Whitney)
It is going to be the best experience you have had thus far in your life! It will be hard and it will test you, but it will be so worth it! It will be such a beautiful, life-changing experience. But don't ever let it be the most spiritual time of your life or the cap of your personal growth. (Clare)
Just go with faith and rely on Heavenly Father. (Maggie)
Strive to listen to those you serve. In them, you will find the answers they need. As you understand them through the aid of the Holy Ghost, and your own wisdom and experiences (already shaped and given to you for this very purpose), you will be able to be a good influence upon all those you come in contact with, in the home, the workplace, the community, schools, and every other aspect of you life. (Shane)
A mission is one of, if not the hardest thing you will do. Yet it is a source of so many lessons and experiences that you will never regret doing. Work hard and get all you can out of it while you can because at the end, it does go by fast even though during it doesn't feel that way. (Kevin)
Going to any mission is a great experience and will prepare you for the rest of your life. It was the best two years of my life until I got married. I gained a better appreciation for the gospel and the role it has in my life. If you commit to serving with all your might you will never regret going on a mission. (Michael)
Learn to live the gospel and to be friends with people who maybe you wouldn't normally think to be friends with because you are going to meet people who are like that and may be more receptive than you realize. (Brian)
What was a funny language mistake?
When I mixed up "gay" and "girl" in the Samoan language. The two words are very similar. (Bradley)
I once invited someone to hit their tithing instead of pay their tithing. Everyone had a completely straight face when I said it and acted like nothing was unusual about it until after we left and my companion told me my mistake. (Clare)
None, but once as a veil worker, we had a new missionary coming through for his own endowment. It's funny, but for some reason, I was having a hard time remembering the prompts we most often give to first timers. They great thing is, somehow he didn't need it! He went through all on his own, and did it like he was returning from his mission. (Shane)
I was english speaking but served around Spanish-speaking. One of the Spanish elders was setting an appointment for a Tuesday and saying Tuesday in english. The investigator didn't understand and kept saying "Monde" or in english what? The elder kept saying "No, Tuesday". It was finally figured out. (Kevin)