Here are free resources about the California San Bernardino Mission:
*Other Mission Pages: California LDS Missions.
---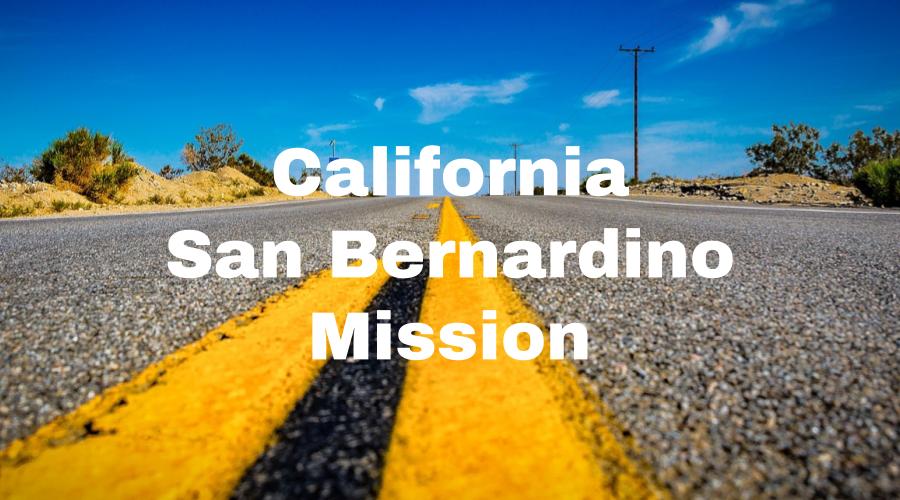 ---
San Bernardino Mission Address
Here's a recent address for the California San Bernardino Mission. We try to keep this info up to date, but it's a good idea to check the address with several sources, including your mission packet or the mission office.
This mission does not currently exist.
      Phone Number: N/A
      Mission President: N/A
San Bernardino Mission Map
Here's a link to the mission map for the California San Bernardino Mission (LDS). Coming soon..
San Bernardino Missionary Blogs
Here's a list of LDS missionary blogs for the San Bernardino Mission. This blog list includes the missionary's name, URL and when their blog was updated.
*Send your missionary a gift (mission-specific shirts, ties, Christmas stockings/ornaments, pillowcases, etc.)
San Bernardino Mission Groups
Here are California San Bernardino Mission Groups- for LDS missionary moms, returned missionaries, mission presidents and other alumni of the San Bernardino Mission.
California San Bernardino Mission Facebook Group (744 members)
San Bernardino LDS Mission 2010-2013 Group (207 members)
CA San Bernardino Mission (Sharp) Facebook Group (2 members)
San Bernardino Mission T-Shirts
Here are T-shirts for the California San Bernardino Mission!
Shirt designs include California San Bernardino Mission logo/emblem shirts and Called to Serve shirts. The shirts make great gifts for pre-missionaries, returned missionaries and missionaries currently serving. LDS Mission shirts come in all sizes: Small, Medium, Large, Extra Large, up to 4XL.  The mission designs are printed on white shirts and are shipped to you.
*Simply click on a shirt design to view the details and submit an order. The designs on mission t-shirts may also be printed on other LDS mission gifts, including: California San Bernardino missionary aprons, Christmas stockings, ties, pillow cases, teddy bears and Christmas ornaments.
*Click here to browse San Bernardino Mission gifts
---
---
San Bernardino Mission Presidents
Here's a list of current and past Mission Presidents of the San Bernardino LDS Mission.
2010-2013, Godwin
2007-2010, David Sanchez
2004-2007, Kent C. Wilson
2001-2004, Max A. Jensen
1998-2001, Michael T. Nelson
1995-1998, G. Marsden Blanch
1992-1995, Calvin R. Stephens
1989-1992, D. Earl Hurst
1986-1989, Melvin Gourdin
1983-1986, Kenneth Nessen
1980-1983, Howard Cannon Sharp
California LDS Statistics (2016)
Church Membership: 773,762
Missions: 20
Temples: 7
Congregations: 1,357
Family History Centers: 222
Helpful Articles about California
San Bernardino Missionary Survey
Here are survey responses from California San Bernardino RMs, to give you a snapshot into what it's like to live in the mission.
*Click here to take a survey to help pre-missionaries going to your mission.
When did you serve?
March 2009-October 2011 (Madeleine)
2005-2007 (Marcus)
2000-2002 (Jeremiah)
Which areas did you serve in?
Fontana, Muscoy, Adelanto, Rialto, Barstow. (Marcus)
All over San Bernardino county. (Jeremiah)
What were some favorite foods?
Mexican food. (Madeleine)
Arepas (Venezuelan). (Marcus)
Gazpacho and garbage burrito. (Jeremiah)
What was a funny experience?
Driving to an appointment and being late because there was a coat on the road. (Madeleine)
Getting stranded by fires. (Marcus)
Bike wrecks, being chased by dogs. (Jeremiah)
What was a crazy experience?
Getting surgery. (Madeleine)
Crazy neighborhoods with violence. Guns and knives pulled in front of us (only once ON us) (Marcus)
Bike wrecks, chased by dogs, found a guy passed out who we thought was dead because he didn't respond to us. (Jeremiah)
What was a spiritual experience?
Christmas concert where all missionaries and congregation sang Hallelujah chorus from Handel. (Madeleine)
Working with Coptic Monks outside of Barstow. (Marcus)
Seeing the light in others eyes when they realized what we were sharing is true. (Jeremiah)
What are some interesting facts about the San Bernardino Mission?
Two distinct areas: the "Valley" and the "Desert" although I believe the boundaries now include only the valley portion. (Marcus)
It's now split into two and it used to cover Riverside if you were assigned to the Tongan wards. (Jeremiah)
What was the weather like?
Nice and hot. (Madeleine)
Hot and dry and more hot. (Marcus)
Any things you really like about the area/people?
I just love them. They are willing to help. (Madeleine)
There was always work to do, especially in the Valley. (Marcus)
Some places were nice some weren't. Some people were nice some weren't. (Jeremiah)
Any packing/clothing advice?
Light and colorful. (Madeleine)
Light shirts. (Marcus)
Warm clothes and cold clothes. (Jeremiah)
What blessings did you receive from serving a mission?
Knowing I am capable of doing big things. (Madeleine)
A second language (led towards my first degree), personal gospel growth. (Marcus)
I'm almost 40 and I'm still counting them. (Jeremiah)
What are some skills you gained?
Cooking cheap meals. (Madeleine)
Butchering a goat. Wish I was kidding. Lots of cultural experiences with people from all over. (Marcus)
Communication. Bike riding. (Jeremiah)
What do you wish you knew/did at the beginning of your mission?
How to clean in a easy way. More scripture knowledge. (Madeleine)
To trust in faith more. (Marcus)
Any advice/testimony for pre-missionaries going to San Bernardino?
Enjoy everything. (Madeleine)
Study and live the gospel. Everything else will be given to you. (Marcus)
Gain a testimony. Go out with the missionaries on splits. (Jeremiah)
What was a funny language mistake?
Understanding Tongan was interesting.
Spencer (California San Bernardino Mission)
–Paraphrased from Spencer's mission interview–
Life in California
The night before we left, I didn't sleep much at all. You're nervous and anxious, but you get to the mission and it's real life. I remember hopping on my bike and thinking this is it. I am on my mission now. I was Spanish speaking and I remember those first few moments when I was so scared. I remember feeling the pressure of learning the new language, but feeling satisfied when you speak to these people and they understand you. I served from 2008 to 2010. I was there when Proposition 8 was a big issue. My parents were concerned, but it wasn't a big issue for the people there. I was never approached once about it.
The People
I spent most of my time in poorer areas. Most were Catholic. We had a lot of people that would just tell us "Somos Catolicos." We got to connect very well with these people by talking about Jesus Christ.
We covered the Inland Empire which consists of four or 5 big cities. The rest of the mission was the high desert that just had about 10 percent of the missionaries. Their experience was a lot different out there.
LDS Settlers of the Area
There is a history of Mormon colonization down there. My mission president would take new missionaries to see those sites. Brigham Young sent a lot of people to go settle the area. There were almost 200 missionaries when I was there. I was full time Spanish speaking, and that allows you to really learn it well. I think that the 35 of us Spanish missionaries baptized more than all of the rest because the Hispanic people are a lot more open to it and are very humble.
Greg (California San Bernardino Mission)
–Paraphrased from Greg's mission interview–
Mission Info
I served in the San Bernardino mission, which has been split into the Redlands and Rancho Cucamonga missions. It covers the towns in the valley near Rancho Cucamonga and also some of the mountain towns and also the high desert. There is a pretty good amount of members. The mission covers seven stakes. There is a temple in Redlands which was outside of our mission at the time. We got to go to the temple once a transfer and then once every other transfer. There were almost 200 missionaries when I was there. A third of them were Spanish speaking. I lived with a lot of Spanish elders and I got to eat a lot of hispanic food.
Mission Languages
There were two main languages: English and Spanish. I was English speaking. We ran into people all of the time that spoke other languages.
Get Ready to Gain Weight
We got fed every night. I gained a lot of weight. I've lost 50 or 60 pounds since the end of my mission. We ate a lot of spaghetti and steak. They would give us all that we could eat. You eat a lot every night. I remember waddling trying to get on my bike. Investigators would surprise us with dessert. We had to always eat it. I was scared because I don't like seafood, but I was only offered seafood once. That was a tender mercy from the Lord for me. Other than that, we didn't eat anything that weird. We would get some really low quality nasty looking stuff, but pretty much anything tasted good because we were really hungry.