Here are free resources about the California Roseville Mission:
*Other Mission Pages: California LDS Missions.
---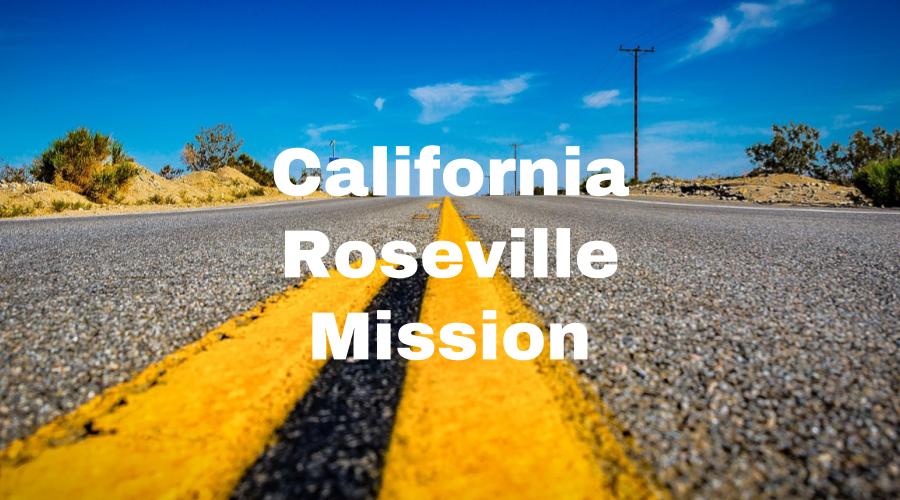 ---
California Roseville Mission Address
Here's a recent address for the California Roseville Mission. We try to keep this info up to date, but it's a good idea to check the address with several sources, including your mission packet or the mission office.
California Roseville Mission
8583 Watt Avenue
Antelope, California 95843-9117
Phone Number: 1-916-334-7558
Mission President: President Jack D. Ward
California Roseville Mission Map
Here's a link to the mission map for the California Roseville Mission (LDS). To access the official LDS.org map for the Roseville Mission:
Log into your LDS account here.
Click here.
California Roseville Missionary Blogs
Here's a list of LDS missionary blogs for the Roseville Mission. This blog list includes the missionary's name, URL and when their blog was updated.
*Send your missionary a gift (mission-specific shirts, ties, Christmas stockings/ornaments, pillowcases, etc.)
California Roseville Mission Groups
Here are California Roseville Mission Groups- for LDS missionary moms, returned missionaries, mission presidents and other alumni of the Roseville Mission.
California Roseville Mission T-Shirts
Here are T-shirts for the California Roseville Mission!
Shirt designs include California Roseville Mission logo/emblem shirts and Called to Serve shirts. The shirts make great gifts for pre-missionaries, returned missionaries and missionaries currently serving. LDS Mission shirts come in all sizes: Small, Medium, Large, Extra Large, up to 4XL.  The mission designs are printed on white shirts and are shipped to you.
*Simply click on a shirt design to view the details and submit an order. The designs on mission t-shirts may also be printed on other LDS mission gifts, including: California Roseville missionary aprons, Christmas stockings, ties, pillow cases, teddy bears and Christmas ornaments.
*Click here to browse Roseville Mission gifts
---
---
Roseville Mission Presidents
Here's a list of current and past Mission Presidents of the Roseville LDS Mission.
2017-2020, Jack D. Ward
2014-2017, Michael Frederic Marston
2011-2014, John Gary Weston
2008-2011, Mark Pendleton
2005-2008, Lee Perry
2002-2005, Danel W. Bachman
1999-2002, Kenneth Zimmerman
1996-1999, Preston J. Checketts
1993-1996, John Hoybjerg
California LDS Statistics (2016)
Church Membership: 773,762
Missions: 20
Temples: 7
Congregations: 1,357
Family History Centers: 222
Helpful Articles about California
California Roseville Missionary Survey
Here are survey responses from California Roseville RMs, to give you a snapshot into what it's like to live in the mission.
*Click here to take a survey to help pre-missionaries going to your mission.
When did you serve?
2016-2017 (Marthe)
2013-2015 (Hayden)
2009-2012 (Shane)
1998-1999 (Josh)
1974-1976 (Lowell)
Which areas did you serve in?
Marysville, Rocklin, Orland, Roseville. (Marthe)
Antelope, Weaverville & Hayfork, Citrus Heights, Colfax, Olivehurst. (Hayden)
Gridley, Corning, Yuba City, Chico, Roseville. (Josh)
My mission was California North back then. North Highlands. Rio Linda. Santa Rosa. Grass Valley. Placerville. Arcadia. Sonoma. Fair Oakes. (Lowell)
What were some favorite foods?
Tri-tip, It's It's. (Marthe)
Mexican food and Chinese food. (Hayden)
Taco's, Lasagna, Tri-tip steak, pizza. (Shane)
Street tacos, Mole. (Josh)
Sea food. (Lowell)
What was a funny experience?
Though I wasn't a fan of tracting, I still remember the first door I knocked on. The guy who answered the door had no shirt on and was super gross and fat and hairy and all he did when he saw us was point above the door to a HUGE "no soliciting" sign and then rudely said, "READ THE SIGN." And then he slammed the door. I just remember thinking, well, this is off to a great start! Haha. (Hayden)
Trying to do a hop on my bike and falling over. That's when my bike started breaking. Look before you leap! (Shane)
Zone conference. Good and funny. Companions. (Lowell)
What was a crazy experience?
In California, marijuana and drugs are a pretty big deal. In one area I served in it was pretty sketchy to say the least and one time my companion and I left a house we had just had a lesson at and right next door there were cop cars pulled up and officers in the front yard with guns drawn and everything. It was pretty crazy and I'm glad we had a car so we could get out of there quick! (Hayden)
Almost driving off bridge going to zone conference. (Lowell)
What was a spiritual experience?
It was always so awesome working with people that genuinely wanted to hear the gospel and one time my companion and I decided to visit someone for the first time who was super less active but wanted us to come by. The spiritual message we ended up teaching their family was something I had just gone over in my studies that morning from the Ensign and it totally applied to them and they could relate to it. They were so touched by the message and really loved that we had gone to such great lengths to visit them since they were far off the beaten path. (Hayden)
Being able to baptize some of my investigators. (Shane)
Having first teaching lesson of my mission on Christmas Eve. (Lowell)
What are some interesting facts about the Roseville Mission?
It is the largest mission (area-wise) in California. Lots of agriculture in the mission with tons of fruit tree/nut tree farms. Lots of rice is also grown in the mission. Some areas are pretty small and only consist of a few blocks of neighborhoods while others are huge and would take over an hour to drive from one end to the other. The tallest bridge in California is in the mission in the Auburn zone. One of the tallest mountains in California is Mt. Shasta and that is in the mission in the Redding Zone. Lots of gold mining history in the mountainous regions of the mission. (Hayden)
Early in California's history, many cities were nominated for California's capitol but are now barely remembered. Many of these were in my mission. (Shane)
How big the mission was. (Lowell)
What was the weather like?
Dry, much of the plants go brown in the summer. Wetter winters. Humid, but not as bad as places like the south. It's humid if you're from Utah/Idaho. Hot summers in the 90's, 100's and even 110's. (Marthe)
Very hot in the summer, especially if you are in the Redding zone. Winters are mild, can get chilly at times but snow is a very rare thing. I did serve in 2 areas though that were in the mountains but we still had to drive to higher elevations to actually see snow. (Hayden)
Dry and hot in the summer. Wet in the winter. A couple of areas in the mountains got snow, but most didn't. (Shane)
Hot in the summer and cold in the winter. (Lowell)
Any things you really like about the area/people?
The people were so wonderful! Members were great to work with and super supportive of missionary work and showed us lots of hospitality. And most of the people that live in more rural/run-down areas were very kind and open. In the cities people got more and more rude or uninviting but that's to be expected I suppose. (Hayden)
It was a very diverse mission with many interesting people. We had both developed and rural areas and the people were welcoming in all my areas. (Shane)
Each area had its own identity. (Lowell)
Any packing/clothing advice?
Rain jacket, waterproof shoes for winter. (Marthe)
When going from area to area, pack light. Try not to collect too many frivolous things. It makes it easier when transfers roll around. (Shane)
Definitely pack short sleeved shirts if your an elder. It gets hot! And having light colored pants is nice. But still remember to have gloves and a jacket for winter when it gets chilly or rainy. Don't over pack when it comes to winter gear though. (Hayden)
If you pack a "heavy" coat, make sure that the "heavy" is a liner. It only rarely gets truly cold except in specific parts of the mission (Shasta).
Good luck😀 (Lowell)
What blessings did you receive from serving a mission?
My family very blessed, my older brother decided to serve a mission, non-member mom's heart softened. Many things in my life have fallen in place. (Marthe)
Having a firm testimony of the gospel and of the power of missionary work. You are truly blessed as a missionary and as you teach and share the gospel, people will know you are a messenger of the Lord. (Hayden)
I have several lifelong friends I made on my mission and I learned what it means to be happy, especially in the face of hardship. (Shane)
Life long lessons of trust, learning to listen to the spirit, don't give up. (Lowell)
What are some skills you gained?
Diligence, endurance, charity, obedience, patience. (Marthe)
I learned how to share the gospel in an effective manner that makes sense so I can teach someone line upon line rather than bombard them with random information that would scare them away like what some members do. Also learned how to work together as a team from being with my companions. You learn each other's strengths and weaknesses and it is just an awesome experience. (Hayden)
Learning to be more comfortable talking to people. (Shane)
Talking, planning, work. (Lowell)
What do you wish you knew/did at the beginning of your mission?
I wish I knew how important it is to built your relationships with other missionaries you serve around. I didn't get super close to other missionaries I served around until near the end of my mission and I wish I had from the beginning. And remember that you are just there to invite others to come unto Christ. You can open the door for them and they can choose to walk through it or not. Don't be brokenhearted if someone uses their agency to not accept your message. Maybe it isn't the right time for them yet. People change over time and the more interactions certain people have with missionaries just means they're possibly one step closer to accepting our message. (Hayden)
Be more outgoing. You only have a short time. Use it! (Shane)
Been better prepared. Knew the gospel more. Taught more. (Lowell)
Any advice/testimony for pre-missionaries going to Roseville?
Don't be a robot. Be yourself, build those relationships with those you teach so they know you genuinely care about them, and teach the gospel as outlined by Preach My Gospel. Remember though that people need to be converted to the Gospel and to truthfulness of the message of the Restoration, not to you. Some missionaries teach in such a way that people just have their testimony rooted in that certain missionary and not actually to the Church or the Restored Gospel and then once that missionary leaves the people stop progressing or go less active if they had been baptized. MAKE SURE INVESTIGATORS HAVE A FIRM TESTIMONY OF THE RESTORATION OF THE GOSPEL AND THE RESTORED CHURCH AND NOT A FIRM TESTIMONY OF MISSIONARIES. Missionaries come and go but the gospel stays the same. Also make sure people are rooted into the ward through fellowshipping and ward member friends. (Hayden)
Trust the Lord and do the work. When you do all you can, the Lord gives you miracles. (Shane)
Understand it's not a vacation. You are on the Lord's work. Be ready to teach. (Lowell)
What was a funny language mistake?
Dallas (California Roseville Mission)
–Paraphrased from Dallas' mission interview–
Mission Geography
I'm pretty sure the mission is the biggest geographical mission in California. It takes seven hours in the car to drive from the bottom of the mission to the top. Down south there are a lot of suburban areas and as you move north there are a lot of fruit and nut orchards which is surprising because you think of beaches and big cities, but it's really spread out and beautifiul. There are a lot of tiny towns with people that have five or six teeth in the middle of nowhere.
We get fed really well. Average weight gain is about 15 pounds. I was above that. We get to eat dinner every night and for the members it is a special occasion for their families and so they make a lot of great food. You can't really eat scarcely because they might think that you don't like their food. That was probably the part I enjoyed the least. No more chocolate cake, I'm sick of it. I only had one bad meal I could remember. We were teaching a less active guy and he hunts and he said he liked to cook bear. He made us some in a stew for dinner and it smelled like garbage. It was really stinky. I took a bite and thought it was the worst thing I had ever tasted in my life. I had to swallow the bear meat whole because it tasted so bad.
The Weather
Some of the towns are up in the mountains and some are in barren valleys. It got up to 120 degrees in one of my areas. Luckily, I was in a car. I remember getting home at 9pm at night and it's still 110 degrees. We had a swamp cooler in the house and we moved our beds into that room and just lived in that one room to try to stay cool. I was in one area called Colfax along highway 80. It gets a lot of snow. We saw these houses with steep roofs covered in snow. There is a huge variety of weather. Bring a warm jacket.
The best places to see are definitely up north. There are always really good hikes. Roseville is an especially beautiful area. Try to find some good hikes for P-days.
Cars and Bikes
The majority of the missionaries are on bicycles or on cars. Every area on the bike I had multiple good bike crash stories. In my last area, we were in a car and we felt like we were missing out on the opportunity to talk to people, so we would stop the car to talk to people. We tried to pay attention to the Spirit as we were driving to know who needed us.