Here are free resources about the California Riverside Mission:
*Other Mission Pages: California LDS Missions.
---
---
California Riverside Mission Address
Here's a recent address for the California Riverside Mission. We try to keep this info up to date, but it's a good idea to check the address with several sources, including your mission packet or the mission office.
California Riverside Mission
5900 Grand Ave
Riverside, CA 92504-1328
Phone Number: 1-951-788-9690
Mission President: President Darrel L. Hammon
California Riverside Mission Map
Here's a link to the mission map for the California Riverside Mission (LDS). To access the official LDS.org map for the Riverside Mission:
Log into your LDS account here.
Click here.
California Riverside Missionary Blogs
Here's a list of LDS missionary blogs for the California Riverside Mission. This list includes the missionary's name, URL and when their blog was updated.
*Send your missionary a gift (mission-specific shirts, ties, Christmas stockings/ornaments, pillowcases, etc.)
California Riverside Mission Groups
Here are California Riverside Mission Groups- for LDS missionary moms, returned missionaries, mission presidents and other alumni of the Riverside Mission.
California Riverside Mission T-Shirts
Here are T-shirts for the California Riverside Mission!
Shirt designs include California Riverside Mission logo/emblem shirts and Called to Serve shirts. The shirts make great gifts for pre-missionaries, returned missionaries and missionaries currently serving. LDS Mission shirts come in all sizes: Small, Medium, Large, Extra Large, up to 4XL.  The mission designs are printed on white shirts and are shipped to you.
*Simply click on a shirt design to view the details and submit an order. The designs on mission t-shirts may also be printed on other LDS mission gifts, including: California Riverside missionary aprons, Christmas stockings, ties, pillow cases, teddy bears and Christmas ornaments.
*Click here to browse Riverside Mission gifts
---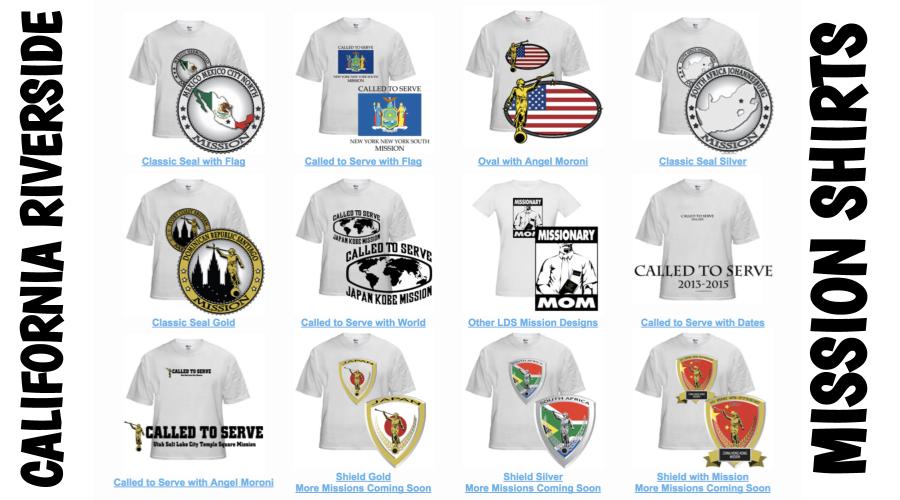 ---
Riverside Mission Presidents
Here's a list of current and past Mission Presidents of the Riverside LDS Mission.
2017-2020, Darrel L. Hammon
2014-2017, John H. Mullen
2011-2014, Paul Francis Smart
2008-2011, Melvyn K. Reeves
2005-2008, Robert A. Ewer
2002-2005, Neil H. Christensen
1999-2002, Edward A. Heyes
1996-1999, Reid H. Brown
1993-1996, Alton M. Alexander
1990-1993, Jerry M. Hess
California LDS Statistics (2016)
Church Membership: 773,762
Missions: 20
Temples: 7
Congregations: 1,357
Family History Centers: 222
Helpful Articles about California
Riverside Missionary Survey
Here are survey responses from California Riverside RMs, to give you a snapshot into what it's like to live in the mission.
When did you serve?
2013-2014 (Ashlie)
2013-2015 (Andrew)
2013-2015 (Lindsey)
1999-2000 (Cody)
2007-2009 (Ross)
2007-2009 (Ryson)
2010-2012 (Ryan)
2009-2010 (Alissha)
2009-2011 (Nathan)
2011-2013 Spanish speaking. (Steven)
2011-2012 (Jessica)
1992-1994 (Jairo)
1992-1993 (Margarita)
1991-1993 (Kel)
1991-1993 (John)
What areas did you serve in?
Hemet, Banning, Riverside, Murrieta, Menifee, Sun City. (Cody)
Hemet, Riverside, Palm Springs, La Sierra. (Ross)
Palm Desert, Temecula, Canyon Lake, Murrieta, Redlands, and Corona. (Ryson)
Moreno Valley, Palm Desert, Corona, Banning/Beaumont, Perris, Indio. (Ryan)
Riverside, Moreno Valley, Redlands, Lake Elsinore, Wildomar, Canyon Lake. (Nathan)
Riverside, Corona, Perris, Yucaipa (Redlands mission), Moreno Valley. (Steven)
The list is long because I served all over the mission because of ASL work. (Jessica)
Claremont, Upland, Moreno Valley, Lake Elsinore, 29 Palms. (Jairo)
Moreno Valley, Parris, Hemet, Claremont, Riverside. (Margarita)
Yucca Valley, Ontario, Riverside, Indio, Chino Hills. (Kel)
Hemet, Corona, San Dimas, Laverne, Upland, Riverside, Joshua Tree, Chino Hills. (John)
What were some favorite foods?
Pozole, rice and beans! (Ashlie)
Mexican food is pretty popular, besides that, it's all pretty common foods. (Andrew)
Tortas, carne asada, and anything homemade (Lindsey)
The best food was when a member took us to a nice quail fast food place or all you can eat place. Mostly we ate spaghetti and salad every night. (Cody)
All food was good. (Ross)
In-n-out, all the steak the members would cook. (Ryson)
Sopas, pupusas, tamales. (Ryan)
Mexican and fresh fruit. (Alissha)
Tacos, ORANGES!, Lots of Hispanic food. (Nathan)
Enchiladas, carne asada, ceviche, and anything (which was 90% of everything) spicy. (Steven)
Homemade pizza and pasta, tacos, Mexican homemade food. (Jessica)
I loved B-B-Q and Roast. (Jairo)
I learned to like a lot different foods. (Margarita)
In n Out. (Kel)
All of the authentic Mexican food! (John)
What was a funny experience?
I was kissed by a two year old right before he squished and licked a cockroach. (Ashlie)
Oh, so many, I think my favorites were having dinners with some of the members, there were some funny people I got to meet. (Andrew)
I was proposed to by a drunk guy that kept calling me Dianna (Lindsey)
Goofing off with fellow missionaries in the apartments. (Cody)
I ate balute and horse, not because I had to but because it was available. (Ross)
I was driving down from Canyon Lake of the Lake Elisinore area on a dirt road when all of the sudden my front wheels slipped and I slid right into a rock busting the radiator and immobilizing the car. (Ryson)
We would have "teamups" with the youth and they sometimes would say and do things that would make us question if they really knew what missionary work was all about. (Nathan)
Language mishaps, like a new companion reading the story of the brother of Jared seeing the finger of the Lord and that He touched each one of the legs of the brother of Jared (piedras are stones; piernas are stones). (Steven)
Long car rides with my companion since we were the ASL sisters, we would come up with songs to keep us motivated. Amazing fun experiences with her as my longest 2nd companion in that mission before moving to a different ASL mission. (Jessica)
Two ladies open the door and when she saw us, she said in Spanish she did not speak English. So I started speaking in Spanish with her and she started laughing because the trick did not work. She did not speak Spanish either. (Jairo)
My companion and I were tracting and missed a "beware of dog" sign. Opened the gate to enter and had mere seconds to latch it back shut, and remove our fingers before they were bitten off. (Margarita)
Elder McLaughlin wrestling Elder Hunter. (Kel)
What was a crazy/dangerous experience?
Traveling to the Mexico City MTC. My flight from Denver to Dallas made me miss my connecting flight so I had to do stand by and when I got to the Mexico airport I couldn't find the guy from the MTC and I was so scared. (Ashlie)
I got hit by a truck. Most cars stopped for us even when they had the right of way, so I expected him to stop, but he didn't see me. (Andrew)
Had someone try to break into our apartment while we were inside. (Lindsey)
Riding a bike in homeland and romoland. Lots of dogs chase you. (Cody)
Someone was shot outside our apartment during lunch in Hemet,California. (Ross)
Being chased by an angry mob that was against Prop 8. (Ryson)
Bike wrecks mostly. I did get diagnosed with an autoimmune disease on the mission. That was pretty crazy, lost a lot of my hair. (Nathan)
Pitbulls daily! People, drunks, crime are one thing… Pitbulls can't be reasoned with. (Steven)
Someone was stalking my companion and myself, trying to come into our home, banging on the door after 10:30. All the missionaries in the apt stayed in one room until the guy left/cops came… The guy wouldn't leave us alone till 2 in the morning! Not a fun experience but thankful that the Lord protected us all. (Jessica)
We were surrounded by a gang once and they started asking questions, but after a while a guy screamed to the other. It's okay they work for God!!!! (Jairo)
Set an appointment with a callback only to realize after we got into the home that he was totally cra-cra. (Margarita)
Earthquakes.  (Kel)
Getting up to 50 mph on my mountain bike. Also, being in Joshua Tree during the Joshua Tree/Landers earthquake. (John)
What was a spiritual experience?
In my first area we taught a recent convert who was missing all his teeth, had one leg and spoke Spanish that I couldn't understand, but he was the most charitable, living person I ever met! (Ashlie)
My companion talked to this crazy guy on the street, and he turned out to be really interested, and he wound up getting baptized. This doesn't sound nearly as cool as it was. (Andrew)
The people I helped enter the waters of baptism. (Lindsey)
Knocking on the last door of a street you just felt prompted to go down that day and having them be ready to hear the gospel. (Cody)
Being in the right place at the right time, helping a family who I had met in my first area 1 year later when the husband suffered a seizure while driving in Palm Springs. They lived in Helmet. (Ross)
Giving a blessing to a young man who had just been in a car accident which happened to be on my first day in the mission field. (Ryson)
Baptizing a family of 5 my last weekend in the mission. One of our recent converts who taught all the lessons with us baptized the father. (Ryan)
Yes, most definitely. (Alissha)
I loved when you could "see" the light in the investigator's eyes turn bright. It was amazing to see and feel the differences of visits as they progressed. (Nathan)
Everyday! That's a guarantee. In a short version however, there was a woman who we were teaching, GOLDEN person ready for the Gospel and we learned in the only lesson we taught her that her husband was abusive. That same day she called us saying she was leaving her husband and would call us later. Being two 19 year olds,we were freaking out, but then she never called, and when we did her phone was out of service. Never heard from her again until a year later in a different area. An investigator's brother brings his girlfriend, long connection! I was on exchanges and my companion says this lady is perfect! So we go back and she came to the lesson. It was this same woman from a year ago. She talked about how she knew what we were teaching was true because she learned a year ago and always knew. Now I was transferred, and she was supposedly taking lessons in her new city, but that didn't matter. The Lord made it clear that your contacts and lessons go further than you will ever see. That every conversation, lesson and person is important because that interaction plays into God's plan for them. (Steven)
Introducing the gospel to one investigator that walked into our sacrament meeting and having her know that she wanted to be baptized to change her life and her kids. The day of her baptism, she had a hard time but stood for her life when her ex came back to her home with drugs. She took the drug and put it down the toilet and came to church early because she knew Satan was trying to prevent her to be baptized. Strong spiritual experience! (Jessica)
When we found a couple who were 50 years from a different denomination and they accepted the gospel. (Jairo)
Learning that Heavenly Father won't always WAIT for you to learn a lesson. Sometimes He needs you learn it NOW. Those types of growing pains are the most difficult but also the most precious. (Margarita)
Every baptism. (Kel)
Having my ward mission leader explain to me how he made it through being a young married man when his wife was murdered. It was a great live example to me of how the atonement is for more than just forgiveness of sins. (John)
What are some interesting facts about the Riverside Mission?
The mission split in July 2013. It is one of many California missions. (Ashlie)
Sister Reeves from the Relief Society General Presidency's husband was the Mission President. Some people still talk about them. (Andrew)
I was a biking sister. It's really hot. It's called the armpit of California. (Lindsey)
I served in Banning, California for 10 months and knocked on each door three times. (Cody)
It gets hot in the desert, 17 months on a bike. (Ross)
The Salton Sea is 226′ below sea level and the the Mount San Jacinto peak right next to it is over 10,834′ in elevation. (Ryson)
I learned more than anyone realizes. I still keep in touch with some members. (Alissha)
Mission Inn has had 10 United States presidents visit it. (Steven)
I loved meeting the different kinds of people that I thought I would never meet and how their stories made me appreciate the things in my life. I never thought I would miss this mission before going to another mission to continue my ASL mission. (Jessica)
The Desert ( 29 Palms) has a Marine Base. They were going back and forth from Iraq at the time. They could not bring souvenirs and some soldiers were so concentrated looking inside the Tanks for small Weapons that soldiers brought as souvenirs that they did not pay attention they were bringing the tank as souvenir. So there are a couple tanks in the marine base. There are many strong stakes and the members are great. (Jairo)
A lot smog. (Margarita)
Spent half of it in Palm Springs stake. (Kel)
What was the weather like?
Smoggy, and hot. (Ashlie)
Dry. People get really excited if it gets close to snowing, but it's really unlikely if you're not in the mountains. It doesn't rain..well sometimes it does, but not much. (Andrew)
Really really hot. (Lindsey)
I luckily never served in the Desert, so I got some nice cool wind chills with the warmer months and was able to actually see some snowfall in the winter in Banning. (Cody)
Hot in the summer and warm in the winter. (Ross)
Pretty hot in the summer time and perfect in the winter time, so about 90's for the highs in summer and 60's for the high in winter. Unless you are in Palm Desert, like I was, then you can expect much hotter weather in the summer. (Ryson)
HOT-I was in Palm Desert for about 11 months, 6 months once and 5 months the other. (Ryan)
Beautiful. (Alissha)
DRY AND HOT! Sometimes when it rained, it poured 🙂 Do earthquakes count as weather? There were a few of those too. You are lucky if you get to feel one. (Nathan)
Hotter than the coast, new mission boundaries don't have any snow places so just hot. (Steven)
Hot most of the year, felt like spring and summer all year long and also in the other mission as well. But I loved it…I rather be in warm places than cold. (Jessica)
Very dry. I remember having only a week of rain during my whole 2 years. (Jairo)
Hot. Like really hot. We would put 2 liter bottles of water in the freezer over night to take tracting. It didn't take long for it to melt and for us to drink it all. In the winter it rained. A lot. Ice cold rain. Bring galoshes. (Margarita)
Hot. (Kel)
The weather was SO beautiful that sometimes I just wished it would rain and be crappy to break up the amazing weather. (John)
Any things you really like about the area/people?
I served with the Hispanic people and they were so humble and willing to listen even if they didn't agree. (Ashlie)
The wards are really, really nice. The areas I had to bike were not usually too bad. (Andrew)
I loved the people. The areas that I served in were always very diverse. (Lindsey)
The members are always looking to help out the missionaries.  (Cody)
The members are awesome, the people are great, not too many people in Riverside have the California attitude. (Ross)
There is a huge mix of diversity and everything, I was surprised by some of the people and families I met. (Ryson)
I loved them for being who they are! (Alissha)
Most people were welcoming to us even if they didn't agree with our religion. Loved to see such a different culture from where I am from. (Nathan)
All types of Spanish! If you try, you can learn how to talk to people from any Spanish speaking country and accent which is pretty unique.(Steven)
How some of the people we met through tracting or serivcing them were humble and sweet. As they saw us walking outside, they would stop to offer something and listen to what we had to share. Also the members in both wards and branches were a huge family that took us under there wings to care of us and make sure that we were fed and gave us hugs when we missed home. (Jessica)
They helped the missionaries a lot, they did go on splits with us and we always had dinner. (Jairo)
As difficult as serving a mission can be – I loved it all. (Margarita)
It prepared me to be a husband, father and son of God. (Kel)
It was the perfect place for me to learn how to love everyone. (John)
Any packing/clothing advice?
Loose, thin material for Summer and a nice sweater or jacket for Winter. (Ashlie)
Prepare for it to be hot. (Andrew)
Take what you need. You will acquire things as you go. Don't stress. Comfort is key. Pockets are a must. (Lindsey)
Make sure to bring two great sets of shoes. Also rain gear because when it rains it doesn't stop. (Cody)
Rain coat in February, we were kayaking down the streets in Hemet, and two pairs of shoes. (Ross)
I wish I had brought a linen suit for the summer and most other times that I had to wear a suit. It would have been much more comfortable in a linen suit. (Ryson)
It does get cold there! (Alissha)
Light clothing, bright fun ties. Make sure your pant legs don't get caught in the bike chain… sad day if it does. (Nathan)
The chemicals in antiperspirant deodorant makes the yellow in white shirts, if you use it, treat those areas so they stay white. It's exactly what you would expect if you were going anywhere hot. (Steven)
Don't pack any winter clothes that are heavy because you rarely wear them. Something that will help when it's cool is a sweatshirt but that's the biggest thing I learned from my mission. Also, some missionaries (I know sisters do but not sure Elders do) we leave some clothes behind when we head home and some of them are neat to have to wear. Comfortable shoes that you will be willing and comfortable walking into and that can last for a while. (Jessica)
Even though the desert is hot, it's cold at night. (Jairo)
Light airy clothing for summer and galoshes. (Margarita)
Short sleeve shirts. (Kel)
Suits are just for meetings. You will mostly wear short sleeve white shirts and slacks. Get cool ties. (John)
What blessings did you receive from serving a mission?
Too many to count but mostly just a stronger love for people. I also got to go home and marry my eternal companion. Every companion I had helped me learn different things. (Ashlie)
Lots of good things happened to my family, I learned a lot about helping others and making myself better. (Andrew)
I was able to grow in every way and learn how to love our Father in Heaven's children. (Lindsey)
I learned about obedience and getting answer to prayers. (Cody)
Communication skills, too many others to list. (Ross)
Guidance, strength, happiness, and direction. (Ryson)
I learned how to truly utilize the Atonement. (Alissha)
A LOT! There are too many to count. I think one of the most important things was finding out who I was and how much our Heavenly Father truly loves each of us. (Nathan)
My girlfriend waited, then she served and now we're married. Your mission will bless many people! The people where you serve, your family and friends, but it is a learning opportunity you will have the rest of your life. It lays a foundation forever. (Steven)
I was blessed to get a full scholarships to pay for my BA and MS degree and how I was able to have those study habits developed on the mission apply to my school education. I was also blessed to lead the way for my two younger brothers to serve their mission. One just enter the MTC today. I was also blessed that the doctors were able to find out what was wrong with my knee and perform surgery to fix it. I can go on but this are the main ones I wanted to share. (Jessica)
I learned the bases of what I really know today. It helped me as I served as a Bishop, in the Stake Presidency and now as a Mission President. (Jairo)
Perspective. Understanding. Hope. Truth. (Margarita)
Testimony. (Kel)
There are two things in my life that I did really, really right. The first was my mission, and the second was my marriage to my wonderful wife of 22 years. I wouldn't have the second one without the first one. (John)
What are some skills you gained?
Skills… I learned how to preach the Gospel simply. I was called Spanish-speaking, so I got to learn another language. I also learned budgeting skills, how to get along with people you may not agree with, and how to handle stressful situations. (Ashlie)
Talking to people, teaching the gospel, living with a companion. (Andrew)
Answering phone calls, talking to strangers, living with another person, patience with those who are….slow? (Lindsey)
Hard work pays off. Also that when a companionship isn't United, work doesn't get done. (Cody)
Communication skills, dedication. (Ross)
Cooking and cleaning, and how to get the most out of each day spiritual and temporally. (Ryson)
Communication. (Alissha)
CHARITY, especially with your companion, leadership, how to be a stronger member missionary. (Nathan)
Spanish, being able to talk to people, teaching, hearing the Spirit. (Steven)
I was able to keep up my language and now use it more than I ever had during my whole life along with using it for my master's program. I was blessed to keep goals to help myself and apply the study habits throughout school. (Jessica)
I still can ride bike really well. A member taught us how to make jewelry I learned some Samoan and it helped me to learn to love people from any place I travel. (Jairo)
Speak succinctly. Trust the One who sent you. You're stronger than you know. Pray always. You will love your scriptures. You are braver than you know. You will build a testimony. You will love your companions. (Margarita)
How to talk to people. (Kel)
Leadership skills. (John)
What do you wish you knew/did at the beginning of your mission?
I wish I had more faith in myself. Learning another language was really hard for me. (Ashlie)
I wish I was more prepared to have a companion. Studying the scriptures more always helps. (Andrew)
I wish I had read the scriptures more in depth. (Lindsey)
I wish I memorized all the scriptures sent to me to memorize. I also wish I had the discussions more thoroughly researched. (Cody)
Know the rules of the mission better, trainer wasn't the best at keeping mission rules that I wasn't aware of. (Ross)
How to love everyone for who they are. (Alissha)
I wish I didn't start out afraid and had more faith in myself. YOU are called and prepared for the people, and the people are prepared for YOU, not anyone else. I also wish I knew more about the church and it's doctrine, you can never prepare enough. (Nathan)
Drop investigators. If they don't progress, let them go! Sometimes they need to see the difference in their lives of not having your light to see that they need it for themselves. President, then Elder, Nelson said it takes more faith to drop an investigator than to find one. Essentially you are trusting that the Lord's plan will work for them and that He will provide someone else for you to teach. Dropping investigators is not a bad thing. (Steven)
I wish I had taken Preach My Gospel classes before I left. (They have them now.) But I wish I was more familiar with the book. 10 weeks in the Mission Training Center helped but my teachers were surprised that most of us didn't study the Preach My Gospel book. I would encourage you to read the whole thing to be familiar with the content. (Jessica)
Learning is a process, but It sure it would help to know them, what I know now. I would have studied more English before my mission. (Jairo)
Don't over pack. (Margarita)
Spanish. (Kel)
I wish I had studied the gospel more, paid more attention in seminary, etc. The same stuff everyone would say. (John)
Any advice/testimony for pre-missionaries going to Riverside?
You can do it! (Ashlie)
You're going to a great place, be yourself and do your best. (Andrew)
Keep your chin up. Know that tomorrow is always as bright as you choose it to be. Snacks are always a good idea. Take breaks when needed. Pray for love and compassion. Look at the people you serve as children of God. (Lindsey)
Repent any misdeeds before you go out. (Cody)
Just relax and have fun, don't stress about finding people. It is hard in California. The Lord will put you in the places where people will want to hear your message. (Ross)
Serve, that's all it takes. (Ryson)
Love don't judge. (Alissha)
YOU CAN DO IT! IT IS WORTH IT! You will gain so much from such a short time, and trust me the day you go home you will feel like you just got there and want to stay. Be yourself and be willing to grow and learn. (Nathan)
Learn Preach My Gospel and work hard, Love people and remember it's the Lord's work. You can't mess it up so just keep trying. (Steven)
Build your testimony every day through study and going out with the missionaries before you get ready to serve. It gives you the real world experiences that will help you grow and know what to somewhat to expect. Also, go to the temple as much as you can before you go because sometimes you don't have a temple in your mission or very limited. Build your confidence to share the gospel if you are scared to talk to people. Start changing that early, that way it gets easier as you go out in the field. Start following the missionary schedule to help you adjust to the time change, getting up early and going to bed as a missionary. (Jessica)
As a Mission President right now, I would encourage you to be less addicted to smartphones and be able to speak to real people. I would encourage you to learn to cook, do your laundry, Be able to learn from books and get a deeper understanding of the gospel than short messages you see in Mormon messages. (Jairo)
Talk to God. Pray always. Read your scriptures. Be bold. Be courageous. Do not fear man. Look for signs that say "beware of dogs." (Margarita)
Know how to work. (Kel)
Work hard and play hard at the appropriate times. Also, the less members know about you, the better. They want to believe you are super human. They don't want to know about your heavy metal fetish, or your nerdy addictions to sci-fi, etc. It only lowers their perception of you. (John)
What was a funny language mistake?
I can't think of any off the top of my head, but I was asked to give the closing prayer in a devotional in the MTC in Spanish (which I was really bad at, at the time) so I wrote it on my hand, haha. (Ashlie)
My companion tried to speak Spanish to a lady. I knew he was saying things differently than I would have, but I assumed he knew what he was saying. He actually didn't, and instead of asking if we could help her with her yard work, he told her to help us. (Andrew)
I spoke English, but when I did speak Spanish they would act like they didn't know what I was talking about. (Ross)
My trainer is from South Korea and he wouldn't let me say 'right' while I was giving him directions while he was driving. (Ryson)
Sometimes using ASL (American Sign Language), you would sign something wrong without realizing until they see it or you catch it and fix it. A lot of my companions came out learning the language where it's my first language. I often would teach them more than what they learned at the MTC but know that you will make mistakes and learn to laugh! WE all make mistakes as we are learning a new language. (Jessica)
At the time, they did not teach English from Missionaries coming from Brazil to United States. I was trying to tell the missionaries I was a Brazilian, but I read the wrong place in the Dictionary and tried to convince them I was a brazier. (Jairo)
I called an investigator mom. (Kel)