Here are free resources about the California Redlands Mission:
*Other Mission Pages: California LDS Missions.
---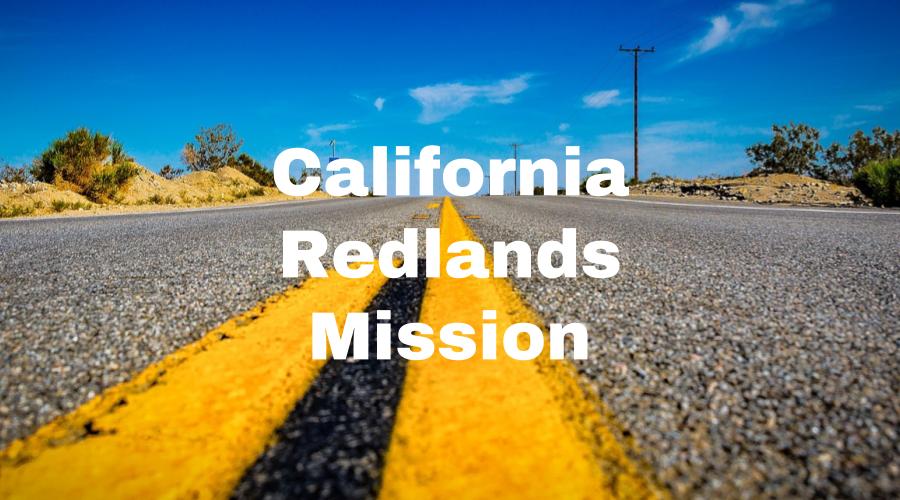 ---
California Redlands Mission Address
Here's a recent address for the Redlands Mission. We try to keep this information up to date, but it's a good idea to check the address with several sources, including your mission packet or the mission office.
California Redlands Mission
7000 Central Ave.
Highland, California 92346
United States
Phone Number: 1-909-425-1401
Mission President: President Sean R. Dixon
California Redlands Mission Map
Here's a link to the mission map for the California Redlands Mission (LDS). To access the official LDS.org map for the Redlands Mission:
Log into your LDS account here.
Click here.
California Redlands Missionary Blogs
Here's a list of LDS missionary blogs for the California Redlands Mission. This list includes the missionary's name, URL and when their blog was updated.
*Send your missionary a gift (mission-specific shirts, ties, Christmas stockings/ornaments, pillowcases, etc.)
California Redlands Mission Groups
Here are California Redlands Mission Groups- for LDS missionary moms, returned missionaries, mission presidents and other alumni of the Redlands Mission.
California Redlands LDS Mission Group (179 members)
Redlands Cali Mission Group (39 members)
California Redlands Mission T-Shirts
Here are T-shirts for the California Redlands Mission!
Shirt designs include California Redlands Mission logo/emblem shirts and Called to Serve shirts. The shirts make great gifts for pre-missionaries, returned missionaries and missionaries currently serving. LDS Mission shirts come in all sizes: Small, Medium, Large, Extra Large, up to 4XL.  The mission designs are printed on white shirts and are shipped to you.
*Simply click on a shirt design to view the details and submit an order. The designs on mission t-shirts may also be printed on other LDS mission gifts, including: California Redlands missionary aprons, Christmas stockings, ties, pillow cases, teddy bears and Christmas ornaments.
*Click here to browse Redlands Mission gifts
---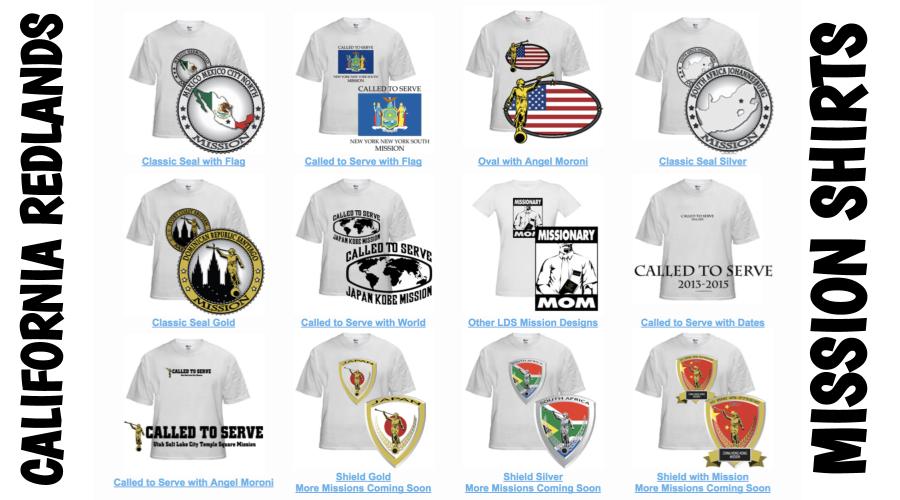 ---
Redlands Mission Presidents
Here's a list of current and past Mission Presidents of the Redlands LDS Mission.
2016-2019, Sean R. Dixon
2013-2016, Daniel Joseph Van Cott
California LDS Statistics (2016)
Church Membership: 773,762
Missions: 20
Temples: 7
Congregations: 1,357
Family History Centers: 222
Helpful Articles about California
California Redlands Missionary Survey
Here are survey responses from California Redlands RMs, to give you a snapshot into what it's like to live in the mission.
*Click here to take a survey to help pre-missionaries going to your mission.
When did you serve?
2015-2016 (Annakah)
2013-2015 (Landon)
What areas did you serve in?
Palm Desert, Thousand Palms, Cathedral City, Redlands, Palm Springs, and Fontana. (Annakah)
Redlands, Banning, Palm Desert. (Landon)
What were some favorite foods?
Oranges, carne asada, "real" tacos. (Annakah)
Tons of great Mexican food- both authentic and Americanized. (Landon)
What was a funny experience?
One time, my companion and I got locked into a gated community and had to jump the fence to get out, in the rain no less! (Annakah)
What was a crazy experience?
We had interesting interactions with homeless people, sometimes where police had to be involved. Never anything too threatening, though. (Landon)
What was a spiritual experience?
What are some interesting facts about the Redlands Mission?
General Authorities sometimes visit the Palm Springs area to play golf or relax. The mission was created in 2013 and is composed of missionaries originally sent to the Riverside and San Bernardino missions. The San Bernardino area was originally settled by Mormon pioneers. (Landon)
What was the weather like?
Hot and dry! Temperatures in the desert (Yucca Valley and Palm Desert stakes) can get up to 120. Temperatures in the mountains (Arrowhead) can get very low. For the most part, the weather will be 70-100 degrees. (Landon)
Any things you really like about the area/people?
It's obviously a very diverse area, with a huge demographic of people. Rich and older people in the Palm Springs area, young and more humble people the farther west you go. (Landon)
Any packing/clothing advice?
Pack lightly. A heavy coat or boots are not nessecary unless you get sent to one of the few cold areas in the winter. Otherwise, a jacket or sweater should be enough. Short sleeves are a must. (Landon)
What blessings did you receive from serving a mission?
What are some skills you gained?
Communication, goal setting and planing to achieve those goals, budgeting, etc. (Annakah)
I'm amazed at how much I enjoy talking to strangers now that I'm back home. Getting to know people is a pleasure for me now. (Landon)
What do you wish you knew/did at the beginning of your mission?
Yes you are a missionary, but be yourself. You have your personality for a reason, use that to your advantage in helping serve those around you. (Annakah)
Companions and areas may be tough, but you must persevere. The further into your mission you get, the more you'll understand the culture of both the mission and the people you serve. (Landon)
Any advice/testimony for pre-missionaries going to Redlands?
What was a funny language mistake?
As an English missionary trying to communicate with people on the street who only spoke Spanish was always difficult and funny. (Annakah)
Jacob (California Redlands Mission)
–Paraphrased from Jacob's mission interview–
Mission Info
I think there are seven stakes in the mission. There is one temple, and it is the temple for the area. The closest besides that are in Newport Beach, San Diego, and Los Angeles. It's nice to have a temple right in the headquarters of the mission. There were around 200 missionaries and at one point we almost had more sisters than elders. There are about seven zones for the mission. Most areas are wards, but there are a few branches. There is one English branch up in the mountains, and there are a few Spanish branches. There are only Spanish and English speaking missionaries called there, but there is a Samoan ward.
LDS Settlers
Half of the mission is suburban. The other half is more spread out across the desert and you will almost always have cars.
The Mormon pioneers settled most of the area and there is even a place just outside the mission called Mormon rock. It's cool serving in an area that was once populated mostly by Mormons.
Ben (California Redlands Mission)
–Paraphrased from Ben's mission interview–
Splitting off from San Bernardino
When I got my mission call to the San Bernardino Mission, I ended up getting changed into the Redlands mission. There is a temple in Redlands. It's smaller, but beautiful. Redlands is in the San Bernardino valley and it gets more deserty the more east you go. I spent a lot of time in Palm Desert and Palm Springs. The resorts make it a pretty nice place. Most people say that this is the ugly part of California, but I think it's a beautiful place.
LDS Settlers in the Area
San Bernardino was founded by Mormon settlers. Brigham Young was in Salt Lake when he sent members out to California who settled the town.
Temples
We got to go to the temple once every other transfer. The most meaningful temple experience was right before I went home and I got to go through with my mission president and I wanted to know if the Lord accepted the sacrifice I had made and I prayed there in the temple and right afterwards my mission president came up to me and hugged me and said he really appreciated the work I had done on the mission.
Stakes in the Mission
There are seven stakes in the mission. Every stake is typically it's own zone. There were usually at least two sets of missionaries per ward. Spanish speaking missionaries are only assigned to Spanish wards or branches.