Free resources about the California Modesto Mission:
*Other Mission Pages: California LDS Missions.
---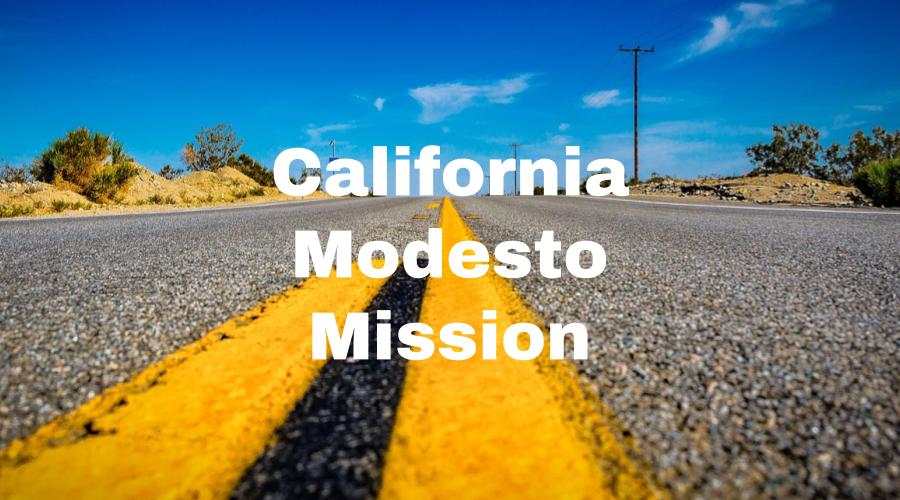 ---
Interesting facts about Modesto
Modesto has a popular garden club with over 700 members.
14 public art displays are located in downtown Modesto.
Modesto has a large flower bed clock in downtown.
The city maintains thousands of trees for the public.
The city was built to be a stop along the railroad from Sacramento to Los Angeles.
The movie "American Graffiti," by George Lucas was filmed in the city in 1973.
Modesto has a population of 200-300,000 people.
George Lucas grew up in Modesto, CA.
Modesto produces a lot of 

milk, almonds, chickens, walnuts, and corn.
California Modesto Mission Address
Here's a recent address for the California Modesto Mission. We try our best to keep this information up to date, but it's a good idea to double check the mission address with several sources, including your mission packet or the mission office.
California Modesto Mission
4300 Dale Rd
Modesto CA 95356
Phone Number: 1-209-543-9400
Mission President: Brent A. Palmer
California Modesto Mission Map
Here's a link to the mission map for the California Modesto Mission (LDS). To access the official LDS.org map for the Modesto Mission:
Log into your LDS account here.
Click here.
California Modesto Missionary Blogs
Here's a list of LDS missionary blogs for the California Modesto Mission. This blog list includes the missionary's name, blog URL and when their mission blog was last updated.
*Send your missionary a gift (mission-specific shirts, ties, Christmas stockings/ornaments, pillowcases, etc.)
California Modesto Mission Groups
Here are California Modesto Mission Groups- for LDS missionary moms, returned missionaries, mission presidents and other alumni who served in the California Modesto Mission.
Modesto California Stake Group (354 members)
California Modesto Mission T-Shirts
Here are T-shirts for the California Modesto Mission!
Shirt designs include California Modesto Mission logo/emblem shirts and Called to Serve shirts. The shirts make great gifts for pre-missionaries, returned missionaries and missionaries currently serving. LDS Mission shirts come in all sizes: Small, Medium, Large, Extra Large, up to 4XL.  The mission designs are printed on white shirts and are shipped to you.
*Simply click on a shirt design to view the details and submit an order. The designs on mission t-shirts may also be printed on other LDS mission gifts, including: California Modesto missionary aprons, Christmas stockings, ties, pillow cases, teddy bears and Christmas ornaments.
*Click here to browse Modesto Mission gifts
---
---
California Modesto Mission Presidents
Here's a list of current and past Mission Presidents of the California Modesto LDS Mission.
2015-2018,

Brent A. Palmer
California LDS Statistics (2016)
Church Membership: 773,762
Missions: 20
Temples: 7
Congregations: 1,357
Family History Centers: 222
Helpful Articles about California
Coming soon..
California Modesto Missionary Survey
Here are survey responses from California Modesto RMs, to give you a snapshot into what it's like to live in the mission.
*Click here to take a survey to help pre-missionaries going to your mission.
When did you serve?
2015-2017 (Tyler)
2015-2017 (Finley)
2015-2017 (Dani)
2015-2016 (Bradley)
What areas did you serve in?
Clovis-Mountain View, Modesto 3rd, Crows Landing Ward, Lodi 2nd, Manteca Northland, & Turock 1st. (Tyler)
Modesto, Tracy, Turlock, Hugh Son and Ceres. (Finley)
Manteca, Modesto (the southern portion), Ione, Ceres, Ripon, Tracy. (Dani)
Modesto zone, Modesto. (Bradley)
What were some favorite foods?
Taco Bell, Lasagna, Chicken Crescent Rolls, Tri-Tip Tuesday. Turkey (and Thanksgiving/Christmas dinner.) (Tyler)
Filipino food, Lil Caeser's pizza, lasagna. (Finley)
Food was pretty basic. The produce there is fantastic! It is ridiculous how much better fresh almonds are from there. The strawberries in the spring were also incredible. (Dani)
Taco Trucks. (Bradley)
What was a funny experience?
There was a time in my mission when I had a really bad companion and before him an annoying one, but at least decent and sometimes funny as well. I had enough and I asked President Palmer if I could have Elder Shepherd as a companion. I first met him in my first zone back in the Fresno Mission. Transfers came and I got him as a companion in what I say was the best area in the whole mission. It was my favorite. Funny thing was, I was with him for 7 1/2 months. We were the best pales after that. (Tyler)
Listening to Sister Palmer's stories. (Finley)
Offering homeless people a pass along card and watch them freak and start saying completely random things that don't make sense. (Bradley)
What was a crazy experience?
Driving down a hill, in the dark, with torrential rain. There was a huge stump in the highway that fell in the strong winds of the storm, and had to swerve to avoid hitting it and temple down a steep hill almost mountain. Another experience was when one investigator was calling the police in front of us for a sign that was damaged by his house. He was drunk so he wanted our help to help know what to say. We repeatedly said no and decided to walk/run/bike away from a scene that he was starting. We dropped him after that because he refused to give up drinking. (Tyler)
Watching my companion's bike get stolen and then watching him get it back from the thief. (Finley)
Homeless shootouts, drugs and the like. (Bradley)
What was a spiritual experience?
It was in my 2nd area in Modesto 3rd ward. We were teaching the Rutherford's at that time. Marcus was the first to be baptized. Athena and Jasmine were getting close and Athena was really having a hard time with her problems. I had a sudden feeling of love for her and the family and saw her great potential as a daughter of God. I said something so profound that it baffled me, her, my companion, and everyone else. I then said, what did I just say. We all forgot instantly, but it left a deep impact for all. (Tyler)
Testifying that the Book of Mormon is true when they were telling the only reason I believed was because I was raised in the church. (Finley)
What are some interesting facts about the Modesto Mission?
There are a ton of almond orchards in almost every town you go to. Lodi is the exception. It has many wine vineyards. You won't find fruit orchards, but the Almonds are still beautiful. The mission was created from the Fresno and Sacramento missions. I was the few 50 from Fresno and a total of 100 from both that started the mission. The mission vision: "We are one with the Savior, in doing the will of the Father" was formulated by some missionaries in leadership council and was presented by the Palmer's. We unanimously accepted it as divine in a split mission that would very quickly unite us all from past mission culture's. (Tyler)
A lot of different cultures and foods. (Finley)
It's the greatest mission in the entire world! A lot of the people in our mission (especially in the Modesto, Manteca, Tracy, Stockton areas) commute to the bay area (at least an hour commute one way). (Dani)
There are tons of homeless people everywhere who love to steal missionary bikes, so be sure to ALWAYS lock both tires to your bike and the bike to a sturdy metal object- in a visible location. also take your lights and bike pump off and bring with you for appointments, because they will be gone by the time you come back if you don't take them off. Too many stolen missionary bikes in Modesto. (Bradley)
What was the weather like?
Hot in the summer. average was 105-110 degrees Fahrenheit. Mild in the winter at 40-60 in the winter. Slightly more humid than high in the mountains but bearable. It's most humid in winter so it goes through your clothes easily. I suggest getting a wind breaker type jacket for dry weather. Long rain coat for rain. It does not snow in the valley. Lots of talk of very thick fog in the past, but while I was there for 2 winter's, it was mild so thin fog, visibility is at least 500 ft. or more. Due to long lasting drought. Fire's are very common in the hills and mountains these days. So stay safe. (Tyler)
Hot in summer. Wet in winter. (Finley)
It is super hot in the summer, and dry. There were 3 months were it was hot and sunny almost every day. Winter gets cool (like you need a good jacket), and one of the winters it rained a lot (lots of flooding). (Dani)
Usually sunny. Lots of rain in the winter. (Bradley)
Any things you really like about the area/people?
Many of these towns have poor halves, and rich/middle class people in them. Culture is as diverse as you get within the United States. Turlock is the most diverse with a record of 53 church's in its vicinity. Lots of Pengavi speaking people there from India. Lots of Arab people scattered throughout (Muslim's). English and most especially Spanish. Because of the diversity, people are open to hear out what other people have to say. Some people may still be nice enough to not slam the door in your face (except for Galt.) People sometimes thank us for serving as we bike around, and the people here are very prepared. Just find the needle in the haystack. (Tyler)
They are crazy. (Finley)
I loved it. The people there are a bit nuts (in the best way possible). So, I got to talk to the whole range of different types of people. Also, our mission was really small geographically (about a 2-2.5 hour drive from one extreme to the other), so I got to know the missionaries and the mission really well. Also, we biked all the time, and it was so much fun and I saw all sorts of interesting people/things. (Dani)
They are all humble and willing to participate in the work. They are nice- even if they don't want to hear the message. (Bradley)
Any packing/clothing advice?
For Elders, wear light weight white shirts (50-50 type blend), and Polyester pants, and garments (Silk too) to stay cool in the summer. Polyester generally stays cool compared to cotton, and does not stick much to you. In winter, wear thermal bottoms. For the top, personally, I stuck with my short sleeved shirt, a sweater, beanie hat, and my wind breaker for dry weather. I switch to my long trench coat for rainy weather. Shoes: Use only Echo's. (1 for each year for a total of 2). These are $150 but very worth it. I bought cheap shoes from Penny's, and by 6 months, the sole ripped off at the end of the day. This shoe type is durable, and morphs to your step so it becomes very comfortable. (Tyler)
Clothes for hot weather and a good rain poncho. (Finley)
Dress light. It is super hot in the summer. Have good rain jackets/clothes for the winter. We biked ALWAYS, from the heaviest of rains to the hottest of days. Biking makes picking skirts a bit more complex, the skirts cant be too tight or too loose (too tight and you can't pedal, too loose and it gets stuck in the chain. I would suggest practicing biking in the skirts you are thinking of to see if it is possible). I wouldn't stress too much about packing since if you find out you need/want something you can easily find it there. (Dani)
Rain jacket. sweaters- you'll love them. coats are too big. Reflectors- you'll be on the streets a lot. Modesto is a biking mission. Warm gloves and a warm hat. (Bradley)
What blessings did you receive from serving a mission?
My family was kept safe from potential harm events when they traveled. My parents kept it quiet from me but they were on the verge of divorce, and because I served a mission, they thought of my example as I served and they went through the repentance process together in preserving the family united. Lastly, I had learned a lot on how I can distinguish the voice of the Spirit from my feelings. It could spiritually hear a voice as if it were my own in decision making, and in personal study sometimes. (Tyler)
It helped me be a disciple of Jesus Christ. (Finley)
So many blessings. Mostly being able to more fully understand my relationship with my Father and His Son. Also, I made life-long friends who have changed my life dramatically. (Dani)
The opportunity to bring the gospel to people who have never had it before, and to unlock the gate of Heaven for them. Stronger testimony, leadership experience, friends. (Bradley)
What are some skills you gained?
I served as a District Leader and a trainer for a transfer together and a total of 2 w/ training. I learned leadership skills, counseling (from District Meetings), I expanded my poetry writing while out on my mission. I learned a ton about teaching skills and teaching in the Savior's way. (Tyler)
Take care of myself. (Finley)
Talking to people, studying, working well with others, conflict management, seriously just so many skills. (Dani)
Leadership, people skills, time management, planning, etc. (Bradley)
What do you wish you knew/did at the beginning of your mission?
To know the spirit of discernment better for who was ready and not ready. Also to know the voice of the spirit to say the right thing at the right time. Lastly, the full aspect of Grace as not just peace, but divine help from bottom to top. Lastly, to remember "The Character of Christ" talk better. Lastly, knowing more about the savior's life from reading "Jesus The Christ" a lot sooner in my mission than at the end! I also wished I had much more of my gospel related music. I thought I couldn't bring any electronics, but you can bring a flash drive. 16-32 GB are best. Pentatonix Christmas is okay, Enya, all Motab, The Garden, some Piano Guys albums (be prayerful in choice.) Nashville tribute, vocal point, Gentri, and EFY to name a few. (Tyler)
How to speak Spanish. (Finley)
I wish I knew that I wasn't alone. Missions are awesome because they give you a support system, from companions to mission leaders. It would have been nice to know where to turn when I had questions or problems. (Dani)
Just talk to people on the streets. It's way more effective than knocking doors because the Lord can and will put people to cross your path that need to be touched by the missionaries. (Bradley)
Any advice/testimony for pre-missionaries going to Modesto?
Seek out scriptures where it involves the Mission Vision: "We are one with Savior, in doing the will of the Father." Gain a testimony of that, and you will fit in fast with the whole mission. Focus a little less on Chapter 6 of Preach My Gospel, and focus more on teaching, and teaching by the spirit. (Chapters 3,4,and 10.) We need better teachers more than Christlike missionaries. But to be better teachers, we need to teach more like the Savior. "Jesus The Christ" would be a wonderful book to start with, if you so choose. I read it at the end, once I read every other book of scripture except the new testament. (Tyler)
Make sure you know why you are going out before you go out. Know who you are and whose you are. (Finley)
Choose to love it from the beginning. Choose to love your companion, choose to feel loved by your companion. Listen to your Mission President. Be ready to bike. And BIKE. All the time. Biking is fantastic, you get to talk to more people, and it helps with the stir-craziness of mission life. Please, don't get caught up in wanting a leadership role or any of that stuff. I knew so many fantastic missionaries who thought their missions meant nothing because they never trained or held leadership. Honestly, leadership is great, but it is also a huge distraction from doing the fun part of missionary work. My best advice is to not listen to other peoples advice. People will tell you that the first 6 months of your mission will suck (lies, the beginning of your mission is amazing as soon as you want it to be), people will say you will hate certain areas or companions (also lies, the best parts of my mission came when I was expecting the least). If anyone tells you that you wont baptize, or find, or teach in your mission, then I suggest you lovingly ignore everything they say. YOU were called to this mission, and God wouldn't waste your potential on something that doesn't matter. Amazing things will happen from your mission if you do whats right. (Bradley)
What was a funny language mistake?
Speaking English. (Finley)