Here are free resources about the California Fresno Mission:
*Other Mission Pages: California LDS Missions.
---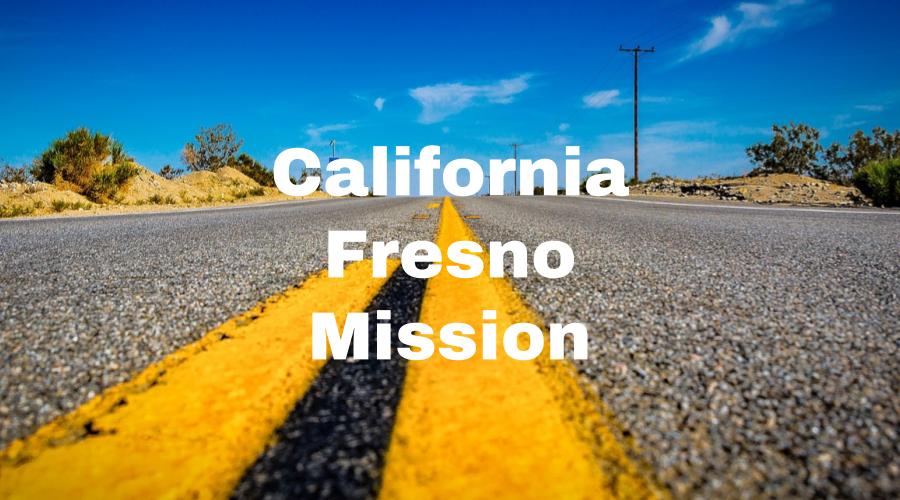 ---
California Fresno Mission Address
Here's a recent address for the California Fresno Mission. We try to keep this info up to date, but it's a good idea to check the address with several sources, including your mission packet or the mission office.
California Fresno Mission
1814 North Echo
Fresno CA 93704
Phone Number: 1-559-445-1008
Mission President: President Bart P. Mackay
California Fresno Mission Map
Here's a link to the mission map for the California Fresno Mission (LDS). To access the official LDS.org map for the Fresno Mission:
Log into your LDS account here.
Click here.
California Fresno Missionary Blogs
Here's a list of LDS missionary blogs for the California Fresno Mission. This list includes the missionary's name, URL and when their blog was updated.
*Send your missionary a gift (mission-specific shirts, ties, Christmas stockings/ornaments, pillowcases, etc.)
California Fresno Mission Groups
Here are California Fresno Mission Groups- for LDS missionary moms, returned missionaries, mission presidents and other alumni of the Fresno Mission.
California Fresno Mission T-Shirts
Here are T-shirts for the California Fresno Mission!
Shirt designs include California Fresno Mission logo/emblem shirts and Called to Serve shirts. The shirts make great gifts for pre-missionaries, returned missionaries and missionaries currently serving. LDS Mission shirts come in all sizes: Small, Medium, Large, Extra Large, up to 4XL.  The mission designs are printed on white shirts and are shipped to you.
*Simply click on a shirt design to view the details and submit an order. The designs on mission t-shirts may also be printed on other LDS mission gifts, including: California Fresno missionary aprons, Christmas stockings, ties, pillow cases, teddy bears and Christmas ornaments.
*Click here to browse Fresno Mission gifts
---
---
California Fresno Mission Presidents
Here's a list of current and past Mission Presidents of the Fresno LDS Mission.
2017-2020, Bart P. Mackay
2014-2017, Jeffrey Don Clark
2011-2014, Larry Gelwix
2002-2005, H. Arthur Barney
1999-2002, William D. Friden
1996-1999, Trevor A. Beatson
1993-1996, Jerry H. Houck
1990-1993, Randy Bott
1987-1990, Harry Blundell
1984-1987, Robert D. Linnell
1981-1984, Harold P. Christensen
1978-1981, G. Ellsworth Brunson
1975-1978, Robert B. Harbertson
California LDS Statistics (2016)
Church Membership: 773,762
Missions: 20
Temples: 7
Congregations: 1,357
Family History Centers: 222
Helpful Articles about California
California Fresno Missionary Survey
Here are survey responses from California Fresno RMs, to give you a snapshot into what it's like to live in the mission.
When did you serve?
2014-2015 (Katie)
February 2013 – February 2015 (Matthew)
2013-2014 (Emily)
2012-2014 (Patrick)
2011-2013 (Tim)
2010-2012 (Christian)
2000-2002 (Aaron)
2000-2001 (Arthee)
1977-1979 (Charles)
What cities/areas did you serve in?
Clovis, Merced, Turlock, Visalia. (Emily)
Porterville, Merced, and Turlock. (Patrick)
Fresno Echo West, Lindsay, Kingsburg, Hanford 1st Ward, Hugh Son Spanish Branch. (Tim)
Porterville, Los Banos, Crows Landing, Visalia, Caruthers. (Christian)
Fresno, Medesto, Visilla. (Arthee)
Fresno, Modesto, Bakersfield, Madera, Seaside. (Charles)
What were some favorite foods?
Burritos and enchiladas. (Matthew)
Taco trucks! Warm tortillas! Any authentic Mexican food. (Emily)
Pasole, Carne Asada with tortillas, chips and salsa. (Patrick)
Pasole, birria, dog house grill. (Tim)
Anything Mexican, in the Hispanic areas there are lots of hole-in-the-wall restaurants or taco trucks that make the best street tacos/tortas/burritos of all time. (Christian)
I wish I could remember the name of some. (Aaron)
I love wendys but mexican food was too great. (Arthee)
Mexican. (Charles)
What was a funny experience?
When I was serving in Merced, there were tons of homeless people and we would have the most hilarious conversations. They came to talk to us while they were high and they would confess all of their sins and offer us all kinds of things. (Matthew)
We were in knocking on doors when we came upon Janet's house. She was an odd woman completely obsessed with giraffes but she really was fantastic! She had two cats. One was orange and one was black. The first time we came I couldn't believe my eyes when I saw the black one. It was so fat that you literally could have set a plate on its back. A dinner plate… It would have stayed there perfectly fine as the cat didn't move much. I don't know how this cat was even still alive it was so big! (Emily)
While serving in Merced there was a crazy lady who thought she had a demon that lived on her glasses. She broke out in tears and grabbed my companion and asked him to hold her. Freaked him out and he said get off me. Had to be the funniest thing. Turns out she was listed in the area book to not go see under mission president orders. (Patrick)
We had the head linguist from the MTC come teaching with us one night to see how our Spanish was coming along. President Gelwix asked us to take him to the best cook in the wars to get some good Mexican food for him. When we got to the house the sister cooking for us was running behind and so she picked up pizza on her way home. Haha (Tim)
In my first area the Ward Mission Leader was a former KKK member and knocking on his door with his custom uniform… (Aaron)
Falling off my bike many times. (Arthee)
What was a crazy/dangerous experience?
While I was serving in Selma, if we were out later than 9, you could feel a presence and knew that you needed to be inside as soon as possible. There was a lot of gang activity and some "evil spiritual activity." (Matthew)
I had just gotten a new companion from Hawaii ( she was so much fun!) and so we went to see this family that we had taught a few lessons. We got there and they introduced everyone to my new companion. When she met the elderly uncle that lived there with the family, she recognize the flag on his bedroom wall and did this sketchy handshake with him. Come to find out, this whole family was part of the Crips gang and my companion used to be a wannabe Crip… In that moment I was unsure if I was about to die or if this was the perfect bridge for them to bring them closer to God. We ended up teaching them a few more lessons but not much after that especially since they had shown us there marijuana garden in the backyard. (Emily)
I was on a zone leader exchange and we were going to contact a referral before a baptismal interview. We open the gate and start walking to the house and all the sudden the missionary I was with yells big dog. All I saw was a tiny one. Well just behind it a huge dog came around the house and we both started running but couldn't get the gate open so we had to jump barbed wire fence. For me the barbed wire fence won. It collapsed as I was going over and tore my pants and my tie. (Patrick)
We always put our bike helmets just on our handle bars while teaching and locked the bikes up. I came out of a teaching appointment and my helmet was missing. I asked all the kids playing soccer nearby if they knew where it was and they all said no. I offered $5 and a kid came back with my helmet 2 minutes later.  (Tim)
Some random people tried to kill me. A gun shot missed me, got hit by a mini van on bike, almost got ran over from a bus, and more. (Aaron)
We were locked outside apartment on Christmas Eve because we forgot our key in the apartment. (Arthee)
What was a spiritual experience?
Every Zone Conference the Spirit was so powerful. I would walk away with a greater sense of confidence and a hope of good things to come. I came to recognize the Spirit there. I also came to know more about myself and what the Lord expects from me. (Matthew)
We were teaching a man named Blair and he had an addiction to cigarettes. He was such an amazing and spiritual man but this addiction really was hard for him to overcome. He knew that everything we talked was true so cigarettes was the only thing holding him back from getting baptized. We made a plan together and through Heavenly father's help he was able to overcome his addiction and be baptized. He is now married in the temple to beautiful women and is starting his family. He is now a great strength to all around him. (Emily)
Teaching a kid in Turlock and we were teaching about baptism and he wasn't sure if he wanted to and we testified of the truth and we immediately pointed out the spirit and he felt it too. He told us wow and we said a date that was put into our minds and he was thinking the same date. He was baptized a few weeks later. (Patrick)
Our bishop in Hanford was inspired to tell us to work with part member families. My companion and I went to every family on the ward list. One of the ones we went to answered the door and said, " we just got back from the Mormon battalion site and the San Diego temple visitor center and we're thinking about calling you." The wife was a member but hadn't been to church in almost 40 years and her husband had never gone. They went every week after that and the husband was baptized 6 weeks later. 3 months after his baptism he was diagnosed with aggressive cancer and they got permission to be sealed before his year mark. He passed away after being baptized for only 9 months. (Tim)
I made my goal to convert 24 people and they got baptized. Yay. (Aaron)
Teaching investigaters and they pray and feel the Spirit. (Arthee)
Challenging Sister Hunter for baptism on the very same day that we tracted into her home. (Charles)
What are some interesting facts about the Fresno Mission?
We were one of highest baptizing missions in the United States. We had a grape vineyard that we were able to work in and help prepare raisins for The Church to send to those in need. (Matthew)
It's known as the salad bowl of the United States. This is because of the large amount of agriculture in that area. Most of the United States' fruit and vegetables come from that part of California. The church owns an orchard that I had the opportunity to serve in while on my mission. It was an amazing opportunity to serve in the Lord's Vineyard. (Emily)
We had the largest grape vineyard welfare farm. The members go and tend the farm about 3 times a year. Really awesome event. (Patrick)
We actually get to serve in the Lord's vineyard. The church has a vineyard in Madeira. We were one of the highest baptizing missions in North America. One of the largest populations of Hmong speakers in the world are in our mission. (Tim)
Church owns a large vineyard twice a year members (and missionaries) of surrounding stakes get to go pick and prune. (Christian)
It's the best mission ever. (Aaron)
We love our mission. (Arthee)
We became the top baptizing mission in California only three years after the formation of the mission. (Charles)
What was the weather like?
Hot. Especially in Fresno. It will get colder and it will rain. The fog is dangerous. But it's lovely. (Katie)
It would get very hot. During the summer we would have weeks of 100+. During the fall/winter it would get much cooler in the 40s, but not much lower. (Matthew)
HOT most of the time and in the winter it gets foggy. Up in the mountains, it will snow but most everywhere else it just gets a little nippy and foggy. (Emily)
Mostly hot winters weren't to cold. Also you had a real thick fog that was intense you could feel it and taste it. (Patrick)
Hot. Too hot to bike. Haha thank goodness for our car. (Tim)
In the middle of the mission, it can get super foggy at certain times of the year. My second year out we went 3 weeks without seeing the sun. It was so foggy one day that we weren't allowed to drive our car because you could only see 20 feet in front of you. (Christian)
Hot, dry heat, and rain season. (Aaron)
It was dry and hot. (Arthee)
Hot in the summer. Cold and foggy in the winter. Beautiful on the coast. (Charles)
Any things you really like about the area/people?
I loved how kind people were. You knocked on a door they won't be interested but they will still give you water. (Katie)
I loved how respectful they were in some cases to the missionaries, especially members. I found it so interesting to hear people's stories about how they came to be where they are at now. (Matthew)
I loved working in Merced because the people there were so humble. The members in all of my areas were so kind and loving. (Emily)
The people were so welcoming and no matter what they were there for you. (Patrick)
Everything. (Tim)
Everything. (Aaron)
Place and people were great. (Arthee)
Loving people. (Charles)
Any packing/clothing advice?
Make sure that you have a coat and a umbrella. I had a waterproof bag that was really helpful. (Katie)
Remember to get pants that can handle biking every day. Also, have sufficient clothing that you are comfortable wearing every day. (Matthew)
Men: bring a lot of short sleeve shirts. You'll need them. Sisters: make sure your skirts aren't too flowy because flowy skirts get caught in bike wheels very easily… good quality flats are the best! You'll be walking around a lot so make sure whatever shoes you bring are very very comfortable. Make sure you have one good jacket. The winters can get cold and you have to be walking around in it. (Emily)
Short sleeve shirts. a lot. Also a heavy coat.in case it does get to cold and your biking. (Patrick)
Wear mesh garments. (Tim)
Don't get a trench coat. Make sure your coat is waterproof as you will mostly get rained on in the winter. (Christian)
Short sleeve shirts and a rain coat. (Aaron)
What blessings did you receive from serving a mission?
I truly believe that one blessing is having a better relationship with my Savior. (Katie)
I was able to witness the Gospel change people's lives. I was able to learn more about myself and become a more confident person. I learned how I can work with people and how to love them for who they are. (Matthew)
I learned so much! I not only grew spiritually but emotionally and physically as well. When I got home my legs were so strong and built that none of my pants fit anymore. (Emily)
I know I learned to look at someone seeing them as a child of God that is a huge blessing also my family going back to church. (Patrick)
I don't know if I would be active in the church if it weren't for my mission. Surrounding myself with missionaries and spiritual experiences solidified my testimony and gave me the best friends after. (Tim)
Hot wife. (Christian)
I'm still alive today. (Aaron)
Strengthened my testimony. President Harbertson expected nothing but our very best efforts. Learned to not settle for mediocrity. (Charles)
What are some skills you gained?
I really do feel that I can live on my own. I'm no longer afraid to get something done. I have gained confidence. (Katie)
I learned how to encourage people to progress and make commitments. I learned how to plan ahead and how to cope when plans don't go how they are expected to. I learned how to adjust quickly and push through discouragement. (Matthew)
I learned how to teach more simply. That is been a great skill that has helped me after my mission. I also learned how to communicate. I didn't realize that I had terrible communication skills. I didn't like talking about things and that doesn't go over well when you have to completely trust your companion. I am so grateful for the companion that made me talk. (Emily)
Leadership skills and communicating skills. Those were huge that I gained from it. Also study and preparation skills. (Patrick)
Time management would be the biggest one. (Tim)
Mad skills. (Christian)
Communication skills. (Aaron)
Confidence in talking to people. (Arthee)
Goal setting. Testify with power. (Charles)
What do you wish you knew/did at the beginning of your mission?
I wish that I could have written more down. (Katie)
I wish I took planning more seriously and had a different attitude about working. Going in with faith that miracles will take place and not letting the faith die. (Matthew)
Here's the truth: Nobody knows what they're doing. You might feel like you're the only one who has no idea what's going on but the fact of it is is that no one knows what they're doing. You just need to follow the spirit and that's the only way you're going to know what to do. (Emily)
How to teach better and point out the Spirit. (Patrick)
I was happy with my mission. I don't think I would have changed anything. (Tim)
I wish I had a better and stronger testimony. (Aaron)
The scriptures better. (Charles)
Any advice/testimony for pre-missionaries going to Fresno?
I'd tell them that they really are going to the best mission. Learn the mission motto and let it change you. Allow the Atonement the take place in your life.(Katie)
Have faith that miracles will happen, because they will. Have a testimony and if you don't, get one. Rely on what you do know rather than what you don't. Prepare to do things you are not comfortable doing. I know The Book of Mormon is the word of God and that testimony pushed me through and made me confident in the Gospel, in the face of disbelief. (Matthew)
-Trust God. -If it's good, do it. -Get to know the spirit, he will guide you. -Truly study your scriptures don't just read them. -Love everyone. -Become intimate with the atonement of Jesus Christ. -Remember that you are never alone. – Get up and go to work. (Emily)
Go and enjoy every minute of it. At first it is hard but grind it out and keep pushing eventually you will get lost in the work. Try to have fun and don't be to stiff. It is the best mission in the world and people are incredible there. They will make sure your okay and you will be taken care of. SO just lose your self in the work have fun with it and cherish every moment. (Patrick)
Work hard. You only get one chance to do this and you don't want any regrets. You have time for everything else when you get home so focus on your mission. (Tim)
Treat all your companions like they are going through a hard time. Nine out of ten times you'll be right. Missions can be miserable sometimes, you never know what other people are going through. (Christian)
Forget yourself and get to work. Love the people. (Aaron)
Get a testimony. Make every day count. (Charles)
What was a funny language mistake?
In Spanish the word for fish and sins are very similar. I was trying to say we are all sinners one time and I said we are all fish. (Tim)
We were drinking pineapple juice at a member's house and my companion kept calling it something you don't want to say. #classic (Christian)
Trying to speak Spanish when I was English speaking missionary. (Arthee)
Aleah (California Fresno Mission)
–Paraphrased from Aleah's mission interview–
For Future Missionaries of the Fresno Mission
The California Fresno Mission is a beautiful, wonderful mission that is so ready for the Gospel of Jesus Christ. When I was there, it was a fruitful rewarding mission, and I know it will be for you too!  We would always say that it was hard, dirty, sweaty, hot work, and it definitely is. However, although it was one of the most trying experiences of my life, I wouldn't trade it for anything in the world. The people of California are open, kind and inviting. Even those who weren't interested in the Gospel would still offer us water and welcome us with a lot of love. I hope you have excitement and joy as you prepare to serve!