Here are free resources about the California Carlsbad Mission:
*Other Mission Pages: California LDS Missions.
---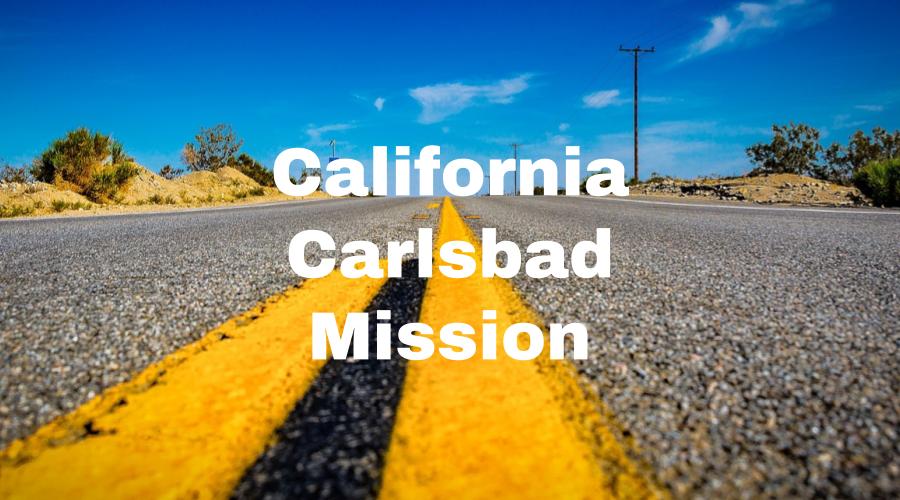 ---
California Carlsbad Mission Address
Here's a recent address for the California Carlsbad Mission. We try to keep this info up to date, but it's a good idea to check the address with several sources, including your mission packet or the mission office.
California Carlsbad Mission
451 W. Bobier Dr.
Vista, CA 92083-1906
Phone Number: 1-760-941-4154
Mission President: President Glen B. Thomas
California Carlsbad Mission Map
Here's a link to the mission map for the California Carlsbad Mission (LDS). To access the official LDS.org map for the Carlsbad Mission:
Log into your LDS account here.
Click here.
California Carlsbad Missionary Blogs
Here's a list of LDS missionary blogs for the California Carlsbad Mission. This list includes the missionary's name, URL and when their blog was updated.
*Email alexbalinski@gmail.com to have your blog added to the list.
California Carlsbad Mission Groups
Here are California Carlsbad Mission Groups- for LDS missionary moms, returned missionaries, mission presidents and other alumni of the Carlsbad Mission.
California Carlsbad Mission T-Shirts
Here are T-shirts for the California Carlsbad Mission!
Shirt designs include California Carlsbad Mission logo/emblem shirts and Called to Serve shirts. The shirts make great gifts for pre-missionaries, returned missionaries and missionaries currently serving. LDS Mission shirts come in all sizes: Small, Medium, Large, Extra Large, up to 4XL.  The mission designs are printed on white shirts and are shipped to you.
*Simply click on a shirt design to view the details and submit an order. The designs on mission t-shirts may also be printed on other LDS mission gifts, including: California Carlsbad missionary aprons, Christmas stockings, ties, pillow cases, teddy bears and Christmas ornaments.
*Click here to browse Carlsbad Mission gifts
---
---
Carlsbad Mission Presidents
Here's a list of current and past Mission Presidents of the Carlsbad LDS Mission.
2016-2019, Glen B. Thomas
2013-2016, Hal C. Kendrick
2010-2013, Bruce M. Cook
California LDS Statistics (2016)
Church Membership: 773,762
Missions: 20
Temples: 7
Congregations: 1,357
Family History Centers: 222
Helpful Articles about California
California Carlsbad Missionary Survey
Here are survey responses from California Carlsbad RMs, to give you a snapshot into what it's like to live in the mission.
*Click here to take a survey to help pre-missionaries going to your mission.
When did you serve?
2016-2018 (Evan)
2014-2015 (Ashlee)
2013-2015 (Mikaylie)
2013-2015 (Chantelle)
2013-2015 (Alex)
2013-2014 (Ashley)
2013-2014 (Leah)
2004-2006 (Tom)
2002-2004 (Sam)
2001-2003 (Jon)
2001-2003 (Anonymous)
1999-2001 (Casey)
1998-2000 (Hiketeru)
1997-1999 (Kevin)
1997-1999 (Dallin)
1996-1998  (Bruce)
Unknown (Sister)
What areas did you serve in?
Redhawk Ward, Rancho Carillo Ward, Temecula Ward, Temecula Creek Ward, Vista 1st Ward, Discovery Hills Ward, Santa Fe Hills Ward. (Evan)
Delmar, Fallbrook, Vista, Olivenhain. (Ashley)
Rancho, Santa Margarita. (Leah)
Laguna Beach, Escondido, Mission Viejo, Mira Mesa (Sam)
Oceanside, Live Oak, Penasquitos, Escondito, Foot Hill Ranch. (Kevin)
Vista, San Juan Capistrano, Dana Point, Valley Center, Mission Viejo. (Dallin)
Ramona, Del Mar, Escondido, Fallbrook, Irvine, Lake Forest. (Tom)
San Marcos, Murrietta, Fallbrook, and Carlsbad. (Chantelle)
Poway, Fallbrook, Oceanside, Vista, Lake Forest, Mission Viejo, Rancho Penequitos. (Jon)
Temecula, Murrieta, Carlsbad, Oceanside, Del Mar, San Marcos. (Alex)
Irvine, Vista, San Clemente, Escodido, San Marcos. (Bruce)
Carlsbad, Valley center, Oceanside, Foothill Ranch, Julian. (Hiketeru)
Mission Viejo, Santa Margarita. (Sister)
Oceanside,Mission Viejo north and south, Romonia. (Casey)
What were some favorite foods?
California Burrito, Bahaha, Bucks shaved ice, Fish tacos from El Pueblo, Blaze Pizza, Project Pie Pizza. (Evan)
Mexican and salads. (Ashley)
Pedro's fish taco in San Clemente. (Leah)
Mexican (Sam)
Samoan. (Kevin)
Fish Tacos, California Burrito, Squash boats, Italian Soda. (Ashlee)
Hispanic Cuisines. (Dallin)
All the fresh fruits and veggies! And going out to eat at Panera and Boudin! (Mikaylie)
The street corner mexican food carts. (Tom)
Salads with fruit in them, anything but pizza basically. (Chantelle)
You are fed very well by the members in this mission. Steak, burgers, seafood. All the good American fare will be on the table in this mission. Your area will only cover 1 or 2 wards in this mission so the members are watching you. So, serve well and you will be fed well. Most of the members are wealthy so you can expect to be taken out to eat sometimes as well. (Jon)
Two Brothers from Italy (Vista) Islands (of course). (Anonymous)
Really anything from In n Out burgers. (Casey)
Vietnamese foods. (Alex)
Home cooked meal style, also barbecue stuff. (Bruce)
Native American food, Polynesian food, and Mexican food. (Hiketeru)
What was a funny experience?
I was let into the house of a super less active member who told us to come in even though he was absolutely naked (we didn't find out until we opened the door). (Evan)
Zone Conferences were definitely made funny by President Kendrick and all of his Kendrickisms. Also biking up the ridiculous hills and singing we are the champions at the top of our lungs. (Ashley)
That one time we tracted into an evangelical leader and he wanted to engage with us. We left our contact information and we were later on the phone to make arrangements to meet up. He went on a tirade about how we were wrong and just kept on going, so I started brushing my teeth as he kept on ranting. (Sam)
Elder Thayne use to grab my leg during dinner prayers, at members' houses, to try to get me to laugh. He made the work a lot of fun. (Kevin)
Having the opportunity to serve once a week at an Equine Therapy Ranch (horse therapy) in Murrieta. (Ashlee)
When the sisters made laxative chocolate cookies to the mission Christmas dinner. (Tom)
I was out contacting people with my companion and on the same night we ran into a two different guys smoking weed. The first told us he felt close to God by smoking Mother Earth. The second said I'll become a Mormon if you marry me! When we jokingly asked which one he said both! (Chantelle)
Had a Tongan trainer. Didn't speak English very well, and he had a temper. We were tracting one day and as he was introducing himself, the guy told us to get lost, and that he wasn't interested. My trainer didn't listen and proceeded to tell him more. The guy told us to get lost again, this time with a raised voice. The look on my trainer's face was one of fear. A face I hadn't seen before in the few weeks that I had known him. He told the man to have a nice day, and we left. As we were leaving he said to me with his Tongan accent, "Man, I wanna hit dat face!" So funny. (Jon)
Missionary in our district puking on the stage after a watermelon eating contest at a Cinco De Mayo event. (Anonymous)
My fellow missionaries trying to shove my face in cake. (Casey)
My companion taking a bite of a cucumber in the middle of a serious district meeting. (Alex)
Fun times in the apartment with other elders on preparation day, man I miss the comraderie we had. (Bruce)
Going to a member's home for dinner and when we got to the table there were rocks in a bowl like soup.They had rocks on a cup of water coming to find out it was April Fool's day. They got us that day…good times. (Hiketeru)
For a service project we got to work at a member's place down in Mojeska Canyon. That was always fun times… (Anonymous)
What was a crazy experience?
I was chased by a man who was super high on drugs the same night I ran into the naked man. (Evan)
In Vista there are a lot of drunks and druggies that you have to watch out for. People will also try to kidnap you. Do not follow anyone. (Ashley)
Elder Kidd and I were stuck in a bad area after dark, where we had seen people carrying chains and bats. We had people who I would normally be afraid of come up to us and tell us get out of there because it wasn't safe, but they also said if anyone gave us any trouble to let them know and they would take care of it. This happened a few times before we were able to get out of there. (Kevin)
Witnessing a drug deal at night and being called out to (with a hissing noise) by one of the guys. But nothing happened and everything was fine. (Ashlee)
1st day out in the field, crashed my bike into a curb and landed into soil and bushes. Destroyed a new pair of pants. I guess it was a funny experience….or not so funny depending upon whose perspective the crash was viewed from. My trainer gave me a hard time for several months following the experience. (Dallin)
In Escondido we had a few areas we could not go in do to gang activity. (Tom)
My companion and I had contacted this guy and helped him clean his car. We asked if we could come by another day to teach him more about what we believed and our church. He said yes and we then asked if we could bring a friend or two he agreed even more. We got the feeling he didn't want good things, and when we brought this ex military member and his wife to our appointment with him. He was very disappointed that it wasn't more young and pretty girls like us. Needless to say, we never met with him again because he canceled our second appointment with him. (Chantelle)
Drove around with 8 elders in a little Toyota Corolla because we were the only ones with a car. (Jon)
Police chasing some burglars around our house with helicopters. We were locked down. (Anonymous)
Driving up the side of a mountain at a 90 degree angle. (Casey)
My companion having two seizures on me. (Alex)
Almost got run off the road while riding the bike ha ha. (Bruce)
Helping a family remove snakes from the yard. (Hiketeru)
What was a spiritual experience?
While on splits with the Ward Mission. I had a prompting to take the Ward missionary to visit a less active man. For the first time he let us in. Shortly after, my companion and the Ward Mission Leader showed up too. It was unplanned but we had a very profound lesson and the man reactivated. (Evan)
Zia Gahlebi was met on the Fourth of July while contacting. He had said just a week before he felt as if he was having a heart attack and that he heard a voice saying that two girls would have something to speak to him about and that he needed to listen. (Ashley)
When I flipped open the Book of Mormon to Mosiah 3:19 and shared it with our investigator who was uneasy about being baptized. After that scripture, he said yes. (Sam)
I remember when one teenage girl was baptized. When she came up out of the water she appeared to glow. You could physically see the change in her. It was awesome. (Kevin)
Teaching about the Atonement and how we can all be forgiven for the mistakes we make to a lady at the bus stop. Learning this really seemed to touch her. There were so many spiritual experiences but this is a simple example of the small everyday experiences that aren't so small. (Ashlee)
I could always feel the Spirit the strongest when recalling Joseph Smith's First Vision. But, no one particular experience stands out to me. (Dallin)
Teaching on the military base to the Marines in boot camp. (Tom)
One of my companions and I were having a hard time finding the right mesh for us and as we would both prayed for the area and wanted to see miracles, we eventually got to a point where we talked about things we liked and didn't liked and how we wanted to work together. She is now my favorite companion. (Chantelle)
A woman we taught was on the brink of suicide. Smoked, drank, did drugs. Immorality issues. No family in her area. No friends she could trust. She was speaking to her aunt on the phone telling her how bad her life was and her aunt told her to get to a church. The closest church just happened to be ours, and the first person she met when she walked through the doors was the Bishop. We were introduced and we were blessed to see her transformation through the Atonement as she gave up drugs, alcohol, smoking, and immorality all cold turkey. I baptized her a month later and she became the greatest member missionary you could hope for. That was the kind of experience you serve a mission for and I believe I learned more than she did because of it. (Jon)
Studying on the beach for companion study. (Cheryl)
Watching someone get baptized who you knew was meant for you to teach. Getting transferred back to an area where I was trained. (Alex)
Seeing someone we had worked with for a while get baptized, such a spiritual feeling, nothing like it 🙂 (Bruce)
Seeing young men and women in the Marine base come closer to their Heavenly Father. (Hiketeru)
A long inactive member was inspired by us sister missionaries to come back to church. When I returned a year later after my mission and he heard of my visit, he came up to me, gave me a big hug and thanked me for bringing him back to church! (Sister)
What are some interesting facts about the Carlsbad Mission?
It's the second smallest mission in California. Only the San Diego Mission lies between it and Mexico. Many, many famous people live in it, especially in the Olivenhain, Del Mar, and Carmel Valley Wards. (Evan)
We have one of the highest paying tithing areas in the world, we have the Del Mar horse races. We also have the avocado capital of the world in the mission. There are a lot of famous people who live in the area, but good luck getting into their house. (Ashley)
We were a pilot mission that used Preach My Gospel before it rolled out to everyone else. We had President Packer and Elder Maxwell meet with us before it came out to introduce to us that we no longer had to memorize the discussions. (Sam)
We had the two extremes…wealth in Oceanside and there was a field of weeds and trees you could go through and find where homeless people had built their own little living spaces. (Kevin)
There are 8 stakes. It is about 40% sister missionaries. A couple areas are along the beach with a beautiful view if the ocean. Some areas are very healthy, with a large amount of Siliac or other needs.
It was southern California……what more can be said. (Dallin)
It was a pilot mission for the new preach my gospel manual. (Tom)
Everything was based on the beach. People would want to go to the beach to do things and we weren't allowed so they had to either not have us there or figure out another way. (Chantelle)
It's in between Los Angeles and San Diego. So, you're covering the suburbs of those major cities. It's one of the smallest missions in the world, which I liked because you never had to drive all day to get somewhere. Most of the mission is very wealthy so you'll have to deal with people not being humble. (Jon)
Takes 1 hour to travel from one side of the mission to the other. Right on the beach! Run 30 mins every morning instead of just exercising. Surfer's and marines are everywhere. Millionaires and lower income all in the same mission and both emulate similar humility. (Alex)
Lots of great people. Members helped missionaries out with rides and splits and dinners a lot. (Bruce)
Carlsbad means a place of healing. (Hideteru)
A lot of people to talk to in a small area. Wonderful members who had lots of friends to refer. Members who are very eager to help with missionary work. (Sister)
What was the weather like?
It's nice if you like warm boring weather. It doesn't get too cold but does get pretty warm up north. Mostly sunshine and blue skies. (Evan)
Sunny, sunny, sunny. You forget which season it is. Most of the time it is in the mid 70s unless the Santa Anna's come rolling in making it super hot and maybe causing a fire. (Ashley)
Best weather in the world behind the Canary Islands. (Sam)
It did get cold in the winter and hot in the summer, but not to extremes. We did have a hurricane that was supposed to hit Oceanside when I was there, but it turned and hit Tijuana. It created waves that washed a person off the Carlsbad pier. He didn't make it. (Kevin)
Perfect all the time. In the summer some areas got to as high as 113 degrees. In the winter it stayed near 70 degrees F. (Ashlee)
Great, year round. (Dallin)
Perfect all year round- especially if you are on the coast. In the winter it can get down to about 40 degrees in the mornings. In the summer it can get up to the 90s but most of the time it is a perfect 70 degrees all year round. (Mikaylie)
Close to the ocean around 70 degrees all year in the desert up to 110 degrees. (Tom)
Warm and humid. (Chantelle)
Beautiful. 70 degrees and sunny most of the year. Very seldom rains. If you are inland you can expect 100 degree temperatures during the summer months. (Jon)
Hot during the day but cool in morning . (Casey)
70 degree year round on the beach near the coast. 110 in the summers in Murieta/Temecula area's. (Alex)
Very nice weather. (Bruce)
Lots of sunshine and some rain. (Hiketeru)
A week of rain, other than that only sunshine, short sleeves weather. (Sister)
Any things you really like about the area/people?
The people in general are really nice. There are active members everywhere that will help you pay for food at restaurants. Especially in Temecula and Murrieta. (Evan)
People are so intelligent and kind. You of course meet unkind people everywhere. But ward members are willing to be like the family you don't have out there as long as you are a good missionary. (Ashley)
The members there were awesome. Very helpful and treated my companions and me with great respect. (Kevin)
There is such a variety of people there. They love you like you are family. (Ashlee)
They were Cali cool….most of the time. (Dallin)
The people seem to be either very sincere and humble or incredibly rich and stuck up. (Tom)
EVERYTHING! But especially the healthy lifestyle. (Chantelle)
Most people say they went to the greatest mission in the world, but if you're going to the Carlsbad Mission you've got the facts to back it up. You're on the coast, beautiful weather 24/7, the church is very well established there so you have a great support system for investigators and you'll enjoy the freedoms and customs of being in the United States. (Jon)
I got to speak Spanish every day. (Casey)
Lot's of happy people. (Alex)
Awesome and friendly people. (Hiketeru)
Any packing/clothing advice?
Pack for hot weather but bring a sweater or jacket for winter. It would also be wise to a rain jacket. It doesn't rain too much but when it does, it pours. (Evan)
Short sleeves and skirts with pockets. Always try to be fashionable/presentable since it is one of the wealthiest missions. I would recommend packing a lot of shoes and hygiene products. Everything is more expensive there. (Ashley)
You don't need that heavy coat they'll try to sell you at Men's Warehouse. (Sam)
I found that the clothes the Church told us to bring were great. Other than not having a blanket or pillow for a while. (Kevin)
Sometimes it rained hard, not much, so a rain jacket would come in handy but is not worth spending a large amount on. Side bags are required, if you get a nice one it will last your whole mission. If you take shoes with a strap across the middle of your foot you will get a weird tan line. (Ashlee)
Dress for a warmer climate and save some money to buy a few nice ties. I still have one that was given to me as a gift from some members we lived with in my first area that I still wear. (Dallin)
Just a few cardigans and a lighter jacket. (Chantelle)
Short sleeve shirts can be worn most of the year. Bring a jacket for winter. (Jon)
Roll them up and you can fit more in your bag. (Casey)
Mostly short sleeve shirts. TAKE LOTS OF PICTURES. (Alex)
When you pack, it's best to roll your clothes. (Hiketeru)
What blessings did you receive from serving a mission?
My family has always been struggling financially, but almost immediately after I started, my family started making ends meet. (Evan)
I learned to love people who came from many different cultures and backgrounds. (Ashley)
I was very shy before and couldn't read very well, but I prayed for help and saw both of these problems change very quickly. Also, my testimony grew into a pure knowledge of the truthfulness of the gospel. (Kevin)
So many and I haven't even experienced some yet. A change of view in who I am and what I want. Friendship with great people. Comfort during hard times. An idea of what I want to study in school. A desire to serve in the Temple. These are the ones off the top of my head. (Ashlee)
I have no idea. But, I am sure I received a lot. (Dallin)
Being super patient and loving others. (Chantelle)
My testimony grew leaps and bounds. I made eternal friends, learned life skills you can't learn anywhere else and I believe I'm a better husband, father and priesthood holder because of my mission. (Jon)
More confidence in my self. (Casey)
Understanding how to work in unity, deeper testimony of the Savior, lots of friends and spiritual experiences. (Alex)
Learned how to love others more, how to compromise and get along with someone, gained a stronger testimony. (Bruce)
Learning about myself and becoming closer to my Savior. (Hiketeru)
I understand how important it is for everyone to hear the gospel. I also learned some practical skills, how to live on my own, how to take care of a household. It prepared me for motherhood in how I teach them the gospel, how I share sprouts from my mission with them. I teach them how important it is to help the missionaries and support them. (Sister)
What are some skills you gained?
I gained a lot of interpersonal skills. I learned conflict resolution techniques. I learned how to trust the Lord. (Evan)
Knitting, a little Spanish, Russian, Mandarin, and Farsi. Cooking skills and a love for biking and running. (Ashley)
Organization, confidence, and public speaking. (Kevin)
Better study habits. Ability to be calm in tense situations. (Ashlee)
Interpersonal communication skills improved. (Dallin)
Talking to random people. (Chantelle)
How to live on your own (take care of yourself, laundry, etc.). Learned how to speak with total strangers, so my communication skills improved immensely. (Jon)
I learned to be more confident in myself and to trust in the Lord. (Casey)
Ability to work with other people in a personable manner. Ability to focus on both quality and quantity. Ability to focus on a single purpose above everything else. (Alex)
Learning about myself and becoming closer to my Savior. (Hiketeru)
How to study the gospel. How to prepare classes and talks. How to concentrate on others as they tell me something about them. Put others first and then myself. (Sister)
What do you wish you knew/did at the beginning of your mission?
Slow down don't stress about things, Heavenly Father has his plan and there's nothing you can do to truly frustrate it. All you can do is decide to be a part of it. (Evan)
Contact like they are going to be baptized, have enough faith to be happy no matter what, and don't forget to make friends along the way. (Ashley)
Thankfully, I was well prepared and I had good companions that allowed me to work hard. The one thing I wasn't ready for was how tired I was the whole time on my mission. (Kevin)
You can use whatever hobby you have for good in the mission field. (Ashlee)
Memorized more scripture mastery in high school. (Tom)
How much different the culture is in California in the church! (Chantelle)
I wish I knew what to expect, so hopefully this survey helps someone. I wish I wouldn't have wasted a minute of time. The 2 years goes by so fast, I would say just give 100% every day to the Lord. No regrets. (Jon)
Importance of small and simple things (studying one topic per day). (Alex)
Had a stronger testimony, and was closer to the Spirit so I could be led by it sooner. (Bruce)
Studying more. (Hiketeru)
Coming from Germany I wish I had known the weather conditions. 🙂 I was trained for temple square and not contacting people on the street or door to door. I wish I had been trained for that a little bit more. But I guess the spirit helped with that. (Sister)
Any advice/testimony for pre-missionaries going to Carlsbad?
God doesn't need missionaries. He can do His work all by himself. He allows us to participate for our own growth and benefit. To built life long friendships. Don't forfeit that privilege with disobedience. (Evan)
Please read The Book of Mormon before you go out. It will help with any doubts, strengthen your faith in a place where churches teach anti, and help you understand that Jesus Christ is your Brother and Savior and that you have lived not only with Him, but with your Father in Heaven before you came here. (Ashley)
Gain a testimony before you get go. Read the Book of Mormon and find out for yourself first. I saw too many instances of missionaries faith being shaken greatly after their first experience with people who wanted to Bible bash. I had one companion who was a great worker until being confronted by a basher, after he just wanted to go home. (Kevin)
Serve the Lord with all you have even when it seems like you have nothing left. I know that whatever you experience is for your growth and learning. You will never regret serving a mission. (Ashlee)
Have fun, work hard, and catch a few sunsets at the coast line if you get an area along the beach. (Dallin)
It's the best mission on earth. (Tom)
Love everyone! (Chantelle)
Remember who you are at all times as you're out there. Set the example. Serve faithfully and give it your all. I remember how good it felt knowing at the end of a long day of tracting and contacting that you did all you could that day. (Jon)
Study your scriptures and pray. (Casey)
As my Mission President said, "serve when you are exhausted, pay your tithing when your broke, and read your scriptures when you do not want to." I think some of the biggest blessings come when you are exhausted and have nothing left, yet you choose to talk to one more person or call one more member for a referral. (Alex)
Enjoy your mission, work hard, stay close to the Lord, before you know it is over. (Bruce)
Read the book of Mormon at least once cover to cover. Listen to your parents advice and leaders counsel. (Hiketeru)
Enjoy this mission! The area is beautiful, the people are great and the members are priceless! (Sister)
What was a funny language mistake?
Spoke English, but still had a problem with that sometimes. (Jon)
Speaking Spanish true Spanish from Spain and Spanish my Mexico. (Casey)
My companion told four 14 year old Hispanic girls that we where the handsomest missionaries they had ever seen in Spanish. Neither of us spoke Spanish. (Alex)
Technically it was not on my mission, but as I returned a year later to visit : we went to Disneyland and stood in line with a bunch of people. Everyone stood in front of section A, but since the other sections were free, I called out to my group "hey. Let's go to the C-section!" Everyone started laughing and I had no idea back then what was going on and what mistake I had made. 😉 (Sister)
Brittany (California Carlsbad Mission)
–Paraphrased from  Brittany's mission interview–
A Small Mission with Perfect Weather
The mission is very small. When I was there it was about an hour and a half from one end to the other. We lost Orange County and some other areas, but we have grown in the number of missionaries. The members are really helpful. It's a very wealthy mission as well. We were one of the first missions to have handbags instead of backpacks because the people expected us to be more professional. It's next to the ocean and has perfect weather. I wore a light jacket twice my whole mission. 70 degrees year round. Temecula gets really hot in the summer though. When you're coastal it's perfect weather. California is very cloudy in June. I like it though. I didn't wear a jacket.
Languages and Cultures
Our mission is right in between the San Diego temple and the Newport temple. Both temples are about ten minutes outside of the mission. We got to go to both. We need more languages I feel like. There are people from all over the world. Its only an hour from the Mexican border. We had Spanish, Tagalog, Mandarin, and I feel like we needed Farsi speaking missionaries. There are so many people from Iran. I learned to contact in Spanish, Farsi, and some others. I just learned little phrases. I taught some people that were Muslim.
Tracting
When we tracted, we would get maps of our area and section them off and color the different pieces of the map. We separated each color into a corresponding notebook to fill with people to visit. For example, we would spend a whole day in orange area. We wrote down if people answered, if no one was home, or if they told you to go away. You documented everything so that you could contact every single home so that no one was lost. In one of my areas, we had knocked on three fourths of the entire area.
Andrew (California Carlsbad Mission)
–Paraphrased from  Andrew's mission interview–
A Diverse Mission
The Carlsbad mission is very wealthy. The closest temples are the Newport Beach temple and the San Diego temple. The members there are awesome. I think Southern California is the perfect amount of membership. They aren't the majority of the people there, but there are enough that there are golden families, strong youth, and great members in general. You will get fed probably every night. A lot of the people own their own businesses and are very used to working with people. They bring those traits into their callings and are very efficient. On the coast, you get a lot of diversity. I remember one investigator we taught from Russia that was very interesting. He was a physicist that developed submarine missiles and was also a politician in some places. He was a great friend we made there. We actually contacted into a house of Mongolian helicopter pilots that didn't speak a word of English. That was an interesting experience. There were two missionaries in our mission that were originally assigned to Mongolia. Their visas were denied so they were permanently assigned to our mission. We brought him along to these lessons with the Mongolians that we had. I didn't say much, but Elder Chandler taught most of that lesson in Mongolian. There was a family from Iran that we baptized in Carlsbad. There are a lot of people from the Middle East.
Amanda (California Carlsbad Mission)
–Paraphrased from  Amanda's mission interview–
A Tiny Mission
It's a tiny mission. It's an hour and a half across basically. To go to a baptism in a former area we would drive like 15 minutes. The wards are humongous. In this little rural town the ward had like 400 active members. They're going to split it soon. The leadership is really close-knit. It's a lot of members in a tiny area. There is a lot of diversity too. Maybe 2 percent of the population are members. Everyone has seen us at some point. With so many missionaries in such a tiny mission.
Common Misconceptions
There are plenty of the usual misconceptions about polygamy kind of thing. Everyone thinks the San Diego temple is a castle.
Languages and Areas
We have English, Spanish, and two Farsi speaking missionaries. There are a lot of people from Iran that are taught by those missionaries. I had six areas. I started in Falbrook. Then I went to La Costa. It was close to the beach. Then I went to Palomar YSA ward. That's when I went from super poor to super rich in the same day. I ended my mission in a different YSA. I love YSA. It's so fun. You have to be fun, but professional at the same time. It is the best.
I only had American companions. There were a few from Mexico, but they were all Spanish speaking so I was never around them that much.