Here are free resources about the Bulgaria Sofia Mission:
*Click here for resources about the Central Eurasian Mission.
---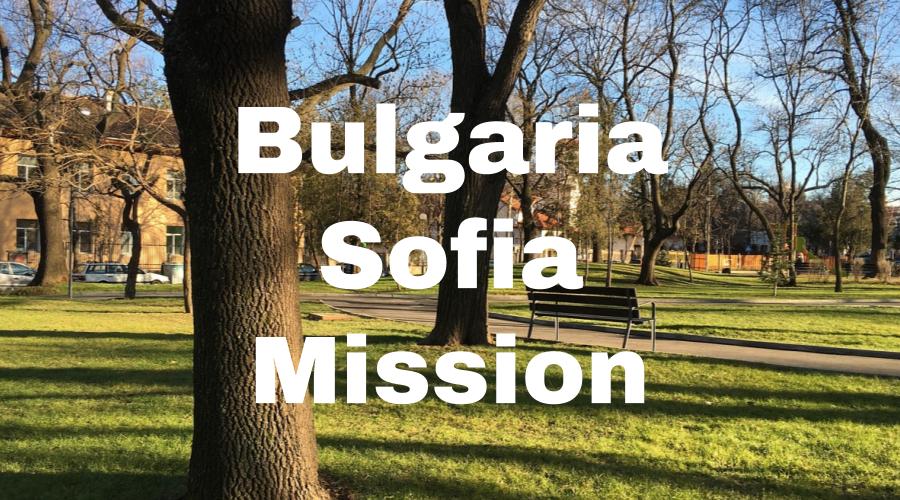 ---
Bulgaria Sofia Mission Address
Here's a recent address for the Bulgaria Sofia Mission. We try to keep this information up to date, but it's a good idea to check the address with several sources, including your mission packet or the mission office.
Bulgaria Sofia Mission
UL Marin Drinov 21
1504 Sofia
Bulgaria
Phone Number: 359-2-946-3329
Mission President: President Michael S. Wilstead
Bulgaria Sofia Mission Map
Here's a link to the mission map for the Bulgaria Sofia Mission (LDS). To access the official, up-to-date LDS.org map for the Sofia Mission:
Log into your LDS account here.
Click here.
Bulgaria Sofia Missionary Blogs
Here's a list of LDS missionary blogs for the Bulgaria Sofia Mission. This list includes the missionary's name, URL and when their blog was updated.
*Send your missionary a gift (mission-specific shirts, ties, Christmas stockings/ornaments, pillowcases, etc.)
Bulgaria Sofia Mission Groups
Here are Bulgaria Sofia Mission Groups- for LDS missionary moms, returned missionaries, mission presidents and other alumni of the Sofia Mission.
Warner Bulgaria Sofia Mission Group (143 members)
Sofia Mission Moms and Friends (LDS) Group (73 members)
Bulgaria Sofia Mission Alumni Group (5 members)
Bulgaria Sofia Mission T-Shirts
Here are T-shirts for the Bulgaria Sofia Mission!
Shirt designs include Bulgaria Sofia Mission logo/emblem shirts and Called to Serve shirts. The shirts make great gifts for pre-missionaries, returned missionaries and missionaries currently serving. LDS Mission shirts come in all sizes: Small, Medium, Large, Extra Large, up to 4XL.  The mission designs are printed on white shirts and are shipped to you.
*Simply click on a shirt design to view the details and submit an order. The designs on mission t-shirts may also be printed on other LDS mission gifts, including: Bulgaria Sofia missionary aprons, Christmas stockings, ties, pillow cases, teddy bears and Christmas ornaments.
*Click here to browse Bulgaria Mission gifts
---
---
Bulgaria Sofia Mission Presidents
Here's a list of current and past Mission Presidents of the Bulgaria Sofia LDS Mission.
2012-2015, Michael S. Wilstead
2009-2012, Gerold Roth
2006-2009, Blair Bennett
2003-2006, Jeffery Johnson
2000-2003, David Galbraith
1997-2000, Gary Stephens
1994-1997, Edward Partridge
1992-1994, Dale Warner
1991-1993, Kiril Kiriakov
Bulgaria and Turkey LDS Statistics (2015)
Church Membership: 2,392 (Bulgaria), 397 (Turkey)
Missions: 1 (Bulgaria)
Temples: 0
Congregations: 9 (Bulgaria), 4 (Turkey)
Family History Centers: 3 (Bulgaria)
Helpful Articles about Bulgaria
Bulgaria Sofia Missionary Survey
Here are survey responses from Bulgaria Sofia RMs, to give you a snapshot into what it's like to live in the mission.
When did you serve?
2013-2015 (Emily)
2012-2014 (Zane)
2000-2004 (Scott)
1998-2000 (Adam)
1998-2000 (Josh)
1998-2000 (Rick)
1995-1997 (Robert)
1994-1996 (Danny)
1992-1994 (Hannon)
2000-2002 (Ben)
What areas did you serve in?
Dobritch, Pernik, Pazardjik, Shoumen, Bourgas. (Scott)
Sofia, Shumen, Blagoevgrad. (Adam)
Varna, Plovdiv, Burgas, Stara Zagora, Sofia, Ruse. (Josh)
Varna, Stara Zagora, Sofia, Plovdiv, Yambol, Dobrich. (Ben)
Shumen, Plovdiv (Trakia, Kyuchook Parish), Sofia (Slatina, Geo Milev). (Rick)
Sofia, Burgas. (Robert)
What were some favorite foods?
Musaka, kyufteta, milinki. (Zane)
Moussaka, banitsa, baklava, falafel, dyuner, tarator. (Adam)
Mousika (meat lasagna without the tomato base), Baniza, Kiselo Mliako (yogurt without sugar), Pirjeni Kartofi sus Cirene (french fries with goat cheese). (Josh)
– шопска салата – сирене – пържени картофели с шутка – баница – боза – Дюнер. (Scott)
Taritor, baklava, bonitsa, tsvinsko zele, shopska salata. (Danny)
Banitza, Kiselo Miyako, Musaka, Kebabcheta. So many. (Hannon)
Sirene po shopski, Duners from the place on ul., Naiden Gerov just of the Glav in Plovdiv, Shopska salata, Moussaka, Chushka byurek, Nosto's pizza in Yambol. (Ben)
Bread dipped in yogurt, fries and feta, cirene po shopski, shopska salata, tarator, fresh fruits and vegetables, marmalade sold by the kilo. (Rick)
Shopksa salary, sirens po shopski. (Robert)
What was a funny experience?
Finding the Varna church dogs, whom we always saw at the church, clear out on the edge of the city randomly. (Zane)
Filling Billa bags with water and dropping them off an 11-story building. (Scott)
We got a referral from what turned out to be the home of one of the two patriarchs of the Bulgarian Orthodox Church. The staff were not happy to see us and quite angry. It turned out to be legitimate; the librarian wanted a Book of Mormon for their library, but it took a while for them to figure out that we were invited. (Adam)
My first apartment when I arrived didn't have heat. It was in Varna. We slept, ate and studied in one room with space heaters and had to put milk in the fridge to keep it from freezing. (Josh)
Playing football by vitosha with a rugby ball. (Danny)
Getting stuck in a half-way opened elevator. (Hannon)
After English class, heading back to apartment in the evening as the fruit stand by the bus stop was closing shop. They would have the not so fresh fruits gathered in a bag for a couple lev. Yum! (Rick)
Dancing with the people at a festival. (Robert)
What was a crazy experience?
Being chased by a drunk guy around a building, into the fhod, and up eight flights of stairs… then hiding momentarily in the apartment of a nice old baba. (Zane)
Heard gunshots, the suspect walked past us after he shot someone as he was putting the gun in his back pocket. He caught a taxi that was waiting for him around the corner. Staged? Probably. (Scott)
We did get attacked by a priest and his roving band of thugs, once. None of the missionaries were badly hurt, but it was very scary. They actually beat up one of the guys who was talking to us. (Adam)
Remembering back, there were actually a lot. One in particular was catching a glimpse of a knife blade in the street light from a man staring at us. I pulled my companion back and we walked away quietly. I also had a landlord pull a knife on us. Actually, there were a lot of hairy situations. But, as a missionary, I was never scared when I probably should have been. The Lord's protection offers a shield. (Josh)
Cops arrested us while street boarding. Handcuffed us and took us to the station. Beat us up. Left us in a field on the edge of town. (Robert)
That night in Loolyn, after gold and Mecham got beat up. (Danny)
When a drunk guy pointed a gun in my face. (Hannon)
Random activation of the air raid sirens on national alphabet day. We "discovered" lots of holidays by noticing that the streets are really quiet unexpectedly. (Rick)
What was a spiritual experience?
Having so much trouble meeting with an investigator of the opposite sex because we were unable to find another member to help us (group city), but on our knees receiving exactly the answer we needed- to take our investigator to the home of a home-bound member. It also lead to our investigator progressing and made all the difference. (Zane)
After days and days of tracting out Pernik, I finally understood everything an old man was saying to me about his poor health. It's like a lightbulb went on in my head and it all came together that very night. (Scott)
There is nothing quite like the feeling at a baptism. We were baptizing people in an improvised font made of tarp in a concrete courtyard. The weather was cold and the water was freezing, but it still seemed like a sacred place somehow. (Adam)
So many. One of my favorite was baptizing in the Black Sea. I swear the waves calmed as soon as the arm was raised for the ordinance. (Josh)
Teaching first convert in Burgas. (Robert)
District Conference with Elder Oaks. (Danny)
First Discussion, prayers. (Hannon)
Baptism in a river between Varna and Shumen. Baptism in the Black Sea. Starting to work with an investigator from another companionship after hearing about all the concerns they've been struggling to address. We go through a lesson, and encounter no concerns. We conclude with asking about the concerns, and are told it isn't a concern. So we invite them to be baptized, and they said sure, when can we schedule it? Suggesting that missionaries can be guides to help investigators learn how to overcome their concerns, but it's up to them to decide when to move forward. It was a beautiful baptism, with the branch president performing the ordinance. (Rick)
What are some interesting facts about the Sofia Mission?
It's awesome. There are so many beautiful things in such a small area: mountains, lakes, rivers, deserts, forests, caves, plains, rolling hills, coast, etc. It's the birthplace of the Cyrillic alphabet. (Zane)
Grandmas have either red or blue hair Some men have hair on their cheeks Alcohol is cheaper than water Don't trust the gypsy kids. (Scott)
Plovdiv used to be called Phillipopolis. There is an old Roman amphitheater still standing near the center of town, and there is a legend that Paul (yes, that Paul) taught a sermon there. They do re-enactments sometimes. That part of the world had Christian missionaries within just a few years of Christianity first being founded. (Adam)
In Bulgaria, nodding your head means "no", while shaking your head from side to side means "yes". (Emily)
When I left the average baptisms per missionary was .3. The mission was closed for 8-9 months while I was there. (Danny)
Bulgaria is a wonderful crossroads of Mediterranean, Western and Soviet influences. (Hannon)
As part of showing that we had enough people attending to qualify for a building, we were very concerned about attendance in Plovdiv. One week in particular, district (or zone?) Leader challenged all companionships to put in 10 hours of tracting for a key week. It felt like the longest week, as we knocked so many doors but very seldom were invited in. Turning in numbers on Saturday evening, it was the least productive week, but we had our tracting hours on target. Church attendance on Sunday set a record, and approval for the building to move forward was granted soon after. (Rick)
What was the weather like?
Four distinct seasons. Summers can exceed 100F, Winters can be well below freezing with a good amount of snow fall, Autumn is pretty, and in the Spring there can be great amounts of rainfall that smell, sound, and look fantastic. (Zane)
Four seasons and similar to northern Utah. (Scott)
Sometimes it rained sideways, sometimes it was baking hot, sometimes it was muddy to your knees, and sometimes it was piled in snow. It was also very nice about half the time. (Adam)
Like Provo. (Robert)
We had four seasons. There was a bit more humidity than I was used too. (Danny)
Varied. (Hannon)
Warm summers, cold winters, slush sometimes after snow has been accumulated for a bit. Basically, it was beautiful! (Rick)
Any things you really like about the area/people?
I love how straightforward it is there. You never really have to beat around the bush, you just say it straight out. Also, the pride that they have in their culture and country, and keeping up on the old traditions (even if it does cause some trouble sometimes). (Zane)
Very hospitable and willing to make sure your fed even though they don't have much. (Scott)
The forests are beautiful, and the members sometimes liked to go on hikes for activities. We often went along. The members loved the missionaries and were always so kind to us. (Adam)
Each person had an interesting story. (Danny)
Kind and giving people. (Hannon)
There was definitely a need for the gospel to lighten the lives of the people in Bulgaria. I learned to love serving, whether to members or random people on the street. I loved teaching the beginning English course, from my first week in the country. (Rick)
Any packing/clothing advice?
Get any weather stuff there. Hats, coats, jackets, umbrella- all of it. Because it's cheap, conveniently close, and European. Same goes for grooming products. Also, don't take any advice or tips books, or anything else really. You don't need it. Just focus on the core materials, because that's what will matter. (Zane)
Good shoes that will last miles and miles of walking. (Scott)
Prepare for a wide range of weather. Skip trench coats. Bring good long underwear, winters are very cold and you spend a lot of time outside. (Adam)
You need winter clothes and short sleeve shirts for Summer. (Hannon)
Learn to pack your essentials compactly. Learn how to use the post office to mail any purchases, souvenirs, or other keepsakes home, rather than trying to carry everything. (Rick)
What blessings did you receive from serving a mission?
Being a convert, I gained a real testimony and understanding of how the church works and why it works that way. I also got the amazing chance to see differences within the church. Even though it's the same church all over the Earth, the people are not all the same. I loved seeing those differences and knowing that they're fine. And speaking another awesome language doesn't hurt at all either. A confidence in the leadership of the church and its functions. (Zane)
Understanding the importance of free agency and that people will ultimately choose their own paths in life. (Scott)
A much stronger testimony. A much different perspective of the world. A deeper understanding of the other side of the Cold War. A deeper love of learning languages (I now speak five). (Adam)
Firm testimony. (Robert)
The blessing that even when you follow the rules things probably aren't going to work out, but you can always see something positive in the outcome. (Danny)
Many spiritual references. New experiences. New language. Increased Gospel knowledge. (Hannon)
Learned how to work. Learned to love learning and teaching. Grew spiritually in my own confidence in the Lord, which has continued to help me with through life challenges. (Rick)
What are some skills you gained?
Teaching, and understanding how that teaching is being received or absorbed by those listening. Speaking another language, and the innate understanding of my first language that it brings. The ability to work with the church online programs better. Becoming better at handstands, and limbo. (Zane)
Being able to speak with a variety of people and personalities. (Scott)
I got a lot of exercise. We walked everywhere! I was walking perhaps 2-4 miles every single day. I was in really good shape, and we could walk very fast. I also learned a lot of Bulgarian cooking. (Adam)
I realized that trying to stay an introvert didn't help anybody else. I learned enough confidence to get outside of my shell and take risks, relying on the Lord. (Josh)
Learning to save, and endure persecution. (Danny)
People skills, language skills, identifying the influence of the Holy Ghost skills. (Hannon)
How to work, how to teach. Walking and reading a map. How to listen. (Rick)
What do you wish you knew/did at the beginning of your mission?
I wish I would have more thoroughly forgotten about my life before, and all America in general. I missed out on absorbing more of Europe as a whole. It also meant that I tried to apply things to Bulgaria in an American way, when I should have been trying better to learn the Bulgarian way, so that it was more familiar and effective for the Bulgarians. (Zane)
How much I'd eventually miss it. (Scott)
I wish I had access to SRS drills on an electronic device! Programs like Anki or Memrise are amazingly effective, and so fast. I would have learned that difficult language so much faster. (Adam)
I wish I knew Bulgarian. The members really helped out though. I also wish I made commitments to stand up as a missionary, even when surrounded by persecution in some harder cities. (Josh)
The lessons stated above. (Danny)
I was happy with my preparations. (Hannon)
Elder Oaks came and talked toward the end of my time in Bulgaria. He taught that where our agency ends, that's where our responsibility ends too. His emphasis was that counting numbers of people who accepted invitations to be baptized, for example, doesn't really make sense because that's a decision that is outside of a missionary's hands. Thinking back, I find that most of my labors were with strengthening the active members, encouraging the less active members, and trying to brighten the day through each interaction with each person I would interact with, regardless of whether they engaged in taking beyond that initial interaction. Knowing Elder Oaks council from the start would have helped me feel that all of that work is worthwhile missionary work while I was doing it, instead of learning that eventually. (Rick)
Any advice/testimony for pre-missionaries going to Bulgaria?
A year and a half or two years is way too long of a time, and way too large a percent of our lives, to regret. Every single, solitary, individual day, be happy. Smile. Grin. Laugh. Enjoy it. It will be the longest blessing you've ever received thus far. (Zane)
It will be hard. You will wonder what you go yourself into, but the more you serve people, the more you will love and the more you love, the more you will understand why you were selected to be there at that very time in their lives. (Scott)
Be humble. Listen a lot. These people may be fairly poor, but they are also well educated. They have suffered a lot, and it takes a long time to understand them and their needs. They take a long time to open up, so you need to spend a lot of time building relationships first. Ask, listen, understand first. Keeping rules is important. Bulgaria has been unsafe for missionaries in the past, and one bad/arrogant missionary can delay the work in a city or region for a decade or more. (Adam)
Getting a head start on the Cyrillic alphabet is a good head start. (Josh)
Be prepared to work hard. It is totally worth any sacrifice to return home faithfully completing a mission. (Robert)
Make friends with those you serve. (Danny)
Usual stuff. Obedience, hard work, show love. (Hannon)
Trust the Spirit, let It guide you. Learn how you feel the Spirit, and practice inviting other people to feel It. It's important for inviting the Spirit into the lives of everyone around you, whether member or not, active or not. (Rick)
What was a funny language mistake?
One of my favorite companions just could not, if his life depended on it, pronounce the word for necessary (необходимо). It never was really a mistake, but I love that he tried so hard to get and use it, because it is a great word. (Zane)
None! Just don't feminize the word for a dog. (Scott)
I confused the words for can & want, so I spent a couple of weeks telling people I didn't want to speak. Oops. The verb "to miss someone" is backwards in Bulgarian, so we had a green missionary tell a group of members that they were all going to miss him when he left. They said he was correct, but he should probably learn how to say that properly… (Adam)
Hot and crazy sound very similar. (Robert)
Blessed and greasy were spelled the same way, but the emphasis was the difference. That was a bad talking experience for me. (Danny)
I was training a new missionary who was having a hard time with the language so we came up with the simplest door approach we could think of: "Good day, may we speak with you about God?" On his first door he missed the middle part and asked, "Good day, may we speak with God?" (Ben)
Had an investigator ask why our bags were so heavy. I said I thought the word was "toohli", which means "bricks". The investigator said no, that's the wrong word. One of the family members laughed and said no, you got the word right! (Rick)
Dan (Bulgaria Sofia Mission)
–Paraphrased from  Dan's mission interview–
Bulgarian History
Most of Bulgaria was farming villages, and then they were enslaved into the Ottoman area. For a brief period after WWI, they were free, but then communism came in. The communists decided to force everyone into industrial cities. You'll go into a city of 20,000 people living in extremely dense communities and then outside of that there is nothing. You have people living in these really drafty, dirty buildings for their whole life. So weird things scare them, like if you are sitting outside on the concrete, they will come make you move so you don't get sick. They're afraid of cold drafts as well, because it was dangerous to get sick.
Niels (Bulgaria Sofia Mission)
–Paraphrased from  Niels' mission interview–
For Future Missionaries
I think about my mission almost everyday, and I realize it had more of an effect than anything so far on my life. It helped me recognize my potential as a son of God. As you're obedient the Lord will be able to mold you. I came home knowing who I was and the difference I could make for good in the world. I developed such a love for the people there. As you serve people and give them all of your time, you will love them and become excited to share in the work with them.
The Church in Bulgaria and My Testimony
This is the Lord's work. When you do it his way and serve with obedience and diligence, he will bless you. He will strengthen your relationship with your companion and your life. Put your shoulder to the wheel and you will have success. The Book of Mormon has the power to change lives, and in Bulgaria it's doing that. Bulgaria is a country that needs the gospel and the Lord is preparing them for it. God lives and loves all of his children. This is His work, and I testify of these things in the name of Jesus Christ, Amen.