Missão Brasil Teresina
Here are free resources about the Brazil Teresina Mission:
Aqui estão alguns recursos gratuitos sobre a Missão Brasil Teresina:
*Other Mission Pages: Brazil LDS Missions.
---
---
Brazil Teresina Mission Address
Here's a recent address for the Brazil Teresina Mission. We try to keep this info up to date, but it's a good idea to check the address with several sources, including your mission packet or the mission office.
Brazil Teresina Mission
Caixa Postal 2321
Missao Brasil Teresina Centro
 64001-973 Teresina -PI
BRAZIL
Phone Number: 55-86-3085-3932
Mission President: President Alvacir L. Siedschlag
Brazil Teresina Mission Map
Here's a link to the mission map for the Brazil Teresina Mission (LDS). To access the official, up-to-date LDS.org map for the Teresina Mission:
Log into your LDS account here.
Click here.
Brazil Teresina Missionary Blogs
Here's a list of LDS missionary blogs for the Brazil Teresina Mission. This list includes the missionary's name, URL and when their blog was updated.
*Send your missionary a gift (mission-specific shirts, ties, Christmas stockings/ornaments, pillowcases, etc.)
*Download free app for LDS missionaries learning Brazilian Portuguese
Brazil Teresina Mission Groups
Here are Teresina Mission Groups- for LDS missionary moms, returned missionaries, mission presidents and other alumni of the Teresina Mission.
Missao Brasil Teresina Facebook Group (220 members)
Teresina Brazil Mission Facebook Group (80 members)
Brazil Teresina Mission Moms and Friends (LDS) Group (18 members)
Brazil Teresina Mission T-Shirts
Here are T-shirts for the Brazil Teresina Mission!
Shirt designs include Brazil Teresina Mission logo/emblem shirts and Called to Serve shirts. The shirts make great gifts for pre-missionaries, returned missionaries and missionaries currently serving. LDS Mission shirts come in all sizes: Small, Medium, Large, Extra Large, up to 4XL.  The mission designs are printed on white shirts and are shipped to you.
*Simply click on a shirt design to view the details and submit an order. The designs on mission t-shirts may also be printed on other LDS mission gifts, including: Brazil Teresina missionary aprons, Christmas stockings, ties, pillow cases, teddy bears and Christmas ornaments.
*Click here to browse Teresina Mission gifts
---
---
*Click here to see our new shirt design for the Brazil Teresina Mission:
---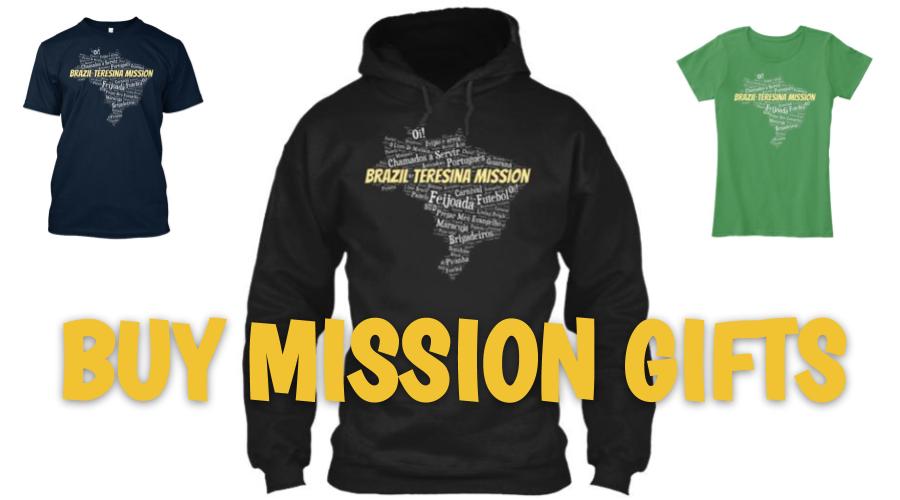 ---
Brazil Teresina Mission Presidents
Here's a list of current and past Mission Presidents of the Brazil Teresina LDS Mission.
2012-2015, Alvacir L. Siedschlag
2009-2012, Mario A. Dias
Brazil LDS Statistics (2016)
Church Membership: 1,326,738
Missions: 34
Temples: 6
Congregations: 2,038
Family History Centers: 341
Helpful Articles about Brazil
Brazil Teresina Missionary Survey
Here are survey responses from Brazil Teresina RMs, to give you a snapshot into what it's like to live in the mission.
When did you serve?
2014-2016 (Cristina)
2012-2014 (Hunter)
What areas did you serve in?
Cidade Jardim, Teresina, PI ; Maiobão, São Luis, MA ; Parnaíba 1, Parnaíba, PI. (Cristina)
Parnaíba-Teresina, Horto-Teresina, Tianguá-Sobral, Vinhais-São Luís, São Luís-São Luís. (Hunter)
What were some favorite foods?
Churrasco, lasagna, pudim, mousse, all of the amazing fruits and juices. (Cristina)
Feijoada, Macarronada, feijão e arroz. (Hunter)
What was a funny experience?
People would try to speak to me in English and be annoyed or surprised when I replied in Portuguese. We did try to learn the language to communicate with them! (Cristina)
We burned our bathroom trying to kill a spider. (Hunter)
What was a crazy experience?
We were walking down a street at about 8 PM with out proselyting bags and a sack with bread for the next morning. Two men came up behind us on a motorcycle and started yelling for us to hand over our cell phones. One of the men had his arm shoved up the front of his shirt like he was hiding a weapon. I calmly replied that we didn't even have a phone and that we only had bread and Bibles, and I held out the bread bag saying that if he wanted the bread he could take it. He made a disgusted sound and drove off, and my companion and I looked at each other wide eyed and laughed about the experience as well as recognizing how blessed we were that nothing happened to us or our things. (Cristina)
One time a guy threatened to kill me because he thought I was after his wife. He was also under the assumption that I wanted her to be my seventh wife. I knew I was safe though. Father in Heaven looks after his missionaries 🙂 (Hunter)
What was a spiritual experience?
I was on companion exchanges with a sister in a different area. When we were teaching a new investigator family about the Restoration, the father became really really angry when we started teaching about the Book of Mormon. He kept yelling about how it was a huge lie and saying very negative things. We would try and explain but he wouldn't let us talk and he looked about ready to hit us. Finally I turned to my companion and said "Sister, he isn't going to let us say anything. The Spirit is gone. We need to bear our testimonies and get out of here." I looked at this man and began to calmly state that I knew for myself that the Book of Mormon is the word of God and that Joseph Smith was called by God to be a prophet. While I was bearing my testimony the Spirit returned and testified that those things were true. It was as if an invisible hand had covered this mans mouth because he looked like he was trying to talk but no sound came out. My companion then bore her testimony, we asked to end with a quick prayer, and as we were leaving he said "Please never come back to my house." It was amazing to me that even though he wasn't ready to accept the gospel at this time, nothing can fight against the power of a testimony. When you declare truth as a representative of the Lord Jesus Christ, the Holy Ghost fills your words with power and performs miracles. (Cristina)
There are too many to count. The most uplifting experiences come when you are ready and willing to do what the Lord asks of you. They don't come by your own works, they come from Heaven. (Hunter)
What are some interesting facts about the Teresina Mission?
Piauí and Maranhão (the main two states of the mission) are the poorest states in Brazil. Many people are very humble but very willing to listen. Most everyone is Christian (mostly Catholic and Evangelical). Teresina is the world's top city in lightning strikes (but don't worry, we never had any problems or dangers). (Cristina)
It covers a pretty large area. I had the opportunity to experience a few different landscapes from thick and lush forest, the top of a mountain and a flatter desert area. (Hunter)
What was the weather like?
HOT. Job 30:30 was our unofficial mission scripture. Basically it was either really hot and humid or just really, really hot. (Cristina)
It is hot! Don't plan on ever being dry, you will always be sweaty or wet from the rain. (Hunter)
Any things you really like about the area/people?
The people are usually very willing to let you in, listen, give you water and snacks, etc. (Cristina)
The people are the nicest you will ever meet! The hardest part of my mission was saying goodbye to everyone. If you love the people you serve and the people you serve with, you will have a wonderful mission! (Hunter)
Any packing/clothing advice?
Lightweight clothing, mesh garments, good durable walking shoes, a good umbrella, spray on sunscreen. (Cristina)
Light weight clothing and 3 or 4 pairs of tough shoes. I burned through the two pairs of shoes in under a year and a half. Don't bother buying a fancy suit, it will get destroyed. (Hunter)
What blessings did you receive from serving a mission?
I received so many blessings! My testimony of the Savior, the Gospel, the Restoration, the Plan of Salvation, and everything that we taught was strengthened each day. I made so many wonderful and lifelong friends. My family at home was blessed beyond measure. (Cristina)
I matured more than I ever could have doing anything else at that time in my life. I learned to love people and understand their challenges. I learned of the importance of being a good man and a good father. Most importantly, I gained the blessing of appreciating the Atonement and my Lord and Savior, Jesus Christ. (Hunter)
What are some skills you gained?
Aside from Portuguese… 🙂 I learned SO MUCH patience. I learned how to love people that I just barely met and see them the way Heavenly Father would: as His precious children with divine potential. I learned how to better serve those around me and be more charitable. I learned how to bear my testimony anytime anywhere. I learned so so many things, every day is filled with miracles! (Cristina)
I learned Português! The most important skill I learned was how to listen. How to know what people are saying to you and understanding how they feel. (Hunter)
What do you wish you knew/did at the beginning of your mission?
Keep calm! You can do this! Heavenly Father trusts you and knows what you are capable of. You CAN and you WILL learn the language! You WILL see miracles every day! Don't forget to write in your journal, report to the Lord at the end of the day, make weekly goals, love your companion and those around you. Never underestimate the power of a sticky note with a nice message for your companion, a member, an investigator, a stranger, etc. (Cristina)
I wish I had known that I wouldn't and couldn't be a perfect missionary. I wish I knew that I wasn't expected to be a perfect missionary either. I wish I knew the importance of being loving and patient with others and especially myself. (Hunter)
Any advice/testimony for pre-missionaries going to Teresina?
Love every moment of the mission. Even the hard ones. Every single day is filled with miracles, so take some time at the end of the day to share the "Miracle of the Day" with your companion and with the Lord. (Cristina)
BE PATIENT! especially with the language. It will come. Be patient with yourself and with the people. Let your love for the Savior and hopefully the people surpass any frustration that may come. (Hunter)
What was a funny language mistake?
The Book of Mormon was written on golden name tags instead of golden plates. 🙂 (Cristina)
I broke my thumb during a thumb war in the Mission Training Center in São Paulo (it was that intense!) When I tried to explain to my professor how I broke it, I tried to say in Portuguese that we were fighting with our thumbs, what came out was that we were fighting naked.. The professor brought in two more professors to hear how I broke my thumb :} (Hunter)