Missão Brasil Salvador

Here are free resources about the Brazil Salvador Mission:
Aqui estão alguns recursos gratuitos sobre a Missão Brasil Salvador:
*Other Mission Pages: Brazil LDS Missions.
---
---
Brazil Salvador Mission Address
Here's a recent address for the Brazil Salvador Mission. We try to keep this info up to date, but it's a good idea to check the address with several sources, including your mission packet or the mission office.
Brazil Salvador Mission
Av. Antônio C. Magalhães, N 3247
Edificio Empresarial Delta, Sala 402
Pituba
41830-355 Salvador – BA
Brazil
Phone Number: 55-71-3358-7345
Mission President: President David W. Lazenby
Brazil Salvador Mission Map
Here's a link to the mission map for the Brazil Salvador Mission (LDS). To access the official, up-to-date LDS.org map for the Salvador Mission, simply
Log into your LDS account here.
Click here.
Brazil Salvador Missionary Blogs
Here's a list of LDS missionary blogs for the Brazil Salvador Mission. This list includes the missionary's name, URL and when their blog was updated.
*Send your missionary a gift (mission-specific shirts, ties, Christmas stockings/ornaments, pillowcases, etc.)
*Download free app for LDS missionaries learning Brazilian Portuguese
Brazil Salvador Mission Groups
Here are Brazil Salvador Mission Groups- for LDS missionary moms, returned missionaries, mission presidents and other alumni of the Salvador Mission.
Brazil Salvador Mission T-Shirts
Here are T-shirts for the Brazil Salvador Mission!
Shirt designs include Brazil Salvador Mission logo/emblem shirts and Called to Serve shirts. The shirts make great gifts for pre-missionaries, returned missionaries and missionaries currently serving. LDS Mission shirts come in all sizes: Small, Medium, Large, Extra Large, up to 4XL.  The mission designs are printed on white shirts and are shipped to you.
*Simply click on a shirt design to view the details and submit an order. The designs on mission t-shirts may also be printed on other LDS mission gifts, including: Brazil Salvador missionary aprons, Christmas stockings, ties, pillow cases, teddy bears and Christmas ornaments.
*Click here to browse Salvador Mission gifts
---
---
*Click here to see our new shirt design for the Brazil Salvador Mission:
---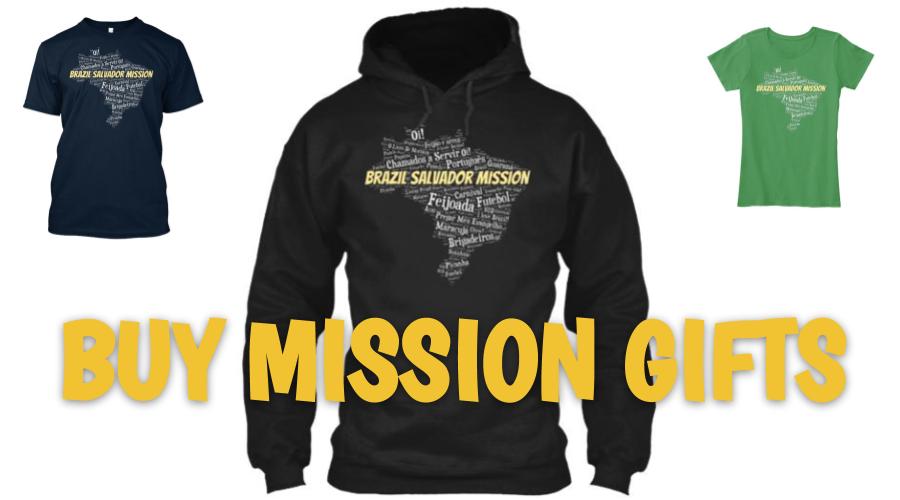 ---
Brazil Salvador Mission Presidents
Here's a list of current and past Mission Presidents of the Salvador LDS Mission.
2017-2020, David W. Lazenby
2014-2017, David Ted Lisonbee
2011-2014, James W. Hart
2008-2011, Carlos Roberto Toledo
2005-2008, Jarbas F. Souza
2002-2005, L. Richard Williams
1999-2002, Fernando Silva
1996-1999, Brad J. Sheppard
1993-1996, Homero Amato
1990-1993, Jairo Mazzagardi
Brazil LDS Statistics (2016)
Church Membership: 1,326,738
Missions: 34
Temples: 6
Congregations: 2,038
Family History Centers: 341
Helpful Articles about Brazil
Brazil Salvador Missionary Survey
Here are survey responses from Brazil Salvador RMs, to give you a snapshot into what it's like to live in the mission.
When did you serve?
2014-2015 (Laura)
2014-2015 (Christy)
2013-2015 (David)
2013-2015 (Rhuvana)
2013-2014 (Amelia)
2012-2014 (Tabitha)
2012-2014 (Ethan)
2011-2013 (Gary)
2011-2013 (Anonymous)
2008- 2010 (Austin)
2005-2007 (Claudiony)
1995-1997 (Mike)
What cities/areas did you serve in?
Mangabeira (Feira de Santana, BA), Serrinha, BA; Petrolina, PE <3. (Laura)
Inocoop Camaçari, feira X, tancredo neves Salvador, juazeiro 2, pojuca, simões filho 2, Sião Cãetano Salvador. (David)
Abrantes. (Rhuvana)
Serrinha, Senhor do Bom Fin, Mangabeira. (Amelia)
Salvador, Simões Filho, Petrolina, Feira de Santana, Ribeiro do Pombal, Camaçari. (Anonymous)
Jacobina, Petrolina, Ribeira do Pombal, Salvador, Feira de Santana, Serrinha. (Claudiony)
What were some favorite foods?
Rice & beans, lasagna, fried snacks, FRUIT, fresh bakery bread, cuscuz, meat pancakes…everything. Literally everything. (Laura)
Beiju! (Also called tapioca), coxinha, geladinho, cassava puree (puree de aipim) passion fruit mousse (mousse de maracujá), brigadeiro, passion fruit juice (suco de maracujá), pão de queijo/Minas (cheese bread), biscoitos de leite. (Christy)
Lasagna, suco de frutas, macarrão de forno, black beans. (David)
Pineapple, mango, fresh juice, feijoada, acarajé, and the coconut bread. (Amelia)
Coxinhas and loved feijoada. (Tabitha)
Panqueca baiana, lasanha, and açaí! (Ethan)
Acaraje, feijoada, estrogonofe, and the fruit there is amazing! (mango, passion fruit, acai, graviola, acerola, and guava were my favorites). (Gary)
Coxinha. Acarajé. Pizza. Negresco. Pudim. Burger King. Tche buerger. Rei das coxinhas. São juninho. (Anonymous)
Feijoada, estroganofe de frango, farofa, mandioca, cachorro quente, carne do sertão, pão de queijo, sonhos, coxinhas, pasteis, empadas, pudim de leite, suco. (Austin)
Acarajé, brioche, moqueca de peixe. (Claudiony)
Acarajé, coconut Popsicles, and a juice made out of a fruit called umbu. (Mike)
What was a funny experience?
After Brazil lost in the World Cup, a man sitting in front of his house accused me of being German. My Brazilian companion and I assured him otherwise. (Laura)
Teasing novinhos. (David)
When I first got to Brazil, I misunderstood the Portuguese words for hot dog and thought they were eating dog meat and cried. I was glad when I realized I was wrong. (Amelia)
I tripped over cracks, edges and stones in the road… a lot. Haha. It seems like all us North Americans do (maybe because most of us are used to clean, level ground). (Ethan)
Some might not think it funny, but my companion and I were having a rough day. All of our appointments were falling through and no one wanted to talk with us. Finally we decided to visit our investigator who had been in a motorcycle accident and was bed-ridden (that's not the funny part). What makes it funny is that even SHE was not home! They had taken her to the hospital for a routine checkup, so even our bed-ridden investigator couldn't meet with us. (Gary)
I got my phone stolen.  (Anonymous)
Once, the cops pulled over our entire bus and frisked every man because they were looking for a drug leader. It was funny to see them search our bags and only see hymn books and scriptures. (Austin)
As conferências de zona e ver os assistentes cagando na roupa! (Claudiony)
My companion and I had a drunk mother propose to me during a discussion with her adult son and his girlfriend. We set the wedding date for February 31, 1997( Date doesn't exist and thank goodness she didn't remember the incident the next morning) She was later baptized and became a very faithful member of the church. (Mike)
What was a crazy experience?
I was never robbed, but some missionaries had their cell phones stolen. Don't take too many pictures in the street and let people know you have a camera. I took more picture at church and in peoples' houses. (Laura)
I got robbed at gunpoint on a bus. (David)
There was a police strike and people became very violent and we had to stay indoors. (Amelia)
The left side of my body got hit by a bus traveling +/- 30 mph. I was okay, no swelling, no broken bones, no injuries, just a lot of shocked Brazilians looking at me wondering how I was still alright. Haha! Careful in traffic. By the way, I was on the edge of the sidewalk. No matter where you are, always be aware of your surroundings. (Ethan)
I went past the bus "end of the line" to some houses down the hill. The members had told us it was unsafe, but the son of one of the members lived down there and we felt prompted to visit him. We were looking the check street signs when two guys called us over and started questioning us about who we were and what we were up to. It was really tense, but they decided to let us pass. Definitely a tender mercy. (Gary)
I saw someone get hit by a bus. I got really sick with diarrhea. Heard many stories of people being mugged or attacked. (Anonymous)
Some shirtless guys took my wallet and our phone. Luckily they didn't have guns. (Austin)
Encontrar um louco que só falava em guera e disse também que tinha sido ele quem tinha inventado a velocidade. (Claudiony)
One of my areas was closed down because we were being pursued by robbers and burglars. (Mike)
What was a spiritual experience?
One investigator dreamed about her mother who passed away years ago, and in the dream her mother mentioned vicarious baptism. We had not yet mentioned this doctrine to our investigator, but we were able to explain to her this amazing part of the Plan of Salvation. She truly exercised faith, repented, and was baptized, and one day she can be baptized for her mother. (Laura)
Witnessing people's lives change from sin to righteousness. (David)
Feeling the Savior guide us everyday. (Amelia)
"It was the best of times. It was the worst of times." On your mission, you will come to see everything with very high contrast. With that ability, you will also have experiences that leave you crying at night, praying for an investigator or companion, and feelings of helplessness. Under this dark cloud of thoughts and concerns, know that the best is right around the corner. My most spiritual experiences and life changing moments have all happened after my "Gethsemane." You'll pass through your own Gethsemane, but you'll also experience the marvelous joy and comfort of God's love and joy. (Ethan)
One of the most spiritual experiences was when I heard someone we had taught and baptized give her first talk. It was amazing to see her growth and determination. The experience deepened by testimony of the converting power of the Spirit. (Gary)
I baptized a young man and felt a surge of spiritual confirmation that he would be a strong missionary. He was, and also married in the temple and is firm today. (Austin)
A parte maia espiritual da minha missão foi sentir o amor do Salvador 0or cada pessoa que tive a oportunidade de ensinar. (Claudiony)
I had one experience were I was new to an area and I had only been to a house once and we had weekly lunch appointment there. I had really new companion. I got off at the wrong stop and I realized this after we had walked about a mile. I was a little upset about the possibility of missing this lunch appointment. I didn't want to disrespect the dear sister that just put in a couple hours labor to provide a meal for us. I got this prompting to keep walking and everything would be okay, so we kept walking and the road we were on ended up merging on to the road we needed to be on and we made it in time for the lunch appointment. (Mike)
What are some interesting facts about the Salvador Mission?
Hair claws are cute 🙂 (Laura)
Mostly African American heritage. (David)
The people are so warm and welcoming. They just make you feel like family. The plant and animal life is amazing. I saw monkeys and frogs and all kinds of fun animals. The roads are cobblestone which is beautiful, but make sure you have good shoes! (Amelia)
There are some very dangerous areas. High concentration of drug trafficking in different bairros in Slavador. (A bairro is similar to a city district. Larger than a neighborhood, but smaller than a city.) Michael Jackson filmed a music video in Salvador. From my experience, drug dealers/traffickers/punks will see with respect in Salvador (they won't bother you), but in Feira de Santana they'll see you as an easy target. (Ethan)
Salvador is the original capitol of Brazil, so there is a lot of history. While there is some European influence, it is actually the African influence that sets it apart even from other areas of Brazil. (Gary)
Not pretty, but has the most flavorful and spicy food in Brazil. (Austin)
Era um povo muito bondoso, receptivo, aberto ao evangelho, e um povo muito feliz. (Claudiony)
The mission was opened in 1990. When I arrived there many areas were only small branches, in many areas, there are now wards. The growth has been tremendous. (Mike)
What was the weather like?
Gloriously hot. Humid in some areas, dry in others. I learned to love the sun. During the "winter" months (June, July, August), it can be rainy. Sometimes I even used a light blanket. (Laura)
Hot! Sometimes rainy. (Christy)
Hot, unless it was raining. (David)
Hot. It was very hot. It rained a lot and I was grateful to have a breathable raincoat. (Amelia)
Hot and during "winter" it was rainy and then really humid. (Tabitha)
Depends on the part of The mission. There are some very rainy, humid areas. There are also some very dry and desert type climates. And of course, there is the city pollution in the bigger cities sometimes. It's not that bad in Salvador, but you can definitely feel a difference between the capital (Salvador) and interior (rural) areas. (Ethan)
It was pretty much never below 70 degrees and rarely above 100. (Gary)
Warm and nice. Sometimes rains a lot. Sweating all the time. (Anonymous)
Hot and humid in most areas. Others were somewhat dry and even cool in the winter. (Austin)
Quente, úmido e abafado. Leve garments de algodão, são melhores. (Claudiony)
The There was wet season and a dry season it was a semi arid tropical environment. summer temperatures were about 98 F. for a high and in Salvador about 85- 90 at night. We took showers when arrived home at night and in the morning when we awoke. Mostly 70's in the winter. (Mike)
Any things you really like about the area/people?
The people are as warm and friendly as they come. Not everyone will accept the gospel immediately, but few outright reject hearing the missionaries. (Laura)
So much love and openness! (Christy)
They're such happy and receptive people. (David)
Some of the best people in the world! They were so loving and inviting. People were very open to our message. Bahia is so colorful and lively. I just adored being there. (Amelia)
The people of Bahia are typically very open and accepting. The difficulty comes in fulfilment of commitments. (Ethan)
They are the friendliest people I have ever met. They are accepting and loving. They can also be loud and crazy sometimes. (Gary)
Friendliest and nicest group of lazy individuals you could ever love. They will drive you insane but you will always love them for the reasons they drive you insane. (Anonymous)
Laid back, kind, and very very generous. You could literally clap at someone's gate and ask for water and they'd give you some. Everyone offers you juice and food too, even if they're not interested. (Austin)
O melhor povo que já conheci, amo demais o povo baiano! (Claudiony)
Tough question. The people don't have a lot, but they more than willing to make sure you have enough to eat. We rarely tracted, but when we did, the people would invite us in, give us a snack then ask what we wanted. (Mike)
Any packing/clothing advice?
Sisters: Mostly lightweight shirts/skirts/dresses, one or two sweaters, a light rain jacket. Bring clothes that can be machine-washed and easy to care for. I recommend buying shirts that won't need undershirts and skirts that won't need slips. Worry less about fashion and more about being comfortable, but wear bright, happy colors and prints. Brazilians love that :). P-day: you'll only need jeans for service projects. Bring capri-length sweats and a couple t-shirts for playing volleyball, etc. on occasional P-days. Otherwise, wear proselyting clothes! Also, bring chacos or a similar pair of hiking-type sandals. You can use them for proselyting. Then bring one or two pairs of comfortable flats (not heels) for Sundays/conferences. And a pair of tennis shoes. (Laura)
Bring a couple of sweaters. You usually won't need them (at all), but in the rainy season you will. Bring an umbrella, both for rain and for the sun. Also, heavy duty walking shoes! Get nothing wimpy, even if it looks ergonomic, because it will die faster than you can blink. Sandals are permitted, so maybe something like chocos. (Christy)
Don't get nylon garments. You need something that will absorb sweat. (David)
Think loose, light, and modest. You don't want anything that is warm or hot. I had 8 past my knee, cotton skirts and 8 short sleeved cotton shirts and that was perfect. I wore Chacos every day for shoes and loved them. Maybe bring one or two nicer outfits for mission meetings, but really don't buy anything fancy. (Amelia)
I wore chacos my whole mission. Bring nice church walking shoes too for Sunday. Bring a few unopened pair of garments to open halfway through the mission…there's no better feeling. (Tabitha)
Quality over quantity. Quality socks. Durable belt. (Ethan)
Short sleeve is the way to go. Pack light too because sometimes travel can be hectic. (Gary)
Just wear light clothing. (Anonymous)
Hardy shoes. You'll be walking a ton. (Austin)
Sapatos de carteiro, calças de microfibra, são mais fáceis de lavar, malas com rodinhas bem resistentes, um terno só basta. (Claudiony)
Only bring one suit. I never wore my suit and I gave my suit away. Make sure you have an umbrella, and rubber covers for your dress shoes. If you don't have covers, your shoes, they will be soaked all the time during the rainy season. Bring mostly short sleeved dress shirts, maybe one long sleeved dress shirt. (Mike)
What blessings did you receive from serving a mission?
I'm more grateful for the gospel and in general, so I'm happier. I'm more willing to share the gospel with everyone now. I know how much joy and peace repentance can bring. I understand the Atonement more. I KNOW how the Lord helps us in our trials, especially when we work to do His will. (Laura)
Stronger testimony, greater spiritual strength, and spiritual habits as well as perspective. (David)
Everything. Everything I am blessed with now, my husband, my job, my grades, the way I feel about my family and the Lord and myself, have been greatly impacted by my mission. (Amelia)
The blessings I received from serving my mission are innumerable, but I do want to mention two of them. First, the mission is a hugely humbling experience. I am not a perfect person, and I was not a perfect missionary, and the mission offers strong reminders of how fully we depend on the Lord, so I would say the blessing of humility is huge. The second is the gift of charity. There is no way to fully describe the love I have for the people I served and for Brazil as a whole. I caught glimpses of God's love for His children there. (Gary)
Learning to speak another language. seeing a new part of the world. Feeling more connected to a global community. (Anonymous)
Learning a language was a huge blessing. Also humility from seeing others' lack of blessings yet optimistic attitude. (Austin)
Falar de bênçãos da missão e o mesmo que falar de uma cachoeira de bênçãos, tenho uma família feliz, uma esposa maravilhosa e uma vida abençoada por causa da missão. Sou hoje o que sou por causa da minha missão. (Claudiony)
Another hard question. I learned that there really is a spiritual realm. I became very sensitive to The Holy Ghost and the gifts of The Spirit. Particularly The gift of discernment. I come to know that The Lord cares more where individuals are going than where they are at. I watched the Power of Atonement work in the lives of my investigators and saw The Holy Ghost cleanse and change people. Some in very dramatic ways. (Mike)
What are some skills you gained?
Portuguese! I'm more friendly and willing to talk to everyone. I try to perceive the needs of others more, which is a huge blessing. I learned leadership skills. I learned how to agree after a disagreement. I learned how to love even without agreeing. (Laura)
Patience, Brazilian cooking, real scripture study, social interaction, washing clothes by hand (not all the time, don't worry). (Christy)
Conversation, teaching, listening, diligence, obedience. (David)
Being brave and speaking to people. I've learned to listen to the spirit and trust the Lord no matter what. (Amelia)
I learned Portuguese. I also really developed the ability to liken the scriptures both to myself and to those I was serving. No matter what it was, I could take the things I studied in the morning and apply them throughout the day. (Gary)
Language, outgoing attitude, boldness. (Austin)
Idiomas, administração, planejamento, gerenciamento de equipes. (Claudiony)
I gained the ability to speak another language. I learned how communicate with people of other faiths and walks of life different than my own. I learned how to better deal with companions who had different personalities than I had. (Mike)
What do you wish you knew/did at the beginning of your mission?
Be creative. Plan your day really thinking about how to find people and help them progress. Don't let needing to get everywhere get in the way of planning well. Also, must people will listen to you, but don't waste your time with people who don't want to keep commitments and change, no matter how much you love them. (Christy)
Used all my resources. Especially adjusting to missionary life. (David)
Practice the language beforehand and let go of any crazy expectations of being the perfect missionary with the perfect mission. (Amelia)
When talking about numbers and goals, know that they are in fact very important. It can push you to success, however, it won't CREATE success. Every number should have a name (investigator to teach, location to do contacts, etc). When you return from your mission, it's the names of people you've touched that will stay with you forever, nothing else. (Ethan)
I wish I knew how to be more diligent. I struggled with consistency, so it would have been nice to be more self-disciplined. (Gary)
I wish I could have spoken better at the beginning. It's hard to be happy when you can't talk or express yourself around others. (Anonymous)
Focus on the Book of Mormon and going to church. Even if you baptize, it does no good if they won't or can't make it to church each week. (Austin)
Conhecer profundamente o livro Pregar Meu Evangelho e as obras-padrao. E tudo que for bom e louvável que batize, procure! Faça! (Claudiony)
Talk more with my mission president about my concerns about the mission. (Mike)
Any advice/testimony for pre-missionaries going to Salvador?
I know my Heavenly Father and Jesus Christ live and love me, and do everything They can to help me live the Plan of Salvation. The rest is just extra blessings. Work hard! (Laura)
Be exactly obedient. (David)
Be obedient and learn to love everyone. (Amelia)
The best advice I can give is to learn to rely on the Lord. Make prayer, scripture study, and such things consistent in your lives. I know that the Lord cares for each of His children and He is aware of our needs. If you look to Him constantly, He will prepare and guide you to do an amazing work. (Gary)
Have fun, be good, don't do anything stupid. (Anonymous)
It does no good if the people can't or won't make it to church each week. Help them get there. (Austin)
Ame as pessoas de lá e trabalhe com elas, seja inteligente e não ande o dia todo, fique com os irmãos, ensine com eles, aprecie sua companhia, se você fizer isso vai batizar semanalmente. (Claudiony)
Strengthen yourself in all areas of your life. Spiritual, Social, mental, emotional. Take scouting seriously. Do your best to apply the scouting values in your life. We never graduate from the basic principles of primary and scouting, these principles are the foundation for a successful mission, a successful parent, spouse, sibling, son or daughter, and aunt/ uncle. As well as a successful life. I was prepared spiritually, but not as well socially and emotionally. I struggled in these areas. (Mike)
What was a funny language mistake?
In the CTM my entire district was convinced that the word for sunscreen was "Beyoncé." (David)
I one time asked someone if they would like to be baptized in their swimsuit instead of in May. (Amelia)
Instead of accurately explaining to an investigator my exercise routine on p-days, I accidentally confused the word exercise with exorcism. I've never seen her eyes open so wide. Hahaha! (Ethan)
My companion in the MTC mixed up "de novo" (again) with "nunca" (never). He was trying to say, "I know you will be happy again," but ended up saying, "I know you will never be happy." I'm glad it was just the MTC with our instructor playing an investigator. (Gary)
The suffix -inha makes things smaller. But don't say "small shirt" or "small pants" with it! (Austin)
Um missionário de meu distrito aprendeu que Jaca era bicho!!!! (Claudiony)
Alexis (Brazil Salvador Mission)
–Paraphrased from  Alexis' mission interview–
Mission Info
The mission is huge. You have to take buses everywhere too. One of my areas was ten hours away by bus. The elders have two day bus rides for the farthest areas. It covers two states. You're either in the desert where it's super hot or you're in the trees and the beach. One of my areas was in the mountains too. In Brazil you work with your companion and most of the time you have another set of missionaries with you. It's pretty traditional. The church is super new there. It has only been in Bahia for 20 years. Sometimes you open areas where the church has never been. You get to see the church as it's starting. It was cool getting to witness the effects of it. The mission is so large that you don't see your district very much. You usually have to travel pretty far to go to zone conferences. You never have to knock on doors, you just walk on the streets and teach like five lessons. They love to talk to you and hear why you are there. They love Jesus Christ and are very religious and loving. You'll feel their love and feel accepted. A lot of the areas have very nice church buildings, but sometimes you'll go places that are just branches and have no building.