Missão Brasil Porto Alegre Sul

Here are free resources about the Brazil Porto Alegre South Mission:
Aqui estão alguns recursos gratuitos sobre a Missão Brasil Porto Alegre Sul:
*Other Mission Pages: Brazil LDS Missions.
---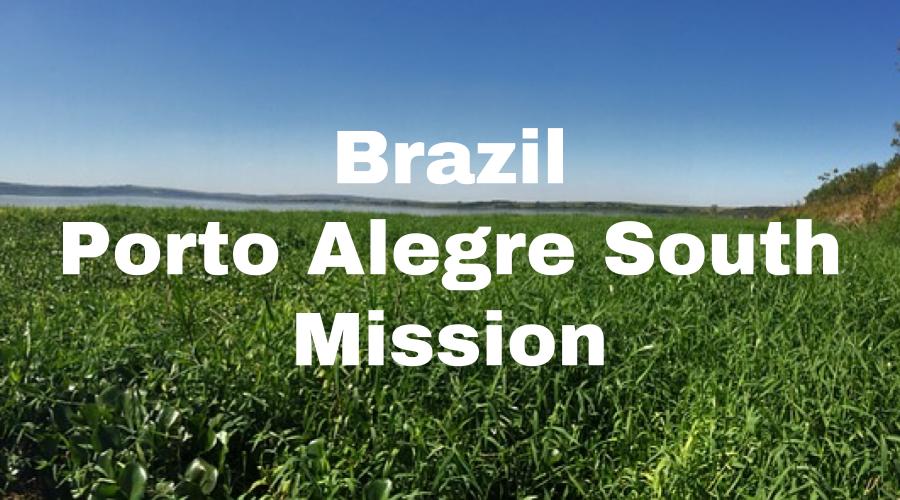 ---
Porto Alegre South Mission Address
Here's a recent address for the Brazil Porto Alegre South Mission. We try to keep this info up to date, but it's a good idea to check the address with several sources, including your mission packet or the mission office.
Brazil Porto Alegre South Mission
Av. Princesa Isabel, 342-B
Santana
90620-000 Porto Alegre- RS
Brazil
Phone Number: 55-51-3217-4699
Mission President: President Rogerio G. R. Cruz
Porto Alegre South Mission Map
Here's a link to the mission map for the Porto Alegre South Mission (LDS). To access the official, up-to-date LDS.org map for the Porto Alegre South Mission:
Log into your LDS account here.
Click here.
Porto Alegre South Missionary Blogs
Here's a list of LDS missionary blogs for the Porto Alegre South Mission. This list includes the missionary's name, URL and when their blog was updated.
*Send your missionary a gift (mission-specific shirts, ties, Christmas stockings/ornaments, pillowcases, etc.)
*Download free app for LDS missionaries learning Brazilian Portuguese
Porto Alegre South Mission Groups
Here are Porto Alegre South Mission Groups- for LDS missionary moms, returned missionaries, mission presidents and other alumni of the Porto Alegre South Mission.
Porto Alegre South Mission T-Shirts
Here are T-shirts for the Brazil Porto Alegre South Mission!
Shirt designs include Brazil Porto Alegre South Mission logo/emblem shirts and Called to Serve shirts. The shirts make great gifts for pre-missionaries, returned missionaries and missionaries currently serving. LDS Mission shirts come in all sizes: Small, Medium, Large, Extra Large, up to 4XL.  The mission designs are printed on white shirts and are shipped to you.
*Simply click on a shirt design to view the details and submit an order. The designs on mission t-shirts may also be printed on other LDS mission gifts, including: Brazil Porto Alegre South missionary aprons, Christmas stockings, ties, pillow cases, teddy bears and Christmas ornaments.
*Click here to browse Porto Alegre South Mission gifts
---
---
*Click here to see our new shirt design for the Brazil Porto Alegre South Mission:
---
---
Porto Alegre South Mission Presidents
Here's a list of current and past Mission Presidents of the Porto Alegre South LDS Mission.
2015-2018, Rogerio G. R. Cruz
2012-2015, Palmenio C. Castro
2009-2012, Curtis F. Swenson
2006-2009, Ren Smoot Johnson
2003-2006, Craig William Earnshaw
2000-2003, Lee Howard Radebaugh
1997-2000, Milton da Rocha Camargo
1994-1997, James R. Palmer
1991-1994, Gregory K. Brough
Brazil LDS Statistics (2016)
Church Membership: 1,326,738
Missions: 34
Temples: 6
Congregations: 2,038
Family History Centers: 341
Helpful Articles about Brazil
Porto Alegre South Missionary Survey
Here are survey responses from Brazil Porto Alegre South RMs, to give you a snapshot into what it's like to live in the mission.
When did you serve?
2013-2015 (Benjamin)
2013-2015 (Krystal)
2007-2009 (Viviane)
2004-2006 (Rodrigo)
1968-1970 (Clayton)
What areas did you serve in?
Pelotas, Restinga, Viamão. (Benjamin)
Ala Fragata in Pelotas, Ala Cefer in Porto Alegre, Branch União in Cachoeira do Sul, Ala Humaitá in Porto Alegre. (Viviane)
Glória, Porto Alegre, Restinga, Pelotas, Viamão, Paternon, Agronomia, Intercap Leste and Jaguarão. (Rodrigo)
(Brazil South Mission) Joinville SC, Novo Hamburg, Santo Angelo, Cruz Alta, Lajeado, Guiba. Porto Alegre office established while there. (Clayton)
What were some favorite foods?
Xis, feijoada, pudim, churrasco, calda de cana, arroz doce. (Benjamin)
Beans and rice, churrasco (Brazilian barbecue that is out of this world!), brigadeiro (dessert), pão de queijo (cheese bread), potato salad, and so much more. It's amazing. (Krystal)
Barbecue (meat, chicken, sausage), potato salad, noggin, sweets (especially chimias). (Viviane)
Barbecue and stroganoff. (Rodrigo)
Churasco, Feijoada, Pastel. (Clayton)
What was a funny experience?
One time in Viamão, I wanted to make chocolate chip cookies for Mother's Day. Once I got to the church to bake them I realized I had nothing to mix the batter with and had no chance of going back to the apartment to find something, so my companion helped me mix it with my hands! It worked out just fine, hahaha. (Benjamin)
We were knocking on doors and we got the best reply. Someone yelled from inside saying, "THERE'S NO ONE HERE! THERE'S A FUTEBOL GAME ON!" We busted up laughing in the middle of the road. (Krystal)
My companion and I play a lot and got along, much laughter, after lunch or when we were in the street. I once said something that I do not remember now, but I remember that she ran behind me, we were together with the elders who served in the same ward and we were returning from lunch. Interestingly, a lady stopped us on the street and asked why we were so happy. She said she had been watching us for some time and this was an opportunity we had to teach the gospel and be happy. (Viviane)
Having a battle with a reptile that looked like a baby alligator… that was very funny. (Rodrigo)
Football games on the beach. In Joinville, the lady we lived with and who also did our laundry would lay the clothes out on the ground which was the custom. We built her a clothes line but she would still lay them on the ground for the sun to bleach then rinse then and put them on the clothes line to dry. (Clayton)
What was a crazy/dangerous experience?
I was tracting in Pelotas on exchanges. I was on the phone with my actual companion trying to figure out how to pronounce a certain word when the missionary I was with started telling me to hurry along. I wasn't getting great reception so I just brushed it off and told him to ssshh. All of a sudden that Elder grabbed my a arm and started running screaming Vai Vai!!! Apparently we walked right in between two houses that were about to be in a shoot out. After we ran a couple yards I started hearing the gunshots so I put the phone down and bolted! (Benjamin)
In my second area, there was a robbery and we were in the middle of shooting. However despite the scare, the Lord protected and preserved us at all times. (Viviane)
Visiting Uruguay was a crazy and great experience, because I had to use a different language. (Rodrigo)
Hiking to get a better picture of Cascata do Caracol and slipping and having my hand chewed up by thorn bushes. (Clayton)
What was a spiritual experience?
Probably the most spiritual experience I had on my mission was when I went tracting in Viamão. My companion and I decided we wouldn't go home until we found someone and set up a return appointment. We weren't having any luck until a little girl who saw us walking by came out of her house and asked us to come teach her. She sought us out! Long story short, we ended up baptizing that little girl and her family a few weeks later on the very last weekend of my mission. (Benjamin)
One of the coolest spiritual experiences I had was when we were teaching a really special family in my last area. We had been working with them for a couple months and the mom and daughter had grown spiritually. Our focus was on the dad and The Book of Mormon. We kept bearing our testimony and saying that he had to just start reading it and he would notice a huge difference in his life. Things would improve. He wasn't getting it. All of the sudden, the mom and daughter began to bear their own testimonies of The Book of Mormon and their feelings about it. The spirit just filled the room and we could tell that it touched the dad as well. (Krystal)
The Lord has given us the opportunity to have many spiritual experiences. But I like to remind myself of my last area in the mission, my companion and I had made target not make contact with young people on the street, only with adults. And that day, we find three children and felt a very strong desire to speak with them, but the goal … and then did not. Later we find the same three children and once again came the desire to talk to them and once again did not. Among many alleys and streets to find a third time and they stopped in front of me (as if to say they will not talk to us). Then we follow the Spirit and talked to those kids and they took us to their house. We had no one mark to return another day and when we returned two days later, the whole family was at home waiting for us. It was an amazing lesson with a very strong Spirit. Almost four months after that meeting, the parents were married and were baptized, and I still have contact with them, and always cry to know they are strong in the gospel. (Viviane)
When the first families I baptized were sealed together at the Porto Alegre Temple. (Rodrigo)
So many! Baptizing the first couple in Santo Angelo in the river Ijui. (Clayton)
What are some interesting facts about the Porto Alegre South Mission?
Porto Alegre is the capital of the state of Rio Grande do Sul. The futebol team Internacional, located there, is known as the champions of the world for once beating the league champions, Barcelona. (Benjamin)
In the southern region, the accent changes from city to city and the food. However, it was amazing to serve in southern Brazil. My president and his wife were real parents. I always feel his love at all times when most needed. I have an eternal love for the wonderful gaucho lands. (Viviane)
Chimarrão is a great drink for the afternoon. They have it there every day when the sun is coming down. And if you are in a countryside city be sure to say "Oh" when greeting people on the streets. (Rodrigo)
I went down just after the mission headquarters were moved to Porto Alegre. Perhaps the most interesting was the the Gaucho culture. (Clayton)
What was the weather like?
Very intense rain, sometimes hail. Very cold and windy during the winter, and very hot during the summer. Always humid. (Benjamin)
It got super hot in the summer (over 100 degrees F) and cold, windy and humid in winter (it got to around 40 degrees F). (Krystal)
I live in Paraiba, a hot land…I arrived in the south in the spring, and for me chilly… it was terrible, but the following winter my body was already adapted and suffered more with the summer heat. It is a different climate here in my Mission and was half hot and half was cold. (Viviane)
Very cold or very hot! (Rodrigo)
Pretty good for the most part, I remember some great rainstorms! (Clayton)
Any things you really like about the area/people?
The areas I served in always had a good balance between well off and poor people. I always enjoyed teaching the people who lived in houses they usually had to build themselves- they were typically a lot more humble. Lots of beautiful scenery down there too. (Benjamin)
Most people are so warm, friendly and welcoming. They hug basically everyone and I loved it. You get so attached to them. (Krystal)
The differences, culture, mate and family culture, keep all children, grandchildren living near each other. (Viviane)
The place is wonderful and the people are honest. (Rodrigo)
The German sister in Santa Catarina made the best pies and cakes. Generally speaking, the people were kind and friendly and I loved the culture. (Clayton)
Any packing/clothing advice?
You don't need nearly as many clothes as you think you do. Missionaries always seem to accumulate lots of stuff during the mission so pack light to begin with. (Benjamin)
Get really comfortable and good walking shoes. You walk everywhere! Most of my shoes that I brought with me lasted the entire mission. (Krystal)
Certainly jackets, wear pantyhose 60 above. The bags preferably those plastic type. (Viviane)
Be ready for both the cold and the extremely hot weather. (Rodrigo)
Things have changed so much I am not sure if I would have any relevant advice. (Clayton)
What blessings did you receive from serving a mission?
My family was eternally blessed for my service. My testimony of the Atonement has grown exponentially and I can use that to bless other people. (Benjamin)
A huge blessing has been the increased understanding of the Gospel and how much it makes sense. (Krystal)
The opportunity to know the Savior, Jesus Christ and feel closer to him was amazing, and receive the blessings with the health of my father as he hovered between life and death in the hospital, making surgery that lasted hours. Today I have a fiance who understands me in my difficulties and problems of my family. We now want to get married in 2016. In addition to learning how to do true service of love for neighbors, how to teach my future children the Gospel of the Savior, Jesus Christ. (Viviane)
I've learned English in the field reading from The Book of Mormon according to promises of the Holy Prophets. And today I make a living out of English classes that I'm teaching… this has been how I support my family and it's a great job. (Rodrigo)
Expansion of my people skills, life long friends and spiritual connection with people that I will never forget. (Clayton)
What are some skills you gained?
Cooking, being able to talk to people comfortably, and being able to discern and address people's needs. (Benjamin)
I gained the skill to accept rejection. It doesn't hit me as personally anymore. Not only that, but the ability to stay positive in the midst of so much adversity and trial. Also, more time management. (Krystal)
Having understanding when dealing with people, always respecting my next serve without expecting anything in return, see the best of each person. It also helped me to have posture in the work place. (Viviane)
Dealing with people and understanding how they feel in order to help them better achieve what they need to. Negotiation and responsibilities. (Rodrigo)
Talking to people, tolerance, acceptance, improved writing and and speaking. (Clayton)
What do you wish you knew/did at the beginning of your mission?
I wish I understood better the importance of obedience. It's difficult to master but it makes for a much more rewarding experience. (Benjamin)
Know the Savior, Jesus Christ and have him as my best friend. (Viviane)
I wish I already knew how happy it is to be in the service of the Lord helping souls in need and being part of His big plan. How to deal with specific matters from the investigators and how to help them solve their problems… or maybe how to face them better in order to have some success. (Rodrigo)
I wish I had read and studied the Book of Mormon more than just memorizing certain scriptures.  (Clayton)
Any advice/testimony for pre-missionaries going to Porto Alegre South?
Do whatever you're asked. Never make any excuses for not doing what your supposed to, and never make any complaints about how hard it is. Just enjoy it! (Benjamin)
You are going to serve in the best mission in the world, meet the most amazing people so love your companions, the gauchos, leaders, president … Love to all, only with love are you able to perform the best job in the world. (Viviane)
Be a hero and an angel through your personal example of bringing up the Savior's name on your chest doing only what is approved by Him, yea, The Lord Jesus Christ, to those who you'll meet and by doing this you'll have a lot of spiritual experiences and growth. Happiness is surely going to be found in it. (Rodrigo)
Be totally open and make your own experiences, every missionary had a different view of the country and the people develop your own and don't listen to others. (Clayton)
What was a funny language mistake?
A missionary I served with taught his companion to say he was full incorrectly. He told him to say "so feijão" which means "just beans", but he thought it meant he was full. When members asked if he wanted more, he would say, "no, so feijao", so they would give him more, hahaha. (Benjamin)
So, we were trying to go to an appointment and we saw a guy on the street. We went up to him and he asked us if we wanted to go home. We said yes, but not right then. He looked frustrated and asked again. We responded the same way. He asked to use our device and made a telephone sign with his hand. He proceeded to tell us he was a robber. Now, in Portuguese, the word for robber is "ladrão." Being fairly new in the mission, I thought he was saying that he was from London and that he needed to make a phone call to try to get home that day. I told my companion to give him the phone. When he looked at me, I realized he was robbing us. I just about laughed when he laughed. My companion didn't think it was that funny. (Krystal)
There are no mistakes when we follow the Savior and serve our neighbor. (Viviane)
I spoke English to people as we were walking down the street to our appointments and wasn't really sure on when I was speaking English or Portuguese on my last area. (Rodrigo)
Krystal (Brazil Porto Alegre South Mission)
–Paraphrased from Krystal's mission interview–
The Culture and the Church in Porto Alegre
Porto Alegre is one of the bigger cities in Brazil, with a population of about 4 million people. That's probably why they split the mission into two. I served the eastern half of the Allum ward. It was close to the center of the city, and much of the area was market and business districts. There were a lot of skyscrapers and apartment buildings, with very few homes. It was one of the richer wards in the mission, and most of the members and people were super busy but had very nice homes. There's a big lake in Porto Alegre called Lago dos Patos, or duck lake. Porto Alegre also has two rival soccer teams, Gremio and Internacional. You had to be careful about saying which team you went for because Brazillians are very passionate about soccer.