Missão Brasil Natal

Here are free resources about the Brazil Natal Mission:
Aqui estão alguns recursos gratuitos sobre a Missão Brasil Natal:
*Other Mission Pages: Brazil LDS Missions.
---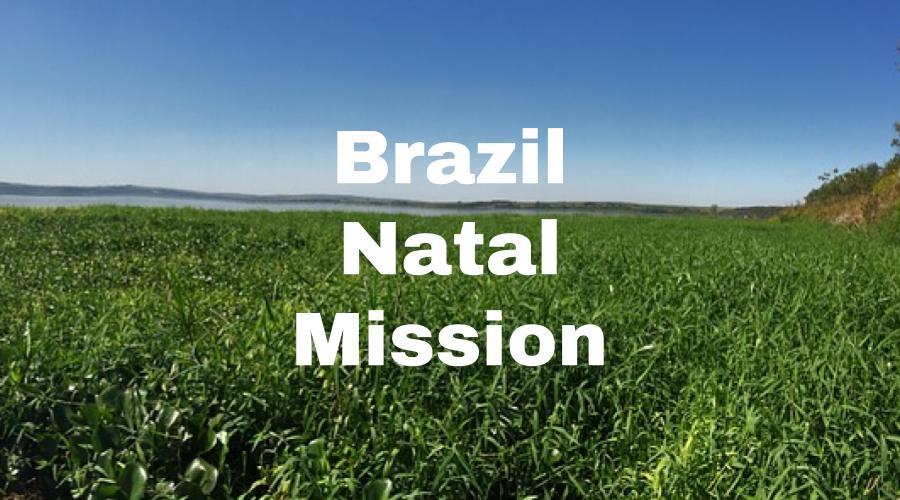 ---
Brazil Natal Mission Address
Here's a recent address for the Brazil Natal Mission. We try our best to keep this information up to date, but it's a good idea to double check the mission address with several sources, including your mission packet or the mission office.
Brazil Natal Mission
Av. Interventor Mario Camara, 2066
Dix – Sept Rosado
59054-600 Natal -RN
Brazil
Phone Number: 55-84-3223-4279
Mission President: President Eliseu Colleoni
Brazil Natal Mission Map
Here's a link to the mission map for the Brazil Natal Mission (LDS). To access the official, up-to-date LDS.org map for the Brazil Natal Mission, simply
Log into your LDS account here.
Click here.
Brazil Natal Missionary Blogs
Here's a list of LDS missionary blogs for the Brazil Natal Mission. This list includes the missionary's name, URL and when their blog was updated.
*Send your missionary a gift (mission-specific shirts, ties, Christmas stockings/ornaments, pillowcases, etc.)
*Download free app for LDS missionaries learning Brazilian Portuguese
Brazil Natal Mission Groups
Here are Brazil Natal Mission Groups- for LDS missionary moms, returned missionaries, mission presidents and other alumni of the Natal Mission.
Missao Brasil Natal Group (844 members)
Brazil Natal Mission T-Shirts
Here are T-shirts for the Brazil Natal Mission!
Shirt designs include Brazil Natal Mission logo/emblem shirts and Called to Serve shirts. The shirts make great gifts for pre-missionaries, returned missionaries and missionaries currently serving. LDS Mission shirts come in all sizes: Small, Medium, Large, Extra Large, up to 4XL.  The mission designs are printed on white shirts and are shipped to you.
*Simply click on a shirt design to view the details and submit an order. The designs on mission t-shirts may also be printed on other LDS mission gifts, including: Brazil Natal missionary aprons, Christmas stockings, ties, pillow cases, teddy bears and Christmas ornaments.
*Click here to browse Natal Mission gifts
---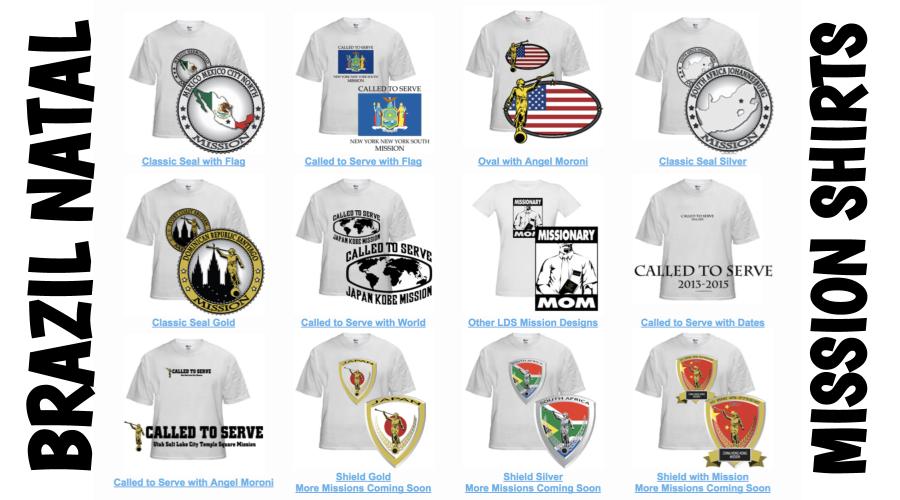 ---
*Click here to see our new shirt design for the Brazil Natal Mission:
---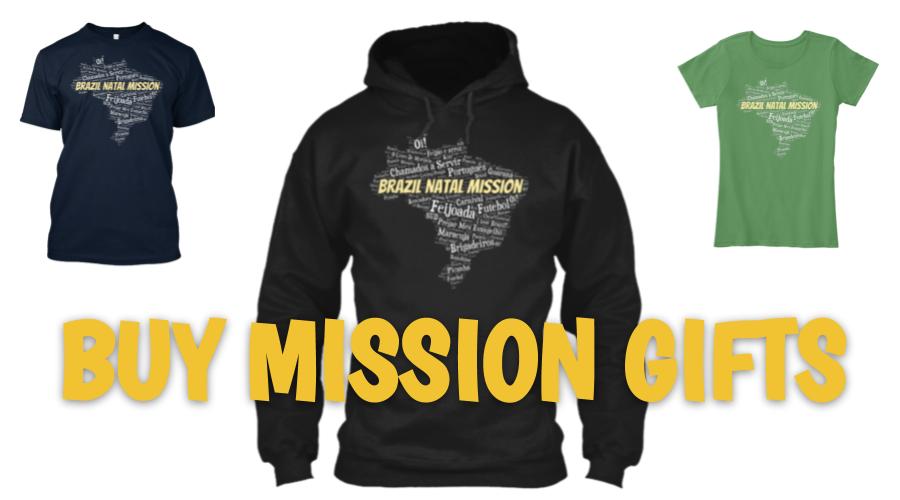 ---
Brazil Natal Mission Presidents
Here's a list of current and past Mission Presidents of the Natal LDS Mission.
2016-2019, Eliseu Colleoni
2013-2016, Saulo Soares
Brazil LDS Statistics (2016)
Church Membership: 1,326,738
Missions: 34
Temples: 6
Congregations: 2,038
Family History Centers: 341
Helpful Articles about Brazil
Brazil Natal Missionary Survey
Here are survey responses from Brazil Natal RMs, to give you a snapshot into what it's like to live in the mission.
When did you serve?
2014-2015 (Erick)
2014-2015 (Samantha)
2014-2015 (Ashley)
2013-2015 (Israel)
What areas did you serve in?
Natal, Ceará-Mirim, Quintas, Assim, Macaiba and Alecrim. (Erick)
Sousa, Abolição, Pombal, Gramoré, Pirangi. (Samantha)
Sousa – Sousa II, Mossoró – Urick Graff II, Abolição. (Ashley)
Mossoro, Currais Novos, Natal, Cajazeiras. (Israel)
What were some favorite foods?
My favorite foods were Tapioca, Acaí and Cuscuz. (Erick)
Cuscuz, Rubacão. (Samantha)
Tapioca, Açai, Pão Farofa, Cuscuz, Lasanha, Mangas, Dindin. (Ashley)
AÇAI, AÇAI, AÇAI, CUZ-CUZ, CORAÇAO DE FRANGO, CHURRASCO, FIGADO. (Israel)
What was a funny experience?
One of my companions went to the bathroom in his pants!!! (Erick)
Fugir de sapos com uma pesquisadora. (Samantha)
One morning I was having stomach problems, so my companion and I stayed inside, but after a while I was determined to go visit one of our investigators at the park, so my companion and I headed out. When we were about halfway there, I realized that I wouldn't make it, so my companion made us turnaround and walk home (me, very awkwardly – don't worry. I made it in time). After lying in bed for what seemed like forever, I decided that I wanted to go out again, but I wasn't sure if I could. This was my companion's response to my concern: Companion: Do you want to try an experiment? Me: What? Companion: Do jumping jacks! Me: What? Companion: Do 25. Companion (while I'm doing jumping jacks): Is it working? Companion (after I do 50 jumping jacks): How do you feel? Me: I don't feel anything Companion: Ok…you're healed. We went out, and I didn't have any more stomach problems. (Ashley)
What was a crazy experience?
My companion and I were chased by cows. (Erick)
Um dia eu e minha companheira saímos da capela, quando viramos a esquina fomos assaltadas,mas não aconteceu nada de ruim,voltamos correndo para a capela e ficamos com irmãos , e eles nos acalmaram e depois fomos continuar o trabalho de proseletismo. (Samantha)
My first transfer in Brazil, my companion and I were teaching a recent convert's brother who had drinking problems. As we neared his house, he called out to us and said, "Come here! I want to give you a smell!" (Yes, in Northeastern Brazil, sometimes instead of giving you a kiss, the people just bring you close and breathe really deeply AKA "give you a smell". *In portuguese: "dar um cheiro"). My companion and I got a little bit nervous then. I was holding an umbrella that we had borrowed from a sister at church when it was raining really hard one afternoon, and we were using it to block the sun. Our investigator walked toward us and finally grabbed my hand (I could not escape). As he attempted to "smell me," I used the open umbrella to block his upper torso and face from coming near mine. As he complained and frantically tried to get near me, I held my ground and he finally gave up and muttered under his breathe that he would never give me a "smell" again. I ran off. Next, he moved in on my companion. He grabbed her arm and wouldn't let her go and then began trying to "smell" her. My companion's safety reflexes immediately kicked in. By this time, I had closed the umbrella. I ran back and began attempting to use the umbrella to separate my companion from our investigator. Although later, my companion told me that I was basically smacking him with the umbrella over and over again. Oops! He finally let go. However, he followed us to the door of his sister's house, where he finally had the ability to smell and kiss my companion's head, and then he finally left. I don't really remember what happened after that. All I know is that I broke down laughing and crying all at once. Quite the adrenaline rush, if you know what I mean. After all the church members heard the story, they all started calling me "Jackie Chan." I guess I could live with that. lol. (Ashley)
A man ran after us with a sharp piece of glass, but we high tailed just in time. (Israel)
What was a spiritual experience?
Once an unknown woman stopped us on the street and asked a blessing of comfort, because her son had died the previous day. (Erick)
Foi um dia que eu e minha companheira treinadora ensinamos uma pesquisadora na capela, foi muito bom podemos sentir o espirito muito forte,e nossa pesquisadora também sentiu o espirito e aceitou ser batizada, depois disso nós 3 choramos, e no dia do batismo foi muito emocionante. (Samantha)
Saturday February 22, 2014: We witnessed a miracle today. At 6 pm, one hour before Victor's baptism, my companion called Juliana to see if all was well and if everything was ready for the baptism. Juliana told us "tudo bom" and told us that Victor was so excited! Three minutes later, she called us back and told us that Victor's father was drunk and would not let him leave the house to be baptized even though he had already given Victor permission to do this (this is a man who has broken some serious commandments when drunk). My companion and I were horrified. We quickly said a prayer and then raced out the door with full intention to go to Victor's house and bring him to his baptism. We stopped at the church to drop off some stuff. The whole time my heart was in a mode of constant prayer that if it was His will, the Lord would prepare a way for Victor to make it to his baptism and be baptized tonight. When we got to the church, the Elders were already there preparing the font. Right after we told them about the situation we were in, the phone rang. It was Juliana. She told us that after Victor's father had told him he could not go to his baptism tonight, Victor started crying really hard. After seeing his son weep so passionately about this cause, Victor's father finally gave Victor permission to go to the church to be baptized tonight. The second my companion got off the phone and explained what had happened, I felt a great surge of relief and joy. I knew the Lord's hand is in all things and that the Spirit had softened the heart of Victor's father and removed the stumbling block in Victor's path so that he could follow the example of the Savior and be baptized tonight by a worthy Priesthood holder in the same manner that Christ was baptized when he lived on this earth. I immediately walked into the nearest room, pretty much fell onto my knees, and said a prayer of gratitude to the Lord. When Victor arrived at his baptism, all of us were so excited and happy for him. His baptism was very special and wonderful. It just goes to show that the adversary works especially hard to stop those who are closest to finding and fulfilling truth. But I saw firsthand tonight that when one's heart is in the right place, the Lord will provide a way. (Ashley)
Teaching humble people and seeing a major change in their lives. (Israel)
What are some interesting facts about the Natal Mission?
The Brazil Natal Mission was created in July 2013 when the Brazil João Pessoa Mission was split. (Erick)
Tem muitos lugares bonitos as pessoas são bem acolhedoras. (Samantha)
Mossoró is the home of the famous Brazilian outlaw – Lampião (real Robin Hood figure that stole from the rich and gave to the poor). Sousa has a park with real dinosaur tracks. Natal is the home to the biggest cashew tree in the world. (Ashley)
It's by the coast of the country, there are lots of fruits and the people are SO, SO RECEPTIVE. (Israel)
What was the weather like?
The weather was hot- really hot all year long, with a short period of rain between June and August. It has very low relative humidity. The highest temperature I experienced was 104°F. (Erick)
Muito quente. (Samantha)
Generally very HOT! Whenever my companion and I got to the chapel in our first area, we would head straight to the kitchen and open the refrigerator to cool off. Didn't rain too much where I served, but when it rained, it poured! Nothing like taking a bath in rainwater with the water up above your ankles and hiking upstream on cobblestone streets. It's actually a lot of fun. 🙂 Found service opportunities on these days as the people attempted to sweep water out of or away from their houses. (Ashley)
Hot, HOT, HOT, HOT AND WINDY. (Israel)
Any things you really like about the area/people?
The people there are very simple, very receptive and hospitable. They always have a good story to tell. (Erick)
É acolhedor. (Samantha)
The people are so LOVING!!! As a Sister, you can go up to any woman on the street, give her a hug and a kiss, and introduce yourself as a representative of God. You get a few people who are anti-Mormon, but most people are willing to listen to a message about Christ and quite a few people are willing to hear from you again. 🙂 (Ashley)
Any packing/clothing advice?
Bring lighter woven shirts and pants. Bring sunscreen with a high SPF and insect repellent. (Erick)
Usar roupas com tecidos frescos, beber bastante água, usar bastante protetor solar. (Samantha)
Waterproof shoes are essential for Sisters. You are allowed to wear sandals. I had some nice crocs at one point (although I ended up using them so much that I wore holes through them). I finished my mission with chacos. They were awesome. Make sure you have dressy shoes for conferences though. (Ashley)
All short sleeve shirts please. (Israel)
What blessings did you receive from serving a mission?
I grew up spiritually. I learned leadership principles and how to set goals. I lost weight, haha. (Erick)
Meu pai voltou para igreja. (Samantha)
What I received from my mission was nothing like I expected. It was invaluable. I truly believe that my life changed just as much the lives of those who I helped come unto Christ. When I was in the MTC, Elder Dallin H. Oaks came and spoke with us about how we as missionaries would be personal saviors for many people. As I started my mission and spoke with these wonderful children of God, I grew to love them so much and gained an appreciation for the love that my Heavenly Father and Savior has for me. I came to understand the Atonement of Jesus Christ and how, because of Him, we can make mistakes but can still have another chance to change and to repent. I grew so much closer to the Spirit. I could feel it prompting me to do amazing things, like make promises to people in the name of Christ. It was truly beautiful. The drunkards and the druggies became my best friends as I mingled and spoke with them and taught them about the hope that comes through the gospel of Jesus Christ, about the Plan of Salvation, and about baptism and how their sins can be forgive. I was able to see in them good things. I learned how to love people the way that my Savior loves them. My mission really helped me become stronger and more confident. It helped me realize that it doesn't matter what other people think of you, because "reputation is what men and women think of you, but character is what God and angels know of you," and we need to focus on our character, so that we can take upon ourselves the character of Christ and strive to have that always.I came to understand that God's hand is in all things, that there are no crazy coincidences, that we are put in certain places in certain times for a purpose that He has that is often unknown to us at the time but will be revealed to us in the future. On my mission, my testimony of The Book of Mormon and of the restoration of the gospel and Church of Jesus Christ grew so much. Things that were once fuzzy to me because so much clearer as I taught people with the Spirit of God and testified to them. As I taught others, the Spirit taught me and confirmed to me that what I was teaching was true. Now, I can truly say that I know that my Redeemer lives and loves me. I know that Joseph Smith was a true prophet, that he by the power of God was able to restore the gospel of Jesus Christ and His Church here upon the earth and translate The Book of Mormon, which is another testament of our Savior and Lord Jesus Christ that I know to be true with all my heart, might, mind, and strength. I know that we have a living day prophet, that President Thomas S. Monson receives revelation directly from my Heavenly Father for me and for all of us. I am so grateful for my mission in Missão Brasil Natal and I wouldn't trade the blessings of having served there for the world. (Ashley)
Too many to count. (Israel)
What are some skills you gained?
I improved my talking, planning and piano skills! (Erick)
Liderança, estabelecer metas. (Samantha)
Before and at the beginning my mission, I was a very timid and introverted person. I was scared to initiate conversations with people I didn't know. I was also fairly impatient when things weren't going the way I thought they should be. On my mission, I was stretched a bit as I had to speak with people I didn't know every day in a different language. I also had a companion who was with me 24/7. My mission helped me slowly open up and lose the fear of speaking with strangers as the Spirit constantly prompted me to speak with "him" or "her" or "them" on the side of the road. I became more confident in my people skills. I also learned a lot of patience and humility. When my companion or investigators or church members or other missionaries went through struggles, I went through struggles with them. Their problems became my problems and I prayed to know how to help them. I really gained an understanding of the baptismal covenant and the idea that to be called God's people, we must be "willing to bear one another's burdens" and "mourn with those that mourn" and "comfort those that stand in need of comfort" as we "stand as witnesses of God" (Mosiah 18:8-10). But I think the most important skill I gained on my mission was the skill of listening to the Spirit and following its promptings no matter how hard they were. When you hear the Spirit, always listen and do what it tells you to without question. This is how you see the most amazing miracles. (Ashley)
What do you wish you knew/did at the beginning of your mission?
To be more focused!!! (Erick)
Sempre estar disposta a aprender/e aceitar ser corrigido. (Samantha)
I wish I had been more patient with myself as I learned the Portuguese language. In the beginning, during the lessons, I felt kind of like an excited puppy. I got so excited when I was first meeting new people (making contacts or greeting people as I started a lesson) and then during the lesson, I kind of felt useless and sort of zoned out because I couldn't understand things very well (a puppy who has lost interest in the new people and goes away or falls asleep on the floor), and then when it was time to leave, I would get all excited again as I bore my testimony and said goodbye. It's something that is kind of hard to avoid. Just don't get down on yourself, especially when people can't seem to understand you even when you feel like your Portuguese is fairly good. Keep working on it and ask your companions and other missionaries for help. (Ashley)
To be more outgoing with everyone from the start, and opening my mouth more. (Israel)
Any advice/testimony for pre-missionarie
To be more outgoing with everyone from the start, and opening my mouth more. (Israel)
s going to Natal?
Love and serve the people with all your heart, drink lots of water every day. Be diligent and obedient. Do everything you can, even if you are tired. If you get stressed, stop for few minutes, remember your purpose and keep going. Be yourself, be happy!!! (Erick)
Desfrutem da missão da melhor maneira possível, ou seja trabalhem bastante, pois o tempo passa rápido, e deêm o melhor de si na obra do Senhor. (Samantha)
On my mission I gained a strong testimony of 100% obedience. There will be missionaries that are not 100% obedient to mission rules. However, if you are following mission rules and keeping the commandments with exactness, you will be able to see more miracles. Whenever times were rough, I would evaluate myself and think about what my companion and I could do to better follow the mission rules (ex. am I exercising for 30 minutes every morning? am I lying in bed at 10:30pm?). Some people thought I was extreme, but I always found that when my companion and I were working together to be obedient to the rules our Father in Heaven had given us, we wre able to find much more happiness every day. (Ashley)
What was a funny language mistake?
The word "pedir" means "to ask" and the word "pedar" means "to pass gas." One time, while I was writing the steps to prayer in the back of one of our investigator's Book of Mormon's I wrote, "agradeça, peda, e pergunte" ("give thanks, pass gas, ask questions.") when what I really meant was "agradeça, peça, e pergunte" ("give thanks, ask for things, and ask questions"). Thankfully, our investigator was partially blind, so hopefully she hasn't seen it yet. (Ashley)
Jonathan (Brazil Natal Mission)
–Paraphrased from  Jonathan's mission interview–
Mission Geography and History
Natal was one of the cities that hosted the 2014 World Cup. The U.S. and Ghana game was held there. It's one of the larger cities in Brazil. It's a very diverse city. The central part where I was is really cool. I was there when they were building the mission home before it split. There are different districts. The mission home is by the residential district. There are beautiful beaches there. They film a lot of telenovelas in the area and a lot of people go to the beaches on weekends. The shopping centers are in the city center where they have these open markets. We would go there to proselyte. Farmers will go there to sell their produce. The fruit is just amazing. There is so much variety. You have a bag of chips that would be cheap in the states that are super expensive compared to the fresh fruits. They drink fruit juices instead of soda so it's a lot easier to eat healthy. You get a huge variety of fruits. There are a lot of people of African descent. There are some people of European descents. The service industry isn't that developed in Natal and unemployment isn't very high. A lot of people work in construction and that is a big part of the economy.
Soccer in Brazil
A lot of work was done to make the big soccer stadium for the world cup. A lot of people weren't excited for it because they tore down two smaller soccer stadiums to make it. The people of Brazil get really excited about soccer. The mission president told us that we could watch Brazil games in the homes of the members. We would walk around during games and the streets were deserted. Everyone was busy watching the game. They would watch obscure teams I had never heard of even. Everyone plays soccer and is really good at it. I've talked to young men on the street that would play barefoot. It didn't matter. As a missionary you aren't allowed to play, because in Brazil it's more of a contact sport. Sometimes that rule does get broken though. For young men, that's the activity that they do. They all get together and play soccer. The churches have soccer fields instead of basketball courts.
Transportation
You take a lot of buses. I used them a lot in the cities. Other than that you can pay for expensive taxis or there are other guys that drive their own cars and are a lot cheaper. We would take those to zone conferences and things.
Mission Info
The dutch actually came in and invaded a lot of the northeast, so there is a lot of history that goes along with that. They have a really beautiful bridge similar to the brooklyn bridge. You can't go to the beaches, but it still makes for some really pictureesque views. There are some big sand dunes as well.
There is a lot of respect for religion, so most criminals won't mess with you because they know you're a missionary. There are some more crime ridden areas where sisters don't go, but usually it isn't much of an issue.