Missão Brasil Manaus

Here are free resources about the Brazil Manaus Mission:
Aqui estão alguns recursos gratuitos sobre a Missão Brasil Manaus:
*Other Mission Pages: Brazil LDS Missions.
---
---
Brazil Manaus Mission Address
Here's a recent address for the Manaus Mission. We try to keep this information up to date, but it's a good idea to check the address with several sources, including your mission packet or the mission office.
Brazil Manaus Mission
Rua Loris Cordovil, 1066
Alvorada 1
69043-010 Manaus – AM
Brazil
Phone Number: 55-92-3656-1623
Mission President: President Jose Caetano de Morais
Brazil Manaus Mission Map
Here's a link to the mission map for the Brazil Manaus Mission (LDS). To access the official, up-to-date LDS.org map for the Brazil Manaus Mission, simply
Log into your LDS account here.
Click here.
Brazil Manaus Missionary Blogs
Here's a list of LDS missionary blogs for the Brazil Manaus Mission. This list includes the missionary's name, URL and when their blog was updated.
*Send your missionary a gift (mission-specific shirts, ties, Christmas stockings/ornaments, pillowcases, etc.)
*Download free app for LDS missionaries learning Brazilian Portuguese
Brazil Manaus Mission Groups
Here are Brazil Manaus Mission Groups- for LDS missionary moms, returned missionaries, mission presidents and other alumni of the Manaus Mission.
Brazil Manaus Mission T-Shirts
Here are T-shirts for the Brazil Manaus Mission!
Shirt designs include Brazil Manaus Mission logo/emblem shirts and Called to Serve shirts. The shirts make great gifts for pre-missionaries, returned missionaries and missionaries currently serving. LDS Mission shirts come in all sizes: Small, Medium, Large, Extra Large, up to 4XL.  The mission designs are printed on white shirts and are shipped to you.
*Simply click on a shirt design to view the details and submit an order. The designs on mission t-shirts may also be printed on other LDS mission gifts, including: Brazil Manaus missionary aprons, Christmas stockings, ties, pillow cases, teddy bears and Christmas ornaments.
*Click here to browse Manaus Mission gifts
---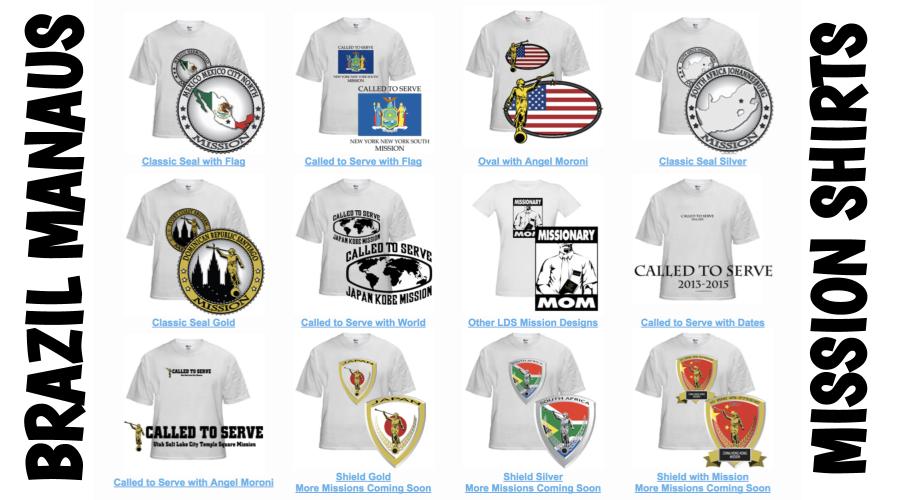 ---
*Click here to see our new shirt design for the Brazil Manaus Mission:
---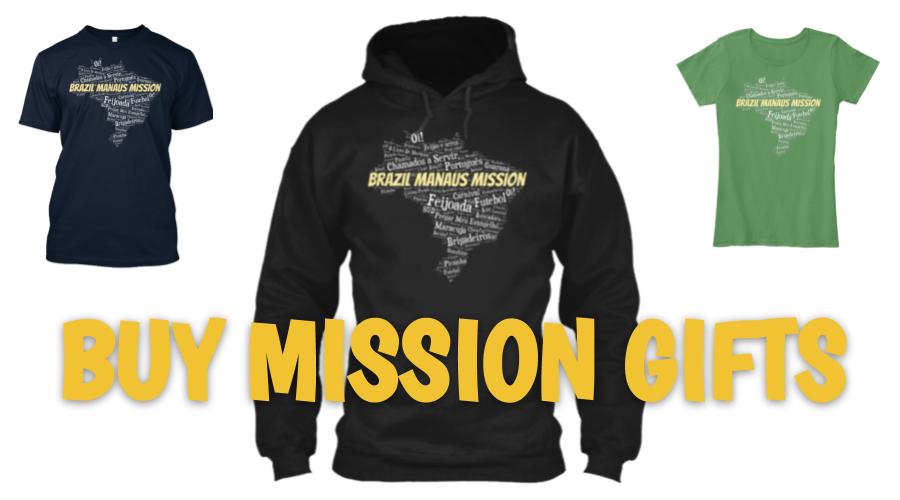 ---
Brazil Manaus Mission Presidents
Here's a list of current and past Mission Presidents of the Manaus LDS Mission.
2017-2020, Jose Caetano de Morais
2014-2017, Rui Basaldua Castro
2011-2014, H. Moroni Klein
2002-2005, Adelson De Paula Parrella
1999-2002, James David Campbell
1996-1999, Vicente Verta
1993-1996, Aldo Francesconi
1990-1993, Claudio R. M. Costa
Brazil LDS Statistics (2016)
Church Membership: 1,326,738
Missions: 34
Temples: 6
Congregations: 2,038
Family History Centers: 341
Helpful Articles about Brazil
Brazil Manaus Missionary Survey
Here are survey responses from Brazil Manaus RMs, to give you a snapshot into what it's like to live in the mission.
When did you serve?
2008-2010 (Connor)
2007-2009 (Segii)
1994-1996 (Karen)
What areas did you serve in?
Ajuricaba, Cachoeironha, Maues, Tapajos, Manau. (Connor)
Manaus, Maués…. Bairros de Manaus. (Sergii)
Rio Branco, Porto Velho, Cruzeiro do Sul, Itacoatiara. (Karen)
What were some favorite foods?
Acai, Tambaqui, Feijoada, e Tapioca com queijo e tucuma. (Connor)
Tambaqui… outros peixes. (Sergii)
Beans, farinha, coxinhas, kibes, pretty much all the food was great! (Karen)
What was a funny experience?
I was walking to lunch through a construction area and ripped a hole in my pant leg that got caught on some rebar. I held the hole closed with my hand for 3 hours until we could get back home to change. (Connor)
Em uma ocasião em que cheguei em uma area e passei quase uma transferência tentando entender o meu companheiro. (Sergii)
The bus drivers drive like maniacs. One time I lost my grip on the bar where I was standing and went running down the bus aisle unable to stop. I managed to grab ahold of another bar as I flew past and stopped myself from landing in the bus driver's lap. (Karen)
What was a crazy experience?
I got dengue fever. -There was another time where the Spirit warned my companion and I to NOT go to investigators house before church to pick him up. Turns out, he owed money to a local gang and they came to collect it at the same time we would have arrived and he ended getting (not fatally) stabbed. (Connor)
Quando um cara chegou me mandando correr por que se eu iria morrer. (Sergii)
A man followed us in a remote area. (Karen)
What was a spiritual experience?
We were walking down the road and to our right was a steep hill and a forest. The Spirit told me to walk into the forest. We found a little wooden shack with this old man living inside. He told us he had been praying for the Lord to send him new light. It was incredible to see how the Spirit directed us to him. (Connor)
Quando estavamos em Maués e la nós estavamos de jejum e nesse dia a cidade estava com muitas pessoas com virose e naquele dia passamos o dia dando bênçãos. (Sergii)
My first investigator who accepted the baptismal challenge and her subsequent baptism. (Karen)
What are some interesting facts about the Manaus Mission?
At the time it was as big as Texas and Alaska, and covered 25 percent of Brazil if I remember right. (Connor)
Fato incontestavel é que o espirito te guia. (Sergii)
It is the largest mission. It covers four states. Many areas are thousands of miles from the mission home, so most transfers are done by plane. (Karen)
What was the weather like?
Hot and humid with or without rain. (Connor)
Sempre chovia muito… e quando saia sol era muito quente. (Sergii)
Hot and humid. Rainy six months of the year. (Karen)
Any things you really like about the area/people?
Everyone is very humble and welcoming. (Connor)
Gosto do ar, do clima do povo. (Sergii)
I love the warmth and openness of the people. They would do anything for you even if they don't know you. It is a beautiful place. (Karen)
Any packing/clothing advice?
No long sleeved shirts, and bring hand towels to wipe sweat off of your face and hands while proselyting. (Connor)
Quer qur algo de certo em sua vida… esqueça-se de si mesmo. (Sergii)
Take some extra pairs of shoes. Pack lightweight, cool clothing as much as possible. (Karen)
What blessings did you receive from serving a mission?
The knowledge that I can do hard things and be happy while serving others. (Connor)
Varias sempre tive saúde. .. tive um bom casamento. (Sergii)
Lifelong friends, ability to appreciate another culture, strengthened testimony. (Karen)
What are some skills you gained?
People skills. (Connor)
Lidar com situações difíceis. (Sergii)
Speaking Portuguese, ability to speak with strangers comfortably, public speaking. (Karen)
What do you wish you knew/did at the beginning of your mission?
I wish I had spent more of my time developing a relationship with the Savoir before my mission. (Connor)
Que nada seria facil… que me decepcionaria com alguns Elderes. (Sergii)
I wish I had been more prepared for the differences of living in another country. (Karen)
Any advice/testimony for pre-missionaries going to Manaus?
Work hard and put all distractions away! Do everything you can to get close to Spirit. (Connor)
Sirva como se a cada dia fosse o ultimo. (Sergii)
Go with the intention of loving the people. They will accept the gospel when they know how much you care about them. This is a challenging mission, but the Lord knows your capacity and will bless you. (Karen)
What was a funny language mistake?
Achar que erabo melhor… e nao ser nem treinador na missão. (Sergii)
When I was teaching about the Word of Wisdom and telling a room full of investigators about not using harmful drugs, I accidentally said the word for pasta instead of the word for marijuana. They all started laughing hysterically. (Karen)
Lester (Brazil Manaus Mission)
–Paraphrased from  Lester's mission interview–
Mission Boundaries
I found out that the first president of the mission was Elder Costa in 94. That year they sent the first caravan to the temple and it took them a week to get there in Sao Paolo. They had really long traveling times. I met one elder who had served under Elder Costa. He loved Manaus so much that he just came back. It's one of the biggest missions in the world. It's probably a fifth or a third of all of Brazil. It has all of the Amazon basin. I was kinda surprised because it's all on foot and your areas are huge. Manaus has 11 stakes. It has had huge growth in the past years. I was in one branch with about 500 active members split across two sides of a river. In one area up north by Venezuela they had five wards and two branches in just one city.
I never went much east or west of Manaus. I served in nine or ten areas. I got transferred around a bit. I only served with one American my whole mission. I was in one area for six months. I guess they forgot about me out there in the jungle. I got on a plane for transfers to go back to Manaus and then I got on a bus for 12 hours to get to my next area. There were areas where you could climb up on a hill and literally see Peru in the distance. The areas were huge. We would walk for hours to get to people sometimes.
The People
The people were very open. It was nice to get to know them. The first ward I served in was 20 years old, but it was 16 hours by boat to the nearest city so it was hard to get leadership out there. I watched a video of the first caravan to the temple and I saw the path that those old members made just to get to the temple. They were pioneers and I got to meet them. After that I went to this place that was the slums. It looked like Rio. I went to another area in Manaus close to the temple. Overall I kind of served everywhere in the mission. I served in nine areas.
Religious Backgrounds and Common Rumors
In the areas where I served it was mostly Catholic and Assembly of God. You could have a church anywhere. We would be walking and see ten churches on the street. They're very religious people. Sometimes they have a hard time understanding. The biggest challenges were getting people to church. They can be kind of lazy. We had to walk around and wake people up and bring them to church on Sundays. There was a lot of living together without being married. In some areas it wasn't much of a problem, but in others it was tough. I served during the World Cup and so alcohol became a problem. When they lost to Germany 7 to 1 everyone turned their TV's off and went out drinking.
One of the funnier rumors I heard was from a girl we ran into whose boyfriend said that he heard that our church was for gay people because they always saw two guy missionaries walking around. People would ask us these random questions like