Missão Brasil Campinas

Here are free resources about the Brazil Campinas Mission:
Aqui estão alguns recursos gratuitos sobre a Missão Brasil Campinas:
*Other Mission Pages: Brazil LDS Missions.
---
---
Brazil Campinas Mission Address
Here's a recent address for the Campinas Mission. We try our best to keep this information up to date, but it's a good idea to check the mission address with several sources, including your mission packet or the mission office.
Brazil Campinas Mission
Rua Duque de Caxias, 645 – Fundos
Centro
13015-311 Campinas – SP
Brazil
Phone Number: 55-19-3234-2201
Mission President: President Bruce Hill
Brazil Campinas Mission Map
Here's a link to the mission map for the Campinas Mission (LDS). To access the official, up-to-date LDS.org map for the Campinas Mission, simply
Log into your LDS account here.
Click here.
Brazil Campinas Missionary Blogs
Here's a list of LDS missionary blogs for the Campinas Mission. This blog list includes the missionary's name, URL and when their blog was updated.
*Send your missionary a gift (mission-specific shirts, ties, Christmas stockings/ornaments, pillowcases, etc.)
*Download free app for LDS missionaries learning Brazilian Portuguese
Brazil Campinas Mission Groups
Here are Brazil Campinas Mission Groups- for LDS missionary moms, returned missionaries, mission presidents and other alumni of the Campinas Mission.
Brazil Campinas Mission T-Shirts
Here are T-shirts for the Brazil Campinas Mission!
Shirt designs include Brazil Campinas Mission logo/emblem shirts and Called to Serve shirts. The shirts make great gifts for pre-missionaries, returned missionaries and missionaries currently serving. LDS Mission shirts come in all sizes: Small, Medium, Large, Extra Large, up to 4XL.  The mission designs are printed on white shirts and are shipped to you.
*Simply click on a shirt design to view the details and submit an order. The designs on mission t-shirts may also be printed on other LDS mission gifts, including: Brazil Campinas missionary aprons, Christmas stockings, ties, pillow cases, teddy bears and Christmas ornaments.
*Click here to browse Campinas Mission gifts
---
---
*Click here to see our new shirt design for the Brazil Campinas Mission:
---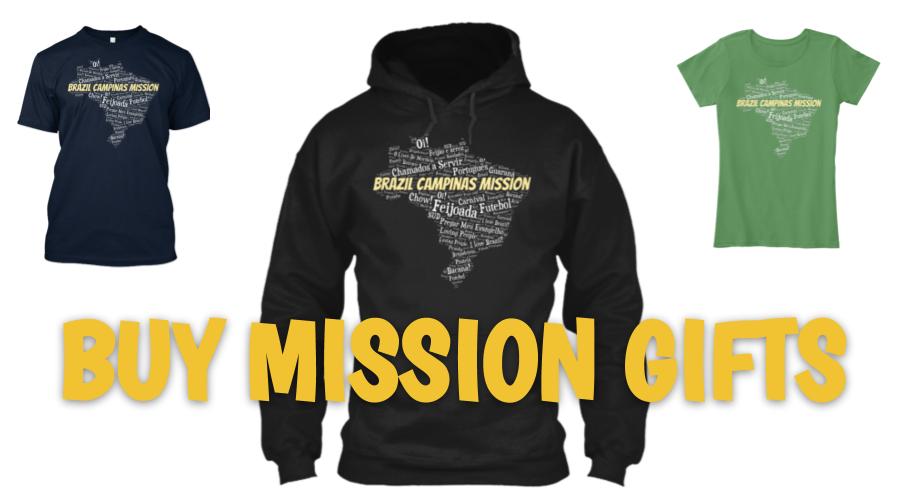 ---
Brazil Campinas Mission Presidents
Here's a list of current and past Mission Presidents of the Campinas LDS Mission.
2015-2018, Bruce Hill
2012-2015, Carlos E. Perrotti
2010-2012, Robert Marshall Tanner
2007-2010, 

Ildefonso de Castro Deus

2004-2007, N. Eugene Shawcroft
2001-2004, James Lewis McCarrey III
1998-2001, Richard Jackson
1995-1998, Rodney Cuthbert
1992-1995, Heliton Lemos
1989-1992, Bruno Schmeil
1986-1989, Sheldon R. Murphy
Brazil LDS Statistics (2016)
Church Membership: 1,326,738
Missions: 34
Temples: 6
Congregations: 2,038
Family History Centers: 341
Helpful Articles about Brazil
Brazil Campinas Missionary Survey
Here are survey responses from Brazil Campinas RMs, to give you a snapshot into what it's like to live in the mission.
When did you serve?
2014-2015 (Evelin)
2011-2013 (Wade)
December 2000-December 2002 (Kenneth)
Which areas did you serve in?
Itatiba , Atibaia, Campo Limpo, Jundiai-Planalto, Louveira. (Evelin)
I had five areas: Pouso Alegre, Jardim Amanda, Limeira, Jacaré, and Castelo. (Wade)
What were some favorite foods?
Tapioca , churrasco , Strogonofe . (Evelin)
Strogonoff, Arroz e feijão, Churrasco, Queixo coalho, Lasanha. (Wade)
Rice-n-beans, romeo e julieta, pao de queijo, an attempt at meat loaf by a member. (Kenneth)
What was a funny experience?
Caminhar nos morros de itatiba .. minhas areas sempre tem morros. (Evelin)
Doing shout out contacting on the busses were always fun. People thought we were preaching and would shout "hallelujah, irmão!" or "Amen! Gloria a Jesus!" (Wade)
Strange, but there were toy pellet guns which were popular; several elders bought guns and pellets and we had a gun fight with the lights out in the apartment. (Kenneth)
What was a crazy experience?
Quando tomamos chuva con minha compaheira sister Dickson foi muito feia a gente fico molhada e foi perigoso caminha na rua. (Evelin)
My companion and I were returning home when some man in his early 20s mugged us at knife-point. He took our phone and the pocket change we had. (Wade)
A group of anti-American youths followed my companion and I walking home and trash–talked about a variety of government actions which we had nothing to do with–most notably for them was referring to Vietnam conflict as a massacre. Strangely, I later tracted into the mother of the ring-leader with next companion and we were in their home to teach–didn't go over well at all. (Kenneth)
What was a spiritual experience?
Ver o milagre de tatiana (ela volto na vida ) adriano (seu batismo foi um milagre). (Evelin)
I was able to be one of the witnesses of a temple marriage for one of my converts. (Wade)
We taught the true Gospel; I don't have a singular moment to recall which was extraordinary. (Kenneth)
What are some interesting facts about the Campinas Mission?
I loved that we had a temple. We were allowed to escort out solid investigators to the temple and show them around. There's a wide range of between wards, branches, and areas that are so small that a set of missionaries will be in charge of their ward/branch plus the smaller branch. Campinas was a place were many visitors came. It was very diversified. (Wade)
Try to enjoy the slightly–tourist attractions–that sort of stuff that wouldn't probably attract international tourism, but tends to attract local tourism–that's probably the best stuff to check out and experience. (Kenneth)
What was the weather like?
It was normally hot and sunny in the areas surrounding Campinas. But in the extremities it could reach really cold temperatures. It even hailed in my first area of Pouso Alegre. (Wade)
Roughly similar to United States and the state of Florida. (Kenneth)
Any things you really like about the area/people?
Most everyone was always willing to welcome us in and hear our message. It wasn't hard or difficult to preach and teach the gospel. It's a very religious place as it is, so finding people willing to listen to the word of God. Helping them make the changes to the gospel was the challenge. (Wade)
How much space do you have for me? Sorry, this won't do–there's so much! (Kenneth)
Any packing/clothing advice?
Two pairs of thick and sturdy shoes. 1-2 long sleeve shirts. A nice sweater for the cold months. And a rain coat. (Wade)
As with any mission, you will need to prepare for moving at transfers, so having a pattern for packing your suitcases as well as any additional baggage will become an essential choice. That pattern will also need to adapt for things bought during the mission or received from home. Resist the urge to bring extra, empty baggage to be filled–instead, get more selective about what is truly worth keeping when you find the pattern for packing gets too full. (Kenneth)
What blessings did you receive from serving a mission?
I learned how to communicate with people. Communication is a skill we will need in every aspect of life and I learned how to effectively communicate interpersonally and inter-culturally. Also, I learned how to communicate with work with Heavenly Father. This is a blessing that is still part of my life now. (Wade)
How much space do you have for me? Sorry, this won't do–there's so much! (Kenneth)
What are some skills you gained?
Again, communication is a huge skill. But also I learned about prospecting, which will help me with my future career in business. I learned about setting goals. Learning Portuguese helped me to develop an ability to critically analyze and understand thoughts and meanings in language and conversation. And I learned how to be resourceful and creative with limited uses of technology, which has now helped me with life after the mission. (Wade)
Learning the language was a key skill which provided a pay bonus when serving in the United States Army. It is also a good intro to LDS mission service on a resume without being too pushy about missionary service. The punctuality of making and keeping scheduled appointments is a soft skill which will be worth retention following a mission. Focused reading time spent in scripture study is a skill, and following a mission it will also contribute to educational pursuits. (Kenneth)
What do you wish you knew/did at the beginning of your mission?
I wish that I knew how to talk to everyone about the gospel and that it's okay to not be perfect. I was really worried about doing things right that many times I would end up not doing things because I knew I wouldn't do it perfectly. I wish I tried to do those things and messed up and embarrassed myself rather than not have done them at all. (Wade)
I did read the Book of Mormon completely once before my mission in addition to seminary study, Sunday school study, and family study. That was a key contribution, and I do look back wishing I had read twice shortly prior to leaving. I also wish I'd had a faster reading pace during the first 3-5 months, yet a slower pace during the last 12-18 months–I read very slow at the beginning, then started reading very fast toward the end: backwards. I do wish I'd spent more time understanding Book of Mormon – to – Bible corroborations. I don't mean proofs of the Book or Mormon, but instead, I mean I wish I'd had a better understanding of how much, how often, and how clearly the Book of Mormon provides support to biblical teachings–particularly a good spot is recognizing Book of Mormon prophets who quote Isaiah as well as Jesus' teachings quoting himself from New Testament records. I do wish I'd developed improved impulse control, cognitive emotional regulation, and attentive focus; similar to this would be practicing focused study and meditation following study. (Kenneth)
Any advice/testimony for pre-missionaries going to Campinas?
The slogan for Nike is my best advice: Just Do It! Whatever it is you're supposed to do, no matter how hard, strange, or uncomfortable it may seem, just do it. You will never regret doing anything if it's for the Lord. Our attempts will always seem feeble, but the Lord can and WILL cause miracles to happen as we do those small, simple, strange, uncomfortable things. (Wade)
I don't feel there is specific advice for Brazil or toward Campinas. Overall, Brazil is unique among missionary work just as each country will present unique features, goals, challenges, obstacles, and drawbacks. Similarly, each mission within Brazil will present some unique experiences. It would be difficult to plan ahead for those unique elements. (Kenneth)
What was a funny language mistake?
One new missionary was bearing his testimony of Jesus Christ to an investigator. What he wanted to say was "I know Jesus Christ lives." But what he ended up saying was " I AM Jesus Christ and I live". The Portuguese sounds similar and he got some words confused. (Wade)
Misunderstanding the social attitude surrounding expletives (four-letter words) turned out to be a problem at times–especially surrounding translation. (Kenneth)
LDS Church & Missionary Work
---
Aubreigh (Brazil Campinas Mission)
–Paraphrased from Aubreigh's mission interview–
The Brazil Campinas Mission
The Brazil Campinas mission is mostly in Sao Paulo, and part of the state of Minas Gerais. Right before I got there, part of the mission had split into the Piracicaba mission. Campinas is beautiful and is a very beautiful city. It's very busy, but there are not many tourist attractions. But, the second temple that was built in Brazil was built in Campinas, only two hours from the Sao Paulo temple.
My little brother went to his mission in Brazil as well, and since most of the missionaries in the MTC came to the Campinas temple, he did and he even took a picture in front
When I arrived on my mission, there were one hundred missionaries, but by the time I left their were two hundred. A couple times on my mission we would come home at night and find another set of bunk beds. In one area, I lived for 9 months with 6 missionaries and only one bathroom.
The Brazilian People
Most of the people in Brazil are very receptive. They know the missionaries and what their purpose is, and most of them are willing to talk to us. Of course, there were always a few people who didn't want to talk to us though.
Brazilians are very friendly, they love people and making new friends. They love giving you food, whether you are hungry or not. Most people would let us in the door and talk to us, but few were willing to welcome us a second time or making changes. Sometimes it was hard to walk away from those people, but our purpose as missionaries was to help people come unto Christ and make covenants. But, that's ok. Some individuals just aren't ready yet.
Campinas Mission Hymn
Our mission hymn says "We are missionaries of the Brazil Campinas mission, we are the Lord's army, we work for his glory, we share his love for others. Together, all together, we're going to build his kingdom here on the earth. Nothing is going to hold us back. Pressing forward, all together without fear or doubt. In the mission, in Brazil, BRAZIL CAMPINAS we give everything to the Lord." I would sing it a lot as I walked around every day. It has been the mission hymn for at least 20 years.
Sister Missionary Safety
I had a couple experiences that were kind of frightening, especially when we were out around 8 or 9 at night. I know heavenly father protects his missionaries. Just make sure you don't do anything stupid and lose his protection. Obviously there's some situations you can't avoid, and just be sure to be careful in those moments. Nothing bad ever happened to me while I was there, and a Brazilian never said anything unkind or threatening to me. I know that if I went back to Brazil as a non-missionary, I would probably be a lot more careful because people had a special respect for people with Christ nametags on.
For Future Missionaries
The best things you could do to prepare for a mission is to read the Book of Mormon everyday, gain a testimony of the book of Mormon, learn more about the restoration, learn more about the sealing keys, and the atonement. Even more important is to learn to love people and see the same potential in them that God does.
One thing I wished I had known at the beginning of my mission was to be patient with others. I would get so frustrated when I saw other missionaries being disobedient, but I know now that I can't judge them. Being obedient is essential, but many people are still learning the gospel and many are even new to the Church. Everyone is on the same path, just on different points along that path. I know Christ would be loving and patient with these people. He would definitely correct behaviors if it was necessary, but He would not do so in a way that made a person feel terrible.
Know that you were called to your specific mission for a reason. There will be someone there who needs to meet you and hear your testimony. Trust in your mission president too. That's often easier said than done, but he knows what is best and is inspired by the Lord to take care of you.
---
Culture, Language, and Travel
---
Aubreigh (Brazil Campinas Mission)
–Paraphrased from Aubreigh's mission interview–
Brazilian Meals
For breakfast Brazilians would normally have oatmeal or Cuz Cuz. Lunch would always include rice and beans, either black or brown, served with some kind of meat. Dessert was served everyday, and one of my favorites was passion fruit mousse. You can't forget Brazilian salad, which was normally just lettuce and tomato with salt and olive oil. Salads like this were so simple but so delicious. Soda was common with most meals, and natural homemade fruit juices were as well. One kind of Brazilian soda is called Guaraná, which is amazing. They have barbecue carts and restaurants where they served Churrasco, which is Brazilian barbecue meat. My last week in Brazil I got barbecued chicken hearts, and they were absolutely delicious.