Missão Brasil Belém 

Here are free resources about the Brazil Belem Mission:
Aqui estão alguns recursos gratuitos sobre a Missão Brasil Belém:
*Other Mission Pages: Brazil LDS Missions.
---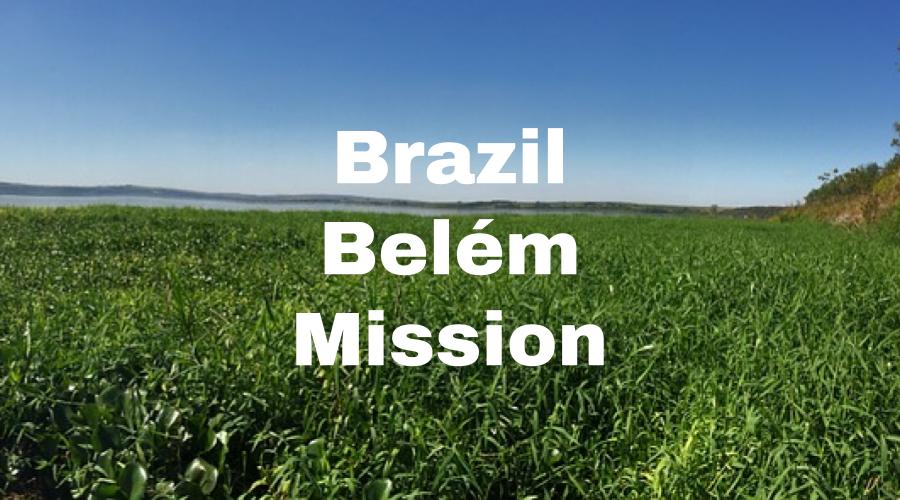 ---
Brazil Belem Mission Address
Here's a recent address for the Belem Mission. We try our best to keep this information up to date, but it's a good idea to check the mission address with several sources, including your mission packet or the mission office.
Brazil Belem Mission
Av. Narzare, 532 Sala 412 4˚ Andar
Nazaré Royal Trade Center
66035-135 Belém-PA
Brazil
Phone Number: 55-91-3223-7123
Mission President: President Alexandre Stasevskas
Brazil Belem Mission Map
Here's a link to the mission map for the Belem Mission (LDS). Coming soon..
Brazil Belem Missionary Blogs
Here's a list of LDS missionary blogs for the Belem Mission. This blog list includes the missionary's name, URL and when their mission blog was updated.
*Send your missionary a gift (mission-specific shirts, ties, Christmas stockings/ornaments, pillowcases, etc.)
*Download free app for LDS missionaries learning Brazilian Portuguese
Brazil Belem Mission Groups
Here are Brazil Belem Mission Groups- for LDS missionary moms, returned missionaries, mission presidents and other alumni of the Belem Mission.
Brazil Belem Mission T-Shirts
Here are T-shirts for the Brazil Belem Mission!
Shirt designs include Brazil Belem Mission logo/emblem shirts and Called to Serve shirts. The shirts make great gifts for pre-missionaries, returned missionaries and missionaries currently serving. LDS Mission shirts come in all sizes: Small, Medium, Large, Extra Large, up to 4XL.  The mission designs are printed on white shirts and are shipped to you.
*Simply click on a shirt design to view the details and submit an order. The designs on mission t-shirts may also be printed on other LDS mission gifts, including: Brazil Belem missionary aprons, Christmas stockings, ties, pillow cases, teddy bears and Christmas ornaments.
*Click here to browse Belem Mission gifts
---
---
Brazil Belem Mission Presidents
Here's a list of current and past Mission Presidents of the Belem LDS Mission.
2015-2018, Alexandre Stasevskas
2012-2015, Jose C. Scisci
2009-2012, Jose Claudio Furtado Campos
2006-2009, Roger D. Hoggan
2003-2006, Robert L. Layton
2000-2003, Don L. Andrew
1997-2000, Carlos A. Godoy
1994-1997, Pedro J. Penha
Brazil LDS Statistics (2016)
Church Membership: 1,326,738
Missions: 34
Temples: 6
Congregations: 2,038
Family History Centers: 341
Helpful Articles about Brazil
Brazil Belem Missionary Survey
Here are survey responses from Belem RMs, to give you a snapshot into what it's like to live in the mission.
*Click here to take a survey to help pre-missionaries going to your mission.
When did you serve?
May 2005-May 2007 (Stewart)
2004-2006 (Tom)
2001-2003 (Curtis)
January 1997-December 1998 (Mark)
Which areas did you serve in?
Castanhal, Santana, Icoaraci, Capanama, Belém. (Curtis)
What were some favorite foods?
Guarana de Jesus, cupuacu, jaca, acai with farinha, fresh pinapple, black beans over rice. (Stewart)
Feijoada, Guarana, Many different tropical fruits including cupuacu, bacuri, mango, acerola. (Tom)
Tacaca, Guarana Amonzas, Pato na tucupi. (Curtis)
Guarana, acai, acarola, cupacu, rice and beans. (Mark)
What was a funny experience?
When I tried to tell someone I had a bunch of loose coins in my pocket, but I said I had a lot of pooh in my pocket. Seeing as coins and pooh are very close in pronunciation in Portuguese. (Stewart)
One of the first doors in my first area, I was asked by a woman, "what do you think of the Brazilian women"? How do you answer that as a missionary? My response: "they are nice." (Tom)
Was robbed at knife point for some cookies. Also had a boa constrictor in out house . It was killed skied and eaten. (Curtis)
What was a crazy experience?
Being robbed at gun and knife point. Blessings and protections come from trying to be obedient with exactness. (Stewart)
Riding in a small boat back from a zone activity on a river island called Cotijuba, and encountering a thunderstorm in the middle of the river (miles wide tributary to Amazon river). Big brown waves picked up very quickly and crashed over the side of the boat, soaking us. At a bus station when the power went out and it went pitch black. Almost immediately a lady screamed "robber!" and then gunshots rang out. We hit the deck and hid behind our suitcases. When the lights came back on, we learned that a robber grabbed a woman's purse and made a run for it. The gunshots were the police firing into the night. Riding in a VW bus ("kombi") with 18 other people in it. Not an actual bus, but the classic slug-bus that's meant to seat about 8. (Tom)
Chased by a drunk man. (Mark)
What was a spiritual experience?
Being able to give a blessing to a child a day before a big surgery, on my first day in the field. Still to this day I don't know what was said, but I do know the family and child felt at peace after the blessing. (Stewart)
Too many to list. A highlight was teaching a very difficult lesson on repentance and forgiveness to a family prior to baptism. In order to fully repent and prepare for baptism, the husband needed to confess to his wife and ask forgiveness for an incident of unfaithfulness that she didn't know about. He had the courage and faith to speak to her, and she had the strength and faith to forgive him though it was very difficult. After that lesson, was the first time I had ever cried for joy. They were baptized the next week. (Tom)
The whole mission. Best time of my life. (Mark)
What are some interesting facts about the Belem Mission?
There are tribes in the Amazon Rain Forest that have never had contact with modern civilization. Belem means Bethlehem. The geographical area that the mission covers is enormous. A large part of the people in this mission are descendants of indigenous people, or in other words, of Lamanite heritage. It is the best mission in the world. So os fortes servem no norte! (Tom)
Highest baptizing mission. (Mark)
What was the weather like?
Hot and dry or hot, humid and rainy. (Stewart)
Hot and humid. Rain nearly every afternoon in the "wet" season and for hours each day in the "very wet" season. You'll soon learn that to try and keep your feet dry is futile, so just walk through the water. (Tom)
Hot and rainy all the time. (Curtis)
Hot, hot, hot! (Mark)
Any things you really like about the area/people?
They're very humble, very loving, and very respectful. (Stewart)
Humble and generous people. (Tom)
Everyone was so open and loving. Brazilians are the best. (Curtis)
Best people in the world. (Mark)
Any packing/clothing advice?
If you have to wash your clothing by hand, don't be afraid to wear your white shirt or pants more than three times during the week. I learned that in the first week, that it really is not fun washing 5 pairs of pants and seven white shirts by hand, along with all that underwear. Buy two pairs of GOOD shoes and try to become good friends with someone who resoles shoes. (Stewart)
Don't bother with those waterproof shoe covers. What use are they if the water is deeper than your shoes?! Umbrellas aren't very effective either, unless it's a very large golf umbrella, in which case you can buy it down there. Clothing for cold weather is unnecessary. Your white shirts will quickly turn yellow and brown, so bring plenty of cheap ones to go through. Break your shoes in before you leave for the mission. You will be grateful you did. (Tom)
What blessings did you receive from serving a mission?
I had a job the day I got home because I was fluent in another language. I have a beautiful wife and eternal family. (Stewart)
Stronger testimony. Happy memories. Friendships. Bilingual abilities…and many more. (Tom)
Every minute of service has blessed my life. Even to this day. (Mark)
What are some skills you gained?
Communicating with others. Speaking a second language. Learning to plan. (Stewart)
Speaking Portuguese. Talking to strangers. Walking fast. Washing laundry by hand and foot. Leadership. Goal setting/ accomplishing. Following the Spirit. (Tom)
Leadership, problem solving. (Mark)
What do you wish you knew/did at the beginning of your mission?
I was fortunate to start with a great trainer who started me on a good path. –Obey commandments and mission rules with exactness –Work hard –Follow the Spirit. The Lord will do the rest. (Tom)
Be prepared to walk. And I mean a lot. (Curtis)
Worked harder, served more. (Mark)
Any advice/testimony for pre-missionaries going to Belem?
Learn to love any kind of food. Don't be picky with foods. Learn to love and work with people who are different than yourself. (Stewart)
You are very blessed to serve in this mission. There are specific reasons you have been called to Belem and you will probably realize what they are while on your mission. (Tom)
Be patient and willing to experiance new things. (Curtis)
Best mission in the world. Serve with all your heart. (Mark)
What was a funny language mistake?
After eating a big meal, saying I'm "estofado" to mean "stuffed". It doesn't translate over to Portuguese like that. "Estofado" means upholstered. (Tom)
I asked a lady if she stayed home making babies all day instead of taking care of babies all day. Her husband almost killed me. (Curtis)
LDS Church & Missionary Work
---
Michael (Brazil Belem Mission)
–Paraphrased from Michael's mission interview–
Belem Mission Geography
The Belem Mission is a gigantic mission. It lies in Northern Brazil, including several of the Northern states. The mission covered parts of Amazonas, Para, and Amapa. The Belem mission is one of the older missions in Brazil, it used to cover the entire top portion of Brazil. Now there are dozens of missions. The Belem mission is still very big
The Amazon forest actually makes up a large part of the state. Belem actually sits right on top of the mouth of the Amazon river and close to the coast. It's an amazing place, and it doesn't stop there. Off the coast of Belem there are dozens of Islands, including Marajo, which is one of the biggest Islands in the world. Apparently there are Buffalo there!
The Church in the Belem Mission
One of the cool things about the church in Belem is that now there are about 9 stakes and one district, and the Church is growing like crazy. New areas are being opened up all over the state. About 6 stakes are just in the capital, while the other stakes are in cities very far away. One of them is in Santarem… you have to take a 2 hour ride by plane to get there! Another is Maraba, which is still an hour and a half plane ride. Finally, there was in the state of Amapa, and the stake of Macapa. It was interesting to spend time in those distant zones, far away from your mission president. You had to be trusted a lot, and I enjoyed my time there.
Now, the church is trying to grow in between the bigger cities, so there are a lot of new areas being opened up in the rural parts of the mission. Fun and spiritual adventures were easy to find in these areas.
My Mission
In total I served from June 2013 to May 2015, but in Brazil itself I served from January 2014 to May 2015. My first area in Brazil was in Maraba, the second in Cidade Nova, and then my third area was in Santana, in the state of Amapa in the city of Macapa, and then my final area was in a borough called Tenone, which is in a district called Icoaraci in Belem.
For Future Missionaries
The mission is very special. The mission was very special for me. I know that this is Christ's church. He lives, and He knows and cares about each one of us. The mission was very hard, but it's worth it. When you feel god has abandoned you, that's not true. He's giving you these experiences because he needs you to become something more.
---
Culture, Language, and Travel
---
Michael (Brazil Belem Mission)
–Paraphrased from Michael's mission interview–
Belem is a very large cities, with some millions of people. It's very spread out into a big urban sprawl, and there are a lot of skyscrapers. I flew through Sao Paulo on the way there, and I thought that Belem wouldn't have as many skyscrapers. When I got to Belem, I realized that it was also a very big city. The city is divided into burroughs, the richest of which is called Nazare, and my first area was Canaa. There's a lot of biblical names; Nazare means Nazareth, Belem means Bethlehem, and Canaa means Canan.
Brazil's culture revolves around religion quite a bit. Some churches that were very big were the Assembleia de Deus (Assembly of God), the Igreja Quadrangular, the Jehovah's Witnesses, and Catholics. Really, Christian religion in general is huge. People make God a huge part of their life, and even go down the street talking about Him and the Bible. For example, a common phrase in Brazil is "Gracas a Deus," which means "thanks to God." People will say it at the end of almost every sentence.
Traffic in Belem was insane… people would drive around recklessly all the time. Strangely enough, I never saw very many accidents, at least not any serious ones. Because of the bustle, a lot of people took the bus, and due to that the buses would be absolutely packed. One time I even saw a guy riding hanging onto the side of a bus because there was no room inside.
Portuguese Language Mistakes
There are a lot of mistakes that are easy to make with Portuguese. One mistake I made while still in the Missionary Training Center (so it wasn't to bad) was to confuse the word for "I can" with "I fart." My MTC teacher thought it was absolutely hilarious. In Portuguese, there are a lot of diminutive or augmentative phrases you can use to change words. However, if you do so, sometimes the diminutive forms of a word can actually be a swear or a slang. Be careful to ask some local Brazilians what the slang terms are.